Looking for the best things to do in St Petersburg FL? As a local expert, this ultimate guide shares top attractions as well as some hidden gems.
Located on Florida's Gulf Coast, St Petersburg is a vibrant city that boasts plenty of activities and attractions for people of all ages.
From white sandy beaches to a colorful artsy atmosphere, you'll find lots of little details that make it special.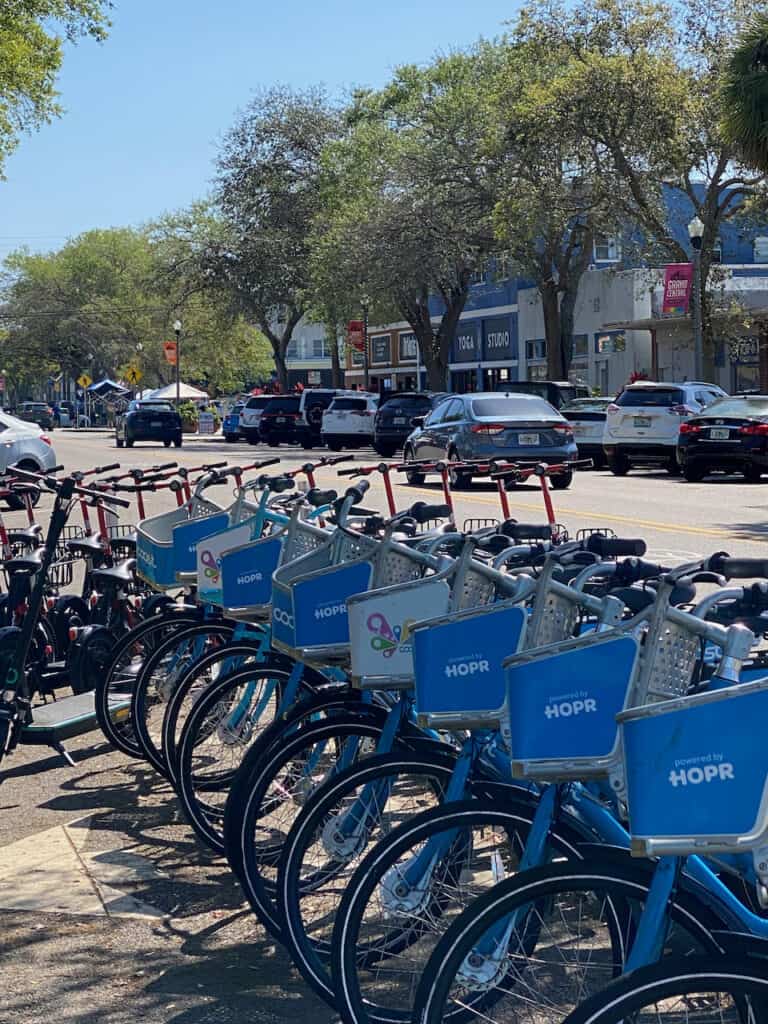 With year-round sunshine and warm temperatures, it's no wonder why it was nicknamed years ago, The Sunshine City. Whether you're looking for an action-packed weekend or a relaxing getaway, you'll no doubt fall in love with this city. It is also a great city to bike to either downtown or on the Pinellas Trail.
For those new to the area, here are some fun facts about St Pete FL:
St Petersburg was named after St Petersburg, Russia
The first commercial flight occurred in St Petersburg on New Year's Day in 1914
St Petersburg has the largest collection of Salvador Dali's artwork.
St Petersburg has the world's largest shuffleboard club
The St Petersburg Museum of History has the world's largest collection of autographed baseballs.
Even as a local, I am constantly finding new adventures and fun places to check out. So, here are the current top things to do in St Petersburg FL in 2023!
Where to Stay in St Petersburg
My favorite hotel in mid-priced hotel in downtown St Petersburg is the Hampton Inn & Suites. It has great water views and it's in an ideal location on Beach Drive. You can walk to most places when staying here.
If you're looking for a luxury hotel or a budget-friendly option, check out my full list of the best hotels in downtown St Pete.
VRBO rentals in St Petersburg are another popular option, especially with larger family gatherings. For some rentals, you can literally walk out your door into the action. This top-rated 2-bedroom VRBO rental is a favorite in the area for its walkability to all the St Pete shops and restaurants.
Visit Some of the Best Beaches in the US
No trip to St. Petersburg would be complete without a visit to its pristine beaches! If you want to read about two of my favorite beaches you'll want to check out my St Pete Beach or Clearwater Beach article.
If you like hidden gems, you'll need to read about Pass-a-Grille Beach, Upham Beach, and Gulfport Beach.
Don't forget your sunscreen—the Sunshine City lives up to its nickname!
Downtown St Pete Pier
A visit to St Petersburg is only complete with spending some time at the iconic St Pete Pier. Close to the water's edge of Tampa Bay, St Pete Pier is a bustling place thanks to its abundance of shops, restaurants, parks, and museums.
If you have the time and opportunity, you should visit the stunning waterfront because there are lots of events and activities to do there.
This glittering new facility on the city's waterfront promises endless entertainment from frequent travelers to locals. The 26 gorgeous acres effortlessly blend Tampa Bay's calm waters with the vivid greenery of the city's parks to create the ideal location for strolling, biking, dining, jungle gyms, shopping, swimming, attending concerts, and more.
While the St Pete Pier has free admission, there is a fee to see the museums, as well as metered parking.
Visit the World Class Museums
I love museums and have spent countless hours in them. If you're a museum fan, you definitely need to make this a priority on your St Pete vacation.
You'll also want to check out my article about the best museums in St Petersburg, which offers information on how to get free tickets.
Here is a short guide to some of my top favorite museums in the area.
Great Explorations Children's Museum
The Great Explorations Children's Museum is an excellent place for kids to explore, learn and have fun. With its interactive exhibits, exciting activities, and engaging educational programs, it's the perfect spot for younger visitors to get curious and engaged with the world around them.
The museum offers a broad range of topics that can be explored through hands-on learning. This is one of our favorite places to take to my toddler. Great Explorations Children's Museum also has a separate area for babies and toddlers to play safely. Check out my article below on how locals can get free admission.
Read Next: Ultimate Guide to Great Explorations Children's Museum
The Salvador Dali Museum
The Salvador Dali Museum is a must-see when visiting St Petersburg. Not only does it boast an impressive permanent collection of Salvador Dali's works, but it also offers visitors the chance to experience the surreal world of the artist. It features masterpieces from every stage of Dali's career, allowing guests to gain a comprehensive understanding of his unique talent.
The Salvador Dali Museum itself is a work of art. Drive around back along the waterfront, and you'll see what I mean. There is a beautiful garden and sitting area you can enjoy. Don't miss the gift shop, where you can find unique gifts to take home. The Mahaffey Theater is located next door if you decide to stay for a show.
Plus, you are traveling with young children, one of the hidden gems in St Petersburg is Albert Whitted Park, directly behind the Dali Museum. It has beautiful views of the waterfront and it overlooks the airport. Kids can climb on the playground equipment designed to look like airplanes, while you enjoy watching the sailboats. There are also shaded gazebos for a picnic.
🤑 Pro Tip: There is metered parking along the water and sometimes easier to find rather than Central Avenue or Beach Drive.
James Museum of Western & Wildlife Art
The James Museum of Western & Wildlife Art is perhaps one of the most beautiful western art museums I've ever been to. From the time you enter the museum, you'll be awed by the flawless layout with massive bronze sculptures of Native Americans and depictions of the old west.
Visitors can take part in many educational programs or even arrange guided excursions. I was surprised at how kid-friendly this museum was, offering classes and other things to do.
I also found some unique items in their gift shop, such as beautiful jewelry and kid's trains, etc. It's definitely well worth a visit to see this permanent collection of the old west.
Museum of the Arts & Crafts Movement
One of the newer museums in St Petersburg is the Museum of the Arts & Crafts Moment. This massive 40,000 square feet of gallery space has a retail store, an upscale café and restaurant, a children's gallery, a theater, a graphic studio, and more!
Here you will see fine arts examples by Gustav Stickley, Frank Lloyd Wright, William Grueby, Newcomb Pottery, Charles Rohlfs, Margaret Patterson, Louis Sullivan, plus many other gifted women and craftsmen.
Beyond the artists, you will see a variety of original pieces from handmade furniture, pottery, tiles, lighting, photography, fine arts, textiles, metalwork, room installations, and other artwork.
Chihuly Collection at Morean Arts Center
The Chihuly Collection is a unique exhibition at the Morean Arts Center that houses a long-term collection of the unique glass works of Dale Chihuly, an internationally renowned artist.
Dale Chihuly's artwork has been seen throughout Paris and London, along with Seattle's spectacular Chihuly Garden. Here you can see his sculptures, plus glass-blowing demonstrations.
One of his most famous pieces is the ruby red icicle chandelier at the Morean Arts Center. The Ruby Red Icicle Chandelier is a spectacular studio glass piece that truly stands out with its pointy red droplets.
The Florida Holocaust Museum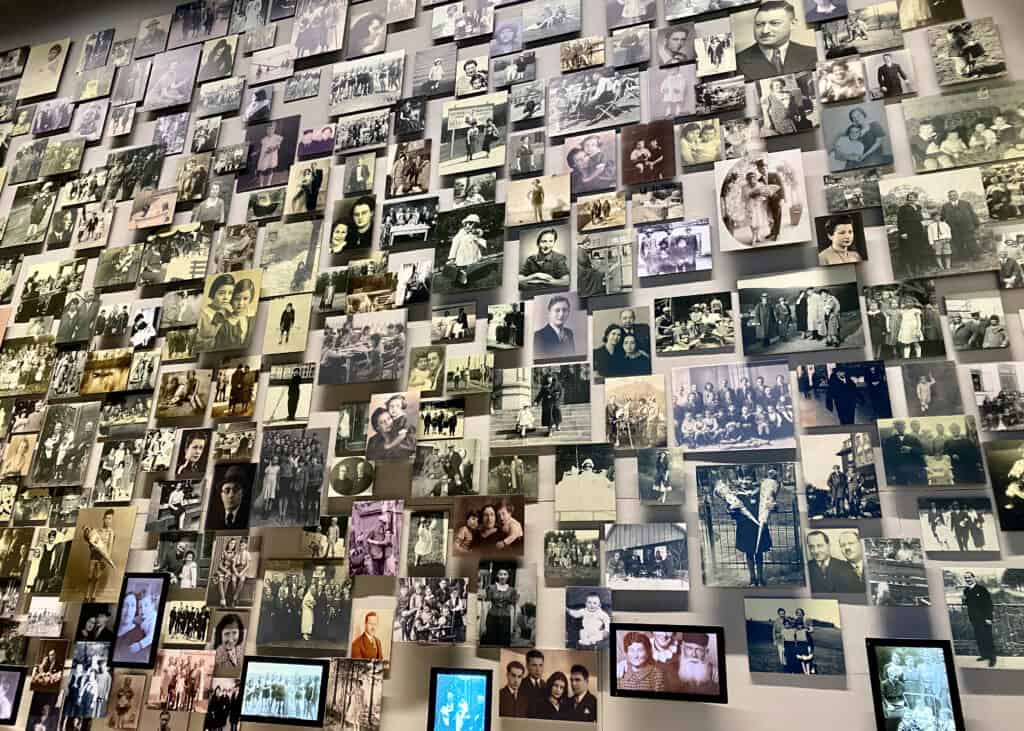 Located in downtown St Pete, The Florida Holocaust Museum has been providing education for over 30+ years on the travesty that occurred during the second world war.
Here you will find one of the best museums on the Holocaust, with many authentic artifacts such as clothing, photography, eating utensils, handwritten notes, etc. This permanent collection really leaves you with a deeper understanding and appreciation for our freedom today.
The Florida Holocaust Museum also has a small, but reasonably priced gift shop with donations that support the museum.
The Museum of Fine Arts
For art lovers, you'll want to make a stop at the Museum of Fine Arts in the heart downtown on Beach Drive.
The museum features an extensive permanent collection of decorative arts along with folk arts artwork from African Art, American photography, and European paintings.
Imagine Museum
While I could keep going with the amazing art museums, The Imagine Museum is my last one for this article. If you are into contemporary glass art you'll have to visit the Imagine Museum.
Just a few years ago, the Imagine Museum was not yet opened, but within a short time has gained popularity. It is the first museum in the US to focus solely on contemporary glass art and shares vital details about the movement and studio glass artists.
You'll be blown away by what magnificent glass masterpieces. Plus, if you're needing a little motivation, there are inspirational quotes throughout the 2-story building. The Imagine Museum has a little scavenger hunt that makes it a lot of fun for the whole family.
St Pete Boat Tours
There are many different tour types available, depending on what type of adventure you are looking for. If you really want to see dolphins, you can sign up for one of the dolphin boat tours. These tours are very reasonably priced for a day out on the water.
In Tampa Bay there are beautiful sunset cruises, tiki tours, night kayak tours, which are great activities for couples. They also have family snorkeling tours to Egmont Key or Shell Key, which are ideal for families with children.
⛵️ Read Next: The 11 Best Boat Tours in St Petersburg
Take the Cross Bay Ferry to Tampa
Taking the downtown ferry to Tampa is a fun way to explore Tampa especially if you're staying at downtown St Pete hotel. You can easily walk from Straub Park and jump aboard. Avoid the traffic and enjoy some time on the water!
Tampa has so much to offer! From fun things to do for couples or families, you won't run out of interesting sights. If you only have a day to explore, I highly recommend the ferry. Otherwise, Tampa really deserves more time and stay the night in downtown Tampa hotel.
🌴 Read Next: Tampa vs Orlando: Which is Best For You?
Explore Historic Landmarks
St. Petersburg is home to several historic landmarks and buildings that are worth exploring. From the breathtaking Vinoy Renaissance Resort & Golf Club located right by the waterfront (which was built in 1925). In recent years, they have been doing a lot of construction to bring it back to its glory.
Whether you book a hotel night stay here or visit for a drink, it's one of the most iconic hotels similar to the glorious pink palace in St Pete Beach, The Don CeSar.
St Petersburg offers self-guided audio tours if you have interest in seeing the Historic Outdoor Museum of Roser Park, African American Heritage Trails, and Downtown Waterfront Walking Tours.
Eat at the Best Restaurants in Downtown St Petersburg
Try out some of the numerous cafés, restaurants, and bistros while in St. Petersburg. You will surely get hungry in downtown St Petersburg whether your favorite meal is an American sandwich or a Swiss dessert.
Parkshore Grill
The Parkshore Grill is one of my long-time favorite restaurants for consistent quality meals with a gorgeous setting. I recommend booking in advance on OpenTable.
It's also no surprise that this restaurant is always busy, given the wonderful scenery just outside the restaurant. You can choose to eat al fresco while overlooking the city's waterfront.
It also has a great weekend brunch menu in addition to lunch and dinner.
Steaks, fresh fish, burgers, sandwiches, salads, and paninis are just some of the options. Some of my favorites: the scallops, salmon, parkshore salad, and the decadent mac and cheese.
Ceviche
The Ceviche St Petersburg has a luxurious and grand feel to it, and it's a great place to relax and spend time with friends and family. Brussels, fresh salmon, oxtail, and churros are just a few delicious things you can order from its menu. Don't pass on their red sangria (I prefer it the standard way).
For a fun date night, order a variety of tapas for your table to share. If you like the outdoors or people-watching, ask for a table outside. This is a prime location on Beach Drive just to enjoy the scenery.
On less than desirable weather conditions, they have a gorgeous interior with bright colors and beautiful tiles that make you want to stay longer.
Urban Stillhouse
The Urban Stillhouse is a great place to eat an expensive steak and drink whiskey (sounds like Yellowstone!). This 2-story restaurant has a dark interior with a high-end industrial vibe.
The Urban Stillhouse offers novel and traditional American foods that are grilled to order. It's best to book a table in advance on OpenTable.
The Library Restaurant
The Library Restaurant is one of my favorite brunch locations. While it's not near the heart of downtown, it's just a short drive away.
The Library provides an escape from daily stresses with a unique atmosphere and delicious entrees.
Casita Taqueria
Casita Taqueria on Central Avenue is a go-to casual spot for locals who like a wide range of tasty tacos! If you're craving Shrimp, Carnitas, or Slow Roasted Pork, you'll be delighted by their savory options.
All of their corn tortillas are prepared in-house, and they only use the freshest available local produce. They also have delicious chips and queso, and a cute patio outback for guests to utilize.
Pub Trolley Tour
You need the trolley pub tour when you want to go from bar to bar in a city. Why not get a tour and drinks while on vacation? It's truly a win-win.
With this tour, you can go to different breweries and drink their incredible, one-of-a-kind drinks without a care in the world. Along the way, you can also meet new people who like the same things you do and take pictures going to and from each checkpoint.
Read Next: The Best Tours in St Petersburg Florida
Grand Central District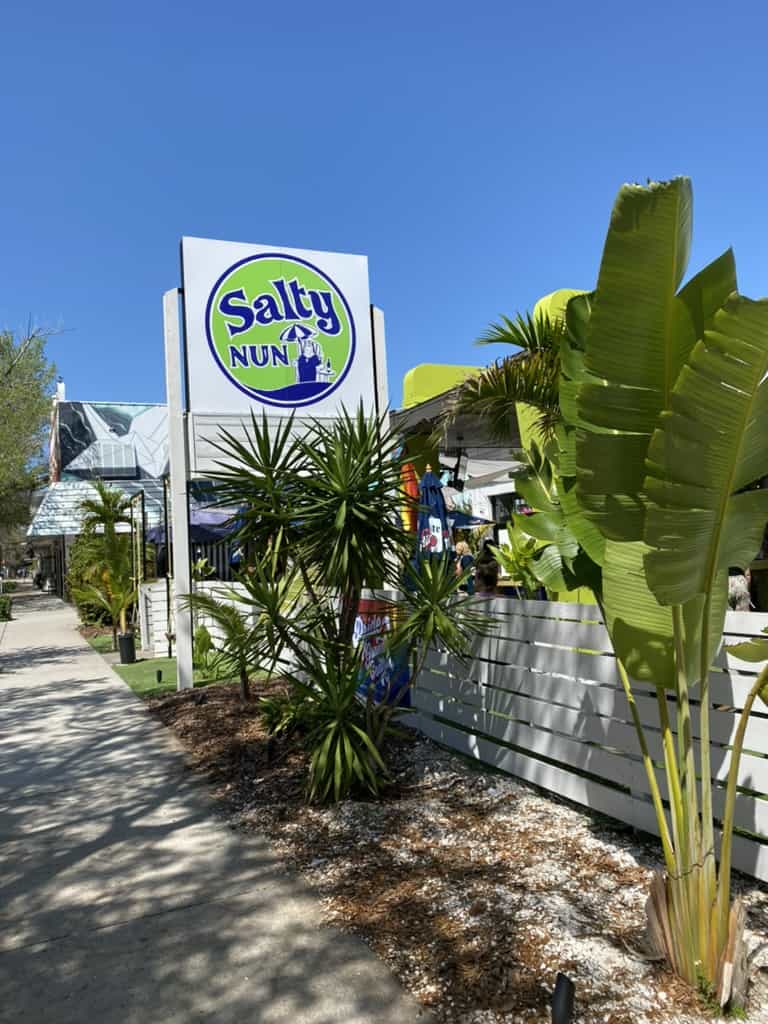 As a local, I've seen the Grand Central District really take off in the last 10 years. It's gone from bland to fabulous as more local restaurants, coffee shops, breweries, and artsy boutiques continue to flock here.
Take time for a stroll, and enjoy the scene! Anyone that travels with dogs, must make time at one of my favorites, The Dog Bar. Plus, you have the Hatchet Hangout Axe Throwing, antique shops, and more. Three Daughters Brewing is located in this district.
Visit Local St Pete Breweries & Distilleries
If you enjoy drinking, St. Petersburg won't let you down. Here are a few in the downtown area that are excellent choices.
3 Daughters Brewing
A couple of my personal favorite breweries are the 3 Daughters Brewing and Green Bench Brewing. Both have a lot to offer and are good for the entire family.
At the 3 Daughters Brewing, you could stay most of the day since they have other things to do, such as live music events, food, games, and local vendors selling their handmade items.
Green Bench Brewing Company
Green Bench Brewing Company specializes in a family-friendly beer garden serving IPAs, ales, and ciders. From dogs to children, everyone is welcome! It has a spacious interior and friendly staff. If you like good beer, this is one of the best breweries in St Petersburg.
Kozuba and Sons Distillery
As far as distilleries, Kozuba and Sons Distillery is a fun place to stop and sample (try the lemon vodka). The distillery has a great atmosphere, like a speakeasy during the prohibition era.
St Pete Distillery
St Pete Distillery has a delicious coconut rum, and the orange liqueur is particularly good. While it's at the end of town, it's a good take-home gift idea to remember your time in the area.
Stopping at these places for a while will give you and your friends new things to do. Visiting these places will not only allow you to have unique and fine wine but also find out how they brew their alcohol. Who knows, you might even start your brewery one day.
Beautiful Outdoor Parks & Gardens in Downtown St Pete
Beautiful parks and gardens in the center of St. Pete St. Petersburg, Florida, are surrounded by trees and plants that are very healthy and full of life. This means that people can enjoy the peace and greenery that the area.
You can unwind as you spend hours touring the many parks in the city. So, here are my top favorite parks in downtown St Petersburg.
Sunken Gardens
The Sunken Gardens are home to the region's oldest tropical plants, some of which are over a century old. Here, you can enjoy the beautiful display gardens, horticultural programs, flowing waterfalls, flamingos, and a live collection of more than 6,000 plant species.
The gardens are attached to the Great Explorations Children's Museum, which makes it an ideal stop for families. You can easily see both on the same day.
Since it is one of the last remaining roadside attractions in Florida. Sunken Gardens visitors should be prepared to stay on the trails and avoid touching the plants. There is also an admission fee to tour Sunken Gardens.
Glazer Family Playground at St Pete Pier
At St Pete Pier, you'll find a large playground for the kids (toddlers to older children), concessions, and a splash pad. They also have Spa Beach, which is a nice place to cool off on a hot day. This is a popular spot, and best to come early if you want to avoid crowds.
Vinoy Park
Looking for that perfect photo to take of downtown St Petersburg? Make a quick stop in Vinoy Park.
Vinoy Park, a two-mile stretch of shoreline in the heart of St. Petersburg, provides picturesque views of the city, the breathtaking waterfront, and the nearby historic Vinoy Renaissance Resort. The park is a nice spot to unwind in the shade while reading a book or to spend time with friends and family in the open green areas. Many of the top events held in the city each year take place there as well, like Florida's Largest Pride Parade.
It's one of the hidden gems in St Petersburg since it's not something most still know about.
North Shore Park
North Shore Park is a 30-acre waterfront park with a North Shore Aquatic Complex, a kid's playground, a dog park, beach volleyball courts, softball fields, and more!
It is located next to Vinoy Park and offers an array of activities, low-cost or free things to do. While in North Shore Park, visit the free gardens and enjoy a walk along the waterfront.
Crescent Lake Park
Crescent Lake Park stands out from the rest of St. Petersburg's parks because of its stunning scenery. People are calmed by the trees, plants, and water as they walk around the perimeter of the pond.
Crescent Lake Park is surrounded by lovely banyan trees and is a popular spot for a range of activities. Bring a blanket or sit on the grass and participate in Healthy St. Pete's Free Yoga in the Park program.
Additionally, The Huggins-Stengel Sports Complex, TASCO's Center for Teen Technology, a playground, a dog park, and recreation paths are all located in this park.
👨‍👩‍👦‍👦 Pro Tip: If you have young children, Crescent Lake has a nice shaded playground that's close to downtown and less busy than the St Pete Pier (with free parking).
Check Out the Adorable Boutiques & Bookstores
Unique souvenirs are simple to find in downtown St. Petersburg, thanks to the abundance of boutiques and unique bookstores downtown.
For unique high-end clothing, check out Jackie Z Style Co. in the Sundial Mall. Tombolo Books, off 1st Avenue S, is a cute shop full of delightful reads. Or if you like a book with your wine (or a coffee), you must stop in at Book + Bottle.
Best Coffee Shops in Downtown St Pete
A cup of steaming, creamy coffee is the ideal way to wake up and prepare for the day ahead.
There are numerous cafés in downtown St Petersburg where you may purchase their best coffee.
The best coffee businesses have inviting décor and delectable beverages, like Bandit Coffee Co. and Black Crow Coffee Shop.
Tampa Bay Rays Game
The Tampa Bay Rays, a major league baseball team from St. Petersburg, are worth checking out if you enjoy a ball game. Check out the schedule for the Tropicana Field prior to your visit.
During the off-season or away games, they have other events at Tropicana Field, such as Enchant (Christmas Lights), Boat Shows, and more!
Helicopter Tours of Downtown St Pete
Is there anything more exciting than helicopter travel? Enjoy an invigorating thrill in high-over the city.
This helicopter tour experience will give you the most amazing views of downtown St Petersburg. You will soar above some of the most beautiful sights in the area, including the award-winning beaches.
🌴 Read Next: 9 Highest Rated Tours in St Pete
Spend Time at Unique & Local Markets
Florida's St. Petersburg is home to numerous unique and local markets. Flea markets, farmer's markets, and Saturday morning markets are important locations where you can easily buy household goods, food, and souvenirs.
Mazzaro's Italian Market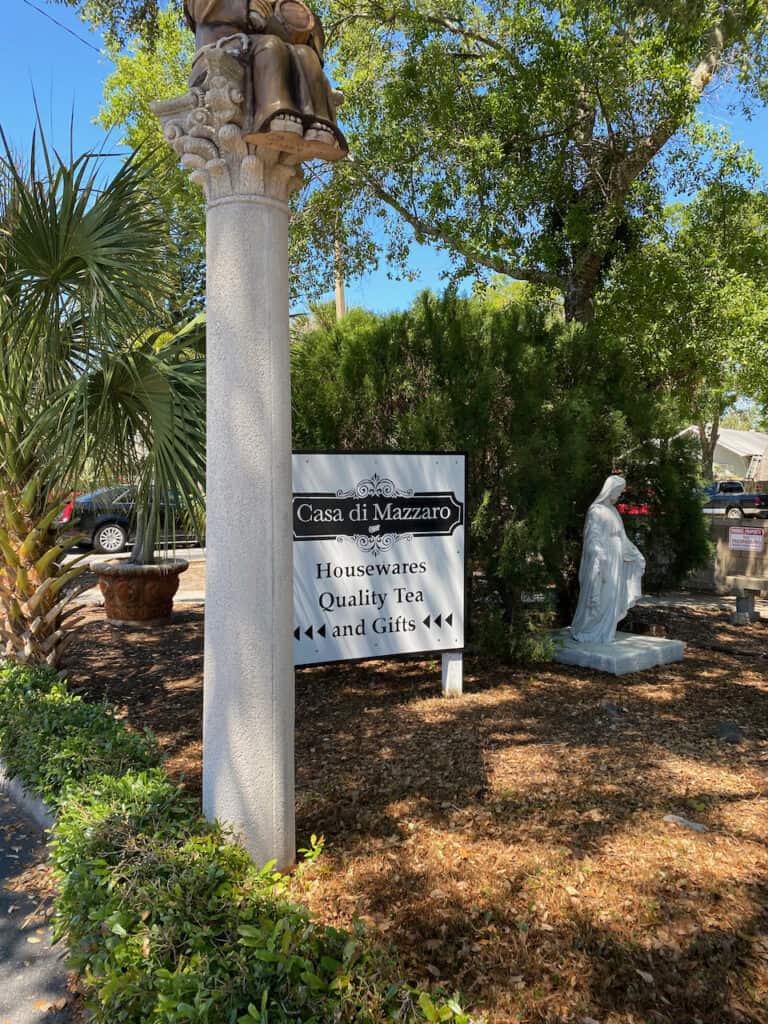 Customers and tourists can purchase a variety of delectable items at Mazzaro's Italian Market. For those that love fresh coffee beans, cheese, homemade pasta, meat, and wine, you'll have to make a stopover on 22nd Avenue North.
My personal favorite is getting their fresh homemade to-go lasagne and caesar salad. The portion is large enough for sharing, and it's delicious! Plus, don't miss the dessert area – I have had so many amazing things here.
Saturday Morning Market: Downtown St Pete Farmer's Market
Travel is sometimes exhausting and enjoyable. A great chance to breathe in the air while preserving the local culture is to visit the Saturday morning market.
With more than 100 vendors that sell everything from fresh food to artisan desserts made at local farms. They also sell outstanding handmade crafts, goods, and other products.
The Saturday morning market is the best place to go when planning a picnic – pick up a few things and then stroll over to Vinoy Park or the St Pete Pier.
Enjoy Live Music & Performing Arts
You'll be amazed as to why music is such a significant component of the events planned in St. Petersburg, Florida. Well, it's because the locals love music, and they enjoy listening to rock, jazz, and other genres of music, resulting in numerous live music performances.
Mahaffey Theater
The Mahaffey Theater (Duke Energy Center for the Performing Arts) is a sophisticated performing arts and concert hall located in the same complex as The Dali. It has over 2,000 seats with beautiful views of Tampa Bay.
The Mahaffey Theater is where you will see headliners or see a ballet or other large-scale event. I've seen a variety of performances over the years, from Lorretta Lynn to performing arts shows. The Mahaffey Theater often has shows for the whole family – such as the popular, Big Red Dog Musical.
See a Show at Jannus Live
Located in downtown St Pete, Jannus Live is one of the premier outdoor music venues in St. Petersburg. With a variety of genres spanning rock, pop, hip-hop, and jazz, there's an eclectic offering of musical talents. Get ready for an unforgettable night of live music!
Floridian Social Club
Because of its well-known, distinctive exteriors and interiors, this area stands out from other places. It hosts public concerts, private events, and open-to-the-public social gatherings. Additionally, there is an open lounge where food and drinks will be served to attendees of a certain event. Check out their upcoming events page to hopefully catch their performing arts while you're in town.
Unique Bars in Downtown St Pete
There are numerous bars in St. Petersburg's downtown where visitors may have a good time. Going to the local taverns is a great opportunity to learn about the history of the community and how hospitable the people are. Additionally, you have a variety of options to select from, allowing you to try something new.
Canopy Rooftop Lounge
Located far above the streets, The Canopy is a rooftop bar where you can have a drink and take in the amazing view. The stylish lounge is situated on the roof of the Birchwood Hotel and offers private cabanas, cozy fire pits, and comfortable lounge seats with unobstructed views of the downtown St Petersburg waterfront.
The Full-Service Bar offers patrons a choice of handcrafted cocktails, fine wines, and an assortment of spirits, while birchwood's upper-level cuisine serves a seasonal menu for casual dishes, including sandwiches, flatbreads, and appetizers all prepared in-house.
This is my favorite rooftop bar in downtown St Petersburg. Come at happy hour, which runs from 4-7 pm, and take in the sunset. Enjoy the drink specials(such as red or white sangria for 5 bucks). They have a very nice charcuterie board with a great mix of meats, cheese, fruits, and nuts. Late night hours, this becomes more like a nightclub with a DJ or live music.
The Saint
If you are looking for a unique atmosphere and fun cocktails, check out The Saint. This speakeasy requires a password to get in (it's on their website and Instagram), so you're bound to have a great time. It is located in St. Petersburg's Grand Central neighborhood. Keep in mind, the drinks are expensive.
🥂 Read Next: A Local's Guide: The 16 Best St Pete Beach Bars & Nightlife!
See the Historic Neighborhoods of St Petersburg
I've often seen Historic Kenwood listed as the most charming neighborhood because of its bungalows designed in the 1920s.
While I enjoy seeing Historic Kenwood, my preferred historic sites include the Historic Old Northeast, Coffee Pot Boulevard NE and Snell Isle.
If you want to see some of the finest houses where local politicians such as Charlie Christ live. Then you'll want to drive along N. Shore Drive NE to Coffee Pot Boulevard to Snell Isle. This short drive from downtown won't take you more than an hour roundtrip, so you could possibly fit in Historic Kenwood too!
Watch the Tampa Bay Rowdies Play
If you enjoy soccer, you should watch the St Petersburg squad, the Tampa Bay Rowdies.
This professional soccer team goes under the radar for most people on vacation, but it's definitely a lot of fun to watch. Check out their schedule for a full list of upcoming games.
Check Out the Beautiful Murals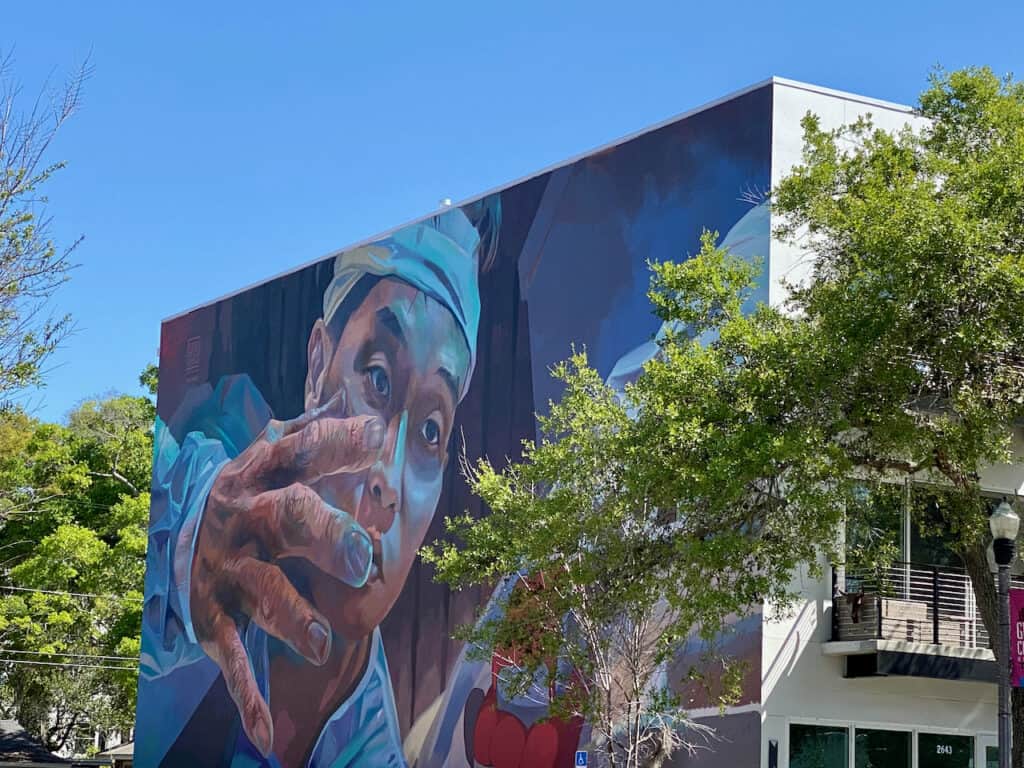 St. Petersburg, Florida, is also known for the murals you can see all over the city, especially on walls in public places. There is also the Grand Central Arts District, which is filled with murals.
In St. Petersburg, there probably is a daring and magnificent piece of art covering any outdoor surface. The murals that decorate the city's walls are renowned (in fact, there are more than 150). There is even an annual mural festival called SHINE that takes place in St Petersburg in October and invites artists from all over the world.
Beyond Downtown | Other Amazing Things to Do in St Petersburg FL
While I listed a lot of amazing places in downtown St Petersburg. St Petersburg is more than just a city of fascinating exhibits.
There are many things to see, especially outdoors in Pinellas County in St Pete Beach, Madeira Beach, Treasure Island, Indian Rocks Beach, Gulfport, and more!
🏝 Read Next: 13+ Best Things to Do in Madeira Beach
Fort De Soto Park
If you're looking for one of the best things to do in St Petersburg FL, for nature lovers, you have found it.
Fort De Soto Park was built on Mullet Key under the direction of Robert E. Lee. It is now largely known for having some of the best award-winning beaches, boating, fishing, and wildlife, with over 1,100 acres to explore. Make sure to spend some at the picturesque white sand beaches (I especially like North Beach).
There are miles of paved nature trails, camping and picnic spots, two fishing piers, bird watching, ferry rides to Egmont and Shell Keys, and a dog area. Of course, you can't leave without seeing the historic fort and museum.
Camping at Fort De Soto Park is truly the best way to experience all that this park has to offer. There are a total of 236 campsites with facilities that also include access to electricity, washers and dryers, restrooms, playgrounds, and campsite stores.
You can also bring your dog. Fort De Soto Park has one of the best dog beaches in Florida.
Egmont Key National Wildlife Refuge
Egmont Key State Park is a secluded private island only accessible by boat. Since there's no admission fee (only transportation cost).
Island Ferry of St Pete Beach is one ferry option, or you can visit through For De Soto Park. Keep in mind, you'll need to bring your own beach or snorkel equipment.
One of the best ways to see Egmont Key State Park is on a boat tour. They provide the equipment and you can relax and enjoy the island! This 4-Hour Egmont Key Boat Tour provides snorkel equipment, bottled waters, and an indoor cabin with air-conditioning when it gets hot. Plus, they take you by the Sunshine Skyway Bridge for gorgeous photo opportunities.
You can spend time at the white sand beach, go snorkeling or swimming in crystal clear waters, or enjoy the nature trails. The blue-green water is shallow and clear at Egmont Key, so it's easy to see the beautiful shells and fish swimming around you.
Keep your eyes open for old structures that have since been submerged in the Gulf of Mexico. You can also see (and we often do) manatees, dolphins, and other marine life while snorkeling around this island.
Take a break from snorkeling and see some of Egmont Key by walking the nature trail. The brick paths will lead you to several structures and a lighthouse that are historic ruins of Fort Dade that date back to 1858.
Before you visit, make sure you have good weather. Egmont Key State Park is a distance by boat and you don't want to be out there in a storm.
Enjoy a Round of Golf
With gulf coast breezes and sunny weather, a day on the golf course is another one of the fun things to do in St Petersburg FL. Check out our article on the best golf courses in Pinellas County.
If you prefer a miniature golf course, Smugglers Cove has a couple of locations in Tampa Bay. Some even have live alligators and pirate ships!
Weedon Island Preserve
If you're not yet oversaturated by beaches and parks, Weedon Island Preserve is another beautiful spot in Tampa Bay. With 3,1900 acres of nature trails and green spaces, you have plenty of bird watching opportunities. Plus, you can enjoy a paddling trail with canoe or kayak rentals available to rent.
Weedon Island Preserve offers guided tours which are great for the whole family. One of the most interesting nature hikes is an active archaeological dig site on Weeden Island Preserve. Here you can learn about the early inhabitants of Weedon Island thousands of years ago.
Observation towers are another great way to see wildlife. At Wheedon Island Preserve, their observation tower provides visitors with an excellent view of Tampa Bay and the cities of St Petersburg and Tampa.
Bacchus Wine Bistro
If you like charcuterie and small plates with wine, check out Bacchus Wine Bistro. While it's not as unique as some of the other bars, its quaint atmosphere is nice for conversational seating with friends or couples.
For those that enjoy wine, they have an extensive list. I prefer their outdoor seating when it's available for a carefree hour or two!
Make Time for Day Trips
Tampa Bay really has a boatload of places to see! You'll definitely want to make time for some day trips. I have an extensive list of favorite places, but here are a few to mention:
Bradenton
Head over the beautiful Sunshine Skyway Bridge to the city of Bradenton, Florida. Before you get there, some people like to stop at the Skyway Fishing Pier State Park for beautiful views of the Gulf of Mexico. The fishing piers are the location of the old bridge which has great fishing, such as Spanish mackerel, tarpon, and sea trout.
In Bradenton, you'll find a nice laid-back waterfront town with a beautiful riverwalk. One of my favorite science museums, The Bishop Museum of Science & Nature, is located downtown with manatees in their aquarium. Check out my full list of fun things to do in Bradenton.
Clearwater
Beyond the Church of Scientology, Clearwater is famous for the Clearwater Marine Aquarium.
Clearwater Marine Aquarium is a non-profit organization dedicated to the rescue and rehabilitation of suffering marine animals. They provide public education, including dolphin boat tours and conservation efforts in a hands-on experience.
The aquarium gained worldwide recognition for being where the Bottlenose Dolphin, "Winter" lived. Winter was the main character in the 2009 book Winter's Tale and more notably, became the 2011 film, Dolphin Tale.
💰 Local Tip: If you are here on vacation get a Tampa Bay CityPass to save 53% off! The CityPass includes Busch Gardens, The Florida Aquarium, Zoo Tampa at Lowry Park, the Clearwater Marine Aquarium, The Tropic Boats Tour, and the Museum of Science & Industry (MOSI).
Dunedin
If you love quaint towns on the waterfront, Dunedin has a lot to offer! Some of the best local breweries in Pinellas County are in the charming city. You'll be impressed by the many restaurants, shops, and the parking is usually free. However, it is a drive from downtown St Petersburg so you'll definitely want to plan for being there all day.
Madeira Beach
Come to the land of the pirates! As legend has it, Madeira Beach's first resident was a pirate which helped shape its unique history.
It is widely known for its 2.5 mile long white sandy beaches and the historical John's Pass Village. This beautiful shopping district has over 100 unique shops and many restaurants, bars, and watersports equipment available to rent.
John's Pass Village & Boardwalk has been ranked the #1 attraction in Pinellas County.
Tampa
If you're looking for world-class thrill rides, zoos, concerts, and a big-city feel, you can't miss Tampa. As I mentioned earlier, you'll definitely want to make time for this amazing city on your trip itinerary.
Tarpon Springs
Tarpon Springs is a city located on the Gulf of Mexico. Known for its Greek eateries that line the waterfront of Dodecanese Boulevard, it has a rich Greek heritage. In the early 1900s, Greek sponge divers settled here and the town was famous for selling sponges.
Enjoy a leisurely walk to see the Historic Sponge Docks are a reminder of the once booming industry. If you get time for a meal, try Hellas Restaurant (they also have a delicious bakery on the property).
Read Next: The 25+ Fun Date Things to Do in Tampa for Couples
Final Thoughts on Things to Do in St Petersburg FL
I hope my favorite things to do in St Petersburg FL list is helpful to you! As I mentioned, I continue to find new things I adore about the Sunshine City. So, please share your favorites too, in the comments below.
Before You Go…
Make sure you take full advantage of everything this incredible city has to offer. You'll definitely want to book a hotel and check out the related articles below.
Frequently Asked Questions
Did You Find This Post Helpful? Share It!
If so, I would love to hear about your favorite things to do in St Petersburg FL. You can follow me on Instagram, and tag your images to @erinstraveltips and hashtag #erinstraveltips. I look forward to seeing you there!
Related Travel Articles to Read Next