Looking for the best Dunedin bars for a fun evening out? As a local, I'm sharing the latest hot spots you want to check out in 2023.
After a full day of exploring the Tampa Bay area, there's nothing better than winding down at one of the many fun bars in Dunedin, Florida. The attractions in the city are widely varied, and the Dunedin bars are no exception.
When traveling, it can be hard to figure out the good bars from the subpar ones. That's why as a local, I've compiled this list of my top recommendations for Dunedin bars to visit in 2023.
Here are our picks for the best bars in Dunedin by category to make it easier to find a place that suits your style!
⛳️ Read Next: Local's Guide to The Best Things to Do in Dunedin FL
Does Dunedin Have Nightlife?
Dunedin is known for its beautiful beaches, including Honeymoon Island State Park and Caladesi Island State Park, which are popular tourist destinations. The city also boasts a lively downtown area, with a variety of shops, restaurants, and art galleries, as well as a number of historic landmarks and cultural attractions.
There are so many fun things to do in Dunedin in the daytime, but often we are asked about Dunedin nightlife.
Dunedin indeed has its fair share of nightlife, from casual watering holes to themed haunts to lively nightclubs! Here are the highlights of the Downtown Dunedin bars, clubs, and breweries by category.

Best Dunedin Bars for Live Music or Dancing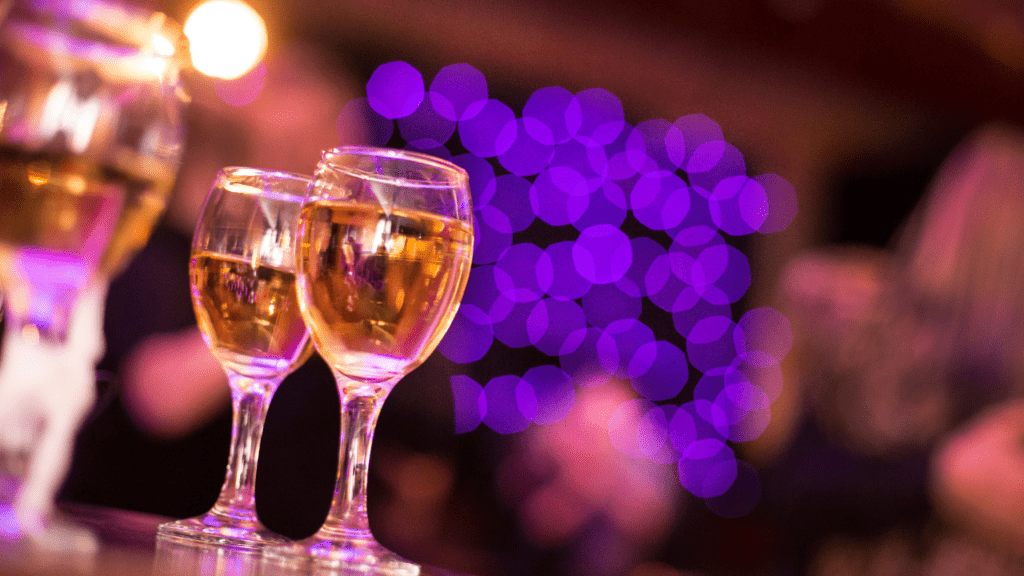 Stirling Wine
461 Main Street
Dunedin, Florida 34698
(727) 734-4025
Visit Website
When it comes to wine bars in Dunedin, Florida, Stirling Wine takes the cake. This charming boutique wine bar carries wine from around the world, and the list changes constantly.
You can enhance the experience with fondue or a platter of their artisan meats and cheeses. Enjoying a glass of wine on their patio with live music in the background makes for the perfect lazy afternoon.

Blur Nightclub
325 Main Street
Dunedin, FL 34698
(727) 736-2587
Visit Website
Blur Nightclub is home to some of the best dance parties in town. It's been years since I went to a nightclub, and this one was ideal for a fun time.
Each night of the week offers something different. The highlights are Tuesdays for karaoke, Fridays for drag shows, and Saturdays for live band performances. Blur offers all-day happy hour on Sundays, too.
It has a large outdoor patio with food trucks to enjoy.

Most Unique Bars in Dunedin
Reboot Arcade & Bar
248 Scotland Street
Dunedin, FL 34698
(727) 474-7171
Visit Website

Who says video games are just for kids? Reboot Arcade & Bar has old-school arcade and pinball machines. They also have the latest gaming consoles and even virtual reality!
In addition to craft beer and wine, Reboot is one of the few places you can get some good sake in Dunedin, too. Try their peach sake while you're here, or their Bell's Oberon wheat ale. If you get hungry while gaming, the bar also offers some Asian-inspired small bites.
---
Marker 8 | Tiki Bar & Grill
1420 Bayshore Blvd
Dunedin, Florida 34698
727) 738-5000
Visit Website
If you're looking for the best waterfront bar near Dunedin, look no further than Marker 8. Located north of downtown, Maker 8 is a tiki bar. It is one of my favorite places for a gorgeous waterfront sunset.
Indulge in a tropical cocktail or two, on the outdoor patio or in their heated dipping pool for adults only.
The Cuban sandwich is definitely a favorite here. Order one with their classic Marker 8 Margarita, and you won't be disappointed.
Happy hour is from 12 pm to 5 pm, Monday through Friday. Plus, come by at sunset for a free sunset shot every sundown!

Best Cocktail Bars Dunedin
Sonder Social Club
966 Douglas Ave Unit 101
Dunedin, FL 34698
(727) 754-6674
Visit Website
Looking for a spot that's a bit more upscale and polished? You can break out your good shoes for this one. Sonder Social Club is a craft cocktail bar — the first of its kind in Dunedin.
Their menu is quite fancy, with items like filet mignon beef Wellington and white truffle pizza. They've got a fantastic range of spirits, including vodka and gin, as well as tasty cocktails. Try the Dunedin daiquiri or Sonder sangria.

Best Dunedin Bars for Food
Clear Sky Draught Haus
680 Main Street
Dunedin, FL 34698
(727) 286-6266
Visit Website
Clear Sky Draught Haus is a local favorite, in part thanks to its special offerings throughout the week. They've got trivia nights on Mondays and half-off wine on Wednesdays. There's also late-night happy hour, Mondays through Saturdays.
Clear Sky is an all-day eatery with plenty of unique, artisan items on the menu. The highlight is their gourmet pizza. They also have discounted drinks each day. For example, your first pint of Guinness is discounted on Fridays!
From brunch to dinner, you can eat well while enjoying the excellent drink selection.
Crown and Bull
319 Main Street #5733
Dunedin, FL 34698
Visit Website
Crown and Bull is a restaurant first and foremost. However, their extensive alcohol selection earns them a spot on this list. Stop by for brunch, craft beer at lunchtime, or a martini at dinner. Their Crown's Old Fashion cocktail, made with bourbon whiskey, is an all-day favorite.
If you're in the mood for some outdoor seating or outdoor patio dining, this eatery is the place to be. They've got an intimate patio with twinkling lights and live music.

Best Rooftop Bars in Dunedin
Hi-Fi Rooftop Bar at Fenway Hotel
453 Edgewater Drive
Dunedin, FL 34698
(727) 683-5990
Visit Website
Once a basement speakeasy, Hi-Fi has come a long way. The Hi-Fi Rooftop Bar at the historic Fenway Hotel has a great selection of local and imported wines and beers. There's also a small but delicious menu of bar bites. They offer a stellar charcuterie board and a wild mushroom flatbread, among other items.
Enjoy the sunset or starry sky with a creative cocktail, such as their Southern Sipper or Jam Session, in hand. You can also get great views of Honeymoon Island and Caladesi Island from here.

Best Dunedin Breweries
Dunedin is one of the best places in Florida to enjoy a charming brewery scene. There are currently nine breweries, and within easy walking distance of each other. Here are my top favorite places in Dunedin for a cold beer!
Dunedin Brewery
937 Douglas Avenue
Dunedin, Florida 34698
(727) 736-0606
Visit Website
Dunedin Brewery is the oldest microbrewery in all of Florida, established in 1995. Rest assured that it lives up to the expectations! The offerings rotate, so there's always something new to try, even as a local. Plus, they offer a variety of delightful food pairings, including one of my favorites, handmade meatball hoagies with hand cut fries.
---
7venth Sun Brewery
1012 Broadway
Dunedin, FL 34698
(727) 733-3013
Visit Website
One of the top choices in my exploration of breweries in Dunedin is 7venth Sun Brewery. It's bright and spacious, with many large tables to play board games and other activities, including pinball. There is also a food truck and plenty of indoor and outdoor seating.
If you're in Dunedin on a Thursday, you'll want to make it to 7venth Sun Brewery. They have one of the best drink specials with half-off draft beers.
With locations in Dunedin and Tampa, 7venth Sun Brewery is a favorite throughout the Tampa Bay area.
---
Woodwright Brewing Company
985 Douglas Avenue
Dunedin, FL 34698
(727) 238-8717
Visit Website
Craft brewery and a woodworking shop, Woodwright Brewing Company is a truly unique brewery in Downtown Dunedin. Woodwright is known for German style beers and a nice selection of wines and ciders at very reasonable prices.
Mosey up to the handcrafted wooden bar and sip their Irish Red. There's also usually live music, so make sure to check out their schedule.

Best Dunedin Pub Bars
Flanagan's Irish Pub
465 Main Street
Dunedin, FL 34698
Visit Website
(727) 401-3477
Dunedin's Gaelic heritage is on show all around town, including at Flanagan's Irish Pub. You can sample some Irish pub grub, as well as authentic Irish liquors. They've got quite a few specials on rotation — try the sexton Irish whiskey shot if it's on offer while you're there.
The mood's always great here, with laidback live music most nights. On Wednesdays, hospitality workers get 50% off drinks. If that applies to you, grab your work ID and head over!
---
Rosie's Tavern of Dunedin
730 Broadway
Dunedin, FL 34698
Visit Website
Rosie's Tavern is one of the coziest downtown Dunedin bars. This is amplified by the fact that it's a dog-friendly bar. They've even got a dog photo wall on display as soon as you walk in.
At Rosie's, there's a rotating selection of beers on 20 taps, as well as wine. Try a classic Guinness Stout or one of their elderberry and pumpkin beers. This liquor bar also has an affordable selection of bar bites, plus unlimited free popcorn!
---
Cricketers British Pub & Restaurant
2634 Bayshore Blvd
Dunedin, FL 34698
Visit Website
(727) 736-1322
Being located in a shopping plaza, Cricketers tends not to have the traditional British pub feel but functions more like a sports bar with British offerings.
At Cricketers British Pub & Restaurant, you can choose from a selection of imported European beers. Try out Boddingtons Pub Ale from England or Hoegaarden from Belgium.
In addition to some classic American fare, their menu includes English mainstays. Grab a plate of fish & chips or shepherd's pie. This is an ideal place to go if you like to catch the latest sports game, including British & European football.

Best Dive Bar in Dunedin
Skip's Bar
371 Main Street
Dunedin, FL 34698
(727) 734-9151
In the mood for a no-frills, casual dive bar? This local watering hole has the bare essentials – cheap cold beer and an outdoor patio. There are a few extra fixings, namely one of the best jukeboxes and a dart board.
Skip's Bar & Grill is a cash-only establishment, so don't forget to bring some. You won't need to stuff your wallet too much, though, since their prices are pretty affordable. It's a small place and popular with locals, so don't be surprised if it's crowded when you visit.

Final Thoughts on Bars in Dunedin
No matter what kind of night out you're looking for, from lively nightclubs to relaxed breweries—you'll find an excellent variety of bars in Dunedin.
From my experience, the Dunedin bar scene is nothing short of fun times and great vibes. So grab your friends and head out for an unforgettable evening.
Did I miss one of your favorite locations? Please comment below, and I'll check it out!
FAQs on Dunedin Bars
Is Dunedin a walkable city?
Yes, in fact, it's one of the most walkable cities for restaurants, breweries, shops, and nightlife in Florida. With its laid-back vibe, you'll find it be one of the most charming cities in Tampa Bay.
How do you spend a day in Dunedin FL?
Dunedin has some of the world's finest beaches as well as award-winning restaurants and breweries. You'll be awed by the museums and quaint shops, as you stroll around this picturesque town. Some of the most popular destinations include: Caladesi Island State Park, Honeymoon Island State Park, and Hammock Park. For a full list, check out the full list of best things to do in Dunedin, Florida.
Related Florida Travel Articles to Read Next