Looking for where to stay in Clearwater Beach? Read on for the best hotels in Clearwater Beach for families, party vibes, luxury, and budget stays!
Florida is one of the best states for a beach vacation in the US. The sunny weather and gulf coast beaches make Clearwater Beach a year-round tourist spot. Plus, as the name suggests, the gorgeous clear waters and sugar-white sand beaches are breathtaking.
As a local, I'm of course, a bit biased! I absolutely love this amazing beach town. With its close proximity to Tampa and St Petersburg, you'll have plenty of things to do!
Both Clearwater Beach and St Pete Beach in Pinellas County have been ranked the #1 Beach in the US by TripAdvisor. Oftentimes, a question that comes up is which is better? If you're undecided you'll want to check out my article that compares St Pete Beach vs Clearwater Beach.
If Clearwater Beach is the "clear choice," then, read on! As a local expert, this article covers where to stay in Clearwater Beach, this article will help you make an informed decision.
Here are the 9 best hotels and resorts at Clearwater Beach. Whether you're looking for a relaxing, family-friendly vacation or a weekend of partying, this article has you covered (well, at least the hotel aspect).
🏆Overall Best Hotel in Clearwater Beach
Sandpearl Resort tops the list as the overall best resort at Clearwater Beach. Whether traveling in a large group or on a romantic vacation with your significant other, this resort ensures that your trip to clearwater becomes memorable.
Not only is this 4-star resort family-friendly and pet friendly, but it also has a wide variety of activities awaiting you. At Sandpearl, you get access to its private beach and water activities, which include surfing and parasailing.
Besides an onsite coffee shop, health center, and spa, this is one of the clearwater beach all-inclusive family resorts with a children's club.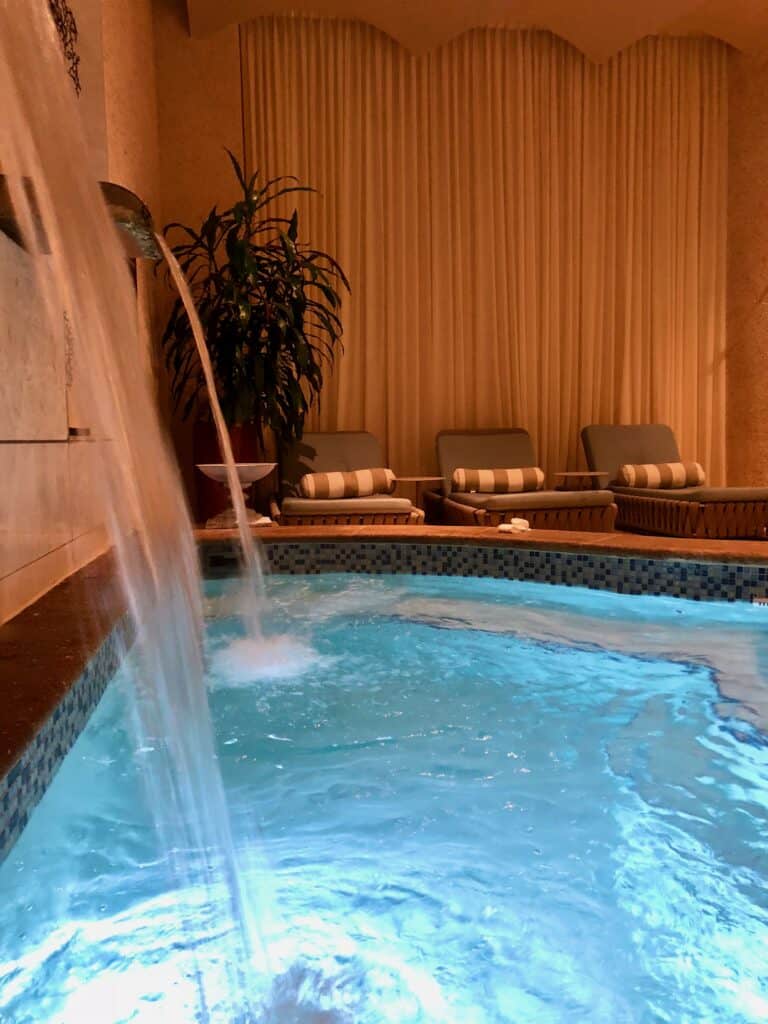 If you're traveling with your family, you can leave your children to spend their time here while you and your husband/wife enjoy quality one-on-one time.
While everyone will want to spend time at the luxurious beachside pool, make time for the spa. I had one of the best massages at the Sandpearl, and they have free amenities there too. I especially loved using their spa jacuzzi, and they pamper you with flavored waters and cucumbers for your eyes.
🌴 Pro Tip: For those with flexible dates, you can snag some great deals in the off-season. This is my go-to place for a staycation!
Private beach and resort amenities
Ideal location close to main attractions while remaining private
Pet-friendly
Family-friendly
Read some of the rave reviews on this resort:
"Sandpearl is phenomenal and we will go back. Resort is beautiful, location is fabulous, beach is great, and staff are welcoming and so helpful. Can't say enough great things about this resort!"

– Angie, (Sandpearl Resort review)

👨‍👩‍👧‍👧 Where to Stay in Clearwater Beach with Kids / Family-Friendly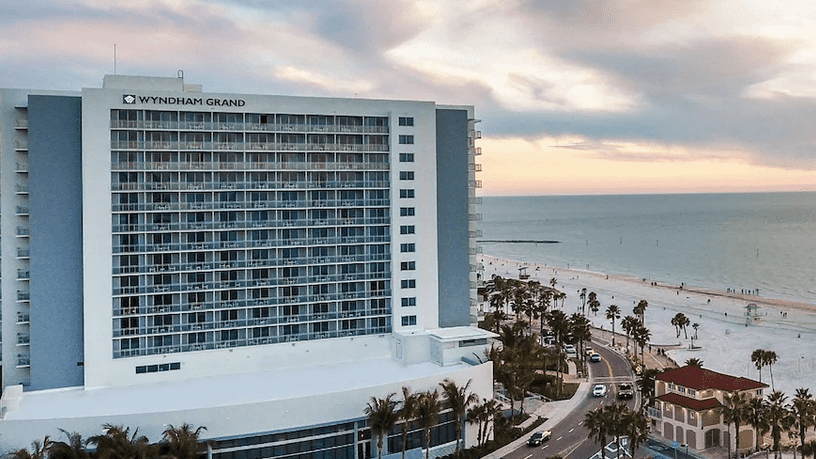 Wyndham Grand should top your list of hotels when traveling with the family. Overlooking the clear blue waters of Clearwater Beach, this 4-star hotel has an elegant and sleek design.
Wyndham offers you various accommodation options, from basic rooms to full-blown-out suites with private dining and living areas.
Wyndham offers free accommodation for children under 18 years of age in their parents'/guardians' rooms.
The hotel has an on-site spa, a 24-hour fitness center, and multiple restaurants that serve delectable cuisines.
You can enjoy a freshly prepared dinner while overlooking the gorgeous Clearwater sunset at their oceanfront dining area.
Interesting Fact: Wyndham is immensely popular for hosting weddings and won the couple's choice award two years in a row.
Private balcony
Business center
Fitness center and Spa
Not pet-friendly (only service animals allowed)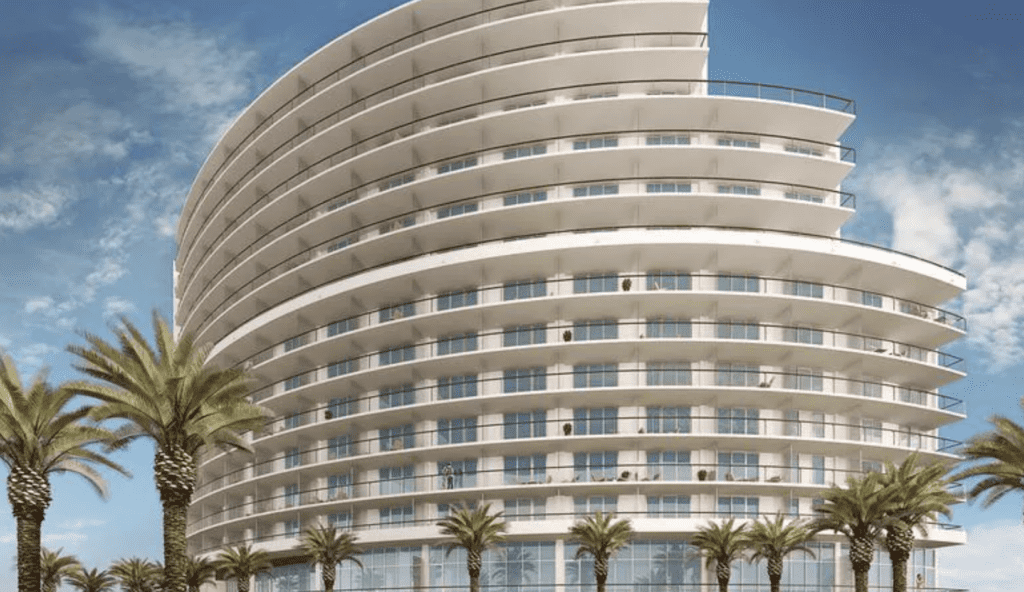 Opal Sands Resort is an excellent option for tourists traveling with families and children. The resort-style hotel offers a wide range of rooms based on your requirements.
The rooms are modern and stylish and offer all basic hotel amenities. Beyond the basics, you'll love a relaxing deep-tissue massage at the spa or have a refreshing dip in the outdoor pool.
The hotel provides fire pits for you to warm up around during chilly winter nights while enjoying the fresh air and outdoor weather.
Opal Sands also has a Tiki bar that offers a wide range of tropical drinks and sets you in the perfect resort vacation mood.
Multiple attractions are also located within a short distance from the hotel. Pier 60 is located less than a minute from the hotel, and the Clearwater Marine Aquarium is a short 7-minute drive away. Families can visit the aquarium to see the adorable dolphins (kids especially love it).
Pet-friendly
Multiple nearby attractions
Beautiful beachfront location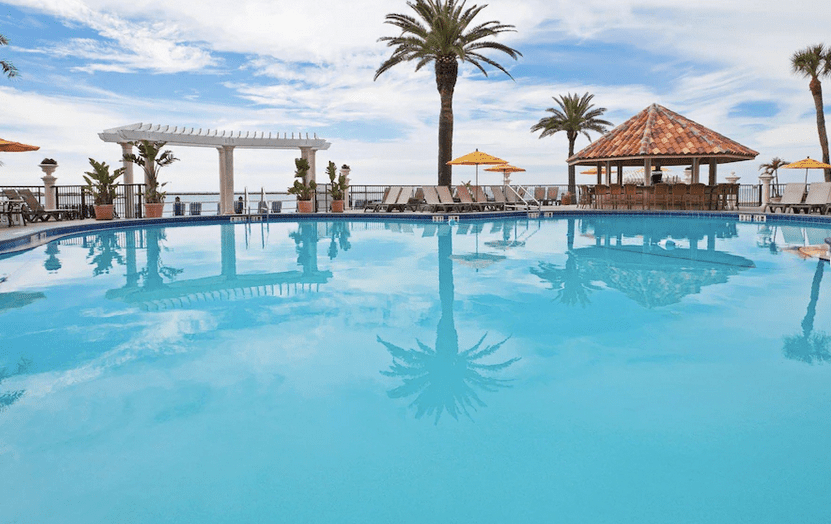 Directly overlooking the Gulf of Mexico, Holiday Inn Resort Clearwater Beach offers you a wide variety of rooms. The hotel provides all basic amenities and a coffee machine, and a hairdryer in each room.
The on-site restaurant serves breakfast, lunch, and dinner, and you can choose from an extensive a la carte menu.
Interesting Fact: Children under 11 get to eat free when adults order from their on-site restaurants.
Rum Rummer's Tiki Bar, Jimmy's Fish House, and Iguana Bar are particularly popular among guests.
You can sunbathe near the pool while enjoying a refreshing cocktail from the poolside bar. Sand Key Beach and Belleair Beach are just a few miles from the hotel. You can't beat the oceanfront room views.
Fitness center & pool
Nearby golf course
Kids eat free at onsite restaurants
Pets not allowed
Parking fee is pricey

🥳 Best Party Hotels in Clearwater Beach
Clearwater beach is famous for its parties that don't stop, almost ever.
These are the best hotels at Clearwater beach if you're looking to party and have a good time even in your hotel.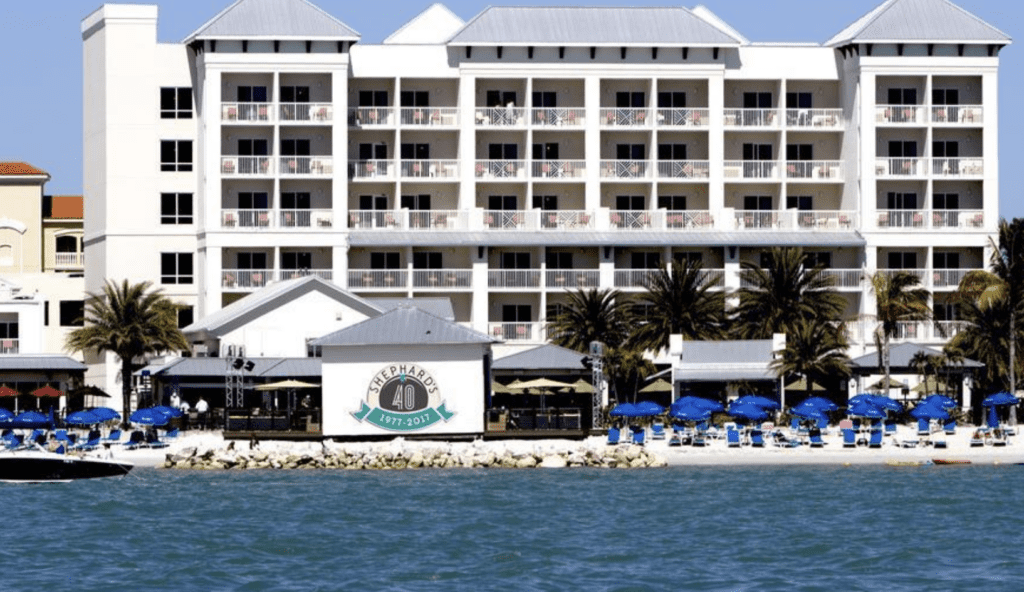 Named Florida's #1 beachside entertainment resort, Shephard's Beach Resort is the place to immerse yourself in Clearwater's party life truly.
The resort rooms are cozy and provide you with all basic amenities. You can also choose between three different room views:
Pool View
Gulf View
Studio View rooms
As the resort is located in Clearwater's entertainment district, multiple clubs and bars are within a short distance from the resort. Plus, the resort itself offers numerous entertainment options for your amusement.
Note: The resort also provides space for weddings and business meetings.
Lively Hotel with a party atmosphere
Free parking
Multiple nearby restaurants, bars, and activities
Pets not allowed
Not suitable for those looking for a quiet stay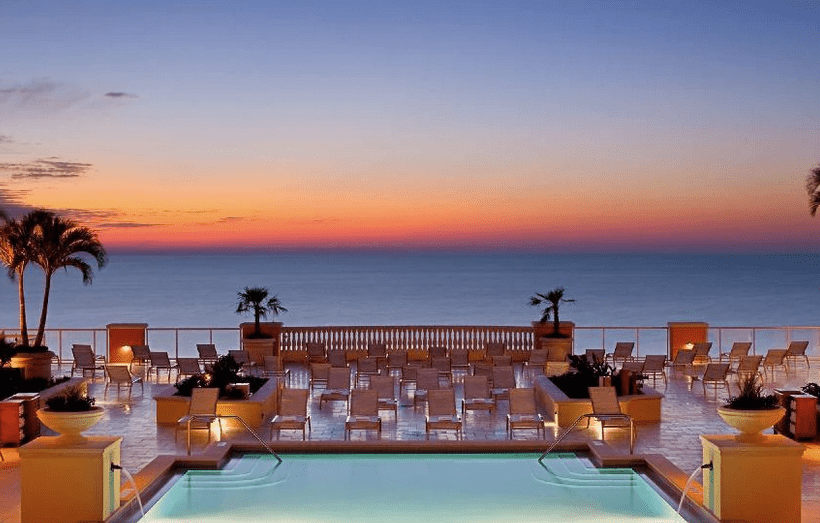 Experience the standard Hyatt hotel experience at the Hyatt Regency Resort. From basic budget-friendly rooms to elaborate suites with large beachfront balconies, this resort ensures that you have a wide range of options.
You can enjoy a relaxing hot stone massage at the Sandava Spa or get sweaty and active at their 24-hour fitness center.
The 8th-floor outdoor pool is arguably the most exciting part of the resort, as you can enjoy a relaxing dip in the pool while marveling at the gorgeous views of the beach from the 8th floor. There is also a separate and secured kids' pool present.
The award-winning on-site restaurant, SHOR, serves various delicious seafood options. The famous Pier 60 is only a minute away, and there are multiple restaurants and cafes near the resort.
Babysitting facilities and children's club
Spa and pool amenities
ADA Accessible
Multiple beach activities
Read the rave reviews on one of the best hotels in Clearwater Beach:
"Everything was beautiful and so accommodating. We had a corner suite with view and the entire room was spacious and super clean. We had no complaints whatsoever, traveled with 2 adults and 2 small children under 5."

– Taylor, (Hyatt Regency Clearwater Beach review)

💲 Best Cheap Hotel in Clearwater Beach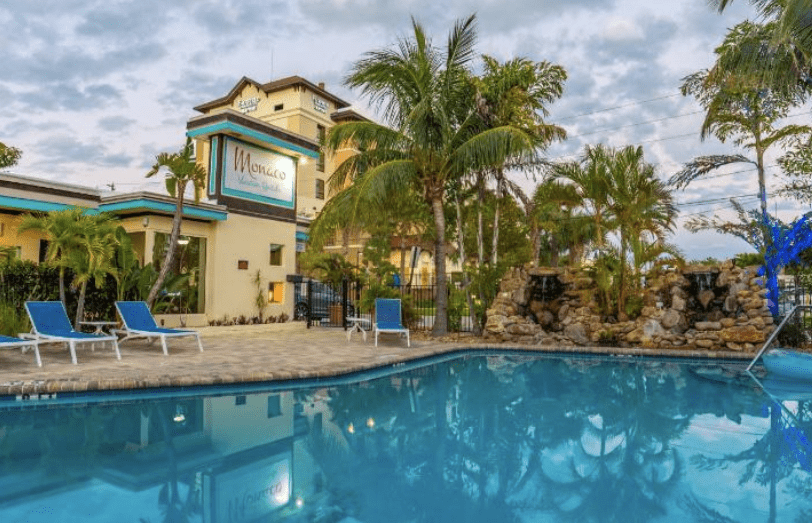 Given its popularity, most hotels and resorts in Clearwater Beach can be expensive. However, if you're on a budget but still looking for easy walkability to the beach, Monaco Vacation Rentals is ideal.
Each apartment comes fully equipped with all basic amenities and a private bathroom and shower. However, the main selling feature is their full kitchens or kitchenettes and free wifi. You'll save on being able to eat some meals in your room (when you want to!).
The rooms are clean and overall properly maintained. Based on your requirements, you can choose from a variety of single rooms to larger suites, perfect for accommodating a family.
The hotel also offers an outdoor pool and a garden area for you to relax and unwind. It is approximately a 2-minute walk to the beach.
Budget-friendly, homey vacation rentals
Free private parking
Outdoor pool & garden available
Small hotel area
No frills

🏝 Best Boutique Hotel in Clearwater Beach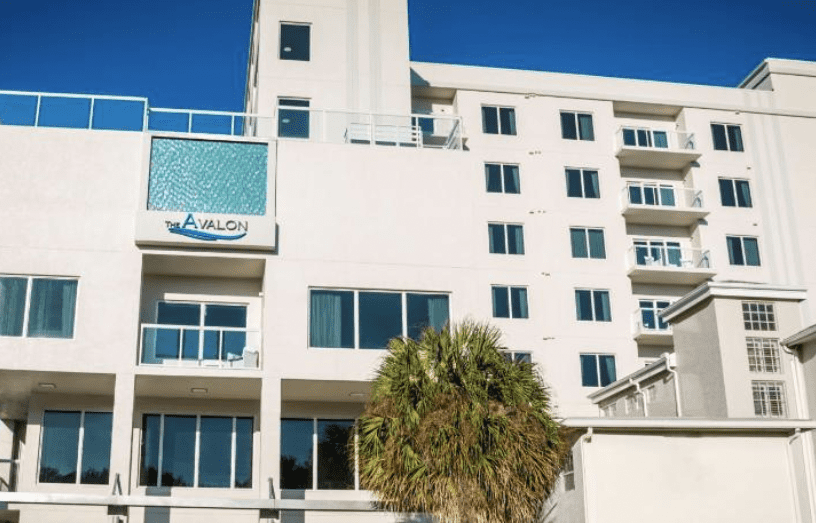 If you are looking for a spacious retreat that is also pet-friendly, The Avalon Club is a great option. While it is considered a boutique hotel it offers more bang for your buck since you can cook right in your hotel suite (or bring your own drinks). Plus, it's right on the strip with beachfront views.
👩‍👩‍👧‍👧 It is also great for large gatherings since you can book 1-bedroom, 2-bedroom, and 3-bedroom suites.
Built in 2021, this beautiful hotel is truly unique in its outlook, as its minimalist design and white interior give off a very calming vibe.
From the modern yet minimalistic pool to the relaxing outdoor sitting area, every concern of this boutique hotel simply screams elegance and luxury. The fitness center is open 24 hours and you can also enjoy the breathtaking views from Avalon's rooftop bar.
The rooms come equipped with:
Full kitchens with dishwasher, microwave, stovetop, etc.
Washers and Dryers
Outdoor balconies
Cookware/dishes/utensils
Memory foam beds
Free wifi
This pet friendly hotel in Clearwater Beach does allow dogs under 30lbs with a maximum of 2 dogs. The Avalon Clearwater charges a nightly fee of $85 + tax to those bringing a furry friend.
Located right at the beach, you get to indulge in multiple water activities, such as water skiing and sailing. Plus, they provide complimentary towels, beach chairs, boogie boards, and umbrellas to use during your stay.
There are multiple attractions located near Avalon as well, such as McKay and Mandalay park as well as Clearwater Beach. There are cigar lounges and nightclubs within walking distance from Avalon.
Multiple nearby attractions
Spacious rooms and full kitchens
ADA Accessible
Pet-friendly
Additional parking charges

🐶 Best Pet Friendly Hotels in Clearwater Beach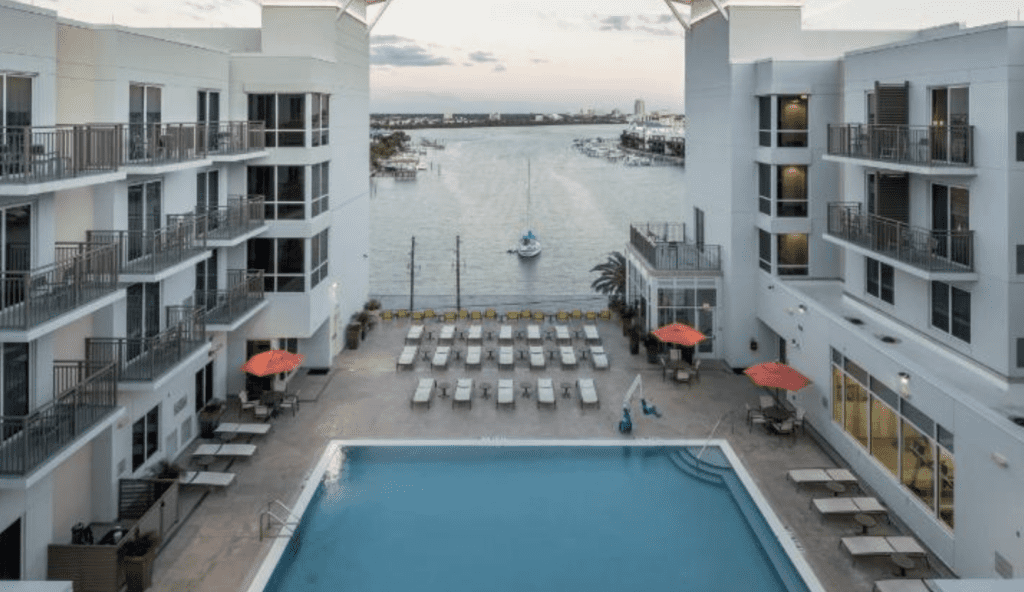 The Residence Inn provides you with all basic hotel amenities, a fully equipped fitness center, and a relaxing outdoor pool.
Because of the full-size kitchen and comforts of home, we also consider this hotel to be one of the best hotels for your money in Clearwater Beach.
Some of the room amenities include:
Dining area
Full-size refrigerator and freezer
Stovetop, dishwasher, and microwave
Cooking utensils and coffee maker
Free wifi
You can also enjoy a scrumptious FREE breakfast buffet and have a nutritious start to your day.
The pet policy allows for up to 2 pets 50lbs maximum. The cost is $125 per stay (not a per-night charge, so better for longer stays).
Multiple parks are nearby, and Pier 60 is less than a mile from the hotel. While it is a chain hotel, you know what to expect from a Residence Inn which gives you peace of mind when booking your hotel stay.
Pet-friendly
Breakfast included
Budget-friendly
Walking distance to restaurants and Pier 60
Parking is available for a fee

Clearwater Beach Things to Do
While in Clearwater Beach, you'll want to make time for at least one or two of the top activities in the area.
Top Activities in Clearwater Beach:
Beachfront promenade for romantic sunset walks, bicyclists, etc.
Tikki Boat Tours as well as other nearby boat tours
Pier 60 shopping, fishing, playground, and nightly festivals
Parasailing
Final Thoughts on Best Hotels in Clearwater Beach
Given Clearwater Beach's popularity amongst tourists, there is a long list options. However, with so many options, it's easy to get overwhelmed by the plethora of hotels.
In this article, I've listed my top 9 hotels in the Clearwater Beach area so you no longer spend hours trying to find the best fit for yourself.
The clear winner is the Sandpearl Resort if you are looking for a luxury all-inclusive resort in Clearwater Beach.
And, while you're here in Clearwater, check out these 17 beaches nearby!
Did You Find This Post Helpful? Please Share It!
If so, I would love to hear about your Florida travel adventures! You can follow me on Instagram, and tag your images to @erinstraveltips and hashtag #erinstraveltips. I look forward to seeing you there!
Related Florida Travel Articles