Looking for the best things to do in Tampa for couples? Don't fret! This list will make your life easier. These are our most cherished fun things to do, now shared with you!
Whether you're searching for a unique place for a first date or somewhere new to take your partner for a romantic night, you'll find plenty of options in Tampa.
Actually, Tampa is jammed packed with interesting places for dates, so much so it can feel a bit overwhelming.
We've found some of the best daytime and date night activities in Tampa to take the guesswork out of planning your next adventure. After all, your time is valuable. Why not make sure your date night is a success?
From boat tours to championship games, Tampa has something for everyone!
Local Tip: If you are on vacation get a Tampa Bay CityPass to save 53% off! The CityPass includes Busch Gardens, The Florida Aquarium, Zoo Tampa at Lowry Park, the Clearwater Marine Aquarium, The Tropic Boats Tour, and the Museum of Science & Industry (MOSI).
Fun Things to Do in Tampa for Couples
With so much to see and do, narrowing down your must-dos can be tough. I have listed several cheap things to do in Tampa if budget is also a factor.
Without further delay, here is my travel guide and top things to do in Tampa for couples!
Read Next: Tampa vs Orlando: Which is Best For You?
Explore the Tampa Riverwalk
Whether you're looking for a place to take a leisurely stroll or go for a run, the Tampa Riverwalk is perfect. This 2.6-mile trail winds along the Hillsborough River through downtown Tampa and offers gorgeous views of the city skyline.
Along the way, you'll find parks, museums, restaurants, and shops, making it easy to stop and explore as you go. The best part? The entire riverwalk is free and open to the public 24/7.
If you and your loved one prefer to ride, there is also a lovely water taxi that takes you up and down the Hillsborough River.
Visit The Florida Aquarium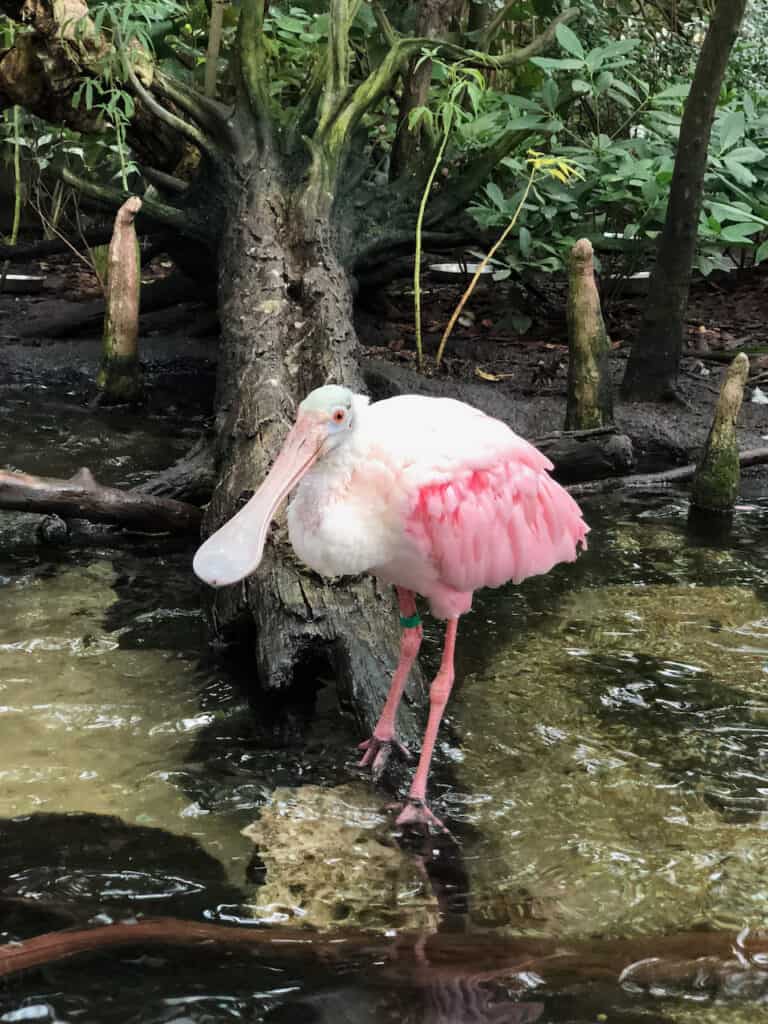 Located in the Channelside District of downtown Tampa, the Florida Aquarium is a must-see for anyone visiting the area. The Florida Aquarium in recent years has really upped its game with fantastic galleries and aquariums. It is highly rated for being one of the top-ranked aquariums in the US.
With 7,000+ animals on display, ranging from frogs to sharks, there's something for everyone at this world-class aquarium. And don't forget to check out the Stingray Beach exhibit where you can touch stingrays.
Are you both thrill seekers? Then this one is for you. The Florida Aquarium offers the SeaTrek experience where you can walk underwater and see fish, sharks, and sea turtles up close.
Get your Florida Aquarium tickets beforehand to skip the line and make the most of your day.
🌴 Local Tip: The Florida Aquarium is nearby to other fantastic attractions including the SS American Victory, Sparkman Wharf, and the Tampa Bay History Museum. Get half-day or all-day parking and see all the spectacular sites!
Address: 701 Channelside Dr, Tampa, FL 33602 | Website: The Florida Aquarium
Watch a Tampa Bay Sports Team
While it may be bragging, we are proud of our Champa Bay Teams! Whether you are in Tampa during hockey, baseball, or football season, you'll have various great opportunities to see a sports team play.
One of our favorite date night splurges is seeing the Tampa Bay Lightning play from the Club Seats where complimentary food and cocktails. The dining hall has some of the best selections I've seen for a professional team.
Get Your Thrill Fix at Busch Gardens
If you're looking for thrill rides, Busch Gardens has it covered for Tampa Bay vacations. Even though it is known for its roller coasters, there are slower-paced rides, zoo, and gardens to enjoy.
Every year Busch Gardens has special events, and one of our personal favorites is Howl-O-Scream.
Hold onto your partner's hand as ghosts and other creatures of the night pop out! Whether you come for a special event or not, you're sure to find a thrilling adventure here together. If you are not into rollercoasters, I always love seeing exotic animals.
Read Next: The 27 Fun & Best Kids Things to Do in Tampa Bay
Relax at Curtis Hixon Waterfront Park
Curtis Hixon Waterfront Park is located on 8 acres in the heart of downtown Tampa next to the Tampa Riverwalk on the Hillsborough River. From food trucks, free concerts, seasonal events, and beautiful water views, this is one of our favorite free things to do in Tampa for couples!
There are public restrooms, a playground area, and plenty of grassy areas to bring a picnic. During the Christmas season, it is especially lovely with holiday decorations, activities, and a skating rink. The Tampa Museum of Art and Glaser Children's Museum are also located at the Curtis Hixon Waterfront Park.
Take a Cruise in Tampa Bay
While in Tampa, you must enjoy some time on the water! There are plenty of options when it comes to partaking in the beautiful outdoors.
Dolphin tours, tiki boat rides, and romantic dinner cruises tend to frequently top the list for honeymoon activities in Tampa.
If your schedule allows for a day trip, the Cross Bay Ferry from Tampa into downtown St Petersburg is a fun way to spend part of a day. St. Petersburg is one of the most beautiful waterfront cities in Florida. It is an ideal spot for a couple's getaway to enjoy bars, restaurants, and beaches!
Read Next: A Local's Guide: The 16 Best St Pete Beach Bars & Nightlife!
Dine at the Best Restaurants in Tampa
Trying to decide where to go out to eat on a date night can be tough with a lot of options. Here are a few of our favorite Tampa restaurants for couples:
Ulele
Ulele is one of the best outdoor restaurants in Tampa. This Native American-inspired restaurant is located in the historic Tampa Heights neighborhood by Armature Works. The menu features fresh, locally-sourced ingredients and there's something for everyone including their own beers on tap. Perhaps our favorite part is waterfront dining by the river. Afterward, stroll over to Armature Works for a leisurely cold drink or cocktail.
Read Next: 15 Best Things To Do in Indian Rocks Beach
Bern's Steak House
For the ultimate upscale restaurant experience, you will want to dine at Bern's Steak House. This world-famous restaurant has been serving steaks and seafood since 1956. It is known for having one of the largest wine collections in the world.
With its elaborately decorated rooms and massive wine cellar (containing over half a million bottles!), Bern's is an experience like no other. Just be sure to come hungry and save room for the dessert room and sit in one of their insanely cool little booths. Reservations book up far in advance, you'll want to plan ahead.
Cooper's Hawk Winery & Restaurant
Couples looking for a fun wine-tasting experience will enjoy Cooper's Hawk Winery & Restaurant located in Metwest International (near the International Plaza). The food is delicious and the wine tasting is fun, especially for a couples night out. While it is a chain restaurant, the wine-tasting restaurant experience makes it a winner.
Shop 'Til You Drop at Hyde Park Village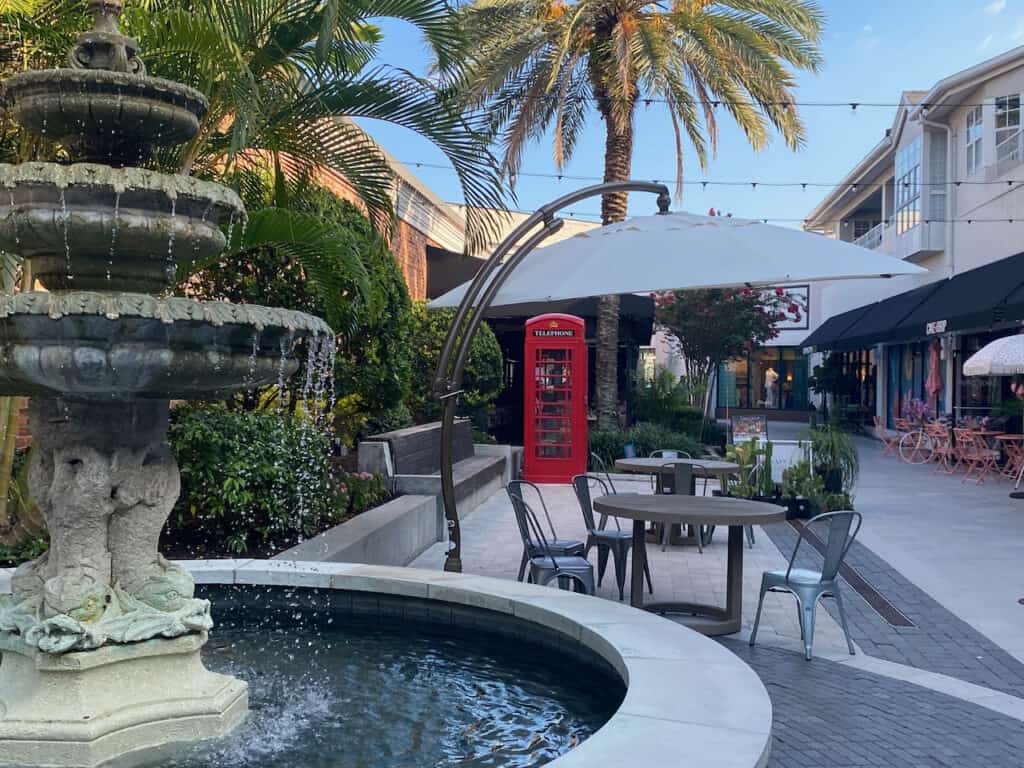 If you're looking for a unique upscale shopping experience, look no further than Hyde Park Village! This quaint shopping district is just a short drive from downtown Tampa! It features a variety of shops and restaurants, free parking garages, as well as plenty of opportunities to people-watch.
Be sure to stop in at Bartaco, one of my favorite places for tacos and margaritas. If time allows, go for a walk over to Bayshore Drive for views of millionaire homes all along the water. With wide sidewalks and gorgeous views, don't be surprised if you see Bottlenose dolphins! We frequently see dolphins in the early morning hours.
Address: 1602 W Swann Ave, Tampa, FL 33606 | Website: Hyde Park Village
Explore Trendy Armature Works in Tampa Heights
One of the trendiest areas these days is down on the Hillsborough River in the heart of Tampa. Armature Works has multiple restaurants in an upscale food court with lots of indoor and outdoor seating. It is easily accessible by car, bike, or even boat.
This unique spot has something for everyone, whether you're into trying new foods, enjoying live music, or getting active outdoors.
Address: 1910 N Ola Ave, Tampa, FL 33602 | Website: Armature Works
Read Next: St Petersburg vs Tampa For Vacation + Best Things to Do
The Captivating Beauty of Oxford Exchange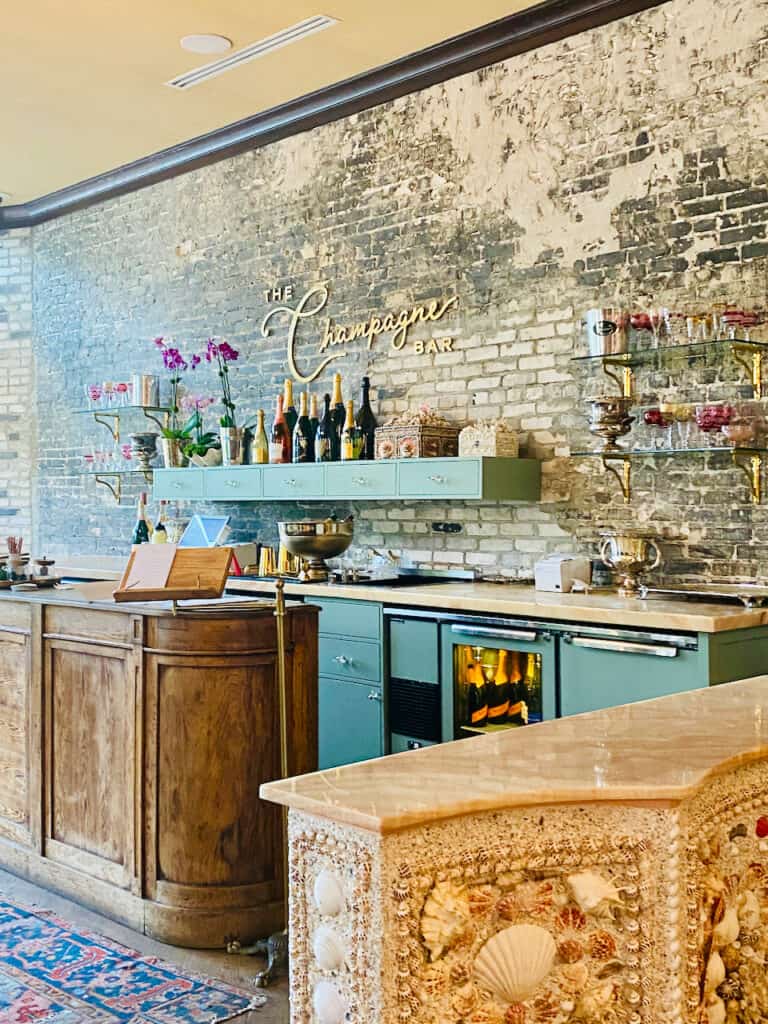 Oxford Exchange is truly a work of art while being a combination of an upscale eatery, tea and coffee shop, apothecary, bookstore, and a vibrant champagne bar. The restaurant has one of best brunches in Tampa. But you don't have to be a foodie to enjoy their meals, their burger is just as good (it's my go-to)!
Make a reservation to avoid a wait. Luckily, there is a lot to keep you busy! The building alone will capture you with its beauty. It's no wonder Oxford Exchange is a popular place with couples as a wedding venue.
Address: 420 W Kennedy Blvd, Tampa, FL 33606 Website: Oxford Exchange
Sunset Horseback Riding on the Beach
Looking for a fun and unique activity to do with your partner? Why not try horseback riding and swimming at the beach?
Located near the quaint town of Bradenton, FL you can meet beautiful horses and learn about their amazing stories. Many of them are rescues, so you'll be sure to appreciate each one's unique story.
Plus, you might even get to see some wildlife like manatees, stingrays, and dolphins! Palma Sola Bay is a natural habitat for manatees, so keep your eyes peeled.
Not to mention, the views of the bay are absolutely stunning. So why not give horseback riding at the beach a try? It's sure to be a fun and unique experience for you and your partner.
C Ponies offers multiple excursions including a Sunset Platinum Excursion which is a favorite for proposals, honeymoons, and other romantic dates.
Read Next: The 26 Best Things to Do in Bradenton FL in 2022
ZooTampa at Lowry Park
The award-winning ZooTampa at Lowry Park is one of the best zoos in the US. It began in the 1930s as a municipal department with a small number of Florida native species, and now it has over 1,300 animals to see.
Beyond the animals, there are rides and attractions that will keep you busy all day long. The water ride will cool you off from the Florida heat.
There are also additional encounters you can add to enhance your day. Feeding the giraffes or getting a photo with the cute koalas are fabulous for a date. They will make a lasting impression!
Address: 1101 W Sligh Ave, Tampa, FL 33604 | Website: ZooTampa at Lowry Park
Discover the World-Class Museums in Tampa Bay
For art and history lovers, Tampa museums are hard to beat! In fact, Tampa Bay has some of the finest world-class museums in the world. You will be surprised how many you can access for FREE if you are a Hillsborough or Pinellas County resident!
Whether you get in for free or not, these museums are truly spectacular! Here is a sample of some of our absolute favorites to see as a couple!
Henry B Plant Museum
Henry B Plant Museum is an architectural marvel to look at from the outside, which made it all the more appealing to visit! Located in downtown Tampa on the campus of the University of Tampa, this gorgeous historic building was once a hotel.
Inside you will be greeted by a friendly museum volunteer who is very knowledgeable and shares stories of the past. Many of the furnishings are from the 1800s. Self-guided audio tours are available on your phone.
Most locals don't realize what an impact Mr. Plant had on the city of Tampa. Visit this hidden gem and you'll soon be more educated on the history of this great city.
After you finish at this museum, pop over to Oxford Exchange located just across the street.
Tampa Bay History Center
The Tampa Bay History Center is located on the Hillsborough River across from Amelia Arena. This multi-story museum has exhibits on Florida history from Native American Indians' times to current times. There are interactive displays and fun exhibits for all ages.
Our favorite sections were the cigar factory exhibit and the pirate ship level. Don't miss the observation deck to get a great photo together with a view of Tampa and the Hillsborough River!
Attached to the museum is the Columbia Cafe with lovely water views and a boat dock. It has the same great food as the Columbia Restaurant in Ybor City. While this is a popular spot by museum-goers, we tend to go here before a game or concert at Amalie Arena (it's literally that close). Sit outside to fully appreciate the ambiance! On a night out on the town, we love their red sangria.
Address: 801 Water St, Tampa, FL 33602 | Website: Tampa Bay History Center
Tampa Museum of Art
For art lovers, the Tampa Museum of Art is located downtown near Curtis Hixon Waterfront Park. The museum features rotating exhibitions of both modern and contemporary art, as well as Roman and Greek antiquities. It is located next door to the famous Glazer Children's Museum which is ideal for young kids or toddlers.
Address: 120 W Gasparilla Plaza, Tampa, FL 33602 | Website: Tampa Museum of Art
See an Old Favorite at The Tampa Theatre
When it comes to traditional favorite dates, it's hard to pass up a move date night in Tampa, Florida. This is a fun date night idea when you're looking for a quiet evening to yourselves.
The Tampa Theatre is a National Historic Landmark that opened in 1926. Its elegant throwback decor makes you feel like you'll be sitting next to Judy Garland or Marilyn Monroe. Plus, you can purchase snacks, local beers, or crafted cocktails to really make it feel like a unique date night.
Check out the Tampa Theatre schedule of documentaries or independent films.
Stroll Through Historic Ybor City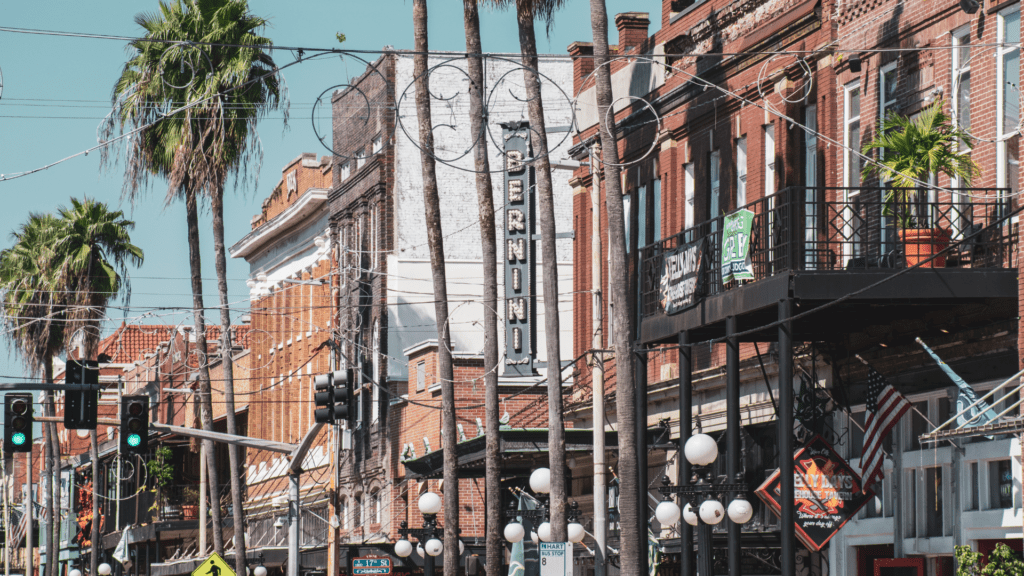 One of the very few historic districts left in Florida, Ybor City is a cool place to stroll on the old brick streets with free-roaming chickens.
Make the most of your time by booking a Ybor City Guided Walking Tour. It is one of the most loved tours and attractions in Tampa!
This historic neighborhood was once home to Cuban cigar factories and is now full of interesting shops, restaurants, breweries, and bars. One of our favorite places to eat is the Columbia Restaurant for some delicious Spanish food. I have to get the 1905 salad every time I'm there which is served with delicious warm bread.
Ybor City has become hugely popular for its nightlife scene with easy walkability between bars and clubs.
Sample the Tampa Breweries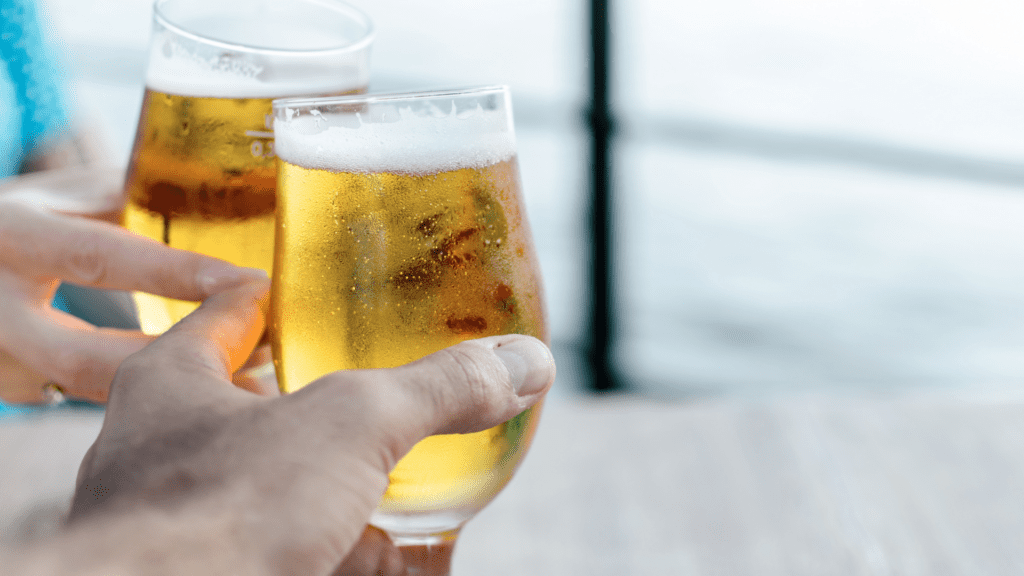 Tampa is home to many fantastic breweries, each with its own unique atmosphere and selection of beers. In fact, Ybor City has several great options all within a relatively short walk from one another. A few breweries you may want to visit are the BarrieHaus Brewing Company, Tampa Bay Brewing, and Coppertail Brewing Company. Ybor City is also known for its vibrant nightlife!
Cigar City Brewing and Yuengling are two of the more widely recognized breweries in Tampa. Cigar City Brewing is known for its wide variety of beers, excellent food, and live music. If you are a couple that enjoys a good brew, it definitely can be a fun date night!
Yuengling Tampa has been recently revitalized with a brand new restaurant, The Yuengling Draft Haus & Kitchen.
Sparkman Wharf
After exploring the Channelside District stop over at the Sparkman Wharf. This modern waterfront hub is known for live music and events, restaurants (food trucks made out of shipping containers), shops, a bowling alley, and an exceptional bier garden with waterfront views.
Watch a Tampa Bay sunset while enjoying one of the local craft beers. This unique spot has plenty of photoshoot opportunities to capture your memories as a couple!
Plus, if you both love history, the American Victory Ship & Museum (SS American Victory) is located at Sparkman Wharf. This American icon is known for being only one of four completely operational WWII ships in the United States.
Between the museum, shopping, and restaurants, there's a lot to see at Sparkman Wharf.
Address: 615 Channelside Dr, Tampa, FL 33602 | Website: Sparkman Wharf
Day Trip to Clearwater Beach in Tampa Bay
Clearwater Beach is renowned for its sugary white sand and crystal-clear waters. It's one of the top-rated beaches in Florida, and it's perfect for swimming, sunbathing, or simply taking a leisurely stroll along the shoreline.
If you're looking for a little bit of adventure together, you can go parasailing or take a party boat cruise!
Clearwater Pier 60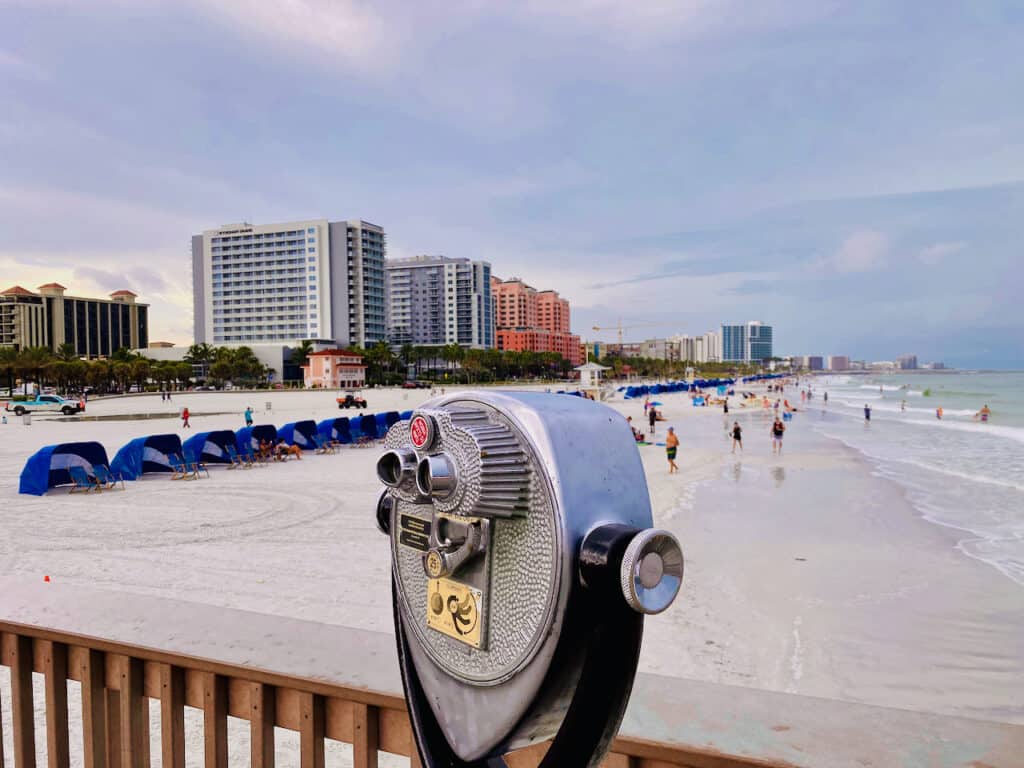 Clearwater Pier 60 is a public fishing pier and recreational park that stretches out into the Gulf of Mexico. It's a popular spot for locals and tourists alike, and it's easy to see why. The pier is a great place to relax and watch the waves crash against the pilings at Clearwater Beach. There are also shops, snacks, playgrounds, covered pavilions, and a fun park.
Clearwater Pier 60 Parking
Clearwater Pier 60 parking fills up fast. We prefer to go early in the morning before the crowds to be able to park in the lot next to Pier 60. There is also plenty of street parking and paid parking lots.
If you go early, Another Broken Egg is a great casual restaurant for brunch in Clearwater Beach. They also validate parking at a discount rate in the attached parking garage. They have a wide variety of sweet and savory dishes. Some favorites are the lobster and brie omelet and cinnamon roll french toast. If you have a sweet tooth they also serve complimentary beignets.
Pier 60 Sunsets
Pier 60 also plays host to a number of events throughout the year. The "Sunsets at the Pier" occurs nightly from 6 pm to 9 pm featuring local artists, food, and musicians performing as the sun goes down.
This is one of the more romantic things to do in Clearwater Beach! Afterward, stroll the boardwalk to hear live music at one of the many bars or restaurants.
Clearwater Marine Aquarium
Clearwater Marine Aquarium is a non-profit organization dedicated to the rescue and rehabilitation of suffering marine animals. They provide public education including dolphin boat tours and conservation efforts in a hands-on experience.
The aquarium gained worldwide recognition for being where the Bottlenose Dolphin, "Winter" lived. Winter was the main character in the 2009 book Winter's Tale and more notably became the 2011 film, Dolphin Tale.
Once you finish at the museum, Island Way Grill located next to the Clearwater Marine Aquarium is an outstanding choice. While there is plenty of food options, we tend to prefer their sushi. Sit on the patio for expansive views of Clearwater Beach. This restaurant also has boat dock access.
Address: 249 Windward Passage, Clearwater, FL 33767 | Website: Clearwater Marine Aquarium
International Plaza & Bay Street
Couples that love to shop luxury brands check out the International Mall. It is located within a few minutes from Tampa International Airport and the Raymond James Stadium (Tampa Bay Buccaneers Stadium).
Every time we visit, we love to eat somewhere new. Long-time favorites that are always a great option include Cheesecake Factory and Ocean Prime.
Address: 2223 N Westshore Blvd, Tampa, FL 33607 | Website: International Plaza
Read Next: St Pete Beach vs Clearwater Beach – Which is Best for You?
See a Show at the Straz Center
On a date night, one of our favorite things to do in Tampa for couples is to see a show at the Straz Center. Theater and performing arts lovers will appreciate this world-class performing arts center that hosts everything from Broadway shows to ballets.
Address: 1010 N Macinnes Pl, Tampa, FL 33602 | Website: Straz Center
Rent a Scooter and See the City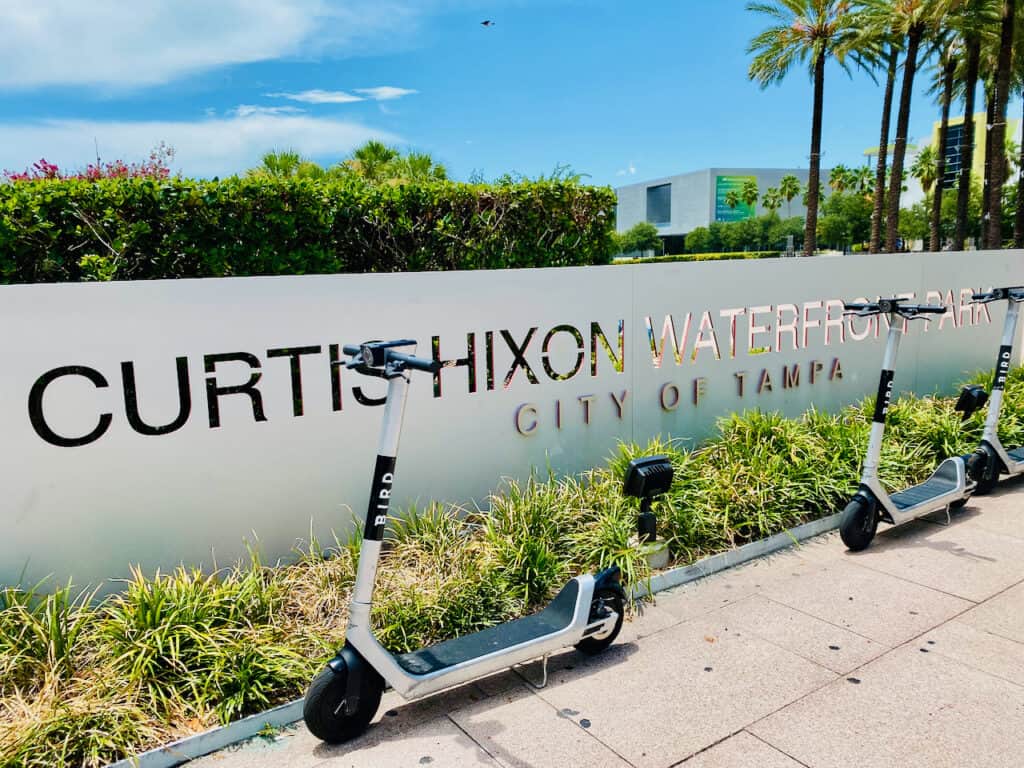 Scooters these days are seen throughout downtown Tampa. One of our more memorable dates was on a pair of electric scooters. See the city, explore, and as a bonus, don't worry about parking your car!
Play Golf at Topgolf
For a date night, sometimes a fun activity can break the ice. This unique facility features a climate-controlled hitting range with fun games to compete against each other. And if you get hungry, they've got a full menu of delicious food and drinks along with a swanky bar. You don't have to be a golfer to come here for fun!
Address: 10690 Palm River Rd, Tampa, FL 33619 | Website: Topgolf Tampa
Visit a Remote Island | Shell Key Preserve
Shell Key Preserve is a picture-perfect island just outside of downtown St Petersburg. You will drive through the small town of Tierra Verde as if you're going to Fort De Soto Park.
Shell Key Preserve is only accessible by vessel – boat, kayak, etc.
Boaters coming from downtown St Petersburg or South Pinellas County appreciate Shell Key Preserve because of its close proximity. You won't have to travel far to feel at peace in nature. Plus, you'll see plenty of wildlife including nesting birds, endangered sea turtles, and bottlenose dolphins.
Shelling, fishing, and picnicking are just some of the other activities that may be enjoyed on Shell Key Preserve. Keep in mind, there are no restrooms or public facilities on this remote island.
If you like kayaking, one of the best nighttime kayaking tours explores Shell Key Preserve. You'll get to see some beautiful scenery with LED lights.
Honeymoon Island State Park
If you are looking for Honeymoon things to do in Tampa, you can't miss stopping at Honeymoon Island State Park. Even the name alone…makes it worth a day trip! It is one of the best remote beaches near Tampa.
There are beautiful sandy beaches at Honeymoon Island State Park, which is located on a barrier island. Head to North Beach for beautiful natural palms to rest under and it's usually not overly crowded. It's also a perfect place for a gorgeous sunset. South Beach at Honeymoon Island State Park is also nice but tends to be rockier.
Honeymoon Island Island Park has a little something for everyone such as swimming, shelling, sunbathing, a massive kids' playground, and a dog beach. In addition, the island is a great place to go hiking since it has so many different kinds of nature trails and so many different kinds of birds such as eagles and great horned owls. This is an excellent place to host a wedding or special event since there are large covered picnic areas and a cafe.
The park is open daily from 8 am to sunset, and the cost is $8 per vehicle.
🌴 Pro Tip: Best avoid Honeymoon Island State Park on major holidays like Memorial Day, due to one-road in and traffic congestion.
Final Thoughts on Things to Do in Tampa for Couples
So there you have it, our top things to do in Tampa for couples. We hope you enjoy your time in our wonderful city!
Whether you're looking for a thrilling adventure or a relaxing day in the sun, Tampa, Florida has something for everyone. So what are you waiting for? Start planning your trip today!
Read Next: 25 Exciting Things to Do in St Pete Beach FL
Did You Find This Post Helpful? Share It!
If so, I would love to hear about your Florida travel adventures! You can follow me on Instagram, and tag your images to @erinstraveltips and hashtag #erinstraveltips. I look forward to seeing you there!
More Florida Travel Planning Guides