Looking for the best things to do in Safety Harbor, FL? Read on to learn about some of the hidden gems in Safety Harbor…
No matter what you're into, you'll have a lot of fun in Safety Harbor. Breweries, parks, art exhibitions, retail therapy, meals at artsy restaurants—you'll find information about all these and more below.
Check out some must-see spots from a few of my favorites as a Tampa Bay local.
I do my best to keep the current hours of operation and pricing up to date. However, business information can change at any time. I highly recommend checking hours and pricing for your dates of travel on their official websites provided below.
Interesting Facts About Safety Harbor
Located in Pinellas County, Safety Harbor is easily accessed from St Petersburg, Tampa, and the surrounding cities in Tampa Bay.
If you're visiting from far away, the Tampa International Airport is only 19 miles away, roughly 25 minutes by car.
Golf carts are a popular form of transportation for locals. So, don't be surprised to see them lining the streets.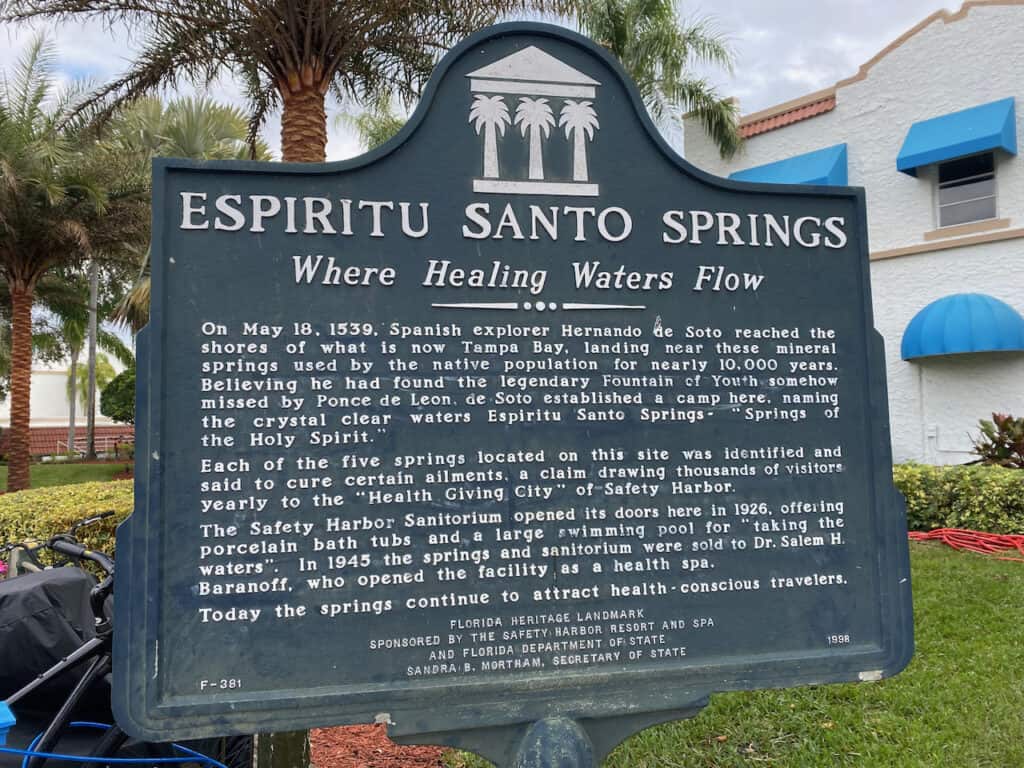 You will find history alive and well throughout this charming city. Safety Harbor is perhaps most famous for the "Espirtu Santo Springs" or Waters of the Holy Spirit.
In May 1539, Hernado De Soto landed in Tampa Bay and thought he had found Ponce De Leon's Fountain of Youth.
The mineral waters were said to have healing powers, which brought thousands each year to Safety Harbor.
Safety Harbor Resort & Spa
Safety Harbor Resort & Spa with its historical Espiritu Santo Springs is the ultimate hotel in Safety Harbor, and it has sprawling views of Tampa Bay.
The best way to enjoy yourself is to book a weekend getaway at Safety Harbor Resort & Spa. Pamper yourself with a relaxing spa treatment. It has expansive grounds with tennis courts, an outdoor pool and bar, a fitness center, and rooms with balcony waterviews.
Located in downtown Safety Harbor, you can easily walk to restaurants and bars from the Safety Harbor Resort & Spa.

Safety Harbor Marina Park and Fishing Pier
The Safety Harbor Pier is located directly behind the Safety Harbor Resort & Spa next to the Veterans Park. This is a beautiful place for a stroll. However, many fisherman appreciate the Safety Harbor Pier as an ideal spot for catching fresh seafood.
Aside from fishing, you can have a picnic at Safety Harbor Marina Park while enjoying the beautiful views of Tampa Bay.
You can also take a relaxing stroll along the Bayshore Linear Park. There's a jogging trail along the water's edge perfect for early morning jogs, too.

Stroll Historic Main Street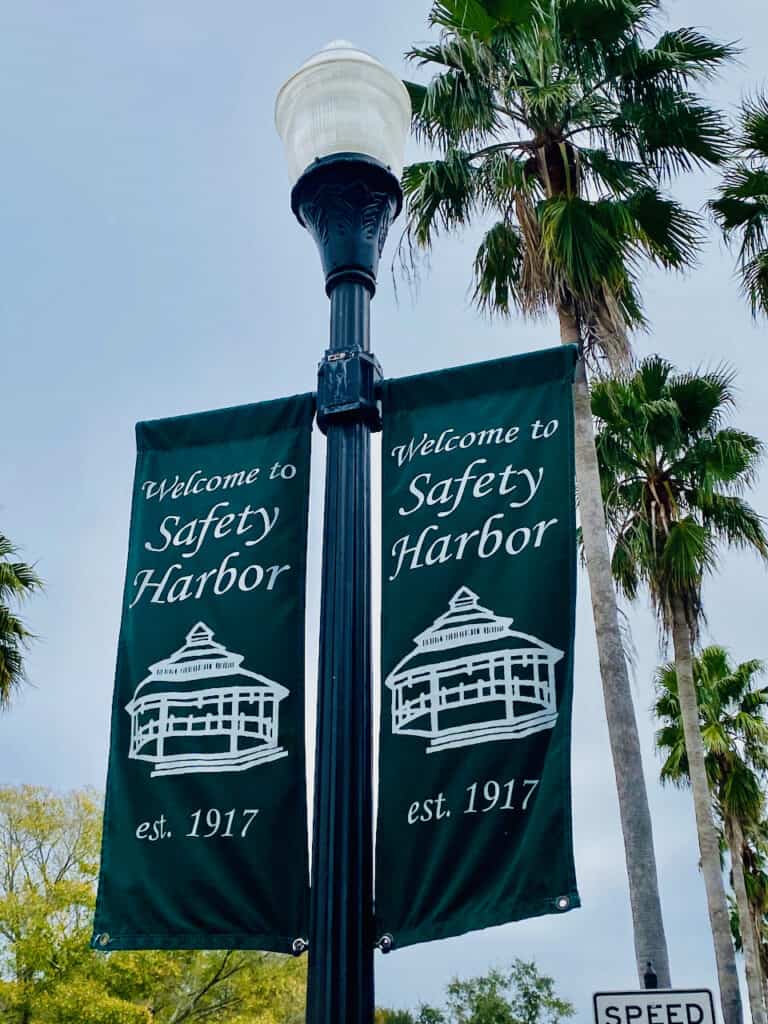 Head onto Main Street, where you can find all kinds of shops, boutiques, and the friendliest people. This is definitely a laid-back and friendly environment where people acknowledge one another, so you feel right at home.
Restaurants, antique stores, boutique shops, and art galleries are among the top places to visit.
What I love most about Main Street is its charming small-town look and feel. You'll love walking along the canopied treelined sidewalks that remind you of Old Florida.
Safety Harbor is a town with a lot of heart. It's a feel-good place where even the Fire Station on Main Street has its unique charm with murals and a 9/11 Memorial.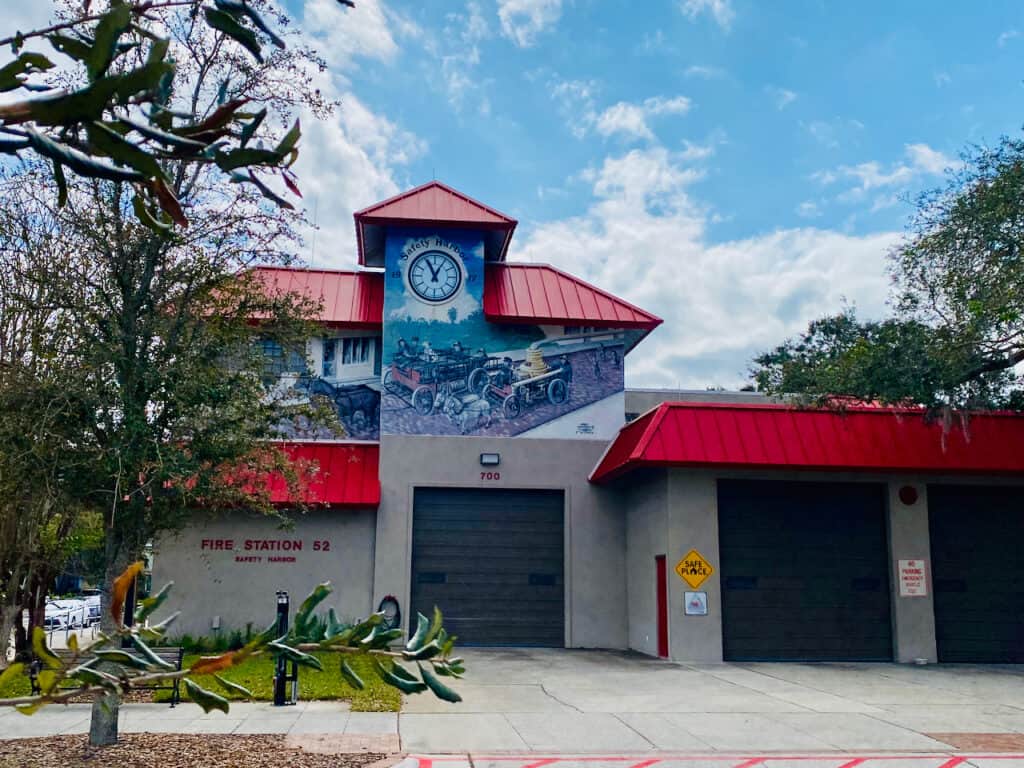 Safety Harbor Museum and Cultural Center
The Safety Harbor Museum and Cultural Center is ideal for finding local artists in the community as well as seeing historical permanent exhibits.
The museum costs $5 to tour and will take you less than an hour to see it. Children under 5 are free, and discounts are offered to first responders.
The Safety Harbor Museum and Cultural Center has exhibits featuring Native Americans and the early history of Safety Harbor. Our favorite part of the museum was seeing the old historical photographs of the town.
My son loved the hands-on exhibit where he could hold real fossils, shark's teeth, turtle shells, etc.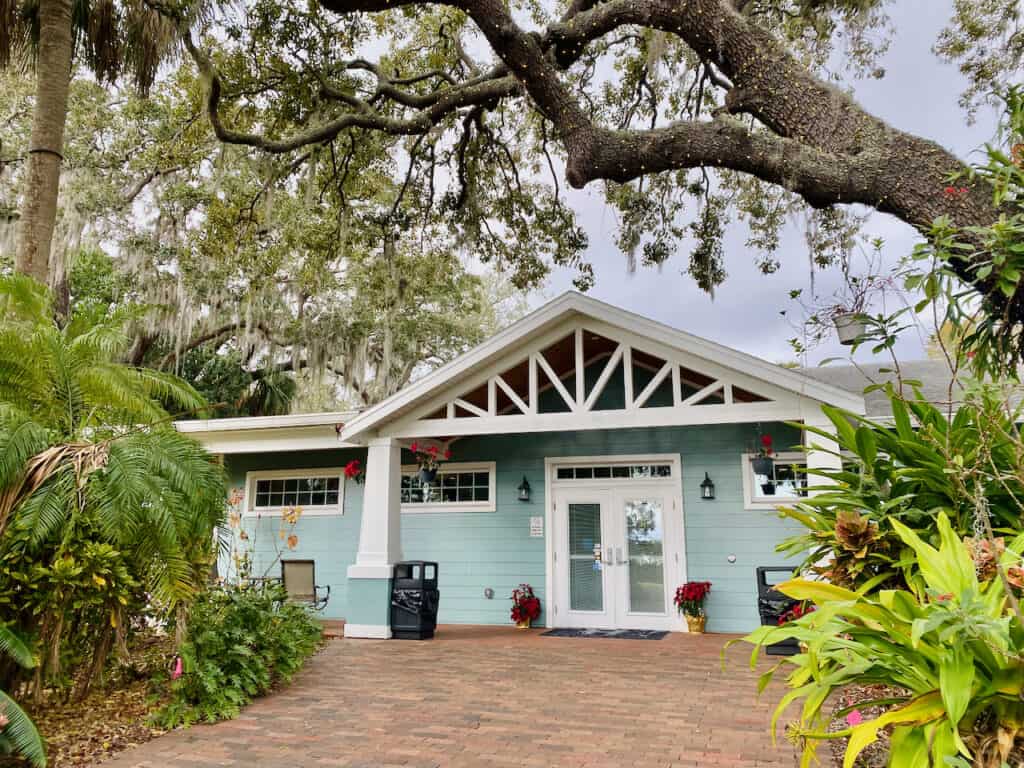 There's also a natural garden where you can enjoy the sun and fresh air. It's a quaint atmosphere with some local art as well on display. Located in the garden is a small Indian burial site.
There is a small gift shop with local artwork, t-shirts, and handmade jewelry for sale.

Dine at the Best Safety Harbor Restaurants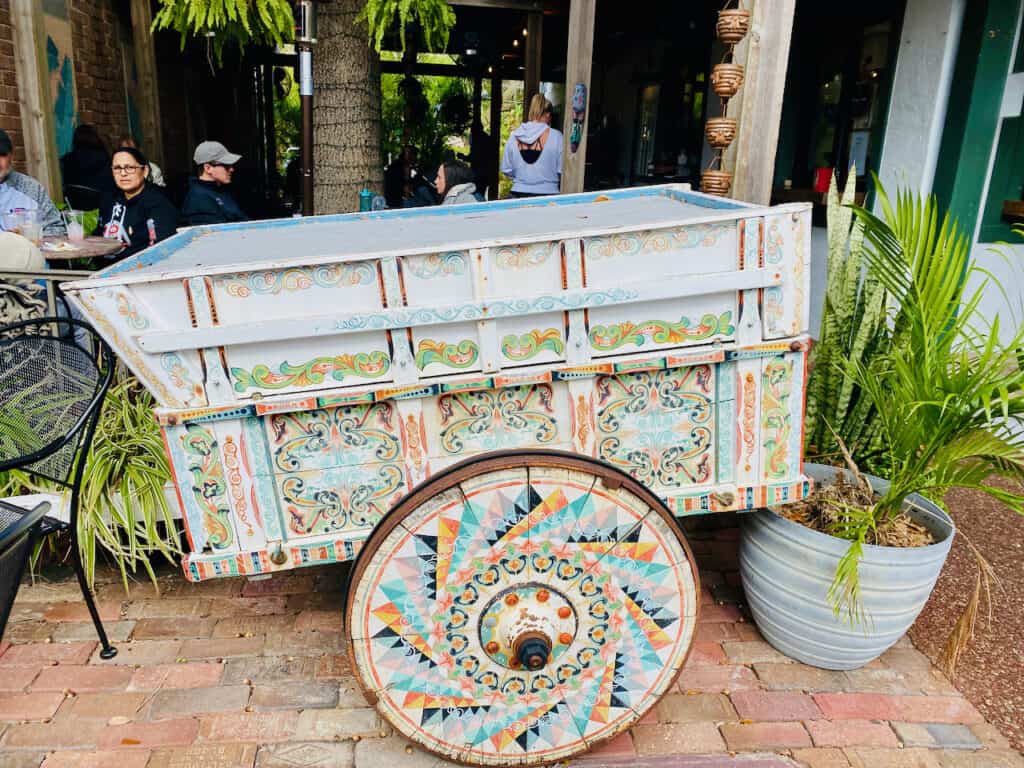 Eating at the best restaurants is one of the top things to do in Safety Harbor.
You won't find the typical chain restaurants; this fun town has a fun artsy feel. For instance, Gigglewaters is known for its delicious food, craft cocktails, and screening room, in a cool speakeasy atmosphere. Try the chicken and waffles or the 1919 burger.
The Bar Fly Saltwater Grill is a fun place to eat for fresh seafood, local merchandise, and live music. The Bar Fly menu includes seafood dishes and drinks from lunch to dinner. Dine in the outdoor area for a scenic view of the city.
Another go-to restaurant is the Daydreamers Café & Grill. The restaurant has friendly staff and an affordable menu. It's the perfect place to have breakfast in Safety Harbor, too. My favorite item on their menu is their waffles; they literally melt in your mouth.
Meanwhile, The Nona Slice House serves freshly-baked pizza pies. This family-friendly restaurant has attractive outdoor indoor and outdoor seating. My personal favorite is their Detroit-style pizza.
Lastly, Whistle Stop Grill and Bar is also one of the best restaurants in Safety Harbor. This longtime favorite eatery is known for its open-air seating, delicious fried green tomatoes, milkshakes, and live entertainment.

Visit the Temple Mound at Philippe Park
Safety Harbor was once home to Native Americans, and Philippe Park is proof of it. The park was founded in 1948 and was named after Odet Philippe, the first non-native settler of Safety Harbor. He lived there and acquired 160 acres in 1842; later was buried somewhere on the grounds.
Today, visitors can find a monument dedicated to the Tocabaga Indians in Philippe Park. It's a National Historic Landmark, which Native Americans used in their religious activities.
🌴 Fun Fact: Temple Mound in Philippe Park is the largest remaining mound in Tampa Bay.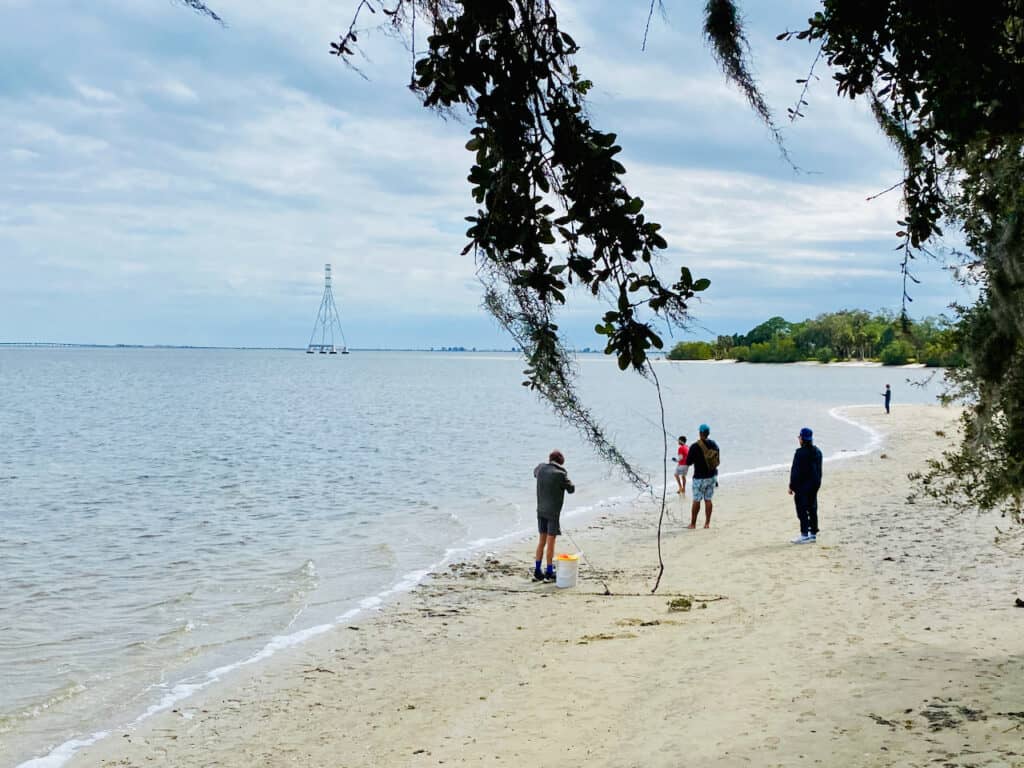 Philippe Park also has a vast picnic area equipped with eight picnic shelters with grills. It has a softball field, two playgrounds, and walking trails along the water. Fishing is also a popular pastime at Philippe Park which has a beachfront along Old Tampa Bay.

Safety Harbor Breweries
Drop by Crooked Thumb and Troubled Waters Brewing for the best breweries in Safety Harbor.
Crooked Thumb Brewery
Crooked Thumb Brewery is a couple of blocks off Main Street and boasts of 6,000 square feet area.
The brewery has a 15-barrel brew system and offers 15 to 20 beers on tap in their spacious tasting room where customers can sample craft beers.
Take a sip of your craft beer at the bar and seating area. Enjoy the view of the beer garden, which comes alive with yard games, live music, and special events.
When we recently visited, Crooked Thumb Brewery had a chili cookoff event. They are more famous for their annual Ocktoberfest. Visit Crooked Thumb Brewery during the weekend to taste various foods served by local food trucks.
Trouble Waters Brewing
Another popular brewery is Troubled Waters Brewing. It is famous for its craft beer. It has a casual laid-back atmosphere with billiards and live music.
Their house beers are always changing like the Peppermint Porter. Sour Patch Kid is also delicious too.
Located right on Main Street it is convenient for seeing the rest of the town.

Attend an Event at John Wilson Park
Downtown Safety Harbor has various attractions, one of which is John Wilson Park. This multi-purpose park offers live entertainment, farmers markets, town-sponsored festivities, and more.
The Gazebo at 401 Main Street is a popular outdoor setting in Tampa Bay. It serves as a venue for weddings, birthdays, and other special occasions. Tables and chairs can be rented from the facility.
Safety Harbor's Market on Main
So much happens at the Safet Harbor's Market on Main from free yoga and hoop class and tons of local vendors. Plus, if you love pets, you'll see tons of dogs and sometimes there's even a pig that visits the park.
Go to the Farmers Market, where you can buy fresh fruits and vegetables at affordable prices. Local crafts are also available for sale. The market is open from July to September, every third Thursday from 8:00 am to 12:30 pm. Meanwhile, they're open on October 18 thru May 9 every Thursday from 9:00 am to 1:30 pm.
Another activity to look forward to is the 3rd Friday of every month. You can watch musical acts at the Gazebo. Meanwhile, stores and restaurants stay open for longer hours.

Relax at Safety Harbor Waterfront Park & Boardwalk
Safety Harbor Waterfront Park is a favorite place for large gatherings with covered picnic shelters, wide open spaces, and plenty of space to watch the sailboats and wildlife. It is connected to the Safety Harbor Park Naure Boardwalk and Veterans Park with public restrooms and drinking fountains.
The Safety Harbor Park Nature Boardwalk is a beautiful 2,500-foot linear boardwalk and four trailheads. This is a great place to watch the sunrise over Tampa Bay.
The Safety Harbor Waterfront Park sidewalks and boardwalks are easily accessible for strollers and wheelchairs. You'll see Pink Spoonbills and Bottlenose Dolphins. You can rest on the benches or bring along a picnic in this peaceful place.

Safety Harbor Art and Music Center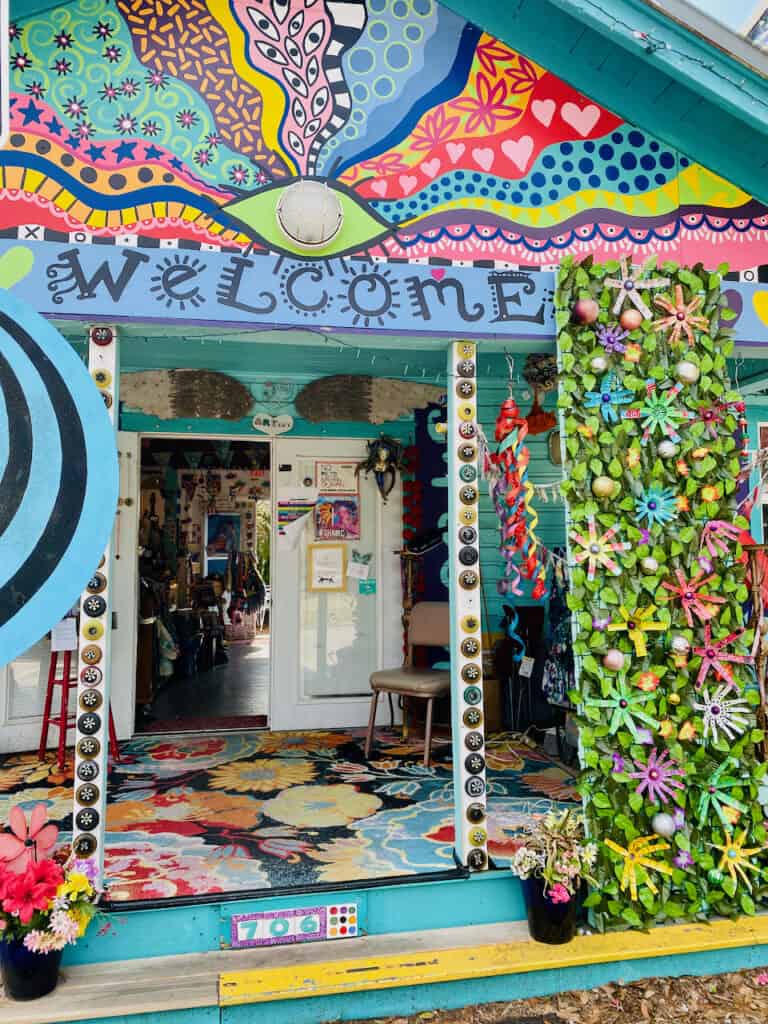 The Safety Harbor Art and Music Center was previously known as Rigsby House.
It has been transformed into a place where people can celebrate all art forms. This non-profit organization aims to educate and promote fine, visual, musical and performing arts.
They conduct educational classes and activities regularly, such as Writers Wednesday. This is where budding writers can read their stories and receive feedback.
There are art classes, too, like Hand-Building Clay Workshop, Elements and Principles of Design 101, Doodle Night, and more.
Don't miss this unique site steps away from Main Street and the Daydreamers Cafe & Grill.

Syd Entel Galleries and Susan Benjamin Glass
Syd Entel Galleries and Susan Benjamin Glass is famous for their 5,500-square feet pink building in downtown Safety Harbor. They're known for carrying their family's heritage of providing the best fine art in Tampa for over 40 years.
The art gallery features stunning glass art pieces from American and international artists. You can stare at the marvelous paintings, sculptures, and ceramics for hours in the art gallery, or buy one to take home with you.
Syd Entel Galleries and Susan Benjamin Glass holds special events throughout the year. Check out their website for more details.

Folly Farms Nature Preserve
Exploring Folly Farms Nature Preserve deserves to be on your list of Safety Harbor things to do. The reserve has many amenities that keep you busy and active. Nature trail walks promise a relaxing stroll and sightseeing. You'll also love watching the pretty butterflies at the park's Butterfly Garden.
Folly Farms Nature Preserve was donated by George Weiss a few years ago. He still patrols the area and ensures the government leaves it that way. A monument featuring a poem for Lucille, George's late wife, can also be found in the park.
In 2015, the Common Grounds community garden moved to Folly Farms Nature Preserve. It is composed of several plots looked after by volunteers. Guests aren't allowed to pick fruits and vegetables.

Explore Safety Harbor by Kakak Tours
If you want to discover the hottest spots in Safety Harbor, Tocobaga Tours will show you. You'll get plenty of wildlife viewing and birdwatching opportunities.
Do you find ecotours boring? Rent a kayak or paddleboard and explore the waters of Tampa Bay instead. Tocobaga Tours also rents kayaks or paddleboards; they are conveniently located at the Safety Harbor Marina.

North City Park
Do you prefer spending the day in a quieter and less crowded park? You can do all these and more at North City Park.
This nine-acre park is located three miles away from downtown Safety Harbor and more commonly used by locals. It's one of the best free things to do in Safety Harbor.
Spend a lazy afternoon reading a book, playing horseshoes, pickleball, having a picnic, or watching a basketball game. There are two tennis courts and a large children's playground, too. There's also a dog park for your furry friend. It's an ideal place for visitors with kids and pets.

Silent Slayer Ghost Tours
Ready for some spooky fun in Safety Harbor? The Silent Slayer Ghost Tours and Paranormal Investigations is for you.
The Silent Slayer Ghost Tours feature a walking tour in downtown Safety Harbor but with a scary twist.
As you walk, your guide will tell hair-raising stories about paranormal sightings and mysterious true crime stories, and unsolved murders. You can also ride while the team looks for ghosts in the stopovers.
No tours are the same since it's unscripted. Join a group tour and investigate with other tourists.

Watch a Performance at Ruth Eckerd Hall
If you're staying in Safety Harbor, make time to see a show at Ruth Eckerd Hall; it's just slightly further south in Clearwater.
Ruth Eckerd Hall is one of the best places in Tampa Bay to see concerts, shows, and live music. Big enough with over 2,000 seats, but small enough to have a great seat anywhere you sit. Some of the most popular events and live performances take place here such as Dancing with the Stars and Ringo Starr.
The massive lobby is tastefully decorated and the food at Outpost 611 eatery is reasonably priced with larger portions.
Ruth Eckerd Hall also offers educational classes at the Marcia P. Hoffman School of the Arts.

Experience Unique Art at Whimzeyland (Bowling Bowl House)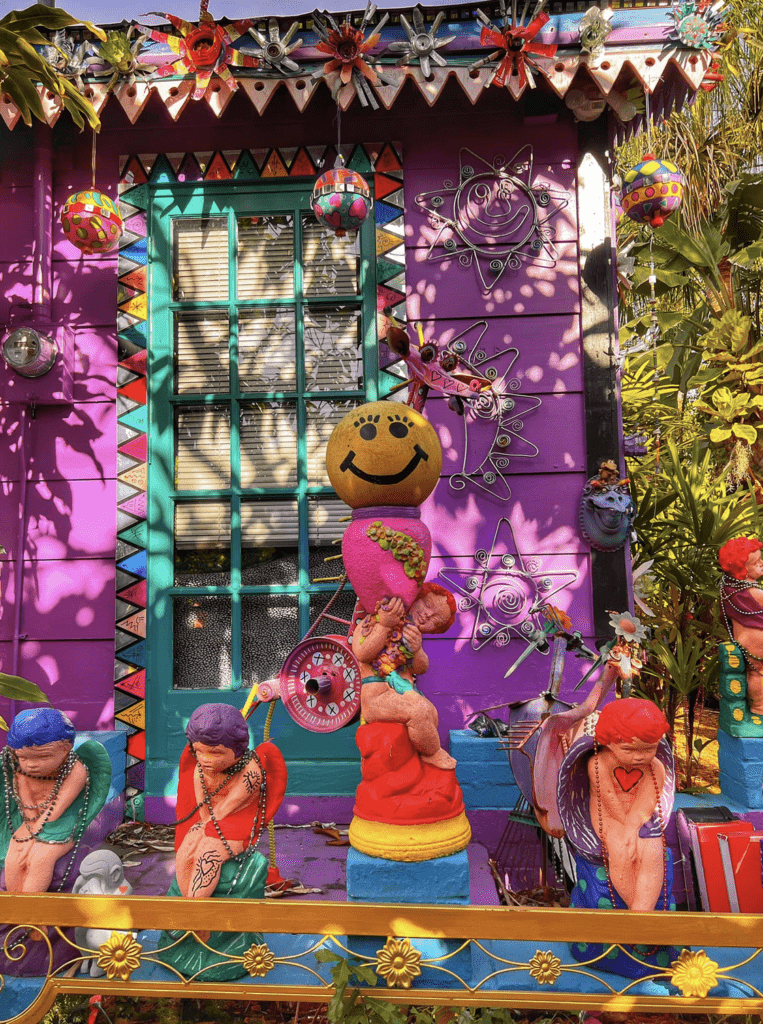 Are you looking for magical things to do in Safety Harbor? Be inspired and let your creativity flow at the Whimzeyland Bowling Ball House.
This whimsical house reminds you of scenes in a fairytale. The walls are painted with murals and decorated with unusual sculptures. There are beautiful tile works and hundreds of bowling balls (which is why it got its nickname).
Whimzeyland has bright and contrasting colors, designs, and patterns created by Todd Ramquist and Kiaralinda. For over 20 years its been a local landmark with bright and colorful buildings, bowling balls, paintings, bottle trees, and recycled material sculptures.
Admission is free, but donations are greatly appreciated. Art lovers must make a detour here.

Serve Yourself Wine at Sips Wine Bar
Sips Wine Bar by Andrea Honan is a favorite among locals and visitors. This unique bar allows you to create your self-serve wine that comes in a sip, gulp, glass, or bottle. You can make your charcuterie board using cheeses, meats, truffles, and more.
The bar has 40 machine wines for self-serving, and you can ask their friendly staff for a complete list of wines they also serve.
Sips Wine Bar offers live music, trivia nights, and happy hour to make this a fun experience!

Moccasin Lake Nature Park
The Moccasin Lake Nature Park is a nature preserve with 51 acres waiting for you to explore. It is located just a short drive southwest of Safety Harbor in Clearwater. Many Tampa Bay locals don't even realize it's there since it's hidden in a residential neighborhood.
The Moccasin Lake Nature Park boasts nature trails, a bird sanctuary, a butterfly garden, a kid's playground, a turtle pond, and a nature center. You can find many beautiful mature oak trees, too. They provide natural shade as you enjoy hours of birdwatching.
If you have extra time, sign up for the educational classes or events offered by the park such as Jurassic Park Day. Their events are especially great for kids.
The place also provides reception rentals for various events, with indoor and outdoor spaces available.

Explore Nature at the Upper Tampa Bay Park
You don't have to be a nature lover to appreciate this 596-acre paradise just a short drive from Safety Harbor. The Upper Tampa Bay Park has been protected since 1982. You can see many forms of wildlife like dolphins, manatees, otters, and more.
The park offers several nature trails to see animals in their natural habitat, including gopher tortoises and sometimes even bobcats. You'll find marshes and mangroves here, too. There's also a kids' playground while adults can ride on a kayak or canoe across the bay. There is also a boat ramp.
Entry fee is $2 per vehicle with up to 8 people per car. They offer discounts on annual passes for veterans or active military.

Final Thoughts
Well, there you have it – my favorite things to do in Safety Harbor, Florida. Because Tampa Bay has so many amazing famous beaches and larger cities, oftentimes Safety Harbor flies under the radar.
If you like quaint waterfront towns, parks, and historic tours, you'll need this charming town to your list.
Did You Find This Post Helpful? Share It!
If so, I would love to hear about your Safety Harbor adventures! You can follow me on Instagram, tag your images to @erinstraveltips, and hashtag #erinstraveltips. I look forward to seeing you there!
Tampa Bay Articles to Read Next