Looking to visit Great Explorations Childrens Museum? You have come to the right place. Here is the ultimate visitor's guide + 5 money-saving tips and things to know before you go!
In our opinion, Great Explorations is the best museum for kids in St Petersburg FL. However, there is a long list of other great museums too! Read further to get more details and ways to save!
Great Explorations Childrens Museum History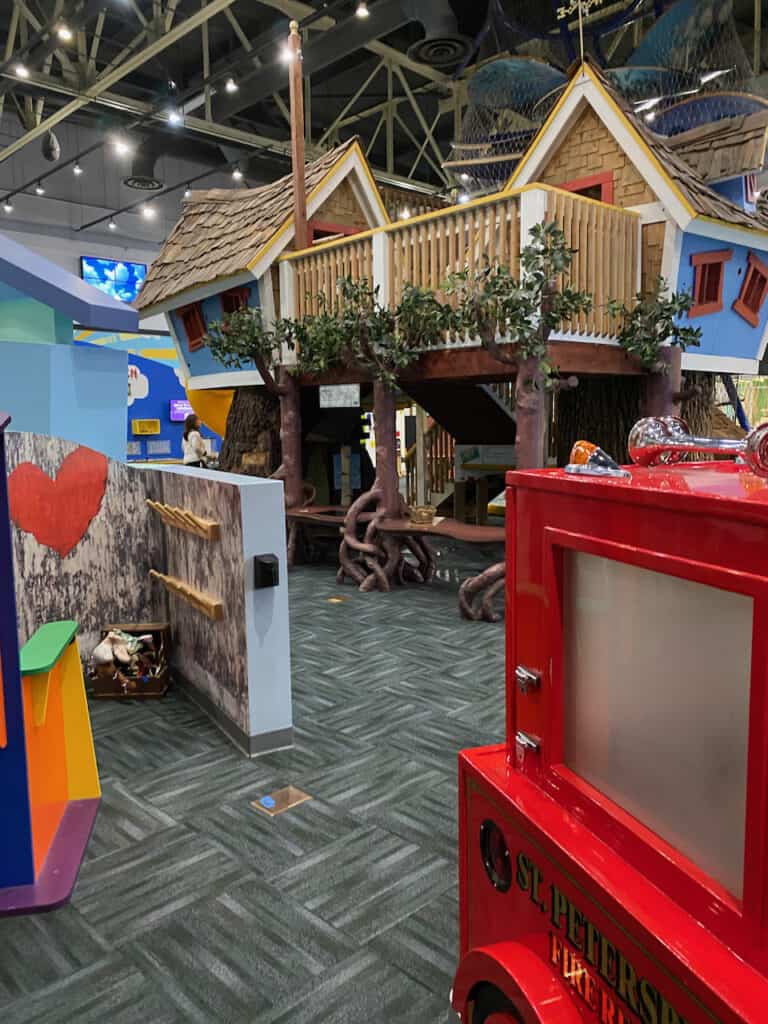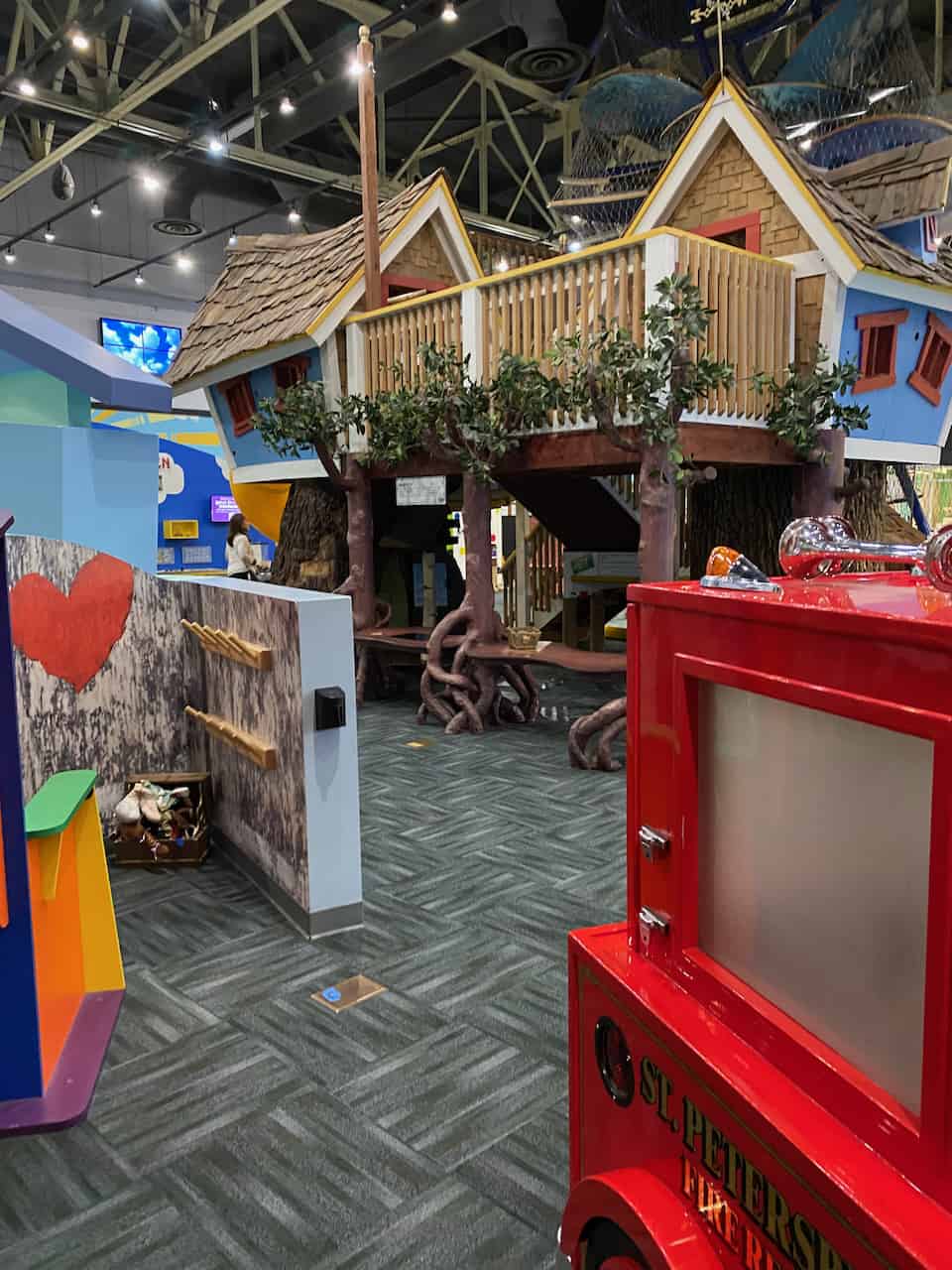 Founded in 1986, Great Explorations Childrens Museum has been providing education to kids in a hands-on environment for decades. Their focus is on learning through creative play.
This site also was the first kids museum in the US to be a licensed preschool. The Early Learning Institute at Great Explorations was founded in 2007. It offers daily courses to children from ages 2 to 5.
---
5 Must-Know Tips on Great Explorations Children's Museum
1. Great Explorations Location, Hours, & General Information:
Great Exploration Children's Museum is located next to the Sunken Gardens, which is on 4th Street just north of downtown St Petersburg. From I-275, it is easiest to locate from the 22nd Avenue N exit and head East. You will make a right turn onto 4th Street heading South. The museum is then located on your left.
Great Explorations Children's Museum and Sunken Gardens share one main entrance. The museum has plenty of parking and is easy to reach by wheelchair or stroller. It is ADA accessible and in a one-story building.
Nearby Great Explorations is Crescent Lake with a nice kids playground and walking area. Other fun things to do nearby include North Shore Park & North Shore Aquatic Complex, and St Pete Pier. These are just a few of the fun kid things to do in Tampa Bay.
---
2. Did you know you could get into the museum for free?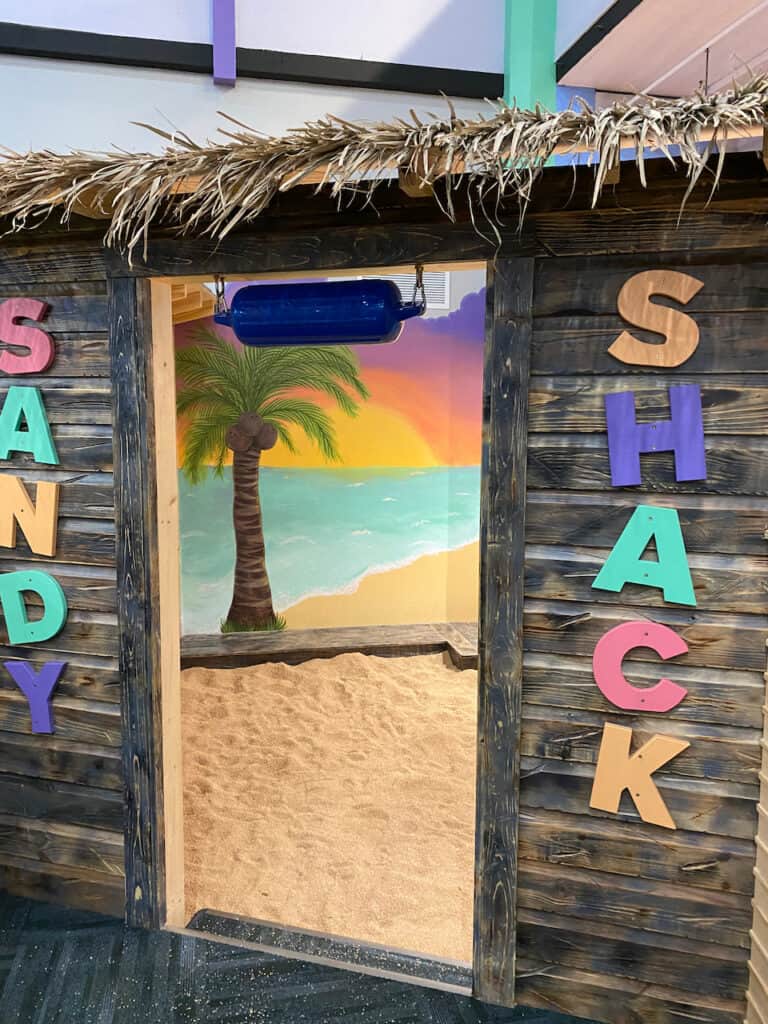 With raising prices these days, it's always helpful to know how to save! Tickets range from $11 and up (but free for those under 12 months of age). See museum website for current prices.
If you are a Pinellas County resident, you are eligible to receive free museum tickets through the Pinellas County Library Cooperative. All St Petersburg and Pinellas County residents qualify!
Every week, a certain number of museum tickets become eligible to each Pinellas County Library. Call ahead to find out when the Great Explorations Children's Museum will be available. All you do from there is check it out with your library card. You have up to 1 week from the date of service to use it.
We LOVE that it covers the cost of admission for 2 adults and up to 3 kids in the same household. If you don't use all of the passes, that's OK too!
Many thanks to the Pinellas County Library Cooperative for providing this wonderful program. They also have a full list of other museums that qualify.
If you are not a local resident – this museum in our opinion is worth paying the price of the entrance fee. They do offer discounts for the military, teachers, first responders, AAA, and more!
Tampa Bay is known for having an outstanding list of museums. Here are our top picks and best museums in St Petersburg.
---
3. Watch All the Fun Things to Do at Great Explorations Childrens Museum
Does your toddler watch the TV show, Blippi? He has been a favorite in our household for providing educational entertainment. His show teaches about creativity play and exploration.
We love that he filmed a full career episode at the Great Explorations Children's Museum in St Petersburg.
Around 3 minutes into the episode, Blippi is seen making pizzas at the museum's brick oven. Here they showcase multiple careers including a Chef, Physician, Meteorologist, Veterinarian, Farmer, Fire Fighter, and many others!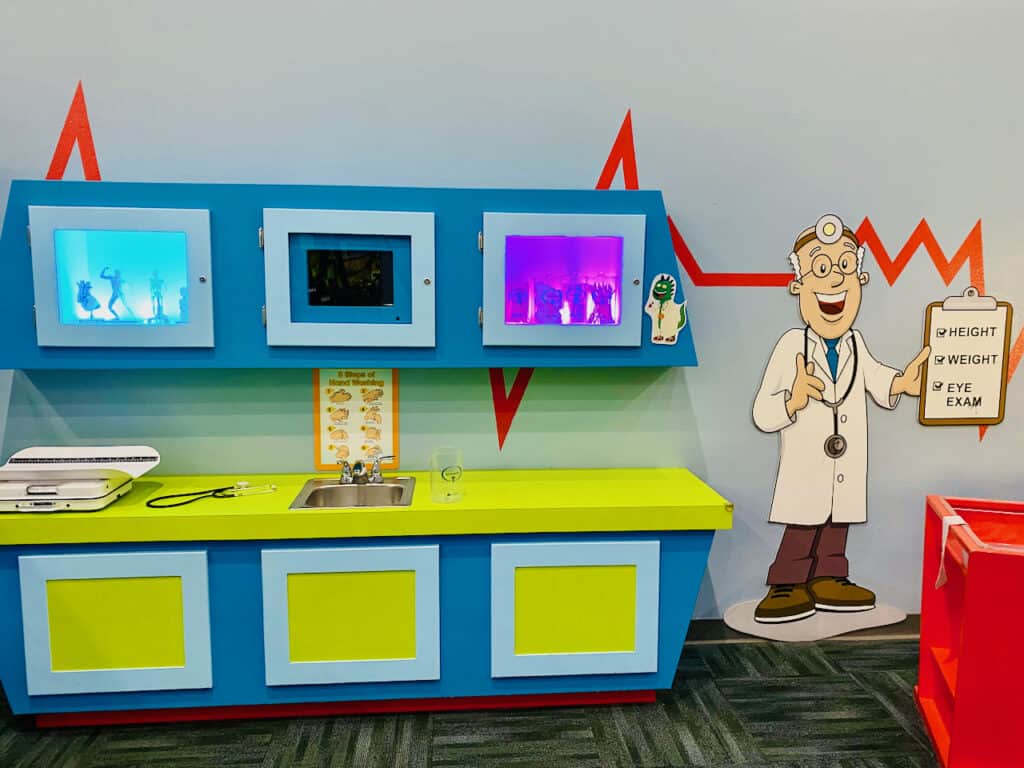 One of the newest additions to the museum is the doctor area (not on the video). Do you remember the old board game called Operation? They have a full-size version where kids can use tongs to perform the surgery. This game helps teach kids about eye-hand coordination and fine motor skills. They also have x-rays to look at and other medical equipment.
Read Next: The Best & Fun Kids Things to Do in Tampa Bay
---
4. Check Out Some of the Fun Ways to Stimulate Learning Through Creativity.
Here you will find some of the most unique and interesting activities in St Petersburg & Tampa! Kids are captivated by the floor to ceiling tree house, fire truck with active motion, and more play stations than you'll have time for!
Perhaps one of the absolute favorite things to do at Great Explorations Children's Museum is shopping at Publix! Yes, that's right – for some reason every time we visit this section is busy. The kids love driving their own miniature shopping carts, picking out goods, and checking them out with the cashier.
Another fun kids things to do is to play vet at the veterinarian clinic. Kids can take stuffed animals from their cages and provide medical care.
There are even x-rays to look at, and it teaches the kids about the variety of medical devices in a vet's office.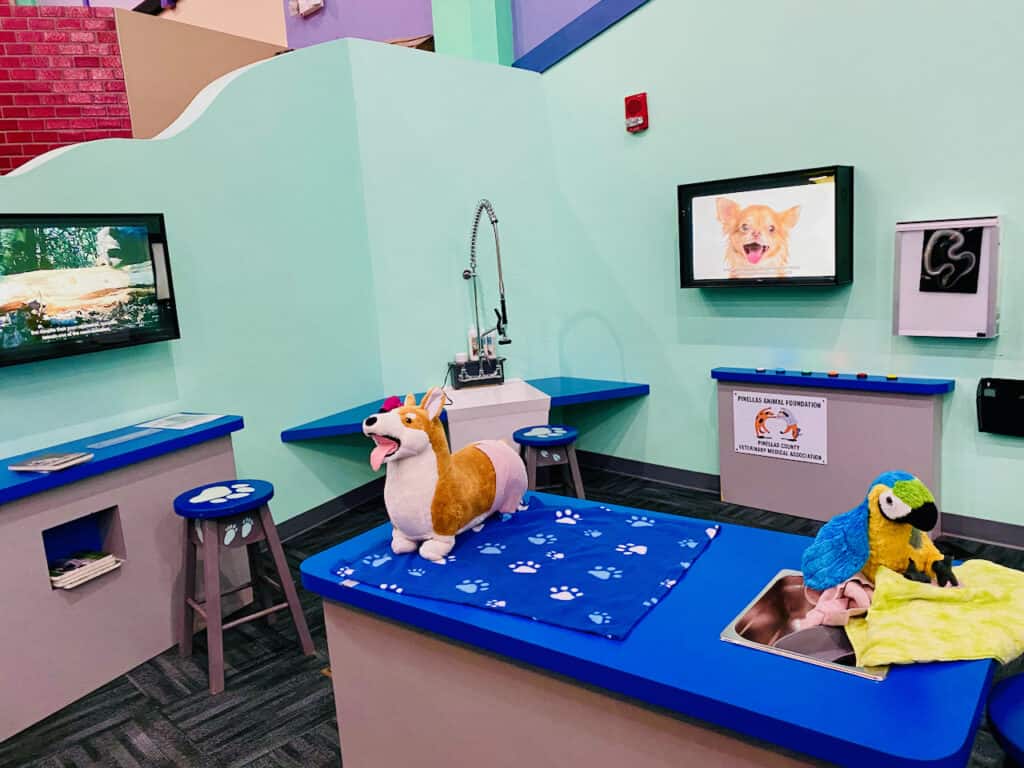 ---
5. We love that Great Explorations Children's Museum provides fun for all ages.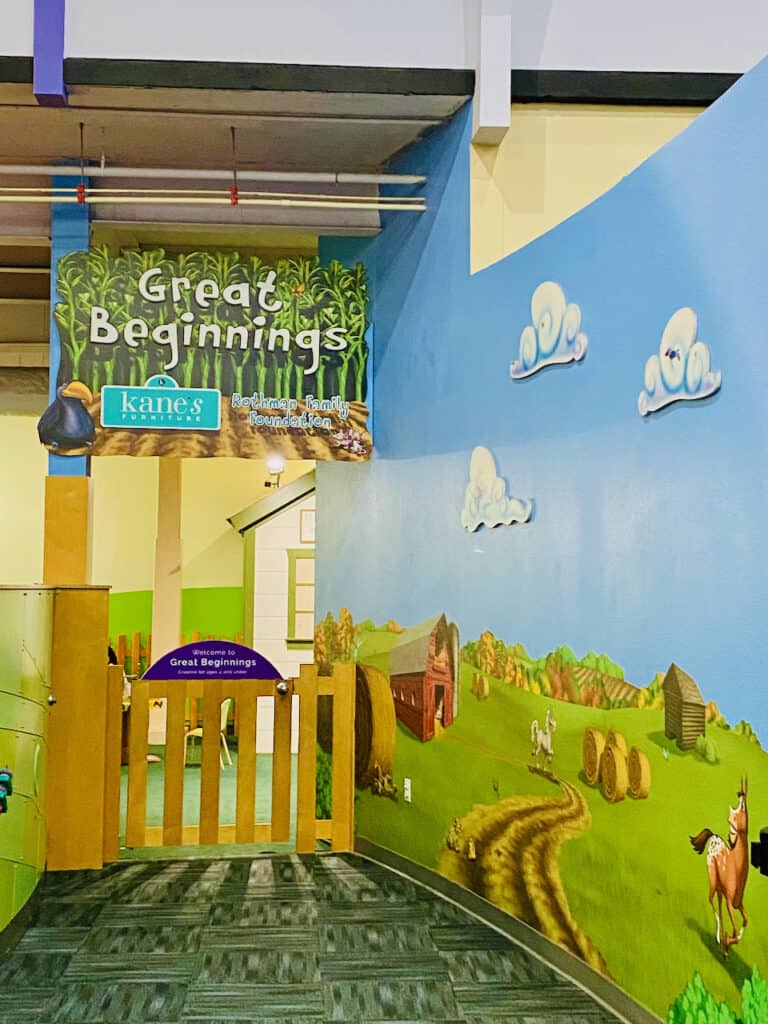 Entry is allowed for all kids from 0 to 17. We have gone with a variety of ages and everyone seems to find something to their interest level.
Prefer to be away from the older kids? Babies and toddlers have a separate play area that is available just for them called Great Beginnings. It has a nice farming section that includes replicas of vegetables and fruits you can pick. There are other farm animals, play stations, and toys. They also have a private room for little ones still breastfeeding with their moms.
Great Explorations Childrens Museum is a great place for kids' field trips. Sunday morning private parties or field trips have full access to the museum without other visitors.
Did You Find This Post Helpful? Share It!
If so, I would love to hear about your visit to Great Explorations Children's Museum! You can follow me on Instagram, and tag your images to @erinstraveltips and hashtag #erinstraveltips. I look forward to seeing you there!
Continue Reading – Interesting Kids Things to Do