Looking for things to do in St Pete Beach, Florida? Whether this is your first time visiting or you are a local Floridian, this is a fabulous place to start.
What's to love about St Pete Beach? Besides the fact that it's right on the Gulf of Mexico and Boca Ciega Bay, it is home to the gorgeous pink palace (better known as The Don CeSar), a 5-star historic hotel with panoramic water views.
St. Pete Beach is a buzzing beach town with a blend of locals, visitors from all over the world, and yet it still has a laid-back vibe. There is a unique blend of things to do in St Pete Beach that makes it an amazing place to visit any time of year in Pinellas County.
St. Pete Beach is known for its sunny days, pristine white sandy beaches, and clear blue waters. It is no wonder why it was ranked the #1 Beach in the US by TripAdvisor in 2021!
Short on Time? Pin the "25 Exciting Things to Do in St Pete Beach" for Later!
Frequently Asked Questions
Why is the city called St. Pete Beach instead of St. Petersburg Beach?
The City of St. Pete Beach incorporated several beach towns back in 1957 which included Pass-a-Grille, Don CeSar, Belle Vista, and St. Petersburg Beach. They united under the name St. Petersburg Beach.
In 1994, the citizens voted to shorten the name to St. Pete Beach to lessen the confusion with the City of St. Petersburg, located on the mainland to the east.

City of St Pete Beach
Is St Pete Beach worth visiting?
St. Pete Beach has been selected by TripAdvisor as one of the top beaches in the United States multiple times. It has beat beaches in Hawaii and California as well as some other famous beaches in Pinellas County.
Which is a better beach, Clearwater or St Pete?
We think there is something to love in both places, but it truly depends on your tastes! Check out our recent article that goes over how to pick between St Pete Beach vs Clearwater Beach.
Does St Pete Beach have a boardwalk?
No, but there is one nearby in Madeira Beach. John's Pass Village and Boardwalk is a popular outdoor shopping destination and has more than 60+ shops. You can also enjoy dolphin boat tours, pirate boats, and live music at one of the local restaurants. Here is our list of best things to do in Madeira Beach, Florida.
Parking at St Pete Beach
While parking can be a challenge during peak times, we have always found a spot. It is best to come earlier in the day for more ideal parking conditions. Most of the parking spaces are metered parking and payable via the ParkMobile App.
Park Smart SPB
The city of St Pete Beach installed Park Smart sensors in the public metered parking areas of Pass-a-Grille. You can download the Park Smart SPB App to see parking availability and avoid driving around for spots.
Freebee Shuttle
Pro Tip: Never worry about parking far away in St Pete Beach! Take a FREE ride with the Freebee Shuttle by simply downloading the Freebee App.
Freebee Shuttle is a door-to-door, on-demand transportation service, brought to you by the city of St. Pete Beach. While on the app, check out local deals and offers to save on local attractions.
The Best Things to Do in St Pete Beach, FL
Spend Time at St Pete Beach
Located on a barrier island, the long sandy coastline provides an ideal place to enjoy endless water activities, including kayaking, parasailing, or other recreational activities. You could literally spend days here and still miss some of the fun at the beach!
There are lounge chairs, paddleboards, and numerous other things you can rent right at the beach. Long gone are the days when you are forced to pack a ton of equipment!
Two of our other favorite places to spend time are Upham Beach Park and Pass-a-Grille Beach.
Upham Beach Park
Upham Beach Park is an attractive location for spending a stunning summer day with friends. A white sandy beach surrounded by beautiful dunes offers a great spot to surf and watch dolphins.
Invite family members to swim, surf, play volleyball, and relax at the beach! It is the most convenient beach spot near Corey Avenue for delicious restaurants, shops, and more fun!
Upham Beach Park has many options for beach chairs, cabanas, and other rentals available. There are public restrooms here too.
---
Snorkeling the Ruins at Egmont Key State Park
Egmont Key State Park is a secluded private island only accessible by boat. Since there's no admission fee (only transportation cost), snorkeling at Egmont Key State Park is one of the best things to do in St Pete Beach for FREE!
The blue-green water is shallow and clear at Egmont Key, so it's easy to see the beautiful shells and fish swimming around you. Keep your eyes open for old structures that have since been submerged into the Gulf of Mexico. You can also see (and we often do) manatees, dolphins, and other marine life while snorkeling around this island.
Take a break from snorkeling and see some of the island by walking the nature trail. The brick paths will lead you to several structures and a lighthouse that are historic ruins of Fort Dade that date back to 1858.
To stay safe, make sure the current is calm with good weather. Egmont Key State Park is a distance by boat and you don't want to be out there in a storm.
Bring your own snorkel gear from home to save money. This island gets incredibly hot in the summertime. You'll definitely want to plan ahead with skin protection and plenty of drinking water and snacks. There are no stores or restrooms on this remote island.
If you prefer to go on a boat tour, there are plenty of options such as Island Ferry of St Pete Beach.
---
Rent a Scooter or Golf Cart
In recent years, golf carts and scooter rentals have become a very popular pastime in St. Pete Beach. It is a convenient way to see the area without the headache of parking a car. You can hop in your beachfront buggy and see the sights.
They are licensed for road use to see neighboring beach towns or attractions like John's Pass Village, Treasure Island, etc. Play the scavenger hunt game and see sights you never knew even existed!
There are several places to rent scooters or golf carts in the area. The Toy Barn offers both scooters and golf carts in multiple locations.
Address: 6295 Gulf Blvd, St Pete Beach, FL 33706
Website: The Toy Barn
---
Miniature Golf Outing at Polynesian Putter
Polynesian Putter is an old-school vibe miniature golf course in St. Pete Beach. It has 18-holes with fun animal statues and designs to make it fun for kids. While it is not as unique as some of the more modern putt-putt courses, it has a tiki island charm plus reasonable prices.
Address: 4999 Gulf Blvd, St Pete Beach, FL
Phone: (727) 360-9678
---
Day Trip to Fort De Soto Park
Just a short drive from St Pete Beach is a string of islands, Fort De Soto was built on Mullet Key under the direction of Robert E. Lee. It is now largely known for having some of the best natural beaches, boating, fishing, and wildlife with over 1,100 acres to explore.
There are miles of paved trails, camping and picnic spots, fishing piers, ferry rides to Egmont State Park and Shell Key, and a dog area. Of course, you can't leave without seeing the old fort and museum!
Equipment rentals are available in the park for kayaks or canoes, paddle boards, and bikes. This makes it convenient to explore. However, if you pack your own equipment the total cost of this day trip is only $5 per vehicle!
---
Ferry to Shell Key
Shell Key Preserve is located on 1,800+ acres of undeveloped land. The Preserve is a popular place for fishing and boating, as well as a bird sanctuary.
Shell Key is only accessible by boat and the ferry from Fort De Soto and Pass-a-Grille Beach comes here for day trips. It is also a popular place for kayaking, boating, and shelling.
Pro Tip: This is a remote island and there are no food or restrooms available. Plan accordingly to make the trip more desirable.
---
See Dolphins on the Dolphin Racer
The Dolphin Racer Tour is a super fun experience to see bottlenose dolphins and other wildlife! Adults and kids get a kick out of zooming around on a speedboat. This tour launches from South Pasadena, just a short drive away from St. Pete Beach.
The Dolphin Racer Tour also provides an informative and educational guide about the area as you jet around the Gulf of Mexico.
Address: 3400 Pasadena Ave S, South Pasadena, Florida 33707
More information: Dolphin Racer Tour
---
Florida Orange Groves Winery
If you love sangria, slushy drinks, or specialty flavored wines you will want to check out the Florida Orange Groves Winery. They offer complimentary wine tasting to customers.
One of their best award-winning wines is the Hurricane Class 5. This white sangria is a blend of their popular tropical wines made from pineapple, passion fruit, watermelon, key lime, and mango.
The Florida Orange Groves Winery has a nice gift shop with a variety of items for purchase.
Address: 1500 Pasadena Avenue South, St. Petersburg, Florida 33707
Phone: (800) 338-7923
---
Fishing Charters from St Pete Beach
St. Pete Beach has some excellent options when it comes to fishing charters. There is a wide range of various companies that specialize in family-friendly fishing charters, teaching beginners, sport fishing, inshore fishing, offshore fishing, and more.
The Gulf of Mexico is known for world-class fishing with multiple charter companies to choose from in St. Pete Beach. The charter boat, Miss Pass A Grille awaits your arrival from the historic Merry Pier. White Pearl Fishing is another boat
While at the unpretentious Merry Pier, check out the local fresh seafood market and fishing store. Here you can rent or purchase fishing rods, as well as other fishing equipment.
Address: 801 Pass a Grille Way, St Pete Beach, Florida 33706
Phone: (727) 360-1400
Website: Merry Pier
The bait shops and fresh fish markets are a landmark of Saint Pete Beach and historic places. There's lots of other interesting stuff like live shrimp, frozen fish, hot drinks, and frozen snacks. They are very friendly and offer fishing tours as well as a Shell Key Shuttle that provides boat trips and excursions to the Shell Key preserve.
Read Next: The Best St Pete Beach Bars & Nightlife
---
Corey Avenue Shopping District
Looking for souvenirs? Some of the best shopping is located in the Corey Avenue Shopping District. These locally owned and operated shops have something for everyone.
In addition to shopping at all of the cute boutiques, you can also enjoy restaurants, gourmet food, and chocolate shops, plus a pet store.
Corey Avenue Sunday Market
Pinellas County has an excellent variety of unique markets and locally sourced products. Here in St Pete Beach, Corey Avenue Sunday Market is definitely worth a visit. It occurs every Sunday year-round. Come check out 70+ street vendors selling handmade crafts, baked goods, while listening to live music!
The market supports locals who sell a variety of homemade items, plants, ready-to-eat bites, handcrafts, fair trade products, and more. Come join this lively morning event, and then eat a delicious brunch at one of the many area restaurants nearby on Corey Avenue.
Sunday Market Hours: October through May 10 am-2 pm; June through Sept 9 am-1 pm
Address: Corey Avenue & Blind Pass Road, St Pete Beach, Florida 33706
---
Gulf Beaches Historical Museum + Others to See!
Gulf Beaches Historical Museum houses many interesting facts and stories. Originally it was a church built in 1917 and later was transformed into a museum. While it is a small museum, it contains key artifacts, newspapers, postcards, and history related to Pass-a-Grille.
Hours: Friday – Saturday 10 am – 4 pm; Sunday 1 pm – 4 pm.
Tickets: FREE (Donations are accepted)
Address: 115 110th Avenue, St Pete Beach, Florida 33706
Phone: (727) 552-1610
Website: Gulf Beaches Historical Museum
Visit World-Class Museums in St. Petersburg
Whether you love history, art, or music—there's a museum you'll love in St. Petersburg! There are several world-class museums, and visiting them is one of the best things to do in St Pete Beach (since it is just a short drive away)!
Check out our best museums in St Petersburg article for our personal favorites and how to get FREE tickets.
---
Relaxation Awaits at the Don Cesar Spa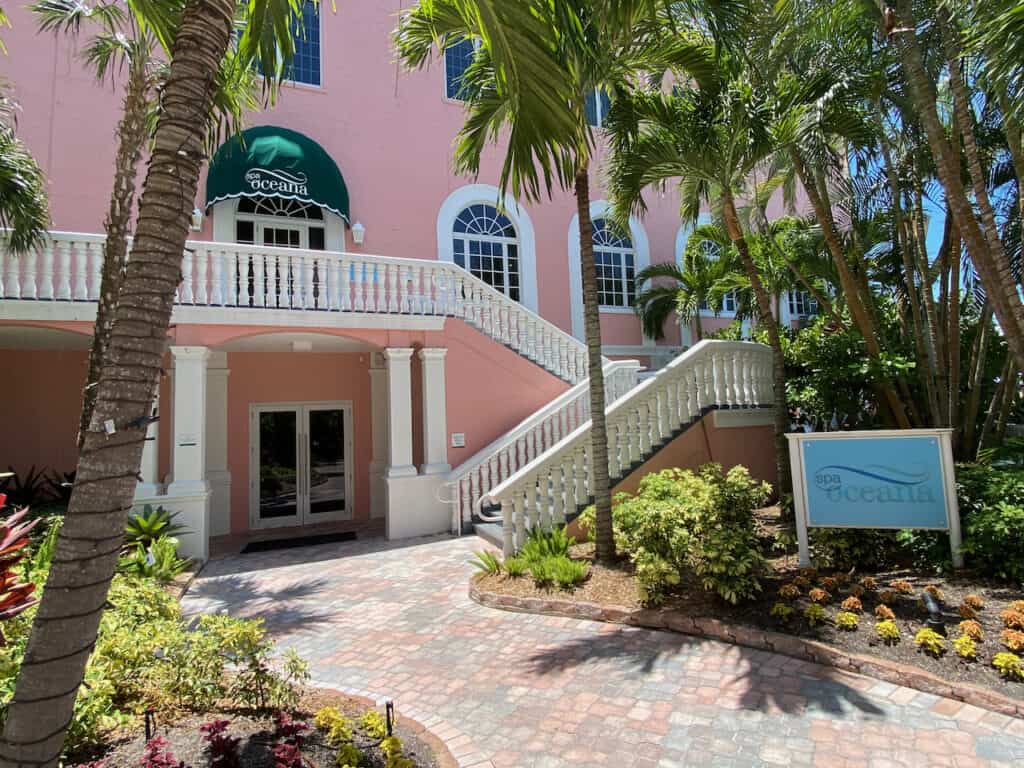 Spa Oceana is an impressive 11,000 square feet of relaxation. Here you can unwind at the pool or in one of their 16 treatment rooms. It has a stunning rooftop terrace view of the Gulf of Mexico.
The Don Cesar Spa also includes whirlpool spas, aroma-infused steam rooms, and private access to the Whisper Lounge. This award-winning spa has been repeatedly ranked as the best spa in St Petersburg.
You must also fully explore The Don Cesar restaurant options, ice cream shop, and shopping in this all-inclusive beach resort.
---
St Pete Beach Parks
Another of our favorite FREE things to do in St Pete Beach is to spend time in the parks. St Pete Beach has multiple locations within just a mile or two! Two of our favorite parks are Colonel Michael J. Horan Park and Lazarillo Park.
Colonel Michael J. Horan Park
Located near Corey Avenue shopping district is Colonel Michael J. Horan Park. There is a waterfront playground and covered picnic area, barbecue grill, and restrooms with FREE parking.
The St Pete Beach Community Center is also on the property which has a variety of community classes, summer camps, gym and art space, and more.
Lazarillo Park
Lazarillo Park is the neighborhood park across from Pass-a-Grille. It is one of the quietest and nicest parks in St Pete Beach. It has tennis courts, walking paths, a kids' playground, and a covered picnic space.
Read Next: The Best & Fun Kids Things to Do in Tampa Bay
---
Enjoy Pass-a-Grille Beach Sunset Views
Pass-a-Grille is a beach located on the southern tip of St. Pete Beach. It has delicious restaurants with spectacular gulf views. Both residents and tourists love this place, as it's tranquil and calm.
Paradise Grille
A Pass-a-Grille local tradition is the nightly ringing of the bell that celebrates peace, relationships, and more. Grab a drink at the Paradise Grille. Make sure to get a good seat, you won't want to miss these sunset views. Often Paradise Grille has live music which adds to the ambiance and they also serve food.
Rent a Bike & Ride Around Pass-a-Grille Beach
Another fun thing to do in St Pete Beach is the ride around Pass-a-Grille. It's one of the most loved activities among locals.
During your ride, you'll ride along the beach next to the Gulf of Mexico. You can take in the view of the beautiful coastline. It's a ride worth bragging about once you get back home.
Read Next: 23 Amazing Things to Do in Pass-a-Grille Beach
---
Glass Bottom Kayak LED Illuminated Night Tour
If you are looking for something different, this is it! There just aren't a lot of opportunities to do things quite this unique.
Glass Bottom Kayak Night Tour is a super fun experience that will be one of the most memorable parts of your vacation. The water is very clear, so you will see hundreds of catfish that follow the boats. You can also see bottlenose dolphins, shrimp, starfish, crabs, and other forms of wildlife.
Two can go in one kayak, and if you have a 3rd person in your party they will be in their own kayak. The outgoing tide may give you more of a workout, but it isn't unmanageable for most skill levels. Keep in mind that you may get slightly wet from water falling from the paddle.
Bring your camera, the scenery on the night kayaking trip is exceedingly breathtaking!
Pro Tip: Carry a towel in your car for when you finish the experience. You'll appreciate the option, especially if you get wet.
---
Pass-a-Grille Beach Art Mart
Year-round on Saturday and Sunday, Pass-a-Grille Beach holds an Art Mart at the beach (weather permitting). Come see fine art and handmade crafts by local artists from 9 am to 2 pm. It is located next to Paradise Grille.
Suntan Art Center
Not able to attend the Art Mart? No worries, the affiliated Suntan Art Center is located next to the Don CeSar Hotel in the Don Vista Building. Help support the local economy by purchasing gorgeous handmade souvenirs at this quaint art gallery. Everything is original, plus they have a variety of pieces from watercolor, oil paintings, jewelry, sculptures, glass work, and more.
Parking is FREE for those visiting the gallery. They offer a variety of art classes and workshops too.
---
St Pete Beach Restaurants
There are lots of places to eat in St Pete Beach, and it wouldn't be a tasty itinerary if we didn't shine a spotlight on a few of our favorite foodie spots. New cafes and restaurants always pop up, but several deserve noteworthy recognition.
Level 11 Elevated Bar & Lounge
While in St Pete Beach, you may want to grab a drink or appetizers at Level 11 Elevated Bar & Lounge. It has truly one of the best waterfront views you will find in all of Tampa Bay.
RumFish Grill
RumFish Grill is a popular choice amongst tourists for lunch or dinner. Located at the RumFish Beach Resort by Tradewinds, you can get a table next to their 33,500-gallon aquarium while enjoying nightly entertainment.
1200 Chophouse
Our long-time favorite steakhouse in St Pete Beach is 1200 Chophouse. This small restaurant tends to stay busy. We either plan to come early or wait until the dinner rush is over since it is first come, first served. Any of the steaks, you truly can't go wrong, but we prefer the rib eye or the filet mignon.
Read Next: The Florida Orange Groves Winery: The Best Tropical Wines
---
Sweet Treat in St Pete Beach
CocoAddiction
Calling all dessert lovers, CocoAddiction is one of the best hidden gems of St Pete Beach. Here you could almost forget the beach with all the delicious delicacies they have to offer.
CocoAddiction specializes in handmade artisan chocolates, macarons, cakes, pastries, and more! In addition to the melt-in-your-mouth desserts, they have an outstanding coffeehouse that serves Made Coffee.
Larry's Olde Fashioned Ice Cream & Gelato
A hot day at the beach and ice cream pair so well together! Larry's Olde Fashioned Ice Cream & Gelato is a favorite spot in St. Pete Beach and a local tradition since 1984. They have over 100 original flavors to choose from and also serve frozen custard, frozen yogurt, and more!
Don't be surprised to find a line, especially in the evenings. Larry's also serves savory bites including hamburgers, hot dogs, pretzels, and other options.
Read Next: Get Your CocoAddiction Fix in St Pete Beach FL
---
Did You Find This Post Helpful? Share It!
If so, I would love to hear about your Florida travel adventures! You can follow me on Instagram, and tag your images to @erinstraveltips and hashtag #erinstraveltips. I look forward to seeing you there!
Disclaimer: The information in this article was accurate when published but may change without notice. All opinions are our own. Some of the links on this website are "affiliate links." This means that if you click on the link and do a purchase, I will receive an affiliate commission at no extra cost to you. This helps me keep my website running and to continue to share my traveling knowledge with you. I thank you for booking your flights or hotels using the links on my website. Regardless, I only recommend products or services I believe will add value to my readers. This article is the property of erinstraveltips.com and is protected by U.S. Copyright Law. Re-publication without written permission is against the law.