Looking for the Best Downtown Tampa Hotels? As a local expert who also staycations in Tampa, I'm sharing my favorite hotels in downtown Tampa.
Tampa is the place to be – home to world-class sports teams, beaches, museums, and other attractions like Busch Gardens! Its idyllic sunny weather and clear water beaches make it a popular tourist destination.
Downtown Tampa is the business center hub with travelers coming from all over the world. It is also arguably the most lively part of the city, with an impressive list of things to see, like Sparkman Wharf, Armature Works, Channelside District, and more!
Whether for a couples' date night or a family outing, you'll find lots of things to do here!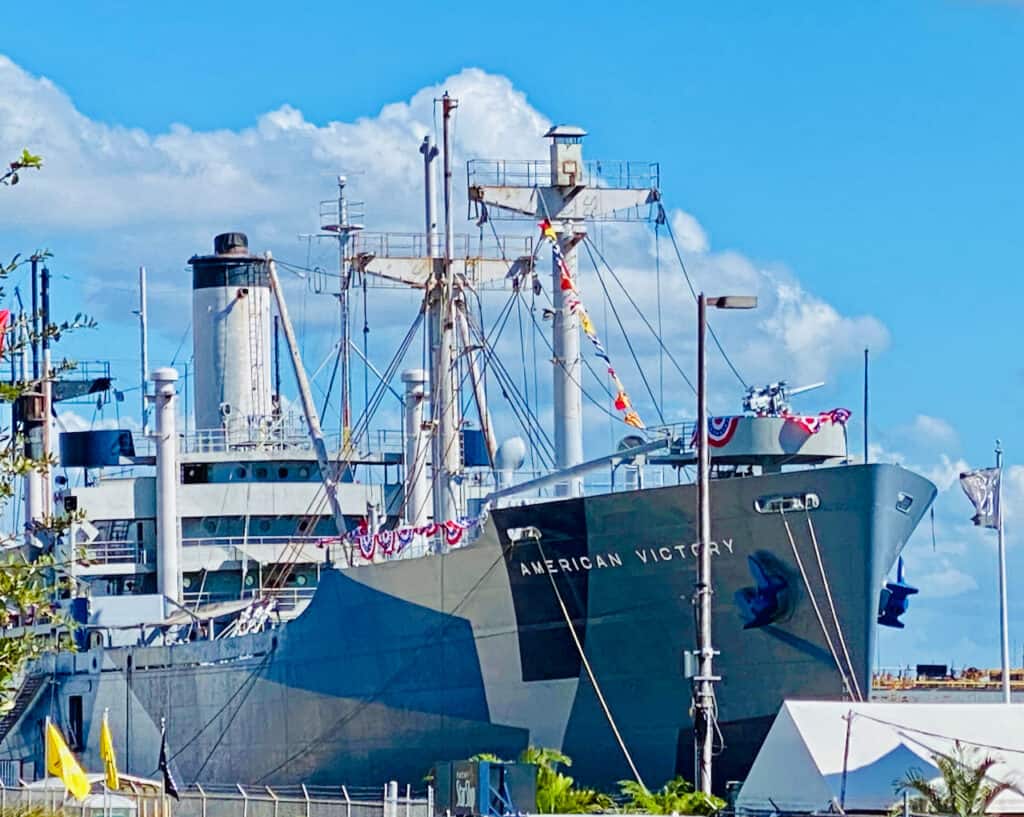 This article will guide you through the best hotels in the downtown area. I've listed everything from the top luxury hotels to more budget-friendly accommodations.
Don't have time to go through the entire article? Here are the best Downtown Tampa Hotels, separated by travel plans:

Best Luxury Hotels in Tampa
JW Marriott combines luxury and class perfectly in Tampa's Water Street neighborhood. The modern architecture fits perfectly well with the sophisticated environment of the area. Before being an ideal hotel location, it was an ideal parking lot for Amalie Arena (I still somewhat miss it!).
Whether you wish to spend the day at the spa or relax in the Floridian sun at their resort-style pool area, this hotel has you covered.
JW Marriott Downtown Tampa also has a separate meeting room, perfect for business travelers.
The hotel is equally striking inside, with classy rooms, free WiFi, a swimming pool, a gym, and plenty of complimentary services.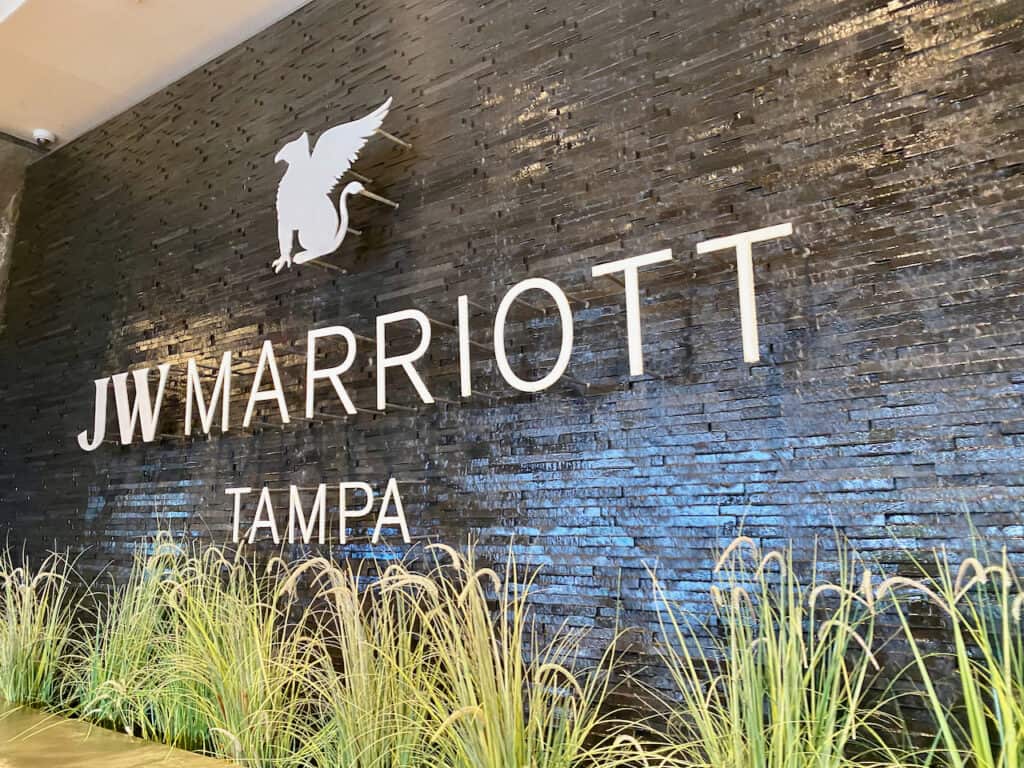 | | |
| --- | --- |
| Pros | Cons |
| High-class luxurious feel | Not Pet-Friendly |
| Continental breakfast | Expensive |
| Roof top swimming pool | |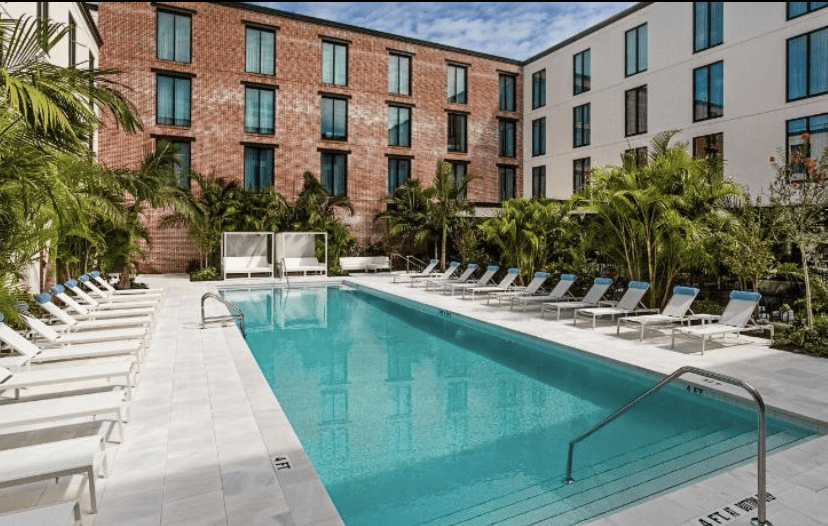 This luxurious 4-star hotel is located in Ybor City, just outside downtown Tampa. A single step into Hotel Haya, and you'll see the sheer elegance it exudes.
Apart from providing all basic amenities, most rooms also come with a private terrace, perfect for you to enjoy your evening coffee while admiring the Floridian sunset.
There is a poolside bar that allows you to relax in the sun while sipping on your martinis and cocktails. The versatile ballrooms are ideal for hosting bridal showers, weddings, or a grand luxurious tea party.
| | |
| --- | --- |
| Pros | Cons |
| Space for events | Expensive |
| Pool available | |
| Boutique style | |

Best Waterfront Hotels in Tampa
The Tampa Marriott Water Street is another favorite of the downtown Tampa hotels.
With ever-so-modern decoration, luxurious interior design, and cutting-edge amenities, this hotel is an ideal place to stay to enjoy downtown.
You can enjoy the outdoor swimming pool, dip in a hot tub, work out at their fitness center, or dine at their various restaurants (but my favorite, Columbia Cafe is a short walk away).
Additionally, you get free Wi-Fi, and you can bring your pets along too. There is an in-house Starbucks and the Pool Bar and Grill.
You can choose a serene bay or classy city view based on your preference. Being close to Amalie Arena, Tampa Riverwalk, and Sparkman Wharf, you can quickly see multiple local tourist attractions!
| | |
| --- | --- |
| Pros | Cons |
| Breakfast included | Offsite parking fees |
| Fitness center and spa facilities | Pricey |
| Digital check-in | |
| Pet-friendly | |

The Embassy Suites by Hilton is an all-suite hotel conveniently located in the heart of downtown Tampa. It has been considered one of the top places to stay near Amalie Arena for years. Although there has been more competition recently with building the JW Marriott.
If you've got work at the Convention Center, staying at the Embassy is probably the best choice since the hotel is connected to the convention center via a sky bridge.
Although not directly on the water, guests can stay on the upper floors to catch breathtaking views of Tampa beaches.
Embassy Suites has a sleek and elegant vibe, giving you the perfect business casual feel. It's also within walking distance from Tampa's museums.
| | |
| --- | --- |
| Pros | Cons |
| Breakfast included | Additional parking charges |
| No prepayment required | Pets allowed |
| Pool included | |

If you're looking for an elegant waterfront hotel in Tampa that's not too heavy on the pocket, then the Westin is your best bet. 
While it is an older property than some more modern hotels in downtown Tampa, it is a unique location on Harbour Island. It gives you more privacy than the hotels in downtown Tampa.
This newly renovated hotel comes equipped with all hotel amenities and has a modern, sleek interior design.  However, not all rooms have been updated. The Westin Tampa was once the best hotel in downtown Tampa, in more recent years has been outshined by others on our list.
Rating: 7.1/10 (8.3 by couples)
| | |
| --- | --- |
| Pros | Cons |
| Pets allowed | Additional parking charges |
| Slightly more private on Harbour Island, and walking distance to Channelside | |
| Outdoor pool  | |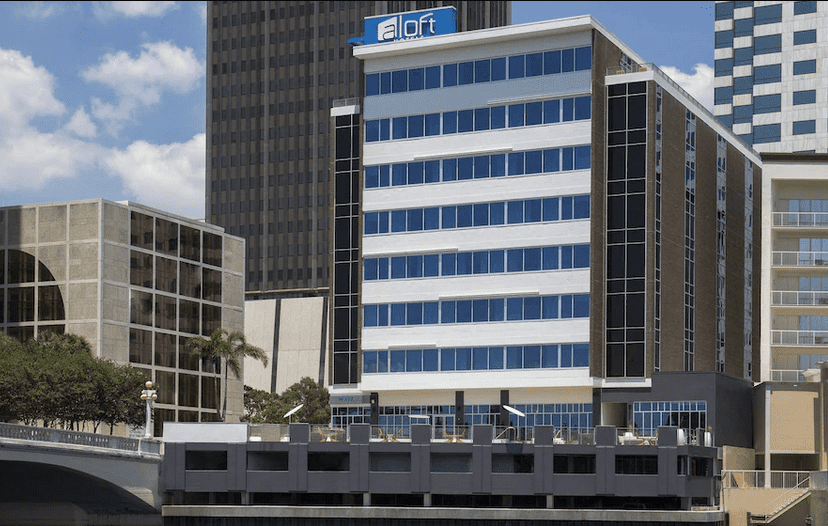 Another gorgeous waterfront hotel in Downtown Tampa is Aloft. The modern interior works perfectly with the contemporary art decorated across the hotel.
You also have access to a conference room and living area. The fitness center and an outdoor pool that overlooks the river are the true highlights of Aloft.
Overlooking the Hillsborough River, you are at a convenient location to explore. Guests at Aloft Tampa can take a calming evening stroll at the Tampa Riverwalk, a minute's walk from the hotel.
The University of Tampa is also only 2 minutes away, making it an excellent option for parents visiting their children.
| | |
| --- | --- |
| Pros | Cons |
| Pet-friendly | Breakfast is an additional fee |
| 24 hr front desk | Parking fee |

Best Boutique Hotels in Tampa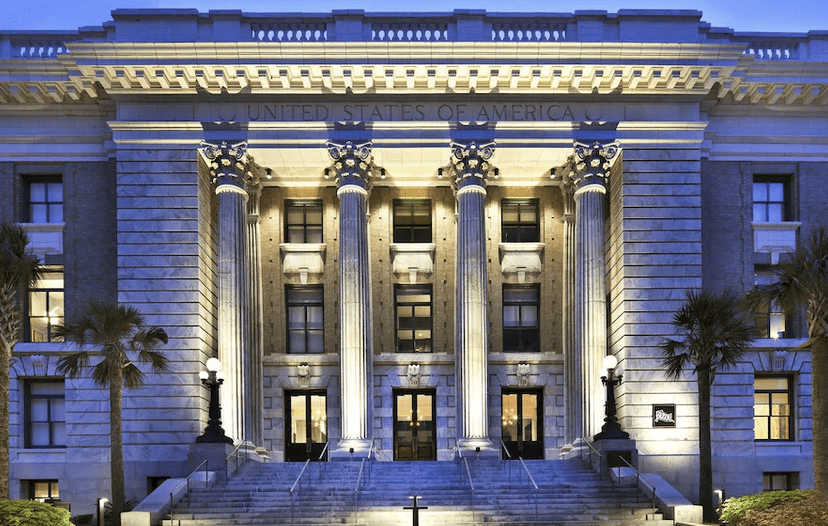 The Le Méridien Tampa is the perfect accommodation if you're looking for a cool, romantic place with your partner.
Once a federal courthouse, Le Meridien now serves as a beautiful boutique hotel. From the outside, the historic building remains strong and restored, on the inside, the hotel is modern and sleek with a luxurious feel.
Get a taste of France at their restaurant with the delectable eclairs, pastries, and cocktails.
You also get full access to their fitness center and can relax by the pool to unwind after a long day.
| | |
| --- | --- |
| Pros | Cons |
| Pets allowed | Additional breakfast charges |
| Beautiful design | Pricey |
| 24 hr business center | |

Best Budget-Friendly Hotels in Tampa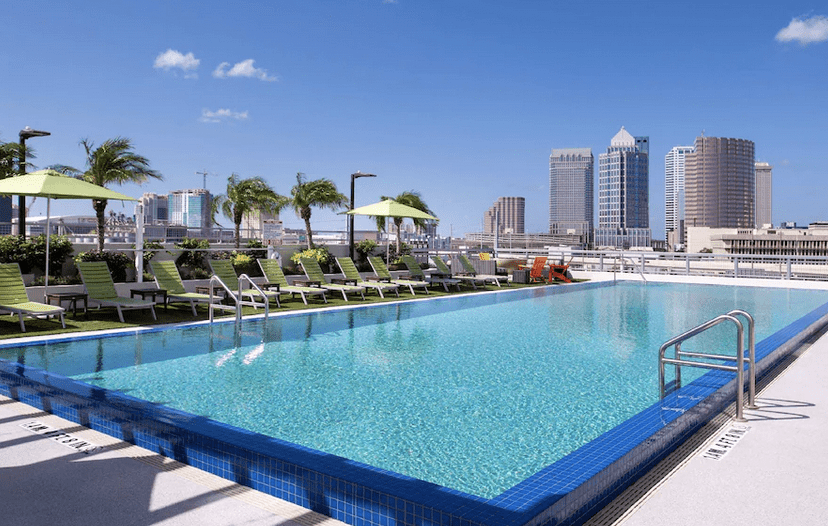 Home2 Suites by Hilton Tampa Downtown are a great option if you're looking for a hotel on a budget. You could also opt for a studio or studio suite if you want to save more money.
You can save a lot by cooking in your hotel room and walking to most of the main attractions. Parking in Tampa isn't cheap, so you can save big by staying at Home2Suites!
The suites come equipped with:
Full-size refrigerator
Dishwasher
Microwave, coffeemaker, and cookware
All rooms come with free wifi, flat-screen TVs, and blackout shades. It has a lovely rooftop terrace, outdoor pool, and cafe.
This relatively new hotel is in an ideal location with walkability to Sparkman Wharf and The Florida Aquarium.
A complimentary shuttle service is also available for tourists exploring the neighborhood.
Apart from a scrumptious breakfast every morning, you also get access to the fitness center, outdoor pool, and business center.
| | |
| --- | --- |
| Pros | Cons |
| Pet-friendly rooms available | Additional parking charges |
| On-site Starbucks | |
| Swimming pool | |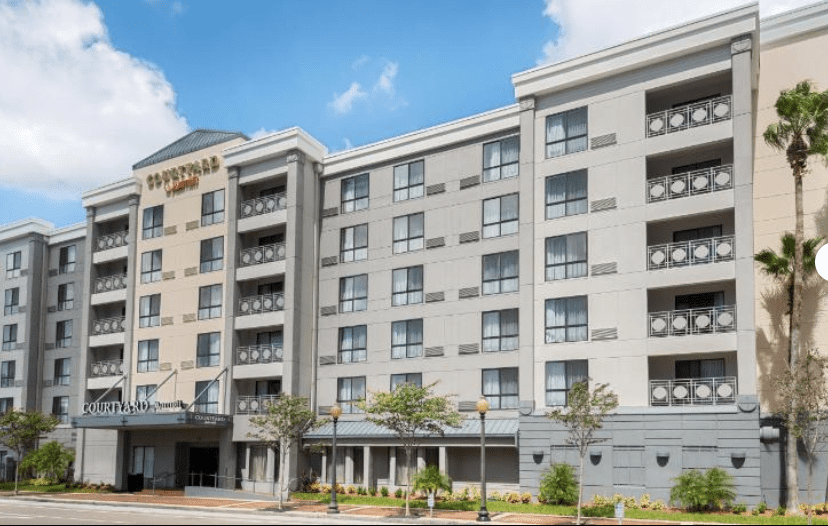 Courtyard by Marriott is a good moderate-budget hotel for travelers wanting to stay in the heart of the downtown area.
The hotel has an elegant minimalist interior design and a calming outdoor seating area.
During the summer, you can relax by the pool and sunbathe. In contrast, you can also sit by the fireplace in winter and enjoy a hot cup of coffee (yes, it sometimes can get cold in Florida!).
The hotel serves fresh breakfast daily and has an on-site convenience store and fitness center.
The Tampa International airport is 8km from the hotel, making airport travel much more manageable.
| | |
| --- | --- |
| Pros | Cons |
| Multiple close-by attractions | Pets not allowed |
| Barbeque Grills | Breakfast not included |
| Restaurant on property | |

Best Extended Stay Hotel in Tampa
ROOST Tampa is an excellent option for travelers looking for a larger space to stay within the downtown area.
ROOST offers a variety of apartments that provide its guests with the perfect cozy yet sophisticated environment to relax or work.
If you're looking for an extended stay in Tampa or wish to entertain guests, ROOST is the perfect place. Bring your furry friends along since this aparthotel also welcomes pets.
The apartments have a living space and a kitchen fully equipped with top-quality kitchenware and utensils, letting you channel your inner chef.
| | |
| --- | --- |
| Pros | Cons |
| Lending library | Additional charges for pets |
| Pets welcome | |
| Fitness center and pool | |
| Conference room | |

Remarkable Hotels Near Downtown Tampa
A few hotels within a short drive from downtown Tampa are also worth your consideration. These additional options have a lot of things to do on the property, which is ideal for relaxation.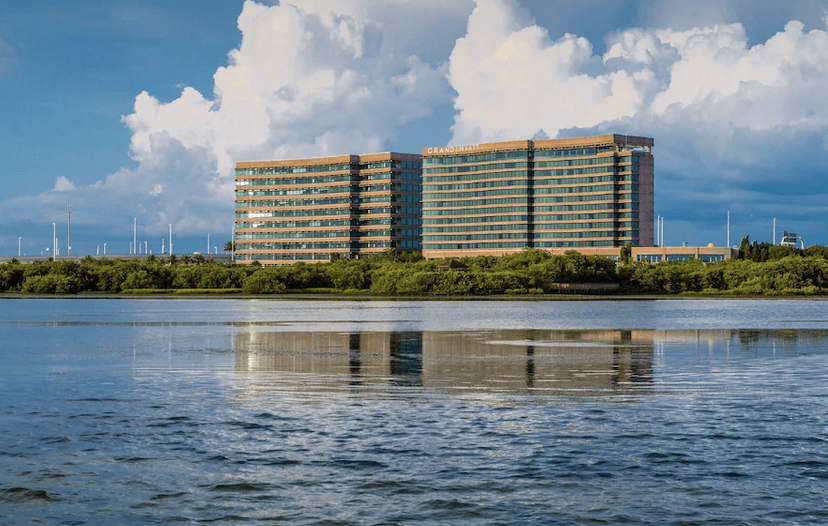 This beautiful beachfront hotel in Tampa truly lives up to its name; Grand Hyatt. The massive property is spread over 35 acres and is one of only a handful of hotels in the Tampa area with its beach.
Whether you're looking for a romantic getaway or a weekend escape from your busy life, the Grand Hyatt is your place.
You can enjoy a fun day of watersports at the beach by renting out activities through Bay Breeze Paddle Adventures, located at the dock.
Tampa International Airport is less than 2 miles away as well.
| | |
| --- | --- |
| Pros | Cons |
| Beachfront hotel in Tampa | Pricey |
| Pet-friendly | |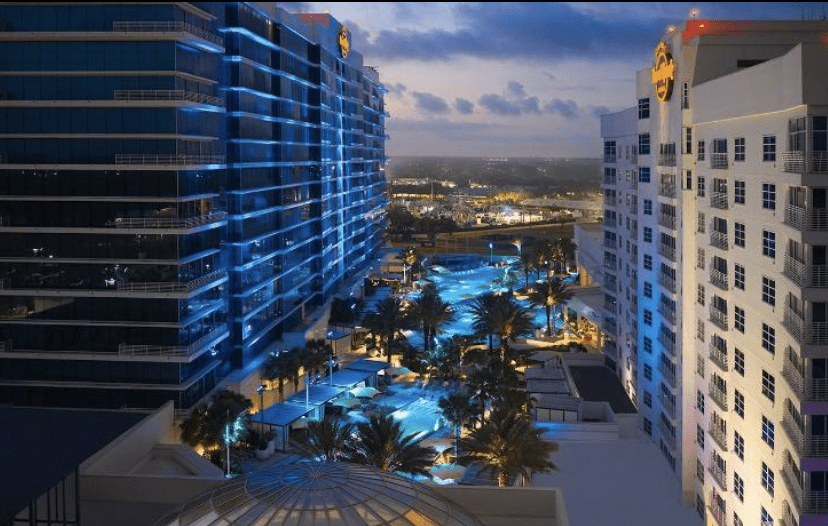 The Seminole Hard Rock Hotel & Casino is my go-to place when going to a concert at their hotel or event at the Florida State Fairgrounds. It is the ideal hotel for a fun place to stay in Tampa.
The famous Hard Rock Hotel has a branch in Tampa as well. Although located outside downtown, Hard Rock hotel attracts thousands of monthly guests.
If you're in Tampa with friends and looking for some adult entertainment, Hard Rock is your best bet. The Hyde Park Village is also a short drive away.
The hotel frequently hosts live concerts, and you can enjoy a fun night of gambling at the casino. This property has six hotels on site that serve scrumptious meals.
You can also enjoy a swim at their outdoor pool or sit poolside and indulge in delicious cocktails and martinis.
While it can be on the pricey side, it has a lot of amenities that make it a fun getaway that include:
Concierge services
Wedding services
Spa & Pool
Shopping
Casino
9 Restaurants on the property
Children under 17 years old stay FREE for families, which is a nice benefit. There is also free parking and free wifi.
| | |
| --- | --- |
| Pros | Cons |
| Free Parking | Smoking in the casino |
| Multiple entertainment opportunities | |
| Closest hotel to Midflorida Credit Union Amphitheatre | |
🌴 Expert Tip: Stay in the new section of the hotel for the most updated rooms.

Final Thoughts: Best Downtown Tampa Hotels
When looking for the best hotels in Tampa, there's a solid list of contenders. From pet-friendly hotels to luxurious hotels or budget-friendly options, there is something for every type of traveler. And, while you're in Tampa, check out the best beaches nearby.
This article has my top 14 hotels you can find in Downtown Tampa. Comment below which hotel best suits your requirements! I'd love to know about your experiences.
Did You Find This Post Helpful? Share It!
If so, I would love to hear about your Florida adventures! You can follow me on Instagram, tag your images to @erinstraveltips, and hashtag #erinstraveltips. I look forward to seeing you there!
Related Tampa Bay Articles