You've come to the right guide — because I am a local, not far from downtown — and I'm going to highlight the best hotels in downtown St Pete, Florida for you.
From all-inclusive stays to luxury resorts, and even private condos, it's all here!
St Petersburg is a vibrant and colorful city nicknamed "The Sunshine City" for having the most consecutive days of sunshine in a row.
Finding the Best Hotels in Saint Petersburg Florida 
Whether you're going to St Pete to enjoy the beaches or to spend time in one of the most creative and colorful cities in Florida, you're bound to enjoy your stay. Of course, I'm a little biased!
Here are the most wonderful hotels you can stay at on your trip to downtown St Pete provided by category: luxury, cheap, pet-friendly, boutique, VRBO, and best for families. If you're undecided if you want to stay at one of the hotels in St Pete Beach, you'll want to read this article next.
Don't have time to go through the entire list? Here are my top picks for the Best Hotels in Downtown St Pete, separated by travel style:

🏆 Best Luxury Hotel in Downtown St Pete
The Vinoy Renaissance is the highest-priced hotel in downtown St Pete. This incomparable in-town resort is the perfect blend of classic grace and contemporary style, paying tribute to St Pete's past. As the most expensive hotel on the list, standard room rates range around $500 & up on average.
The Vinoy Renaissance St Petersburg Resort & Golf Club features a fantastic golf course and a marina. After cooling off in one of the two outdoor pools, guests can dine at Paul's Landing, one of three restaurants serving American cuisine and available for lunch and dinner.
This upscale resort also has two bars, lounges, a poolside bar, and a health club. The Vinoy marina is just across the street with ideal walking to the St Pete Pier and all the best attractions.
You'll also find thrilling ghost stories and rumors about the hotel. However, from what we have seen and heard, this is all just fun!
Pro Tip: The Vinoy in downtown St. Pete underwent significant renovations in 2022 & 2023. You'll find many parts of this historic hotel to be newly redone to maintain its upscale standard.
Read some of the rave reviews
"The renovation vastly improved the hotel. We have been staying here for years and will continue to do so. Great place to stay!"

– Vinoy Hotel Reviews
Historic crown jewel of the downtown st pete hotels
Excellent customer service
Ideal location in downtown
Valet parking
Parking fees
Major construction

🥈 Runner Up: Best Hotels in Saint Petersburg Florida 
The Birchwood is a gorgeous luxury boutique hotel with a wonderfully unique interior. The hotel's decor is a seamless blend of luxury and eclecticism, offering you great comfort and high-quality services.
The Birchwood is located at the heart of St Petersburg on Beach Drive. Guests looking to dine inside can visit Birch and Vine, one of two restaurants serving American cuisine and open for lunch and dinner.  It's also near two of my favorite restaurants, Parkshore Grill and Ceviche.
The Birchwood Hotel also includes 2 bars, lounges, a nightclub, and a snack bar. Hotel pricing averages around $300 per night & up, depending on the season. Their rooftop bar in downtown St Petersburg is among my long-time favorites in the entire city!
Read some of the rave reviews
"A truly boutique experience in the heart of Downtown St Pete. Just steps away from great dining and shopping. Also, it is great to get up early and watch the sunrise over the Gulf inlet. The restaurant at the hotel is superb! The rooftop overlooking the Gulf and Pier is a wonderful view and, great place to have a glass of wine at the bar to end your evening. The complimentary breakfast in the morning had a lot to offer."

– Jennifer, (Birchwood Hotel, Downtown St Pete Hotels Review)
Pro Tip: If you don't stay here, you MUST at least have a drink at their upper rooftop bar. This is one of my favorite places for amazing views. Come early in the evening for a good view and seating.
Ideal location with beautiful water views
Includes a delicious free breakfast
One of the best bars in St Petersburg
Valet parking

In the heart of downtown St Pete, Hyatt Place has an ideal location for couples and families on vacation. The hotel offers excellent service and high-quality amenities that make your stay more pleasant.
Located near great restaurants and bars, the Hyatt place also offers an expensive menu for guests who prefer eating inside.  If you are going to a concert at Jannus Live, it is literally across the street.
You can enjoy the fantastic city views while taking a dip at the rooftop pool or unwind at the bar after a full day of exploring the city.
Pro Tip: This is an ideal hotel for couples or families since it's close to main attractions including the St Pete Pier and Jannus Live. The Mill Restaurant is nearby, an excellent option, especially for brunch.
The Hyatt Place Downtown St Petersburg prices average around $200 & up per night.
Read some of the rave reviews
"I live in the area but stayed in this hotel…The rooms are good, not too small, and clean. The bathroom is spacious, with a huge mirror…The location is excellent, with plenty of restaurants around. It's not too far from grocery stores and pharmacies…I liked staying in this hotel better than the famous historical one."

– Felipe (Hyatt Place Downtown St Pete Reviews)
Excellent Location
Outdoor pool
Consistent Hyatt quality standards

Best Boutique Hotels in Downtown St Pete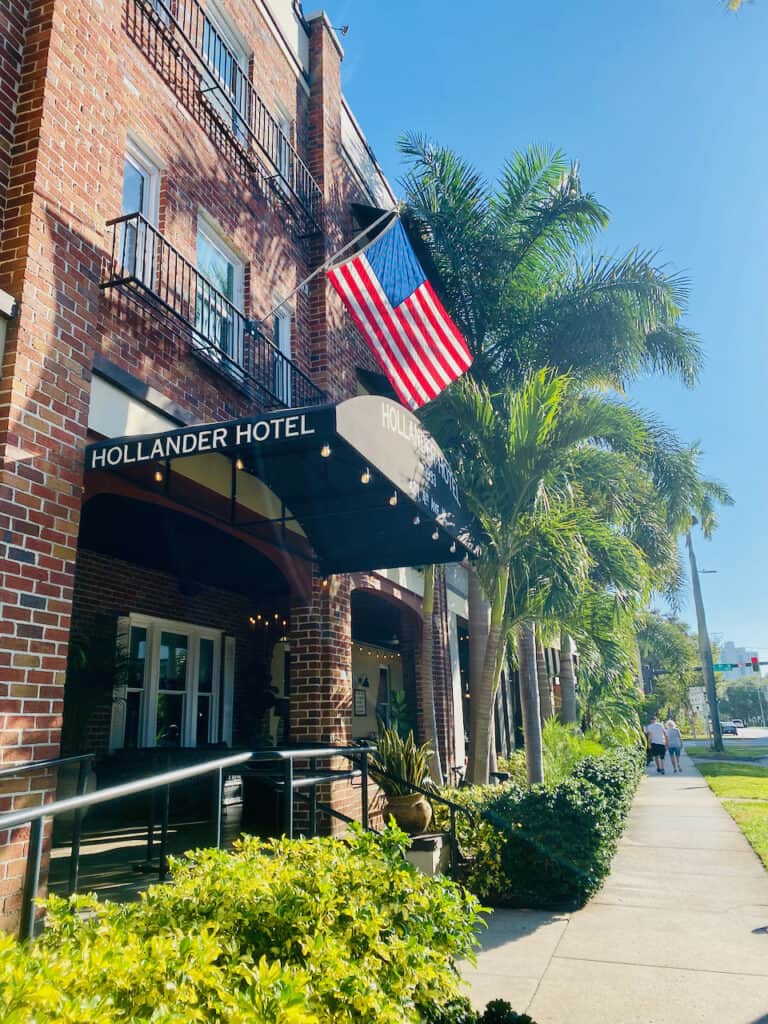 The Hollander Hotel is an ideal location for couples or families that are looking for quality accommodations without breaking the bank. While it is pricier than our budget-friendly options, your dollar will stretch a bit further with free parking, a pool, and other extra amenities.
This boutique hotel has a unique and stylish interior that exudes comfort and luxury. The colorful and creative decor is a true representation of the vibrant city of St Petersburg.
Rooms come equipped with minifridges, microwaves, and coffeemakers. Suites have kitchenettes and sleeper sofas. Guests at The Hollander can soak up the sun on the 130-foot open terrace or take a dip in the outdoor pool. There is also a spa, poolside bar, restaurant, and coffee shop.
The Hollander Boutique Hotel is located in downtown St Pete, just a 3-minute walk from the Colosseum. While it is in a convenient location, it is on the outskirts of the more trendy downtown spots such as the St Pete Pier, Beach Drive, and Central Avenue. However, it's an easy walk, and it tends to be less busy in this part of town.
Pro Tip: If you love museums as I do, the Museum of the American Arts and Crafts Movement is located across the street.
The Tap Room Restaurant in the hotel offers an extensive menu for the guests to enjoy. Breakfast is available to guests for an extra fee. Prices vary but tend to be $160 & up.
Read some of the rave reviews
"Adorable decor, cozy common areas, great breakfast menu, and the staff is as pleasant and as helpful as can be. We are local and only stayed here for one night….but would definitely stay again and refer everyone to stay here. Loved everything from parking to checkout."

– Pam, (Hollander Hotel Reviews)
Parking is Free
Spectacular pool and bar with party vibe
Excellent food and amenities
Walkable to museums and restaurants
Offers poolside beach yoga
Older property that has been updated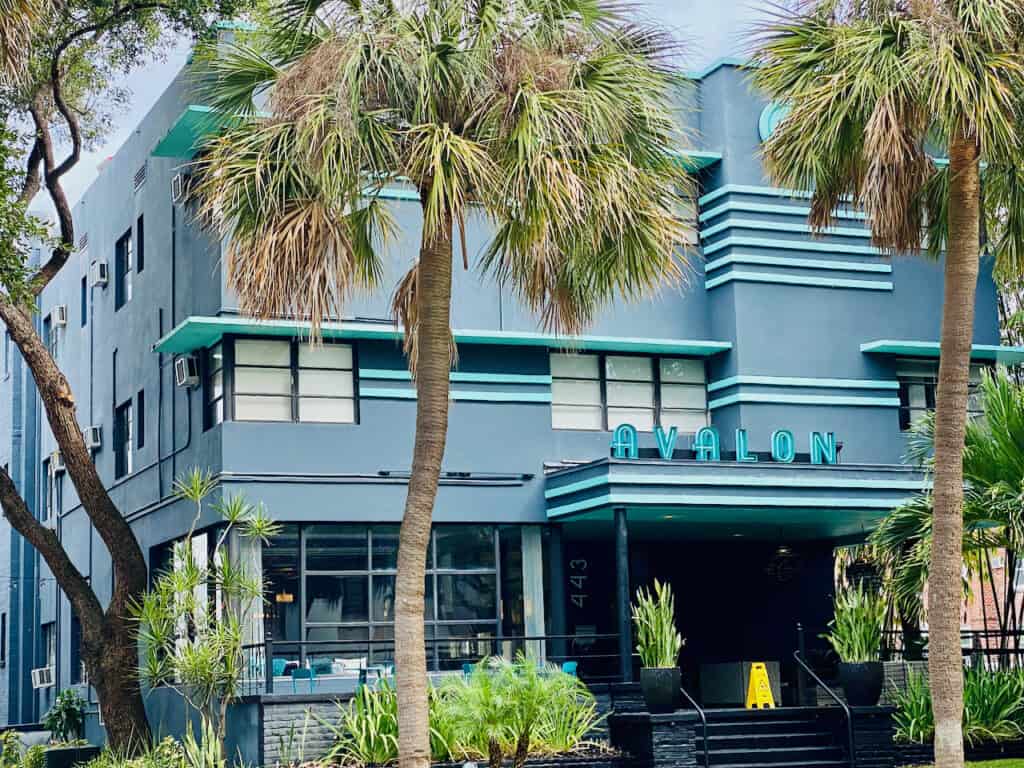 The Avalon Hotel is another gorgeous boutique hotel in downtown St Pete. It's located right next to its sister hotel, the Hollander, just on the outskirts of the main attractions in downtown St Petersburg.
The Avalon features a stylish and unique interior offering comfort to its guests. The hotel also has a beautiful pool for you to enjoy.
You can enjoy food at any restaurant nearby or go to the Hollander next door, which offers food to all the guests staying at the Avalon Hotel.  Prices on an average run around $120 & up depending on the season.
Note: The hotel also has free WiFi in all public and private places and has free onsite parking.
Known for excellent customer service
Free parking which is rare in downtown St Pete
Pool & restaurant access
"The furnishings ere unique in the room. We had a standard room which was small. It was also dark although there were windows. It may have had something to do with the color of the walls which were a dark deep grey. We would come back. Very friendly and helpful staff."

– Rita, (Avalon Hotel in Downtown St Pete Reviews)

Best Cheap Hotels in Downtown St Petersburg
Let's face it. When it comes to hotels near Beach Drive in Downtown St Petersburg, there's no such thing as cheap. When I first moved to Tampa Bay over a decade ago, I lived in hotels for months. So, finding affordable hotels in St Petersburg became my semi-permanent job until we found our home. So here are the best options if you're trying to stay close as possible to the heart of the action.
The Exchange Hotel is a moderate-budget hotel offering high-quality amenities and services to its guests including a pool, bar, fitness center, and valet services.
From long-time visitors to the city, you may remember this property as Hotel Indigo. It is an ideal place to stay if you're in town for a concert at Jannus Live.
The hotel is located near the heart of downtown and is within easy walking distance of Downtown St Pete's many local attractions such as the Sun Dial – full of unique shops, restaurants, and a movie theater.
Read some of the rave reviews
"Although it's recently opened, the hotel is in an older building. The halls were warm and the bathroom was tiny. The beds were comfortable. No fridge or microwave or breakfast. No parking so we had to pay for valet."

– The Exchange Hotel, (Hotels in Downtown St Pete Reviews)
Great location near the Sundial
More modern look, but room layouts tend to be a bit quirky
Budget hotel in downtown St Pete
Older property
Valet or parking fees
Smaller rooms, especially the bathrooms

Best Cheap Hotels in Downtown St Petersburg
This charming Inn offers all its guests a homey and affordable experience. Despite being slightly older and smaller than most hotels, the Inn's comfort, quality service, and great location make up for it.
The Inn on Third is within walking distance from all the best attractions in downtown St Pete and is surrounded by the hustle and bustle of the city center.
It also provides a complimentary breakfast and free drinks at happy hour for you. Other perks include free WiFi and onsite parking.
Read some of the rave reviews
"I enjoyed my stay. Run by the most gracious and friendly people, super convenient location, clean and simple. Historic building charm, with no "frills" … perfection."

– Charles, (The Inn on Third, Cheap Hotel Reviews)
Complimentary free breakfast
Free beer or glass of wine during evening social
Free parking in downtown St Pete (self parking)
Older property with no frills

Best Family Friendly Hotel in St Petersburg FL
The Hampton Inn is a family-friendly hotel offering a wonderful experience to its guests. It is a gorgeous location on Beach Drive with views of the park and the Yacht Club.
Note: The hotel has free cots and beds for infants and has the option to get connecting or adjoining rooms so that the whole family can be together. It also has one of the best pet policies with no added fees.
Guests can enjoy the hotel's outdoor pool or the surrounding area in downtown St Pete. There are laundry facilities, a computer station, and a fitness center.
The hotel is near bike rentals, with great biking and hiking trails nearby for any outdoor adventurers.
Guests staying at the Hampton Inn are within walking distance of the city's many restaurants, parks, and museums. In fact, it is the closest hotel to St Pete Pier which families and all ages absolutely love! Hotel prices average in the $200's & up.
Read some of the rave reviews
"Friendly staff. Comfortable beds (even the pullout couch was comfortable!). Located in the middle of the downtown St Pete experience within walking distances of restaurants, breweries, bars, and the new Pier area."

– Ryan, (Hampton Inn Downtown St Pete Reviews)
The best downtown St Pete hotel location for families next to the St Pete Pier
Free breakfast
Easy walkability to the best restaurants and shops
Close to the Dali Museum
Parking fees and expenses due to premier location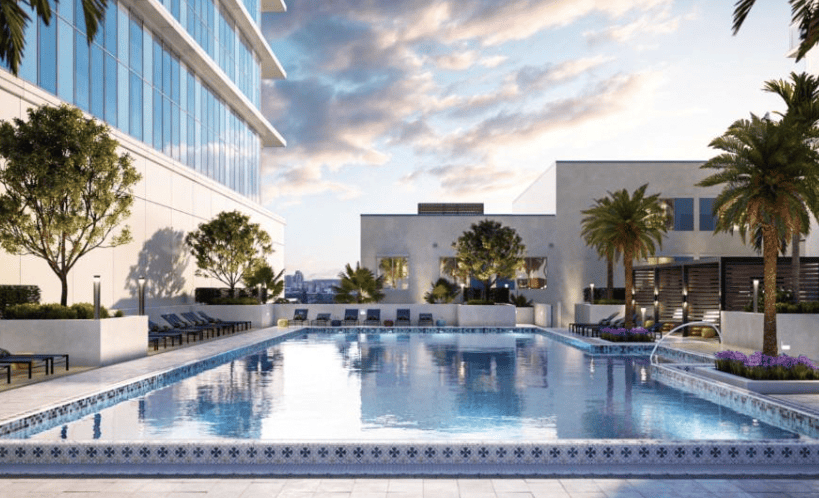 My new favorite hotel in downtown St Petersburg for families is the the AC Hotel. It is a top choice for travelers seeking the perfect location with a pool, and not the steep price tag of The Vinoy.
With its excellent amenities including:
Pet-friendly accommodations ($50 per night)
Onsite valet parking ($32 per night)
Outdoor pool
Fitness center
Restaurant
Convenience store
Free wifi
Guests can also take advantage of its prime location, within walking distance of restaurants, parks, museums, and the famous St Pete Pier. Hotel prices average in the $200's and up depending on the season.
Ideal located in downtown Saint Petersburg
Excellent buffet breakfast (surcharge)
Walking distance to restaurants and bars
Beautiful outdoor pool
Pricey parking fees (valet only)

The Courtyard by Marriott is located in downtown St Petersburg at walking distance from many attractions such as the Coliseum, the Palladium Theater, and some of the best museums in St Petersburg.
Guests at The Courtyard can enjoy the indoor pool and grab a bite to eat at The Bistro, the hotel restaurant. Other amenities include a coffee shop/cafe, a computer station, a fitness center, and laundry facilities.
Hotel room charges range from $150's and up per night.
Included: The Hotel also offers families adjoining rooms and even free infant cribs.
Read some of the rave reviews
"I highly recommend this hotel, its clean, safe, and within a walkable distance of many restaurants and museums. The staff are helpful and friendly. Overall a great experience….I would definitely go back."

– Nicholas (Courtyard by Marriott downtown Reviews)
Excellent location in downtown St Petersburg
Pet-friendly
Business center
Name brand recognition
Not as many amenities on property as other nearby hotels
Expensive parking fees

Hotels near Central Avenue St Petersburg FL
The Tru by Hilton is a wonderful, family-friendly hotel offering quality services and amenities to its guests. We like that the pricing is all-inclusive with free continental breakfast, wifi, and parking.
It is one of the newer properties on this list and it comes with a free continental breakfast. They also offer children's games, a pool table, and a fitness gym.
The location is further away from Beach Drive. However, it's in the heart of the action on Central Avenue's Edge District near Tropicana Field. Plus there is a ton of local restaurants, bars, and breweries within walking distance.
Note: The hotel has free cots and beds for infants and has the option to get connecting or adjoining rooms so that the whole family can be together.
Read some of the rave reviews
"Small rooms but perfect for our one-night stay. The bed was very comfortable. Very secure hotel. Have to have a room key to activate elevators beyond lobby which is on 3rd floor."

– Andrew, (Tru, Hotels in Downtown St Pete Reviews)
New hotel in downtown Saint Petersburg
Free complimentary breakfast
Free parking
Closer to Tropicana Field and Central Avenue
Further from downtown water views

Best Pet Friendly Hotels in St Petersburg
With high pet charges, taking your pet on vacation can become costly. This is a cost-friendly hotel with free parking, complimentary breakfast, and free wifi. While there are many properties on this list that allow pets, this one will helps your pocketbook.
The Staybridge Suites is a pet-friendly hotel with one of the lowest cost pet fees in downtown. It is also great for families with free cribs and adjoining rooms available.
🐶 Related Articles: Best Pet-Friendly Hotels in St Pete Beach
The hotel is located near great restaurants and is within walking distance from the Tropicana Field. This is ideal if you are attending a Tampa Bay Rays game or spending time on Central Avenue.
The Staybridge Suites is the perfect place to stay with your furry friends. Moreover, guests at the Staybridge can relax at the outdoor pool or enjoy the 24-hour fitness center. There is also a computer station, snack bar, and laundry service available.
Pro Tip: The Library restaurant is one of my personal favorites for breakfast or lunch. It is a half mile away near All Children's Hospital. Also, my favorite downtown dog park is in North Shore Park near the softball fields. Afterward, stroll down to Vinoy Park for the best city views. 🐕
Read the rave reviews by other guests
"The location for downtown St Pete was great! The room was excellent, the staff was excellent, and the free breakfast was excellent. Really – nothing negative to say about this place! We would definitely stay here again."

– Daniel, (Staybridge, Hotels in Downtown St Pete Reviews)
Super pet-friendly
Pool
One of the best cheap hotels in St Pete
Self parking
Further away than some downtown St Pete hotels

Best VRBO Rental in Downtown St Pete
Planning to stay with a group or as a family? Sometimes it's nice to have more space and have the option to cook.
This popular two-bedroom, one-bath apartment is located on the second floor in downtown St Pete. It has upgraded details with granite countertops and modern-style furniture.
The apartment also comes with a full-size washer and dryer and is stocked with standard essential items.
While there is no pool available to guests, it is not too far away from North Shore Aquatics Complex a part of North Shore Park. It is also close to the St Pete Pier which has a beach.
"Had a great stay in this property! The location is outstanding, very walkable to all the great restaurants. Very clean and comfortable and also super easy to communicate with owners. We will definitely be back!"

– Molly, (VRBO, Hotels in downtown St Pete Reviews)

Final Thoughts: Best Hotels in Downtown St Petersburg Florida
Downtown St Pete is a vibrant and dynamic city center with many activities and places to explore. Whether you're looking for a business luxury hotel or just basic amenities on a budget, you can find plenty of hotels and enjoy a happening vacation in the Sunshine City!
You can't go wrong with any of these choices. The decision depends on the type of accommodation you are looking for. Before you go, don't forget to check out the best tours, bars, and fun things to do in St Petersburg!
Frequently Asked Questions
What is the best month to go to St Petersburg Florida?
St Petersburg, Florida truly has great weather year-round. In fact, that's why it gets the nickname the Sunshine City. However, April and May are two of my favorite months, with moderate temperatures, fewer crowds, and usually beautiful weather at the beach.
Do you need a car in St. Petersburg FL?
No, you don't need a car in St Petersburg if you are comfortable with bus transportation. However, to see most of what the city has to offer, you will need some form of transportation, whether by bus, rental car, or hired driver.
What is the best street in downtown St Pete?
This depends on what you're looking for. The best street for amazing views and an upscale atmosphere is Beach Drive. For party vibes, restaurants, and shopping districts the best street is Central Avenue in Saint Petersburg, Florida.
Does St Petes Beach have a downtown?
St Petes Beach, instead St Pete Beach, is a separate city with its own thriving downtown with quaint beach shops, restaurants, and bars. The heart of St Pete Beach is Corey Avenue Shopping District, which also holds one of the best Sunday markets in Tampa Bay.
What are the best hotels in Saint Petersburg FL?
Florida Travel Planning Articles