The Bishop Museum of Science and Nature is a natural history museum in Bradenton, Florida. The museum specializes in the history of the gulf coast featuring exhibits highlighting Florida's history from prehistoric to the present.
Here are 5 reasons why you should visit the Bishop Museum of Science and Nature:
The Bishop Museum Hours & Basic Information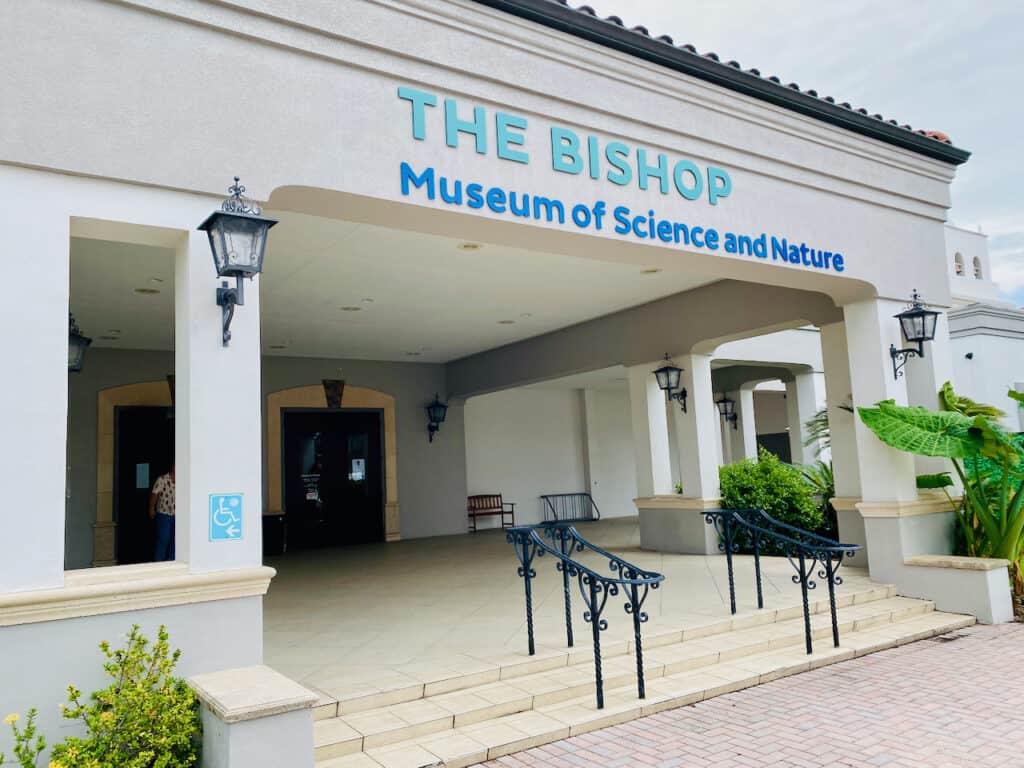 The Bishop is open from 10 am to 5 pm, Tuesday through Saturday. Sundays it is open from 12 pm to 5 pm. It is closed on Mondays. They are closed on Thanksgiving day, Christmas Eve, and Christmas. I recommend verifying other holidays in advance before planning your trip.
Parking is free for the museum with plenty of options nearby. The city of Bradenton has some of the best parking availability in southwest Florida. There is a new parking garage downtown that is also available, as well as street parking for overflow.
Adult ticket prices are currently $25. However, they offer discounts to seniors, students, and the military. For children from 5 to 17, admission costs are $16. Under 5 years old, admission is free.
Address: 201 10th St W, Bradenton, FL 34205
Phone: (941) 746-4131
Blast Off to See the Universe in the Planetarium
The Planetarium at the Bishop Museum is a must-see for anyone interested in astronomy. The Planetarium offers shows on various astronomical topics, and laser light shows set to music. Shows are suitable for all ages and are offered daily. While it is better suited for older children and adults, we took our 2-year-old, and he loved it!
The Bishop Museum's Planetarium has always been a popular attraction, but the recent upgrade to a Digistar 6 dual projection system and latest-generation software has made it even better! It provides stunning views of the cosmos.
Planetariums are a remarkable resource for astronomy education, allowing you to explore the universe in ways that would otherwise be impossible. At The Bishop Museum's Planetarium, you can take virtual journeys to the far reaches of the cosmos.
For example, see how a black hole affects the objects around it — including how it bends light in surprising ways. Or take a tour of some of humanity's most significant astronomical discoveries and learn about the scientists who made them.
The Parker Manatee Rehabilitation Habitat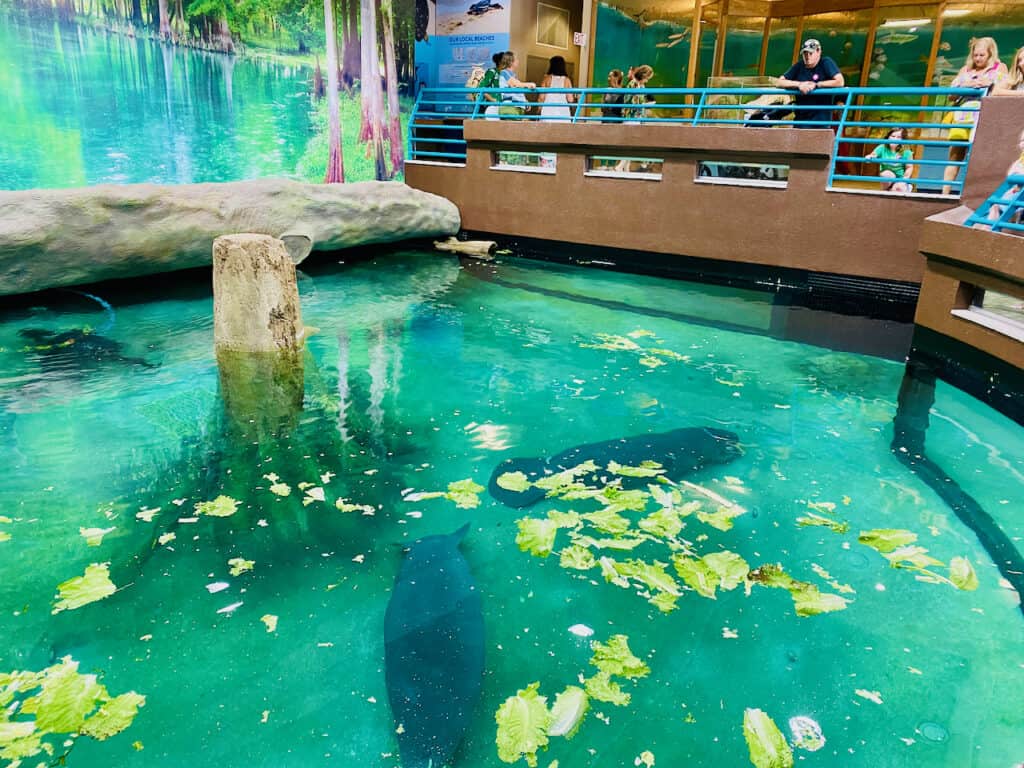 The Parker Manatee Rehabilitation Habitat is a founding member of the Manatee Rescue and Rehabilitation Partnership and has rehabilitated more than 50 manatees. Visitors can see manatees up close and learn about their habitats, diet, and life cycle.
The museum has always been dedicated to the care and rehabilitation of manatees. In 1979, plans began for a new wing to be added to the museum that would include a larger and more well-equipped facility for the world's oldest resident manatee, Snooty. He later died in 2017 at 69 years old.
The new manatee wing of the museum completed the Spanish Plaza and included above and below-water viewing capabilities, a medical pool, an exhibition area, and a 60,000-gallon tank for Snooty and additional manatees.
The Parker Manatee Rehabilitation Habitat has been a vital part of the South Florida Museum's mission to provide care and rehabilitation for manatees. The Habitat is one of the most extensive facilities of its kind and has treated over 40 manatees since it opened in 1994.
The Parker Manatee Rehabilitation Habitat is an important part of the South Florida Museum's dedication to providing care and rehabilitation for manatees. If you are interested in learning more about manatees or seeing them up close, then be sure to check out the Parker Manatee Rehabilitation Habitat on your next visit to the South Florida Museum.
Regularly Changing Exhibitions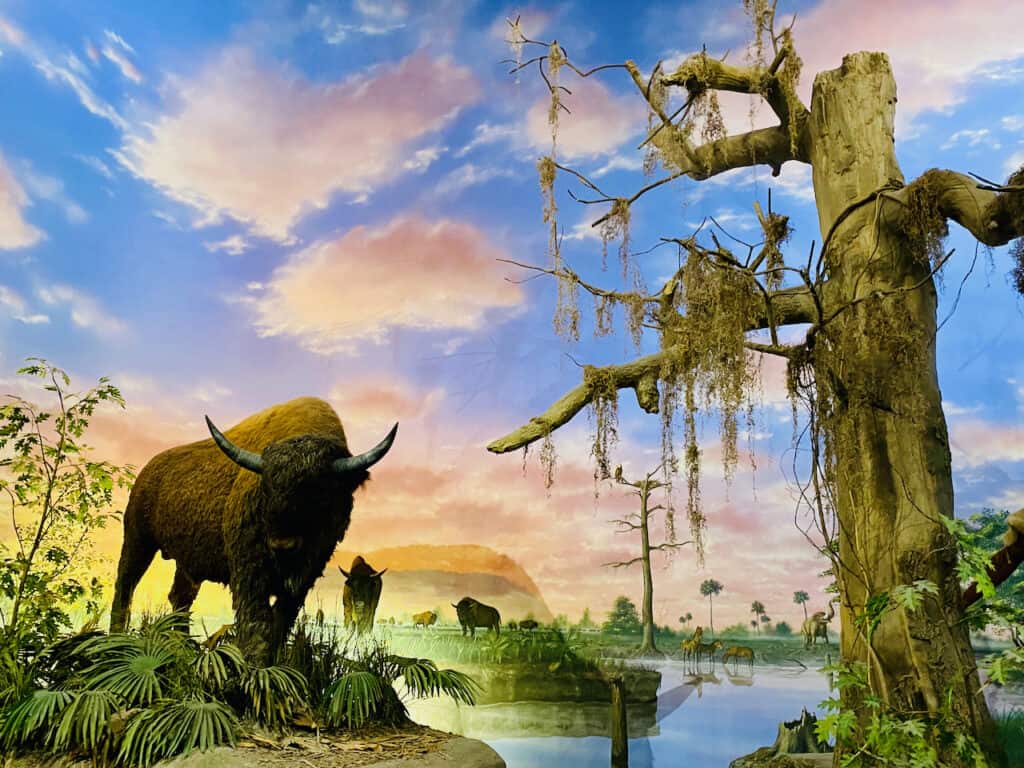 In addition to the permanent exhibits highlighting Florida history, the Bishop Museum also features regularly changing exhibitss throughout the first and second floors of the museum. Past exhibitions have included topics such as fossils, Native American culture, and maritime history. This keeps the museum fresh with always new great things to see for all ages!
Read Next: The 27 Best Things to Do in Bradenton FL!
Hands-On Activities For Kids & Adults
The Bishop Museum is not just a place to look at exhibits; it's also a place to get hands-on with science! The museum offers various hands-on activities for children, such as full-scale solar system models and a freshwater turtle pond in the "Backyard."
Mosaic Backyard Universe is an interactive kids' playground. There is also a Science Shed for more fun activities.
Each month, there are various fun things to do, from yoga at the museum, science for sprouts (2 to 5-year-olds), after-dark exhibitions, and think + drink science discussions, just to name a few!
Pro Tip: You can get FREE adult admission to The Mosaic Backyard Universe. Fill out the online form provided by The Bishop Museum of Science and Nature.
The Tallant Collection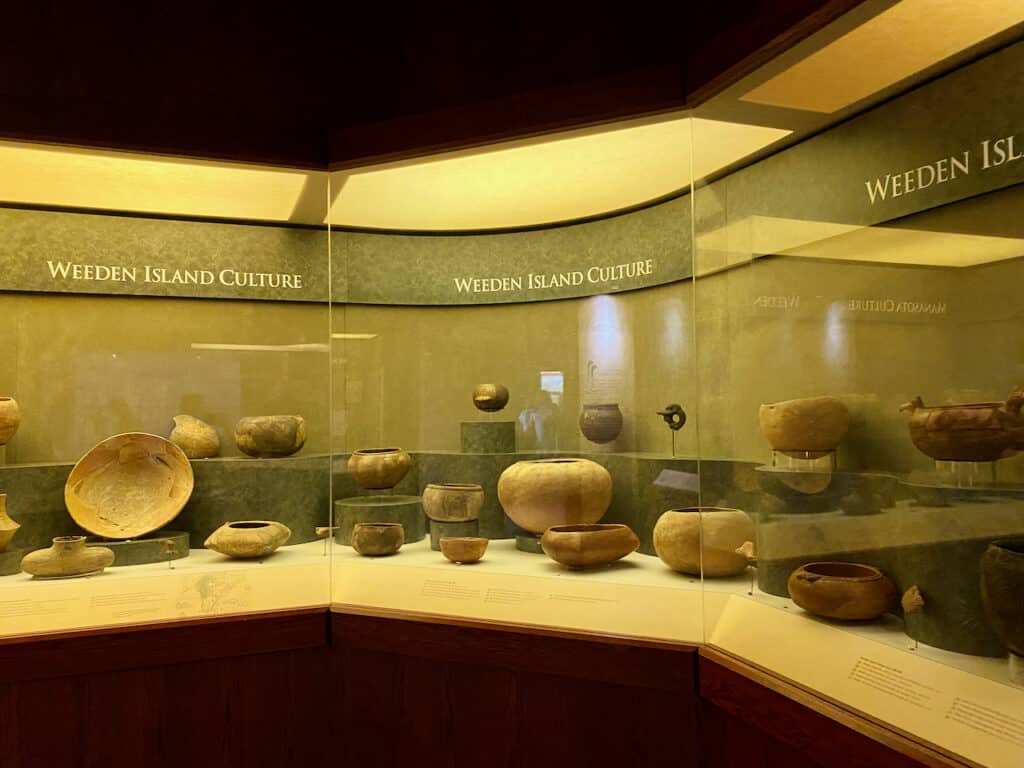 The Tallant Collection at The Bishop Museum of Science and Nature is one of Florida's most important collections of archeological artifacts. The collection was amassed by Montague Tallant, a Bradenton furniture store owner who was an avid pottery hunter. His mentor, Matthew Stirling, was the director of the Smithsonian's archeological digs in Florida. Throughout his career, Tallant is believed to have investigated at least 169 sites, most of them in the southern part of the state.
The Tallant Collection is significant because it contains metal artifacts from the early Spanish exploration and settlement of Florida. These artifacts are among the few that remain from this period in Florida history. In addition to the metal artifacts, the Tallant Collection also contains:
Pottery
Stone and shell tools
European material from the early Spanish exploration and settlement
The collection is an essential resource for understanding the history of Florida and the people who have lived there.
Shop in the Museum Store
The Bishop Museum Store offers a wide variety of items, including books about Florida history, science kits, toys, jewelry, T-shirts, and more. Proceeds from purchases made in the Store help support the museum's educational programs and exhibitions.
We found the prices pricier than most local museums, but since it goes to charity, we found several cute manatee shirts and kids' toys for gifts.
The Spanish Courtyard
Are you looking for a unique and beautiful location to host your next big event? Look no further than the Courtyard at The Bishop Museum in Bradenton, Florida!
The Bishop Museum of Science and Nature Wedding Venue
With an underwater view of The Parker Manatee Rehabilitation Habitat, a lighted fountain, a covered Colonnade, classic lighting, and our catering kitchen, the Courtyard is sure to impress your party guests.
The Spanish Courtyard at The Bishop Museum can accommodate large groups for elegant gatherings, wedding receptions, galas, fundraising events, reunions, and anniversary celebrations. We were surprised by how private and unique the space is for a special gathering.
Read Next: The 25+ Fun Date Things to Do in Tampa for Couples
Nearby Bradenton Restaurants & Things to Do
Bradenton is one of my favorite coastal towns in southwest Florida. This is a friendly and quaint town with gorgeous views of the Manatee River and the Gulf of Mexico. Make time for a stroll along the Bradenton Riverwalk which has an entrance just a short walk from the museum.
Check out my favorite things to do in Bradenton by clicking here!
If you are looking for a casual place with outstanding panoramic views, head to Oak & Stone on the rooftop of the Springhill Suites. It is steps away from the museum. Pier 22 is another place with gorgeous views and has more upscale dining options.
Final Thoughts
The Bishop Museum of Science and Nature is a great place to spend a day learning about Florida's gulf coast history and getting hands-on with science! Be sure to check out all the museum offers on your next visit to Bradenton!
Did You Find This Post Helpful? Please Share It!
If so, I would love to hear about your Florida travel adventures! You can follow me on Instagram, and tag your images to @erinstraveltips and hashtag #erinstraveltips. I look forward to seeing you there!
Related Florida Travel Articles