If you have made it to Pass-a-Grille beach, you have literally found heaven on earth. This piece of paradise is full of quaint charm and charisma that you will soon be saying this is your favorite beach town.
I'm a local, and this is one of my regular go-to places for the perfect day at the beach. Pass-a-Grille is a place for connecting with nature or to yourself.
I am sharing with you my favorite things to do and some of the best hotels or Pass-a-Grille rentals you will love!
Why is it called Pass-a-Grille?
One of the old stories is about how this Florida beach town got its name. It is said that Pass-a-Grille got its name from the French words "Passe Aux Grilleurs."
This saying translates to the "Passageway of the Grillers," which officially became Pass-a-Grille. The term honored these fishermen who settled and grilled fish here.
Where is Pass-a-Grille Beach located?
This quiet Old Florida town is located under 20 minutes from downtown St Petersburg FL. It is the furthest south beach of St. Pete Beach. Pass-a-Grille is on a barrier island that divides the Gulf of Mexico and Boca Ciega Bay. From the Tampa International Airport (TPA) it is a 35-minute drive.
Pass-a-Grille Beach is just south of Maderia Beach which is one of the best small beach towns in Florida.
To get to to Pass-a-Grille Beach from the I-275 exit and head west. Follow the signs for St Pete Beach on the Pinellas Bayway. From Pinellas Bayway, turn onto Pass-a-Grille Way, heading toward the southern tip of St Pete Beach. You will pass by the Don CeSar Hotel, one of the most recognized historical places in the area.
History of Pass-a-Grille Beach
Pass-a-Grille has a long history in Florida, dating back to 1528 when the Spanish explorers arrived and the Native American Indians were already present.
While walking around Pass-a-Grille you will see historic sites and national register markers. It's home to many interesting houses, boutiques and restaurants throughout the District. There are 97 buildings on this list.
Pass-a-Grille became incorporated with St Pete Beach in 1957. The grand historic site is the beautiful hotel Don CeSar. It has 237 rooms and was designed in 1928 and is operated by Loews Hotels. It's an amazing historical resort located in Florida's historic center with outdoor dining, indoor fine dining, outdoor fire pits, luxury rooms, a pool and spa.
Where to Stay: Best Hotels & Pass a Grille Beach Rentals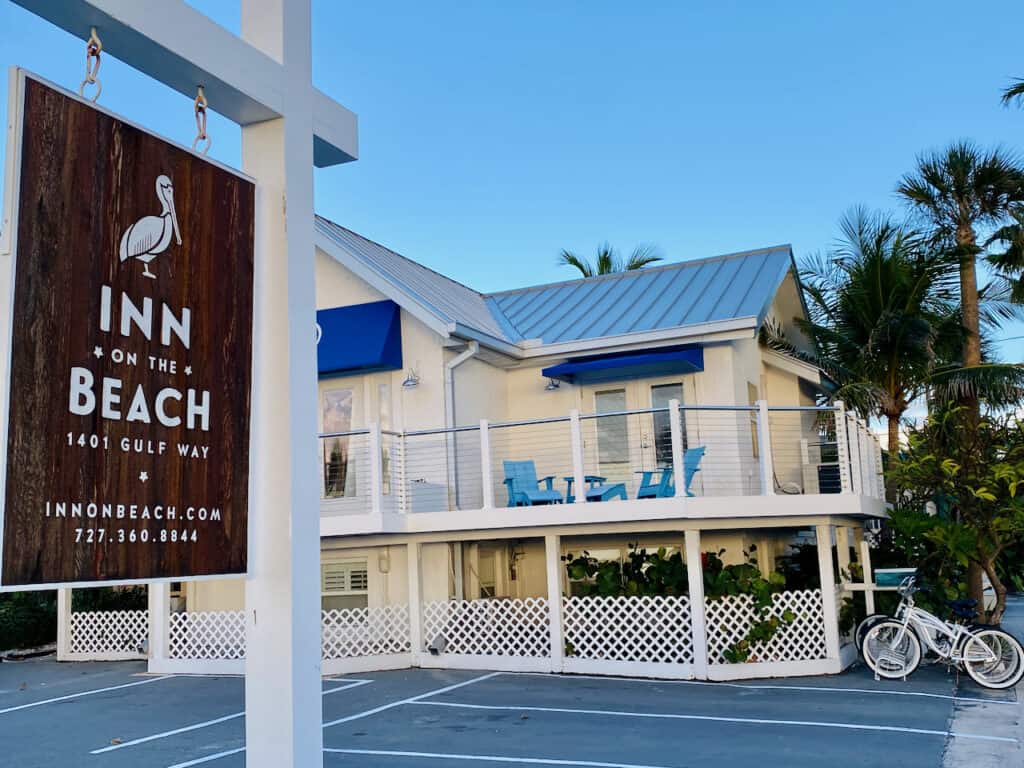 🥇 Best Luxury Hotel: Don CeSar Hotel
🌴 Best Beach Inn on Pass a Grille Beach: Inn on the Beach
💰 Best Budget Friendly Pass a Grille Hotel: Sabal Palms Inn
🏡 Best VRBO Pass a Grille Beach Rental: Beach Front Condo Rental
For many people, Pass-a-Grille's appeal lies primarily on the absence of large apartments or large hotel chains that dominate in most vacation areas. Instead, there are inexpensive motels, boutique hotels, and a historic beach resort all right next to the beach.
Is Pass-a-Grille Beach parking free?
There are plenty of metered parking spots next to the beach (Pass-a-Grille Way) and along the bay (Gulf Way). Parking meters are from 8 am to 8 pm. Metered parking is FREE after hours only.
Parking even during peak times, I have always found a spot without issue by parking further north or on the south end. Central parking near the Paradise Grille beach area downtown tends to fill up first. Just make sure you don't park in permitted spots (they are visibly marked).
Park further away? Take a FREE ride with the Freebee Shuttle. Simply download the Freebee app, and they will take you around town. While on the app, check out local deals and offers.
15 Fun & Best Things to Do in Pass a Grille Beach
There are so many great things to do in Pass-a-Grille. Here is a list of my top favorites. Pass-a-Grille also has a very helpful website for current events and attractions.
Relax at the Beach
This is an obvious first choice and the most important one too! Discover why locals and visitors love this beach by sitting in the sand and listening to the relaxing waves. Bottlenose dolphins can also be observed swimming or diving along the 35 miles of beaches in Pinellas County.
This beach is one of the most breathtaking pieces of old Florida, and it is often missed by tourists coming to St Pete beach. I truly feel this is one of the best kept secrets in Tampa Bay to enjoy a quiet experience with outstanding sunsets.
While on the beach, enjoy the sun and swim, but you will want to plan with beach umbrellas or skin protection. There are also beach rentals next to Pass-a-Grille Beach for lounge chairs, cabanas, umbrellas, and more.
Looking to do water sports? There are also paddleboard rentals located next to Paradise Grille.

Eat at The Best Pass a Grille Beach Restaurants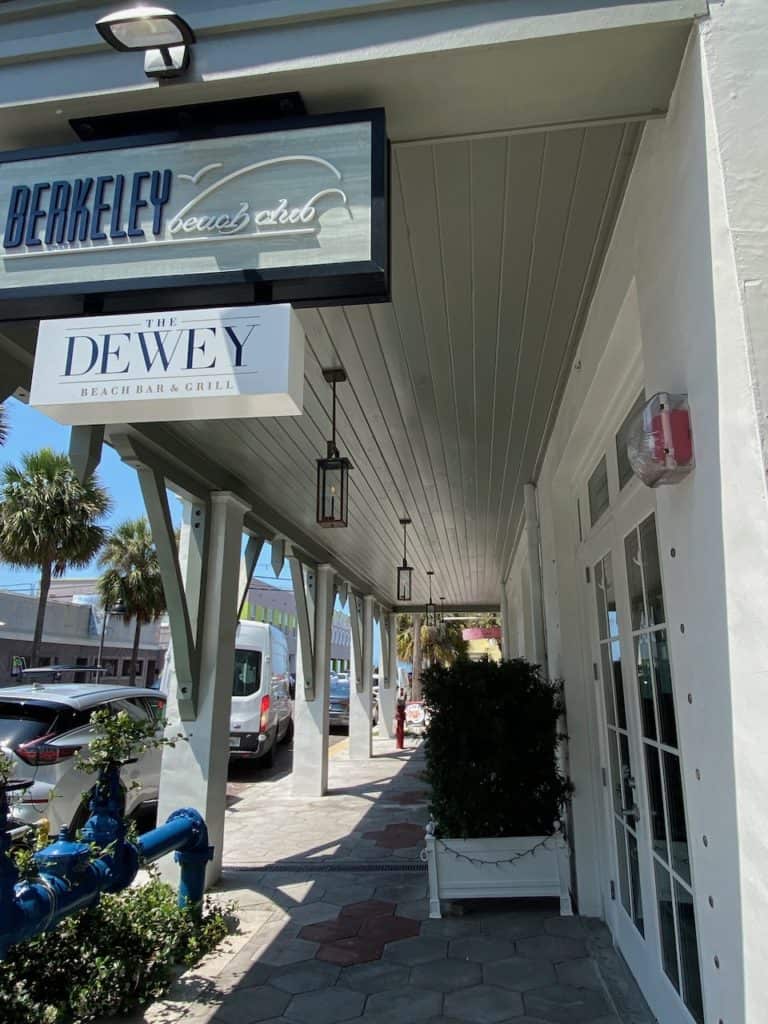 Head to the casual Rooftop Bar at The Dewey on 8th Avenue for appetizers and great water views (Gulf and Bay)! I recently ate dinner at the Dewey. They give a substantial portion size of the fish and chips. However, it is priced at a premium. When in season, they usually have a wait, so you'll want to book ahead of time on their website. The Dewey is closed on Mondays and Tuesdays.
For more casual seafood fare, check out Red, White, & Booze (previously known as the Sea Critters Cafe). Sit on the patio for waterfront views of Boca Ciega Bay. They also have boat docks if you are arriving by vessel.
Looking for an excellent place for breakfast? The Seahorse Restaurant is a local favorite. This historic restaurant was established in 1938 and originally was a drive-in.
I almost hate to mention this quaint little restaurant because the food is that good and reasonably priced. My go-to dish is corn beef and hash. It is also popular for lunch with original dishes burgers and shrimp and grits.
Shadracks on 8th Avenue, is the perfect dive bar for cold beers, pool, and music. This is a favorite spot for its gritty charm and laid back fun vibe with reasonably priced drinks.
The Hurricane is also a great spot on the upper deck to grab a drink and see 360 degree views. They often have live music.
If you're looking for more great bars and restaurants, you'll also want to check out St Pete Beach.

Experience Deep Sea Fishing at Merry Pier
The Gulf of Mexico is known for world-class fishing with multiple charter companies to choose from in St. Pete Beach. The charter boat, Miss Pass A Grille awaits your arrival from the historic Merry Pier. This is an affordable excursion that is known for having more of a party vibe.
While at the unpretentious Merry Pier, check out the local fresh fish market and fishing store. Here you can rent or purchase fishing rods, as well as other fishing equipment.
Address: 801 Pass a Grille Way, St Pete Beach, FL 33706
Phone: (727) 360-1400
Website: Merry Pier

Daytime & Sunset Cruises to Shell Key Preserve
Merry Pier also offers ferry rides to the Shell Key, an authentic Florida barrier island just south of Pass-A-Grille and St Pete Beach. Just a short 10-minute ferry ride boat ride away with plenty of dolphin and bird watching opportunities.
You will love the remoteness of Shell Key with some of the most beautiful Florida beach scenery and undisturbed coastline. Keep in mind, there are no public restrooms since this island is completely vacant.
Sunset Cruises are also available by reservation only. Parking passes for the meters can be purchased when checking in for the shuttle. See the Shell Key Shuttle website for full details.

Shop On The World's Smallest Main Street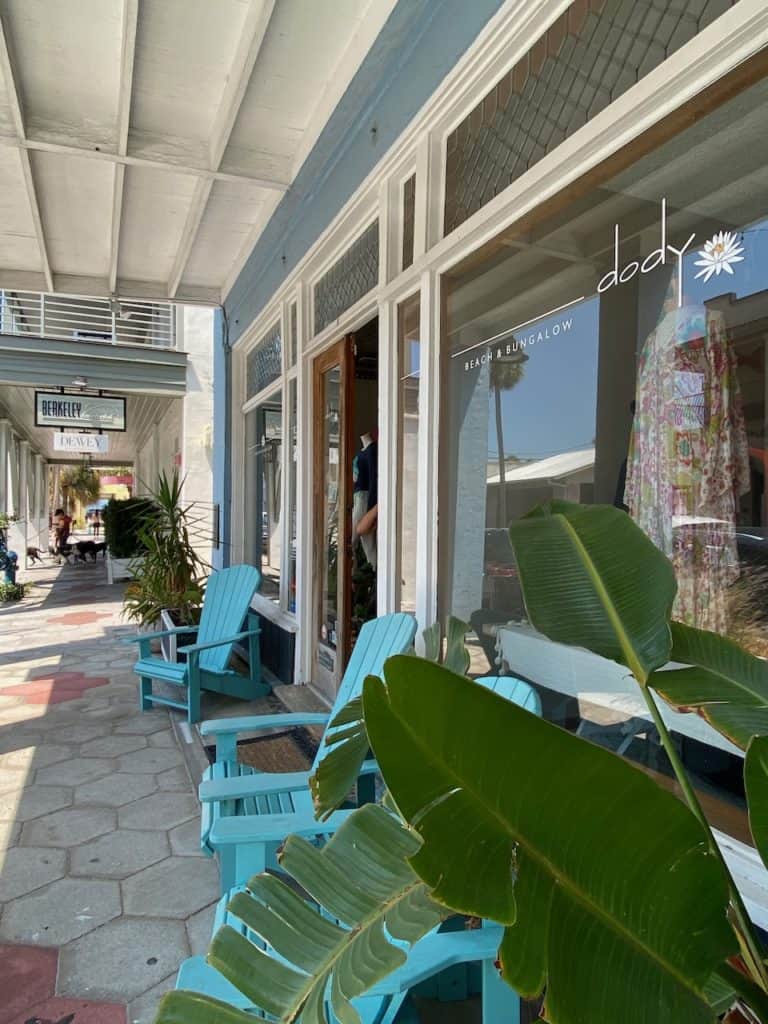 Pastel-toned historic Eighth Avenue is a cultural oasis anchored by Evander Preston Gallery and A Little Room For Art.
You can't leave Pass-a-Grille without checking out some of these super cute shops. One of my favorite sweatshirts comes from Dody's Beach Boutique.
The items on display are quirky, interesting and artsy. They offer hats and t-shirts that commemorate Pass-a-Grille Florida.
During a stroll, stop for some shade on colorful chairs on beachfront streets and admire the view. There are also some unique eclectic shops on Pass-a-Grille Way. Don't miss these stores which are just a short walk from the Merry Pier.

Discover the Amazing Sunset at Paradise Grille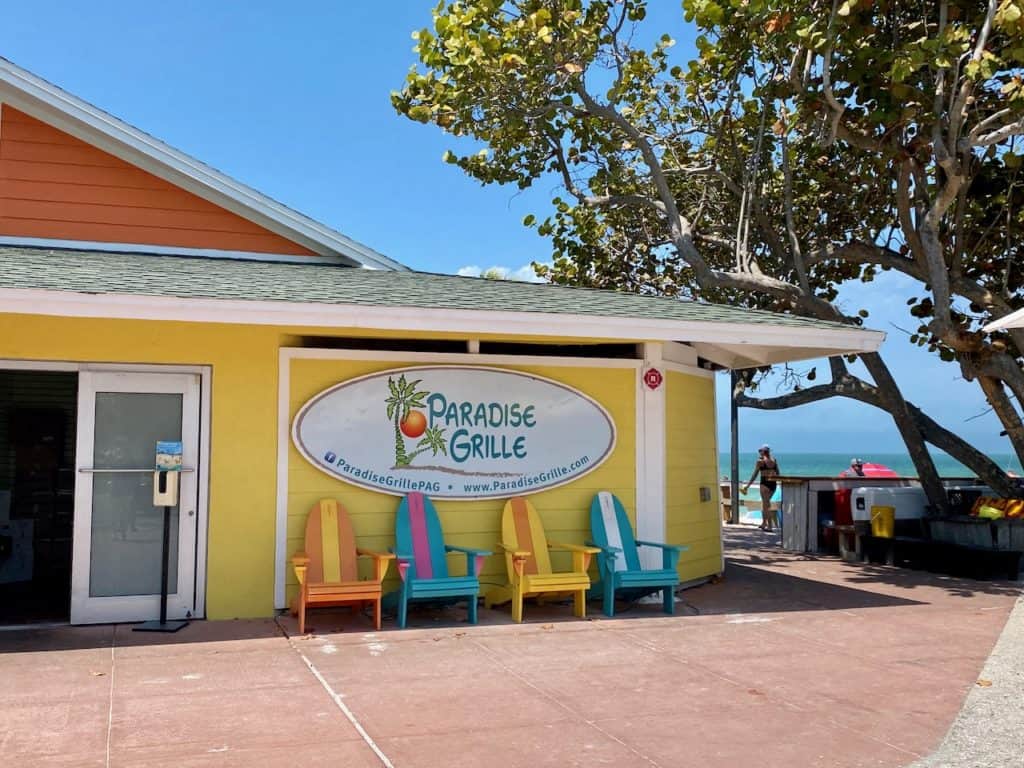 Grab a drink, beach chair, or picnic bench at Paradise Grille. Ensure you get a good spot, you won't want to miss these views. Often Paradise Grille has live music, which adds to the ambiance, and they also serve food (casual beach fare).
A Pass-a-Grille local tradition is the nightly ringing of the bell that celebrates peace, relationships, and more. Jim LeBlanc or designee is out there every night to keep this tradition alive.
Prefer a sunset rooftop view and restaurant? The Dewey and the Hurricane both have spectacular views from their upper decks.

Hop On A Beach Cruiser Bike
Rent a bike by Wheel Fun Rentals and explore the beach on another level. The wind takes you on a ride and to sites that leave a lasting impression. As you pedal down the street check out some of the beautiful homes.
For a longer ride, check out the Pinellas Trail. This 27-mile trail begins as far north as Tarpon Springs and runs south into the city centers and neighborhoods that include Dunedin, Clearwater, Largo, Gulfport, and downtown St Petersburg. There are several uses of the trail: for walkers, cyclists, or rollerskating.

Visit The Historical Museum
Gulf Beaches Historical Museum houses many interesting facts and stories. Originally it was a church built in 1917, and later was transformed into a museum. While it is a small museum, it contains key artifacts, newspapers, postcards, and history related to Pass-a-Grille.
Pinellas County is known for having some world class museums. Check out some of the other museums just a short drive away.
Hours: Friday – Saturday 10am – 4pm; Sunday 1 – 4pm.
Tickets: FREE (Donations are accepted)
Address: 115 110th Avenue, St Pete Beach, FL 33706
Phone: (727) 552-1610
Website: Gulf Beaches Historical Museum

See the Beautiful Sea Shells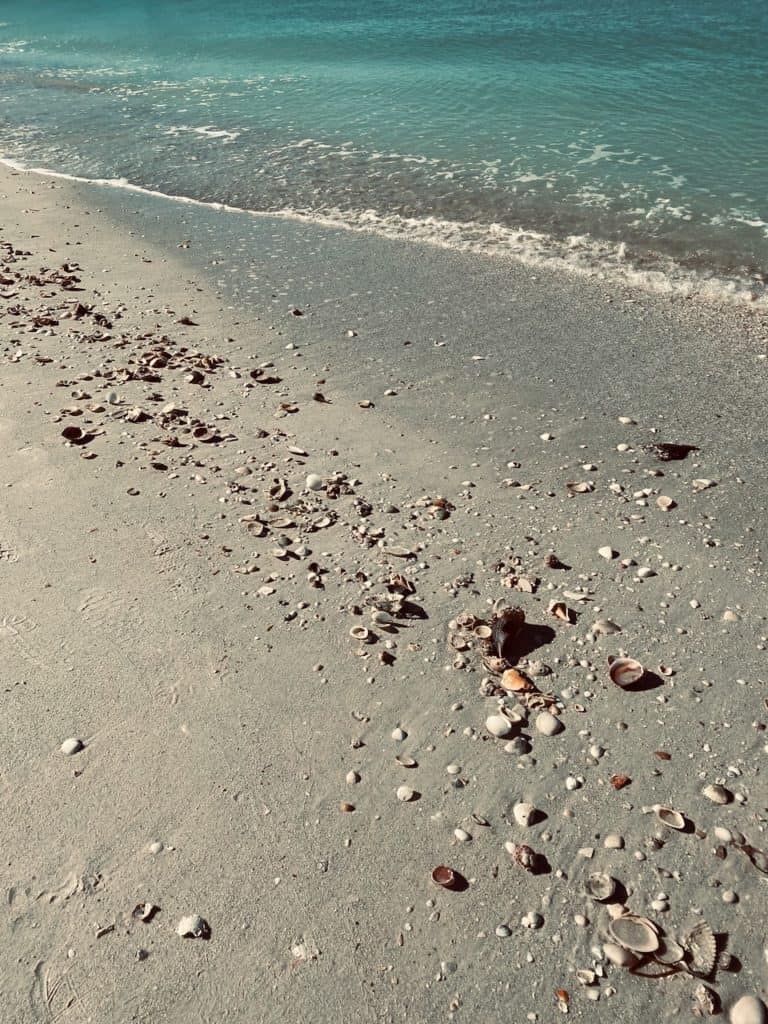 I don't believe I have been to a beach where shells are more plentiful. You will see them everywhere on the Pass-a-Grille beaches, but most especially at the southern tip of the island across from Shell Key.
If shelling is something you enjoy, you don't want to miss this stretch of sand. I just love to photograph them which makes for memories you can take anywhere.

Bring Your Pet to Dog Beach
Pass-a-Grille Beach is a dog friendly community. Off the furthest south tip of the bay side land on 16th Avenue is a designated beach just for your furry friends.
This location is also a favorite spot for fisherman who you will see fishing all along Boca Ciega Bay. Don't be surprised if you see some dolphins!

Day Trip to Fort De Soto
Near Pass-a-Grille Beach, take a day trip to Fort De Soto Park, which is only 8 miles away. It has dozens of activities on its five islands and three miles of pristine beaches. This is also a very popular camping location. Check out the historic fort, rent kayaks, canoes, or a ferry to beautiful Egmont Key.
If you have more time in your schedule, I prefer taking a private boat to Egmont Key. You'll get fantastic views as you cross under the Sunshine Skyway Bridge. There are several excellent boat tours available for a variety of budgets.
On your drive back, explore things to do in Tierra Verde which has some excellent local restaurants and kayaking tours with LED lights at night.

Spend Time at the Nearby Public Parks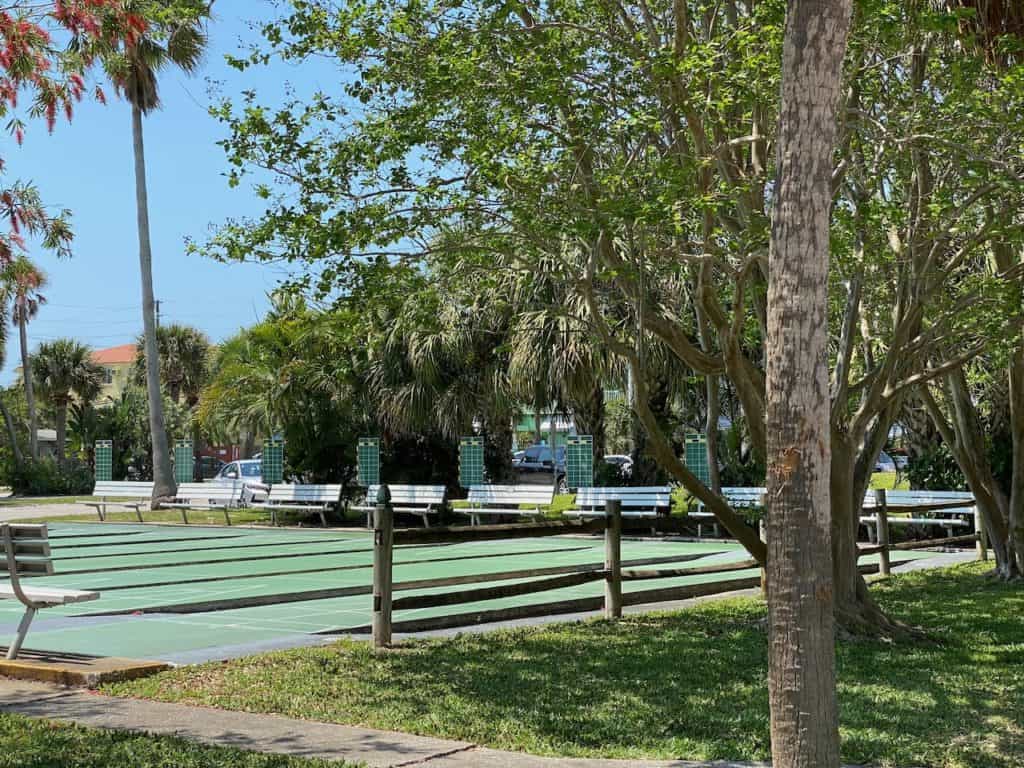 Pass-a-Grille Florida has several public parks that include tennis courts, shuffleboard, and playgrounds, and more. These are great places to take the kids, and it's completely FREE.
Lazarillo Park– 224 E Debazan Ave, St Pete Beach, FL 33706 (Neighborhood near Don CeSar Hotel)
Vina Del Mar Park – 302 S Isle, Saint Pete Beach, FL 33706 (Vina Del Mar Neighborhood)

Relaxation Awaits at the Beautiful Don Cesar Spa
Spa Oceana is an impressive 11,000 square feet of relaxation. Here you can unwind at the pool or in one of their 16 treatment rooms. It has a stunning rooftop terrace view of the Gulf of Mexico.
The Don Cesar Spa also includes whirlpool spas, aroma-infused steam rooms, and private access to the Whisper Lounge. This award-winning spa has been repeatedly ranked as the best spa in the St Petersburg.
You must also fully explore the Don Cesar Hotel restaurant options, ice cream shop, and shopping in this all-inclusive beach resort.

Pass-a-Grille Beach Art Mart & SUNTAN Art Center
Year round on Saturday and Sunday, Pass-a-Grille Beach holds an Art Mart at the beach. See fine art and handmade crafts by local artists from 9am to 2pm. It is located next to Paradise Grille.
Not able to attend the Art Mart? No worries. Don't miss the SUNTAN Art Center next to the Don CeSar Hotel. This is a super cute gallery and the perfect place to buy local artwork. I love that the shop is run by artist volunteers that display their art there.
Parking is FREE for those visiting the gallery or taking art classes. They offer a variety of art classes and workshops. Check out their schedule on their website.

Take a Self-Guided Historic Walking Tour of Pass-a-Grille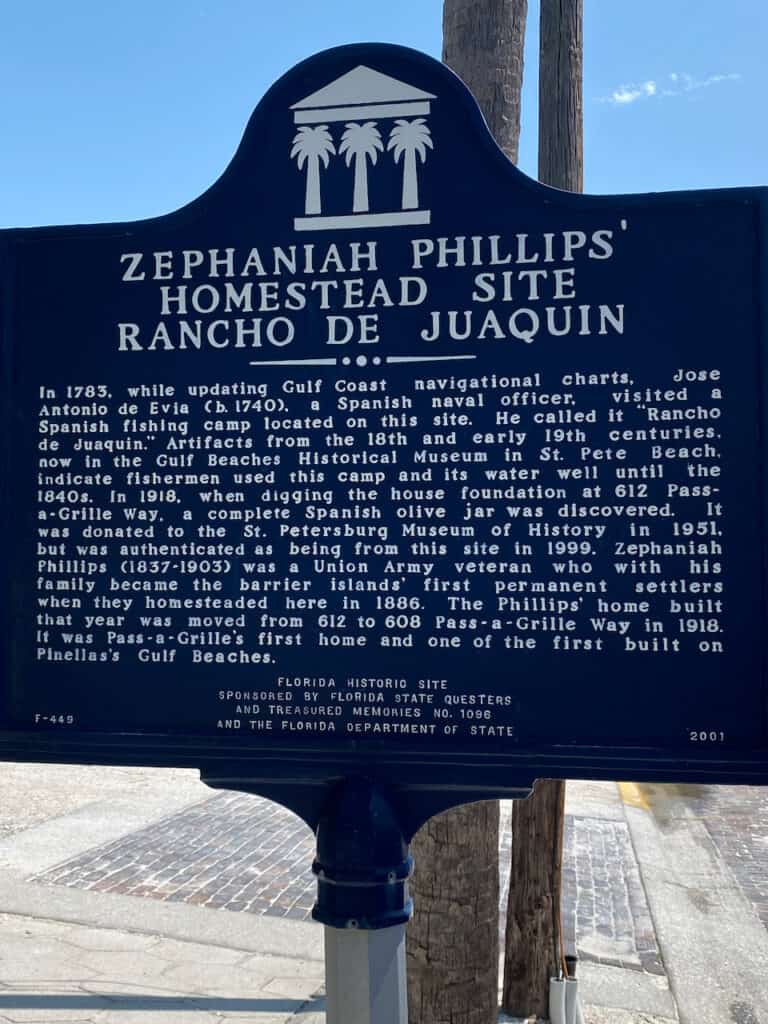 See the Pass-a-Grille National Historic District on a self-guided tour of 21 locations near downtown. When exploring this lovely town, you could use the online map or just watch for the visible signage outside of the homes and businesses.

FAQs on Pass-a-Grille Beach
Does Pass-a-Grille Beach have shells?
Pass-a-Grille Beach is just slightly north of the barrier island called Shell Key Preserve, famous for its shelling.. You'll find many shells as you head toward the end of the island that overlooks Shell Key Preserve.
Can you drink alcohol on Pass-a-Grille Beach?
Alcohol is prohibited on the beach. However, Paradise Grille at Pass-a-Grille Beach serves beer and wine, as well as wine mixers at their beachfront location. You can hear live music while sitting in one of their picnic benches or Adirondack chairs.
Is it safe to swim at Pass-a-Grille Beach?
Pass-a-Grille, like most beaches, can have concerns related to rip currents or sharks. There are no lifeguards on duty like at Clearwater Beach, Florida. You'll need to maintain safety precautions as advised by the public beach access points.
Pass-a-Grille Beach has beautiful crystalline waters and white sugar sand beaches with a laid-back beach vibe ideal for couples and families.
Did You Find This Post Helpful? Please Share It!
If so, I would love to hear about your Florida travel adventures! You can follow me on Instagram, and tag your images to @erinstraveltips and hashtag #erinstraveltips. I look forward to seeing you there!

More Florida Travel Articles