It's funny, even as a local, I didn't discover Upham Beach Park until living in the area for a little while. So if you're a Tampa Bay local or vacationer, no worries, I've got all the details you need to know!
Tucked away on a side street off Gulf Boulevard, you wouldn't know there is public beach access. Here you will find a hidden gem, and one of the best-kept secrets nearby (keep reading for more info!).
Upham Beach is a perfect spot for the whole family where you can stroll along the water, pick up shells, enjoy watersports, play volleyball, and soak in the numerous days of sunshine in St Pete Beach. There is so much to do here, it's often best to plan a weekend getaway or at least a full day here.
For a sneak peek….check out my Instagram Reel.
Without further delay, here are the key details and expert tips you need to know before you visit Upham Beach Park.

Upham Beach Park Address & Access Info
Upham Beach Park is a beautiful family-friendly beach located in St Pete Beach, Florida. It is the closest public beach to Corey Avenue Shopping District, as well as Pasadena Avenue. It has four wooden walkways over the sand dunes that make it easy to get to your car.
📍Address: 6850 Beach Plaza, St Pete Beach, FL 33706
🚙 Parking: Metered parking
💲Cost: $3.25 per hour or $15 per day, 8 pm to 8 am is FREE
⏰ Hours: Beach is open 24/7
Parking
There is a spacious parking lot in front of the beach, but it's best to come early or later in the day if you're concerned about finding a parking spot. During holidays, weekends, and peak hours, this lot will fill up.
Parking is payable by ParkMobile App or credit card. During the summer months, it's nice to stay late and watch the sunset close to 8:30 pm, especially with FREE parking after 8 pm.
Upham Beach's address is 6850 Beach Plaza, which is just a few blocks away from The Saint Hotel and has plenty of excellent restaurants and shops.
Beach Trolley / Bus
Whether you drive or ride the bus, either way, it's easy to visit. It is just within a few blocks of the bus stop on Gulf Blvd.

Distance from Nearby Cities
St Pete Beach is one of the easier places to access from interstate I-275. Here is the breakdown of your drive time from major cities nearby:
Tampa: Approximately a 40-minute drive
Ocala: Just under 2-hours away
Orlando: Slightly over 2-hours away
Read Next: 25+ Best Things to Do in St Pete Beach, Florida

Beach Facilities: Shower & Other Amenities
Upham Beach Park is one of the most well-maintained beaches in Pinellas County. The public restrooms are clean and you can easily bring your swim gear and change in a bathroom stall.
Outside showers make it easy to rinse off after your day in the white sand.
👙 Pro Tip: Bring an extra set of clothes, since it's easy to change and keeps the sand out of your car.
Beach Rentals
There are bright yellow covered cabanas, beach chairs, and volleyball courts. It's absolutely beautiful and perfect for relaxing on or building sandcastles with the kids.
If you don't want to bring your own beach chair or umbrella to the beach, no problem! You can easily rent them from one of the many vendors located along the shoreline.
There are also paddleboards you can rent. Upham Beach tends to be a favorite spot for surfers to hang out since it's laid-back and has fewer tourists.
Beach Toy Library
👙 Pro Tip: Check out the beach toy library at Upham Beach Park. It's one of my favorite things about this uncrowded beach. Kids can come to borrow the toys and you don't have to lug a ton of stuff with you. 🏖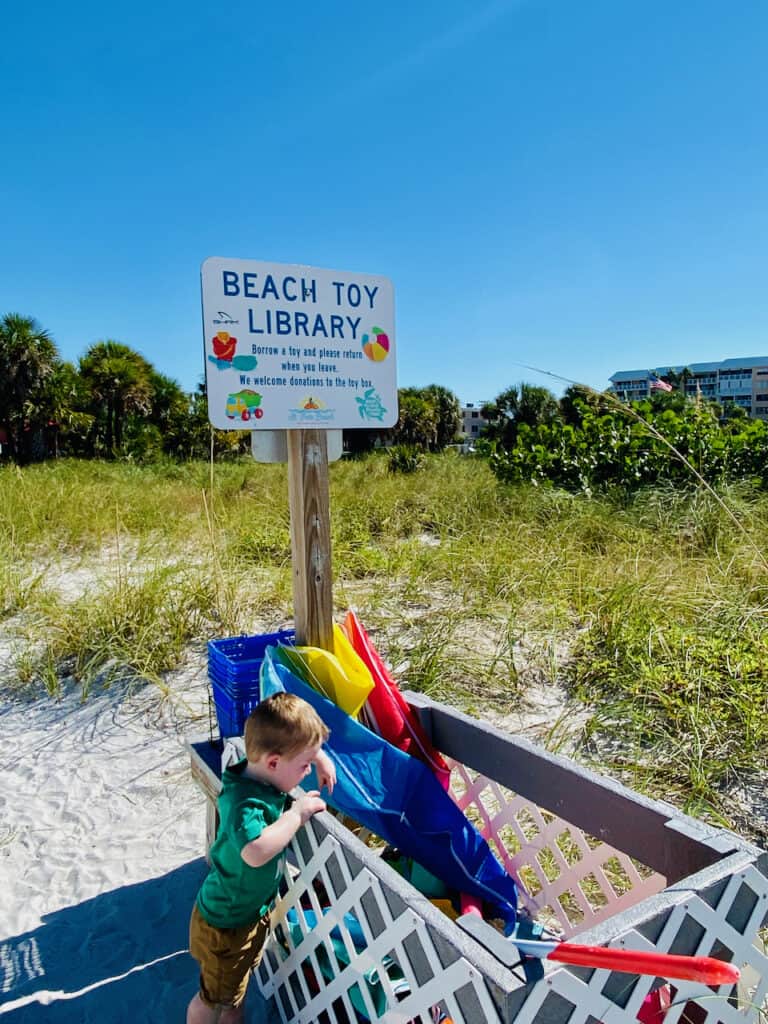 While Upham Beach is a great place for couples and families, it's important to remember safety precautions. There are no lifeguards at the beach, so it's important to watch for changes in the weather and related risks.
While I haven't ever run into a shark at Upham Beach, there have been shark sightings. So it's always good to be aware of your surroundings.

Paradise Grille Upham Beach
One of the convenient factors about Upham Beach Park is having a restaurant on-site. Years ago, this concession area at Upham Beach used to be called the Seaside Grille.
Paradise Grille provides a variety of breakfast, lunch, and dinner options. It is open daily from 8 am to a half hour after sunset.
While the beach is technically supposed to be alcohol-free, you can enjoy a tropical beverage, beer, or wine at the Paradise Grille. Beyond drinks, they offer an extensive menu with a variety of options. They also have nice picnic benches with umbrellas.
Keep in mind, Paradise Grille has two locations. Sometimes it's confused with the Pass-a-Grille Beach location at 900 Gulf Way, St. Pete Beach, FL 33706. The Seagrape Stage at Pass-a-Grille often has live music in the evenings and weekends.

Nearby St Pete Beach Restaurants
If you get hungry while spending the day at Upham Beach, there are plenty of other restaurants nearby. From bar grub to fine dining, there's something for everyone.
You can easily walk to the Frog Pong for brunch or 82 Degrees for lunch or dinner. For beers and cheap eats, Woody's Waterfront is a local staple just a couple blocks away.

Sand Dunes & Wildlife
The beach is well-known for its smooth, white sand, and blue crystal-clear water. One thing that makes Upham Beach special is the beautiful dunes. These dunes are great for backdrops in your photos. Just remember, you can't pick the sea oats to take home.
The beach has plenty of wildlife to see sometimes up close or at a distance. I frequently have seen bottlenose dolphins, fish, and of course lots of birds including pelicans and seagulls. If you bring a beach chair, take a short walk towards Blind Plass and sit by the rock jetty. This is a gorgeous place to watch the sunset.
🌴 Pro Tip: Did you know there was a secret garden near Upham Beach?

Upham Beach Secret Garden
Not many locals even know about the secret garden near Upham Beach! This lovely garden closes at dusk, so make sure to visit in the morning to late afternoon.
To locate the secret garden you must be on the beach (there is no street entrance). From Upham Beach head right, and walk the beach directly behind Starlight Tower to Envoy Point. You will be at the end of the beach that overlooks Woody's Waterfront and Sunset Park. From there you will easily see the entrance sign.
There are benches to sit on throughout the park and gorgeous views of the Gulf of Mexico. The Secret Garden is full of beautiful native Florida plants and flowers.
This local hidden gem in St Pete Beach is completely cared for by volunteers and donations.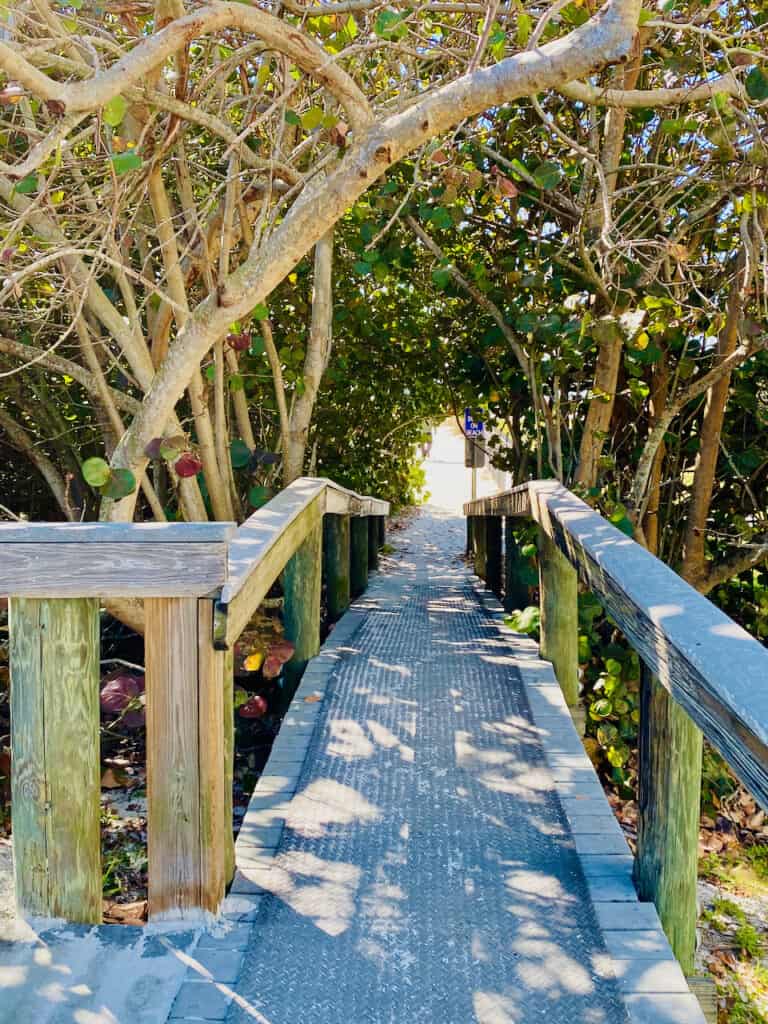 Upham Beach Rentals & Hotels
There's so much to do at Upham Beach that you could easily spend an entire day without getting bored!
Whether you want to swim, sunbathe, play volleyball, or just stroll along the coast, there's something for everyone at Upham Beach so it's a great place to get a hotel or beach rental. You can even extend your day by renting jet skis, taking a boat tour, or a dinner sunset cruise.
There are many hotel options in St Pete Beach, and it can be challenging to determine which is best for your needs.
Here I've outlined my favorite and best hotels and rentals in St Pete Beach with various specific needs such as family-friendly, pet-friendly, cheap, or luxury stays.
If you're looking for a quick list, here are hotels and rentals closeby to Upham Beach Park:
🌴 Read Next: The 15 Best Hotels in St Pete Beach, Florida

Beaches Nearby St Petersburg
If you are looking to stay in the area, you must also check out some of these other excellent beaches and things to do nearby:
Final Thoughts on Upham Beach Park
I hope this blog post has convinced you to visit Upham Beach Park next time you're in St Pete Beach. Whether you're young or older, single or married, Upham Beach is perfect for anyone who wants to enjoy a day at the beach! With its beautiful scenery and plethora of activities, it truly is one of the best beaches in Florida.
Frequently Asked Questions
Where is Upham Beach located?
Upham Beach entrance is located at 6850 Beach Plaza in St Pete Beach, Florida. This public beach is free to access. However, if you are traveling by car, there is metered parking. Upham Beach has public restrooms and Paradise Grille on the property.
Are dogs allowed on Upham Beach?
No, Upham Beach is not dog friendly. However, nearby is Fort DeSoto Beach which is ranked the top beach in Florida for dogs with its own Dog Beach and Paw Playground. Pass-a-Grille Beach also has a small dog beach on the southern tip of the island.
Is Upham Beach busy?
No, Upham Beach is one of the best-kept secrets in St Pete Beach. It tends to be less crowded than the other public beaches closer to Gulf Blvd.
Where is the Upham Beach Secret Garden?
The Secret Garden is located just north of Upham Beach Park almost to Sunset Park. From Upham Beach Park turn right. You must be on the beach to access this park. There is no entrance from the street view.
How much is parking at Upham Beach?
The updated 2023 pricing is $3.75 an hour for parking at Upham Beach. You can pay by credit card or via ParkMobile or Flowbird Apps. The paystations no longer accept cash or coins at Upham Beach.
Holiday rates apply on parking meters for Memorial Day, Independence Day, and Layor Day. Parking is a flat rate of $20 per day on Friday, Saturday, and Sunday of these specific holiday weekends.
Is there free parking for those with a handicap permit at Upham Beach Park?
According to the City of St Pete Beach, if you have a valid disabled parking permit/tag. However, this only applies to metered parking spots. For more information or further clarification, contact the City of St Pete Beach at 727-367-2735.
Does St Pete Beach have cabana or chair rentals?
You can rent cabanas and chairs at St Pete Beach.
Did You Find This Post Helpful? Please Share It!
If so, I would love to hear about your Florida travel planning! You can follow me on Instagram, and tag your images to @erinstraveltips and hashtag #erinstraveltips. I look forward to seeing you there!
Related St Pete Beach Articles