Looking for Tampa Bay Christmas Lights? See some truly spectacular holiday lights in Tampa, St. Petersburg, and nearby cities including FREE events!
Christmas is a time for friends, family, and fun. No place better represents the fun side of Christmas than Tampa Bay, where the holiday season is full of activities and family-friendly events.
Tampa Bay has a lot of Christmas spirit and is easy to find. There are plenty of great sites to view Christmas lights throughout Tampa Bay, and we have created a list of some of the finest lights to see!
🌴 Related: Best Things to Do in Florida in November

St Petersburg Christmas Lights
On the water, St Petersburg Christmas lights seem to adorn most people's boats this time of year.
Whether you go to an actual event or whether you just happen to be passing by, you can't help but feel the magic of this festive season!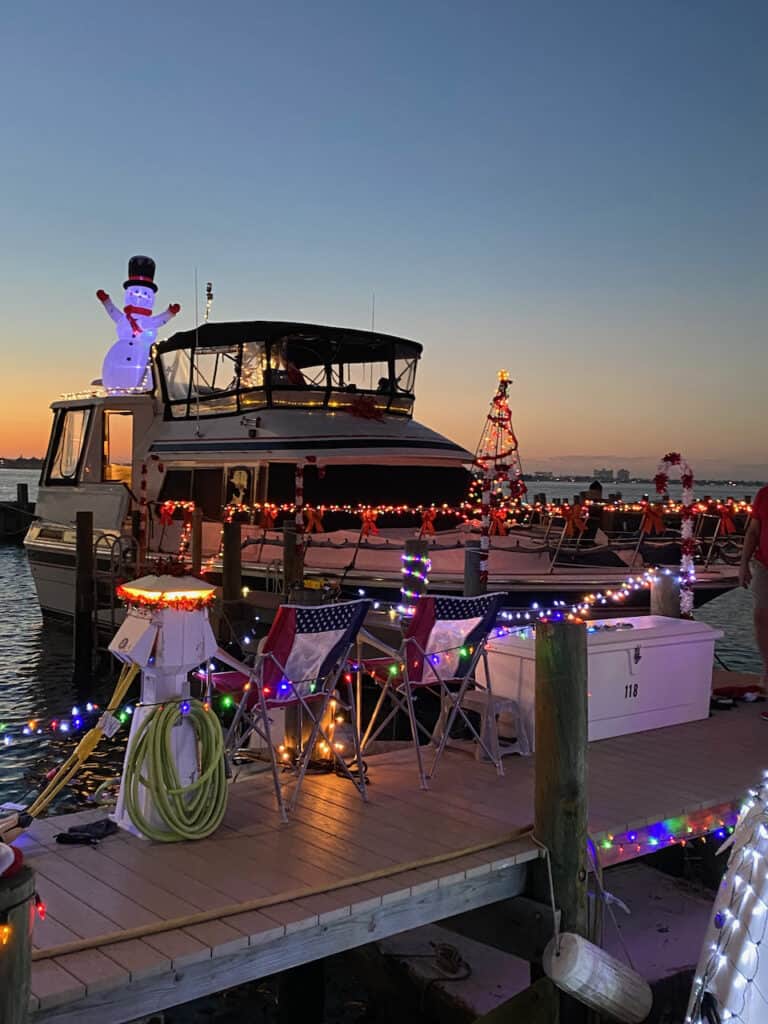 Beyond boats, there are some of the finest holiday lights in Tampa Bay here! Kicking it off is the amazing Enchant St Petersburg.
🛶 Read Next: 11 Best St Pete Boat Tours: Fun Water Sports & Cruises

Enchant Christmas in St Petersburg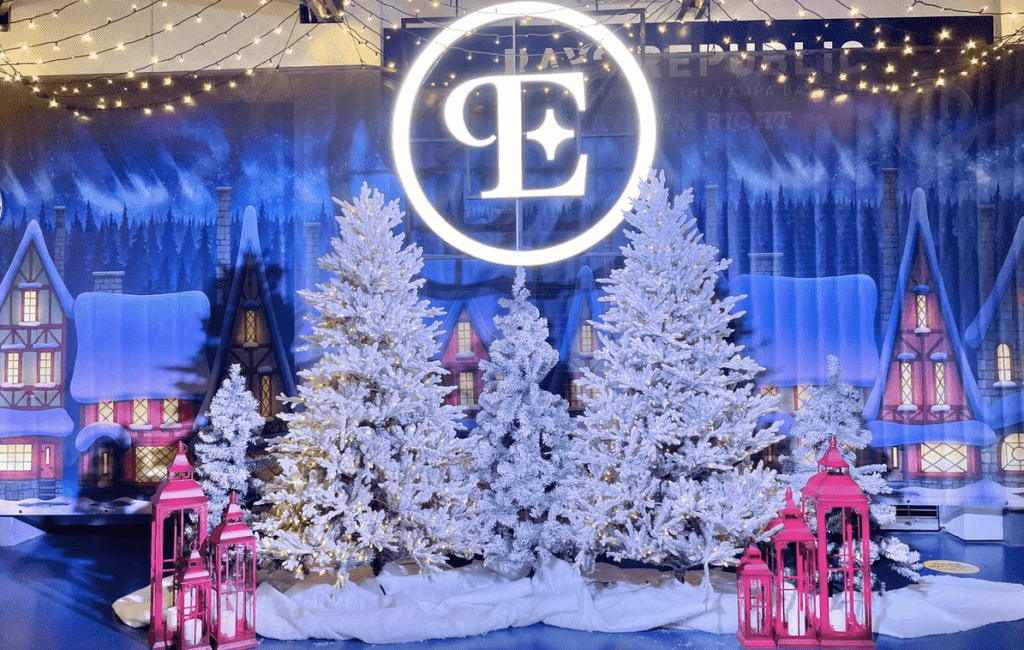 Dates: November 24th to December 31st
Times: Varies
Pricing: Children 3 & Up is $20; Adults $35; Senior & Military Discount $32
Website: Enchant Christmas St Pete
Enchant is the Tropicana Field Christmas lights display and is the world's largest Christmas Light Maze and Village.
There are nine Enchant locations in the United States. Enchant Chrismas in St Petersburg is their only Florida location.
Explore a whimsical village full of ice skating, live entertainment, interactive experiences, dining, and Christmas shopping. The Mischievous Elf takes you through the sparkling twinkle lights, searching for Santa's missing gifts. As you marvel at incredible animated light creations, Santa and Mrs. Claus will be on hand.
Enter the extraordinary Christmas maze and discover the towering 100-foot-tall Christmas tree. Tour with your friends and family through illuminated passageways and enormous displays. If you love Christmas lights, this is the top place to visit for a night of fun!
🌴 Read Next: 38 Fun & Best Things to Do in St Petersburg FL

Oakdale Christmas House in St Petersburg
Looking for holiday lights in Tampa Bay that are budget-friendly? Check out Oakdale Christmas House, a walk-through holiday light display.
You can find the Oakdale Christmas House at 2719 Oakdale Street South in St. Petersburg, Florida. This home display is one of the best in the country, covering almost a half-acre and a half-million lights.
In its 46th consecutive year beginning in 1977. Oakdale Christmas House is the only display to rank first on HGTV and third on NBC's Today show in the same year. The house's electric bill rises to $5,000 during the dates they showcase holiday lights in St Petersburg.

Downtown St Pete Tree Lighting & Santa Parade
Date: TBD (I anticipate it will be the last Saturday of November)
Time: Begins at 6 pm with holiday entertainment
Pricing: FREE
Website: St Pete Parks & Rec
Looking for one of the best FREE St Petersburg Christmas events?
This is one of my personal favorites located right on Beach Drive in North Straub Park. Come early to get a good spot to watch the tree lighting and then see Santa on the downtown waterfront.
The Christmas tree and holiday lights in St Petersburg are there to be enjoyed for through January.
🎄 Pro Tip: For couples, one of my favorite places to watch the downtown St Pete tree lighting is The Birchwood Canopy Rooftop Bar. If you plan way ahead you can even splurge on a private cabana so you have your own space.

Downtown St Pete Christmas Events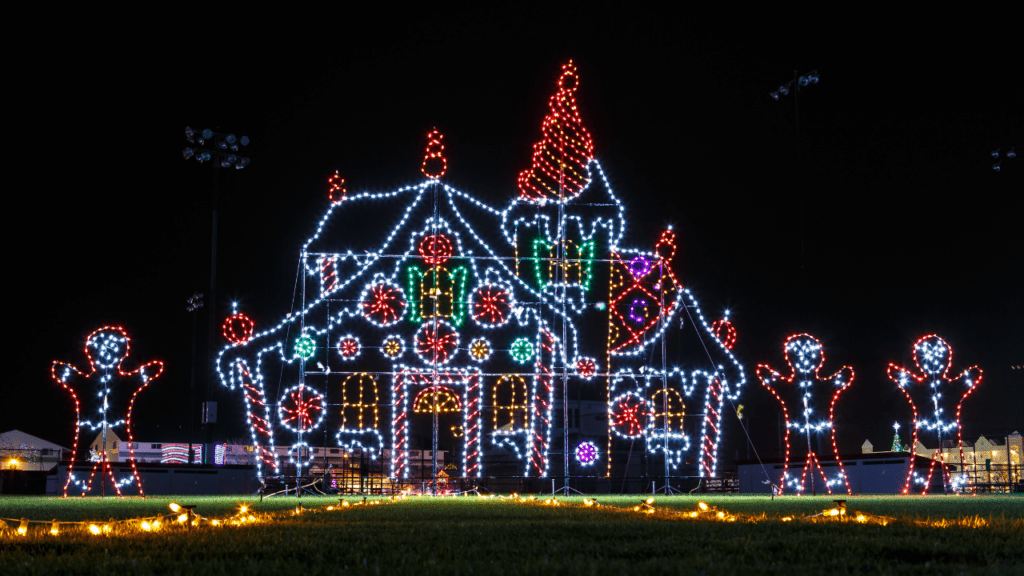 North Straub Park, South Straub Park, Pioneer Park, and the St. Pete Pier all have thousands of holiday lights and displays that are worth seeing if you're cruising along the coastline.
Check out other daytime Christmas events throughout the month of December at the St Pete Rec's Holidays in the Sunshine.
The youth of St Petersburg and those who use the city's recreational centers have created a massive greeting card display that can be seen along Bayshore Drive in Vinoy Park.
🌴 Read Next: 9 Highest Rated Tours in St Petersburg, FL

St Pete Beach Boat Parade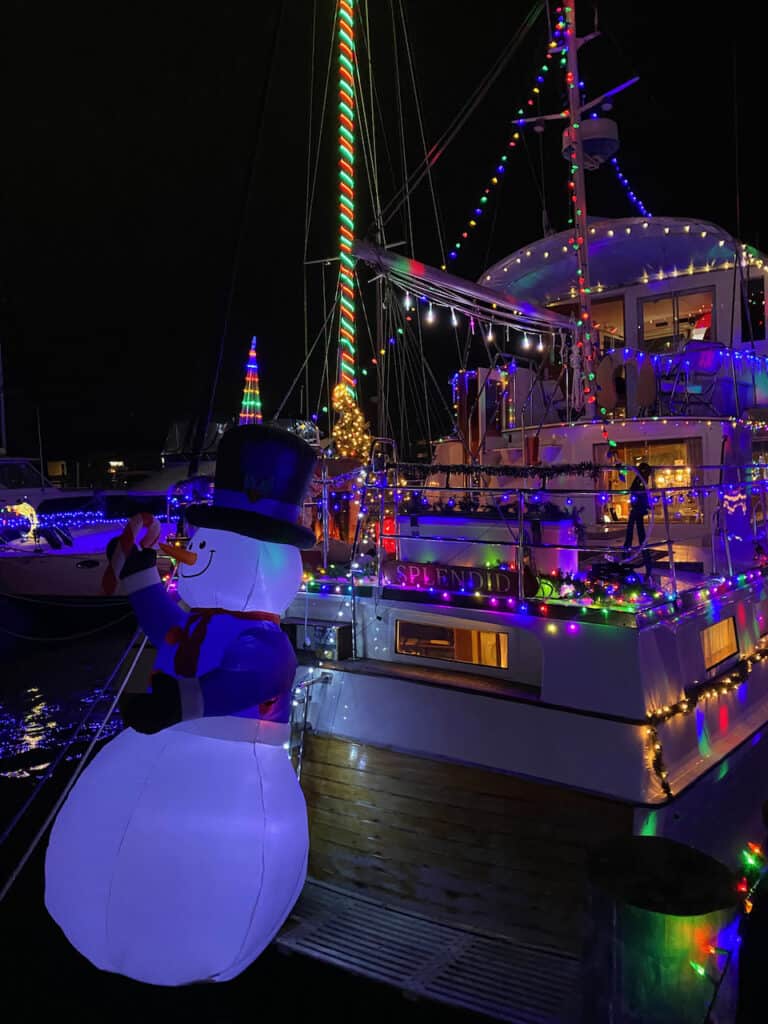 St Pete Lighted Boat Parade
Date: TBD (usually the first Friday of December)
Time: 6 pm to 9 pm
Cost: FREE
Website: St Pete Parks & Rec
The Christmas St Pete Beach Boat Parade is here again! Pack your chairs or beach blanket and cooler and head to Horan Park for the best views of the St Pete Beach Boat Parde. Boats will be departing from the starting location at 6:30 pm. Boaters looking to join the parade must fill out the required form in advance.
🎄Pro Tip: One of my favorite ways to watch the Christmas Boat Parade and holiday lights is on St Pete Beach Dinner Cruise. This is especially fun for couples or families looking to see the lights with drinks and live music. Make sure to book the correct date.

Largo Christmas Lights
Florida Botanical Gardens Holiday Lights
Dates: Friday, November 24th to December 31st
Hours: 5:30 pm to 9:30 pm
Pricing: FREE (suggested donation of $10 per person over 12)
Website: Florida Botanical Gardens
From the day after Thanksgiving through January 1, the Florida Botanical Gardens Foundation will host its annual winter festival.
One million multicolored LED lights will make the Gardens shine brightly. In addition to the brilliant laser lights, the display also features lit figures, sure to impress visitors of all ages.
This year, the event has three entrances. Snowflake, Poinsettia, and Green Turtle are all options. Parking is free, and it's best to arrive early since parking can become a challenge during the holiday lights in the gardens event.
Also, if you love plants, you won't want to miss their Gift & Plant Sale.
🎄Pro Tip: Make this a full day of fun by including Heritage Village attached to the Florida Botanical Gardens. Children love seeing Santa and the train depot!

Holiday Lights in Largo Central Park
Dates: November 25 to December 31, 2023
Times: 6 pm to 11 pm
Pricing: Free to see the holiday lights, rides are $ 6 each
Website: Play Largo
The City of Largo hosts its annual family-friendly event, Holiday Lights in Largo Central Park!
The event boasts a spectacular holiday light show, a magnificent carousel, and a seven-story Ferris wheel with a breathtaking view of the 70-acre park and more than two million sparkling LED lights.
The park is free to enter, but each ride costs $6 or $5/$20. Food is available for purchase. The rides and light show are open daily from 6 to 11 pm.

Holiday Lights Tampa
Tampa Riverwalk Holiday Spectacular
Friends of the Riverwalk have organized a spectacular event to celebrate the holiday season with holiday lights in Tampa. While walking along the Riverwalk, take in the beautiful twinkle lights on land and in the river.
From the end of November 2023 to January 2024, the annual event will be held in downtown Tampa along the Riverwalk.
The Tampa Riverwalk is a fantastic site to take the family to celebrate the holiday season. There are numerous floating decorations and illuminated displays at the hotels, eateries, and bars that line the Riverwalk. The Riverwalk is also an ideal place for a couples date night in Tampa.
🎄 Read Next: The 29 Fun & Best Kids Things to Do in Tampa Bay
Tampa Christmas Boat Parade
Downtown Tampa will host Tampa's most fabulous lit boat procession on the Hillsborough River in celebration of the holiday season.
Beginning at the southernmost point of Davis Islands, the boats will do a U-turn at the Heights and then proceed back to Sparkman Wharf for the judging and conclusion of the parade. Trophies and prizes will be given to the best holiday lights in the boat parade.

Tampa Busch Gardens Christmas Town
Dates: November 14 to January 9
Hours: Park hours are 10 am to 8 pm (or later on certain nights)
Pricing: Cost varies based on the experience
Website: Busch Gardens Tampa
This holiday celebration is a must-see. Guests may experience a modern take on classic Christmas activities as the park is transformed into a winter wonderland.
You can visit Santa in his workshop, ride on the Holly Jolly Express train, and hang out with Rudolph and his pals from the classic Christmas film Rudolph the Red-Nosed Reindeer.
Festive live events and seasonal dining and shopping are also available for guests.
🎄 Read Next: The 25+ Fun Date Things to Do in Tampa for Couples
ZooTampa Christmas In the Wild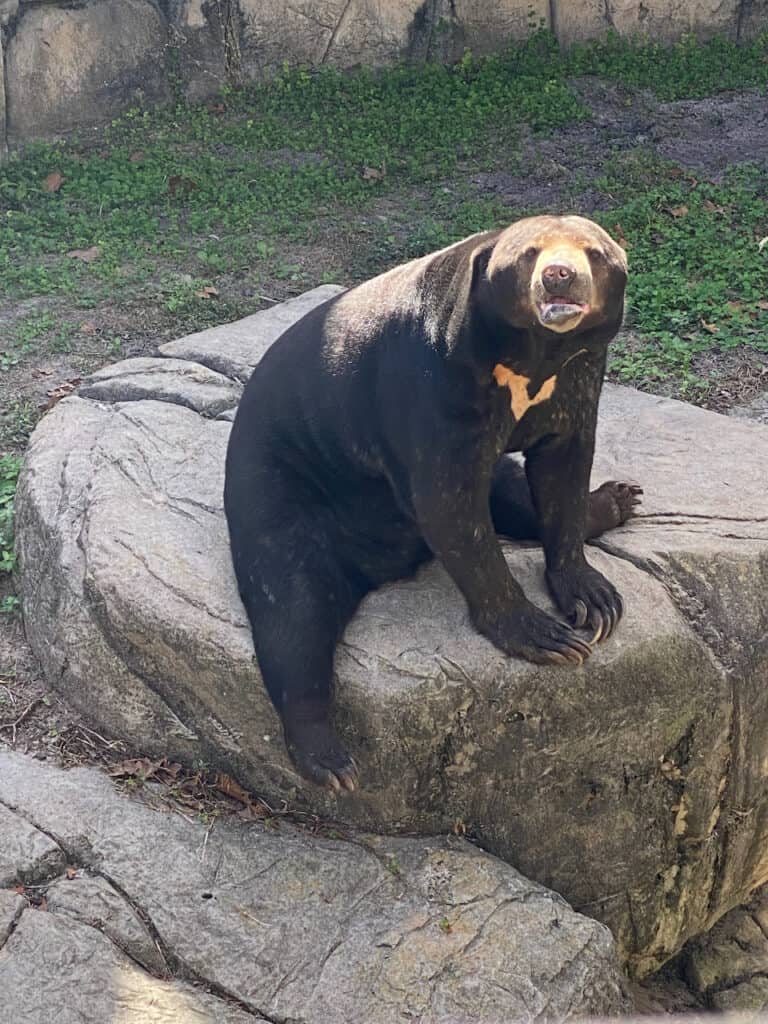 This year, ZooTampa is bringing back Christmas in the Wild. Featuring one of the area's largest light displays, tasty holiday treats, adorable animals, and exciting seasonal activities.
Depending on the date, you will have the option to have breakfast with Santa and skip the holiday lights. There are also holiday animal encounters and get your photo for the ultimate Christmas card with a rhino or penguins.
Are you a ticket pass holder? Enjoy Tampa Bay Christmas Lights at no extra charge. However, if you want to reserve a specific date, there is a minimal $5 hold that they return towards concessions.

Drive-Thru Christmas Lights in Tampa
Tampa Bay's Festival of Lights & Santa's Village
Dates: November 25th to December 26, 2023
Times: Opens at 6 pm
Location: Tampa Fairgrounds
Cost: Price varies starting at $20 per car (max 8 people)
Website: Festival of Lights
Back by popular demand! This is a favorite for anyone that loves drive-thru Christmas lights and more fun!
Starting Thursday, November 25th, take a ride through the animated light tunnel to Santa's Village. You'll get to see elaborate light displays, eat tasty treats, enjoy holiday shopping and live music (depending on the event calendar).
The Fest of Lights has even expanded the drive-thru Christmas lights with a longer animated tunnel. There is also a reindeer carousel, artic plunge inflatable snow tube, and a holiday train ride.
This fun and afforable experience will keep your family entertained for hours!

Pirate Water Taxi River of Lights Cruise
Dates: TBD for 2023; Multiple dates prior years starting on November 26 to December 24
Times: Cruises depart at 6:15 pm, 7:15 pm, 8: 15 pm, & 9:15 pm and is 45-minutes
Pricing: Adults are $30-$35, Children $25-$30
Website: Pirate Water Taxi Tampa Bay Christmas Lights
Join the pirate Christmas cruise for a unique and fun way to see Tampa holiday lights. The taxi features holiday Christmas carols and a visit from the pirate elves! The cruise departs from the Tampa Convention Center, and the cost includes Christmas cookies and hot chocolate!

Madeira Beach Christmas Lights
Festival of Lights Holiday Boat Parade
The Madeira Beach Festival of Lights Holiday Boat Parade is back for its 56th year! On Saturday, December 10, 2022, Madeira Beach will host its annual holiday boat parade with lights and music.
The parade starts at ROC Park at 6:30 pm. Then, it proceeds through the city's several finger canals until concluding at John's Pass, finishing at around 10:00 pm.
Visit the Merry Market at ROC Park, listen to some live music, and celebrate the start of the festivities on the seawall.
If you prefer John's Pass Village, you will find late-night parade viewing, shopping, holiday music, and a long list of other fun things to do in Madeira Beach. Prizes and awards will be given to the best boats with holiday lights.
🏝 Read Next: 13 Best Things to Do in Madeira Beach, Florida

Safety Harbor Christmas Lights
Harbor Holiday Nights & Trolley Light Tour
Folly Farm will have holiday lights, a campfire, children's activities, and more holiday fun!
For $5, ride the Trolley around to see the Safety Harbor Christmas lights. This enjoyable Christmas light tour will drive through some of the best twinkle lights in the city.
There is also a live music schedule with the Tampa Rhythm Section, Gaspar Band, and others!
On December 10th, Safety Harbor Holiday Nights will be hosting a Relay for Life. Donations will be going to a cancer foundation.

Wesley Chapel Christmas Lights
Symphony in Lights
Dates: Begins mid November until December 31, 2023 (TBD)
Hours: 6 pm to 9 pm
Pricing: FREE for everyone to attend
Website: The Shops at Wiregrass
A short trip north of Tampa, at the Shops of Wiregrass in Wesley Chapel, is where you'll find Symphony in Lights. It is a spectacular light show set to the music of the Trans-Siberian Orchestra that also features holiday festivities and snow.
You may see Symphony in Lights every night through December 31.

Tierra Verde Christmas Tree Lighting
The 12th Annual Lighting of the Christmas Tree in Tierra Verde is scheduled this year! The event begins at 4 pm with musical entertainment. Santa arrives around 5 pm and is immediately followed by a holiday pet parade.
The lighting of the tree and Christmas lights will occur at 6 pm. Followed by a holiday raffle and more musical festivities.
The Lealman's Fire District's Annual Toy Drive supports children in need. To support the cause, bring a new and unwrapped child gift (no stuffed animals).

Apollo Beach Christmas Lights
Apollo Beach Lighted Boat Parade
Apollo Beach Boat Parade at TSS will be opening its doors to the community. They will have grilled burgers, hot dogs, and sodas for the public. There is also a chili cook-off that will be held following the parade at the TSS clubhouse.
The event starts with a performance by the Apollo Beach Elementary School Choir at 5:30 pm. The boat parade is scheduled from 6 pm to 7 pm.
TSS Address: TSS Deck & Pavilion, 1250 Apollo Beach Blvd., Apollo Beach, FL 33572

Final Thoughts on Tampa Bay Christmas Lights
As you can see, Tampa Bay Christmas Lights & fun things to do are definitely plentiful! We hope it inspires you to gather your loved ones and enjoy some of the holiday festivities. Most importantly, I wish everyone a very joyful & happy holiday season!

Did You Find This Post Helpful? Share It!
If so, I would love to hear about your Florida travel adventures! You can follow me on Instagram, and tag your images to @erinstraveltips and hashtag #erinstraveltips. I look forward to seeing you there!
Related Florida Travel Articles