Come to the land of the pirates and find the best things to do in Madeira Beach! As legend has it, Madeira Beach's first resident was a pirate named John LeVique. Live like a pirate by riding the Royal Conquest ship and seeing some of the beautiful sights!
Madeira Beach or also known as "Mad Beach" is an idyllic gulf city on the Florida West Coast near the city of St Petersburg. It is most known for its 2.5 mile long white sandy beaches and the historical John's Pass Village. This beautiful spot has over 100 unique shops and local businesses.
John's Pass Village & Boardwalk has been ranked the #1 attraction in Pinellas County. This entertainment complex offers some of the best sightseeing tours to people who travel from all over the globe. There are many shops, bars, and restaurants as well as several water sports equipment rentals available to hire.
There are also a lot of interesting activities on offer in addition to the stunning beaches. The beautiful city is near St Petersburg and is perfectly connected with a pristine Gulf.
Madeira Beach is a nice place to visit on vacation. It often attracts more of an affluent crowd, but also the "preppy" spring break group.
Both residents and tourists love coming here for its white powdery beaches, tranquility, and breathtaking sunset views. This page lists the best things to do, you can't afford to miss!
Where to Stay in Madeira Beach
My favorite hotel in Madeira Beach is the Cambria Hotel which has great water views and newer rooms. You can walk to most places when staying here.
VRBO rentals in Madeira Beach are another popular option, especially with larger family gatherings.
For some rentals, you can literally walk out your door straight onto the beach. This top-rated 1-bedroom VRBO rental with a pool is a favorite in the area for its direct beach access.
Read Next: 25 Exciting Things to Do in St Pete Beach

Shop at John's Pass
You could spend all day just shopping at John's Pass. Here you will find a wide variety of stores, but most of them are beach-themed souvenirs.
Laska Bead and Glass is one of the better stores for finding handmade beads and glass jewelry.
Three Coconuts Clothing Company has a very unique selection of Madeira Beach t-shirts that turn colors in the sun. I particularly liked the customer service and couldn't leave without buying a few of their fisherman-style shirts.

Jetski & Parasail Adventures
If you're looking for an adventure in Madeira Beach, you've found it! Jet skiing and parasailing are two amazing ways to enjoy the beauty of the gulf!
One of our favorite tours is the Parasail Flight at Madeira Beach. This boat crew is exceptional at putting those wary at ease by feeling safe and secure, plus added humor! You will remember this experience for years to come.
Read Next: The Best & Fun Kids Things to Do in Tampa Bay

Day Trip with a Boat Rental!
When you are planning for an idyllic seaside vacation in Madeira Beach, nothing is like spending a day on the water on a boat.
We have rented a deck boat from Jack's at the Pass and explored nearby islands. One of my favorites is Shell Key, and on the way back eat lunch at either Tierra Verde or Gulfport restaurants. Both areas have boat docks for easy dock n' dine options.

Alligator & Wildlife Discovery Center
The Alligator & Wildlife Discovery Center at John's Pass gives visitors an opportunity to meet alligators and Florida wildlife. It is a perfect place to experience some of nature's most dangerous creatures in a safe setting. This is one of our top activities in Madeira Beach for kids things to do with over 250 exotic animals housed here.
The most interesting feature in this museum is the gator attraction. The center lets you even kiss alligators (if you are that brave!). They also have a good variety of other animals such as skunks, pigs, and other reptiles.
Address: 12973 Village Blvd. Suites A-J, Madeira Beach, FL 33708
Phone: (727) 329-8751

Deep Sea Fishing with Hubbard's Marina
Hubbard's Marina has been owned and operated by the same family since 1928. It provides a multitude of experiences from snorkeling, fishing, dolphin watching, shelling and sunset cruises. It also operates a ferry line to Egmont Key which operates from Fort De Soto Park.
Address: Johns Pass, 170 Boardwalk Pl E, Madeira Beach, FL 33708
Phone: (727) 393-1947

Try Wine Slushies at The Florida Winery
The Florida Winery is an award-winning winery that has produced over 20 varieties. While Florida is not known for wines, these are some of the best slushy wines around! Come here for fun, and you'll find yourself wanting to bring home a few souvenirs.
Address: 12945 Village Blvd, Madeira Beach, FL 33708
Phone: (727) 362-0008
Read Next: Tarpon Springs Splash Park: Best Free Waterpark in Tampa Bay

Smugglers Cove Adventure Golf
Smugglers Cove Adventure Golf is a mini-golf course containing 18-holes featuring live alligators and a pirate ship. This is a fun, family-friendly place for all ages!
Address: 15395 Gulf Blvd., Madeira Beach, FL 33708
Phone: (727) 398-7008

Eat at the Madeira Beach Restaurants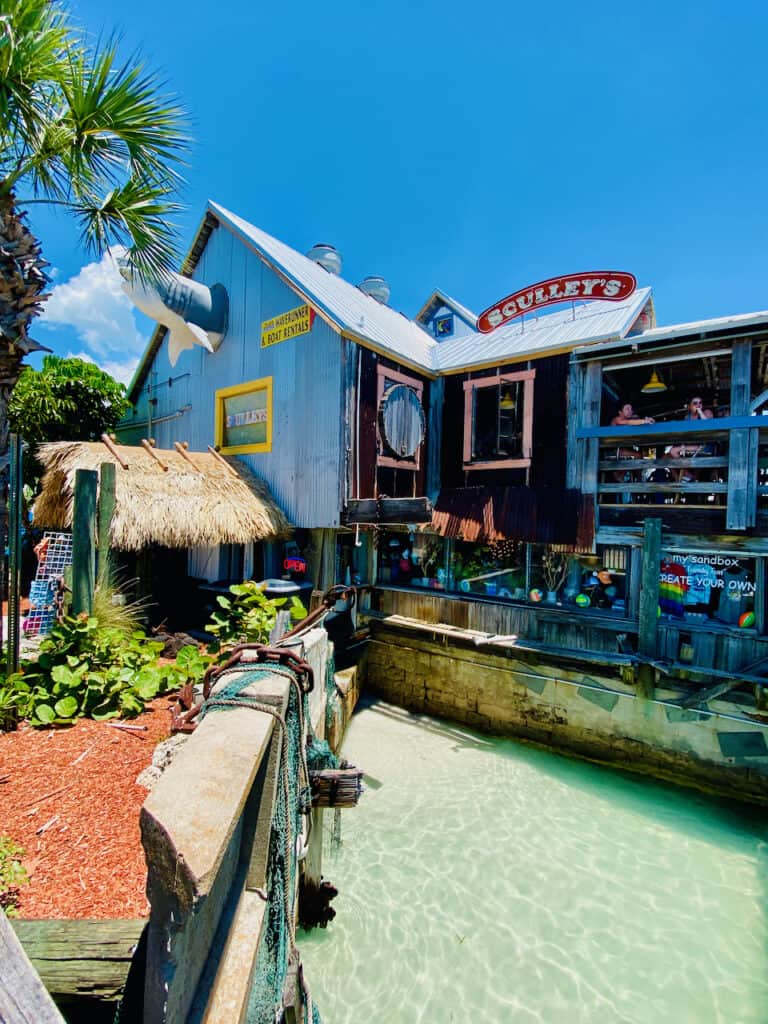 There are plenty of delicious restaurants to choose from in Madeira Beach.
Mad Beach Craft Brewing Company is one worth checking out especially if you are looking for a fun place to get a local craft beer.
If you don't mind the "no substitutions" policy, Lisa's Cafe of Madeira does a nice brunch. Pizza lovers also like Slyce Madeira Beach.
Read Next: A Local's Guide: The 16 Best St Pete Beach Bars & Nightlife!

Floating Tiki Tours
Floating Tiki Tours is an exclusive experience and ideal for private gatherings for birthdays or weddings. They even have a minister available!
This Hawaiian-style Tiki Hut will be roomy enough for 6 people. Bring your own food and drinks and relax while the captain takes you on a cruise of your choice: dolphin cruises, sunset cruises, or sandbar cruises.
Address: 209 Boardwalk Pl E, Madeira Beach, FL 33708
Phone: (727)418-6070

R.O.C. Park
R.O.C. Park (Remember Our Children Park) is a great place to take the kids. It offers a kid's playground and splash pad, tennis courts, softball fields, and basketball fields. It also has some unique amenities including a fishing pier, a dog park, and a butterfly garden.
Address: 200 Rex Place, Madeira Beach, FL
Public restrooms are available to use.
Read Next: 23 Amazing Things to Do in Pass-a-Grille Beach, FL

Take a Themed Boat Ride
John's Pass is the perfect place for a selection of themed boat rides. Here you will find Shark Boat Tours and Pirate Cruises!
Yes, you are literally in a shark's belly as you set off to explore the waterways! Shark Boat Tours at John's Pass found a creative way to do tours of the area. Enjoy drinks and snacks on board, while watching dolphins, fish, manatees, pelicans, and so much more!
The Royal Conquest Pirates Ship at Madeira Beach is hard to miss. Kids and adults alike seem to love to take a ride or take photos in front of it. They offer a variety of cruises with beverages included.

Enjoy Live Music at Caddy's
Head downstairs for some live music and fun vibes at Caddy's at John's Pass. Caddy's in recent years continues to expand in Pinellas County. There are 2 locations just in Madeira Beach (the other across the water). This location was purchased not too long ago by Caddy's, but what we really like about it is its hut chill vibe with water views.
Read Next: The 25+ Incredible Things to Do in Tampa for Couples

Relax at the Beach
While this might be the most obvious of the things to do in Madeira Beach, sometimes it's overlooked by the sheer amount of cool things to see.
Make time during your visit to enjoy Mad Beach and take in your surroundings. This is one of the most pristine and cleanest beach areas in Florida.
Read Next: 38+ Best & Fun Things to Do in St Petersburg

Madeira Beach – Frequently Asked Questions
Can you swim in Madeira Beach?
Yes, swimming is considered one of the popular things to do in Madeira Beach. Keep in mind, safety measures when swimming in the gulf water. Usually, in late summer or early fall, you will want to check for red tide before you visit.
Is there transportation or a trolley in Madeira Beach?
Yes, you don't have to worry about driving around in this lovely beach town. Take the Bite Trolley which gets you to and from most of the popular nearby beach towns including St Pete Beach, Redington Beach, Treasure Island, and Madeira Beach.
Is Madeira Beach Florida crowded?
With its white sugar sand beaches and fun atmosphere, Madeira Beach can be crowded during peak season, holidays, and weekends. It tends to be less crowded than some of the more well-known beaches in the area such as Clearwater Beach.
Is parking an issue in Madeira Beach?
Yes, with any charming tourist town, parking can become problematic. It is best to arrive earlier or later in the day to avoid heavily trafficked areas. John's Pass has parking and a parking garage adjacent to the shopping complex. The town also offers small parking lots scattered on both sides of the road.
What fun things can you do when it rains in Madeira Beach?
There are so many fun things to do in Madeira Beach or nearby when it rains! John's Pass Village shopping walkways are covered and you can continue shopping or eat at a restaurant. St Petersburg and Tampa Bay are known for having some incredible nationally recognized museums. Here is a list of the best museums in St Petersburg.

Did You Find This Post Helpful? Share It!
If so, I would love to hear about your Florida travel planning! You can follow me on Instagram, and tag your images to @erinstraveltips and hashtag #erinstraveltips. I look forward to seeing you there!

Related Articles to Read Next