Looking for the best museums in St. Petersburg Florida? You have come to the right place for the top 16 museums in St Petersburg & Pinellas County.
While St. Petersburg is famous for its sun and beaches, you don't want to miss some of the best museums in the world. One of the more famous being the Salvador Dal Museum, which houses the largest collection of Salvador Dali art.
While some are not as famous, they offer a wide variety of offerings. Come along as we explore the best of what this area has to offer.
How to Obtain Free Museum Tickets
With rising prices, it's always helpful to know how to save! Most St Petersburg museums offer various discounts, including military, AAA, seniors, and more. Here are a few helpful tips on how to score St Pete FREE museum day tickets.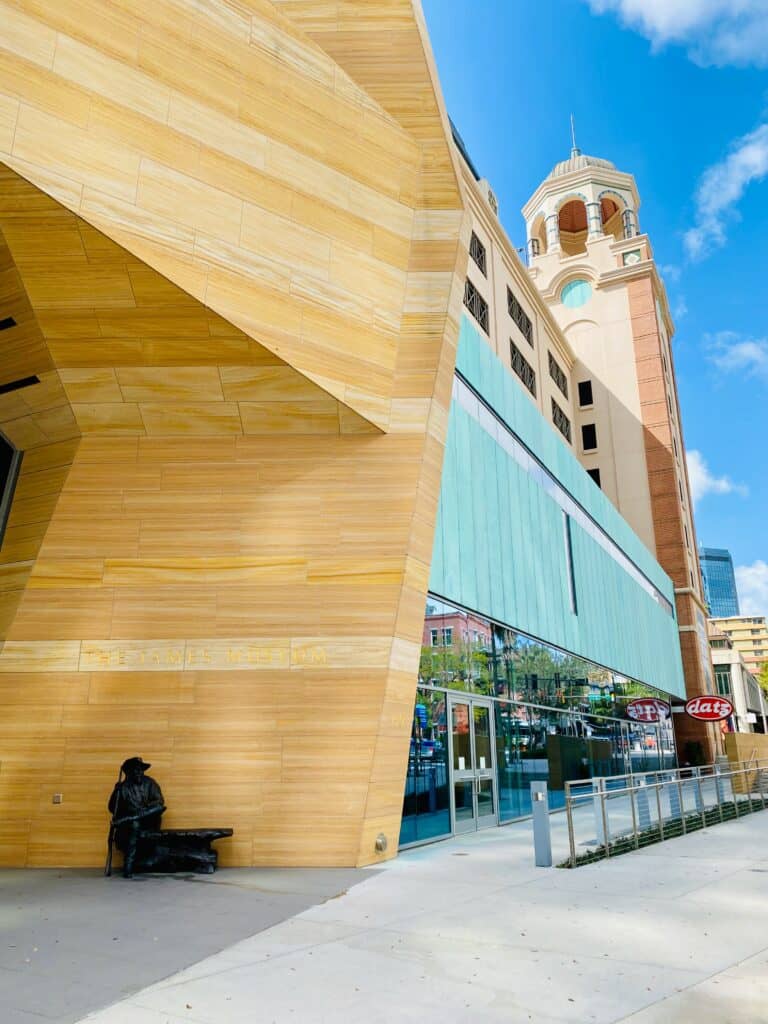 Arts Alive! Annual Event – St Pete Free Museum Day is Annually in September
Each year the Smithsonian Magazine celebrates Museum Day by giving FREE entry at participating museums. This annual event occurs across the United States, including a few located in St Petersburg & Tampa Bay.
For a list of museums participating in Free Museum Day, click here. Tickets and participating locations become available closer to the event. More details on participating locations can be found at St Pete's Arts & Culture.
Free Museum Admission for Pinellas County Residents
Tip: If you are a Pinellas County resident, you are eligible to receive FREE museum tickets through the Pinellas County Library Cooperative. All St Petersburg and Pinellas County residents qualify!
The Best Museums in St. Petersburg Offering FREE Tickets
Every week, a certain number of museum tickets become eligible to each Pinellas County Library. All you do from there is check it out with your library card. You have up to 1 week from the date of service to use it.
We LOVE that it covers the cost of admission for 2 adults and up to 3 kids in the same household. If you don't use all of the passes, that's OK too!
Many thanks to the Pinellas County Library Cooperative for providing this wonderful program. They also have a full list of other museums that qualify.
Free Museum Admission for Bank of America & Merrill Lynch Customers
For over 25 years, Bank of America customers have gained FREE access to some of the best museums across the United States. The "Museum on Us" program is available to all Bank of America, Merrill Lynch, or Bank of America (US Trust) credit or debit card holders.
The participating museums in St Petersburg Florida (Pinellas County) are the Florida Holocaust Museum and the Museum of Fine Arts.
Tip: Bank of America cardholders outlined above are eligible for FREE general admission on the first full weekend of every month. To find participating museums across the United States, click here.
15 Best Museums in St Petersburg Florida
The Dali Museum (Salvador Dali Museum)
One of the most recognized buildings in St Petersburg is the Dali Museum. It reportedly cost over $30 million to build this awe-inspiring gem. It has a gorgeous spiral staircase and a glass entry that is referred to as the "enigma." The Dali Museum is often considered the most well-known of the museums in St Petersburg Florida.
Reynolds and Eleanor Morse began collecting Salvador Dali's artwork in 1942. The Dali library holds over 7,000 volumes of various collections.
Plan a minimum of 2 hours to see the museum. They also have a lovely gift shop, cafe, and garden. Take a few minutes to sit outside and enjoy the grounds and the gorgeous water views.
The James Museum of Western and Wildlife Art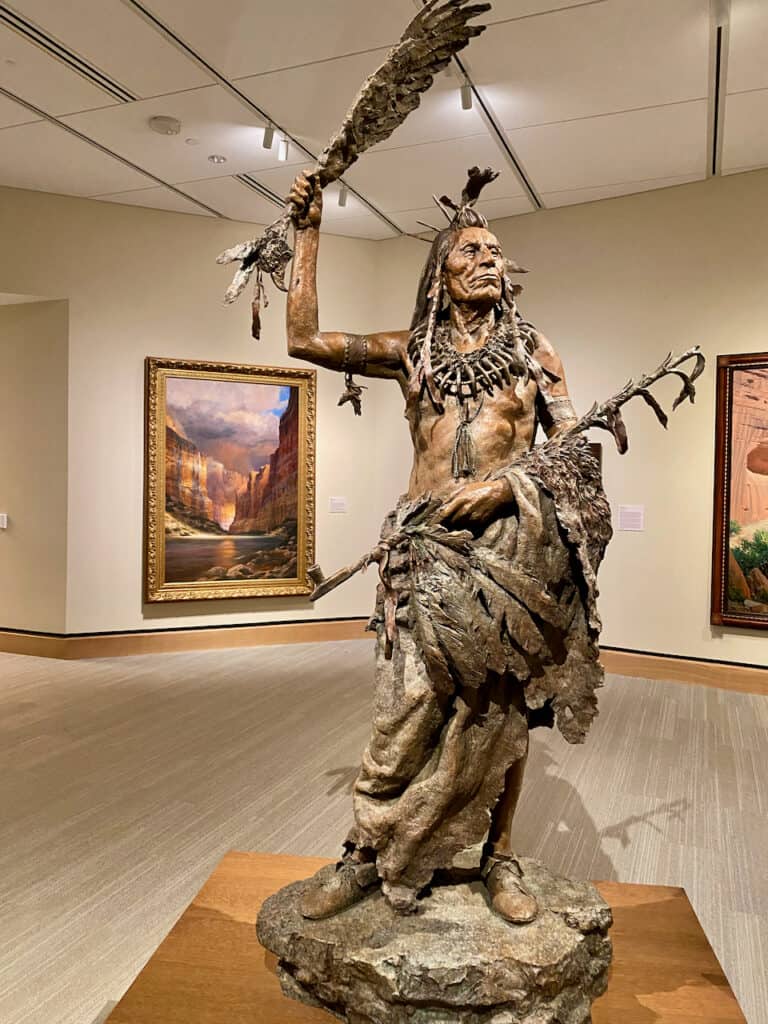 Collectors, Thomas & Mary James of Raymond James Financial established one of the best western and wildlife art museums in the world.
This beautifully curated collection has thousands of pieces from The James' private collection, including contemporary and traditional themed works. In the foyer, you will be impressed by a collection of statues of Native American Indians.
A portion of their website is dedicated to kids' programs, including family art making, summer camp, and so much more. Cost is FREE through Pinellas County Libraries museum passes program.
Museum of Fine Arts St. Petersburg
The art and architecture scene in St. Petersburg are incomplete if we don't mention the grand dame of the bay, the majestic Museum of Fine Arts. Some refer to it as the "Mini MET."
It contains everything from ancient artifacts from Mesopotamia to ancient Greek and Roman sculptures and pottery, African masks, sculptures, photography, and paintings. The collection spans 5,000 years of masterpieces. Favorites include works of art by Monet, Wiley, and O'Keeffe.
The location is ideal for exploring downtown and gorgeous Beach Drive. After the museum, enjoy a meal at one of our most loved restaurants, Ceviche Tapas Bar & Restaurant or Parkshore Grill just steps away.
Great Explorations Children's Museum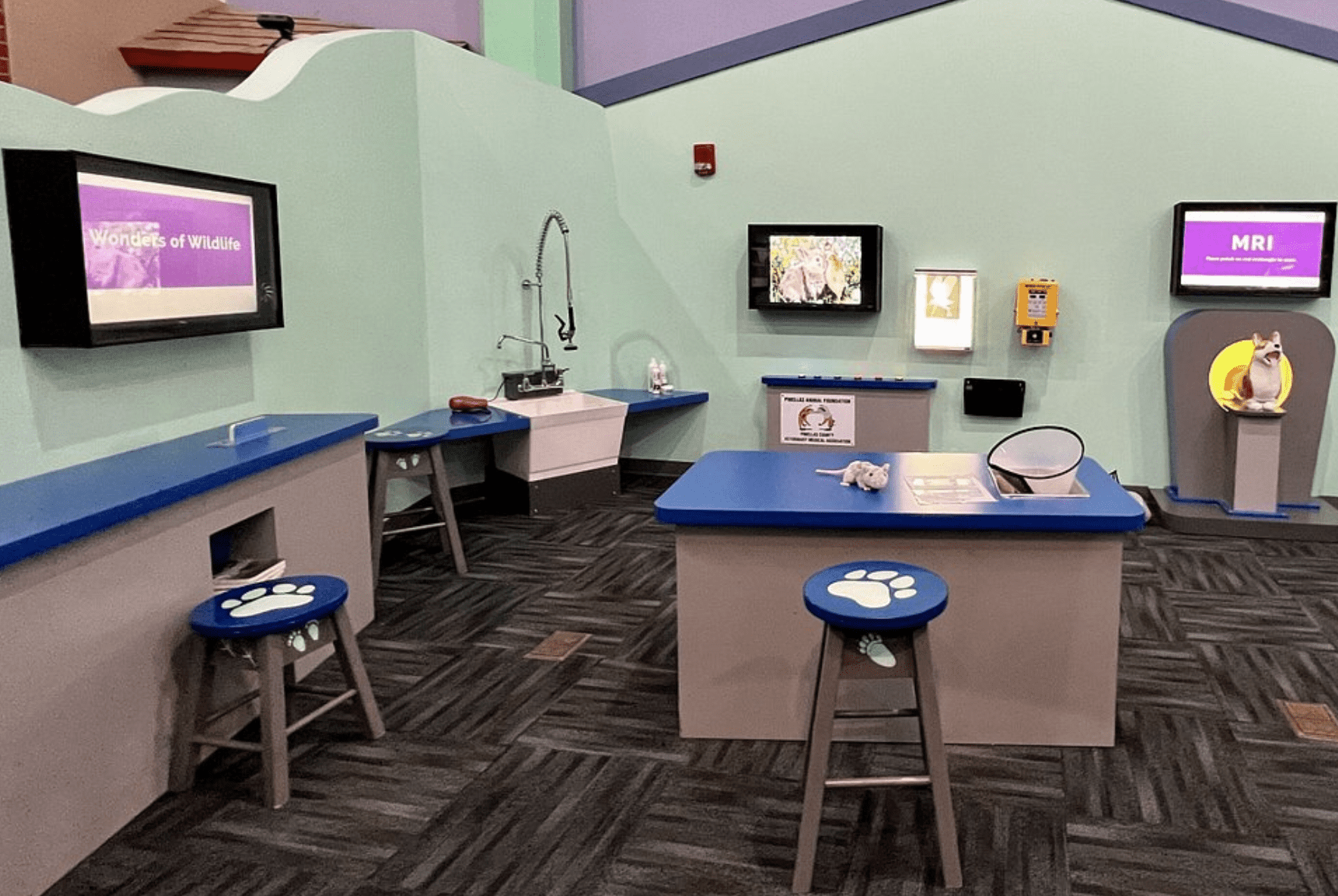 Founded in 1986, Great Explorations Childrens Museum has been providing education to kids in a hands-on environment for decades. This museum is attached to Sunken Gardens in St Petersburg.
Children can learn and play in a safe place dedicated to fun exploration. Here kids will learn about career skills such as fire fighter, doctor, meteorologist, chef, engineer, and a whole lot of super fun activities.
Great Explorations is one of our favorite kids things to do in St Petersburg! Cost is also FREE through Pinellas County Libraries museum passes program.
Tampa Bay Automobile Museum
If you love vintage cars, this unique and fantastic collection is the perfect place for all car enthusiasts. Located in Pinellas Park, it is just a short drive from St. Petersburg. Here you will find cars from various eras in this 19,000 square feet gallery space.
Many of the cars are one of a kind pieces, and all of them are refurbished and in driving shape. This not-for-profit is a family-friendly atmosphere. Plan to be here for a minimum of 2 hours to see the 80+ cars on display.
Museum of the American Arts and Crafts Movement
Collector & philanthropist, Rudy Cicciarello put together a one of a kind museum that is dedicated to arts and crafts.
This massive 137,000 square-foot architectural marvel is absolutely stunning from the outside. It is know wonder why it is a popular space for weddings and corporate events.
Three complete room installations are also available at the museum: a bedroom vignette featuring furnishings from Craftman and Roycroft; a house featuring a large stained-glass entrance with hand-carved panels; and a bathroom covered ceiling with mirrored walls.
The unique furniture, pottery, tiles, lighting, textiles, photography, fine arts, woodblocks, metalwork, period room installations, and more will enchant you.
Note: Strollers and oversized bags or backpacks are prohibited in their galleries. Please reference their website for a complete list of other items not allowed.
Imagine Museum in St. Petersburg
Imagine Museum is renowned for its Contemporary gallery showcasing glass art. You will find some gorgeous and innovative pieces, such as the spinning blocks and the mirror illusion.
They currently offer guided tours and a scavenger hunt. Plan to spend 1-2 hours in this 2-story art exhibition.
Afterward, you may want to grab lunch nearby at Casita Taqueria, one of my favorite places for Tacos in Tampa Bay.
Cost is FREE through Pinellas County Libraries museum passes program.
St Petersburg Museum of History
The St. Petersburg Museum of History is situated at the new St. Pete Pier District. For baseball fans, you will want to check out this museum.
The museum was created in 1920 by Mary Wheel Eaton of the St. Petersburg Memorial Historical Society. They provide a detailed history of the evolution of baseball.
The museum features many interesting things such as Schrader's Little Cooperstown – the world's most valuable baseball collectible. Flight One Gallery presents the world's first commercial flight from St. Petersburg to Tampa from 1914.
The Florida Holocaust Museum
Located in downtown St Petersburg, The Florida Holocaust Museum has provided education for over 30+ years. Here you will find one of the best museums and collections on the Holocaust.
Chihuly Collection at Morean Arts Center
For those familiar with the Chihuly Collection, it was previously located on Beach Drive in downtown St. Petersburg, FL. In recent years, it has found a new home in the Central Avenues Edge district.
Dale Chihuly, a renowned glass artist, has a vast collection of beautiful works of art. The collection contains 18 impressive installations that include Float Boat and Ruby Ice. If you enjoy looking at colorful glass artwork, you will find some gorgeous pieces here.
Gulf Beaches Historical Museum
Located in a former church on Pass-a-Grille, this quaint museum is open 3 days a week. Operated by a group of dedicated volunteers, this museum tells the history of the barrier islands in a permanent collection from 1500 to the present. You will get to view local Florida maps, photographs, artifacts, WWII exhibit, and history at the Don CeSar Hotel.
This is a fun place to visit when going to Pass-a-Grille beach. Beat the heat for an hour, and tour this lovely small museum that is FREE to the public. A complimentary parking pass may be provided for 1-hour by the museum.
Tampa Bay Watch Discovery Center
Located on the St Pete Pier in downtown, Tampa Bay Watch Discovery Center is a nonprofit founded in 1993 that focuses on Tampa Bay's estuary. Here you can explore interactive displays, educational tours, and even a wet classroom with outdoor demonstrations on the observation deck.
Beyond the museum, they also offer eco-tours. Discover the St. Petersburg ecosystem on board a boat with an expert marine science educator. These certified Eco-vessel tours are family-friendly and are great school field trips. Sunset cruises and private tours are available as well.
Pricing is very reasonable, and we love that the proceeds are used to support environmental restoration at Tampa Bay Watch.
Kids love this hands-on museum experience. Afterward, you will want to check out the splash pad and playground, all located at the St Pete Pier. For adults, there are plenty of things to do, including restaurants, shops, and more!
Leepa-Rattner Museum of Art
Located on the campus of St. Petersburg College in Tarpon Springs, Leepa-Rattner Museum of Art is a collection of more than 6,000 modern and contemporary pieces. We consider it one of the best free museums in St Petersburg Florida located in Pinellas County (just outside of St Pete).
We love that it is FREE to tour, and it is an educational place to take the family. The museum is small, and it will take about one hour to see it.
Plan to eat before or after your visit since there is no food within the museum. No worries about the lack of food since the city of Tarpon Springs has plenty of restaurants! Head north from the museum to see the historic Tarpon Springs Sponge Docks and partake in the delicious Greek fare.
Dunedin History Museum
The Dunedin History Museum is another one of the best museums in Pinellas County. It is located in an old railroad depot in the charming town of Dunedin.
This 501(c)(3) museum has over 2,000 artifacts, newspaper collections, and photographs.
You will find old weather forecast machinery, city history, and plenty of railroad and citrus industry equipment and devices. Some of the permanent collection also includes an alligator tank used by the US Marines.
One of the newest exhibits is "Florida Foodways," which gives details and misconceptions on Florida food. Who knew oranges were not native to Florida?
If you haven't explored the enchanting town of Dunedin. This is your perfect opportunity! Take advantage of the FREE museum tickets from the library, and tour the beautiful city on the water.
While in town, check out the local craft breweries. Dunedin is known for having some of the best breweries in Pinellas County.
Dr. Carter G. Woodson African American Museum
This hidden gem is a lovely place to visit for African American history. It provides an educational journey and is an ideal museum to visit for Black History Month (especially since Dr. Carter G. Woodson is the founding Father).
We love that admission and parking are FREE. Here you will find a variety of things to see, from musical performances, art exhibits, and historical discussions.
Heritage Village
This indoor and outdoor museum is a true hidden gem in Pinellas County. Located in Largo, it is just a quick drive from St. Petersburg. Here you can enjoy visiting authentic historical buildings, trains, and more.
Check out our Heritage Village article, which covers all of our favorite things to do and key details.
Final Thoughts on the Museums in St Petersburg Florida
Please note museum hours, holidays, or seasonal updates and prices were current as of our publishing date. These details are subject to change. Please use the official website links provided to verify current details. We hope you found this article informative.
Did You Find This Post Helpful? Share It!
If so, I would love to hear about your Florida travel adventures! You can follow me on Instagram, and tag your images to @erinstraveltips and hashtag #erinstraveltips. I look forward to seeing you there!
Check Out More Interesting Florida Articles