You might be wondering what the best beaches in Tampa, Florida, are. This question comes up a lot since Tampa is known for its Riverwalk, sports teams, and nightlife. But where are the best beaches in Tampa?
Most of the best beaches near Tampa are located in Pinellas County on the Gulf of Mexico, between St Petersburg and Tampa.
Tampa Florida
The city of Tampa is on Tampa Bay, a large body of water with beautiful waterfront views that connects with the Gulf of Mexico.
It's a great place to go on vacation, especially since it's sunny for approximately 361 days a year. You can enjoy miles and miles of beautiful beaches with sand and clear water – all within a short drive!
Tampa is a central business hub with a world-class zoo, theme park, and museums. The fact that Tampa, Florida, has a lot of closeby beaches and outdoor parks.
So, what are the best beaches in Tampa Florida? Here are my top 17 within easy driving distance.
Read Next: The 25+ Things to Do in Tampa for Couples
17 Best Beaches Near Tampa, Florida
Ben T. Davis Beach
Gandy Beach
Spa Beach (St Pete Pier)
Clearwater Beach
Honeymoon Island State Park
Caladesi Island State Park
Indian Rocks Beach
Madeira Beach
Redington Beach
Sand Key Park
Upham Beach Park (St Pete Beach)
Sunset Beach (Treasure Island)
Pass-a-Grille Beach
Shell Key Nature Preserve
Fred Howard Park
Fort De Soto Park
Gulfport Beach Park

Ben T. Davis Beach
If you are looking for a short drive, Ben T. Davis Beach is the best beach in Tampa. It has soft white sand for relaxing, calm water for cooling off, and shelters for picnics.
Because of its proximity to downtown Tampa, it's a familiar spot for people who like to tailgate. On Tuesday evenings and Saturday mornings, volleyball players from the area go to the beach.
One of the best places in town to see the sunset is here. The Courtney Campbell Trail at Ben T. Davis Beach is where the most time is spent by both locals and visitors. On the 4-mile trail and pedestrian bridge, you can walk, jog, or ride a bike. Since it's close to the city, there are also many places to eat and drink.

Gandy Beach
Gandy Beach is on the south side of the Gandy Bridge, which connects Tampa and Pinellas County. It is known as the Redneck Riviera because it is a popular place for parties, and locals also call it Earnhardt Beach. There aren't as many rules at Gandy Beach, and the weekends can get busy. The weekdays are preferred for less traffic and paddleboarding in the calm waters.
For picnics, it's nice to have your car close by, but you should still try to find a clean spot. There aren't any services here, but you can walk to the Getaway Restaurant and Bar or drive your car down the rough, sandy access road. The government closed off a big part of Gandy Beach to protect the mangroves and their environment.
🌴 Read Next: 12 Best Hotels in Downtown St Pete

Spa Beach at the St Pete Pier
Spa Beach is a small shoreline attached to St Pete Pier. Beach volleyball and other sports are popular here, and it's easy to get started with kayaks and paddleboards from this spot.
If you are staying in a Downtown St Petersburg hotel, you no longer have to drive to the Gulf Beaches to feel the sand between your toes.
There are many great places to eat if you're hungry. At Pier Point, you can eat at places like Teak or Doc Ford's near the public boat docks. Both are excellent for drinks and appetizers with a view.
My preferred restaurants for dinner are on Beach Drive. Read more on some of my favorite restaurants and things to do in my article, St Petersburg vs Tampa.
All areas on St Pete Pier have outstanding views – but go to the third floor on Teak for a drink and sunset view after a day at the beach.
🌴 Read Next: 12 Best Hotels in Downtown St Pete

Sand Key Park
Families will enjoy the tranquility of Sand Key Park, a beach near Tampa Bay. With its fine white sand and accessible boardwalk, this lovely park serves as a park and a beach. It's possible to see sea turtle eggs on the short nature trail and other local wildlife. There, pets are welcome.
So, whether you want to swim and get a tan or observe the wildlife of Florida, it's the right choice. A beautiful park can be found on the other side of Sand Key Park.
Numerous parking spaces, picnic shelters, restrooms, showers, and a children's playground are all present in the park. Use of the grills is free if you wish to cook hamburgers or other foods. In addition to beach wheelchairs, you may hire kayaks and umbrellas. Additionally, cabanas are available for rent.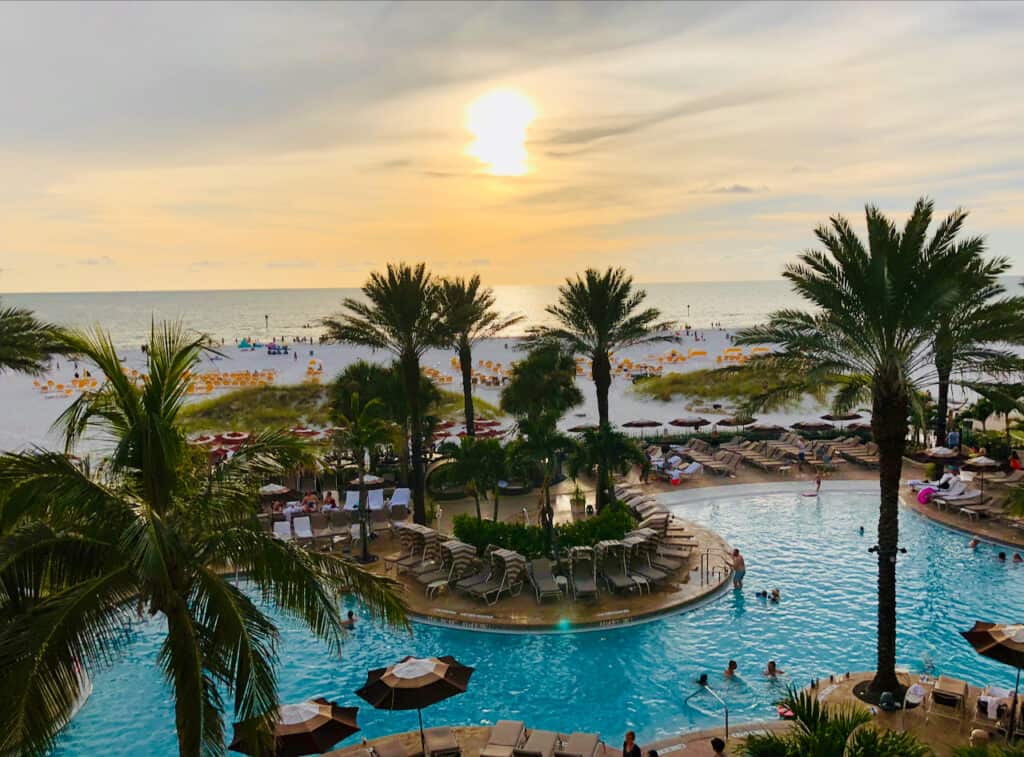 Clearwater Beach is most often considered the best beach in Tampa (within a short drive). The beach offers a wide range of facilities, including food vendors, water activity rentals, and cabanas with cover. There are several activities in the area, such as fishing, dolphin excursions, and leisure charters, if you grow tired of lounging on the beach. You may also visit the Clearwater Aquarium to witness the former home of the well-known Disney dolphin Winter.
You may nap on the white-sand beach or swim in the tranquil ocean. The beaches in Clearwater are ideal for families with small children since they have several playgrounds and shallow water.
Pier 60 is a fantastic nighttime destination. Every evening around dusk, there is a celebration on the pier with live music and little performances. Visit the craft vendor booths to support regional artists and get some interesting mementos.
Also located on Clearwater Beach are some of the city's top hotels. If you want somewhere to stay while you tour the region, choose one of Tampa Bay's upscale beachfront hotels. My favorite hotel in Clearwater Beach is the Sandpearl Resort.

Caladesi Island State Park
One of the most gorgeous spots on Earth is the beach on Caladesi Island. The sand is white, and the water appears more teal at this quiet beach than everywhere else. People who watch wildlife will find a lot to look at, while shell hunters will like the bounty. There aren't many amenities since it's a natural reserve, and the only ways to get there are via ferry or private boat.
From Honeymoon State Park, ferries go to Caladesi Island State Park daily. The nicest spots to swim and take in the scenery are on this beach. You may rent a kayak and go through the mangrove bayside forest. Or, to observe some of the local species, you can walk along the nature trail that goes inland to see some of the local wildlife.

Indian Rocks Beach
The best laidback family-friendly beach near Tampa is Indian Rocks Beach. There are long stretches of white sand on this beach. Along the 3-mile beach, the water is warm and shallow, making it a great place to swim.
This quiet beach area is an excellent alternative to Clearwater or St Pete because it is less crowded. Indian Rocks Beach is also straightforward, with 27 beach access points along Gulf Boulevard with parking areas.
There are over 20 ways to get to the public beach, which is excellent, but there aren't many amenities like showers, bathrooms, or parking.
You'll find a mix of homes and vacation rentals with a limited selection of hotels in Indian Rocks Beach.
Even though it has a laid-back vibe, there are many things to do in Indian Rocks Beach. Skimboarding is popular, but check out my full article for a complete list of fun activities!
🌴 Read Next: The 7 Best Hotels in Indian Rocks Beach for Families

Madeira Beach
Madeira Beach, also known as "Mad Beach," is an idyllic gulf city on the Florida West Coast near St Petersburg. It is known for its 2.5-mile-long white sandy beaches and the historic John's Pass Village. This beautiful spot has over 100 unique shops and local businesses.
Gulf Boulevard goes right through Madeira Beach (as well as other beaches in Pinellas County). The boulevard is full of restaurants, gear shops, and hotels on the beach, especially near John's Pass Village.
For a fun time, check out my article on the best things to do in Madeira Beach. You may end up riding a pirate ship or a shark boat!
In Madeira Beach, you can also visit Archibald Beach Park. One of the most popular things to do at Archibald Beach Park is beach volleyball. There are several courts set up around the beach. All of them have parking lots and nice wooden walkovers.
🌴 Recommended Hotel in Madeira Beach: Cambria Hotel

Honeymoon Island State Park
Honeymoon Island State Park is just west of Dunedin, FL, and has one of the best Gulf beaches in the Tampa Bay area. The Island has four miles of white sand beaches with several nature trails and bird-watching spots where you can see Ospreys and many other species.
The Island has a lot to offer, like a concession stand and restaurant where you can get food and rent an umbrella, chair, or kayak.
Families will like the picnic area, which has a playground and pavilions that can be used if it rains. After you've let the waves tickle your toes, you can go inland on one of its beautiful nature trails to see wildlife.

Redington Beach
Redington Beach is a great place to rent a beach condo and have a quiet beach vacation. Redington Beach is a great place to swim, lay out in the sun, and relax in the sun.
It's between Indian Rocks Beach and Madeira Beach. Since the nearby town is only one square mile, there isn't much to do near Redington besides lie in the sun.
Redington Beach is one of the best places to take a break and chill out. It's easy to spend all day at the beach just lounging under an umbrella.

Sunset Beach (Treasure Island)
Located on the northernmost point of Treasure Island, Sunset Beach is a clean pristine beach. It is a clean, unspoiled beach. There are fewer tourists there, and it feels more like a neighborhood. It's not as busy as Tampa Bay's bigger beaches, plus you can walk along its uniquely private boardwalk that has a playground nearby.
Here the Sunset on the Beach is amazingly beautiful. The clear, star-filled skies are even nicer. People can eat, take showers, and use the bathroom facilities at Sunset Beach. You can lay out on the soft sand and get a tan or read a book. On the beach, there are bars and tiki huts where you can grab a quick bite.
To really feel like a local, rent a cottage or boutique hotel near Sunset Beach.
🌴 Recommended Hotel in Treasure Island: The Roth Hotel

St Pete Beach
Another beach in the vicinity that often ranks at the top of lists of the greatest beaches worldwide is St. Pete Beach. The Don Cesar Resort at St. Pete Beach is among the top attractions in Tampa Bay. It's a pleasure to stay at the resort. It is also known as the Pink Palace. On the Gulf of Mexico, St. Pete Beach has pristine white sand and stunning sunsets.
Additionally, there are a lot of opportunities to go on sunset cruises and kayak adventures, plus more fun things to do in St Pete Beach! Restaurants, tiki bars, cabana rentals, jet ski rentals, and other enjoyable activities are all available close to the beach.
If you choose to spend the night, there are several luxury resorts and vintage boutique hotels in St Pete Beach. Make sure to check out my article that lists my top favorites!
Upham Beach Park is just a few streets away from Historic Corey Avenue. On St Pete Beach, it is one of the best options for beach access.
🌴 Read Next: 14 Best Hotels in St Pete Beach Florida + Expert Tips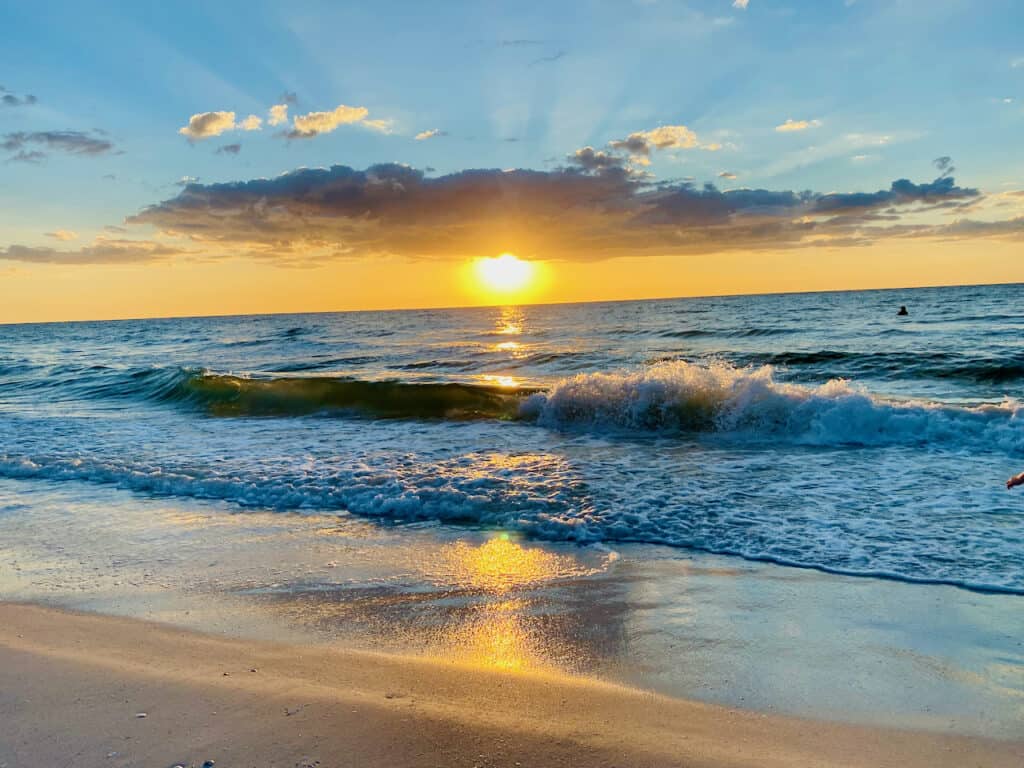 For a journey to a true beach paradise, go to Pass-a-Grille Beach. There are many entertaining things to do in the beach town, which is adorable and peculiar. To the south, it is near the southernmost point of St Pete Beach.
You may enjoy a calm beach while yet being near a lively town. You can leave your car in a number of different places and then go to the beach. At Pass-a-Grille Beach, people like to swim and lay out in the sun. A hammock between two palm trees may be used to relax and read a book or take sleep.
One of the nicest spots to visit in St Pete Beach is Pass-a-Grille. There are several eateries, rooftop bars, and dessert stores there. Additionally, there is a market close by where you may purchase local crafts, jewelry, and clothing.
🌴 Recommended Hotel in Pass-a-Grille Beach: Inn on the Beach

Shell Key Nature Preserve
At the southern tip of St Petersburg, Shell Key Nature Preserve is an island that is part of a 1,800-acre park. It is also one of Florida's best beaches for shelling. People can get to the island on a few privately owned ferries, or they can kayak from the mainland to the island. One of the best beaches in Florida for shelling is Shell Key.
It is also home to a lot of sea life and birds that move around. People with good eyes can find shells like sand dollars and scallops. Look for shells that are hanging from the trees on the beach. Some say they are there to remember loved ones who have died.
Shell Key doesn't have a lot of things to do. There are no bathrooms or other facilities, so make sure you bring enough food and water for your trip. However, you'll find lots fun things to do for outdoor lovers in Tierra Verde.
🌴 Recommended Hotel Nearby Shell Key Preserve: Residence Inn

Fort De Soto Park
Fort De Soto Park has more than 1,000 acres of protected land on five islands that are all connected. It is one of my top beaches near Tampa, and it's dog-friendly too!
Many types of wildlife live in the Park's beach grasses, mangroves, wetlands, and palm hammocks. Two piers where people can fish without licenses are among the many things the park offers.
There is also a dog park, swimming pools, and an old fort that you can visit. There is a 7-mile paved trail that goes from North Beach to East Beach if you want to get some exercise.
You can jog, walk, or ride a bike on this trail. You can also use the trail from the camping area to the boating area if you plan to stay the night.
🌴 Recommended Hotel Nearby Shell Key Preserve: Residence Inn

Fred Howard Park
Fred Howard Park is a great place to spend the day exploring and having fun with the family. It is also a nature preserve located at the northern end of the barrier islands in Tampa Bay.
Long stretches of white sand are accessible in Fred Howard Park, protecting the endangered Florida environment. Along with dolphins and manatees, the region is home to ospreys, eagles, and other wildlife. You can rent kayaks to explore nature further.
The park facilities include picnic spots, playgrounds, a sizable swimming area, a windsurfing facility, and a location to launch kayaks and paddleboards.

Gulfport Beach Park
On the stunning crystal water, Boca Ciega Bay, you'll find the public beach section of Gulfport Beach Park. People come for the company, the array of artistic expressions, and the delicious Gulfport restaurants.
As a local, this is one of my favorite small towns near Tampa, and it has a beach! Check out my favorite things to do in Gulfport, FL.
At the Gulfport Beach Waterfront Complex, you may kick back and relax, play a game of bocce ball or volleyball, take a walk along the promenade, use the playgrounds, or go to an afternoon concert. There, you may participate in exciting sports and other activities that pique your interest.

Final Thoughts on the Best Beaches Near Tampa
Well, there you have it! My favorite beaches near Tampa that you must visit.
If you are looking for proximity in the distance, then Ben T. Davis Beach is your best beach in Tampa!
If you like a bustling beach town, you can't get much better than Clearwater Beach! Or if you like hidden gems, then don't miss Pass-a-Grille Beach.
Make sure to check out my related articles on the beach you plan to visit! Also, please share your favorite in the comments below!
Did You Find This Post Helpful? Please Share It!
If so, I would love to hear about your Florida travel adventures! You can follow me on Instagram, and tag your images to @erinstraveltips and hashtag #erinstraveltips. I look forward to seeing you there!
Related Florida Travel Articles