In this article, I cover the Treasure Island Boardwalk (also known as Sunset Beach Scenic Boardwalk), one of the hidden gems just outside of St Petersburg, FL. If you are looking for John's Pass Village Boardwalk with shops and restaurants, you'll want to read my article you'll find it here.
Located in Sunset Beach, the Treasure Island Boardwalk is a serene and picturesque walkway around the entire tip of the island.
Officially known as the Sunset Beach Scenic Boardwalk, it offers visitors a chance to take in the stunning scenery of this little-known corner of Treasure Island, Florida. This piece of paradise gets overlooked since it's largely residential and few know it's there.
From its white sandy beaches to its lush green foliage, there's plenty to explore along this quiet boardwalk. Let's explore further one of my favorite places for a quiet beach getaway on Treasure Island.
🌴 Read Next: Treasure Island or St Pete Beach – Which for Vacation?
Treasure Island Boardwalk Location
The Sunset Beach Scenic Boardwalk begins at the southern end of the Tern Parking Lot, which is connected to the Treasure Island Pavilion.
Sunset Beach Parking
Sunset Beach Scenic Boardwalk begins at Tern Parking Lot at West Gulf Boulevard & 77th Avenue. There are 55 spaces available, which usually is rarely full on my visits. It does get busier late morning and afternoon.
The Treasure Island city parking lots are metered parking which currently costs $2.75 per hour. You can pay by using the ParkMobile Parking App or at the meters/pay stations.
You'll notice there are several ways to get to the beach. With easy access, there are five dune walkways on the Gulf of Mexico side of the Sunset Beach Boardwalk to the Blind Pass Jetty.
As I mentioned earlier, the boardwalk wraps around the tip of Treasure Island from Sunset Beach onto Blind Pass Waterway.
Here you'll get to see wide open water views as well as scenic views of mangroves and nearby cities. Don't be surprised if you see views as far as Clearwater Beach! Usually, you can also see Bottlenose Dolphins, Pelicans, and many other forms of wildlife.
Treasure Island Boardwalk Hours & Accessiblity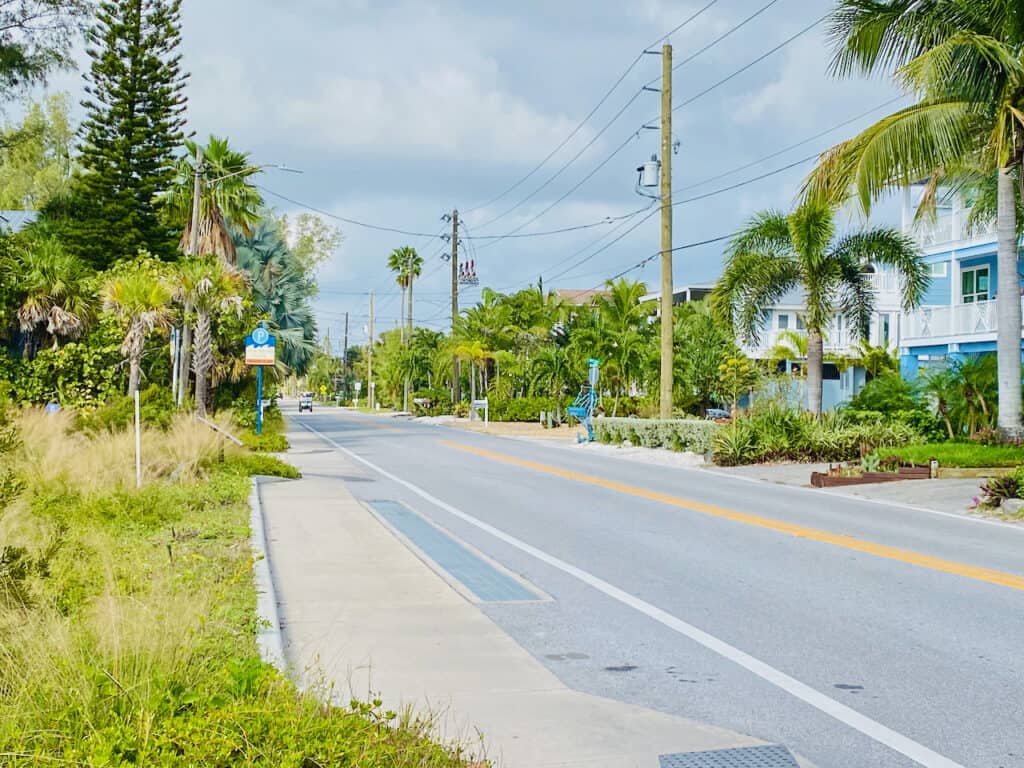 The Treasure Island Boardwalk is approximately a 1.2-mile trail roundtrip. It should take you approximately 20 minutes to complete the entire walk.
Essential to keep in mind, the Treasure Island Boardwalk is partially private property from the condo community that allows public access. It's a beautiful spot to own a condo, with wraparound views of Treasure Island and St Pete Beach. Besides, they are at a dead end in the road, so it has minimal traffic most of the time.
The Boardwalk is closed during the hours of 11 pm to 5 am. The private sections will not allow dogs, bikes, skateboards, etc.
The boardwalk is well-kept and wide enough that it's easy to navigate. There is a lovely overlook just past the entrance.
My favorite time to visit is in the early mornings when you can pretty much have the beach to yourself. The evenings at Sunset are popular to get the famous sunset views from Sunset Beach.
Sunset Beach Pavilion (Treasure Island Pavilion)
Sunset Beach Pavilion, also known as Treasure Island Pavilion is nice space to rent for intimate weddings or special events. It is picturesque and very well-kept. This isn't the place for wild parties, you'll find more elegant events here.
There is a charming boutique waterfront hotel within walking distance. The Roth Hotel is literally a 2-minute walk away from Sunset Beach. Accommodations have fully equipped kitchenettes, flat-screen TVs, and access to a private swimming pool.
😎 Read Next: 14 Best Hotels in St Pete Beach Florida + Expert Tips
Nearby Things to Do
In addition to enjoying the views from the boardwalk, visitors can also take advantage of many activities in the nearby area such as fishing, swimming, sunbathing, and kids love the playground at the beach. Pack a lunch, there is a shelter with picnic tables, restrooms, and showers to utilize.
While it may be tempting to swim to Upham Beach (St Pete Beach) since it's almost a stone's throw away, don't do it. The tide can be challenging even for more advanced swimmers.
You can also see Buoys Waterfront Bar and Grill, The Toasted Monkey, and Woody's Waterfront across the Blind Pass Waterway in St Pete Beach.
I highly recommend checking out Upham Beach; it is a lovely spot to enjoy beach volleyball, cabanas/rentals, and walking distance to Corey Avenue shops at St Pete Beach. Upham Beach also has Paradise Grille at the beach entrance for food and drinks.
⛵️ Read Next: 25+ Best Things to Do in St Pete Beach Florida
Enjoy the Nearby Bars & Restaurants
Treasure Island Boardwalk is within easy walking of some of the local restaurants and bars.
Caddy's Waterfront Restaurant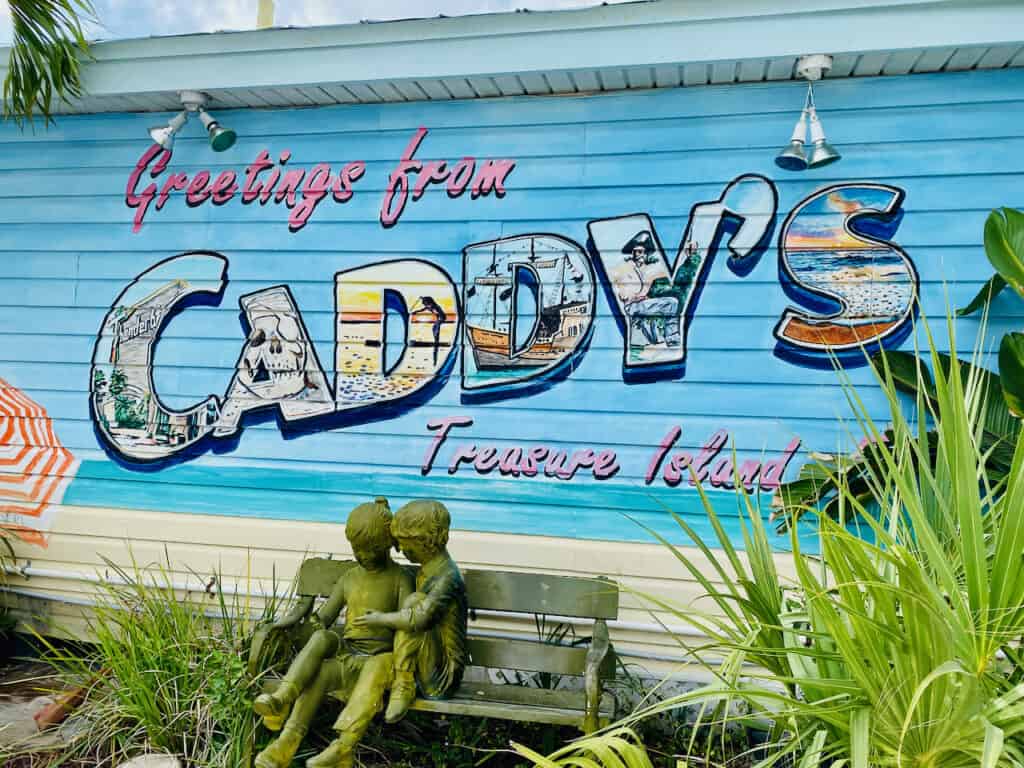 If you're looking for something more leisurely, there are plenty of restaurants and shops located nearby for visitors to enjoy during their stay.
One of the most famous hangouts for live music, beach rentals, games, and fun. Find out more by going to Caddy's Waterfront Restaurant.
While Caddy's has several locations these days, this is the best one in my opinion.
I know it's a restaurant, but I prefer to come here for drinks and hang out with friends. The best items on the menu are the traditional seafood dishes such as the Grouper. There is plenty of seating – most of it is outside or on the beach, but there is more inside for hot weather days.
My go-to restaurant in Treasure Island is VIP Mexican. St Pete Beach is very close as well with some excellent options too.
Ka'Tiki
Another fun hangout located across the street from Caddy's Waterfront Restaurant is Ka'Tiki. It looks like a large tiki hut and is a fun hangout with great live music. When they get jamming, you can hear them from blocks away.
🌴 Read Next: 59 Fun & Best Things to Do in St Petersburg FL
Final Thoughts on Treasure Island Boardwalk
The Treasure Island Boardwalk is a perfect spot for those who want to enjoy some beautiful beach scenery in an environment predominately residential. You'll get more of a local feel than the more popular beaches like Clearwater Beach or Madeira Beach.
With its sandy beaches and lush green foliage surrounding it on either side, this peaceful boardwalk provides a much-needed escape from life's hectic pace.
If you're looking for fun things to do nearby, you'll definitely want to check out some of my favorite places below!
Related Articles to Read Next