Some of the most beautiful scenery in the world can be seen on this Pacific Coast Highway Road Trip. This 3-day California Coast Tour itinerary is full of helpful tips you won't want to miss!
Day 1 – Pacific Coast Highway Itinerary Starting in Los Angeles
This coastal road trip itinerary can start north or south and still hit the same attractions and sights. We began in Los Angeles, heading north to Santa Barbara.
Santa Barbara is one of those cities that has some big city appeal with the glitterati, yet has the charm and uniqueness of a quaint Spanish village. In the background, you will see the Santa Ynez Mountains and of course, great Pacific Ocean views.
Over the years Santa Barbara has been home to numerous celebrities that including Meghan and Harry, Oprah Winfrey, George Lucas, Jeff Bridges, Rob Lowe, and many others since it is only an hour and forty minutes from Los Angeles.
Dining & Shopping in Santa Barbara
We arrived in Santa Barbara at breakfast time and enjoyed a leisurely brunch at The Andersen's Danish Bakery & Restaurant. If the weather is nice, get an outdoor patio table and enjoy the city views. I had a delicious omelet and you can't leave without trying one of their pastries such as their apple strudel. It definitely was a hearty breakfast!
Things to Do in Santa Barbara
One of the most fun and efficient ways to see Santa Barbara is on a guided electric bike tour! These beach cruisers let you see this amazing city in a fraction of the time.
Make your way to see some of the exclusive boutiques and beautiful Spanish architecture. Some of the architecture dates back to 1786, such as Mission Santa Barbara.
Santa Barbara is known for several things to do such as:
If you don't see any of these destinations, I recommend seeing Chase Palm Park which is a stunning oceanfront path that connects with Stearns Wharf in downtown Santa Barbara.
The views are just stunning! Plus, it hosts a Sunday Arts and Crafts Show and plenty of musical talent throughout the week.
Santa Barbara is so amazing, it is worth a night or two just there! A couple of places to mention for a convenient and comfortable stay would be Palihouse Santa Barbara, Simpson House Inn, and The Eagle Inn.
If you are looking for a high-end luxury experience, check out Hotel Californian and El Encanto. However, on this 3-day trip, we reluctantly got back in the car and headed north on our Pacific Coast Highway road trip.
Pacific Coast Highway Road Trip Itinerary: Santa Barbara to Cambria
There are several ways to "speed up" this journey by taking alternative routes if you are heading to a destination. Since we were enjoying a leisurely drive, we stayed on Highway 1 through Lompoc and Pismo Beach.
Pismo Beach is another place you may want to check out on your coastal highway drive. It has a beautiful Pier Plaza and things to do on its long pier. Fun fact, Pismo Beach is one of the few places in California where you can drive on the sand dunes. The address is 100 Pier Ave, Oceano, CA 93445. Full details on the Oceano Dunes State Vehicular Recreation Area can be found on their website.
There are plenty of other nice beach towns along this drive like Cayucos and San Luis Obispo to get out and stretch your legs. However, if you are like me, you are more caught up in looking at these amazing west coast views and watching for whales, otters, and other sea life!
Cambria Hotel: El Colibiri Hotel & Spa
We opted to stay in a small town called Cambria, which is full of gourmet eateries, artsy shops, and beautiful scenery. One of our unique stops was at Antiques on Main. It is a 10,000-square-foot store with all sorts of goodies. It is a fun and nostalgic way to spend an hour.
Stay overnight at El Colibiri Hotel & Spa in Cambria. Located at 5620 Moonstone Beach Dr, Cambria, CA, 93428 it has ocean views and a Spanish-mission flare. While staying here, take a short hike in Moonstone Beach Park to see some of the best views in the early morning light.
Robin's Restaurant
There were so many great places to pick from, but we ended up going to Robin's. It proved to be an excellent choice with a Spanish-style ambiance and a gardener's paradise vibe. The braised short ribs and brussel sprouts were delicious!
Day 2 – Pacific Coast Highway Road Trip – Elephant Seal Vista Point
Leaving the beautiful city of Cambria, we got an early start and headed in the direction of Hearst Castle. Along this drive, I encourage you to pull over and see the Elephant Seals.
Elephant Seal Vista Point
Located on the Pacific Coast Highway in San Simeon is one of the few places in the United States you can see numerous seal elephants up-close in the wild. I could have stood there for hours just enjoying watching them relax and play on the beach. There is no fee, and it is fun just to see these amazing sea creatures enjoying life. If you don't catch this stop, there is a Seal Beach overlook and a refuge in Big Sur.
Hearst Castle – San Simeon, California
Hearst Castle looms in the far distance, perched on a hill above San Simeon. This destination was a must-visit for me because I'm an old movie buff. I have seen the movie, "Citizen Kane" over and over as a child and still hear the words "Rosebud" when I think of Hearst Castle.
While Orson Welles' movie was loosely based on William Randolph Hearst and life at Hearst Castle, it set the stage for my expectations of this castle (while keeping in mind Mr. Hearst had an utter disdain for this movie). He even stopped ads in his papers for Citizen Kane and did what he could to control the narrative.
Hearst Castle has various tours on parts of the property you can take. Inside the castle has beautiful dark carved wood ceilings and sculptures from all over the world.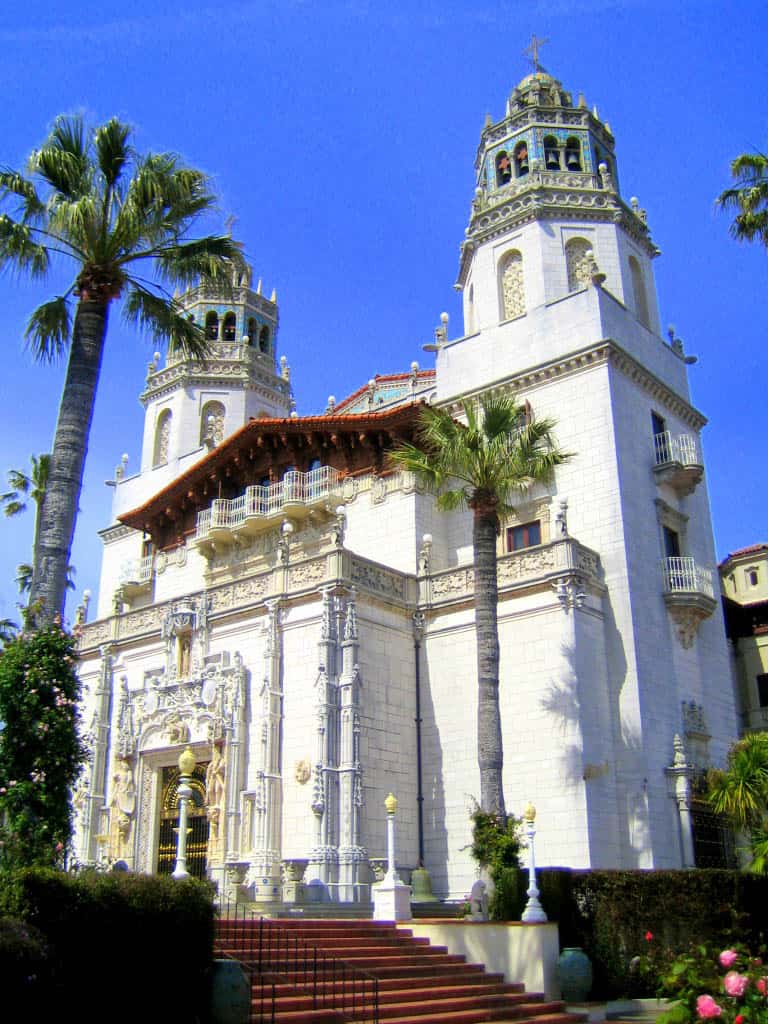 I have done a couple of the tours over the years, and each has some unique qualities to them. My preference was the Upstairs Suites Tour which runs about an hour long.
I enjoyed seeing how Mr. Hearst and his family lived day-to-day. When I say that, Hearst Castle was known for having a revolving door of the elite that included Clark Gable, Bing Crosby, Charlie Chaplin, and many others.
The guest houses are also interesting to tour which are adjacent to the castle. There are private tour options that would be a more thorough experience of the entire property.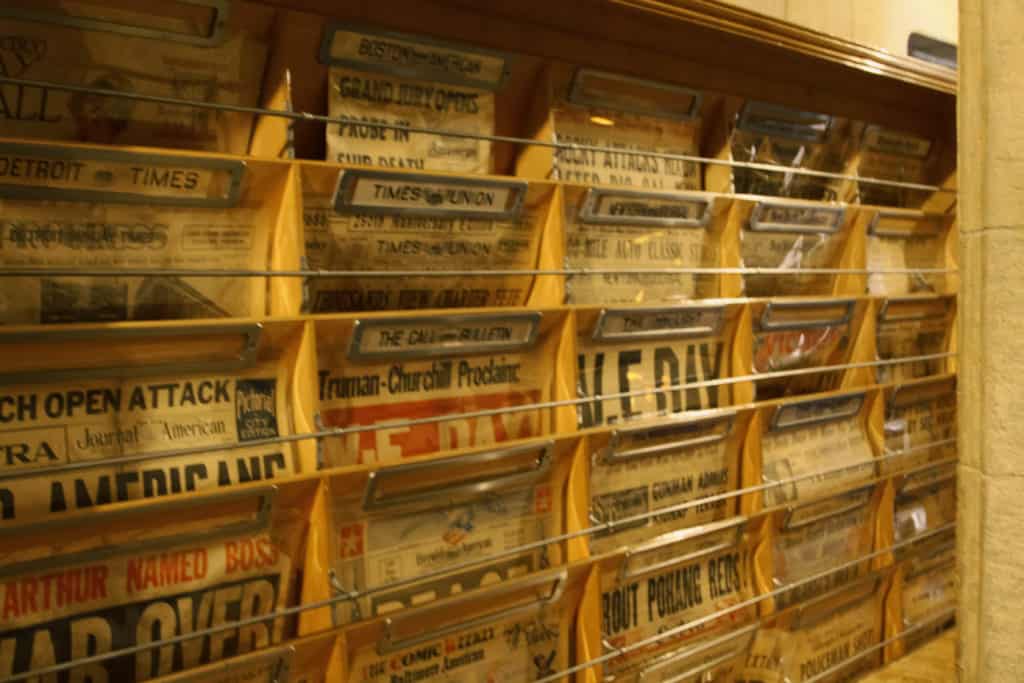 The outdoor scenery is just as spectacular as the landscaping and pools at Hearst Castle. Neptune Pool is among my favorites to see at Hearst Castle, and it is hard to believe it is over 100 years old as well! The Roman Pool is indoors and is also unique for the time period.
Due to emergency road repairs, Hearst Castle has been closed for viewing over the last several months. Please see their website for official details and tour information. For trip planning, anticipate two hours or longer at this destination.
Big Sur & The Bixby Creek Bridge
Big Sur is one of those places you must see at least once! I'm not kidding! Even if you just do the Pacific Coast Highway road trip through Big Sur, it will be forever memorable.
I say this, but timing is everything. I once drove it at dusk with my husband, and you won't get to see the sprawling crystal blue-green water views from the cliffs if it's dark outside or foggy. So it is essential that you see it during the day to get out of this world views.
It is roughly an hour and a half drive from Hearst Castle to Big Sur. We timed it so we could make a couple of sightseeing stops and then enjoy a late lunch which I highly recommend in the Big Sur area. One of the best things to do while in Big Sur is to explore the gorgeous hiking trails.
Hotels in Big Sur
Big Sur has a small share of hotels ranging from high-end luxury, Ventana Big Sur Resort to more rustic cabins motels. The Post Ranch Inn is a relatively famous 5-star resort in Big Sur and has a unique history from the property's use as the Post Ranch House in years past. It is a touristy area, and we planned ahead to stay in the city of Carmel with more dining and shopping options. However, it is the best place to stay if you are looking for a dramatic coastline and stunning views to just unwind.
Cafe Kevah
Since we had an early start to the day, we arrived in Big Sur in time for a leisurely lunch at Cafe Kevah. This property is more known for Nepenthe Restaurant, but they both have spectacular cliffs overlooking the coast. Here is the website for the restaurants; we had a most enjoyable afternoon meal.
Pfeiffer Big Sur State Park
After lunch, we continued our drive, but before getting out of Big Sur you won't want to miss getting a good look at the Bixby Creek Bridge. If you have more time and want to explore a park while in Big Sur, you will want to check out the Pfeiffer Big Sur State Park where you can see redwood trees and ocean views on a nature walk. These towering trees are pretty amazing to see in person.
Point Lobos State Natural Reserve
One of my more unique unplanned stops on this Pacific Coast Highway scenic drive is Point Lobos State Natural Reserve.
With its easy walking trails, it had some dramatic coastline and ocean views within a short distance from the car park. I highly recommend stopping at this location and taking in all the details of its natural splendor. Here are my photos of Point Lobos State Natural Reserve.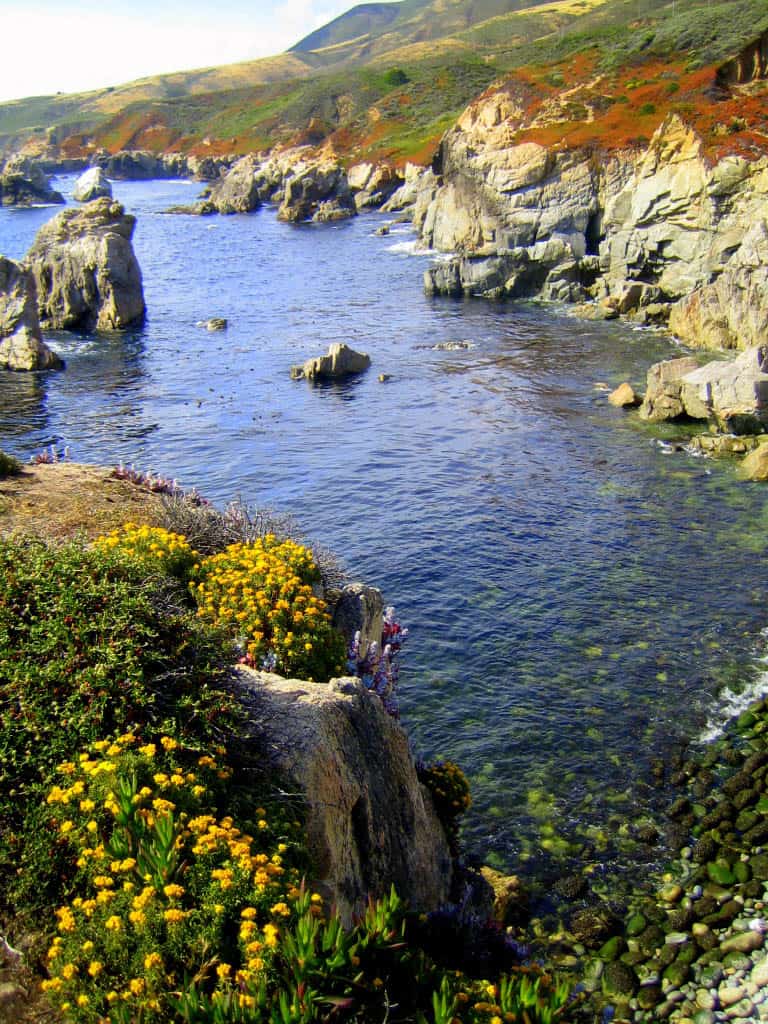 Carmel-by-the-Sea
On our journey, we next headed to the picturesque city, Carmel-by-the Sea. This is a fun city to walk around, and it just oozes charm from almost every angle, especially in the heart of downtown.
While downtown there are plenty of things to do that include: Historic Carmel Mission, entertainment at Sunset Center, Carmel Beach, and a variety of wine tasting and restaurant options.
Carmel is one of our absolute favorite places to do a wine tasting! Here you can sample locally made wine, chocolates and honey, and enjoy the delightful culinary scene.
Fun fact: Did you know that Clint Eastwood used to be the mayor? Eastwood also was also largely responsible for creating the town's children's library.
Hotels in Carmel
There are a variety of top hotels to choose from such as the Carriage House Inn. Downtown Carmel is a special place and this Inn is located just off one of the quieter streets. There are also more affordable hotels nearby depending on your budget.
While in the downtown area there are plenty of storybook-looking houses and gardens to see.
Day 3 – Pebble Beach 17-mile drive
After a slow start in the morning exploring Carmel-by-the-Sea, we headed out for a 17-mile scenic drive through Pebble Beach and Pacific Grove. You will want to allow a few hours to properly see this scenic drive. Please note this is a toll road, and you will need to pay to enter. The earlier you go is often best to avoid delays getting past the toll entrance.
The 17-Mile Drive is located on the Monterey Peninsula, much of which hovers on the coastline. This drive has expansive sightseeing of famous golf courses (Pebble Beach Golf Links and Spyglass), mansions, Del Monte Forest, and viewing locations that showcase the Lone Cypress, Bird Rock, and many others. There are markers as you travel, which makes it easy to stop along the way. One of my favorites was #18 – Pescadero Point and taking photos of the ghost trees. Also, the Lone Cypress is one not to miss!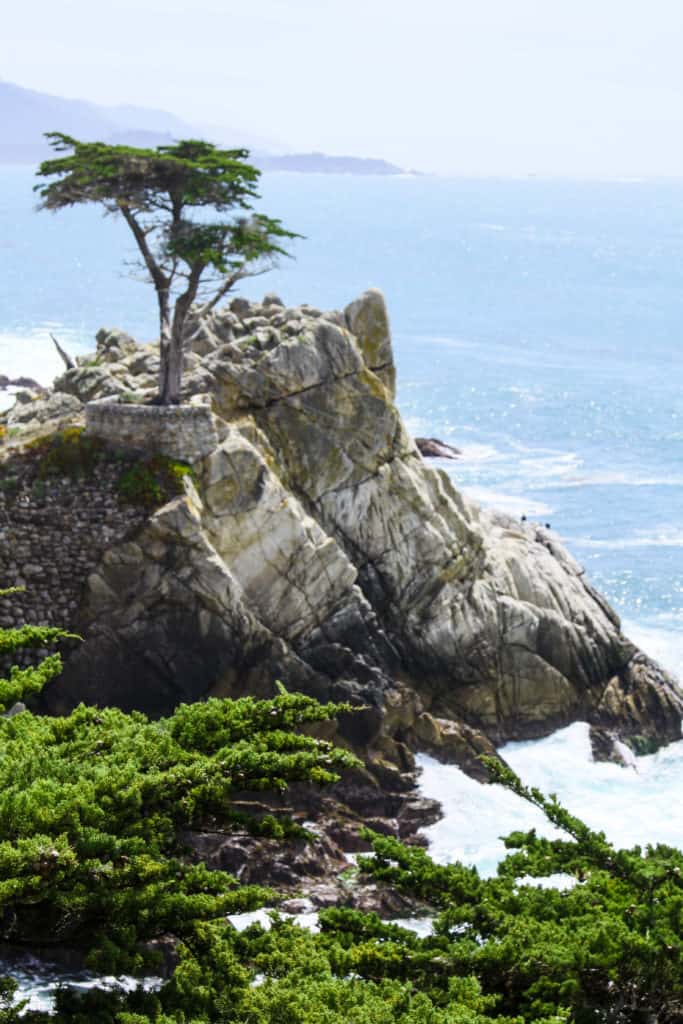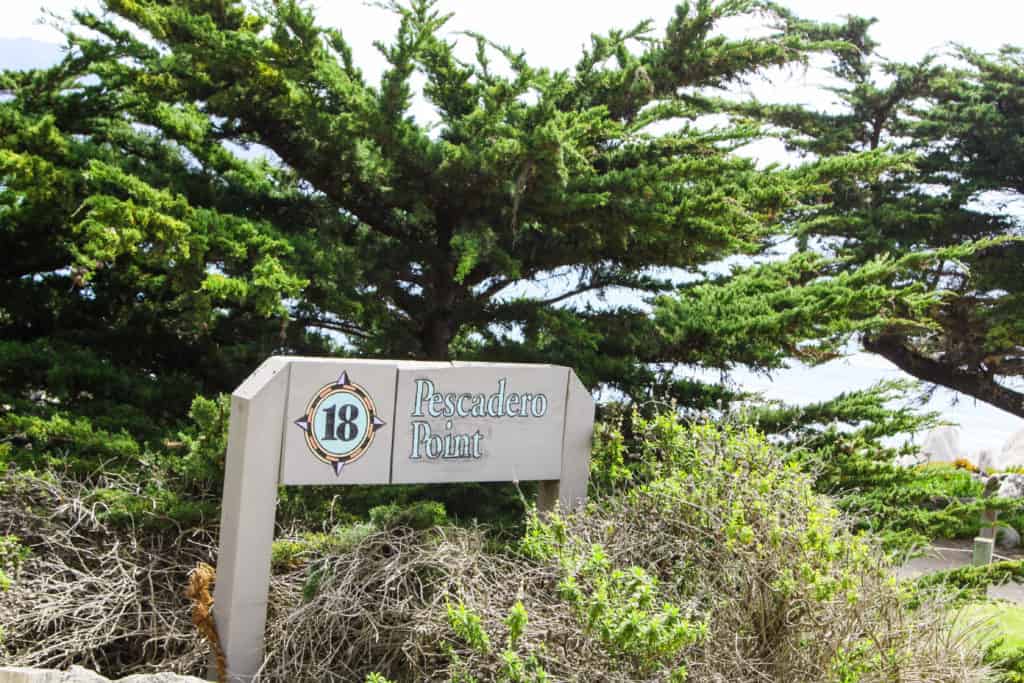 Pebble Beach Golf Links
The 17-mile drive is not complete without visiting the legendary Pebble Beach Golf Links. Pebble Beach is considered the top golf course in America. It was the first public course to be selected as the No. 1 Golf Course in America by Golf Digest. They are friendly to visitors, and there is shopping and other things to do on the property.
If you are a golfer, you definitely would want to make this the highlight of your trip by staying a night and playing one of the courses in this area. Keep in mind, that it is one of the most expensive courses to play. For more information on Pebble Beach here is the official website. There are a total of four golf courses in Pebble Beach.
Monterey's Cannery Row
If time allows on your journey, take a brief detour for lunch or shopping at Monterey's Cannery Row. This area is known for its past sardine-packing industry, uber fresh seafood, and converted factories into gourmet restaurants and bars. It is a fun place to stroll and check out the sights.
Monterey is also known for the Monterey Bay Aquarium, with thousands of marine animals and plants on display in underwater and interactive exhibits. The aquarium is conveniently located on the edge of Cannery Row.
Pacific Coast Highway Road Trip Ends
Since our 3-day journey was coming to an end for us, we needed to head south to Los Angeles and return home. If your itinerary allows, you could continue up the coast to San Francisco.
Jeffrey's Catering in Carmel Valley
We cut back through Carmel Valley and detoured along the way to Jeffrey's Catering. I had to mention Jeffrey's Spiced Pecans in this article because of my absolute love for them! I would special order these from their shop because they are so tasty, especially with a red wine pairing. They have a little sweet hot bite to them that makes you keep coming back for more! They are seriously addictive.
f you have time to stop in Carmel Valley here is their website information, as you head back to Los Angeles on US-101. They also serve breakfast and lunch at their restaurant with casual outdoor patio dining.
While heading back on US-101, don't forget that you pass through Paso Robles wine country. This region is known for its Cabernet Sauvignon and Bordeaux-style blend.
Looking for a Unique Detour? Check Out Mission San Juan Bautista
I'm always looking for unique stops, especially in a well-known area like Highway 1. Our 3-day itinerary would end in Carmel Valley, California.
However, as I said, I absolutely love old movies and one of those favorites is Alfred Hitchcock's "Vertigo" with Jimmy Stewart and Kim Novak.
The suspense of Kim Novak's bell tower scene was hauntingly beautiful and beckoned a visit to this mission. Hitchcock filmed on location at Mission San Juan Bautista in San Benito County which is about forty-five minutes northeast of Carmel Valley off of US-101.
Mission San Juan Bautista was created in 1797, and the surrounding town grew substantially during the gold rush era. The four main historic museums are the Plaza Hotel, the Zanetta House (also known as Plaza Hall), the Plaza Stables, and the Castro-Breen Adobe.
These were built around a grassy town square/plaza in front of the church and can be seen on your visit. The setting is ideal for photographers and painters who are inspired by architectural buildings and structures.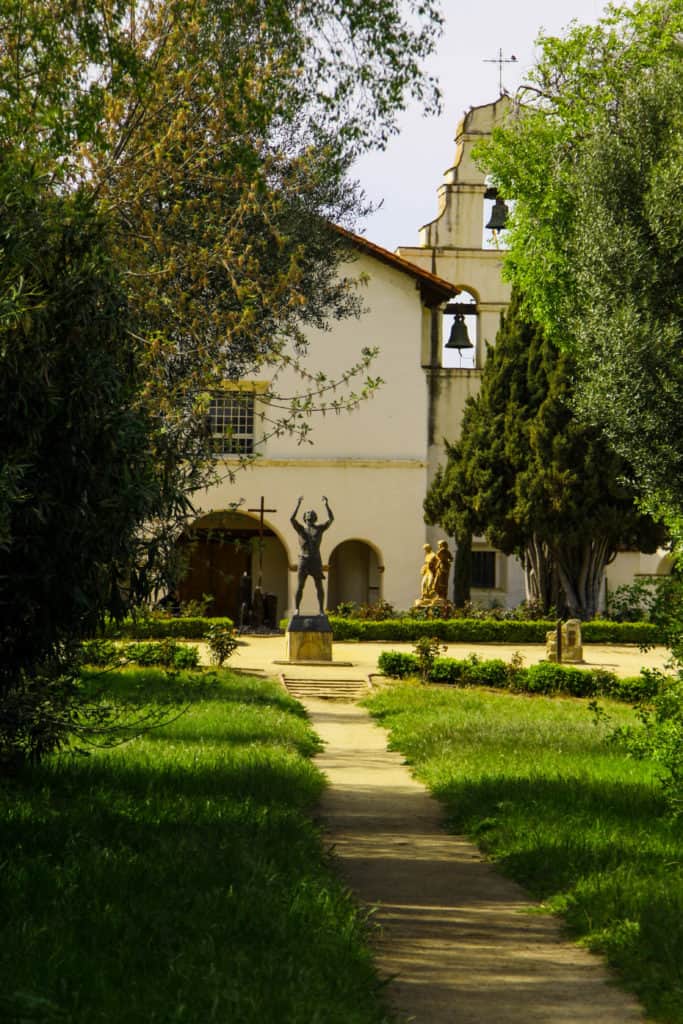 I hope you enjoyed my 3-day California Coast, Pacific Coast Highway road trip to some of my favorite sights in California. Please feel free to share your comments and feedback below.
Did You Find This Post Helpful? Please Share It!
If so, I would love to hear about your Pacific Coast Highway 3-day Itinerary! You can follow me on Instagram, and tag your images to @erinstraveltips and hashtag #erinstraveltips. I look forward to seeing you there!
Check Out These Other Fabulous Trips