If you're looking for the best Gulfport FL restaurants, you've come to the right place! Here are the top places you must try in this beautiful eclectic waterfront community.
Gulfport Florida: One of Florida's Friendliest Towns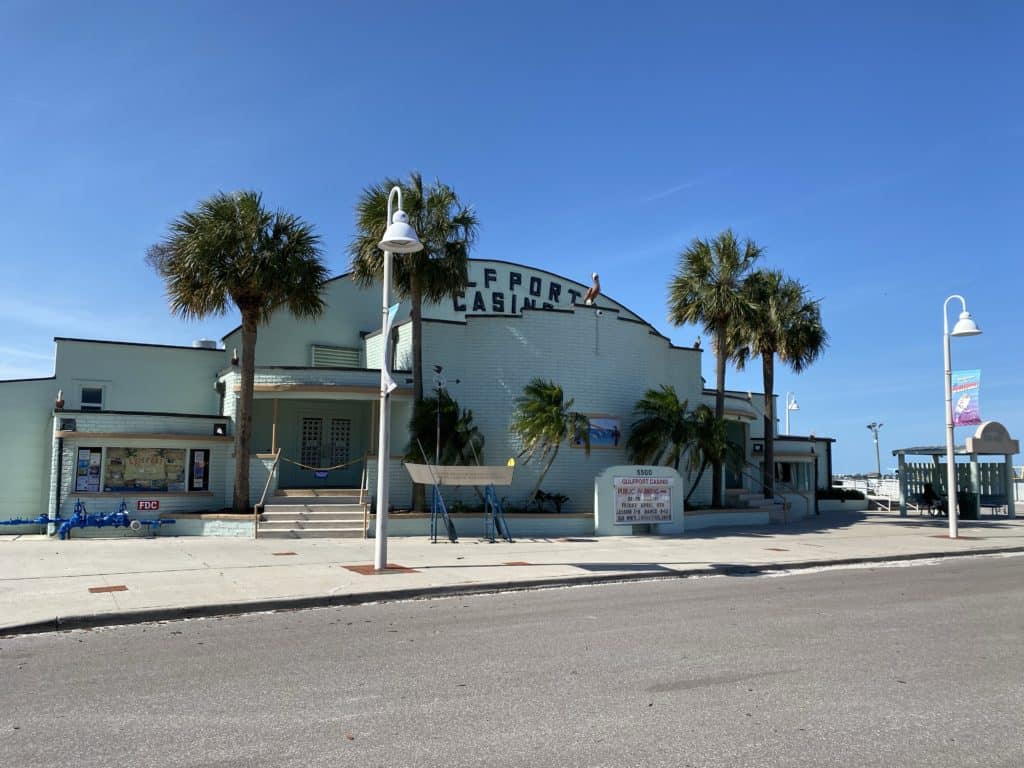 This lovely coastal village is just under 15 minutes from downtown St Petersburg in Pinellas County. Known for being one of the friendliest towns in Florida, visitors often describe this town as having a big heart. Before you even make it to the historic downtown area, you will notice Clymer Park which grows food for those in need to take home.
Gulfport has an Old Florida vibe in the historic downtown area with all independent shops, art galleries, its own newspaper (The Gabber), and restaurants overlooking Boca Ciega Bay. No chain stores add an authentic feel.
🌴 Read Next: 38+ Best Things to Do in St Petersburg FL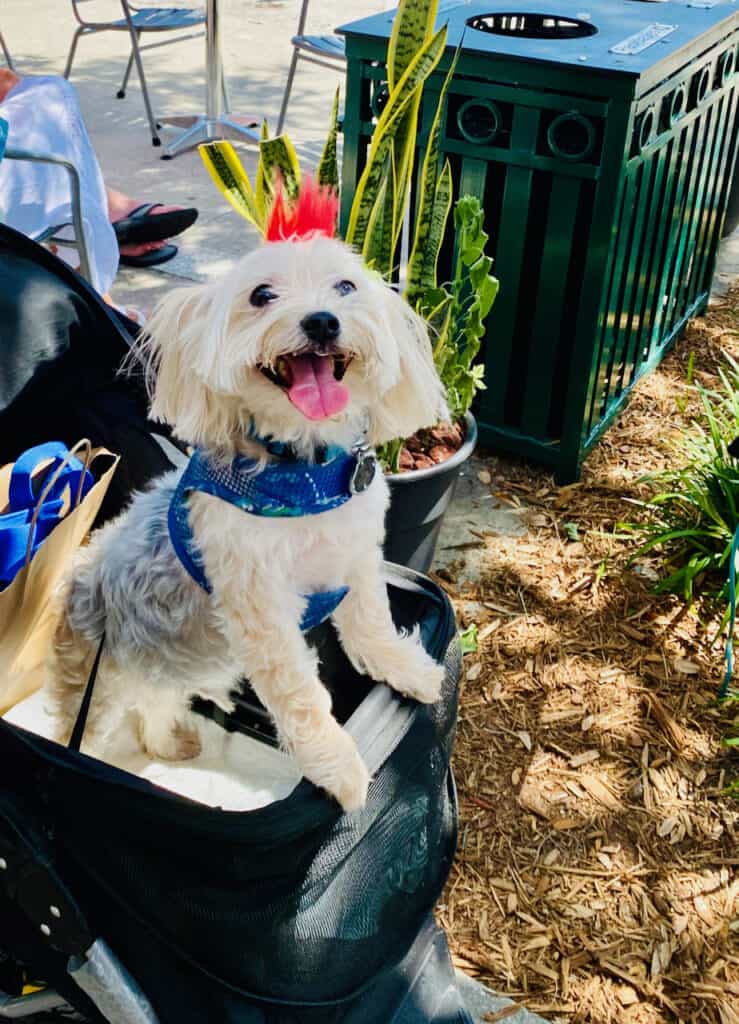 Over the years this artsy colorful small town has become known for its Tuesday fresh market, live music, art exhibits, as well as its Geckofest! Check out our full article on fun things to do in Gulfport!

Being located on scenic Boca Ciega Bay, Gulfport has many seafood restaurants for visitors to choose from. Local favorites include freshly caught fish, oysters, and shrimp are all must-tries in the area.
You can still find many other types of cuisine as well. So if seafood isn't your dish of choice, don't fret. Restaurants in town are bountiful. You can be sure to find something to fit your palate in this delightful culinary village.
There is something for everyone in Gulfport, whether you love boat adventure tours, shopping, sampling local food, relaxing on the beach, or enjoying live music.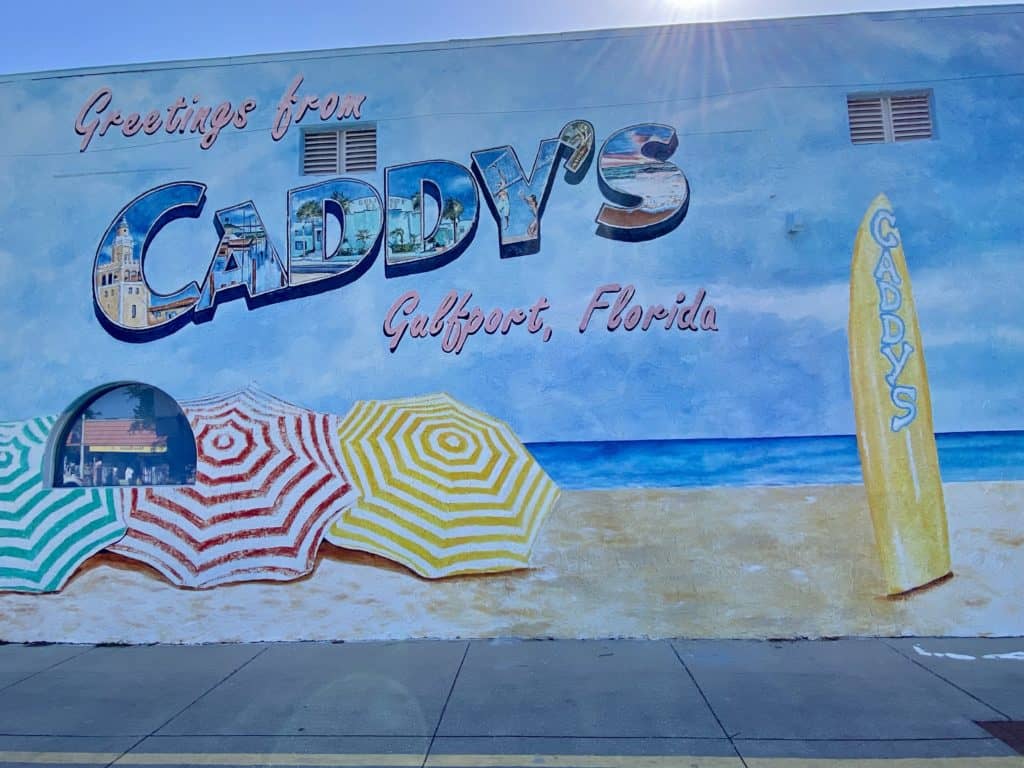 A number of parks and top bird-watching areas are scattered about the outskirts of town, and many galleries house the unique art of some of the town's most intriguing residents. About a dozen restaurants serve a variety of local and international cuisines in settings ranging from casual to fine dining, and live entertainment is a staple when it comes to exciting nightlife.
So, whether you enjoy the excitement of shopping and partying or simply relaxing in the sand and fishing off Williams Pier at sunset, Gulfport has it all!
Read Next: The 13 Absolute Best & Fun Things to Do in Gulfport FL
Restaurants in Gulfport FL Parking & Public Docks
You can explore Gulfport by car, bike, or even by boat. There are no parking meters and the boat docks are free for everyone to enjoy. On the weekends, it is best to come early!
City of Gulfport Boat Dock Guidelines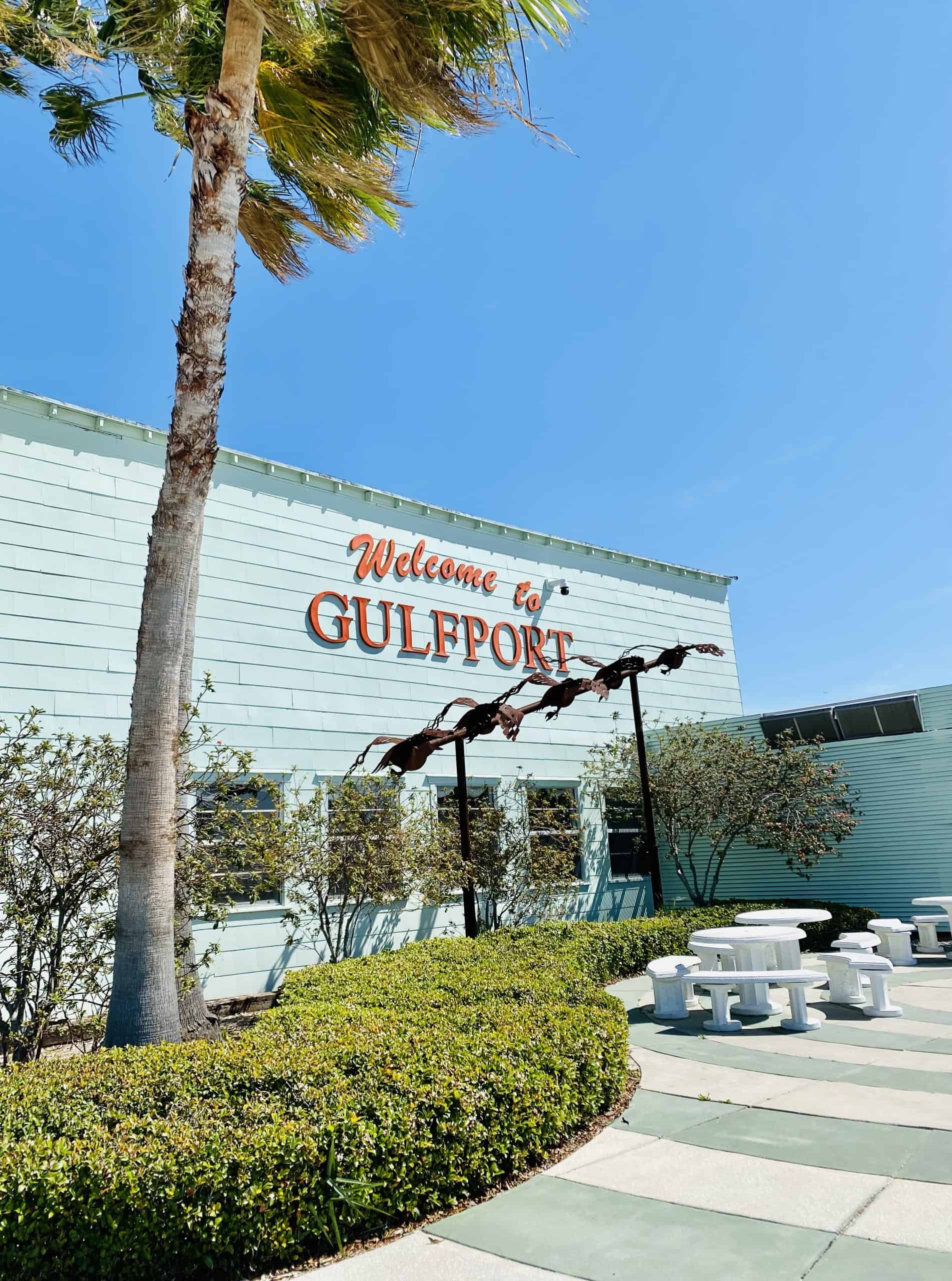 Docks are FREE to the public, located directly off the Casino Pier.
Mooring is limited to 4 hours per 4-hour period.
Mooring in designated berths only.
Docking is on a first-come, first-served basis during operating hours only.
No commercial activity and no water or electric hookups.
For more information call, 727-893-1071.
Keep reading to discover the best restaurants in Gulfport FL and see why the food alone makes this charming village a can't miss destination on any southern beach itinerary!
Below is a sample of some of the best restaurants this area has to offer. We have recently updated this article after the retirement and closure of Backfin Blue Cafe and Smoking J's BBQ.
Please note: hours and details may vary especially on holidays. Refer to their website links provided since staffing shortages remain a consistent challenge.
Read Next: 12 Unique & Fun Things to Do in Tierra Verde, FL

The 14 Best Restaurants in Gulfport Florida
Stella's
Located on the main strip of Gulfport, Stella's is a favorite breakfast and brunch spot for locals and tourists alike. Named in honor of the owner's Aunt Stella, a member of the Dominican Sisters (and childhood memories of Stella's culinary skills).
This popular gathering place has a great ambiance to enjoy the city with plenty of outdoor dining. Favorite dishes include homemade corned beef hash, quiche, bananas foster french toast, fried green tomatoes, and more!
Address: 2914 Beach Blvd S, Gulfport, FL 33707
Phone: (727) 498-8950
Hours: Open daily from 7 am- 2 pm
Website: STELLA'S

Pia's Trattoria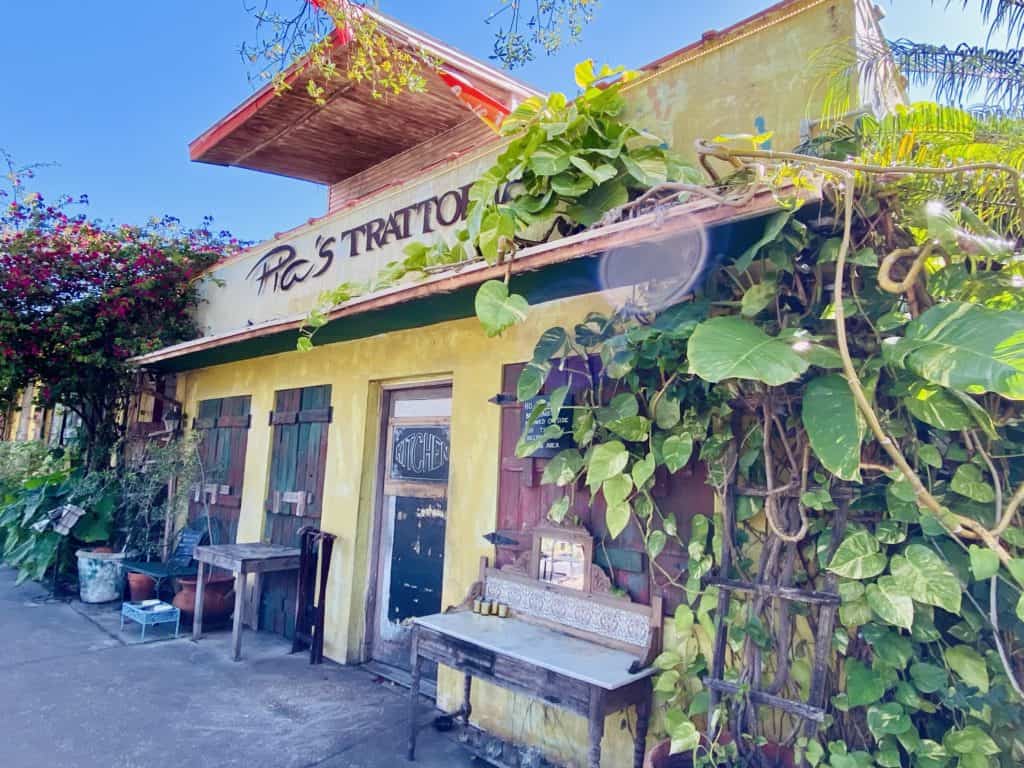 Pia's Trattoria is an old-world Tuscan-style atmosphere with straight-up delicious Italian dishes. We have been coming here for over a decade and it remains a consistent favorite!
This place is among the most popular in Gulfport. So much so that they expanded next door to allow for more outdoor dining. You must try one of these go-to dishes: eggplant parmesan, mussels with ciabatta bread, or shrimp scampi. Save room for one of their homemade desserts!
Address: 3054 Beach Boulevard S, Gulfport, FL 33707
Phone: (727) 327-2190
Hours: Hours: Open Monday – Thursday 4 pm – 9 pm; Friday – Sunday opens at 11 am.
Website: PIA'S

Read Next: 25 Exciting Things to Do in St Pete Beach, FL
O'Maddy's Bar & Grille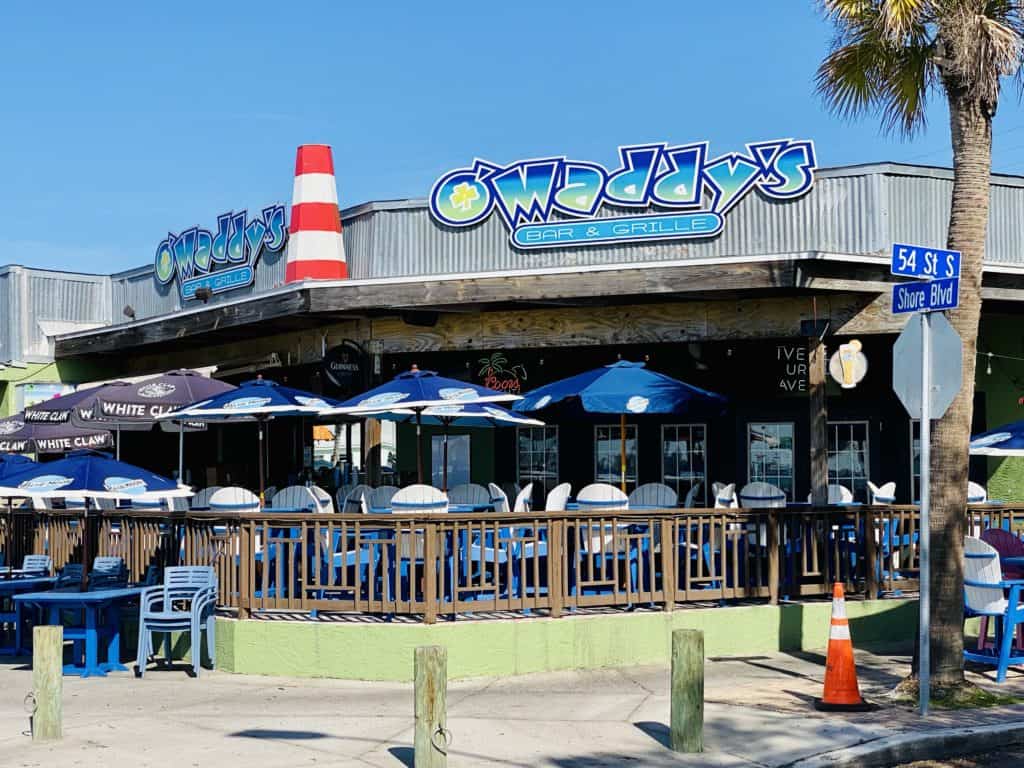 This free-spirited restaurant is ideally located across from the pier and has expansive water views. Make sure to sit out on the patio!
O'Maddy's Bar & Grille is one of our long-time favorite Gulfport restaurants for American bites and seafood dishes. Our favorite go-to items over the years have been Ashley's Lobster BLT, Reardon's Reuben, and Dolo's Mahi fish tacos! They also have cold drinks and a variety of happy hour options.

Gulfport Brewery + Eatery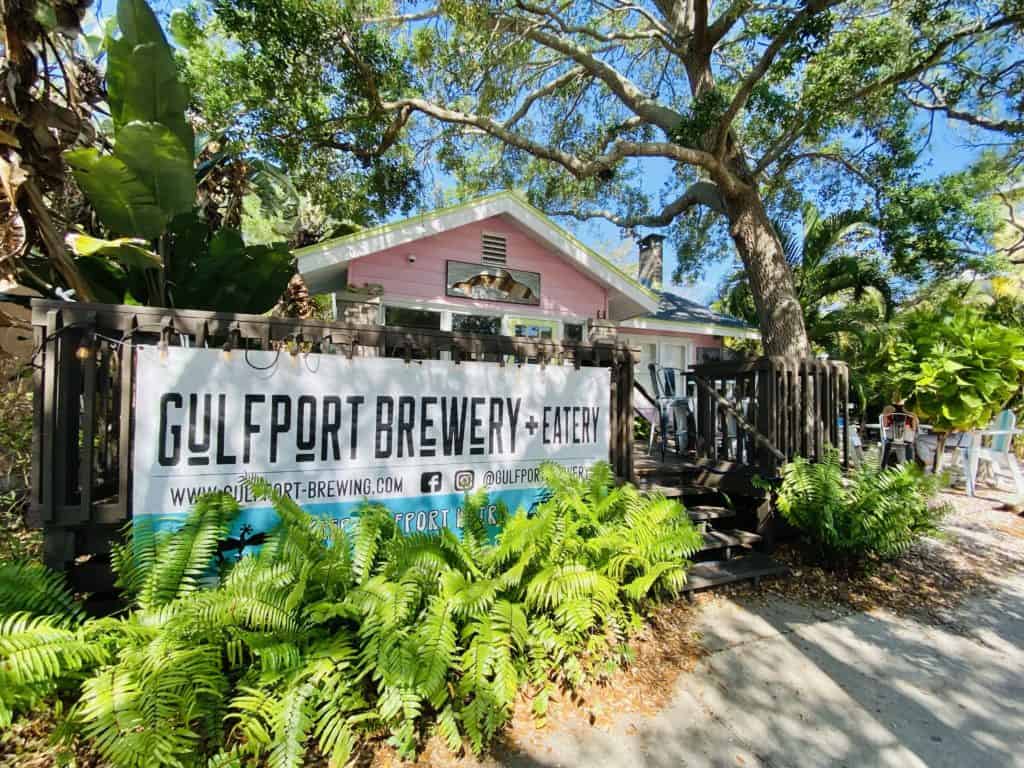 One of the newer brewery restaurants that opened in the summer of 2020 with fun beach vibes, good food, and great craft beer. Check out their website for happy hour specials, and unlimited mimosas and beer mimosas!
Favorite dishes include shrimp tacos and philly cheese flatbread made in their scratch kitchen! Of course, while here you must try either their Unsteady Eddy or Gulfport Gold Beers. Check out the latest specials on the Gulfport Brewery website.
Address: 3007 Beach Blvd S, Gulfport, FL 33707
Phone: (727) 954-4109
Hours: Open from 12 pm-9 pm Sunday-Thursday; 12 pm-11 pm on Friday & Saturdays

Neptune Grill Gulfport
Known for its Greek and seafood dishes, Neptune Grill is the place to go for this cuisine. This laid-back eatery has beautiful water views, an outdoor bar, and is right across from the Gulfport Casino.
Check out their website for a full list of their daily live music artists. Must try dishes gyro sandwich or platters, greek salad, and fish tacos.
Address: 5501 Shore Blvd S, Gulfport, FL 33707
Phone: (727) 623-4823
Website: NEPTUNE GRILL

Little Tommie's Tiki Bar & Grill
Little Tommie's Tiki Bar & Grill is located across from the beach and volleyball recreation area. This local hot spot serves up high-quality blackened fish tacos and delicious homemade key lime pie. T
hey have some of the best fish taco specials in Gulfport with good portion sizes!
Address: 5519 Shore Blvd S, Gulfport, FL 33707
Phone: (727) 498-8826
Hours: Open daily from 11 am – 9 pm
Website: THE TIKI BAR & GRILL

The Breeze Waterfront Cafe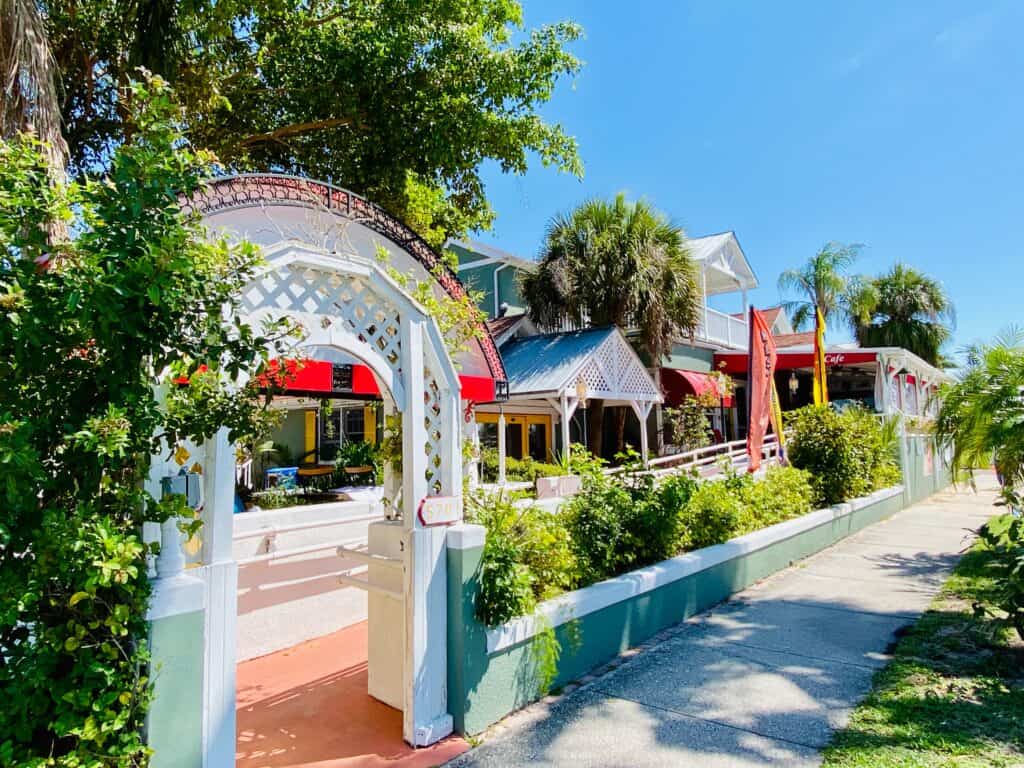 Located in The Sea Breeze Manor Inn directly across from the Gulfport Beach Recreation Area, this enjoyable spot offers a great outdoor dining ambiance. Sweet or savory crepes are delicious! But our personal favorite is their Paris croissant sandwich.
Updated: This restaurant is now reopened to the public. However, verify updates Check their hours before your visit.
5701 Shore Boulevard, Gulfport, Florida 33707
Phone: (727)902-8262
Hours: Monday – Friday – 9 am-2 pm; Saturday & Sunday 9 am – 7:30 pm.
Website: THE BREEZE WATERFRONT CAFE

The North End Tap House
This lovely outdoor establishment is largely known for its dynamic live music and outdoor scene.
The North End Tap House has a great selection of rotating locally-made craft beers, ciders, and seltzers. Come listen to one of the bands while eating one of our favorites such as the Rueben, Hot Italian, and Cuban sandwiches.
Address: 2813 Beach Blvd S, Gulfport, FL 33707
Phone: (727) 258-4949
Hours: Open Monday – Thursday 5 pm – 11 pm; Friday and Saturday 5 pm – 12 am; Sunday 3 pm to 10 pm.
Read Next: A Local's Guide: The 16 Best St Pete Beach Bars & Nightlife!

GulfPerk Coffee Bar
Gulfperk Coffee Bar is one of our new favorites for brunch! This dog-friendly spot will welcome furry friends with a water bowl and a dog treat! Try their breakfast sandwiches or their yummy avocado toast with a latte or your favorite cup of coffee.
Address: 3107 Beach Blvd S, Gulfport, FL 33707
Phone: (727) 350-5377
Website: GULFPERK COFFEE BAR

Siri's Gourmet Burgers
Looking for the best burgers in Gulfport? Then you need to head over to Siri's Gourmet Burgers. This modest shack serves over-the-counter meals with casual indoor and outdoor seating. Their main items are burgers, pizza, hoagies, and cheesesteaks.

Drunken Taco (Sea Dog Cantina)
Drunken Taco is the newest addition to Gulfport restaurants (previously the Sea Dog Cantina). It currently serves Mexican-inspired dishes and has a tequila bar.
Check out their happy hour specials that run all day, everyday + 2 for 1 tequila tasting. The Druken Taco's main location is in Ft. Lauderdale, Florida. It's known for having over 301 tequilas available for tasting.
Since it's a brand new restaurant (with a lot of the previous staff), I haven't decided on favorite dishes. However, list yours below in the comments if you have one!
Address: 2832 Beach Blvd S, Gulfport, FL 33707
Phone: (727) 914-0112
Hours: Open daily, Monday – Thursday : 11am – 1am; Friday : 11am – 2am; Saturday : 10:30am – 2am; Sunday : 10:30am – 1am
Website: THE DRUNKEN TACO

Golden Dinosaurs Vegan Deli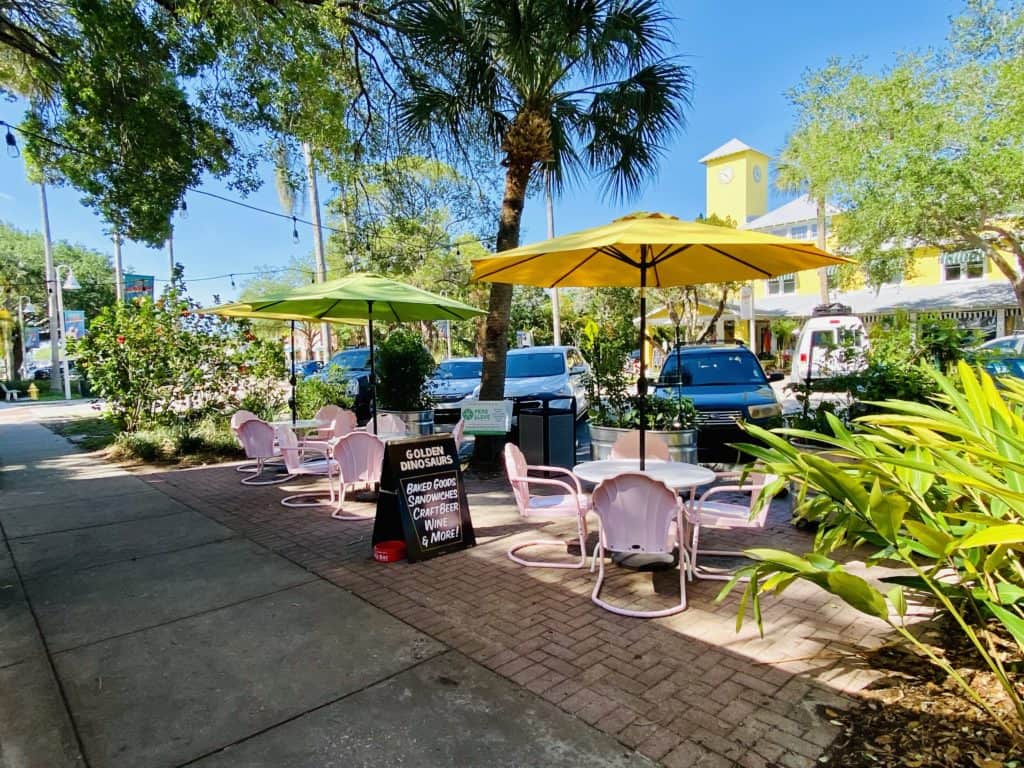 Golden Dinosaurs is known as being one of the best vegan restaurants in the St Petersburg area serving comfort food. Check out a few vegan favorites: the cuban, donuts, mac and cheese, and caramel salted pretzel brownie.

Isabelle's Restaurant at the Historic Peninsula Inn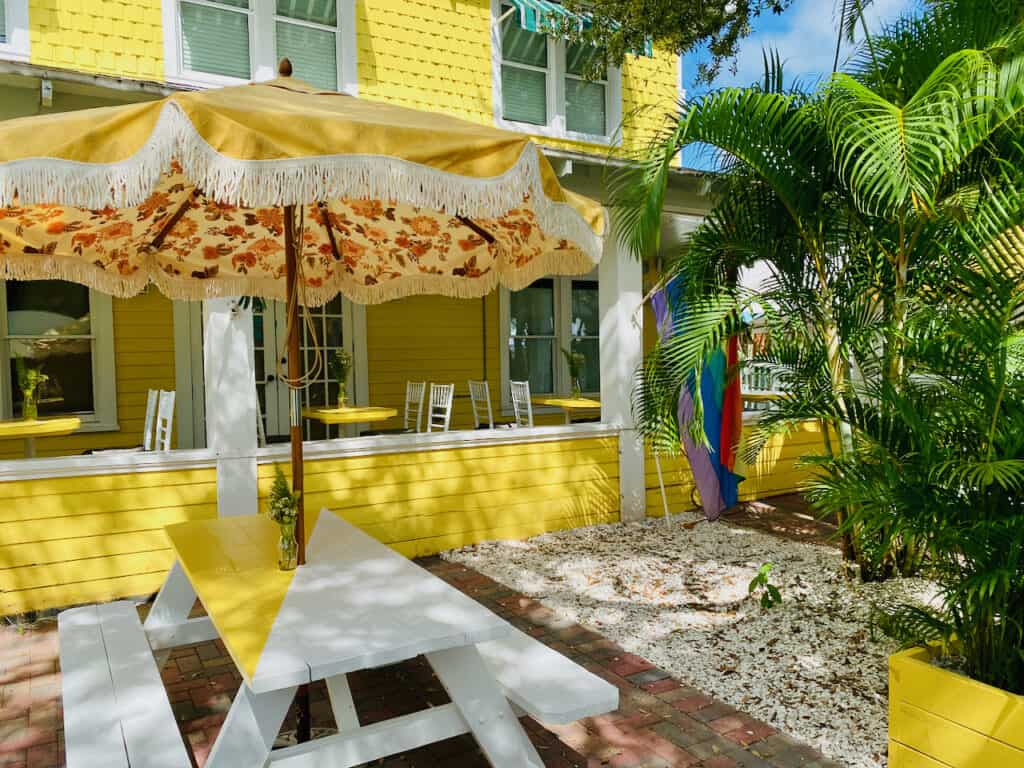 As of June 6, 2022, The Historic Peninsula Inn is now under new ownership, Gaston Gonzalez, founder of a Miami Hotel Group. Check the hotel website for current hours while in transition. They are making lots of upgrades for their hotel guests!
The restaurant is now open but with limited hours Thursday – Sunday, and brunch on the weekends.

Sumitra Expresso Lounge +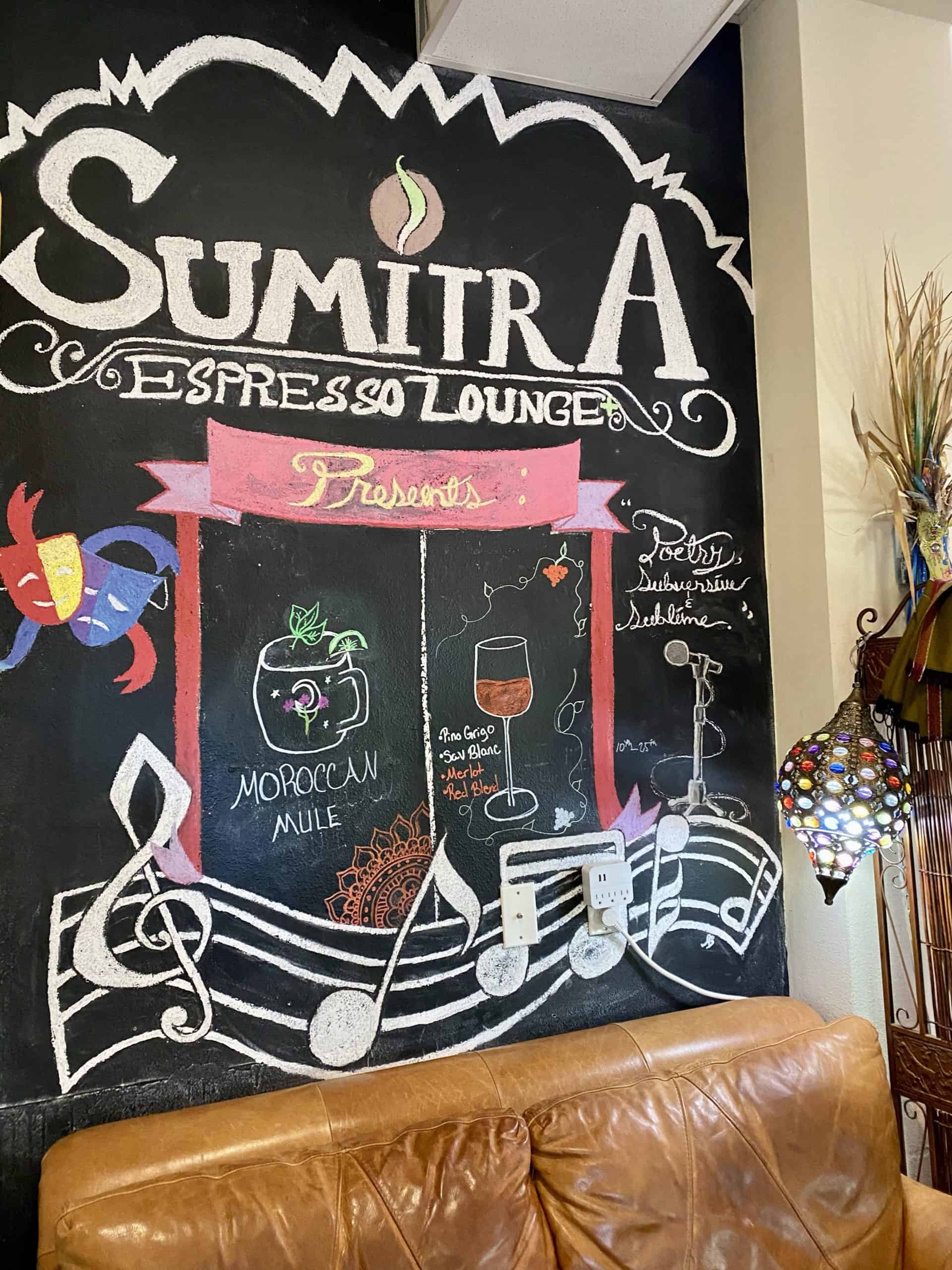 Yes, it is a coffee bar but we had to mention this favorite! This adorable eclectic lounge serves delicious coffee and tea and a variety of CBD snacks. Inside you will find comfy sofas, often live music, and an art corner all while running into plenty of locals with their dogs.
Sit outside and enjoy the Gulfport scenery. Although Sumitra Expresso Lounge is not a restaurant, they serve some of the best beverages and flavorful treats in Gulfport.
Address: 2838 Beach Blvd S, Gulfport, FL 33707
Phone (813) 220-4533
Hours: Open daily, Sunday – Wednesday 8 am – 6 pm; Thursday – Saturday 8 am – 9 pm

Tommy's Hideaway: Wood Fired Pizza & Pub
The newest restaurant added to our list in 2023 is Tommy's Hideaway in Gulfport. Owners, Lussiano and Curbelo opened it in February 2023. This quaint location offers indoor and outdoor dining in heart of downtown Gulfport.
It's still in the early stages but some of the offerings will include pizzas, burgers, subs, salads, and pasta dishes. They will also offer gluten-free and vegan dishes.
Address: 3121 Beach Blvd S, Gulfport, FL 33707
Phone: (727) 623-4288
Hours: 11:30 to 9 pm Monday – Sunday (Open until 10 pm on Friday & Saturday)

Final Thoughts on Gulfport FL Restaurants
Gulfport is a fun town for delicious food and outdoor dining! No matter what cuisine you prefer, you are sure to find it!
With all of these yummy choices, it can be hard to decide what to choose. Which Gulfport FL restaurant do you think you will visit first?
Remember, to always check the restaurant's hours of operation before visiting.
Did You Find This Gulfport FL Article Helpful? Please Share It!
I would love to hear about your travel adventures in Gulfport! You can follow me on Instagram, and tag your images to @erinstraveltips and hashtag #erinstraveltips. I look forward to seeing you there!
Interesting Articles to Read Next