If you want to visit downtown St Pete bars, you're in the right place. I spend countless hours checking out the best things to do, including nightlife!
St Petersburg's downtown area is vibrant and colorful during both day and night. Once the sun sets, however, you really get a taste of how lively the city can be.
As a Tampa Bay local, I've rounded up the 30 best downtown St Pete bars and clubs. From rowdy sports bars and refined gastropubs to luxurious dance clubs and nostalgic speakeasies, there's a spot for everyone here in St Petersburg!
🏝 Read Next: 59 Fun & Best Things to Do in St Petersburg FL
Best Rooftop Bars Downtown St Pete
St Petersburg is known for its stunning beaches and gorgeous views. These two bars make a list for capturing the best of both worlds.
The Canopy
340 Beach Drive NE, St. Petersburg, FL 33701
(727) 896-1080
Birchwood Canopy, also simply known as The Canopy, is one of the best downtown St Pete bars for great views. Relax underneath the starry sky or by one of their fire pits as you look out over Tampa Bay. From craft cocktails to beer and wine, they have an extensive list of offerings, including food.
Wednesday is definitely the best day to visit — it tends to have fewer crowds, and you get 50% off frosé!
I've been coming to The Canopy for over 10 years, and it continues to be one of my longtime favorites, especially for its sunset views. It has two of my favorite restaurants nearby, Ceviche and Parkshore Grill.
The Birchwood is also on our list of best hotels in downtown St Pete. The ideal location is great for a weekend getaway. They also have a restaurant, Birch & Vine – ideal for a weekend brunch!
🎄 Pro Tip: During holidays with fireworks or the Christmas Tree Lightning Ceremony, The Canopy is a great place to reserve a private cabana. They book up far in advance, so book early!
Pier Teaki
800 2nd Ave NE 5th Floor, St. Petersburg, FL 33701
(727) 513-8325

Pier Teaki is a rooftop bar on the 5th floor of the St Pete Pier. It sits above the restaurant, Teak, and has a fun tiki bar vibe.
Whether you're there for a drink or a bite to eat, you'll be treated to a stunning 360-degree view of the bay from the St Pete Pier. If you're in St Petersburg on vacation, you'll want to visit Teak – even just for a quick photo opportunity.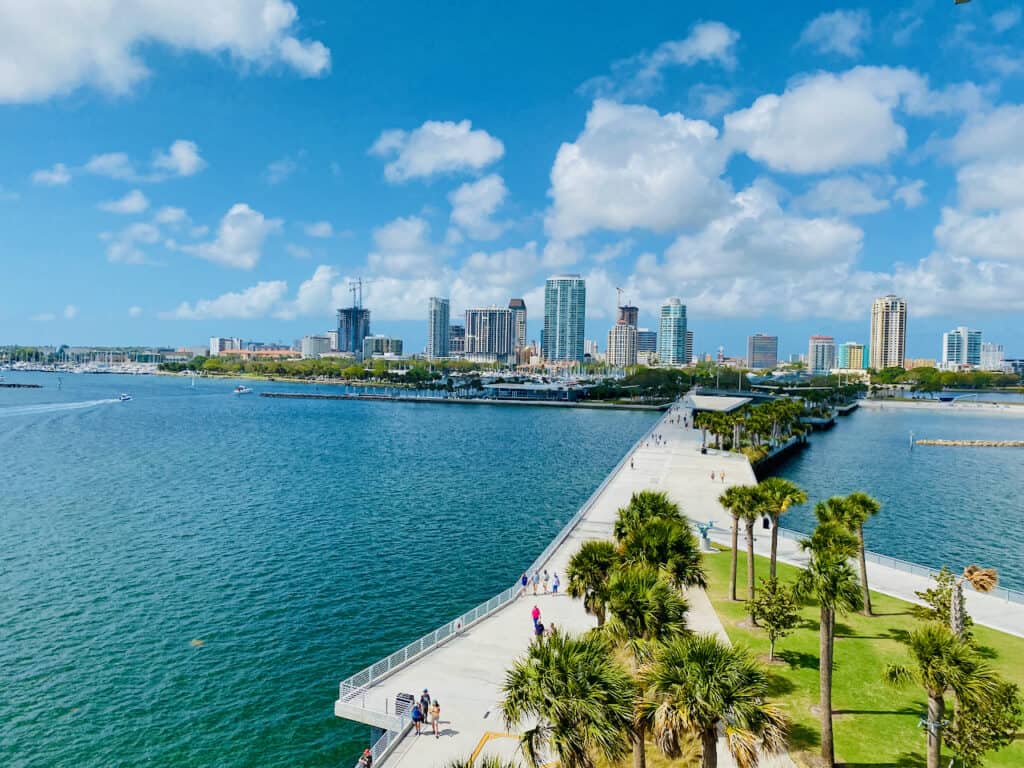 Pier Teaki is family-friendly and one of the best bars for a date night. Come early to get a good seat with a view or next to a fire pit. Pier Teaki also often has a DJ.

Most Unique Clubs & Bars in St Petersburg FL
When it comes to unique bars in St Petersburg, you'll be quick to tell me I missed one. There are soooo many options compared to when I moved here over 10 years ago. Here are several new and long-standing favorites!
The Dog Bar
2300 Central Ave, St. Petersburg, FL 33712
(727) 317-4968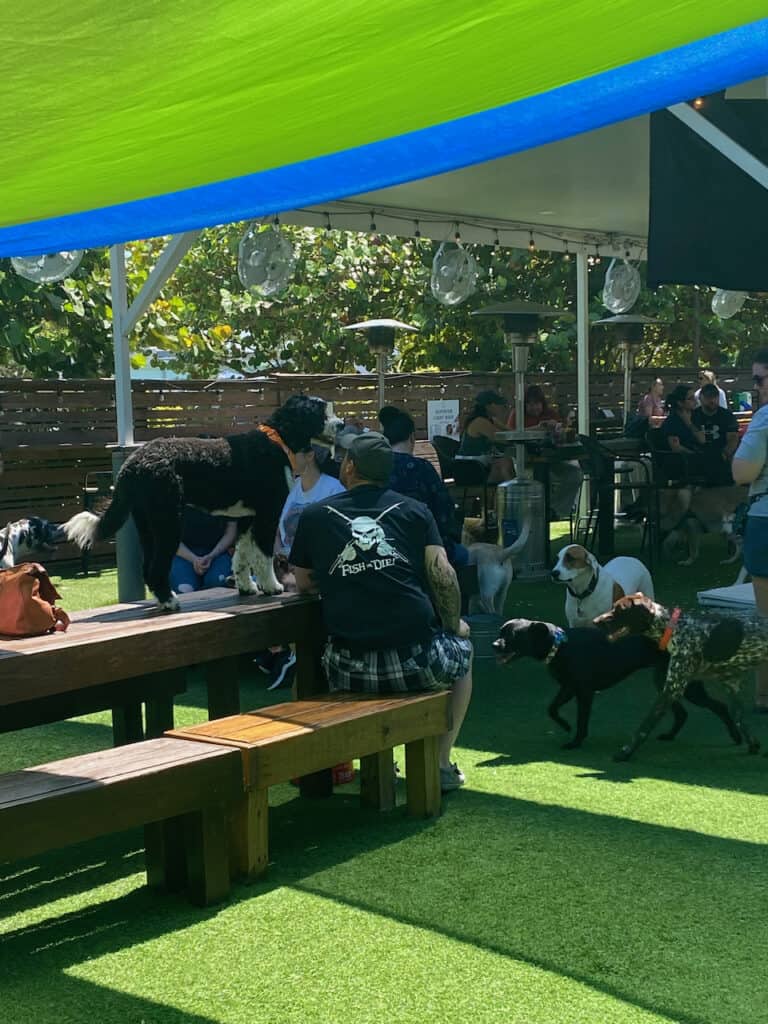 There are many dog-friendly bars in St Petersburg, FL. The Dog Bar, however, actively encourages you to bring your furry friend along. In addition to the full-service bar, The Dog Bar has an off-leash dog park.
Dogs need to get a membership first, but you don't need to be a dog owner to visit. You just have to love dogs — pretty low barrier to entry!
LALA St Pete
2324 Central Ave, St. Petersburg, FL 33712
(727) 329-9455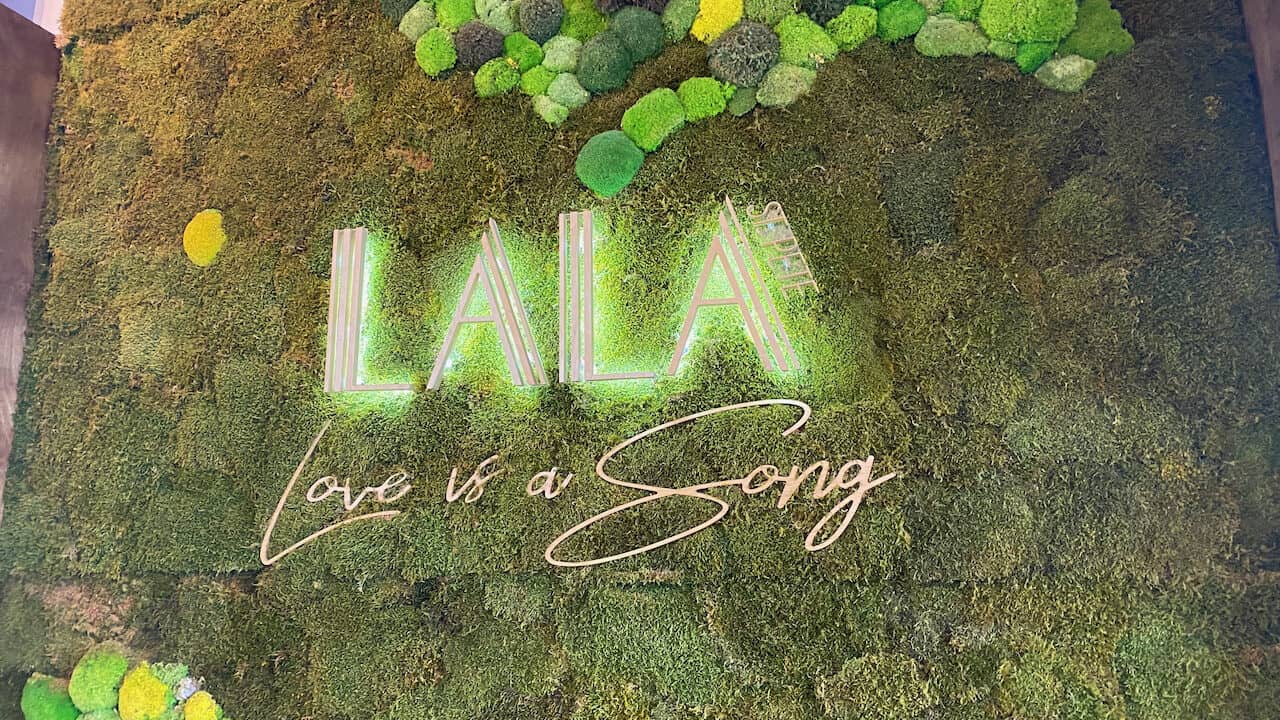 If you want to sing your heart out, head to LALA St Pete. They have private karaoke rooms that can be rented out. It makes for a super fun night out with family or friends!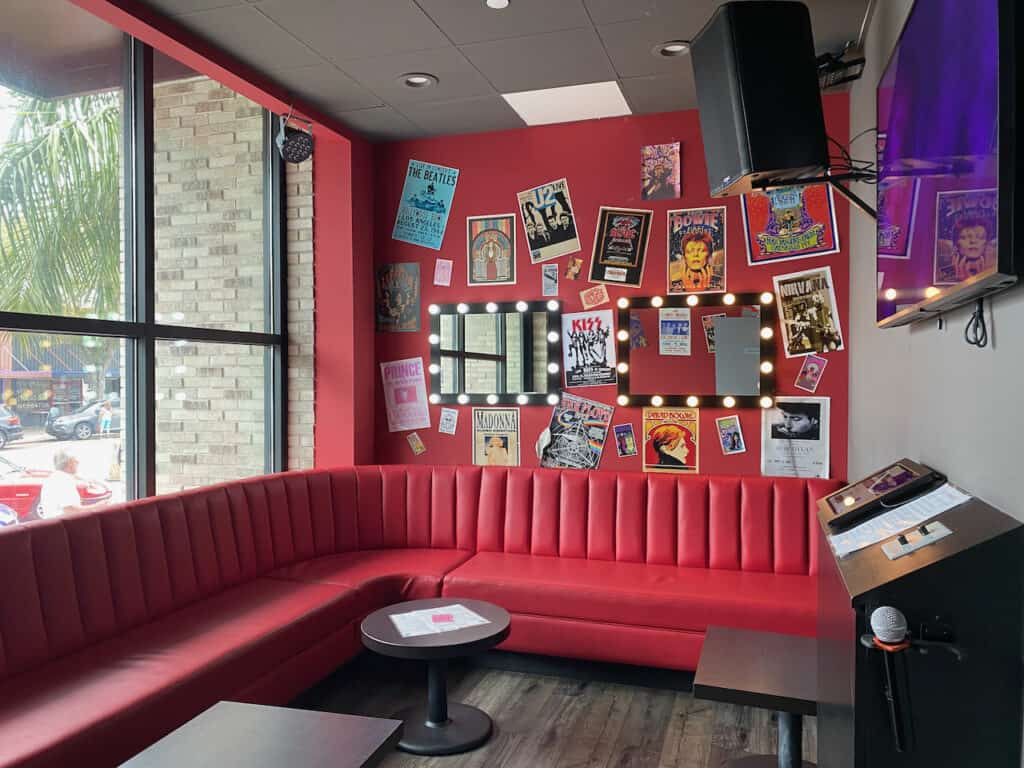 At happy hour, from 4 pm to 6 pm, you can get $5 wines and discounted cocktails. As for small bites, try out their seafood charcuterie board — tasty and convenient to share with a group.
The Saint
49 24th St N, St. Petersburg, FL 33713
(727) 258-7626
I don't know about you, but I love it when a bar really leans into a theme. The Saint does just that.
This delightfully campy speakeasy invites you to reserve a "confession time" for groups of up to 10 "sinners." You honestly wouldn't know it was a speakeasy bar since it's hidden off on a side street from the Grand Central District.
I gave you a clue…you can find the password on Instagram or their website to get in.
From the "confessional" to the bar itself, it's such a fun time. They have quite a few signature cocktails, including the 7 Deadly Sins.
Dirty Laundry
1742 Central Ave, St. Petersburg, FL 33712
(727) 493-0040
Another speakeasy that's worth visiting is Dirty Laundry. At first glance, it seems like a laundromat where you can grab a coffee and a few quick bites.
Pick up the payphone to get a code for the bar area. You'll be greeted with a small but welcoming space with a Caribbean vibe. Here, you can enjoy their many Cuban-themed cocktails, including the sweet and fruity Cayo Coco.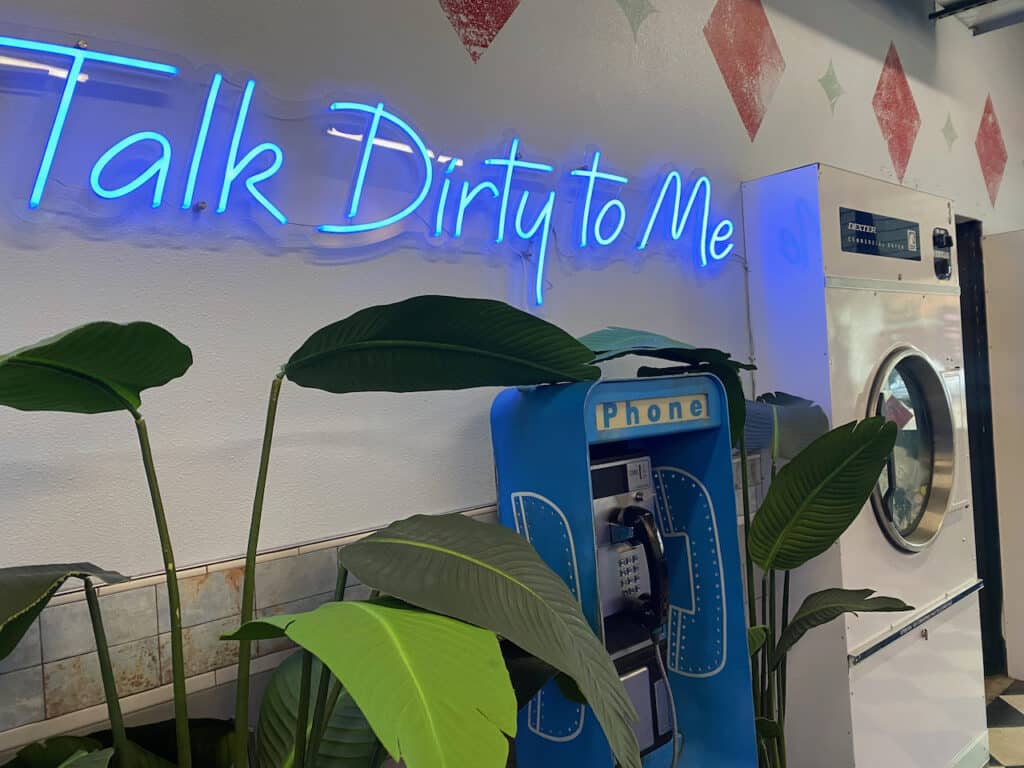 They also have a good assortment of beer and wine, including Prosecco. Plus, if you get hungry, they also serve food with a limited menu that includes empandas, Cuban sandwiches, and yucca fries.
Par Bar
2253 1st Ave S, St. Petersburg, FL 33712
(727) 289-2956
Whether a drink will help your swing is up for debate, but it's certainly worth a try at Par Bar. The 18-hole mini golf course here is a bit challenging but so much fun.
If you've got a competitive side, consider participating in their weekly League Night on Tuesdays. The Par Bar has a selection of local and domestic craft beers on tap, as well as wine and sake.
Other fun games include darts, cornhole, putt pong, and trash can beer pong.
Par Bar is one of the best bars for a date night. You can chat while staying busy with a fun game. Par Bar also has a permanent food truck provided by Meanchi's.
⛱ Read Next: 25 Cheap & Free Things to Do in St Petersburg, FL

Best Downtown St Pete Bars for Delicious Food
Delicious food and cocktails, why not? This is sometimes the ideal option, especially when you're on a limited time schedule or prefer not to change locations for a drink. Here are the best bars in St Peterburg for delicious drinks and yummy food.
No Vacancy
937 Central Ave, St. Petersburg, FL 33705
(727) 308-7878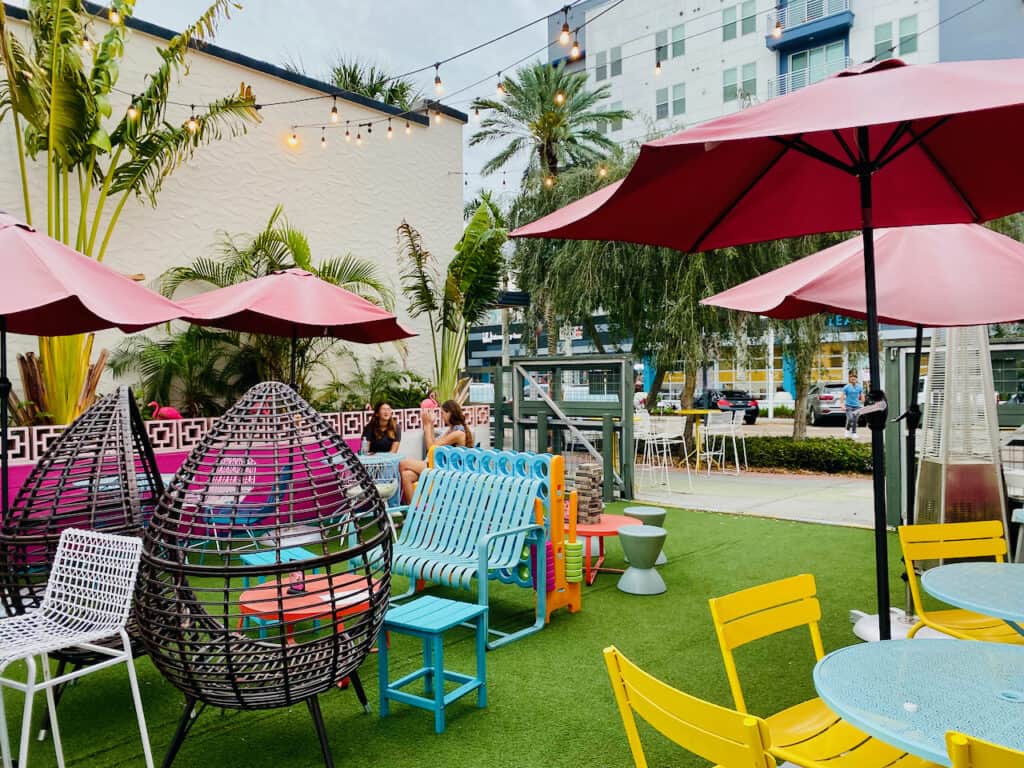 No Vacancy is one of those spots that has a bit of everything. Stepping into this bar feels like you've gone on a Miami vacation.
It's a retro beach bar lounge where you can come casual and down some craft beers or dress up a bit for tropical cocktails.
They are perhaps most known for their punch bowls! However, as you can see, we prefer margaritas and cold beer.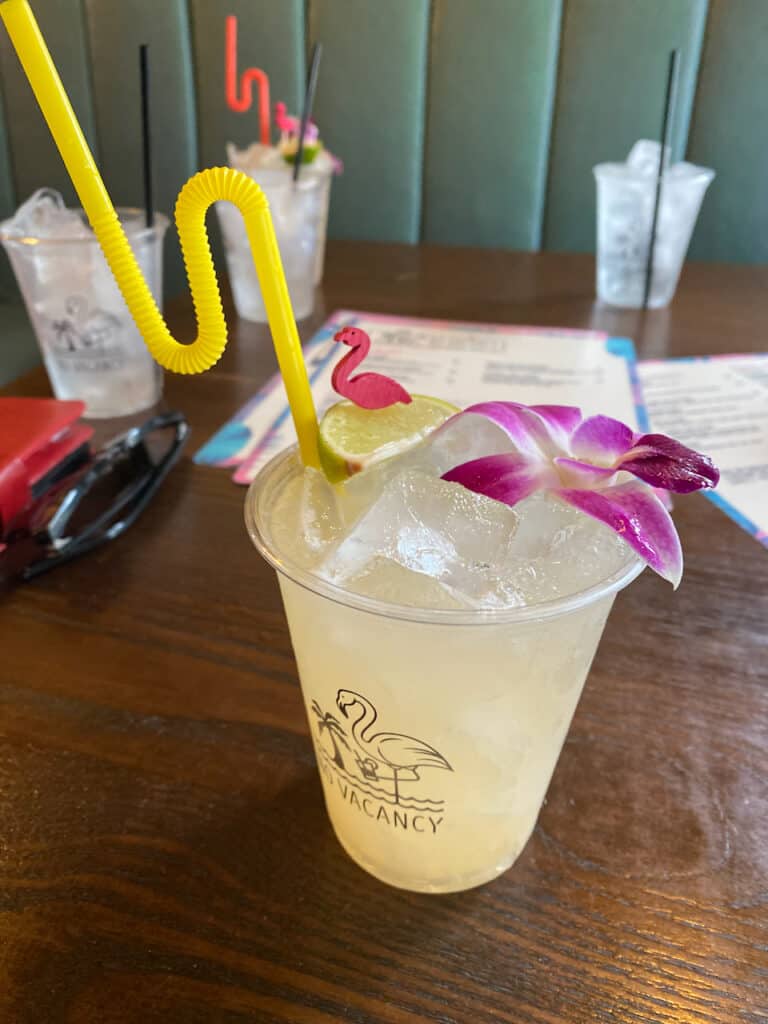 The seafood nachos and fish tacos are the highlights of the menu. For drinks, they make a mean Mai Tai! Happy hour is from 4 pm to 7 pm, and you can stop by for Sunday brunch, too.
Tryst Gastro Lounge
240 Beach Dr NE, St. Petersburg, FL 33701
(727) 821-4567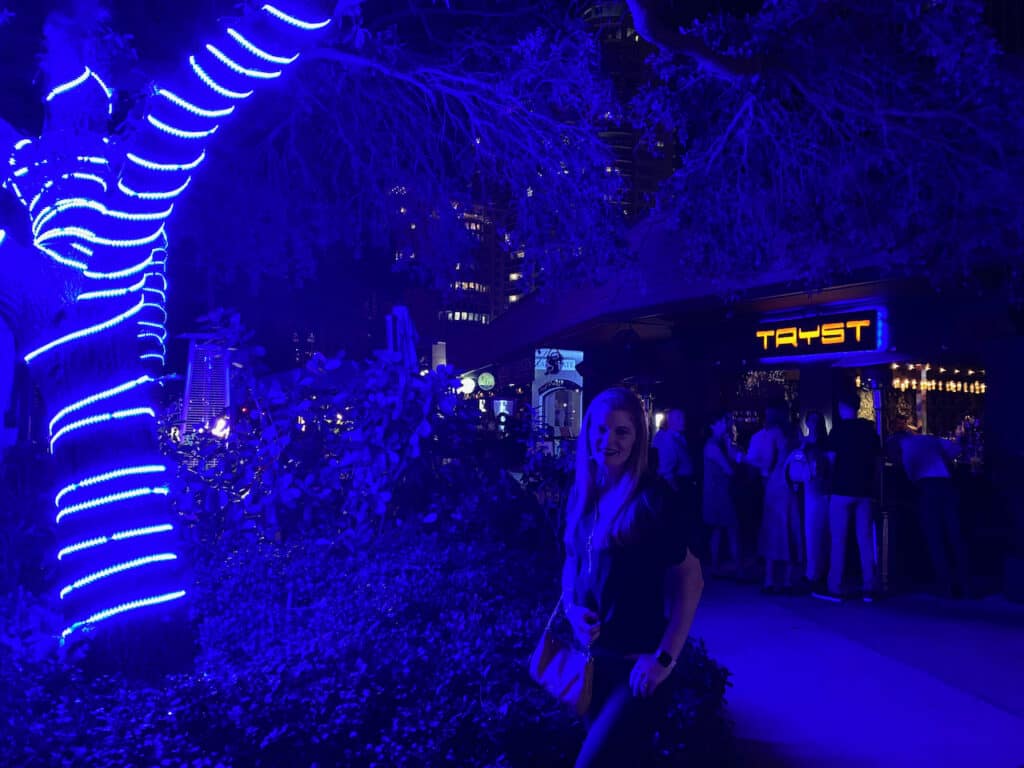 If the name wasn't enough indication, know that a trip to Tryst Gastro Lounge will be a treat for your stomach. Highlights of the menu include artisanal avocado toast at brunch and Mediterranean tapas at dinner.
I've been coming to Tryst since 2012. While I would love to say I come here for a fancy coctkail, they have a large list of draft beers from around the world. My husband often prefers Leffe or something similar on tap.
They have rotating specials on Tuesdays. Some weeks you'll get discounts on tequilas, others on wine, and so on.
For years on Sundays, they offer half price bottles of Moet! To make the perfect Sunday Funday, order a bottle of Moet Ice. They serve it with fresh fruit and chilled glasses. It's a delightful treat on their outdoor patio. Check their website for the latest pricing and specials.
Tropez
437 Central Ave, St. Petersburg, FL 33701
(727) 898-4300
Tropez is one of the hidden gems on the list. It's often overlooked because of its location on Central Avenue. However, it's worthy of a stop, especially if you are looking for a bar with quality food.
Tropez serves from a global menu. From European to Hawaiian to Brazilian, lots of cuisines are represented. The craft cocktail list is extensive, too.
My recommendation is the Espresso Manhattan, a spin on an espresso martini. However, if you're more into wine, you'll want to come on a Wednesday night for half off bottles of wine under $100. On weekends they also have bottomless mimosas specials.
The Avenue
330 1st Ave S, St. Petersburg, FL 33701
(727) 851-9531
The Avenue feels more like a local neighborhood watering hole and sports bar vibe combined. They've got an extensive menu of classic American fare, but the stars of the show are their artisan burgers. You can get about anything on them, from pork to bison to Impossible patties (I tend to like mac and cheese).
Stop by for their Sunday Funday bottomless brunch, where mimosas and Bloody Marys take center stage. The Avenue is next door to Park and Rec – for some games after you eat!
The Oyster Bar
249 Central Ave, St. Petersburg, FL 33701
(727) 897-9728
If you want oysters on your plate or in your drink — or both! The Oyster Bar is the place to be. Despite the name, The Oyster Bar is primarily a restaurant. They do, however, have some great cocktails and oyster shooters for just $5! Quite a few prices go down even further during happy hour, from 3 to 6 pm.

Best Wine Bars in St Petersburg, FL
Whether you're looking to unwind after a long day or celebrate a special occasion, the wine bars in St Petersburg offer the perfect setting to enjoy a glass or two with friends or loved ones.
Flute & Dram
234 Beach Dr NE, St. Petersburg, FL 33701
(727) 350-5657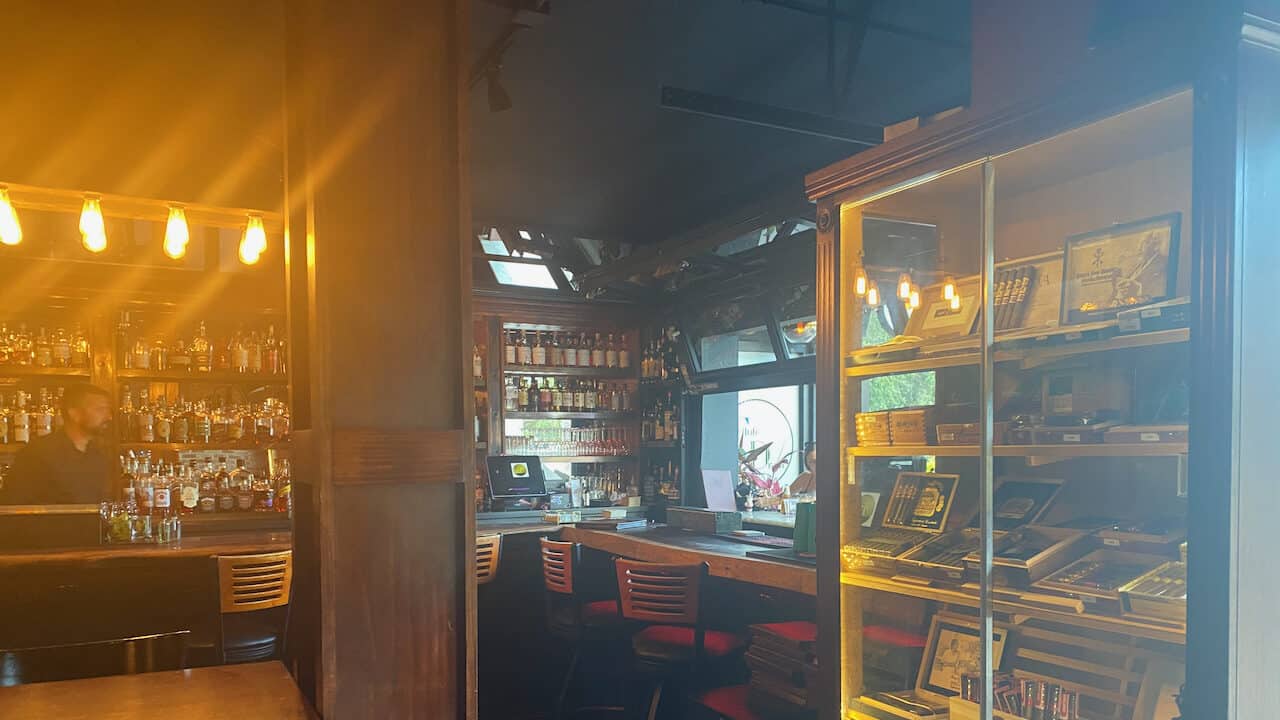 Flute & Dram is your one-stop shop for champagne, whiskey, and caviar. Known as St Pete's first whiskey and champagne bar, they've got a premium selection of both.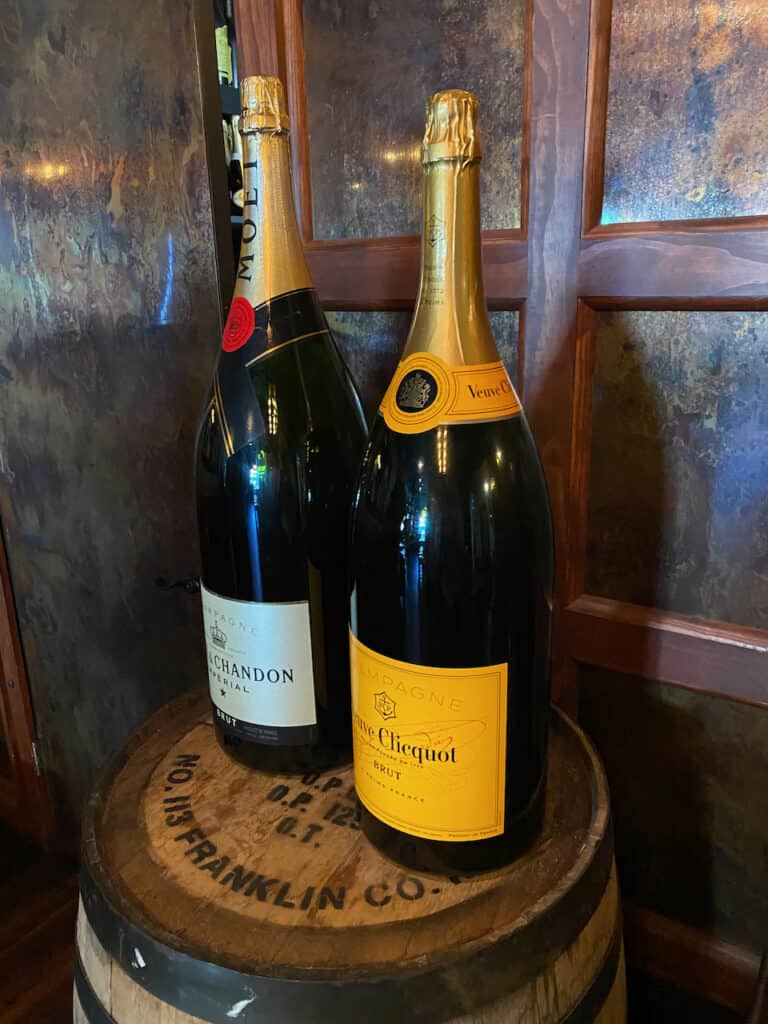 They also have quite a range of both domestic and international caviar. Even if you're not a connoisseur, the staff are more than willing to help you discern what the best pairings are.
Flute & Dram is an ideal location if you like to bar hop. It's next door to Tryst and close to some of the best restaurants in St Pete.
Bacchus Wine Bistro
124 2nd Ave NE, St. Petersburg, FL 33701
(727) 258-8566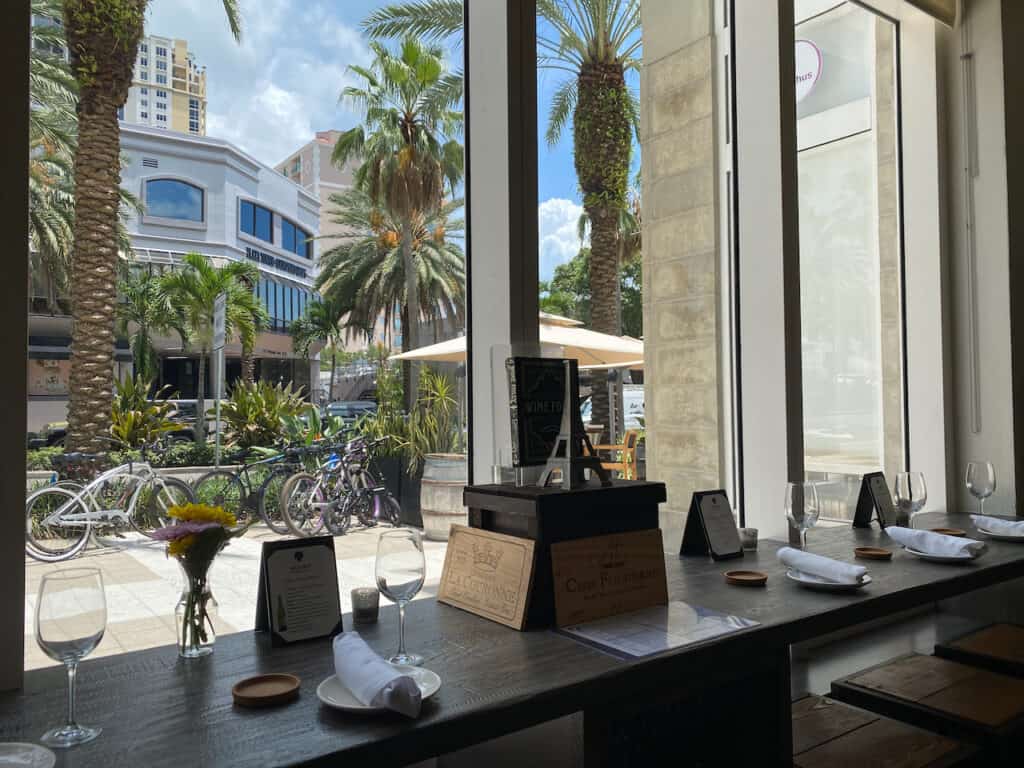 Bacchus Wine Bistro focuses on French cuisine and wine, though they also offer food and drink from other European countries.
Gather your friends and stop by during happy hour, 3 pm to 6 pm to enjoy a fancy French dinner in a casual, fun atmosphere.
I'd recommend ending your meal with a dessert wine. Try the Tawny Port from Portugal!
Dracula's Legacy Wine Bar & Bistro
111 2nd Ave NE Suite 102, St. Petersburg, FL 33701
(727) 289-7257
The name probably gives away the fact this wine bar is also inspired by Europe! Dracula's Legacy Wine Bar & Bistro goes all in on the Old World, Romanian atmosphere.
This is a very small bar that is often overlooked since it's inside the courtyard area. It tends to attract a more mature crowd that likes to enjoy a bottle of wine.
They routinely host events such as wine tastings, glass painting classes, and live music. Check out their calendar for their current events.

Best Sports Bars Downtown St Pete
Looking for the best sports bars in St Pete? Tampa Bay has some outstanding teams, making it even more fun to route for them in a lively sports bar. Here's where to go to find a great time.
Ferg's Sports Bar
1320 Central Ave, St. Petersburg, FL 33705
(727) 822-4562

Ferg's Sports Bar seems like the de facto meeting spot for Tampa Bay Rays fans during baseball season. After all, it's right across from Tropicana Field.
Even when there isn't a big game going on, Ferg's Sports Bar is a major hotspot in downtown St Pete. They hold weekly beer pong tournaments on Tuesdays — winner takes all!
While I've had food here, it's an ideal sports bar for live music and cold drinks.
Park and Rec
There's more than one kind of game you can enjoy at Park and Rec. Catch the latest sports game on TV, play a game of pool with your friends, or try your hand at vintage arcade games!
In addition to cold beer, they've got a small but inspired wine and cocktail menu, as well as "party pouches." These Capri Sun-esque pouch drinks are made with Bacardi rum and fruit juice.
Five Bucks Drinkery
247 Central Ave N, St. Petersburg, FL 33701
(727) 896-5118
Another one of the best sports bars in St Petersburg is Five Bucks Drinkery.
"It's always happy hour at Five Bucks." That's how Five Bucks Drinkery puts it. Seltzers go for $5, while tallboys, bottles, and shots each cost $3.50 (pricing may vary).
Another thing that they tout is that they have the biggest outdoor patio in downtown St Pete. I'm not about to pull out a tape measure, but their patio really is pretty darn big and usually lively.
This bar tends to be best suited for those looking for cheap drinks in the heart of the action on Central Avenue.
The One Night Stand
149 1st Ave N, St. Petersburg, FL 33701
(727) 350-5822
The One Night Stand is a pretty unique fixture among the best bars in downtown St Pete. It's the city's one and only country bar, with country music playing all night.
Kick back and play some pool and bar games, catch up on the latest and greatest in sports, and have a cold beer. Don't hesitate to join a line dance when it starts!

Best Bars for Craft Cocktails in St Petersburg
If you want to try the best bars for craft cocktails in St Petersburg, you'll want to check out this list of my favorites.
Saigon Blonde
265 Central Ave, St. Petersburg, FL 33701
(727) 827-7577
Saigon Blonde is a themed tiki bar that takes cues from the 1960s era. This fun place is actually modeled after a lounge in Vietnam. There are tiki totems, hanging lanterns, and historical references everywhere in this dark and lush bar.
They've got a truly eclectic craft cocktail menu, including cocktails infused with CBD. Saigon Blonde has of the most beautiful cocktails in St Pete. If you like Old Fashions, you'll want to try theirs mixed with rum!
Copper Shaker
169 1st Ave N, St. Petersburg, FL 33701
(727) 351-2569
The Copper Shaker is an upscale yet rustic spot that has delicious food in addition to cocktails. You'll find contemporary American cuisine, including a 3-pound Tomahawk "Big Ass Steak" and Pepper Jack fondue. Their cocktails range from traditional to innovative, with a local favorite being Bee Sneeze.
Mandarin Hide
231 Central Ave N, St. Petersburg, FL 33701
Classy, old-school, stylish — all words to describe Mandarin Hide. Though not a speakeasy that you have to gain entry to, it certainly has that vibe of an exclusive, retro haunt.
This bar has possibly the most extensive list of spirits in all of St Pete. They have both classic and craft cocktails, the latter of which are different each and every week.

Best Downtown St Pete Bars & Venues for Live Music or Dancing
Ringside Cafe
350 1st Ave N, St. Petersburg, FL 33701
(727) 954-3362
All 7 nights a week, you can bet there'll be awesome live music at Ringside Cafe. Local artists and even national bands play here.
If you're into rock, blues, or just a plain good time, you'll love it at the Ringside Cafe. They have a full liquor bar and beers on tap to keep you going all night.
The Floridian Social Club
687 Central Ave N, St. Petersburg, FL 33701
(727) 322-4600
The Floridian Social Club feels like an old theater from a bygone era. Beyond just live music, you can watch aerial dance performances and cabaret shows. This bar has a very glam, refined vibe and a similarly fancy list of craft cocktails.
For those who have been coming to St Petersburg for years, The Floridian Social Club used to be the State Theatre.
Make sure to check out their event calendar prior to, since they are not open daily.
Crafty Squirrel
259 Central Ave, St. Petersburg, FL 33701
(727) 898-4888
Crafty Squirrel is an eclectic bar in the heart of St Pete. Stop by at brunch, lunch, or dinner for some Southern pub grub. They've got bottomless brunch, by the way — fill up on those mimosas!
They've got live sports TV and live DJs. So, even though it's a sports bar, you can be sure there'll be lots of dancing, too.
The Estate St Pete
179 1st Ave N, St. Petersburg, FL 33701
(727) 346-8054
The Estate is a high-energy dance club inspired by the Las Vegas nightlife scene — luxurious and a bit raunchy. They have top-shelf liquor and cocktails, including the local favorite Post Melone. It's made with tequila, agave, coconut rum, and more.
They have VIP booths if you want to upgrade the experience. There you'll get access to an exclusive mixed drinks menu and can have craft cocktails created especially for you and your group!
Ruby's Elixir
15 3rd St N, St. Petersburg, FL 33701
(727) 898-2442
On the other end of the spectrum from The Estate, Ruby's Elixir is a down-to-earth live music lounge. Seven days a week, you'll hear a blend of rock, blues, jazz, and funk.
Ruby's Elixir has quite a bit of history to it. It began in the '90s as a cigar store, and you can still get a cigar here (it's a smoking-friendly establishment).
Jannus Live
200 1st Ave N STE 206, St. Petersburg, FL 33701
(727) 565-0550
Jannus Live is a concert hall and live music venue in St Pete. You can get drinks at the venue itself when there's a show going on, but there's a standalone bar here, too.
The stage is in a courtyard, so technically speaking, it is an outdoor live music venue. It's super casual, and I've always liked the laid back vibe.
Pelican Pub is located right at the entryway into Jannus Live. It's a no-frills bar that doesn't have a very large selection of food and drinks. However, the low prices and live music draw in a big crowd!

Best Gay Bars in Downtown St Pete
St Petersburg has a thriving LGBT community, and there are several gay bars and nightclubs in the area. St Petersburg hosts an annual Pride celebration, which includes a parade and a festival with live music, food, and vendors. Here are two of the more well-known gay bars in Downtown St Pete.
COCKTail St Pete
2355 Central Ave, St. Petersburg, FL 33713
(727) 592-1914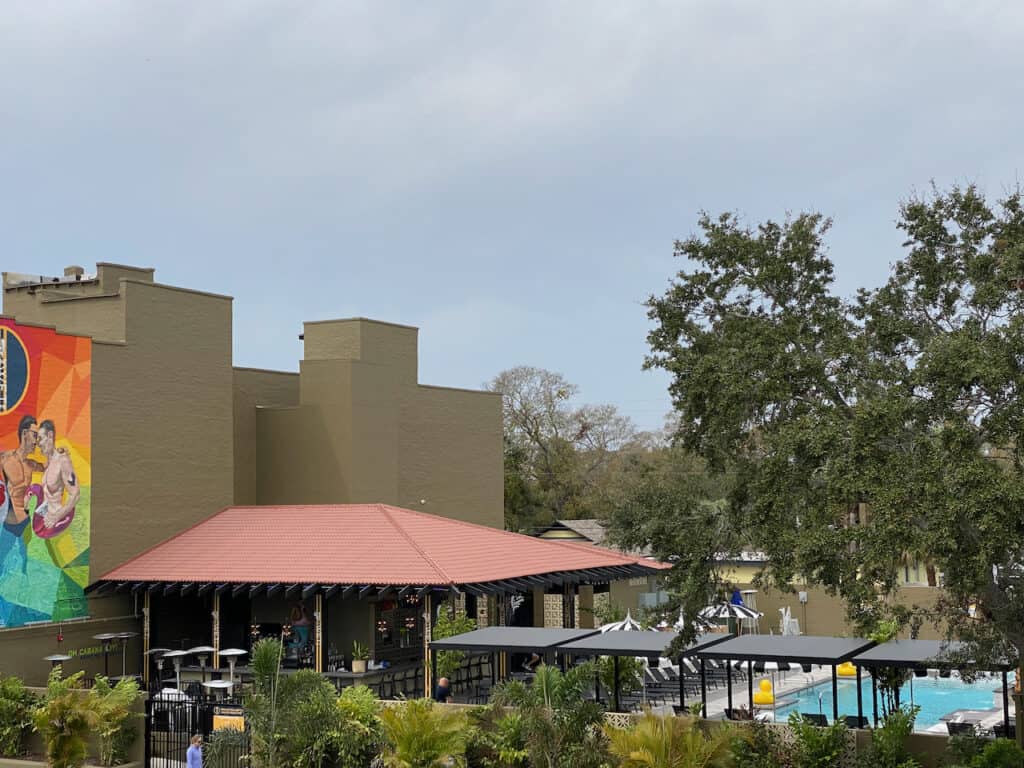 "Stiff drinks," "hard liquor," and a whole lot of dirty puns at COCKTail. Even for the drinks (which you can get two-for-one during happy hour), with cocktails like the Banana Hammock, the innuendos never stop!
This relatively new hot spot is located in the popular Grand Central District with LALA and the Dog Bar within walking distance.
COCKTail is a bar and nightclub with BOGO happy hour specials 7 days a week, Monday – Sunday, 12 pm – 9 pm. It has plenty of outdoor and indoor seating. COCKTail is also unique for having its own pool, open daily from 11 am to 4 pm.
Enigma
1110 Central Ave, St. Petersburg, FL 33705
(727) 235-0867

Enigma is the long-standing gay bar in St Petersburg. It is your traditional nightclub scene and is in a great location on Central Avenue.
Make no mistake, though, it gets loud and lively in here, too. Enigma has two full liquor bars for mixed drinks and two-for-one happy hours. Along with the live DJs, it's a fun environment, from drag shows to pool tournaments.
🌴 Read Next: A Local's Guide: The 16 Best St Pete Beach Bars & Nightlife!

Final Thoughts on Downtown St Pete Bars
As you can see, the downtown St Pete Bars and Nightclubs are vastly different from one another. The Sunshine City has much to offer even after the sun goes down.
Please let me know your thoughts on my list of best bars in St Petersburg, FL. If I missed one of your favorite locations, I would love to know that too!
If you're looking for nearby bars, you'll also want to check out my articles on the St Pete Beach Bars and Dunedin Nightlife.
Frequently Asked Questions
What Time Do Bars Close in Downtown St Pete, FL?
Most bars in St Petersburg, FL (particularly downtown) close between midnight and 3 am. It may vary throughout the week. For example, a bar may close later on Fridays and Saturdays than on other days of the week.
Bars that serve a lot of food or that are within restaurants tend to close a bit earlier, around 10 pm to 1 am.
What is the bar street in Saint Petersburg?
The best street for bars in St Petersburg is Central Avenue. From downtown to Grand Central District, you'll have an incredible selection of bars. Stay on Central Avenue and continue heading west, and it will take you to the beach for even more beach bars!
What is the entertainment district in St Pete?
The Grand Central District is considered the entertainment district in St Petersburg. You'll find many new bars, breweries, and art galleries. It also has ax throwing and more!
Is St. Petersburg a party town?
St Petersburg, Florida is home to professional sports teams, colleges, and it has some of the best beaches in the US. This combination makes for a fun environment and very much a party town.
Related Articles to Read Next