Looking for the best hotels in Indian Rocks Beach? As a local, who lives in the area, I've got you covered with the best options in Indian Rocks Beach for families!
The soothing gulf breeze, the calming horizon, and the peaceful aura of Indian Rocks Beach—it's an ideal beach getaway, especially for families.
There are plenty of fun things to do in Indian Rocks Beach. From amazing watersports to nearby parks, you'll have plenty of fun outdoor activities to enjoy.
If you are looking for more action, Clearwater Beach, Madeira Beach (John's Pass Village), and St Pete Beach are just a short ride away.
Top Picks: Hotels in Indian Rocks Beach
A significant part of your vacation depends on the hotel you choose to reside in. And speaking from experience, I'm telling you that a bad hotel can ruin an otherwise fantastic trip. I know the importance of finding a quality place for my family to stay at.
Don't have time to go through the entire article? Here are my top favorites for Hotels in Indian Rocks Beach for families, separated by travel plans: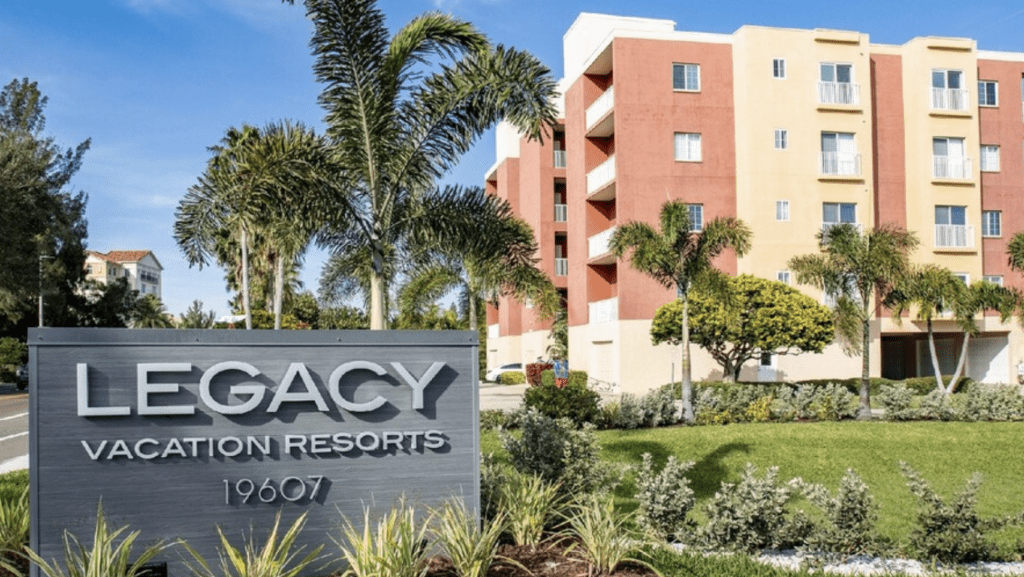 With an ambiance targeted to lure couples, the Legacy Vacation Resort Indian Shores is the perfect spot to unwind and savor the serene horizon and catch the sun rising and setting, all with your partner by your side!
These Indian Rocks Beach condo rentals are known for being spacious and clean. Legacy Vacation Resorts tends to also get a lot of repeat customers due to its family-friendly atmosphere and reliable quality standards. They have a variety of sizes in their vacation rentals from studios to 1 or 2 bedrooms.
While it's not as luxurious as the Sandpearl Resort, you'll find overall great value and more bang for your buck.
Here are some of the amenities you can expect:
Full kitchens or kitchenettes in rooms
Laundry facilities
Fitness Center
Fire pit & outdoor barbeque grill
Outdoor pool & hot tub
Game room
Read what reviewers are saying:
"It was perfect for me! Close to the crosswalk to the beach. All newly remodeled. Front desk ver helpful. Cute pool out front and intercoastal out back. Great food within walking distance…especially ice cream!"

– Nanette (Legacy Vacation Rentals Indian Rocks Beach Reviews)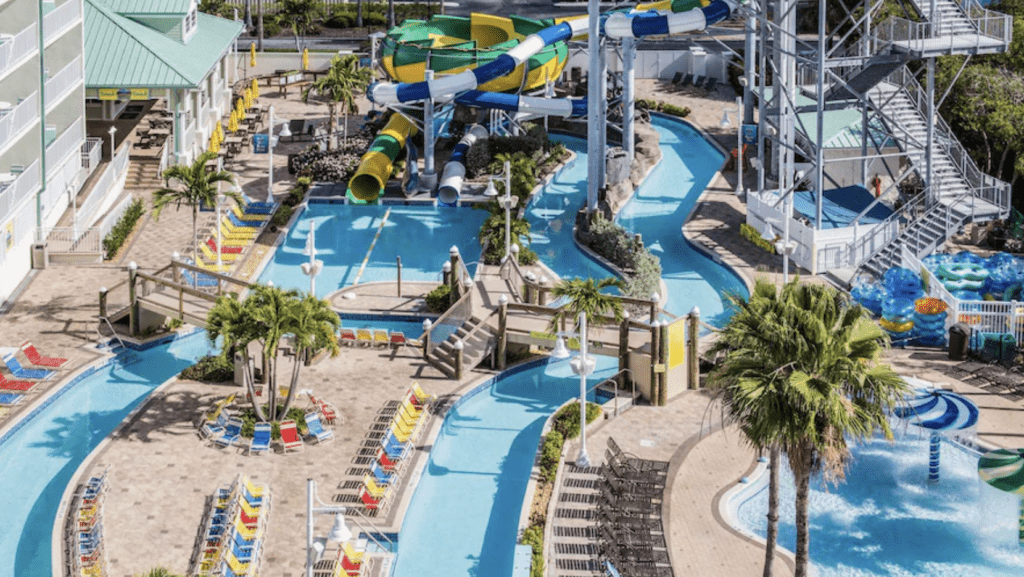 The Holiday Inn Indian Rocks Beach tops the list when it comes to traditional hotels in Indian Rocks Beach. Showcasing rooms with waterfront views of the marina, it is an ideal vacation spot for you and your family.
The hotel is located next to Splash Harbour Water Park. One of the perks is you will be able to get discounted tickets at the front desk upon check-in.
You'll also get free wifi, access to routine appliances, and a plethora of complementary things that'll make you feel special.
What's to love at this Indian Rocks Beach Hotel:
Live entertainment at one of the three bars
18-hole miniature putt-putt golf course
Fitness Center
Garden pool & hot tub
With the waterpark, lazy river, beach, and other amenties, you won't want to leave! The hotel also has a modern gym for you to get your workout in.
Pro Tip: The Splash Harbour Water Park requires an additional fee for entrance since it is separate from the hotel. However, the kids will get hours of entertainment, and well-worth the extra fee! 💦

BEST CHEAP VACATION RENTALS IN INDIAN ROCKS BEACH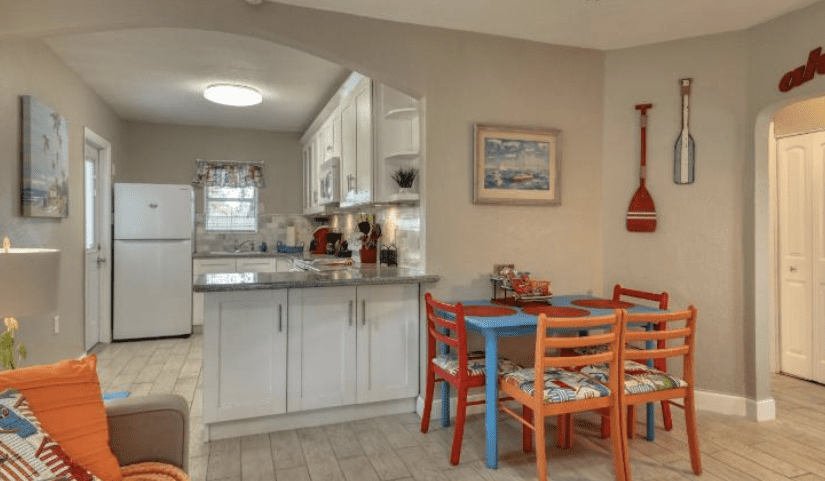 BeachTrail Lodging is one of the most-loved vacation rentals in Indian Rocks Beach, FL. Vacationers love that the apartments have full kitchens and laundry on-site. It is perfect for those that love to cook or have extra space.
Located in a quiet neighborhood in Indian Rocks Beach, it is an easy walk to ice cream shops, bars, and restaurants. This is a family-friendly area and tends to be less crowded than Clearwater Beach.
Apartments are available in studios, 1-bedroom, and 2-bedroom options. This is a pet-friendly property, but additional fees will apply.
BeachTrail Lodging is within a 2-minute walk to the beach. As an added perk, they provide beach umbrellas, chairs, and towels to make your beach time laid-back and fun!

BEST LUXURY HOTEL NEAR INDIAN ROCKS BEACH, FL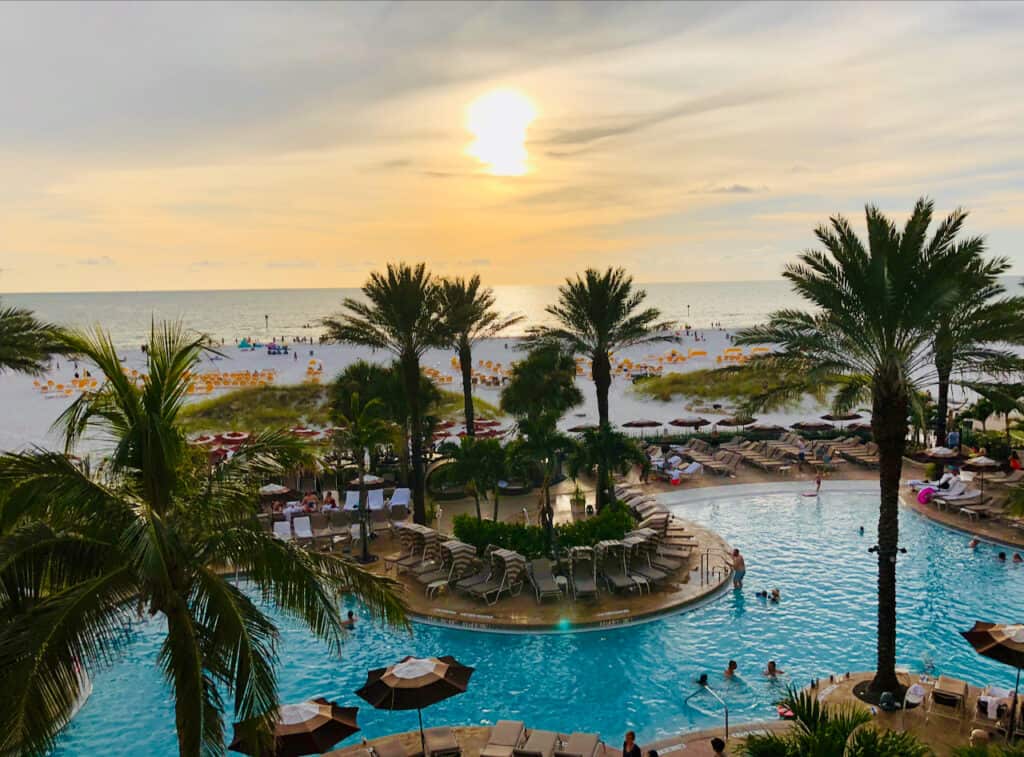 The closest high-end, luxury resort to Indian Rocks Beach is the Sandpearl Resort in Clearwater Beach.
The Sandpearl Resort has 253 luxurious rooms and suites on one of the most beautiful beaches in America. It's ideally located away from the crowded Pier 60 and public beach access. However, it's just an easy walk away if you decide to venture beyond the all-inclusive resort amenities.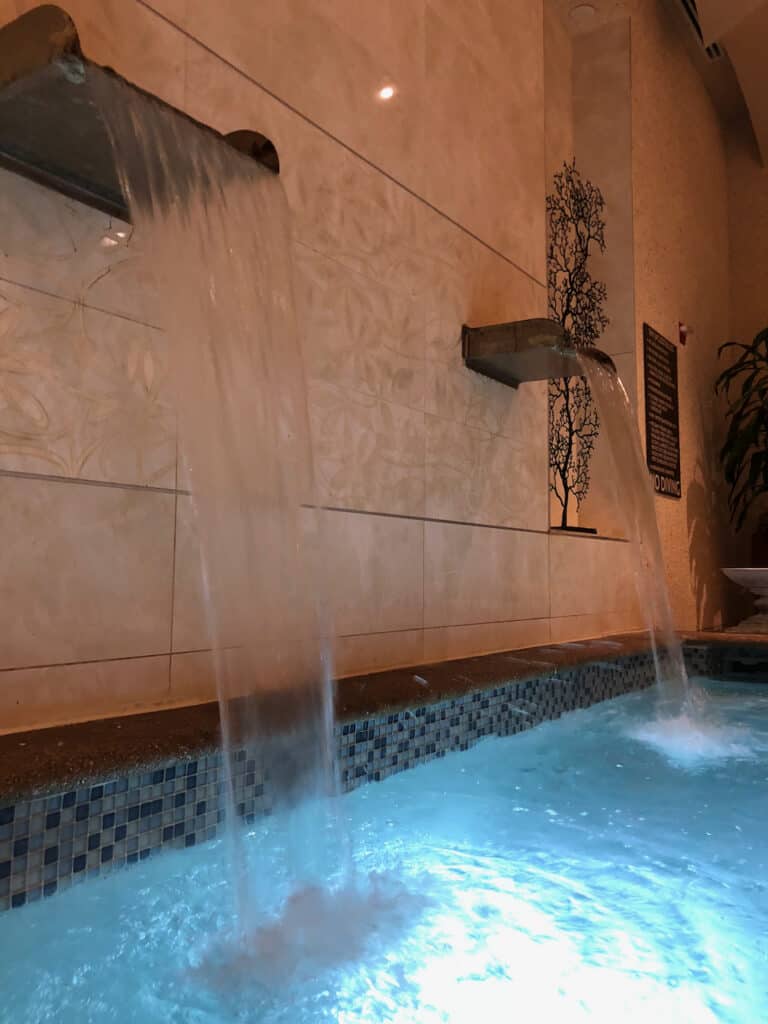 The hotel offers a 700 feet private coastline on the white sands of Clearwater Beach. Additionally, you can also host events at the location.
The Sand Pearl Resort offers multiple amenities such as:
Luxury Spa & pool
Bike rentals
Daily newspaper
Daily turndown service
Fitness Center
Restaurants
Free Wi-Fi
There is also a resort fee and parking fee that are separate charges. If you decide to stay at the Sandpearl Resort, you can be confident this will be a luxury choice.
The Sandpearl Resort does an excellent job at keeping non-guests away from the resort pool and spa. Because of its gorgeous location and restaurants, it is a hot spot for visitors.
🌴 Pro Tip: One of my favorite places to sit when the weather is cool is around the beach fire pit near the bar. It's the perfect spot at sunset.

BEST VRBO VACATION RENTALS IN INDIAN ROCKS BEACH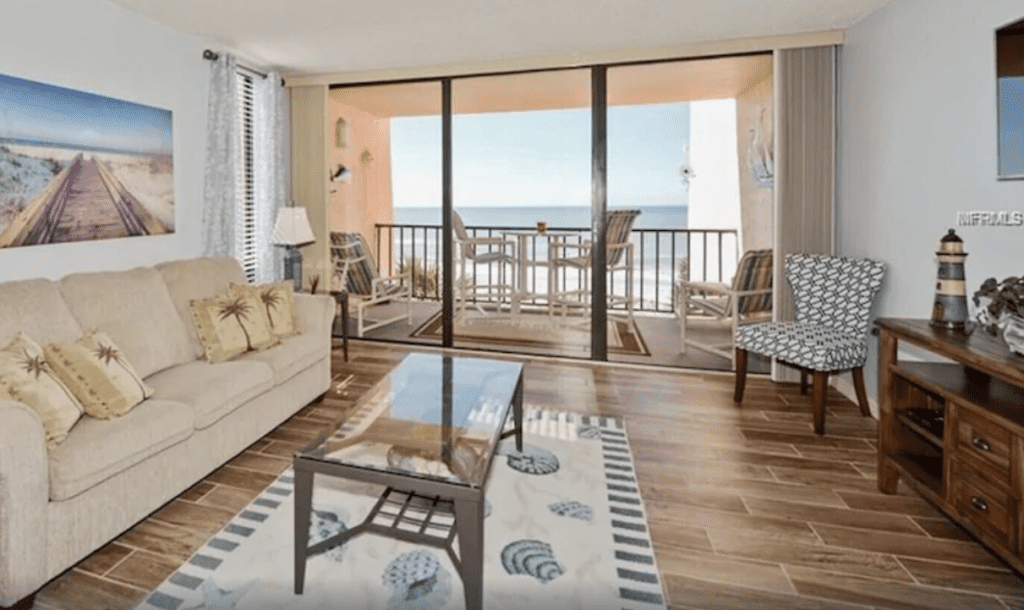 Pelican Cove VRBO Rentals is a private condo community with eye-catching, wide-open water views! You can watch the stunning sunsets from your own private balcony.
Pelican Cove has a variety of condos available with full kitchens, washers/dryers, and indoor and outdoor sitting areas. There is also a beachfront pool available for guests.
Pelican Cove is an ideal place to stay if you are looking to have an extended stay vacation rental in Indian Rocks Beach.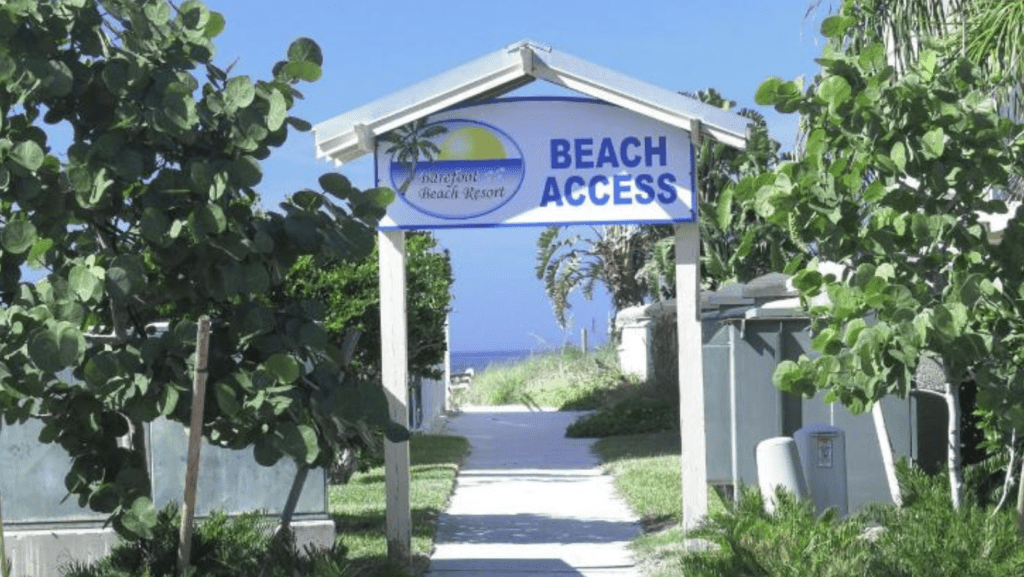 The Barefoot Beach Resort is the perfect spot for you and your family to have a vacation you'll remember for a lifetime.
The property is situated in an ideal location in Indian Shores where traffic is easy to navigate and shopping is a short drive away. The beach is just across the street. It is a lovely place to stroll and watch the sunset.
The Barefoot Beach Resort has an amazing repeat visitor rate, speaking volumes about its service. It is a favorite place for couples and families that want a laid-back beach vibe.
Pro Tip: You can switch your pool towels at the office whenever necessary.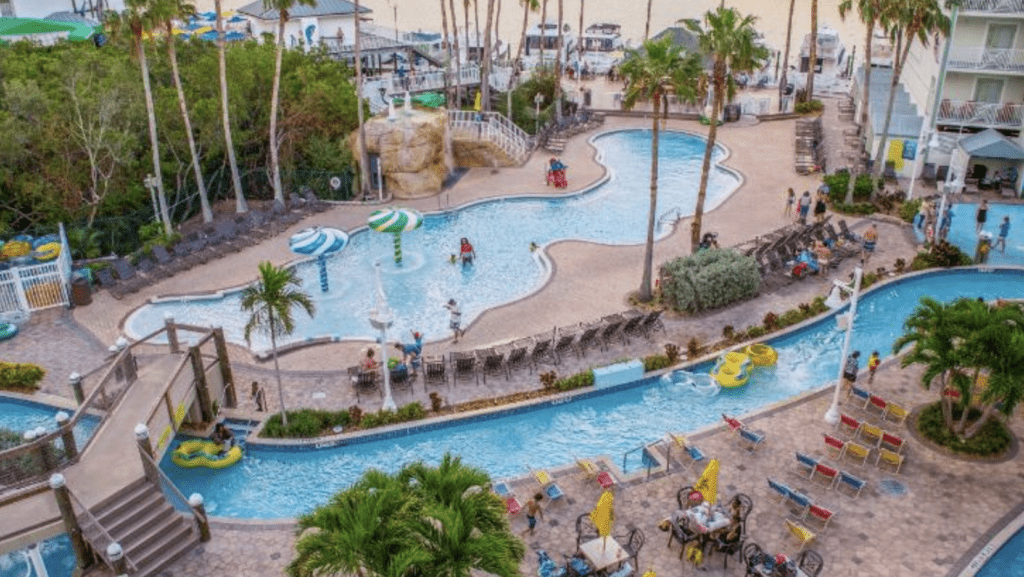 New Hotel Collection Harbourside catches everyone's eye because the luxurious amenities it has in the price tag are unparalleled.
This is perhaps the best place for you if you're searching for an all-inclusive resort in Indian Rocks Beach.
The resort amenities include:
Pools, Lazy River, & Water Park
Tiki Bar
Washer/Dryer
Dishwasher
Private Balcony
The hotel also features an exclusive water park with a pool and lazy river conveniently located on the property. Combined with the dedicated kids' pool and poolside bar, you and your family will have the time of your life here.
After having fun at the water park, take in the gulf views from the hotel's rooftop terrace. You also have the option to grab a bite to eat at the coffee shop cafe. With the beach as another perk, you won't run out of things to do at the New Hotel Collection Harbourside.
Pro Tip: The waterpark and lazy river requires an additional fee for entrance. It is shared with the Holiday Inn & Suites.

Final Thoughts: Best Hotels in Indian Rocks Beach
Every visitor has different priorities when it comes to hotels, and that's precisely why I've created separate categories to help make your decision easier.
Hotels by the beach make for the perfect spot to spend your holidays and take a break from the bustling daily routine we're all trapped in!
Indian Rocks Beach is a top-notch destination if you want to enjoy a truly memorable laid-back beachside experience.
So, try any of the hotels I've mentioned above the next time you visit Indian Rocks Beach for a truly unforgettable vacation!
🌴 Read Next: 16 Best Fun Things to Do in Indian Rocks Beach
Did You Find This Post Helpful? Share It!
If so, I would love to hear about your experience with hotels in Indian Rocks Beach or Florida travels! You can follow me on Instagram, and tag your images to @erinstraveltips and hashtag #erinstraveltips. I look forward to seeing you there!
Related Articles on Florida Travel