Looking for cheap and free things to do in St Petersburg FL? Then you're like me. As a mom, I'm always on the lookout for ways to have fun without breaking the bank.
Located on Florida's west coast, just south of Tampa, St Petersburg is encircled by water. I fell in love with St Pete many years ago due to its laidback artsy vibe. It's a nature lovers paradise with some of the best beaches in the world within a short proximity.
These days it boasts a booming (and still charming downtown), extensive waterfront, and stunning beaches. As a local, I recommend booking a hotel and staying for a few days. There are far too many fantastic free things to do in St Petersburg you don't want to miss!
St Pete Pier
Address: 600 2nd Ave NE, St Petersburg, FL 33701, USA
Both locals and visitors enjoy the bustling ambiance of this 26-acre pier park. There are many great places to eat near St Pete Pier, but picnics with friends and family are always welcome.
Visitors flock to the St Pete Pier for its fun and laid-back atmosphere. Plus, you can see views like in the photo above. I took this photo from the 3rd floor restaurant, Pier Teaki.
Here are a few of the top things to do at the St Pete Pier:
Glazer Family Playground
The Glazer Family Playground is a themed playground designed by a professional playground architect. Kids may burn off some steam on the slides, swings, climbing structures, child obstacle courses, activity nodes, and more.
Spa Beach
As a local, I realize this quaint spot doesn't hold a candle to Clearwater Beach or St Pete Beach, since it's a man-made beach. However, you can't beat the proximity to downtown. Plus, it offers beach volleyball and launch sites for kayakers and paddleboarders.
The Marketplace
This lively market, located outside the Pier's Gateway, is an excellent example of the "buy local" attitude that permeates St Pete. The Marketplace is where you may find many different vendors selling their wares. It's fun to stroll and check out the variety of local vendors.
Other Things to Do…
The St Petersburg Museum of History, situated at the gateway to the beautiful Pier District, has been telling the tales of the Sunshine City for a century. Learn about the roots of modern aviation and its greatest collection of signed baseballs in the world.
Restaurants at The Pier
There are several restaurants to choose from, including Fresco's Waterfront Bistro, Spa Beach Bistro, Driftwood Cafe, Teak, and Pier Teaki. My personal favorite is Doc Ford's Rum Bar & Grille when eating at the Pier.
Visit Upham Beach Park at St Pete Beach
One of my favorite free family activities in St Petersburg FL involves spending time at Upham Beach Park and exploring the secret garden. It has a cute nature trail and serene seating areas.
Upham Beach is tucked away on a side street off Gulf Boulevard, so you wouldn't know there is public beach access this close to the Corey Avenue Shopping District. From a free beach toy library to beach activities, you'll have plenty of fun for the whole family.
If you visit on the weekend, you can also catch the Core Avenue Sunday Market. There are so many things to do in St Pete Beach, it's often best to plan a weekend getaway or at least a full day!
Watch Planes From Albert Whitted Park
Address: Bayshore Dr. & 2nd Ave. S, 525-549 2nd Ave SE, St Petersburg, FL 33701, USA
Albert Whitted Park
Directly behind the Salvador Dali Museum is a cute airplane-themed park and playground area. It's a hidden gem in St Petersburg that not many locals even know about. It's one of my favorite places to come with a picnic and watch the sailboats on one side of the park, and the airplanes from Albert Whitted Airport take off on the opposite side.
✈️ Pro Tip: The airport also has a pretty good restaurant called The Hangar that has a bird's eye view of the landing strip. Sit outside on the patio for the best views.
Demens Landing Park
Demens Landing Park is another quieter spot in the city, and parking is free for up to three hours. It's across from Albert Whitted Airport, so you can also watch planes land and go off. You can see the city, the pier, and the marina in the opposite direction. Demens Landing is more spacious than Albert Whitted Park.
Fort De Soto Park
Address: 3500 Pinellas Bayway S, Tierra Verde, FL 33715
Fort De Soto Park is one of my absolute favorite places to get away and spend time in nature. It is also one of the best things to do for free in St Petersburg.
Keep in mind, you will need to make it a day trip or overnight excursion to fully do it justice.
This massive park features a dog park, beaches, ferry rides, a museum, a historic fort, camping, fishing, hiking trails, swimming, concessions, and swimming. It would be simple to spend a whole day, especially since you can rent bikes, beach equipment, and kayaks.
If you love to camp, this is one of the most visited parks in Florida. This campground has every amenity a camper might ask for with some spots even having waterfront views.
The cost is FREE to visit Fort De Soto Park on foot or by bicycle. However, there is a minimal parking fee per vehicle.
Visit John's Pass Village
Address: Madeira Beach, FL 33708
John's Pass Village is a boardwalk with stores, eateries, and waterfront views. Despite its touristy nature, this is a pleasant area to stroll about without costing anything! However, if are driving here, it is metered parking spaces. Madeira Beach is a beautiful place to visit, so if you plan to spend all day, you'll want to check out my favorite things to do!
Free Walking Tours in St Petersburg, FL
St Petersburg offers self-guided audio tours if you have interest in seeing the Historic Outdoor Museum of Roser Park, African American Heritage Trails, and Downtown Waterfront Walking Tours.
Spend the Day at Heritage Village Largo & the Florida Botanical Gardens
Address: 11909 125th St, Largo, FL 33774
Although it's a drive from downtown St Pete, Heritage Village Largo & The Florida Botanical Gardens are two fantastic places to spend the day in Pinellas County.
The Florida Botanical Gardens spans over a hundred acres and is home to a wide variety of plant and animal species as well as scenic nature trails.
It's attached to Heritage Village, where you can check out historic buildings, cars, farm equipment, and other displays detailing the history of Pinellas County. It's one of my favorite places to take my family for a day of learning outdoors. My son especially loves the train depot and seeing the old tractors. It also has a nice indoor museum too.
Before you leave, don't miss the gift shop at Heritage Village. They have some of the most reasonably priced and unique gifts to bring home with you.
Duncan McClellan Gallery
Address: 2342 Emerson Ave S, St Petersburg, FL 33712
Contemporary pieces by glass artists worldwide are on display at Duncan McClellan Gallery. The displays of glass art there are beautiful and varied in size, form, and hue.
Glass sculptures are also on display in the garden of Duncan McClellan Gallery. Locals often choose this park to celebrate life's most momentous moments, including weddings, birthdays, and anniversaries.
Saturday Morning Market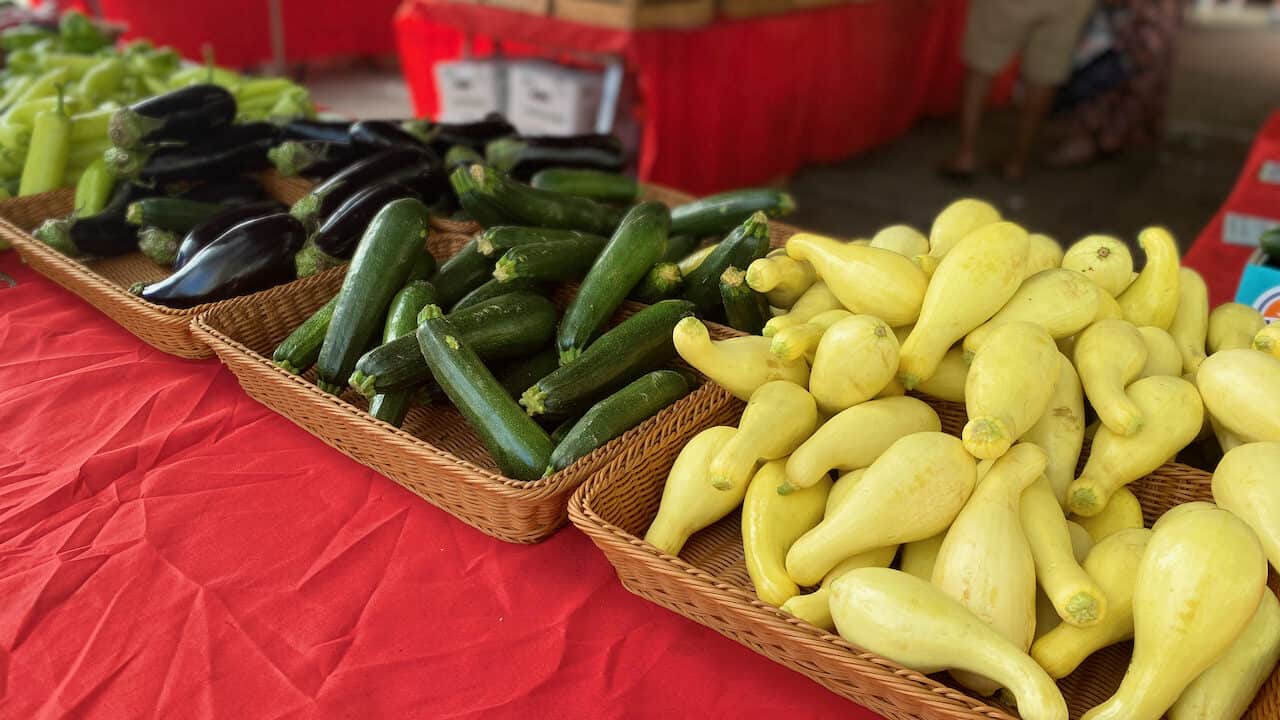 One of the finest things to do on the weekend in St Pete is to visit the Saturday Morning Market, which ranks in the top 20 of its kind in the United States. On an average Saturday, it brings about 10,000 visitors!
A stroll around this market is a free thing to do in St Pete, but you may find it difficult to resist the tempting food, drink, and shopping options.
I've had some excellent experiences with street sellers selling handmade guacamole or fresh bread. Keep in mind that in the warmer months, they move their camp to a neighboring spot where there is more shade.
Walk or Bike the Pinellas Trail
From its northern endpoint in Tarpon Springs to its southern one at Fort DeSoto in St Petersburg, the Pinellas Trail covers a great distance. This is a popular place for folks of all ages to go walking, running, skating, and bicycling because it costs nothing. Plus, you'll see areas of the city that most people won't ever get to see.
While not the most beautiful path, the downtown stretch of this path is rather quiet and features several interesting graffiti artworks. In addition, there are plenty of places to buy beverages, such as water, tea, coffee, and even beer, a block or two away on 1st or Central Avenue.
My favorite place to enjoy the Pinellas Trail is Tierra Verde and take bikes to Fort DeSoto Park. For a more leisurely ride, I like the Clam Bayou Nature Park, just outside of Gulfport. However, if you are ambitious, you can keep biking north through the charming town of Dunedin to Tarpon Springs.
Day trip to Downtown Gulfport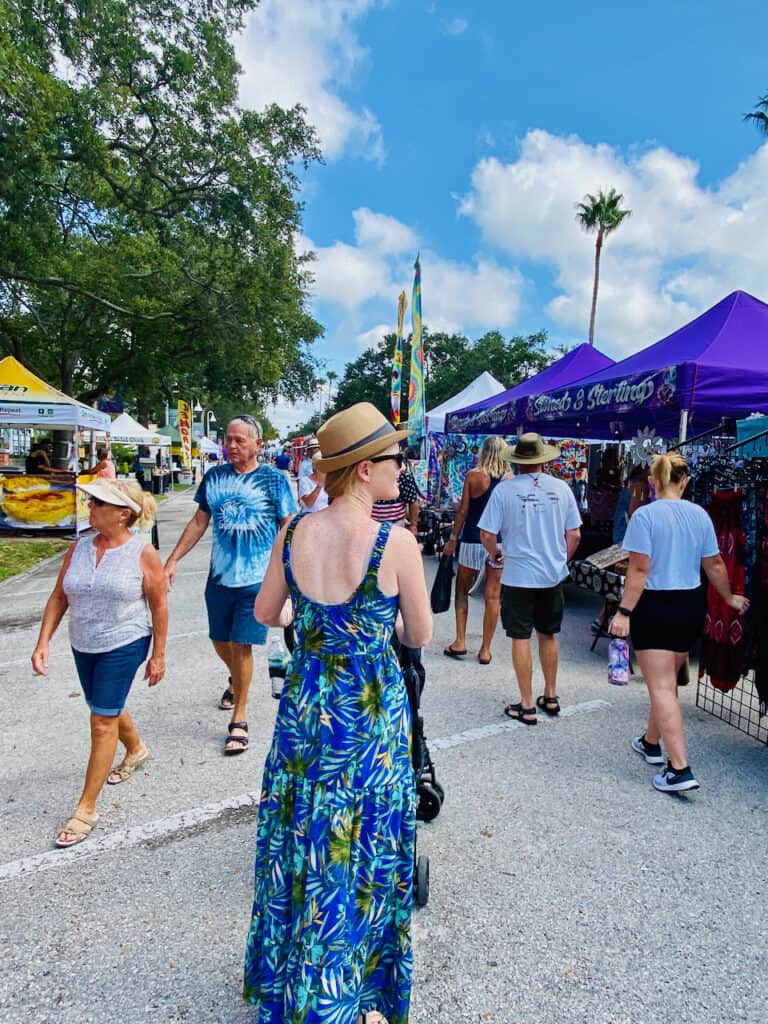 One adjective that comes to mind to characterize Gulfport is "charming." It's impossible not to stare at the vibrant splashes of color and the designed facades as you go about. If you're in the mood to splash some cash, you'll find an abundance of restaurants, bars, cafes, and stores to explore.
I love Gulfport for its eclectic fun-loving vibe. There's always something fun going on such as the annual Gecko Fest as well as recurring monthly events. Plus, parking is always FREE in Gulfport!
Check out my full list of fun things to do in Gulfport, FL – and here are a few highlights:
Gulfport Fresh Market
Open every Tuesday, year-round, the Gulfport Fresh Market is a popular event that showcases fresh and locally made items. Hours are 9 am to 3 pm, January to April, and 9 am to 2 pm, May to December.
2nd Saturday Art Walk
Gulfport has a once-a-month "Art Walk" on the second Saturday, between the hours of 5 pm and 9 pm, the districts host art walks to highlight the work of local artists. The downtown comes to life with live music, artists, and other entertainment.
Gulfport Beach Park
The beach in Gulfport Beach Park can be used by anybody who wishes and it has free parking (unlike most beaches in Pinellas County). It is close to many places to eat and drink. However, you can save by eating at one of the covered picnic areas. Enjoy the outdoor playground, workout equipment, skate park, and more!
Pass-a-Grille Beach
There's nothing like a west coast Florida sunset. One of my favorite places to sit is down on Pass-a-Grille Beach. Just a short drive from downtown St Petersburg in St Pete Beach, you'll enjoy a local's village. With brick-paved streets downtown, you'll have some old-time charm while taking in impressive views of the Gulf of Mexico.
A Pass-a-Grille local tradition is the nightly ringing of the bell that celebrates peace, relationships, and more. Jim LeBlanc or designee is out there every night to keep this tradition alive.
Grab a picnic bench next to Paradise Grille. Make sure to get a good spot, you won't want to miss these views. Often Paradise Grille has live music which adds to the ambiance and it's all for free!
Free Wine Tasting at Florida Orange Groves Winery
Address: 1500 Pasadena Ave S, South Pasadena, FL 33707
One of the top free things to do in St Pete for adults is complimentary wine tastings. Family-run and operated since its inception, Florida Orange Groves Winery crafts wines from citrus and other tropical fruits. They have received a slew of honors, and the wine inside is created from the juice listed on the bottle.
Visitors may take advantage of no-cost vineyard and distillery tastings and tours.
Sawgrass Lake Park
Address: 7400 25th St N, St Petersburg, FL 33702
During the spring and fall, when migrating birds are in their natural habitat, Sawgrass Lake Park is a great place to see them. Other animals, like turtles and alligators, can also be spotted here. Besides its natural beauty, Sawgrass Lake Park also features a mile-long boardwalk, nature walk, observation tower, and picnic area.
Panoramic Views of Downtown St Pete from Vinoy Park
Address: 701 Bayshore Dr. NE, St Petersburg, FL 33701, USA
Looking for that perfect photo location? Then, you'll want to stop over in Vinoy Park. You'll be able to capture picture-perfect photos of the downtown skyline. Plus, it's a great place to laze on the grass or a park bench with almost a 270-degree view of waterfront. You can also often see dolphins if you get down to the water's edge.
Gizella Kopsiick Palm Arboretum
Address: 605 11th Ave NE, St Petersburg, FL 33701, USA
If you're looking for a free way to enjoy a tropical paradise, Gizella Kopsiick Palm Arboretum is the place to visit. Numerous palms of various species are along the park's brick walkways that run along the water's edge in North Shore Park.
Most of the plants have identification labels so you can learn as you go. The arboretum will only take a half hour to see, but there is plenty of other ways to entertain yourself in North Shore Park.
North Shore Park
Address: 901 N Shore Dr. NE, St Petersburg, FL 33701, USA
North Shore Park is my personal favorite of the parks in downtown. It offers a wider variety of free things to do in St Pete such as beach volleyball courts, softball fields, dog park, walking paths, and kids playground. You may even bring a chair and relax on the beach, walk your dog, meditate, go on a date, rollerblade, have a picnic, or do any number of other activities.
North Shore Aquatic Complex is located next to the arboretum in North Shore Park. The lap pool and diving board provide a fun way to spend a hot summer afternoon. In addition, children may enjoy the swimming center's zero-entry pool, splash pad, and water slide.
During the warmer months, you may visit the splash pad and waterpark. There is a minimal fee ($5 adults, $4.50 kids) to use the waterpark, but well worth it since you could picnic there and make a day of it.
See the World Class Museums in St Pete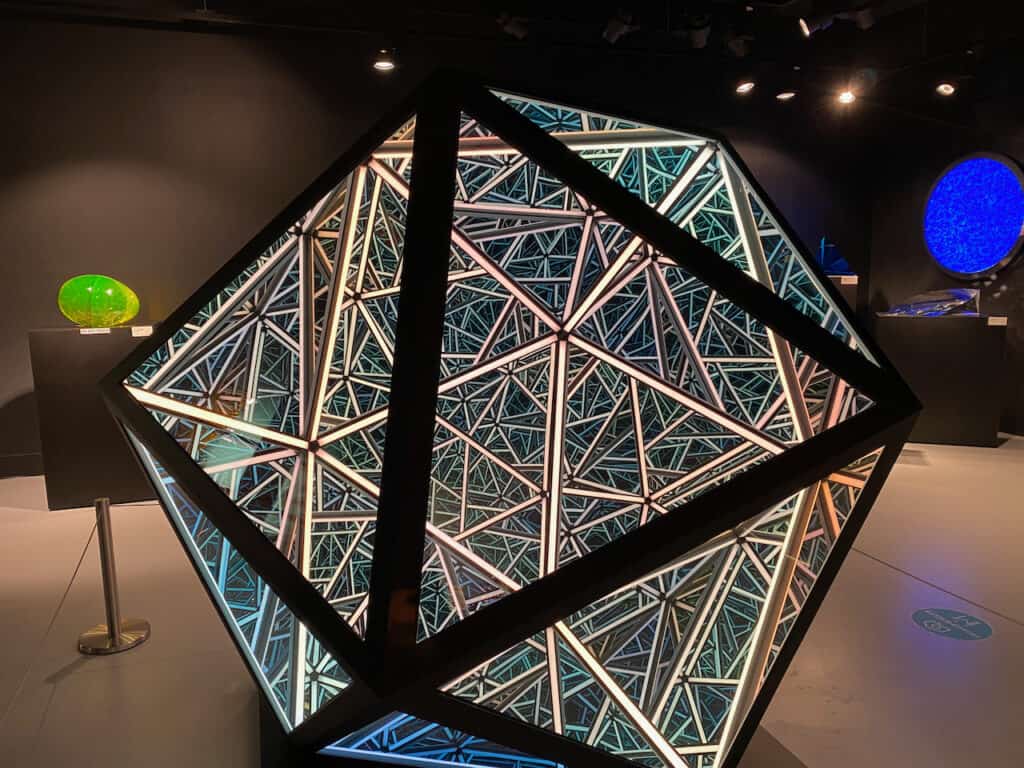 If you're a local, museums are another option for free things to do in St Petersburg FL. Through the Pinellas County Library system, you can get free tickets. My article on the best museums in St Petersburg goes into detail for those that live in Pinellas County.
If you happen to visit St Petersburg on Free Museum Day, you'll also get free admission to see many of the museums. This occurs every September! More information can be found in my Annual St Pete Free Museum Day article.
Plenty of museums offer discounts on their websites if you are able to visit at particular times. Some of my favorite museums in St Petersburg are Great Explorations Children's Museum, Florida Holocaust Museum, Salvador Dalí Museum, and James Museum of Western & Wildlife Art.
Young children really appreciate interactive exhibits at Great Explorations Children's Museum and the Imagine Museum (especially the scavenger hunt).
Coffee Pot Park & Bayou
Address: 1st St NE & 31st Ave. NE., St Petersburg, FL 33704, USA
Coffee Pot Park and Coffee Pot Bayou are two underestimated spots along Coffee Pot Boulevard. Coffee Pot Park features a boat launch suitable for smaller watercraft. As well as being a fantastic place to fish, this region is excellent for cycling, rollerblading, jogging, and walking.
The junction of Coffee Pot Boulevard and Snell Island Boulevard is a wonderful place to go for a stroll due to the abundance of luxurious mansions.
Crescent Lake
Address: 617 12th Ave N, St Petersburg, FL 33701, USA
A large, open park accessible from 4th Street N, featuring a lake and a path that extends for more than a mile and is ideal for walking dogs or running. In addition to the dog park, tennis courts, a baseball field, and playground equipment are also available. Three Birds Tavern sits just a block or so away, which has a nice ambiance for a cold drink after a day outdoors.
Weedon Island Preserve
Address: 1800 Weedon Dr. NE, St Petersburg, FL 33702, USA
Weedon Island Preserve is a beautiful 3,190-acre natural area in Pinellas County. Both the Tampa and St Petersburg skylines are visible from the observation towers in the park.
Unless you have your own kayak or canoe, the hiking trails are the best free thing to do.
Weedon Island Preserve offers guests the opportunity to rent kayaks, canoes, and paddle boards. Some parts of the preserve are vast; it's best to come prepared with plenty of water and check the tide chart that's displayed beside the bathrooms before venturing out.
North Straub Park & South Straub Park
Address: 198 Bayshore Dr. NE, St Petersburg, FL 33701, USA (South Straub Park)
This beautiful park overlooks my favorite road in the city, Beach Drive.
Enjoy the afternoon with a stroll around North & South Straub Park and take in the sights of the yacht basin. The park is divided in half with North Staub Park being on the north end of the Museum of Fine Arts, and South Straub being on the south side of 2nd Avenue NE. However, just keep walking and you'll be able to stroll the entire park.
During the holidays, North Straub Park comes alive with beautiful Christmas lights and a tree-lighting ceremony. This is one of the best free things to do in St Pete at night when in season.
Morean Arts Center
Address: 719 Central Ave, St Petersburg, FL 33701, USA
The Morean Arts Center welcomes you as a non-profit foundation dedicated to helping connect people through art. You can tour the gallery for free which showcases artistic talent from around the world. Morean Arts Center is affiliated with the Chihuly Collection, but this does require an admission fee.
Many local artists have a workshop space there where they teach workshops and provide educational events for kids. In addition, parking is available on the streets near the performing arts facility.
See the Murals in Grand Central Arts District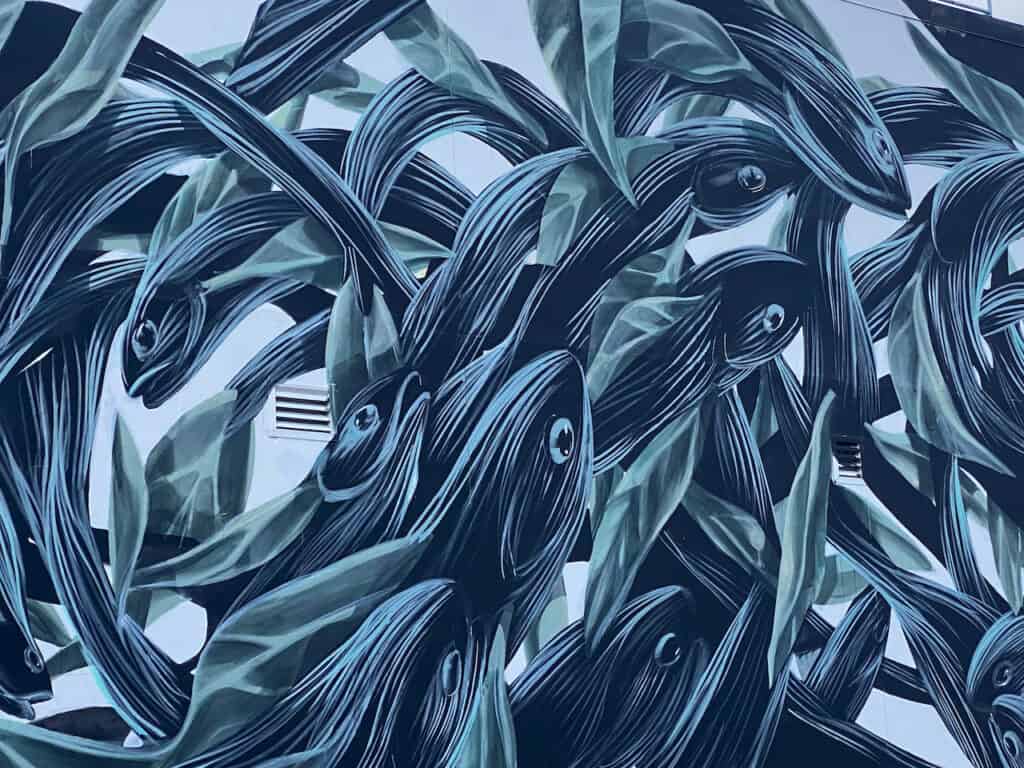 St Petersburg's Grand Central Arts District is the leader of the pack when it comes to amazing murals. Take a self-guided tour of Central Avenue and you'll begin to see what I am referring to. In fact, there are over 150 throughout the city these days!
Seaside Seabird Sanctuary
Address: 18328 Gulf Blvd, Indian Shores, FL 33785
Here's a great combination of free things to do – head to Seaside Seabird Sanctuary at Indian Shores. Being located on the beach, you can enjoy two free activities in a row! This sanctuary is a special place that dedicates its time to the rescue, rehabilitation, and future release of birds back into the wild.
Although it does require a drive north of St Petersburg, this a great family learning experience. Marie L. Farr Avian Hospital on the property admits more than 3,500 injured birds every year. You'll get to see lots of pelicans, owls, macaws, and hawks in close proximity.
You won't want to miss the fantastic views from the Observation Tower which is located in the Sanctuary's Shade Garden. You will get to see sweeping 360-degree views of the Gulf of Mexico.
They also offer a gift shop, so you can support the mission and get souvenirs. My son couldn't leave without a cute stuffed animal parrot. As I mentioned, there is no fee to visit, but donations are gladly accepted. Hours are Monday to Sunday, 8 am to 4 pm.
Final Thoughts on Free Things to Do in St Petersburg FL
St Petersburg, Florida, is home to a wide variety of exciting and interesting destinations. Dig a bit deeper into the heart of this city, and you'll find that it has a lot to offer beyond the most popular and bustling places. These are some of the best free things to do in St Petersburg, Florida, guaranteeing you a good time without breaking the bank.
Did You Find This Article Useful? Please Share It!
If you liked my article, please help me by sharing it! You can follow me on Instagram, and tag your images to @erinstraveltips and hashtag #erinstraveltips. I look forward to seeing you there!
Related Articles to Read Next