Due to severe devastation related to Hurricane Ian, Matlacha will be recovering for some time into the foreseeable future. I have family on Pine Island, and many people have lost their homes, businesses, or even loved ones. Please consider donating to the Go Fund Me for Matlacha Hookers.
On this quaint little island, hotels are almost nonexistent but you can find some great options for rentals, especially with VRBO Matlacha FL. We have simplified your search by listing the highest rated and within the closest proximity.
Matlacha gives endless opportunities for nature lovers and fishermen. The town has many art galleries and unique shops, many of which were done by local artists.
Stay in town so you can walk, boat, or bike to the many restaurants in the area. Some of our favorites include The Perfect Cup, Blue Dog, Yukatan Restaurant, and Bert's Bar & Grill as well for fun times and great music.
Want to know more about all the great things to do in Matlacha? Read our article that covers the best restaurants and fun things to do!
Where is Matlacha?
Located off the coast of Ft. Myers, Matlacha is a charming colorful island town between Cape Coral and Pine Island. This waterfront paradise is ideal for fishermen or those that love small-town island life. Whether it's a beach shack or a luxury waterfront home, most are painted with bright pink, teal, yellow, and other tropical colors.
Matlacha is a tropical destination worthy of a weekend getaway or better yet stay and see all the town has to offer. There is so much to explore with Pine Island, Cape Coral, Ft. Myers, and Sanibel all within a relatively short drive. Matlacha is approximately 30 minutes from Fort Myers International Airport and only a few minutes from Publix and Winn-Dixie grocery stores.
Either Fort Myers Beach or Sanibel Island can be reached by car in about 40 minutes. If you have a boat, Sanibel or Cayo Costa is about 40 minutes. Matlacha Pass has some of the best inshore fishing in Florida.
Read Next: The 17 Best Things to Do in Pine Island Florida
Where to Stay in Matlacha
We highly recommend staying at one of the rentals when looking to stay on Matlacha. You will find some of the best properties and more personalized touches. However, there are a few hotels nearby that are worth mentioning from Booking.com. Click on the map for more details.
Below we have listed our current favorite properties, all of which are highly rated by multiple guests. We have listed them in the smallest to largest order sizes.
Small Houses or Condos (2 Bedrooms or Less)
2 Bedroom 2 Bathroom VRBO Pool Home on Waterfront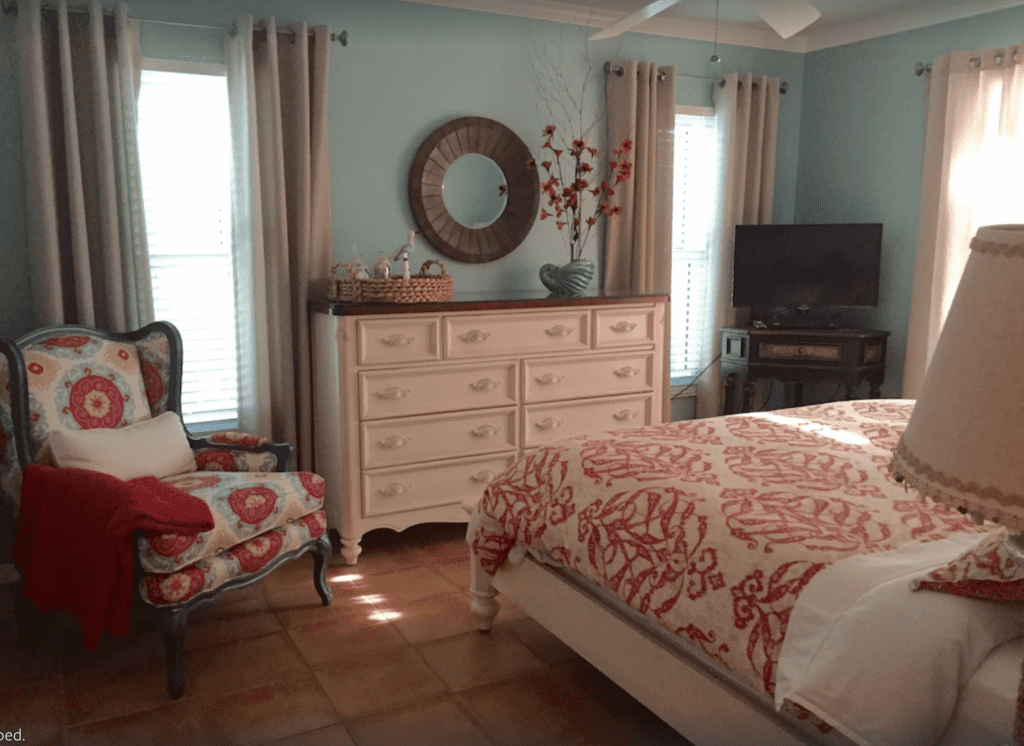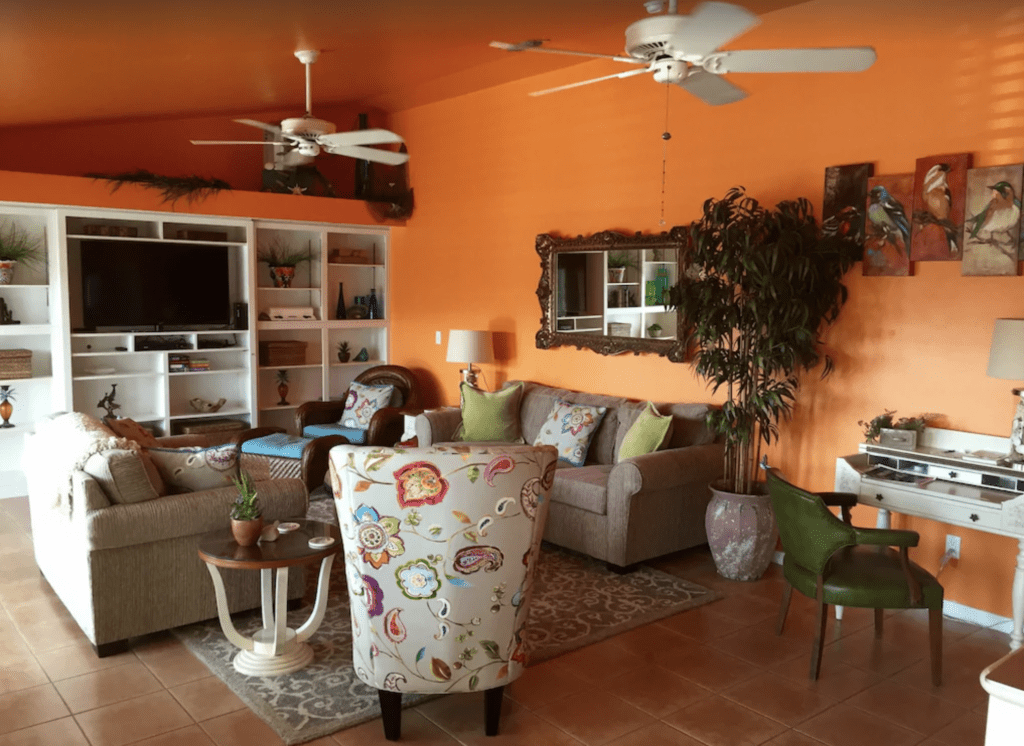 This lovely 2 bedroom, 2 bath 1,410 square foot home is situated in the village of Matlacha. Amenities include a canal water view, a beautiful pool and deck area, a washer/dryer, cable TV, and free WiFi. Check-in time is 3 PM and check-out time is 10 AM.
---
1 Bedroom VRBO Apartment with Incredible Matlacha Water Views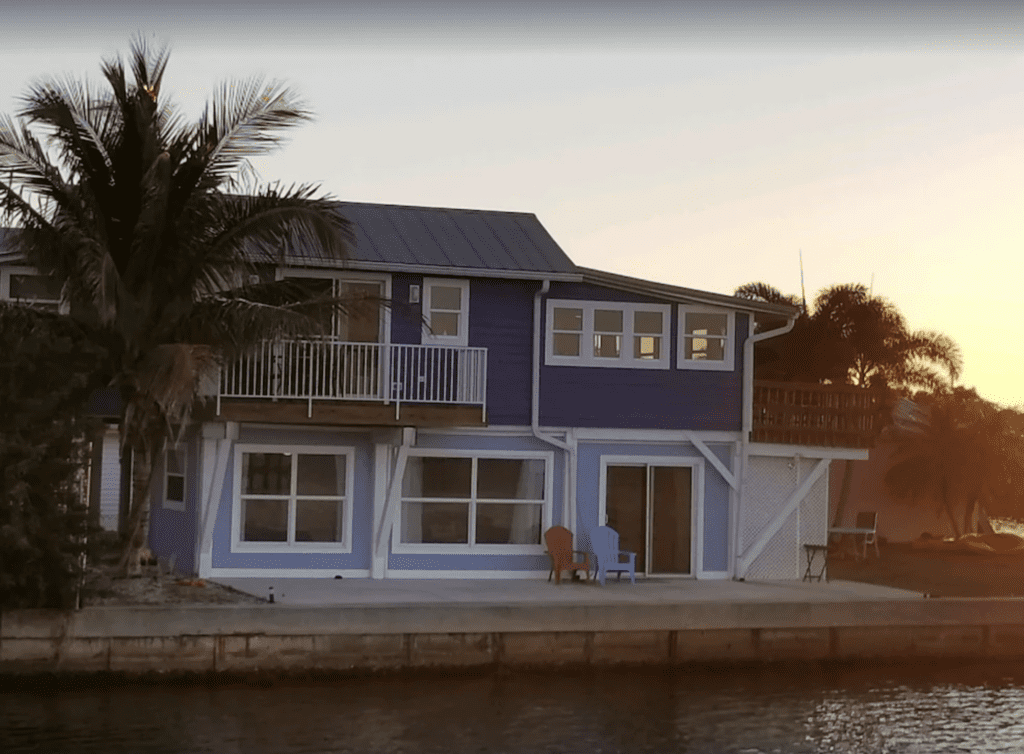 Located on the 2nd Floor, Apartment 2 is in the peaceful village of Matlacha. Here you will find a well-equipped 1 bedroom with queen size bed and a living room with a sleeper sofa. Amenities include a kitchenette, full bathroom, washer and dryer, cable TV, and free WiFi.
Here you will want to spend most of your outside with gorgeous water views. Walk outside to your ready-to-use fishing pole anytime you want. They also offer kayaks to use.
Enjoy outstanding views of manatees, dolphins, and nature preserves, along with beautiful sunrises and sunsets. Here you can find some of the best fishing in town.
---
Beautiful Waterfront 2 bed 2 bath Waterfront Unit
The Coqui Palace is a 2 bedroom, 2 bath waterfront island getaway located in the Historic Matlacha Fishing Village. This fully equipped vacation rental has gorgeous bathrooms, new kitchen appliances, a washer and dryer, and a fold-out queen sleeper sofa. It also includes TV and WiFi.
This is a great getaway for couples or is also a family-friendly home. Pets are also welcome.
Fish from the patio, or across the street at the fishing pier. This lovely unit is walkable to restaurants and shops.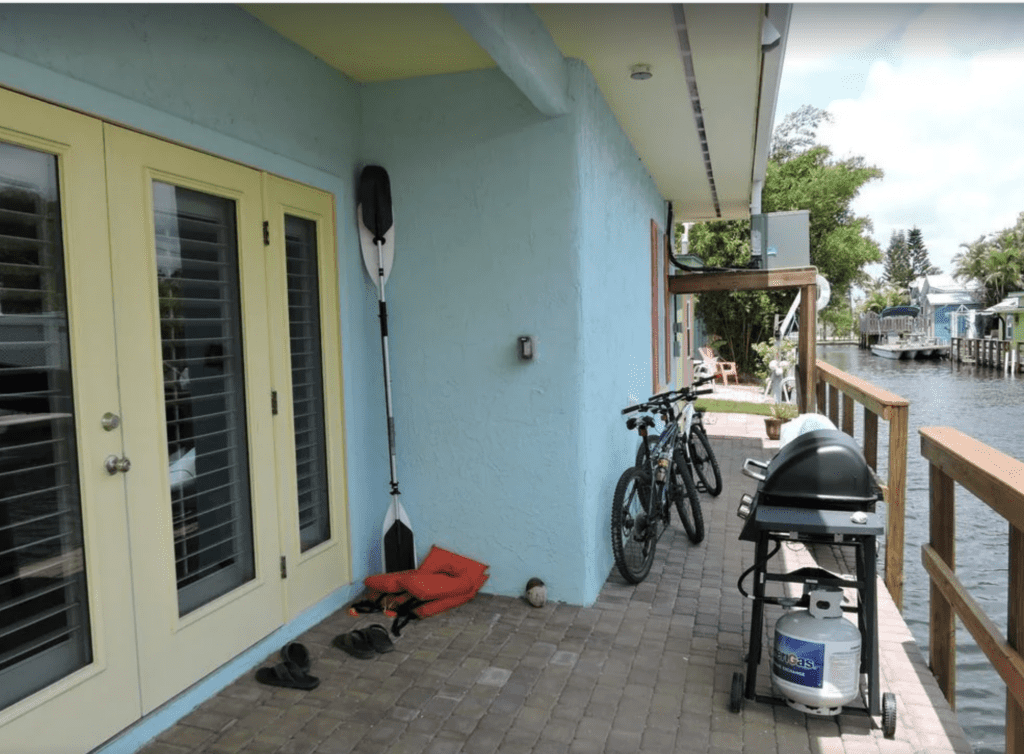 ---
Average Size VRBO Matlacha FL Homes (3 Bedrooms)
3 Bedroom 2 Bath House with Boat Dock + Pool & Beach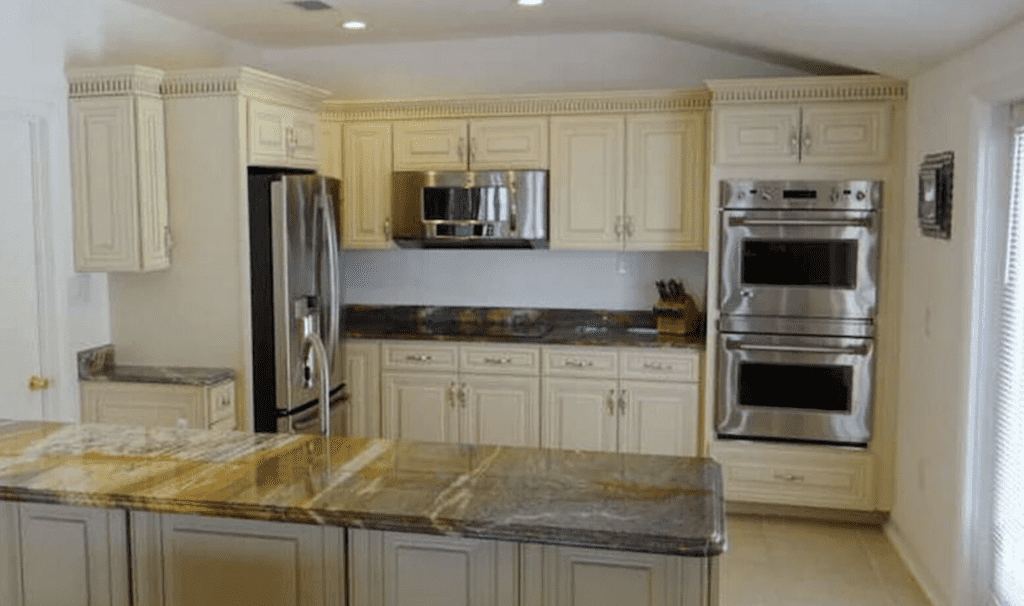 This 3 bedroom 2 bath rental house requires a 7-Day Minimum. Here you will see stunning views of the bay and mangroves, dolphins, and manatees right in your backyard.
The amenities include a washer/dryer, WiFi, and cable. Couples are welcome, and it is family-friendly.
This is one of the biggest lots on the island with plenty of parking spaces and privacy. We love their private dock with a boat lift, swimming pool, large deck, and even their own beach!
---
Larger VRBO Matlacha FL Homes (4+ Bedrooms)
VRBO 4 bedroom 3 Bath w/ Hot Tub + Boat Lift
This spacious waterfront 4-bedroom home is located on the island of Matlacha. It is family-friendly and easily sleeps 8 people. This house has plenty of room to relax with two dining areas and a breakfast bar along with outside dining. We love that it has a screened-in lanai with a hot tub!
Some of the amenities include a boat lift, kayaks, bikes, + more! There is one king, one queen, two full-size beds, and two twin beds. It also includes a washer/dryer, cable TV, and WiFi.
This home is situated on a large fenced lot. Please note no pets are allowed.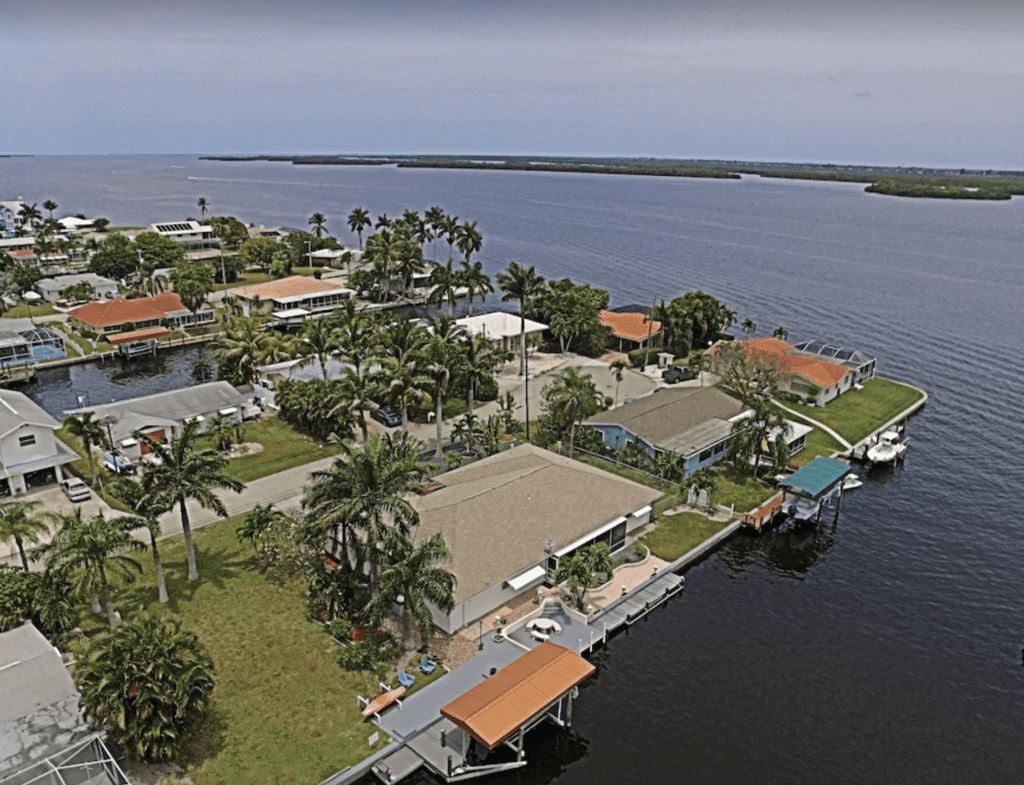 ---
VRBO 5 Bedrooms 3 Baths Key West Waterfront Charmer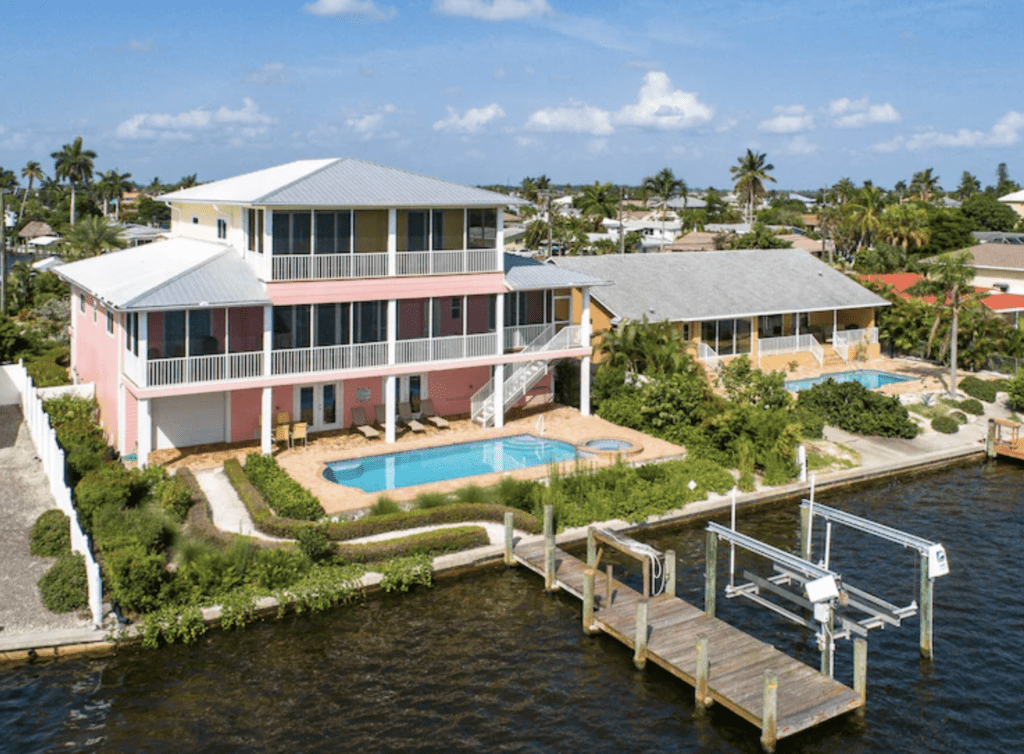 This picture-perfect 5 bedroom 3 bath Matlacha home has unsurpassed views of the bay. This property is the largest of the group with 7 beds and sleeping 10. There are 4 spacious bedrooms with an additional floor for a full private king suite.
We love the extensive wrap-around balconies with seating, private elevator, swimming pool, and spa. Unwind from the hustle and bustle with screened-in patio views that are out of this world.
The home is within walking distance of all that the art community of historic Matlacha village. You will love being able to quickly access live music, restaurants, shops, and more!
Read Next: The 10 Best Pine Island Restaurants to Eat at Right Now
---
Continue Reading Florida Travel Articles