If you have been searching for Florida quotes you are in the right place. This article showcases quotes about vacations, beaches, and more!
Florida is the perfect place to relax and enjoy some time off. The weather is warm, the beaches are beautiful, and there is so much to do. Florida vacation quotes can help you capture the feeling of this special place.
Fun Sayings About Florida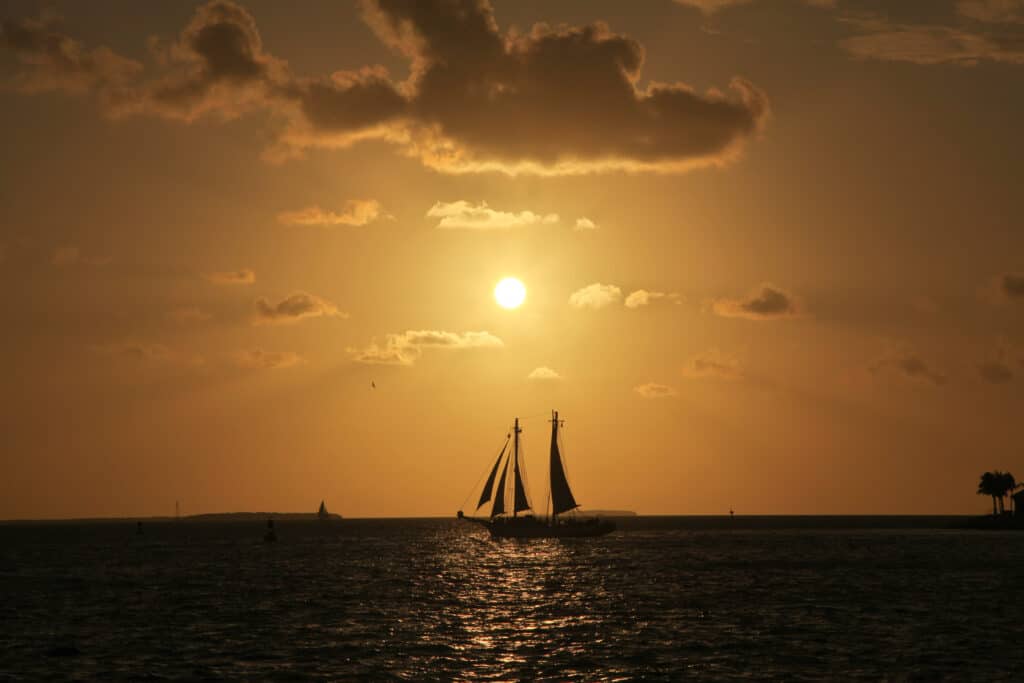 As Floridians, we of course love this amazing state! There is something about the serene beach vibes and carefree lifestyle that keeps millions of visitors coming back each year.
Here are some of my favorite sayings about Florida:
"Florida is a golden word…The very name Florida carried the message of warmth and ease and comfort. It was irresistible." – John Steinbeck
"Florida is a very healing place." – Burt Reynolds
"Two things Florida can teach the other 49 states: how to make a good margarita and how to deal with the aftermath of a hurricane." – Tom Feeney
Read Next: 23 Best Baby Travel Essentials for a Relaxing Road Trip
Florida Vacation Quotes
"There is only one problem in taking a winter vacation in Florida. You spend two weeks getting a deep, rich, golden tan — then they hand you the bill and you're pale again." – Robert Orben
"I go to Florida sometimes for vacation. I actually really like Florida. It's a weird place, it's surreal. It's so close, but you feel like you're in another world or on an island." – Jemima Kirke
"Florida is the world's greatest amusement park." – Budd Schulberg
"I represent Orlando, Florida, the world's number one vacation destination." – Ric Keller
"One of my favorite vacation places is Miami, because of the people, the water and the beach—of course—and the architecture on Miami Beach is so wonderful." – Oksana Baiu
Read Next: 25 Exciting Things to Do in St Pete Beach, FL!
Florida Beach Quotes & Sayings
As the summer heat kicks into high gear, what could be better than heading down to the Florida beaches to cool off? With its white sand beaches, crystal blue waters, and endless sunshine, it's no wonder that Florida is a top vacation destination for people from all over the world.
Florida isn't just a great place to relax and soak up some sun, it's also a great source of inspiration!
Here are my favorite Florida beach quotes:
"The best days are beach days." – Unknown
"If there's heaven for me, I'm sure it has a beach attached to it." – Jimmy Buffett
"At the beach, life is different. Time doesn't move hour to hour but mood to moment. We live by moments." – Unknown
"The ocean stirs the heart, inspires the imagination and brings eternal joy to the soul." – Robert Wyland
"To go out with the setting sun on an empty beach is to truly embrace your solitude." – Jeanne Moreau
"In every outthrust headland, in every curving beach, in every grain of sand there is the story of the earth." – Rachel Carson
"To myself, I am only a child playing on the beach, while vast oceans of truth lie undiscovered before me." – Isaac Newton
"To escape and sit quietly on the beach – that's my idea of paradise." – Emilia Wickstead
"Every time I stand before a beautiful beach, its waves seem to whisper to me: If you choose the simple things and find joy in nature simple treasures, life and living need not be so hard." – Psyche Roxas-Mendoza
"Sunshine is delicious, rain is refreshing, wind braces us up, snow is exhilarating; there is really no such thing as bad weather, only different kinds of good weather." – John Ruskin
"The beach is a place of solitude where I can set my spirit free and relax." – M.L. Borges
"Individually we are one drop. Together we are an ocean." – Ryunosuke Satoro
"Because there's nothing more beautiful than the way the ocean refuses to stop kissing the shoreline, no matter how many times it's sent away." – Sarah Kay
"The beach is in our blood. Everyone in our family returns to the beach instinctively, just like the sea turtles." – Sandy Archibald
"After a visit to the beach, it's hard to believe that we live in a material world." – Pam Shaw
"An ocean breeze puts a mind at ease." – Unknown
"When we walk along the beach and feel the sand beneath our toes and then the surf sends small waves to gently caress our feet; then we smell the saltiness upon the wind; that is when we know that we have come home from whence we came." – Anthony T. Hincks
"Every day should be a beach day." – Wilton Artisans
"At the beach, life is different. Time doesn't move hour to hour but mood to moment. We live by the currents, plan by the tides, and follow the sun." – Unknown
"The beach is definitely where I feel most at home. It's my oxygen. I forget how much I need it sometimes when I'm away working." – Behati Prinsloo
'Memories are made in flip flops.' – Kellie Elmore
"When my toes are sunk into the warm sand and the ocean is lapping my feet, when I breathe in the scent of salt and hear the cry of a seagull, I know that I am returned to a place of restoration. I am home. I can heal here." – Toni Sorenson
"At the beach, life is different. Time doesn't move hour to hour but mood to moment. We live by the currents, plan by the tides, and follow the sun." – Sandy Gingras
"Everything is better at the beach. Even rain." – Unknown
"I believe in the ocean curing all bad moods. I believe in the waves wiping away worries. I believe in seashells bringing good luck. I believe in toes in the sand grounding my soul." – Unknown
"A cloudy day at the beach is still a day at the… beach." – Unknown
Read Next: The 17 Best Things to Do on Pine Island, FL
Romantic Beach Quotes & Sayings
"My love for you is like a Florida sunset." – Unknown
"You all want to know what my dream is? Very simple. To walk along the beach, holding the hand of my lover." – Michelle Bachelet
"I love Florida. I love the beach. I love the sound of the crashing surfers against the rocks." – Emo Philips
"Sometimes just being on a beach with my loved ones is all the adventure I need." – Guy Laliberte
"It's a marvelous thing, the ocean. For some reason when two people sit together looking out at it, they stop caring whether they talk or stay silent. You never get tired of watching it. And no matter how rough the waves get, you're never bothered by the noise the water makes by the commotion of the surface – it never seems too loud, or too wild." – Banana Yoshimoto
"Long walks on the beach are the supposed holy grail of a romantic evening. The beach becomes a kind of utopia – the place where all our dreams come true." – Roxane Gay
"If you think about it, finding true love is a lot like finding a particular grain of sand on the beach." – Chrissy Anderson
Florida Keys Quotes & Sayings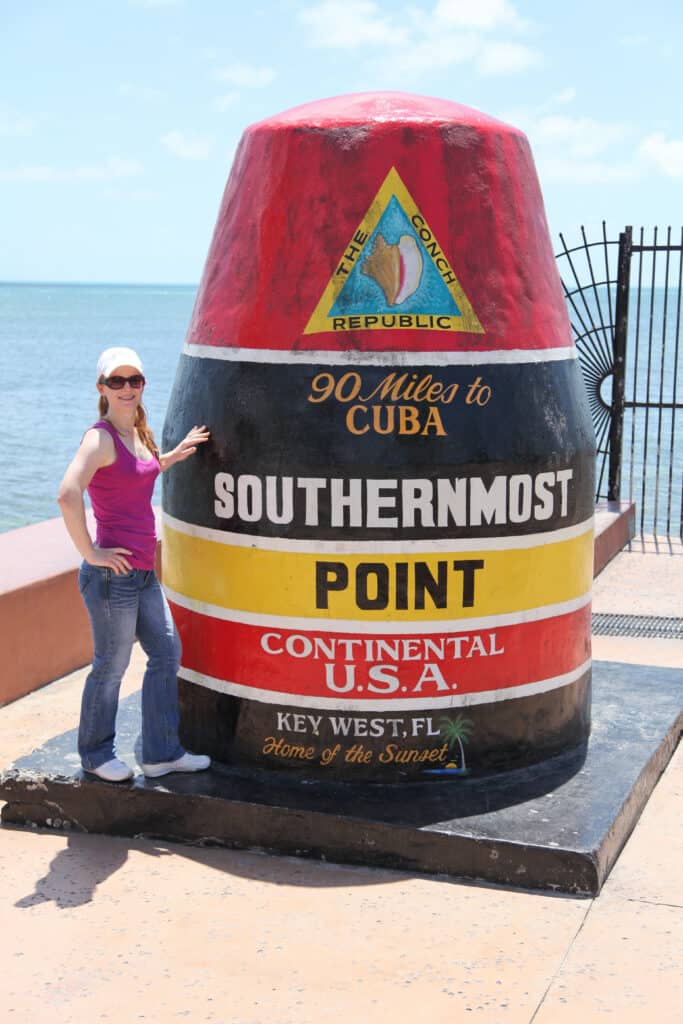 High tides and Key West vibes.
"I want to get to Key West and away from it all." – Ernest Hemingway
Weak in the Keys.
Welcome to the southernmost point.
Key West called, and they have a beach waiting just for you.
Good times and tan lines…. in Key West!
Easy, breezy, keysey.
Key West…. drink in hand, palm trees, and 80 degrees!
More Quotes About Florida
"The miracle of the light pours over the green and brown expanse of saw grass and of water, shining and slow-moving below, the grass and water that is the meaning and the central fact of the Everglades of Florida. It is a river of grass." – Marjorie Stoneman Douglas
"I am absolutely convinced that Florida will become the most exciting place in the world to live and work." – Rick Scott
"I live in Florida, and when people ask how close to the beach I am, I say, "Twelve minutes or twelve hours. Depends on which beach you want to go." – Jarod Kintz
Florida Funny Quotes
"Miami is a melting pot in which none of the stones melt. They rattle around." – Tom Wolfe
"August in Florida is God's way of reminding us who's in charge." – Blaize Clement
I like Florida. Everything is in the '80s. The temperatures, the ages, and the IQs." – George Carlin
"My parents didn't want to move to Florida, but they turned sixty and that's the law." – Jerry Seinfeld
"It's Florida. Hair is just an extra sweater I'm forced to wear." – Emma Gonzalez
"Walt Disney World is nearly 30,000 acres or 48 square miles. That is more than 80 times the size of Monaco. Grace Kelly would have been the queen of a larger and wealthier kingdom if she'd married Uncle Walt instead of Prince Rainier." – Eve Zibart
"I live in Florida and people are crazy here. And I say that lovingly." – Amy Simetz
"To Florida – it's dreamers, it's builders, its mavericks, and it's scoundrels." – Beatriz Williams
"Sometimes I think I've figured out some order in the universe, but then I find myself in Florida." – Susan Orlean
"They call Florida the "Sunshine State," which is funny because in the twelve years I lived here, it was only sunny for like twenty minutes – when the eye of the hurricane passed over my house." – Seth Lyon
Cute Florida Quotes: Sayings that will Warm Your Heart
Any day is a good day for Florida.
Don't worry, beach happy!
What happens at the beach…stays at the beach!
Gone to Florida, be back never.
Happiness comes in waves.
Life is better in flip-flops.
Salt in the air, sand in my hair.
Eat. Beach. Sleep. Repeat.
Christmas in Florida Quotes & Fun Christmas Sayings!
'Tis the season for heat, humidity, and palm trees! While many people associate Christmas with snow and cold weather, here in Florida Santa wears shorts and flip flops! If you're looking for a few laughs, check out these funny Christmas in Florida quotes.
Home for the holidays? More like home for the humid-days!
It's not a white Christmas, but it is a sandy one!
I'm dreamin' of a sunny Christmas!
What do you mean there's no such thing as a beachfront manger scene?
Warmest holiday wishes from our sunny state to yours!
Deck the halls with boughs of holly…and mosquito repellent!
Beach, please!
If Rudolph had been from Florida, his nose wouldn't have glowed…it would have melted!
All I want for Christmas is a cool breeze!
Tis the sea-sun.
Frosty the Snowman? More like Frosty the Sweatman!
Who needs snowflakes when you have seashells?
In Florida, we salt margaritas, not sidewalks.
Other people go skiing on Christmas. We prefer to surf.
"Florida tends to be one of those places that people like to play in winter." – Gary Bongiovanni
Orlando Florida Quotes
Orlando is one of the most popular tourist destinations in the world. It is famous for its world-class theme parks, as well as its celebrities that live there.
Here are some of our favorite Orlando Florida quotes:
"Here in Florida, we have something special we never enjoyed at Disneyland – the blessing of size. There's enough land here to hold all the ideas and plans we can possibly imagine." – Walt Disney
"I represent Orlando, Florida, the world's number one vacation destination." – Ric Keller
"The great thing about Florida is you – each city's about two hours' drive from everywhere else." – John Cleese
Final Thoughts on the Best Florida Quotes
Whether you're looking for some beach inspiration or simply need a dose of Vitamin D, these best Florida quotes are sure to get you feeling sunny! And if you're lucky enough to call the Sunshine State home, don't forget to appreciate all that it has to offer—even on the days when it's too hot to handle!
Did You Find This Florida Travel Article Helpful? Please Share It!
I would love to hear about your Florida travel adventures! You can follow me on Instagram, and tag your images to @erinstraveltips and hashtag #erinstraveltips. I look forward to seeing you there!
Related Florida Travel Articles