Looking for the best Matlacha restaurants and fun things to do? Look no further, you have come to the right place.
Due to severe devastation related to Hurricane Ian, Matlacha will be recovering for some time into the foreseeable future. I have family on Pine Island, and many people have lost their homes, businesses, or even loved ones. Please consider donating to the Go Fund Me for Matlacha Hookers.
Location
Matlacha is located in Southwest Florida off the coast of Fort Myers, just a short distance from Cape Coral. It is considered part of the Cape Coral-Fort Myers metropolitan area. With one road on and off the island, traffic can get backed up during peak season to see this cute colorful island.
This coastal village is a hidden gem that fosters a quaint tropical atmosphere with no shortage of water views or sunshine.
You'll find an abundance of restaurants, shops, and live music venues to tailor your trip to any type of adventure you want.
Get to know this scenic waterfront village with the best restaurants and fun things to do!
Frequently Asked Questions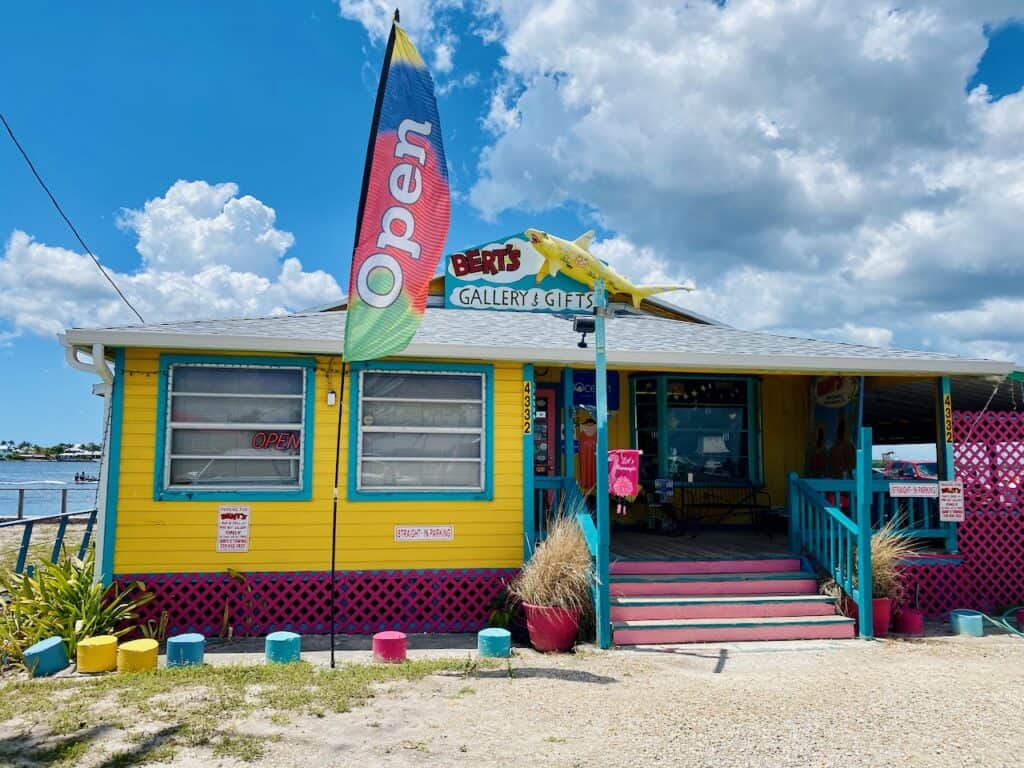 How do you pronounce Matlacha?
Matlacha is pronounced as Mat-la-SHAY. It is sort of fun to say, and the perfect name for a unique and fun town!
What is Matlacha known for?
Matlacha is known for being an "Old Florida" fishing village with brightly colored homes and businesses. It is also known for fun vibes and laid-back businesses that include ice cream shops, art galleries, island shops, seafood restaurants, and more!
Matlacha Hotels
Matlacha is the ideal place to connect with nature in a less-commercial "real" Florida feel. Whether you stay in one of the local Matlacha hotels or a short-term rental, there are plenty of options here.
Bridgewater Inn
A convenient motel for sightseeing in Matlacha is the Bridgewater Inn next to Matlacha Pass. Rooms have waterfront views (literally built over of the water!) and the motel is next-door to some of the best Matlacha restaurants and shops. The Bridgewater Inn is a rustic, homey place that is ideal for a fishing getaway.
Matlacha Cove Inn
Matlacha Cove Inn is also the perfect location within walking distance to restaurants and bars. All rooms come with patios, boat docks, and kitchenettes for ideal relaxation on the water! Matlacha Inn is ideal for families or those needing a bit more room with their variety of suite options.
Read Next: Enjoy Island Life with the 6 Best VRBO Matlacha FL Rentals
---
Favorite Matlacha Restaurants
Bert's Bar & Grill
The most popular Matlacha restaurant is Bert's Bar & Grill. They offer delicious seafood in a laid-back "beach bum" environment. You can even pull up with your boat!
Old Florida vibe, its age adds to its charm, excellent service, and very reasonable prices with a beautiful water view. We love their fish fry, lightly breaded and delicious (or you can opt for a healthier grilled or blackened option).
You won't regret having a beer here as the sun goes down. They have some of the finest music and a fun atmosphere on the island.
Don't miss Bert's Gallery & Gifts located just across the street (next to their overflow parking lot).
Favorites: Grouper tacos, Fish Fry, & yummy Key Lime Pie!
Address: 4271 Pine Island Rd, Matlacha, FL 33993
Phone: (239) 282-3232
---
Blue Dog Bar & Grill
The Blue Dog Bar & Grill is your neighborhood restaurant with friendly service. Located in front of the Matlacha Community Park, it is in the center of town. The Blue Dog is known for being one of the best Matlacha restaurants for delicious seafood.
You will notice on their logo white boots on the dog. Locals call these boots, "Pine Island Reeboks." These types of boots are worn by commercial fishermen all along the Florida Gulf Coast. Their logo is largely a nod to the rich fishing history of Pine Island & Matlacha.
Favorites: TNT Shrimp, Mullet Tacos, and Key Lime Pie
Address: 4597 Pine Island Rd NW, Matlacha, FL 33993
Read Next: The 10 Best Pine Island Restaurants to Eat at Right Now
---
Island Seafood Market
The Island Seafood Market is a boutique-style, family-owned and operated fish market. We love that they catch their own fish with their own boats. The market carries a variety of items including homemade sauces and dips, spices, and of course, freshly caught seafood. They even smoke their own fish dip on the property. They also make freshly made sandwiches and other dishes to eat in their cute indoor/outdoor dining areas.
Favorites: Smoked Fish Dip & Grouper Sandwich
Address: 4330 Pine Island Rd NW, Matlacha, FL 33993
Phone: (239) 283-2525
---
The Perfect Cup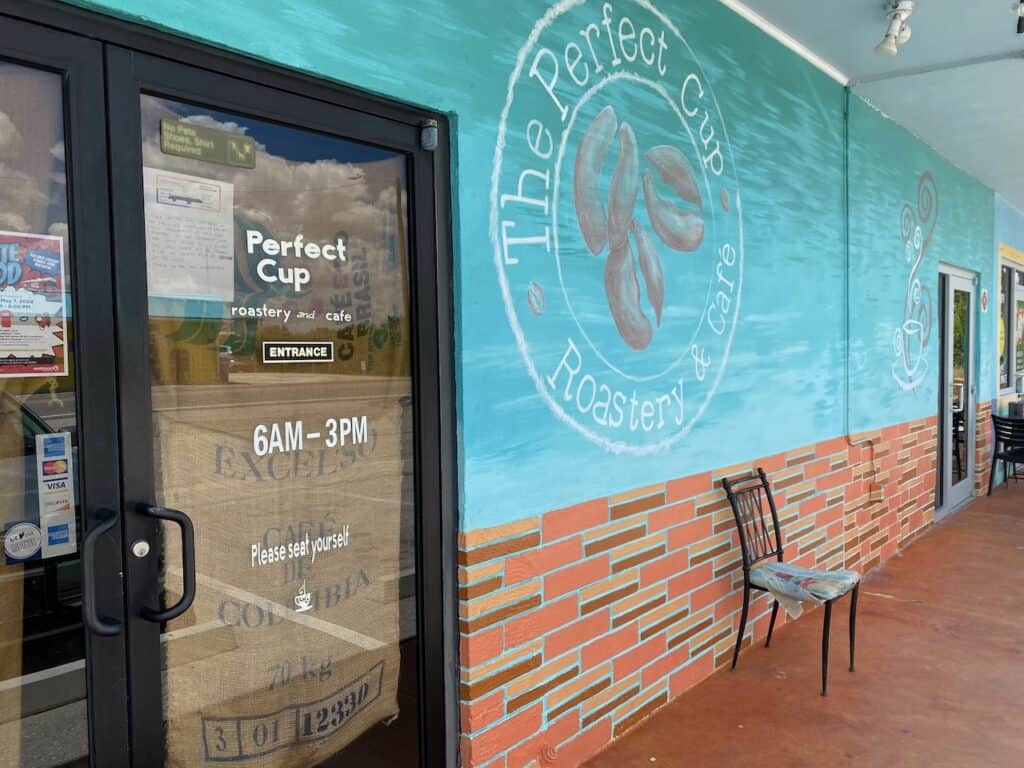 Come have the perfect breakfast and coffee at the Perfect Cup! Known for having the best breakfast on Matlacha Island, you will enjoy this little spot that is open from 6 am-3 pm. We really wish it was open later in the day!
Address: 4548 Pine Island Rd NW, Matlacha, FL 33993
Phone: (239) 283-4447
---
Yucatan Waterfront Bar & Grill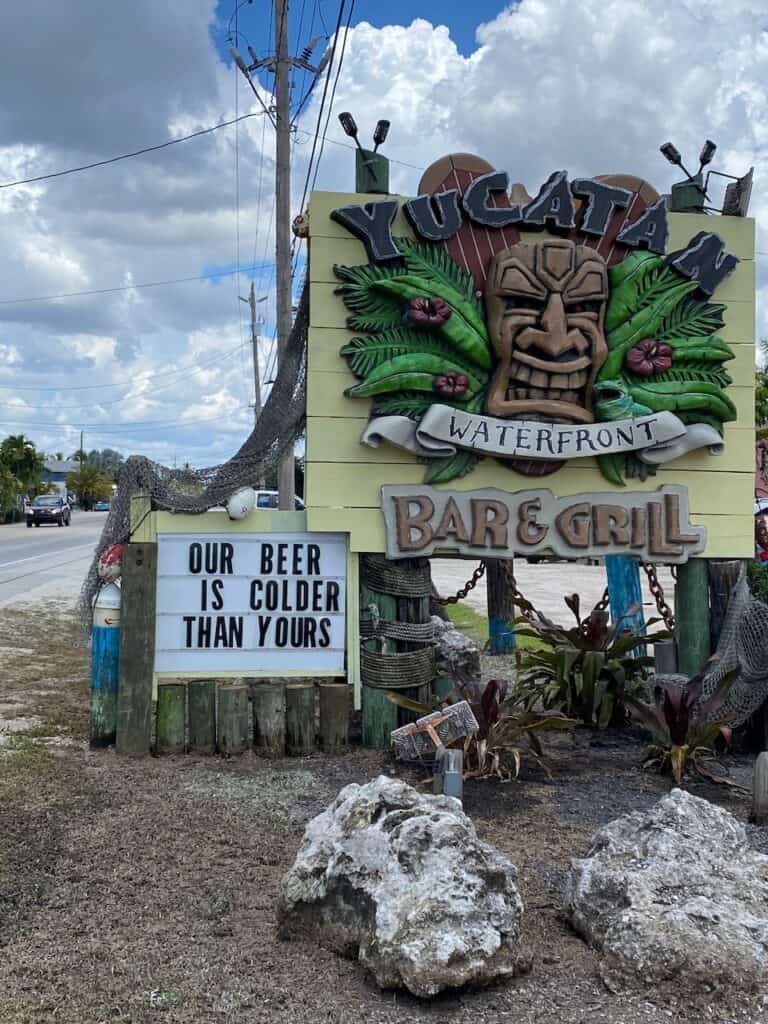 As someone who has been coming to the island for decades, this restaurant has changed names and ownership over the years. It was previously the Sandy Hook Fish & Rib House.
The Yucatan Waterfront Bar & Grill is a revitalized spot with a fun folksy vibe, gulf views, and live music with seafood and meat dishes.
Favorites: Boom Boom Shrimp Appetizer, Crab Legs, & Coconut Mango Whitefish
Address: 4875 Pine Island Rd, Matlacha, FL 33993
Phone: (239) 283-0113
---
Miceli's Restaurant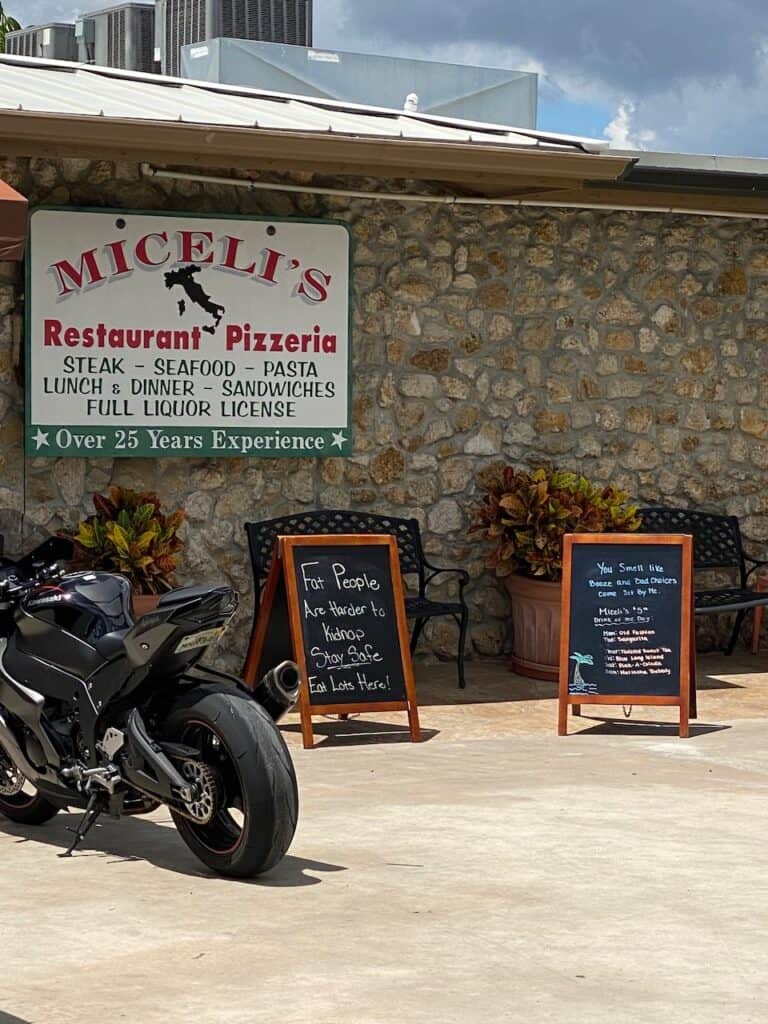 Miceli's Restaurant is one of the long-time favorites in Matlacha and is usually crowded. Whether you arrive by car or boat, you will enjoy a full menu of Italian and American food, outdoor dining, and daily live music. This dock and dine restaurant is a great place to bring your boat after a day on the water.
From the road, it's not much to look at, but out back is where it's at! We love that it is kid-friendly and there is food at the dock to feed the fish. It is a fun place to come for a drink or make some moves on the dance floor.
Favorites: Stromboli, Prime Rib, & Stuffed Flounder
Address: 3930 Pine Island Rd, Matlacha, FL 33993
Phone: (239) 282-8233
---
That BBQ Place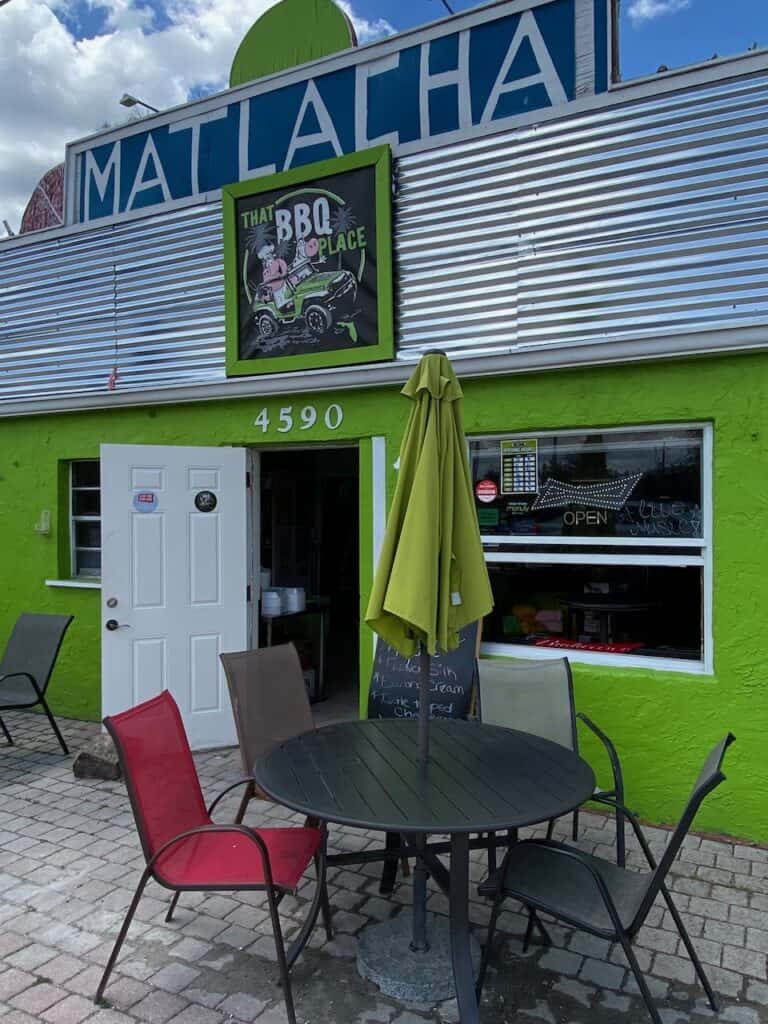 Looking for one of the best Matlacha restaurants for BBQ? That BBQ Place is a hole-in-the-wall location serving up some mouthwatering meat dishes and sides. You will also appreciate the family-friendly atmosphere with attentive owners that converse with patrons.
Favorites: "This is not yo Momma's Meatloaf" or Pulled Pork
Address: 4590 Pine Island Road Northwest, Matlacha, Florida 33993
Phone: (239)312-8557
---
Olde Fish House Marina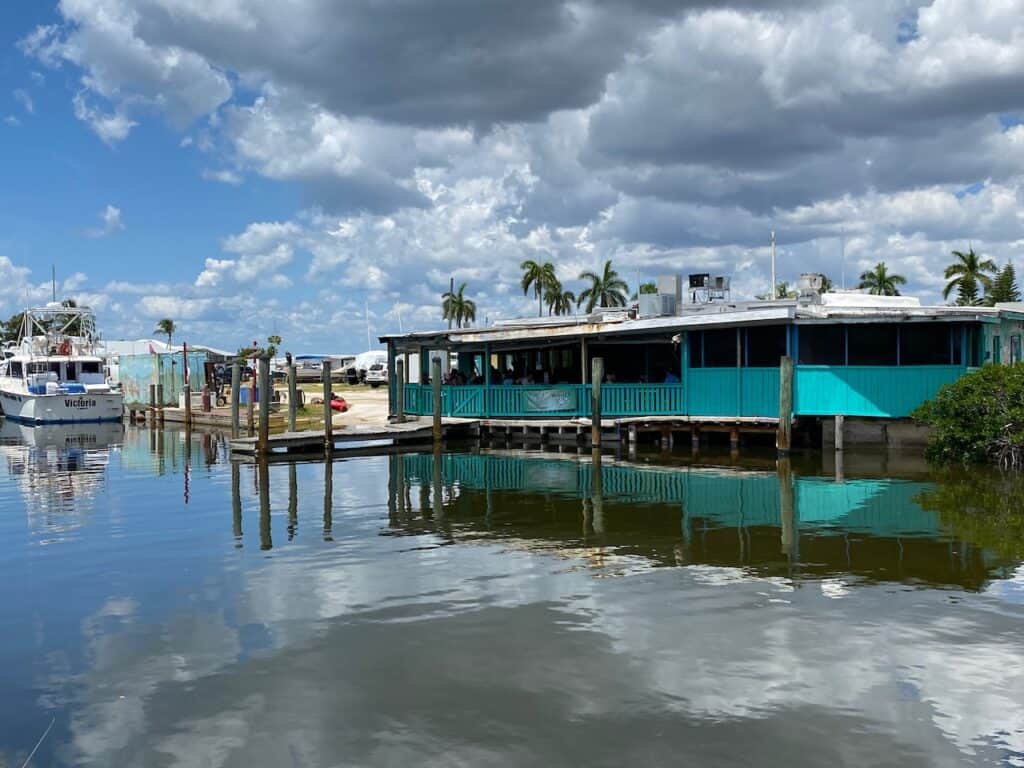 The Olde Fish House Marina is family owned and operated, and located in downtown Matlacha. They offer dock rentals if you want to eat and enjoy your time in Matlacha. This casual diner provides freshly caught fish from their docks to eat. They regularly have live music and the beer is cold!
Favorites: Fried Grouper Sandwich, Coleslaw, & Hush Puppies
Address: 4530 Pine Island Rd NW, Matlacha, FL 33993
Phone: (239)282-9577
---
Hooked Island Grill
Another place for outstanding sunset views and delicious seafood is Hooked Island Grill.
One of the things we love about Hooked Island Grill (besides the gorgeous waterfront location) is the variety of gluten-free options with breads, pastas, and more. The most beautiful item on their menu is their pineapple bowls. Pick your choice for the filling: grouper bites, shrimp, chicken, or ahi tuna.
They do not have a liquor license but do serve beer and wine. They have a small parking lot in front of the restaurant, but there is additional parking across the street.
Favorites: Unicorn fish, Greuben (grouper reuben), and don't miss the fried peanut butter pie!
Address: 4200 Pine Island Road NW Matlacha, FL 33993
Phone: (239) 540-3463
---
The Fishingest Bridge in The World
The Matlacha Bridge is a small concrete drawbridge that is widely known for its fishing. Nicknamed the "Fishingest Bridge in The World" (no it's not a typo!) because of the multiple fishermen seen daily on this bridge.
At Matlacha Pass, there is a wide variety of fish depending on the season such as snook, red fish, tarpon, mangrove snapper, sheepshead, and flounder. It makes sense why the bridge is often lined with fisherman casting for their next big catch.
---
Kayaking in Matlacha
There is a myriad of methods for getting active out on the water in Matlacha. Paddling is a popular pick, with an abundance of places to explore the rivers, fabled bays, backwaters, and
shorelines. The Great Calusa Blueway paddling trail is maintained by Lee County Parks & Recreation. It is an incredible 190-mile marked paddling trail with three distinct regions: Estero Bay, Pine Island Sound, and Matlacha Pass.
Several kayaking companies can be found around the area for hourly, daily, or weekly equipment rental and there are plenty of launch points to find within the scenic landscape. Visit Fort Myers provides a full list of kayak companies, launch sites, and key places to explore found here.
Guided expeditions are available as well. Regardless of where you venture to in this outdoor wonderland, be sure to keep your eyes peeled for spotting wildlife including over 300+ bird species!
---
Matlacha Community Park
Hidden behind the Blue Dog Restaurant is Matlacha Community Park. It is conveniently located on 9 waterfront acres in town. Some of the amenities include a boat launch, fishing pier, picnic areas, pickle-ball courts, a basketball court, a fitness station, and a kids playground.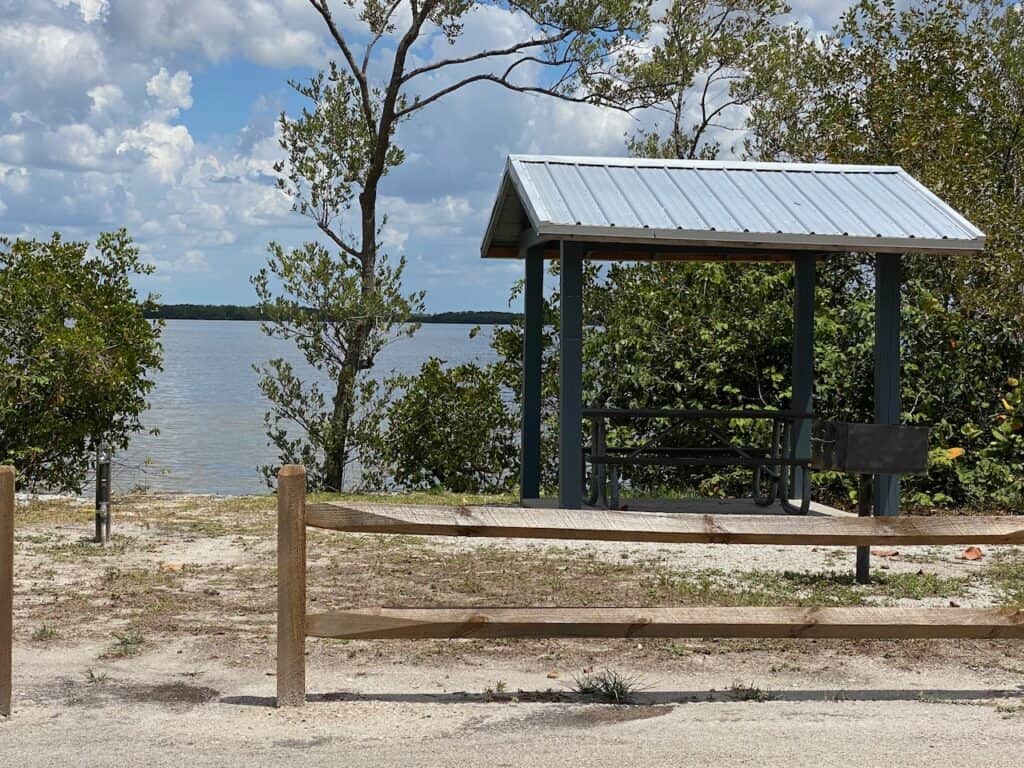 It's a great place to enjoy some fishing, boating, and relaxing by the water. The fishing pier is newly built and open for use. There's also a community center and pavilion space available to rent. Costs can be found here.
Park Hours: 7:00 am to 9:30 pm
Community Center Hours: Monday – Friday 9:30 am to 6 pm
Address: 4577 Pine Island Road Matlacha, Florida 33993 (GPS)
---
Hire a Fishing Charter
Treat yourself to a lovely little excursion out on the waters by hiring a Matlacha boating charter. Matlacha Fishing Charter is just one of the trusted outfits in town. Captain Tim Jones will guide you across his home territory of Matlacha Florida in search of a variety of fish including Snapper, Trout, Redfish, Snook, Tarpon, and Sheepshead.
Everything needed for fishing is included in either a full or half-day charter. You can even bring your own snacks and beverages aboard.
Address: 2528 Bayshore Drive, Matlacha, Florida 33993
Phone: (239) 462-7024
---
Matlacha Shops, Boutiques, & Galleries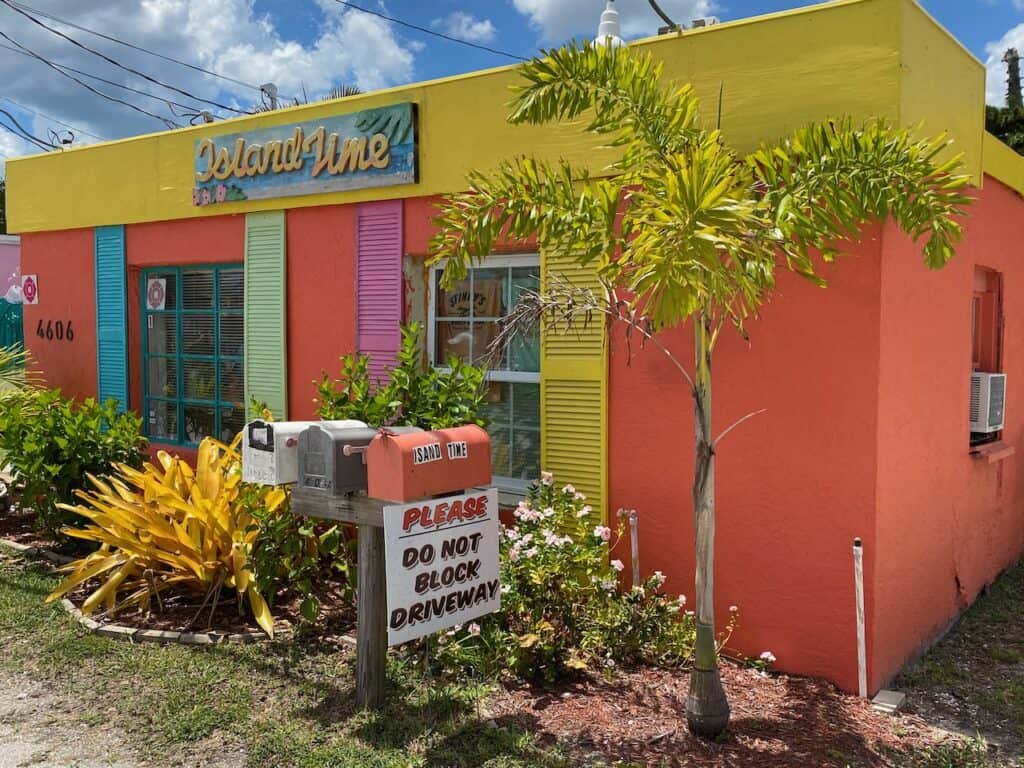 Matlacha shops are fun to visit especially with friendly shop owners and colorfully decorated buildings. I could have spent all day just photographing the outside of the shops! However, if you are looking for some local treasures, you will definitely want to check out some of these stores.
Lovegrove Gallery & Gardens
Don't miss Lovegrove Gallery & Gardens which has a collection of Leoma Lovegrove's paintings. She is an internationally recognized impressionist and is locally trained at the Ringling School of Art.
Lovegrove's art is displayed in various galleries, museums, and private collections throughout the world. The gallery is open Monday-Saturday from 10 am to 5 pm (Closes at 4 pm on Sundays).
Address: 4637 Pine Island Rd, Matlacha, FL 33993
Phone: (239) 938-5655
Bert's Pine Bay Gallery
I've been wearing Bert's Merch for 15+ years! I love their colorful tank tops and t-shirts, and my husband likes their fishing shirts. It is often my go-to attire when I'm boating or at the beach. Bert's Pine Bay Gallery is located conveniently across from Bert's restaurant next to Matlacha Pass.
Address: 4332 Pine Island Rd, Matlacha, FL 33993
Phone: (239) 283-1335
Trader's Hitching Post
Another Matlacha shop that is a personal favorite is the Traders Hitching Post. It is the place to go when you are looking for hand-crafted sterling silver, Native American jewelry. This place will always have special sentiment to me since this is where I got my first piece of jewelry from my future husband. Almost 20 years later, they have held the test of time!
Address: 4618 Pine Island Rd, Matlacha, Florida 33993
Phone: (239) 283-4040
Matlacha Menagerie & Cafe
Matlacha Menagerie is also a colorful shop with whimsical items. It is chock-full of knickknacks, wall hangings, pottery, metal and wood art, and glasswork. Prices are reasonable and tend to have a good selection of gift items.
Address: 4604 Pine Island Rd, Matlacha, FL 33993
Phone: (239) 282-0099
Gallery of Matlacha
Gallery of Matlacha showcases about 50 different artists with incredible talent and ability. The gallery features authentic handmade pieces of pottery, stained glass, custom jewelry, metal art, and more. 
Address: 4625 Pine Island Rd NW Matlacha, FL 33993
Phone: (443) 350-3188
---
Enjoy a Sweet Treat or Dessert in Matlacha
CW Fudge Factory
Enjoy a sweet treat at CW Fudge Factory located next door to the Perfect Cup. They have delicious fudge and a variety of fun snacks! For many years, we would frequent Great Licks Ice Cream (which is now CW Fudge Factory). If you like coconut, you need to sample Queenies Toasted Coconut! When craving a sweet treat, you definitely want to make a stop here.
---
Rent a Boat or Wave Runner & Explore Nearby Islands
A trip to Matlacha would not be complete without exploring the nearby islands. Whether you rent or go by guided tour (recommended), you can't miss these breathtaking water views.
There are multiple rental options in the area, but over the years we have used Monroe Canal Marina and Boat Rentals. They have a variety of boats and fishing charters available and are just a short drive from Matlacha located in St James City.
Several places you may want to check out include the Cayo Casto State Park, Captiva, and the beautiful Sanibel Island Lighthouse. There are plenty of other places to see too! While on Captiva, enjoy a memorable lunch at the unique Bubble Room.
---
Live Music on Pine Island
Take a short drive to Pine Island for some of the best live music. Froggy's is considered a well-loved dive bar by locals and I have been visiting for over two decades. It is now under new ownership, and so far we are hearing great things about the food and drinks!
Address: 3620 Stringfellow Rd, Saint James City, FL 33956-2350
Phone: (239)283-3773
---
Did You Find This Post Helpful? Share It!
If so, I would love to hear about your Florida travel adventures! You can follow me on Instagram, and tag your images to @erinstraveltips and hashtag #erinstraveltips. I look forward to seeing you there!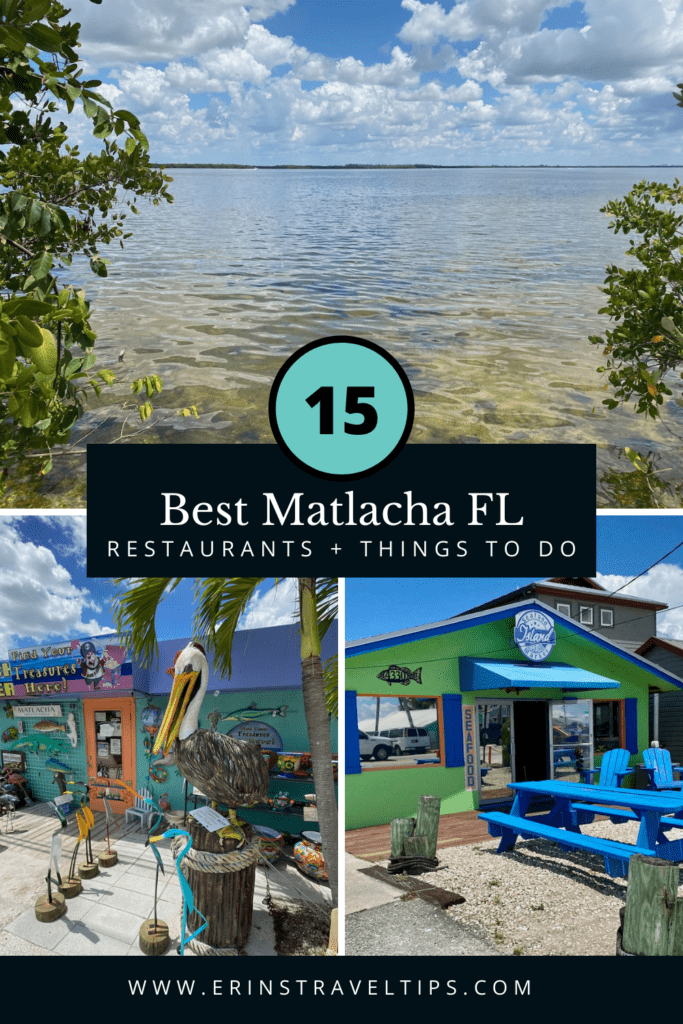 Continue Reading Florida Travel Articles