As a local, I realize how frustrating it can be to plan a beach day to St. Pete Beach or Clearwater Beach and find out you can't go due to a Florida red tide outbreak.
What is Florida Red Tide Caused By?
What is Florida red tide caused by? This article discusses what to know, and how to plan for your trip to Tampa Bay.
Red Tide is caused by marine algae known as Karenia Brevis that produces potentially harmful toxins to sea creatures and humans. In my experience, red tide can be especially challenging for those allergy or asthma sufferers like myself.
In recent years I have found Florida Red Tide to be particularly worse, but according to researchers it was first documented as early as 1844. The Red Tide during high periods can have considerable areas of fish kills. You may have seen photos of the piles of dead fish which greatly affects sea wildlife. The smell of red tide can be overwhelming with all the dead fish pilled along the shoreline.
As for humans, toxins can aerosolize in the ocean air that drifts ashore and trigger upper or lower respiratory issues. It can even have a feeling of burning or stinging on your skin.
Florida Red Tide – Traveling to St Petersburg / Tampa Bay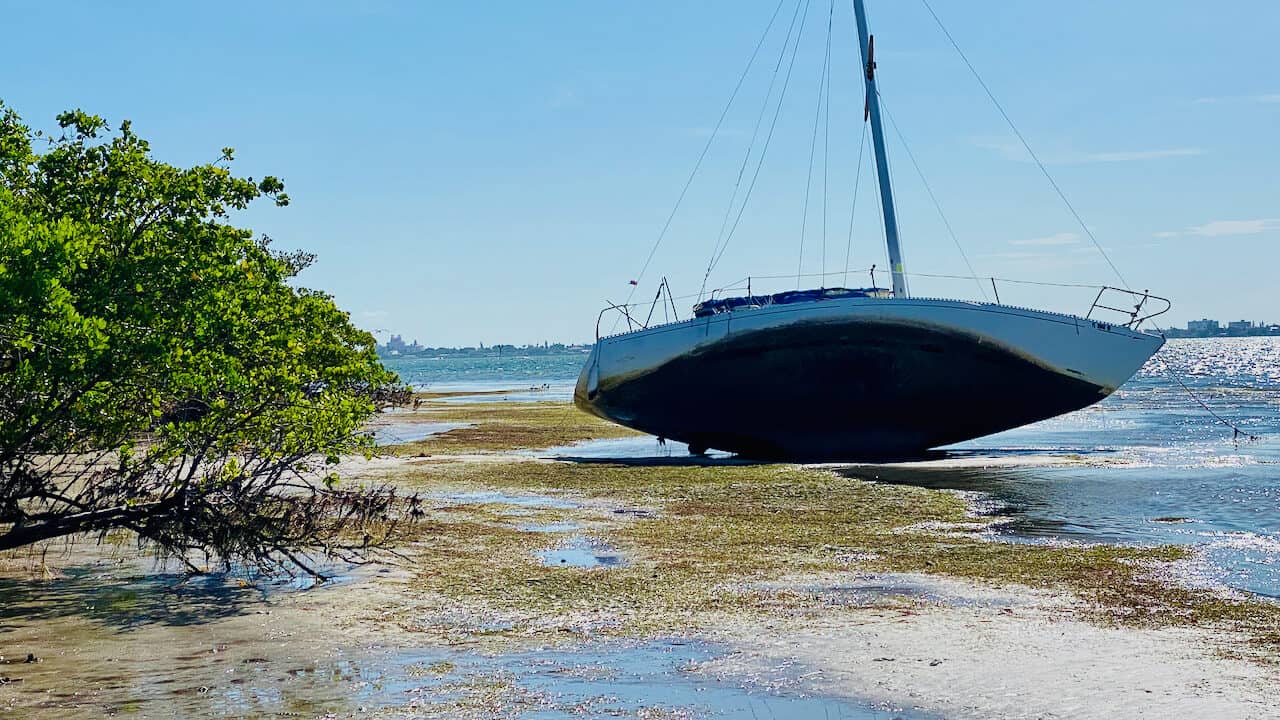 I have been often asked, should we cancel travel plans? I think that really depends on if you're coming to Tampa Bay for the beach. There are so many things to do and see. If you have known allergies, COPD, or asthma, it's best to avoid the beach during a red tide outbreak. If you have asthma and decide to visit the beach, bring your rescue inhaler.
The red tide blooms can occur for days, weeks, or months and can also change daily due to wind conditions and water currents. This can make it challenging at times when planning a vacation to St. Pete Beach or near the water. Onshore winds normally bring it to the shore and offshore winds drive it out to the Gulf of Mexico.
Suffering from a Red Tide Allergy?
I'm one of those people who really struggle with red tide in St Pete Beach. Some refer to it as a red tide allergy, I just know I have trouble breathing when red tide is high.
I have found that over-the-counter antihistamines help alleviate some of my symptoms. Always consult your physician for medical advice as it pertains to your situation.
The Florida Department of Health has also advised that the utilization of a mask could benefit those with breathing difficulties.
Map of Red Tide in Florida
The official and most current Florida red tide map that can be found at the Florida Fish and Wildlife website map. Go to southwest coast map, and it will provide the most recent red tide Tampa Bay map.
The Florida Fish and Wildlife Conservation Commission has a website that provides a daily update and map with current outbreaks. You can find more information by going to this link.
Tampa Bay is a beautiful place to visit, but there are times when you must be prepared for Florida Red Tide. Don't worry! There are plenty of things to do that is not at the beach. Check out some of the best museums in St Petersburg Florida or tips on visiting St Pete vs Tampa.
Red Tide and Shark Attacks
As a local, I've noticed an increase in sharks closer to the shoreline during a red tide outbreak in such areas as Siesta Key and Clearwater Beach. The sharks are also trying to avoid the red tide; I don't blame them! While you won't likely be diving in the water during a red tide outbreak, it's still good to know in case you have a dog that still likes to swim.
Did You Find This Post Helpful? Share It!
If so, I would love to hear about your Florida travel adventures! You can follow me on Instagram, and tag your images to @erinstraveltips and hashtag #erinstraveltips. I look forward to seeing you there!