Looking for the best beaches near Clearwater? Then, you've come to the right place!
The beautiful coastal city of Clearwater, Florida aims to better the lives of its citizens while preserving its rich cultural heritage and stunning natural environment.
Where is Clearwater Located?
Located in Pinellas County, Clearwater tends to be the most popular place for vacationers on the Florida Suncoast. People visit from all over the globe come to enjoy one of the best beaches in the world, Clearwater Beach.
Besides, it's an easy drive heading directly west of Tampa International Airport. It will take roughly about 30 minutes by car.
Clearwater Beach is located on the west side of the Intracoastal Waterway from the city of Clearwater.
The Clearwater Marine Aquarium and Pier 60 are two of the more popular attractions in the area when not sunbathing directly on some of the most beautiful coastline you'll ever see. Plus, you have some of the most spectacular beachfront hotels in Clearwater Beach.
🌴 Read Next: Where to Stay in Clearwater Beach: 9 Amazing Hotels
What beaches are close to Clearwater?
Below I have listed some of my top choices for beaches that are super easy to visit (even without a car)!
The Suncoast Beach Trolley services most of the beaches on this list, from Pass-a-Grille to Clearwater Beach.
17 Beaches Near Clearwater, Florida
Clearwater Beach
Sand Key Park
Caladesi Island State Park
Bellaire Beach
Indian Rocks Beach
Honeymoon Island State Park
Madeira Beach
Redington Shores
Treasure Island Beach
Fred Howard Park
Sunset Beach
St Pete Beach
Gulfport Beach
Shell Key Preserve
Pass-a-Grille Beach
Fort De Soto Park
Bradenton Beach

Clearwater Beach attracts people with its warm water, beautiful white sand, and great facilities. This popular strip, which is more than 2 miles long, is the most lively and colorful beach in Clearwater.
This world-class beach is full of vibrant life and energy, from volleyball games to things to do at night. It's also the best beach in the area for swimming because the water is clean and there are lifeguards on duty.
🌴 Recommended Hotel in Clearwater Beach: The Sandpearl Resort

2. Sand Key Park
If you want to surf and take advantage of expansive white sandy beaches, visit Sand Key Park. South of Clearwater Beach lies the sandy beach. Cabanas may also be rented if needed. There is a beautiful park with playgrounds and picnic spots on the other side of Sand Key Park. It's an excellent spot for families with little children. 
🌴 Read Next: Where to Stay in Clearwater Beach: 9 Amazing Hotels

3. Caladesi Island State Park
If you want to view one of the few pristine islands on Florida's Gulf Coast, go to Caladesi Island State Park. You'll discover some excellent swimming and sightseeing opportunities.
Pro Tips on Caladesi Island:
Remember, the island is only accessible by water vessels. You will need to visit by ferry or boat rental or tour. You might also take a stroll along the inside nature trail to observe some of the native wildlife.

4. Bellaire Beach
Belleair Beach is a two-mile stretch of calm residential land with few commercial sites. It shares boundaries with Indian Rocks Beach on the south; Clearwater and Sand Key Park on the north.
There are four beach access points at Belleair Beach and a small marina with a boat ramp. The beach offers a laid-back, tranquil ambiance that combines all the benefits of seaside living with the allure of a traditional, warm community.

5. Indian Rocks Beach
If you have children with you, Indian Rocks Beach in the Tampa Bay region is the perfect beach for a family gathering. Kids who like playing and building in the sand will find it quite soft and ideal for their activities. The water is warm and shallow over the 3-mile stretch of beach, making it a fantastic swimming area.
Indian Rocks Beach is among the top locations to stay close to Clearwater, Florida. Driving to Tampa doesn't need much time. This small beach town has a lot of great places to eat and shop.
🌴 Recommended Hotel in Indian Rocks Beach: Legacy Vacation Resorts

6. Honeymoon Island State Park
One of the top Gulf beaches near Clearwater in the Tampa Bay region is found at Honeymoon Island State Park. The Dunedin Causeway connects it to the rest of Florida for those traveling by automobile.
Even though you could spend the whole day lounging on the white beaches, Honeymoon Island State Park also offers other attractions. You may go on one of the island's lovely nature paths inland after letting the waves touch your toes to view wildlife there.
Pro Tip: Honeymoon Island State Park is the only access point if you plan to ferry to Caladesi Island.

7. Redington Shores
Redington Beach is a fantastic location for swimming, sunbathing, and relaxing in the sun. Between Indian Rocks Beach and Madeira Beach, it is perfect for a fun night out at John's Pass Village or dinner at Salt Rock Grill since it's conveniently in the center of it all. However, there isn't much to do around Redington except lie in the sun because the nearest town is barely one square mile.
Redington Shores is an excellent location if you desire solitude and peace & quiet. Stay at a fantastic beach resort, and you'll have a memorable vacation here.
🌴 Recommended Hotel North Redington Beach: DoubleTree Beach Resort by Hilton

If you're in the Clearwater area, you should visit Madeira Beach (or, as locals call it, Mad Beach). It is almost a half hour's drive from Clearwater, or it's easy to access on the trolley.
The beach is barely 2.5 miles long, yet millions of tourists and residents visit each year because of the beautiful beaches and John's Pass Village. Beyond the beach, check out my favorite fun things to do in Madeira Beach!
Pro Tip on Madeira Beach:
The annual John's Pass Seafood Festival is a fun event with fantastic fresh seafood and live music. It is usually held in January.
🌴 Recommended Hotel in Madeira Beach: Cambria Hotel

9. Treasure Island Beach
Treasure Island Beach is one of the best places to go if you're also visiting the city of Treasure Island. This 1960s-themed themed beach town has a lot going on with plenty of restaurants and bars within easy walking distance. The beach even has sidewalks for bikes and rollerblades. You can rent paddleboards at the beach, plus there's a huge slide and a pirate ship.
Treasure Island has a lot of natural wildlife and mangroves. Bottlenose dolphins, pelicans, and other sea creatures are often seen at this lovely beach.
Pro Tips on Treasure Island:
Check out VIP Mexican American Cuisine across the street if you like hole-in-the-wall restaurants. It's one of my favorites for Mexican food.
🌴 Recommended Hotel Treasure Island Beach: Bilmar Beach Resort

10. Fred Howard Park
Bring the whole family to Fred Howard Park for a fun-filled day of exploration. You may rent a kayak and explore the many habitats and wildlife near Tarpon Springs. Manatees and bottlenose dolphins are often seen in these waters.
Fred Howard Park offers a windsurfing spot, picnic areas, and a kayak launch area. You may go fishing or spend the day with your kids or friends at the ball field. Fred Howard Park is also great for seeing the sunset, with expansive open views of the Gulf of Mexico.
🌴 Recommended Hotel Near Fred Howard Park: Hampton Inn Tarpon Springs

11. Sunset Beach
Want a more relaxed beach atmosphere for a romantic getaway? On the northernmost part of Treasure Island is a beautiful spot called Sunset Beach. It resembles a neighborhood more and has fewer visitors.
Compared to Tampa Bay's more extensive beaches, it is less crowded. You also have a wide variety of hotels, resorts, and VRBO rentals on Treasure Island. Plus, you have some of the best food in Pinellas County nearby, including one of my favorite Mexican restaurants, VIP.
🌴 Recommended Hotel Treasure Island Beach: Bilmar Beach Resort

12. St Pete Beach
The Florida resort town of St Pete Beach is on a barrier island west of St. Petersburg on the Gulf of Mexico. The clear blue-green water and white sandy beaches are what makes it famous. It is consistently ranked as one of the top beaches in the US year after year!
The St Pete Beach hotels & resorts are also a great place to stay. People like to hang out in this area because it has a lot of beach bars and rooftop lounges. There are also lots of chances to go on unique boat tours, that include fun activities like parasailing and snorkeling.
Pro Tips on St Pete Beach:
Don't miss Upham Beach Park if you're looking for a peaceful day with the family. It's close to everything and a restaurant on the public beach. It's one of my favorite beaches near Clearwater.
There is a lot to see and do in St Pete Beach! Check out my article on the best things to do in St Pete Beach, which has my favorite hotels, restaurants, bars, and chocolate shop!
🌴 Recommended St Pete Beach Hotel: Bellwether Beach Resort

13. Gulfport Beach Park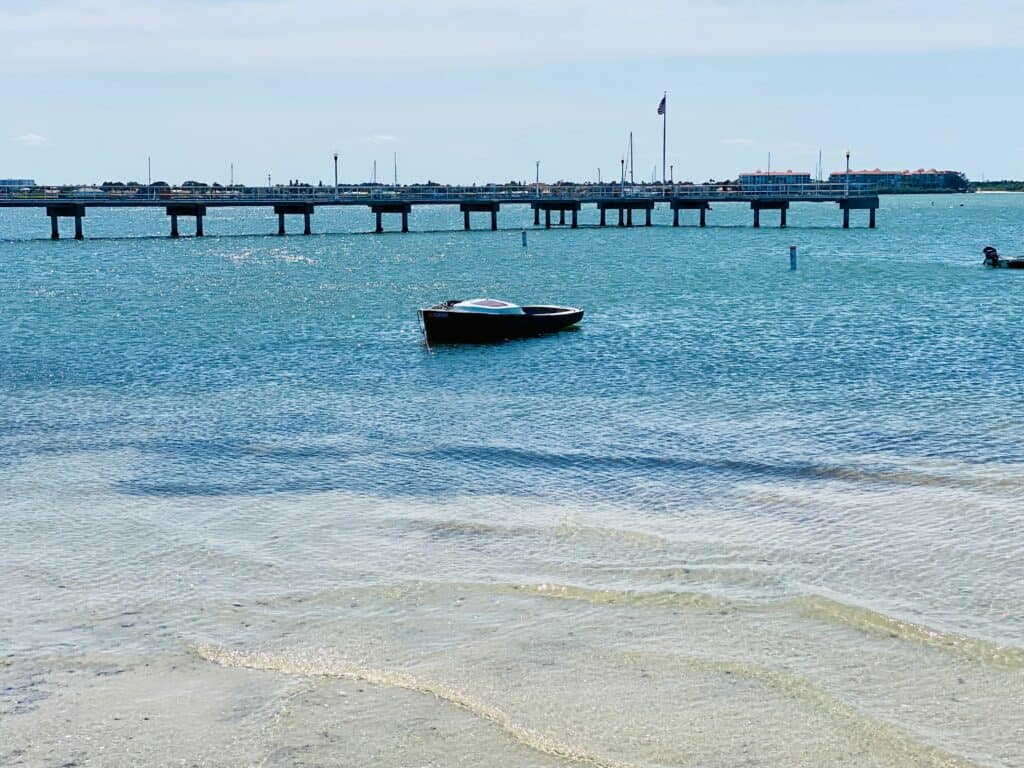 Gulfport Beach Park is a public beach area on beautiful Boca Ciega Bay. It is between 54th and 58th Streets on Shore Boulevard South. Gulfport has a thriving arts scene and an eclectic laid-back beach vibe. While the beach water isn't as clear as nearby St Pete Beach, it makes up for it by having so much personality as well as FREE parking!
People visit for the friendly environment, the diverse art, and the local cuisine. The evening breeze from Boca Ciega Bay is delightful, which is just a few steps away, adding to the atmosphere.
Pro Tips on Gulfport Beach:
Make sure to eat at one of the local restaurants before you leave Gulfport. Check out my full list of favorite Gulfport restaurants.
🌴 Recommended Hotel in Gulfport: Historic Peninsula Inn

14. Shell Key Preserve
With its magnificent white dunes and sparkling crystal blue seas, Shell Key Preserve covers 1,800 acres. It protects a variety of delicate and fascinating marine environments.
Shell Key Preserve is undoubtedly a sanctuary for animal lovers since it's a protected environment. It serves as a haven for sea turtles and migratory birds.
Pro Tips on Shell Key Preserve:
It's important to note that Shell Key is only accessible by boat. You can take a boat tour, rent a boat, or take the ferry from Fort De Soto Park.
🌴 Recommended Hotel Near Shell Key Preserve: Residence Inn

Along the Gulf Coast, there is a wide stretch of white sand known as Pass-a-Grille Beach. There are several pub bars, casual seafood restaurants, and beach-themed businesses nearby, particularly along 8th Avenue.
To the south, it is near the southernmost point of St Pete Beach. You may park your vehicle in a variety of locations and then go to the beach. People prefer to swim and sunbathe at Pass-a-Grille Beach.
Pro Tips on Pass-a-Grille Beach:
Pass-a-Grille Beach is a favorite hangout by locals for its easy-going atmosphere and gorgeous views near the Pink Palace (The Don CeSar). Head to Paradise Grille on Pass-a-Grille Beach for amazing sunset views with live music and drinks. Jim LeBlanc will be there, ringing the nightly bell in celebration of another beautiful night!
🌴 Recommended Pass-a-Grille Beach Hotel: Inn on the Beach

16. Fort DeSoto Park
The largest park in Pinellas County is Fort DeSoto, and it happens to also be one of the best beaches near Clearwater. It comprises more than 1,136 acres of wildlife and five connected islands. If you want to witness local wildlife like turtles and birds, it's one of the greatest spots to visit for undisturbed beaches.
North Beach tends to be the most popular since it's near the historic fort and it has boulders you can jump off and swim around. It's a photographer's dream – especially at sunset. You'll get the ideal family beach photo here!
Another perk is that Fort DeSoto has one of the top dog beaches in Florida. Your pup will love having the freedom to explore Paw Playground.
With miles of trails, boating, camping, picnic pavilions, grills, playgrounds, and more – you'll definitely want to spend the night!
Pro Tips on Tierra Verde:
The small town of Tierra Verde, Florida is home to Fort DeSoto Park. For some of the best local cuisine, you'll want to check out SeaWorthy + Raw Bar.
For sunset views and drinks, Vista at the Top (Residence Inn) has gorgeous views of Boca Ciega Bay. There are glass-bottom kayak tours and plenty of other fun things to do in Tierra Verde too!
🌴 Best Hotel Near Fort DeSoto: Residence Inn Tierra Verde

17. Bradenton Beach
Bradenton Beach is the southernmost city on Anna Marie Island in Manatee County. The town has a lot of gorgeous beaches that front the Gulf of Mexico. Its charming, historic downtown is interesting to explore and is home to many excellent restaurants and a thriving artistic community.
Coquina Beach is the longest beach on the island and tends to be the most popular.
Pro Tips on Bradenton:
While in the area, don't miss quaint downtown Bradenton and the many fun things to do here. Families especially love The Bishop Museum of Science & Nature and the Bradenton Riverwalk.
🌴 Best Hotel Near Bradenton Beach: Compass Maragaritaville

Final Thoughts: Beaches Near Clearwater
Well, there you have it, the 17 best beaches near Clearwater. I could have kept listing more beaches, there are that many!
However, these are the best options as well as being some of the highest-ranked beaches in the United States. So, which one did you choose for your beach vacation? Next you'll want to read about the differences between Clearwater Beach vs St Pete Beach for vacation!
Frequently Asked Questions
Is Redington Shores a nice beach?
Redington Shores provides the nicest public beach access of the three beaches in the Redington area. While it does have a breakwater (artificial offshore barrier used to prevent beach erosion), the beauty of white sand beaches and water remains constant. Redington Shores main public beach access is located at 182nd Avenue.
Can you swim at Gulfport Beach FL?
Yes. However, the sand tends to have more seaweed and natural debris since it is on Boca Ciega Bay, and not open to the Gulf of Mexico. Gulfport Beach is more ideal for sunbathing, volleyball, playground, picnics, boating, and enjoying activities at the Gulfport casino!
Did You Find This Post Helpful? Please Share It!
If so, I would love to hear about your Florida travel adventures! You can follow me on Instagram, and tag your images to @erinstraveltips and hashtag #erinstraveltips. I look forward to seeing you there!
Related Florida Travel Articles