Want to avoid the lines on your DC Weekend Getaway?
Washington, D.C., the capital of the United States, is more than just the home of politics and historic monuments. Having explored this lively city firsthand, I can tell you that it offers plenty of fun things to do!
In this blog post, I'll guide you through the must-see landmarks, hidden gems, and some of my personal favorite spots that make the nation's capital a destination worth visiting. For the smart and ambitious traveler who wants to see the sights, here is my itinerary to Washington, DC in 3 days.

Day 1 – DC Weekend Getaway Begins
My husband and I flew into Dulles Airport and arrived late morning. To make the most of our day, we headed straight to our hotel to drop off our belongings.
We chose to stay at the 5-star Sofitel Washington DC, a quaint boutique French-style hotel. It is 4 minutes from the White House, making it an excellent launching point to see the city.
Highly-Rated Hotels in Downtown Washington DC
Here's my list of favorite hotels for easy walking to most of the major attractions and known for great customer service.
Supreme Court Tour – 1+ Hours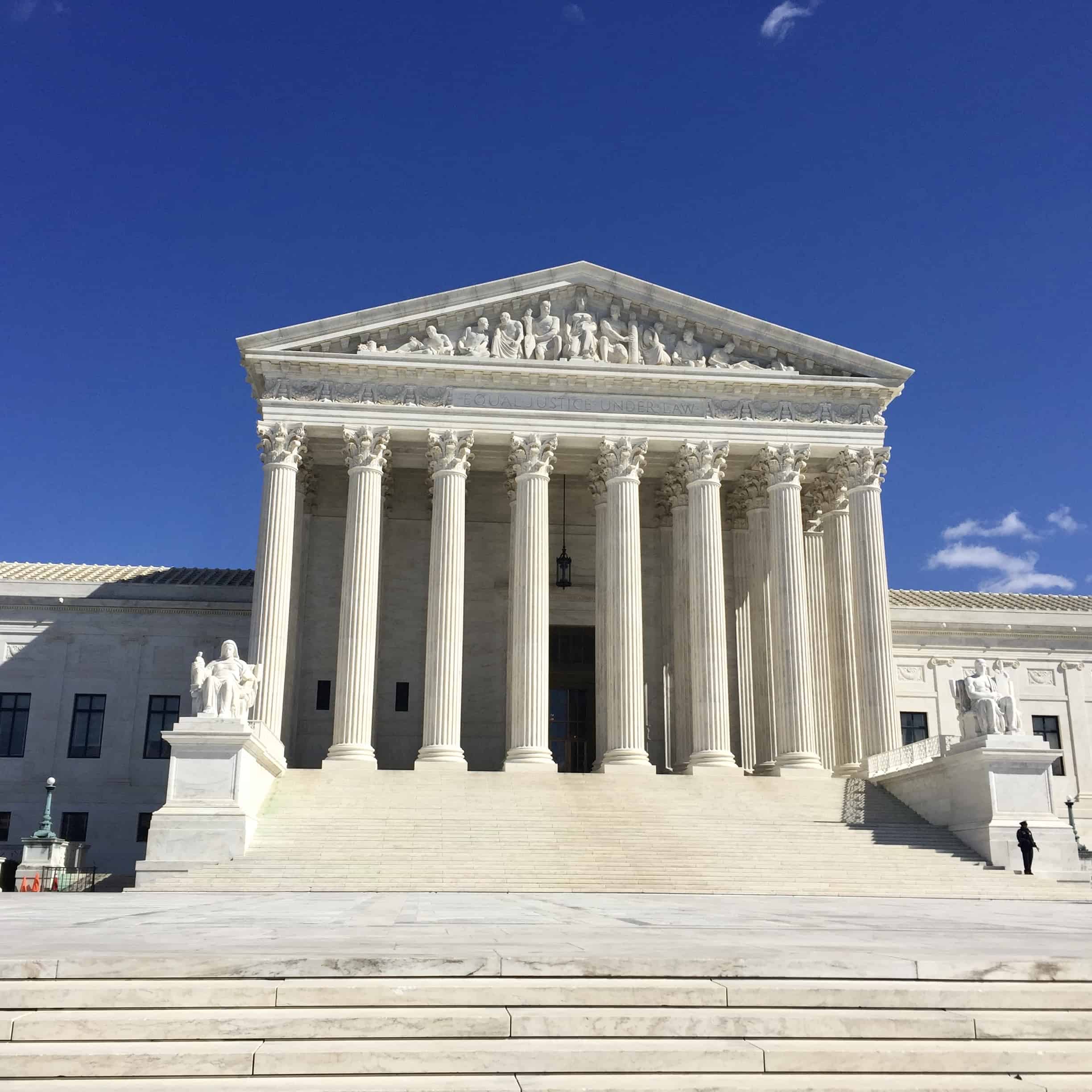 After dropping our items at our hotel, we headed right out to the Supreme Court. I booked a lecture in advance dropped my belongings at the hotel, to catch the 1:30pm lecture at Supreme Court. It is advisable to join the line in the Great Hall at least 15 minutes prior to the lecture's start time.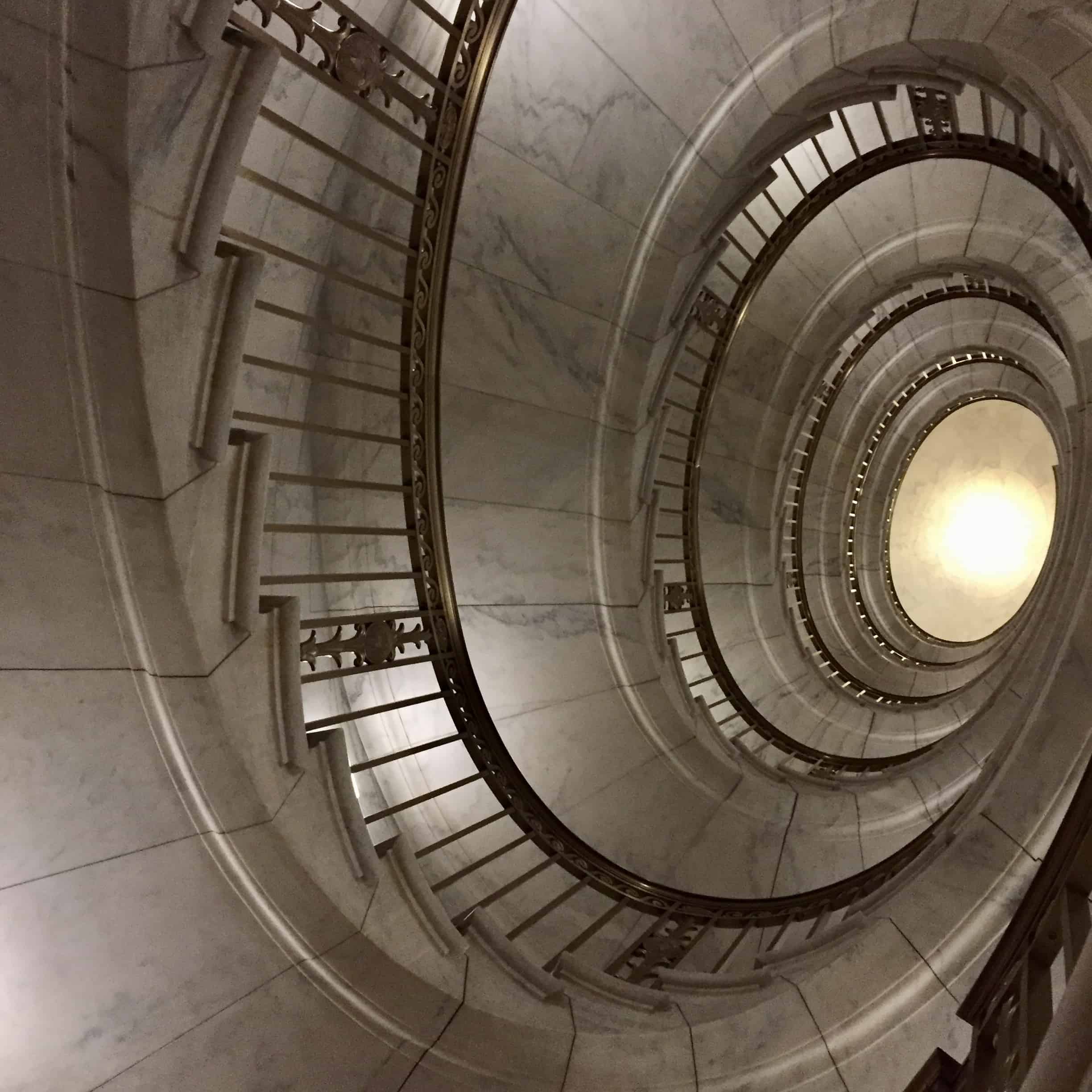 United States Capitol Tour – 2+ Hours
Since the Supreme Court and the US Capitol are adjacent to one another, we booked the following tour to immediately follow there. The US Capitol recommends you to arrive 45 minutes prior to your scheduled tour time due to security check points and high traffic. We were fortunate to not have large crowds. If you haven't been before, this is a worthwhile tour to see where the action happens!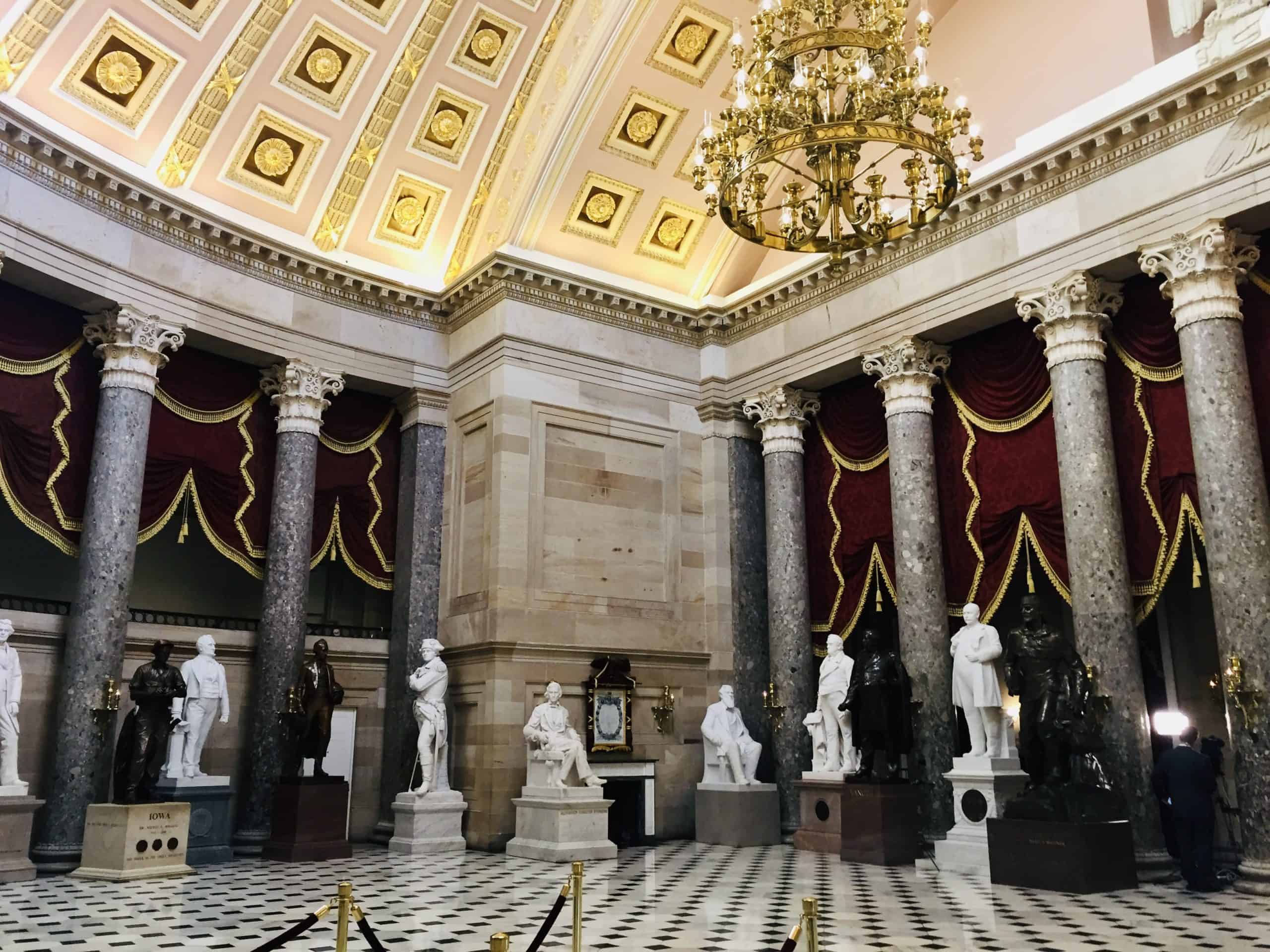 Some of the Top Washington DC Museums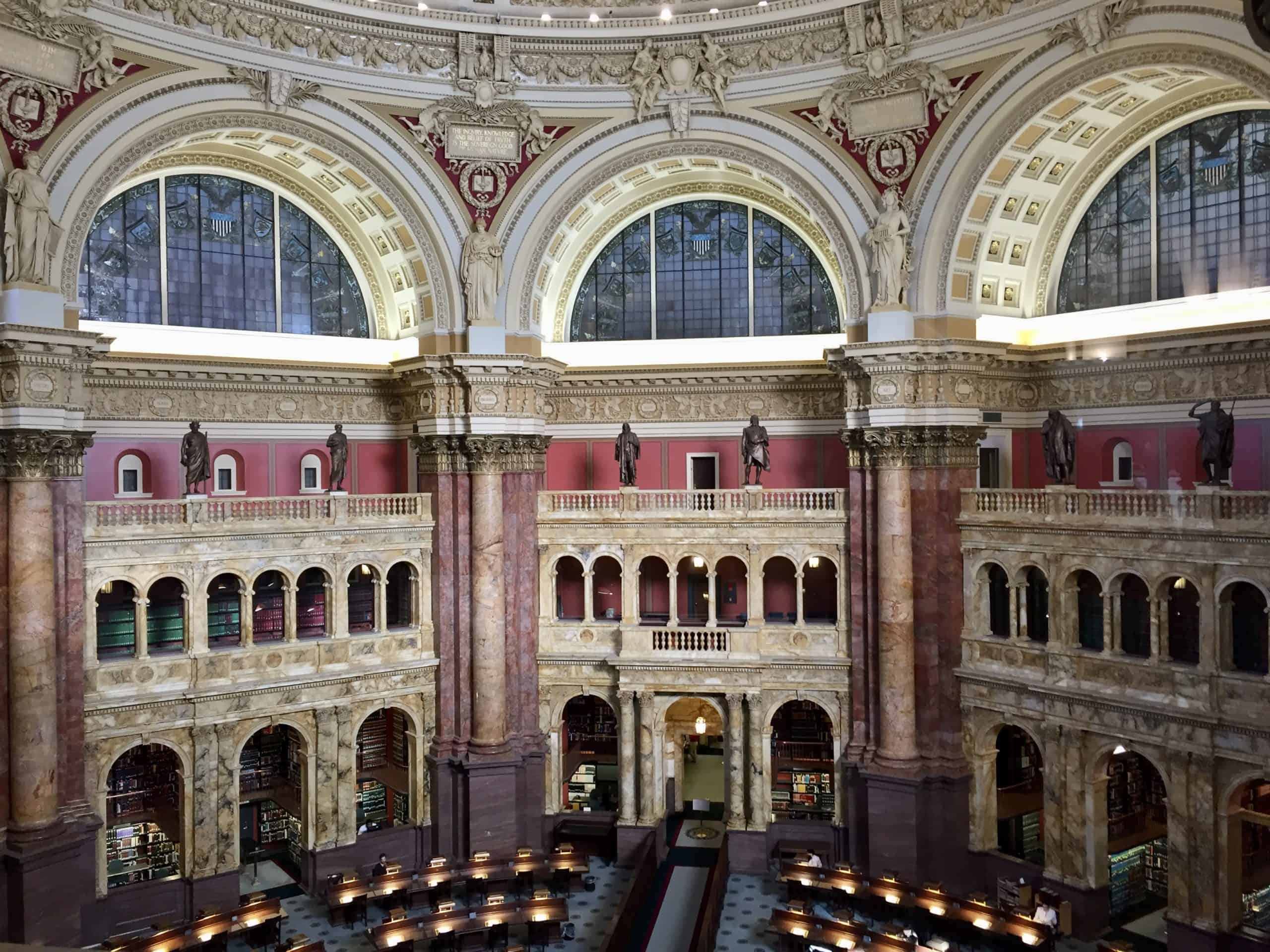 If you have time after seeing the US Capitol, I encourage you to see one of the many museums in Washington DC on your first day. I find that if I break up the museums onto separate days, I see them with more appreciation. The National Museum of American History is my favorite starter museum to see items like Lincoln's Hat.
Please note, it is important to verify the days and times your chosen museums are open. I found that they are not standardized. To make the most of your 3-day trip, you will want to see items that close earlier first.
Dinner at Joe's Seafood
While in the city must eat at some of the best restaurants in Washington DC!
Just around the corner from our hotel near the White House is Joe's Seafood & Prime Steak Restaurant. Overall, a solid meal and we enjoyed the oysters the most.

Day 2 – DC Weekend Getaway Continues
Arlington National Cemetery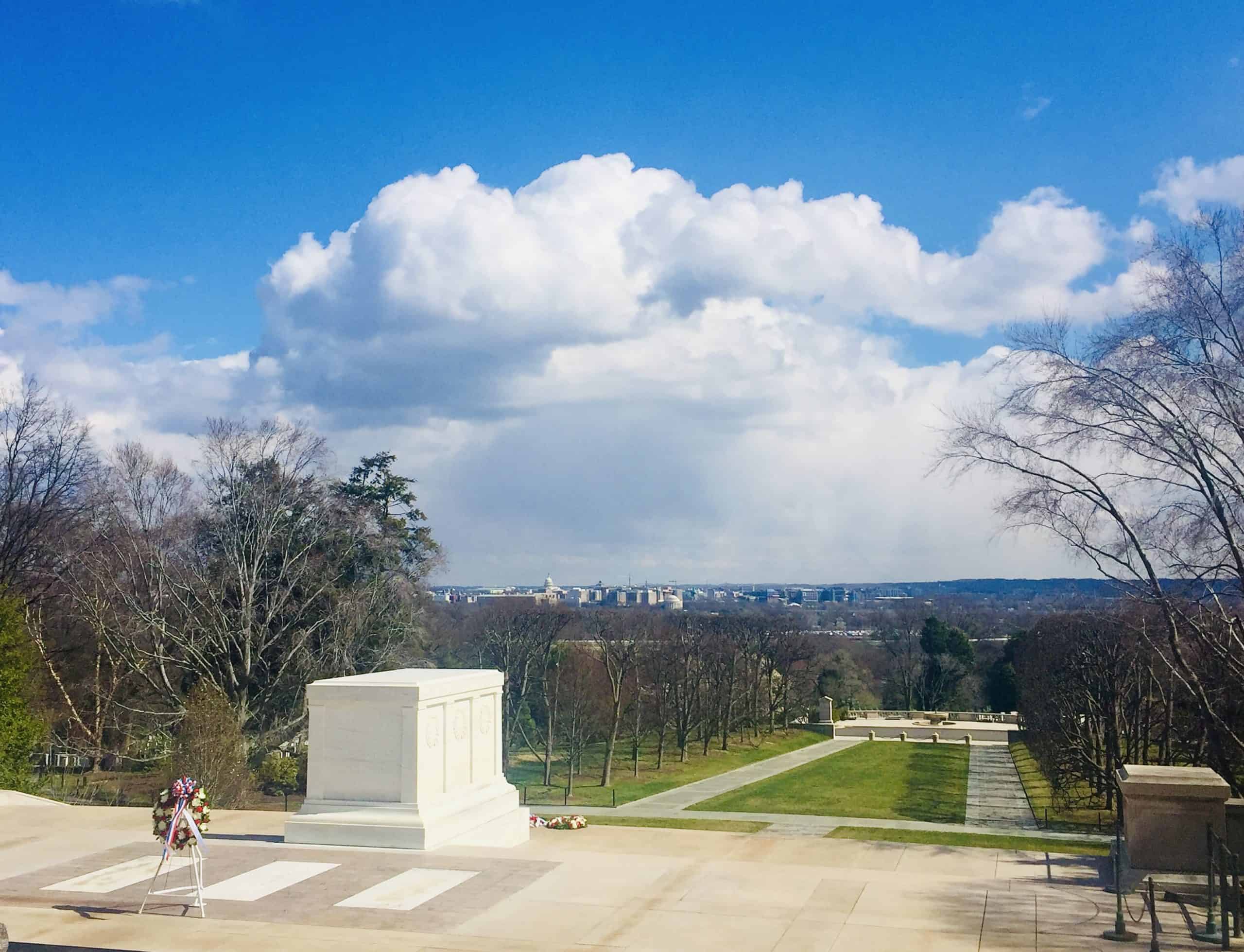 Started the day by beginning at the Arlington Cemetery – Tomb of the Unknown Solider and seeing the famous grave sites of President Kennedy and family, President Taft, and many military heroes. Arlington is open daily from 8am-5pm.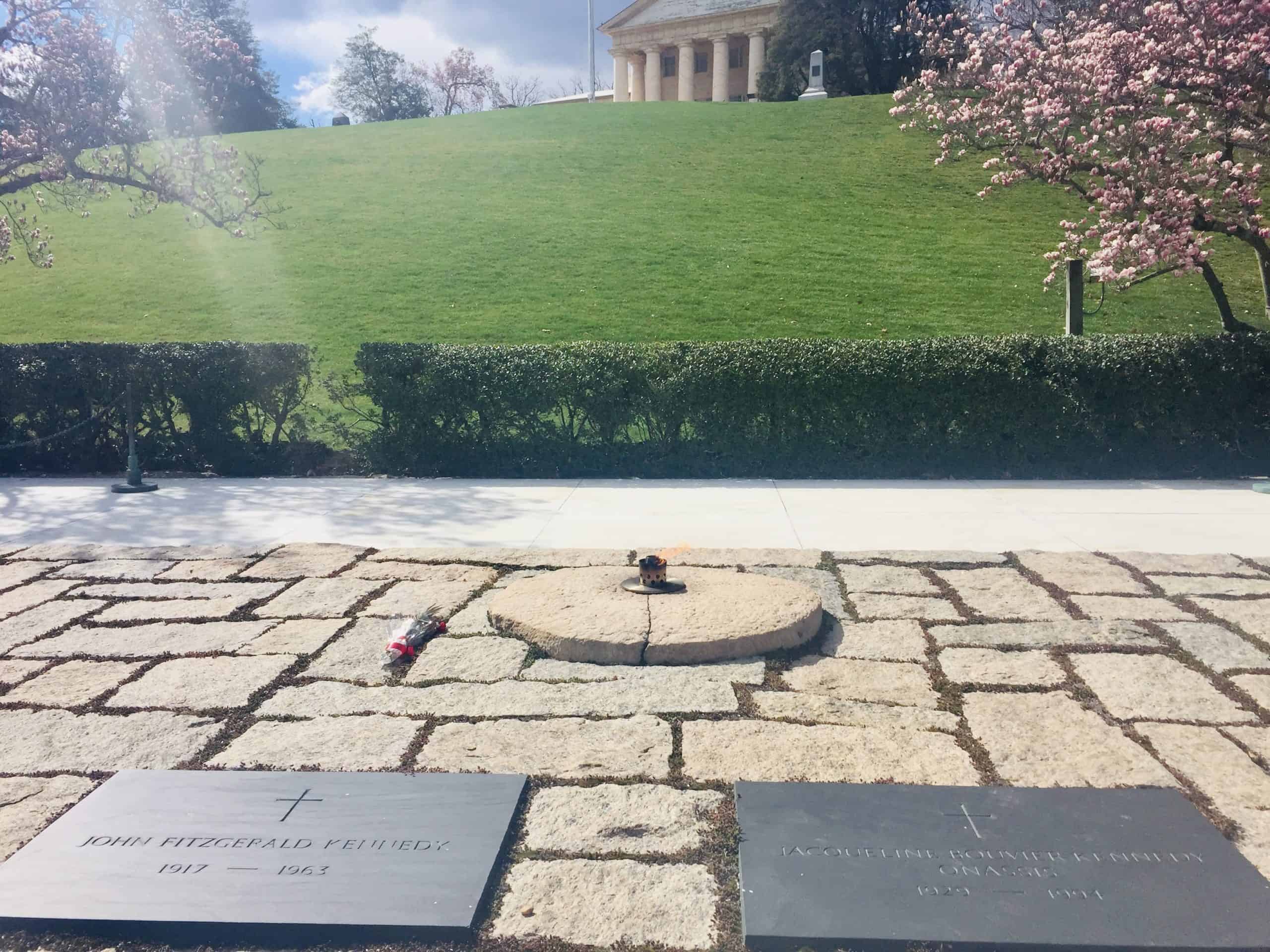 If you get time, go inside Arlington House that belonged to General Lee and family. This had some remarkable history and views. I could have spent all day there especially with perfect weather for walking outside and seeing the trees in bloom. They have done a great job with maintaining General Lee's home and I was surprised how much I enjoyed my visit.
There is a calming peace and beauty of the landscape, and being surrounded by so many inspiring people buried in Arlington. Arlington Cemetery was one of my favorite places to see in DC.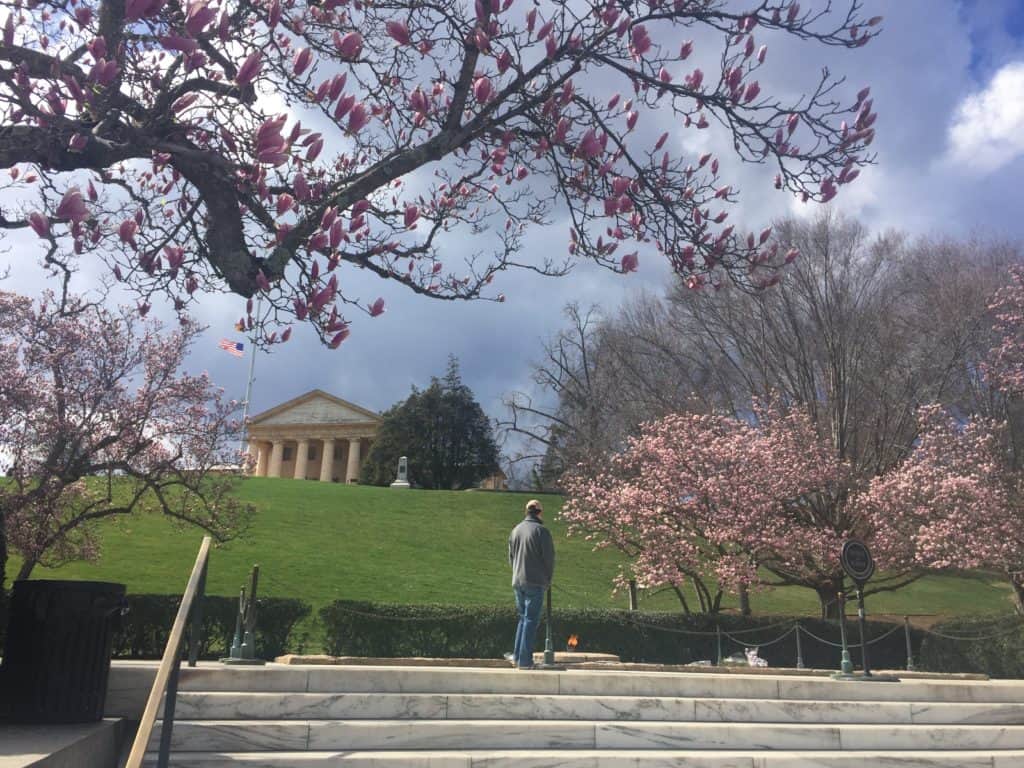 Department of State Diplomatic Reception Rooms Tour
Unfortunately, due to restrictions, this tour is currently on hold. They are doing virtual tours at this time. However, it's worth checking their website to see when they will offer tours of the Diplomatic Rooms.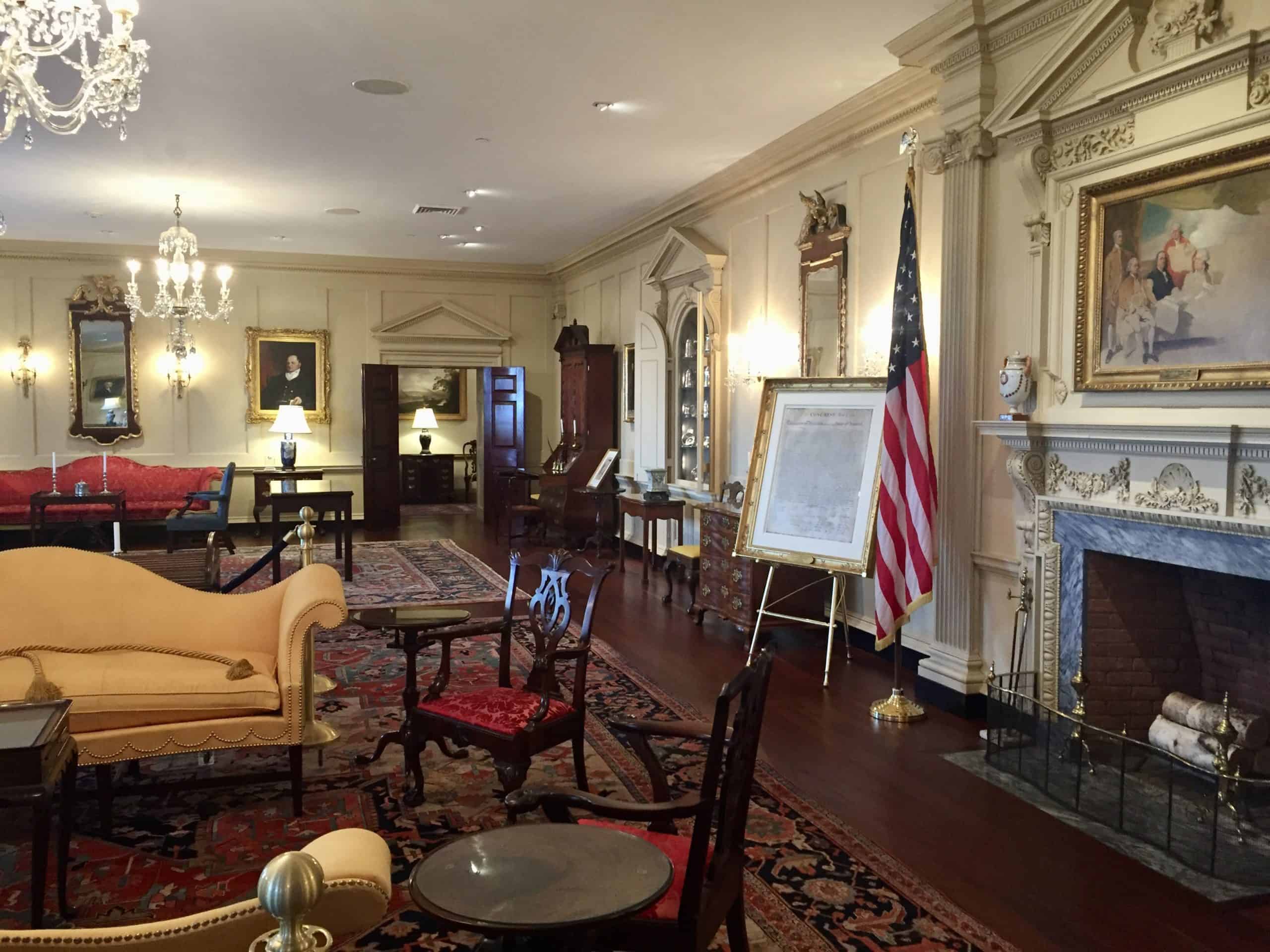 Although it is touring state rooms (and not super flashy), it was informative and worthwhile of the time spent there. The building on the outside is very bland and then you get off the elevator to a stately elegance you would expect.
I encourage you to spend time walking the Mall seeing the Lincoln Memorial, Korea and Vietnam Memorials, MLK, and then over to World War II. We also saw the World War I monument. These can be seen 24/7, so it doesn't have to happen in any particular order or a certain time of the day. If you happen to come in the spring (mid March), don't miss the cherry tree blossoms down by the tidal basin.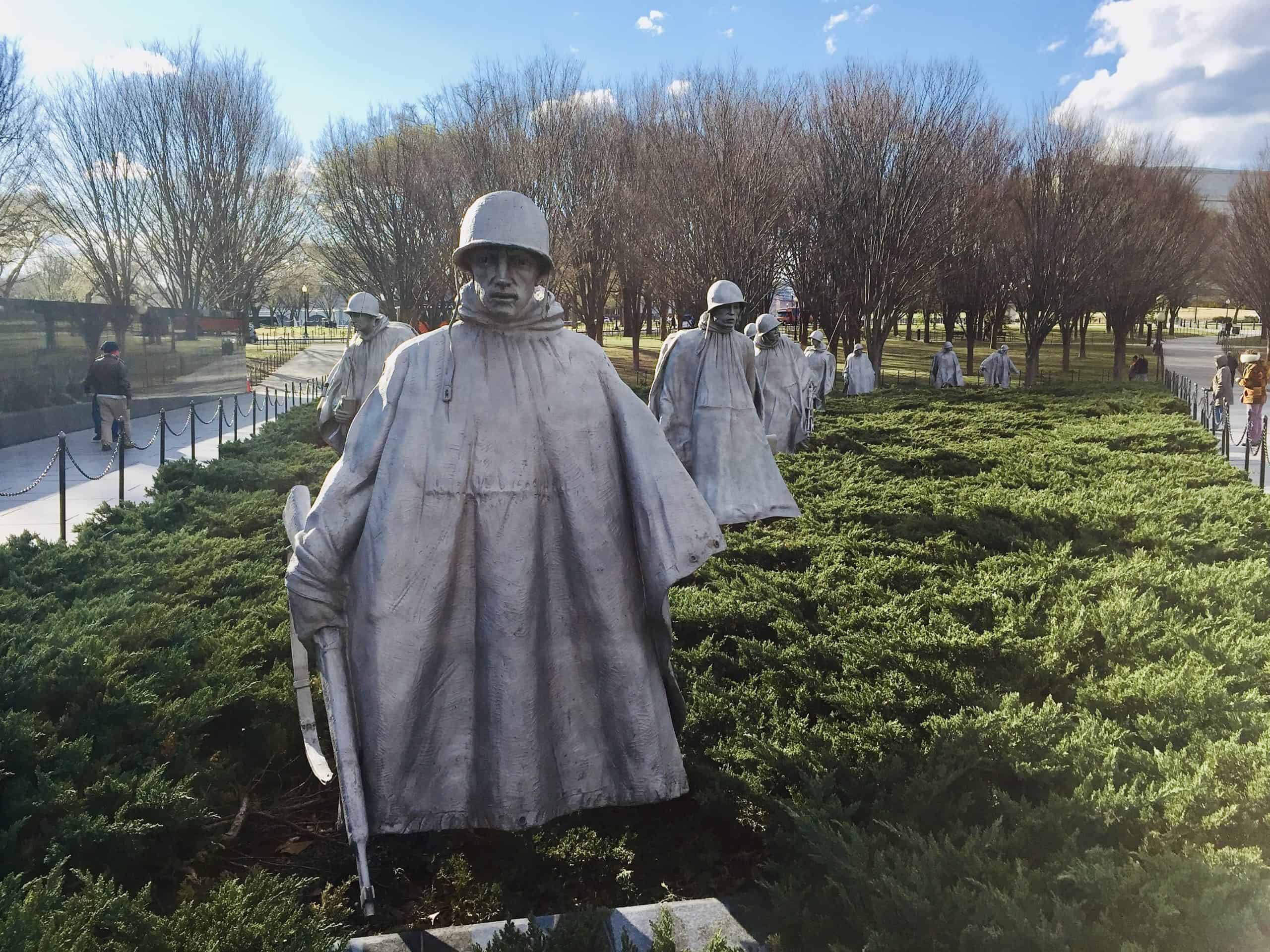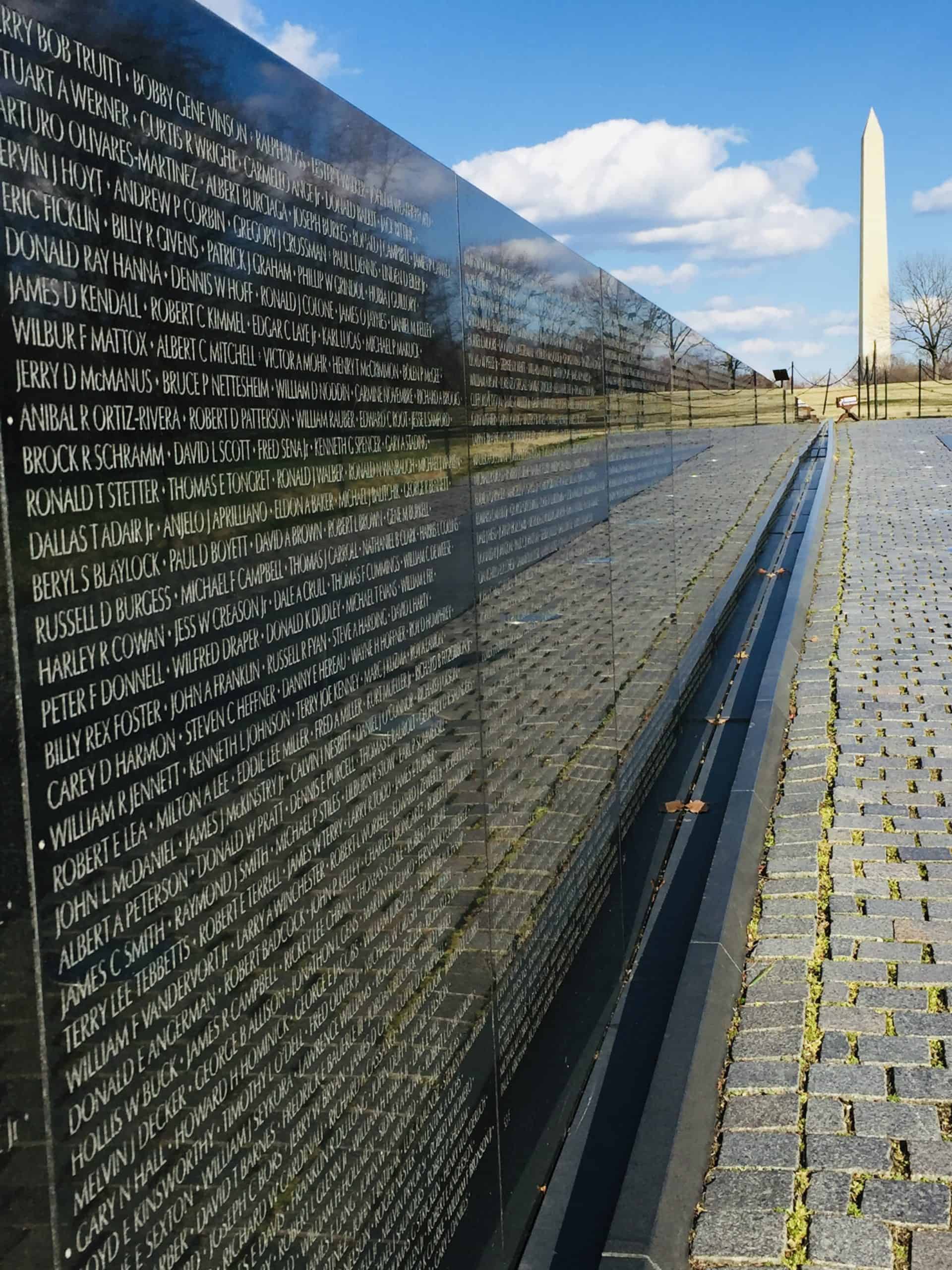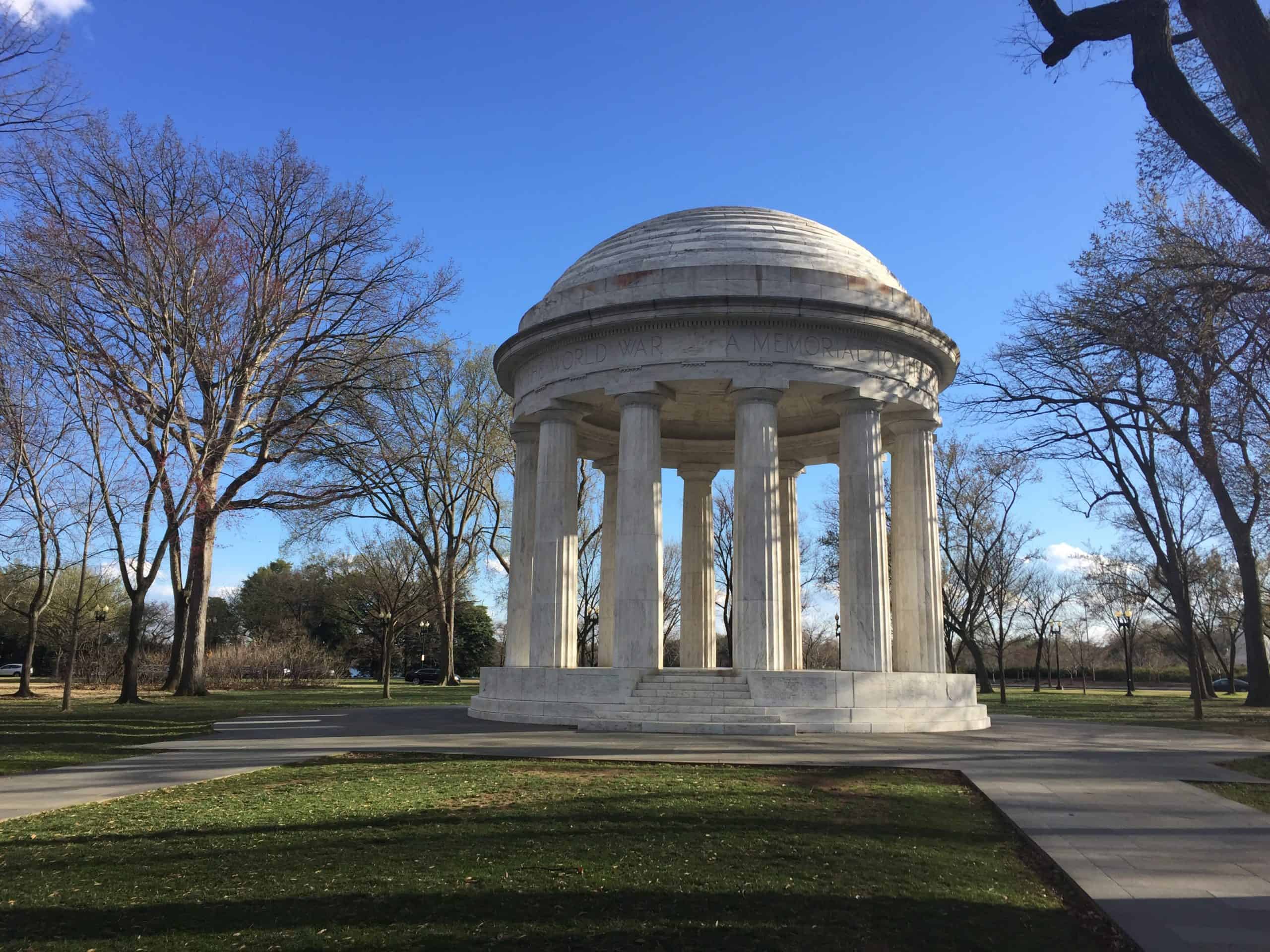 Dinner & Drinks
We booked a table at the Le Diplomate, one of our favorite restaurants in Washington, DC. We loved the atmosphere, although it is a short drive from the hotel requiring a Uber to Logan's Circle. The ambiance makes you feel like you are in Europe. The steak frites were the highlight of the meal.
While on this side of town take a stroll and check out Logan Circle and DuPont Circle. Both are trendy neighbors with shops, bars, and eclectic eateries.
After exploring these fun neighborhoods, we headed back towards our hotel but not before a quick nightcap. Hotel Washington has a gorgeous roof top bar that has a unparalleled views of the White House and the Washington Monument.

Day 3 DC Weekend Getaway
Ford's Theater
Start the day heading to Ford's Theater. Here are a few tips to be aware of:
Book tickets in advance especially in the busy season, March-July.
Entry into the museum is timed on every half hour (and there was a large line)
Museum and theater are not included in every ticket, I recommend doing both options.
An entire site visit lasts approximately 2 hours
Lunch: The Old Ebbitt Grill (famous eatery and bar) or something faster, Potbelly and Chipotle nearby.
Washington DC Museum Tours
The National Archives Museum
Seeing the original versions of the Declaration of Independence, the Constitution, and the Bill of Rights was a big deal for me. It is free to tour, and it took me less than an hour to see the documents up close.
Following the National Archives, I encourage you to continue the museum tours and enjoy all they have to offer. It's truly incredible you can tour most of them at little to no cost.
Dinner & The Kennedy Center
We made an early reservation at Café Milano in Georgetown. Our meal was just mediocre, but we enjoyed the location so we could explore the neighboring area of Georgetown. It's a charming town, and definitely worth seeing at least once.
While in the Georgetown area, enjoy a show at the Kennedy Center. Check out their schedule – we picked a ballet, but there is lots of great things to see.
Other Tours on DC Weekend Getaway List
Pentagon Tours – This Washington DC tour also books up weeks to months in advance, but it is also currently on hold at this time. Please continue to check at the link provided.
Restaurants or Nightlife
Unfortunately, we didn't make it to either of these well-known locations. Both are highly-rated and in a convenient distance to walk to them.
Final Thoughts on DC Weekend Getaway
I hope you enjoyed reading about my brief but very full DC Weekend Getaway! While 3 days in Washington DC is truly not enough to see everything, it does give you an idea if you would like to explore more.
I'm a huge history buff, so I can't wait for my next trip. I also hope to get some feedback on your favorite spots in DC!
For more travel destinations please check out my articles listed below.
Travel Destinations to Check Out Next