Do you have Cinque Terre travel plans? This article discusses a fabulous 1-day itinerary to the Cinque Terre, helpful tips, and staying in Vernazza.
Leaving Tuscany and our car behind in Pisa, we took the train all the way into Vernazza. For those who plan to spend a few days in the Cinque Terre, Vernazza was our perfect location for hiking and enjoying the villages. It's a bright, colorful city along the Northwestern coast of Italy.
Cinque Terre Fishing Villages
The Cinque Terre is made up of a string of five small rustic fishing villages not accessible by highway. We chose to stay in Vernazza, but each village has something unique to offer. For example, Monterosso is the largest of the five villages and it has the only true beach. Riomaggaiore is known for having some amazing sunsets down by the harbor.
While in the Cinque Terre I encourage you to escape the crowds and hike through the vineyards. In Maranrola, there is a path after the San Lorenzo church. Hike up the hill and you will see some of the most spectacular views of the vineyards and the Italian coastline.
Vernazza
During the day these villages especially Vernazza becomes crowded with day trippers that visit in waves off the trains. By evening, the major crowds tend to die down and this is when I enjoyed them the most. For this reason, I think to enjoy the area requires at least a one night stay. To see several of the villages, I would recommend longer.
Vernazza is small and easy to navigate with its colorful buildings and picturesque ocean views. We decided to stay at Camere Giuliano Inn, which sits slightly above the center of the city in the hills to get more of a local flavor. Giuliano is the owner and has taken great pride in his establishment as a stone mason, designing and building his Inn. He picked us up at the train station, and helped carry our bags to his establishment. He is well-known in the town, and locals could easily point out his Inn when we asked for directions.
Looking for Cinque Terre hotel suggestions? Here is list provided by Expedia.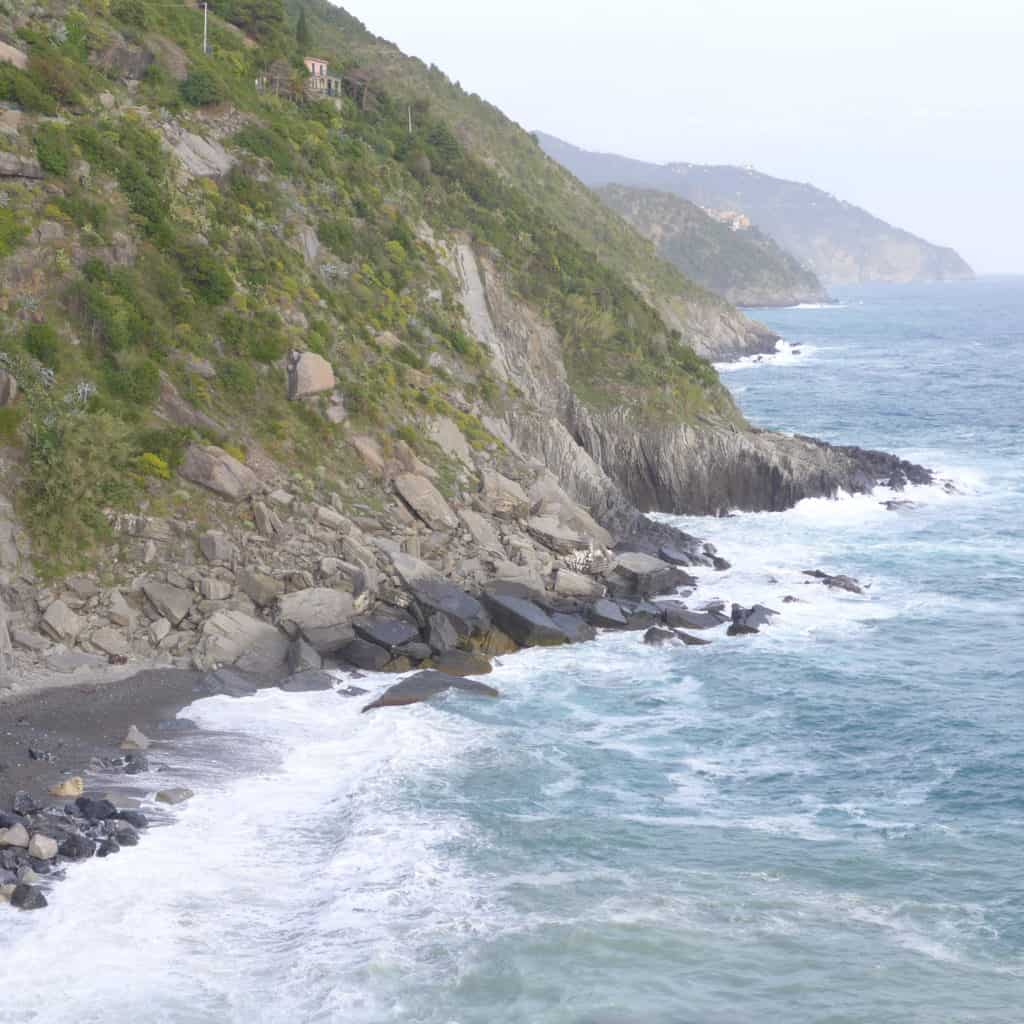 As I mentioned in prior posts, it was critical that we packed light for these destinations. If Giuliano hadn't assisted us, we would have had to carry our luggage up very steep terrain. I highly recommend a suitcase backpack. Truly, it was a savior on not being miserable getting up and down stairs and hills, and on and off trains.
Castello Doria
Castello Doria which prominently on the water was built in the 15th century to defend the city of Vernazza from attacks by water. There is a fee to see it. There isn't much of a castle to view, but the oceans-cape and the city make it worth it.
Dinner in Vernazza
For dinner my husband and I decided on Belforte Restorante (42 Vernazza). Although the menu was pricey, the view and quality provided was worth it to us. I recommend booking in advance if you visit during peak season. We both had delicious Mediterranean dishes, and finished the meal with Limoncello.
I hope you enjoyed my day trip to the Cinque Terre! We are next headed to Venice if you would like to tag along!