This article discusses our weekend trip to Venice Italy. I will be giving you key details from our 2 fantastic days in Venice!
If you missed my Cinque Terre trip article, you can find it here.
Day 1 – Heading to Venice
Excited to continue my action packed trip from the Cinque Terre (Riomaggiore) to Venice, Italy. There's really no way around this long day to get from the Cinque Terre to Venice unless you go by plane. It will require some tiresome train changes. Keep in mind you are going from the west coast to the east coast. Ideally, if you have more time to visit Italy there would be stops to make along this journey such as the city of Bologna.
For this particular journey, the best option I found leaves Riomaggiore and arrives in Venice, change trains at La Spezia and Bologna. At least those six hours on the train will give you plenty of time to rest up, grab lunch from the restaurant car and prepare, once you arrive in Venice, to dive into the beautiful city of canals.
We arrived in Venice after our long train ride feeling refreshed and ready to enjoy the rest of the afternoon. Remember when something you thought you would like, turned out to be extraordinary? My exact feeling on Venice!
Keep in mind, a lot depends on the time of year you go. Like I mentioned in prior posts, I love to travel in shoulder season. I usually get great weather in May, and the crowds are not nearly as problematic. I fell in love with Venice! It's a boaters paradise, and the maze of streets for pedestrians only is truly refreshing to explore without a car or van. Venice is best seen in the early morning hours and evening before the tourist chaos begins. Make it a priority to see it during off hours.
Hotel in Venice
We chose to stay in a couple streets away from St. Marco's Square. I would say it was an ideal location, and highly recommend staying nearby attractions on a short weekend trip to Venice. You waste a lot of time and transportation costs staying further away if you want to see the main sights. While taking a vaporetto is interesting, you will see so much more of the city by foot.
We chose the Bauer Palazzo and had an excellent stay! Check this amazing hotel out at the link provided by Expedia.
Looking for the premier luxury designation? The ultimate hotel is the St. Regis Venice.
St. Marco's Square (Piazza San Marco)
An interesting house to view, Scala Contarini del Bovolo located near St. Mark's Square, Corte del Maltese, San Marco 2906, 30124 Venice, Italy. Look at the amazing spiral staircase that goes up six floors! It was a short little walk and something fun to check out on our first night as we got to know the city.
EVENING: Go to Bell Tower to see sunset and views of the city. When we visited the information was as follows: March/April (Easter) – June: 9.00 a.m. – 7.00 p.m. (fee associated).
Here is their website at this link, which will provide more current information. The tower provides a 360 degree view of Venice, Italy. Here is a photo that I took from the top of the Venice Bell Tower.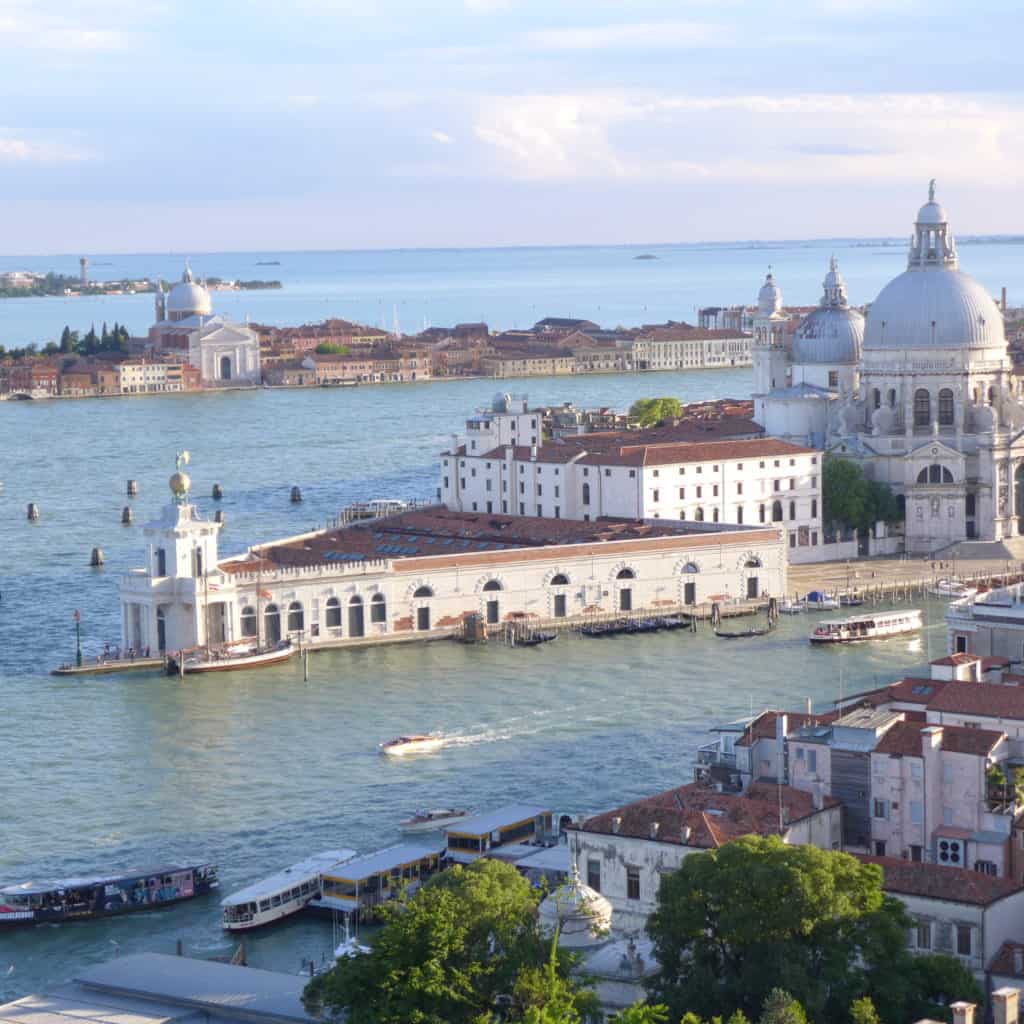 After our sunset view at the Venice Bell Tower, we enjoyed a relaxing evening of snacks and entertainment at Caffe Florian. The cost was a little splurge, but we especially loved the competing music and ambiance in St. Marco's Square. Although we sat outside to enjoy the music, the interior is exquisite with its gold colored walls. From the Venetian Casanova, Goldoni, Canova, to the most important artists and writers such as Madame de Staël and other celebrities have enjoyed good times here.
Day 2 – Weekend Trip to Venice Cont.
Since we only had the weekend in Venice, Italy, we wasted no time by getting an early start to our day. Again, like I mentioned, it's best to see Venice in off hours and to avoid peak times. Enjoy the sheer beauty of the city as the sunrises.
Venice Academia Gallery and Doge's Palace
So we headed directly to Venice's Academia Gallery, masterpiece artwork of Venice. Times: Tuesday to Sunday from 8.15 am to 7.15 pm. Museum is better to see in the early morning. If you like art galleries, this had some of the very best Venetian art. We arrived right when it opened and enjoyed the gallery to ourselves.
Next, I had scheduled an appointment for Doge's Palace, Secret Itineraries Tour. See Palazzo Ducale photo. There is a combined entrance ticket to the St. Mark's Square Museums grants access to the Doge's Palace, Museo Correr, Museo Archeologico Nazionale and Monumental Rooms of Biblioteca Marciana.
Here is the website link to the tour and museum pass. I especially enjoyed the Secret Itineraries Tour and seeing the behind the scenes details of this beautiful building and location. If you like history, I would consider it a must see! There is some very interesting stories shared about their most famous prisoner, Cassanova! The tour itself takes about 1.15 hours and is guided. You also skip the long line to see Palazzo Ducale with the tour tickets, and you have more privacy to see behind the scenes.
***Remember, it is required to pre-book the for the Secret Itineraries Tour. I have included a photo of the famous Bridge of Sighs that connects the Doge's Palace to the prison. The only way to walk over it is through the Doge's Palace. The Bridge of Sighs was named after the "sighs" made by prisoners who crossed it on their last walk to the execution chamber. They would see the last glimpses of Venice through its windows.
Scuola Grande

Later afternoon, if time allows you may want to see Scuola Grande. Open from 9:30-5:30pm, ticket office closes at 5pm. The Scuola Grande "Great Schools" di San Rocco is a confraternity building in Venice, northern Italy. It is noted for its collection of paintings by Tintoretto. If you enjoy art masterpieces, it is generally agreed this is some of Tintoretto's finest artwork.
For dinner, we ate at Restorante Da Raffaele, we walked in without reservations and got a table by the water. The food was standard and nothing extraordinary. But, I do recommend at least one meal by the water to enjoy the scenery and watch the gondolas in the Venice canals.
Departure to Venice Airport
I hope you enjoyed my weekend trip to Venice, Italy! If I had another day, I would have loved to take the ferry for the outlying islands of Murano, where the glass industry started and a bit like a Venice in miniature, and Burano, a fishing village of riotously colored houses along miniature canals. It's about an hour's ride out and back, and you should spend no less than an hour on each island.
Goodbye Venice, you will be missed! The next day we left via water taxi to the Venice Airport. The most amazing airport experience EVER! I enjoyed walking directly into the airport from getting off our little water taxi or via vaporetto. I hope this post was helpful as you plan for your next trip. Ciao!