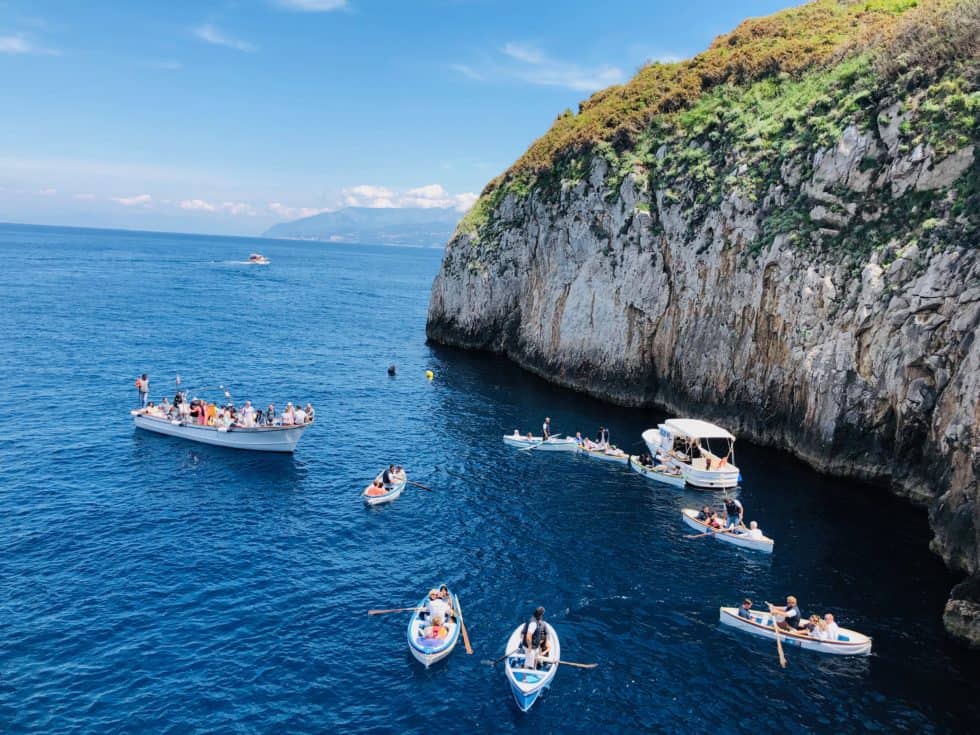 Want to see London and Italy? Come along on our action packed itinerary as we explore London to Amalfi Coast and Capri.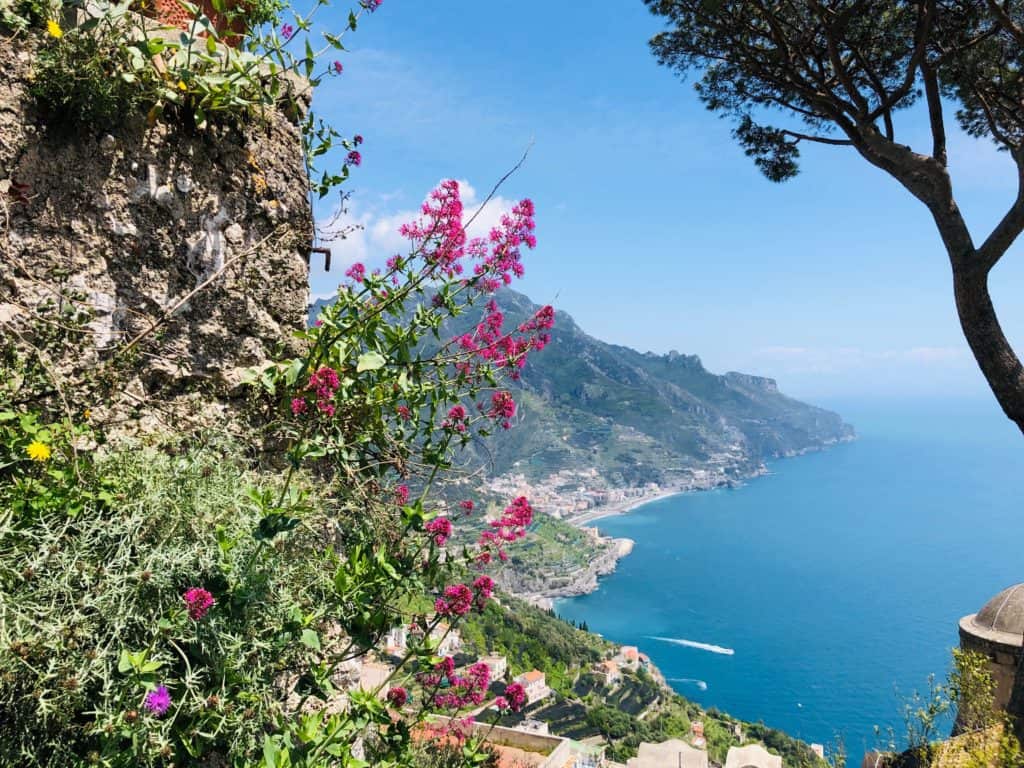 Arrive at London Hotel – London to Amalfi Coast Trip
Since we just flew in from the United States, our first stop was the hotel to clean up. Despite it only being 10am, the hotel understood our exhaustion and promptly got us an early check-in. The most direct route is to go by train either to London Bridge and Uber the rest of the way from airport, or Uber the entire trip from the airport (the first alternative would be more cost efficient).
London Hotel Information & Stay at Andaz London Hotel
London is so vast and many great hotels in the area. I highly recommend basing yourself in an area that is relatively close to where you plan to spend most of your time.
Andaz London Liverpool Street was a fantastic 5-star hotel experience. I filled out their reservation form prior to arriving, and let them know we were celebrating our wedding anniversary. The hotel surprised us with a bottle of wine and a delicious dessert! They also had a complimentary cocktail hour in the lobby during our stay. The customer service was truly outstanding, and they had free WiFi.
Here are a few of my other favorite hotels in London:
Sea Containers London – 5 Star Modern Waterfront Hotel | Great waterfront views with outdoor seating
The Savoy London – 5 Star Luxury Hotel with Old World Charm | Great waterfront views of London Eye
The Montague on the Gardens – 4 Star Charming Edwardian House | Great location, next to the British Museum
Churchill War Rooms & Tower of London
We then headed go see Churchill War Rooms.  Make a reservation online prior to, and avoid long wait times. For any WWII or military buff, this had some amazing details and worth the visit. I most enjoyed the museum attached to the war rooms. Here is Churchill War Rooms official website to book advanced tickets.
My husband and I have been to London several times, so we picked some locations we had not been to. If you haven't been to London before, I would recommend checking out: Tower of London and Westminster Abby on Day 1 or 2 of your trip. These are just a couple locations that are well worth a visit, but keep in mind each will take about 2 hours or more to see.
Late afternoon we enjoyed a meal at The Scolt Head – an authentic Gastropub where the locals eat. We tend to look for places that are not overly touristy and give us a local flavor. This neighborhood has some charming homes with beautiful gardens. I especially love wisteria, and how it accessorizes the exterior of a house!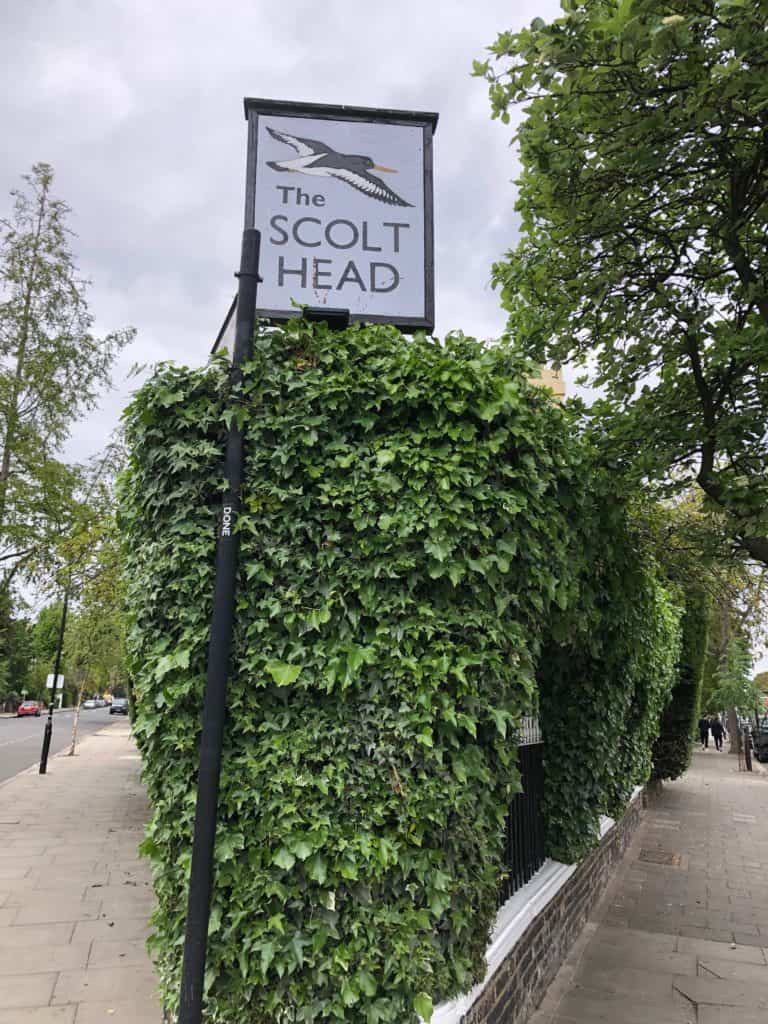 London – The British Museum
On Day 2 we were busy seeing family and friends. However, we made time to see the British Museum, and afterwards checking out shopping on Oxford and King streets.  The British Museum some of my most favorite exhibitions of Egyptian artifacts. Many people visit to see the Rosetta Stone and Parthenon Marbles. Here is a link to the museum website.
I didn't make it to Hampton Court, although it has been on my list.
Dinner in London
Sushisamba – Here's a fun restaurant to get some sushi. This high-rise has amazing views, even in the bathroom! At night it becomes like a nightclub with lively atmosphere. While I realize this restaurant is a chain, it was one of my favorite meal experiences in London.
London to Amalfi Coast – Destination Capri, Italy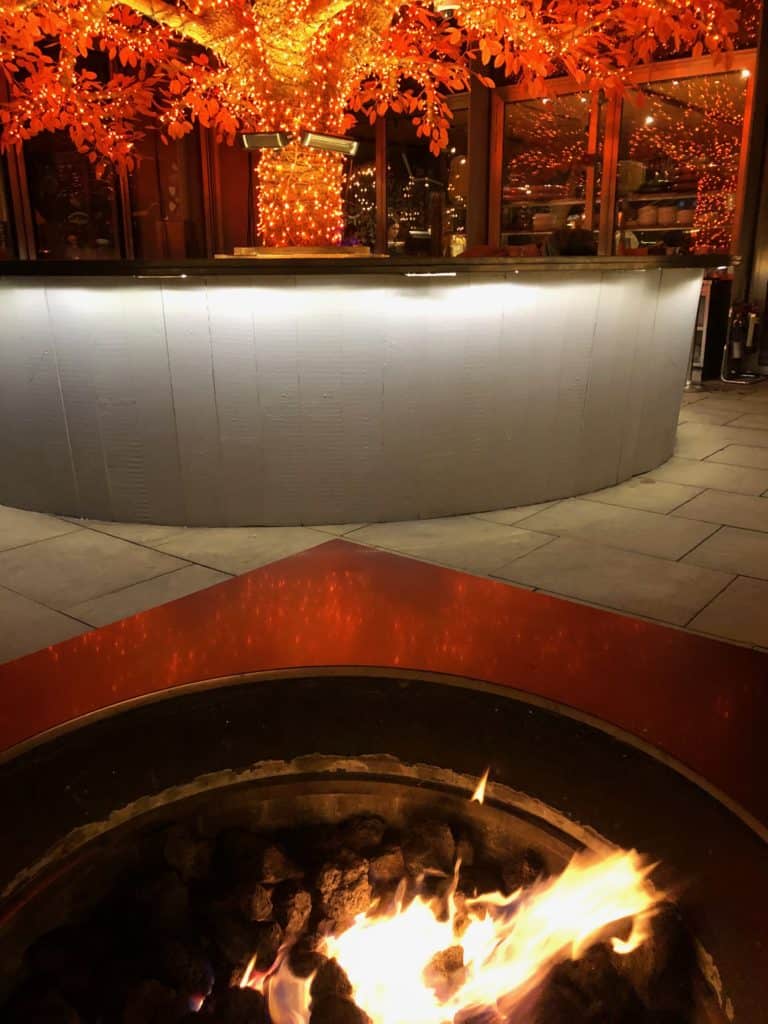 How to get to the Amalfi Coast from London? The best route is direct flights from London to Naples. You could fly into Rome, but it would be a further train ride than Naples. London to Naples by plane will roughly take approximately 2 hours and forty minutes.
On day 3 of our trip we left London, and took nonstop flights into Naples, Italy. I highly recommend flying into either Naples or Rome. London to Naples is the most efficient option, Rome would just be a longer train ride.
Cheap flights are still easy to find, and plenty of last minute deals. If you have extra time to plan, set price alerts for when plane tickets go on sale.
Traveling to Capri from Naples or Direct to Amalfi Coast
There are several ways to get to Capri. I have done both train and ferry direct from Naples. My recommendation is to go by ferry if the goal is to get to Capri quickly. Research from the websites recommend not to book ferry tickets in advance, especially with unsure travel times with flight and taxi ride traffic delays across town to get to the ferry.  Ferry schedules also change as well due to bad weather.
Make sure your taxi goes to the Naples Molo Beverello Ferry location.  The journey time is approximately a 20-minute taxi ride from the airport. I would recommend this strategy after the very long lines the day we visited at the airport customs and border checks.
Here is the link the check on current travel information, or book your ferry trip to Capri. I found this website to be particularly helpful when planning for commutes.
If you are going directly to the Amalfi Coast, traveling is best via train or car hire. The second option would be considerably higher in price but you could skip the hassles of public transport.
While in the Naples or Sorrento Area…
If you have time in your trip, Pompeii is well worth a visit (on the way to Capri if you take a train). However, plan to spend most of the day there to do it justice. I discuss my amazing past trip to Pompeii here.
London to Amalfi Coast – First Stop in Capri!
Capri is best seen in the early morning hours or evenings after the day tourists have returned back to main land. The island has a lot of unique qualities that make it a location I continue to return over the years.
If you can make the time, I would recommend staying on Capri. If you can only day trip, that's fine too! Just keep in mind it will be likely heavily trafficked with day tourists.
My Favorite Island of Capri Hotels
Hotel pricing varies greatly on the season. To avoid premium rates, lowest prices are in the off season. Since I prefer warm weather, I tend to travel to Amalfi Coast and Capri in shoulder season which is spring or fall. This particular trip was in May, and it was perfect weather!
Check Capri Hotel Availability – Booking.com
We chose to stay at Luxury Villa Excelsior Parco – Via Provinciale Marina Grande 179, 80073 Capri, Island of Capri, Italy.
Luxury Villa Excelsior Parco provides a delicious full breakfast served in the courtyard or in your room and free WiFi.
Car service is complimentary all day until 9pm. Car hire or vespa is not needed on the island with their service. The hotel is very prompt on their pickup/drop offs.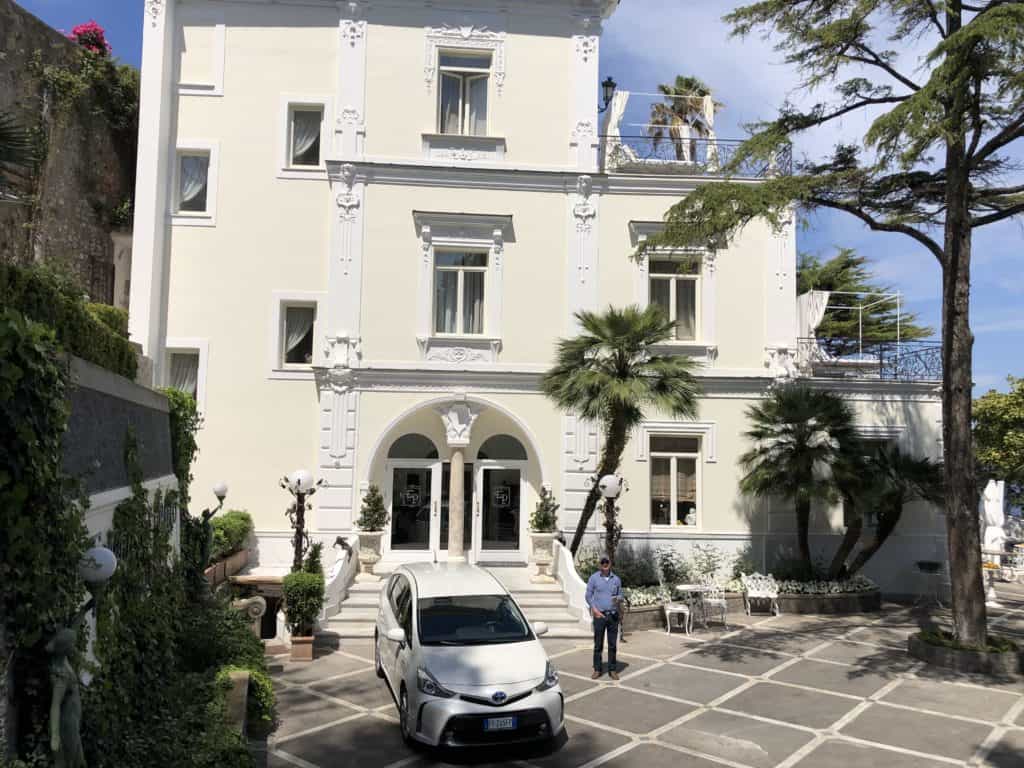 We chose this hotel based on reviews, and it had private balconies with hot tubs on them. It is not located in city center, but the transport provided was solid our whole trip with little to no wait. If you want to check out this hotel, here is more information.
Below is a photo taken literally from our hotel. These views are just out of this world!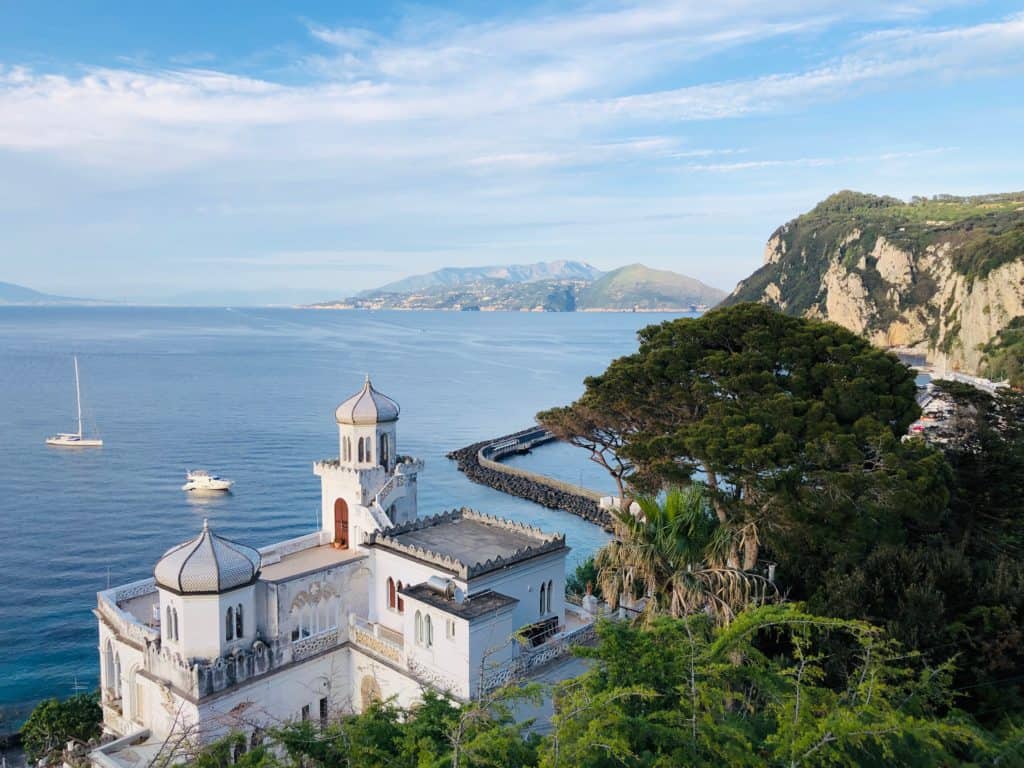 I looked at numerous hotels, one of my other favorites was Punta Tragara. It's definitely worth a visit while in Capri, even if it's a drink at their luxurious pool and spa. We did just that, and it was a memorable afternoon.
Punta Tragara has some of the most stunning views in Capri. There was a modeling photo shoot going on at the hotel at the time. The pool and views are just that nice.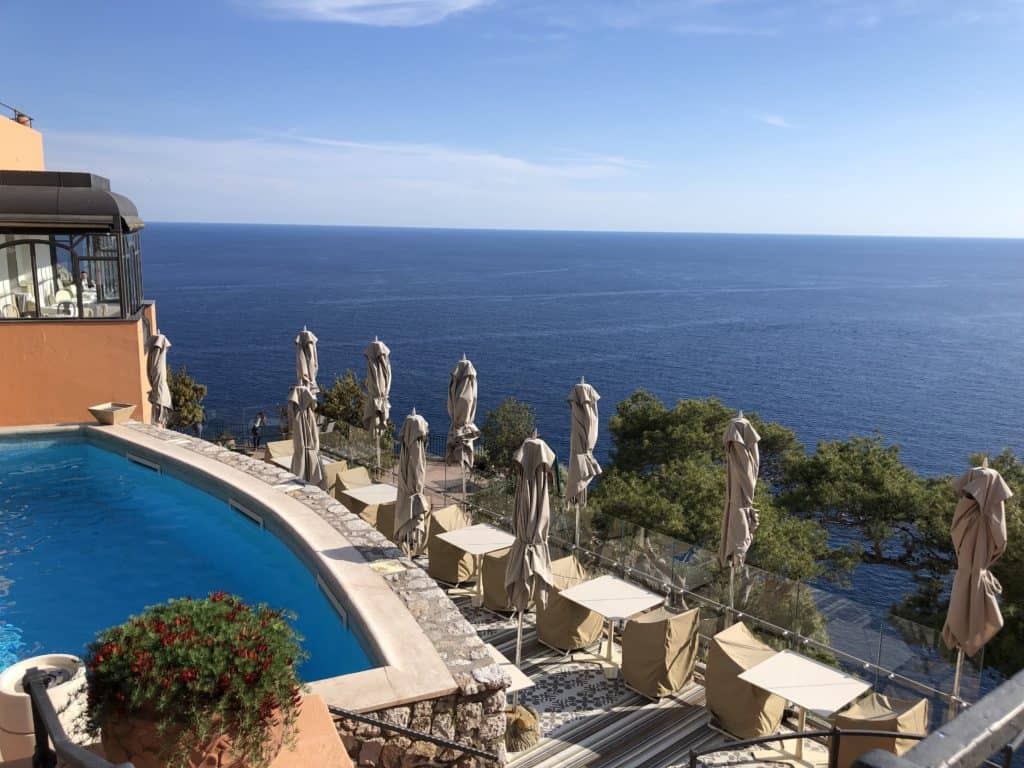 I would like to add this is better location for a hotel in Capri. It is off the prestigious street called Via Tragara, closer to town but avoids the busy downtown tourist packed area (that occurs during the day).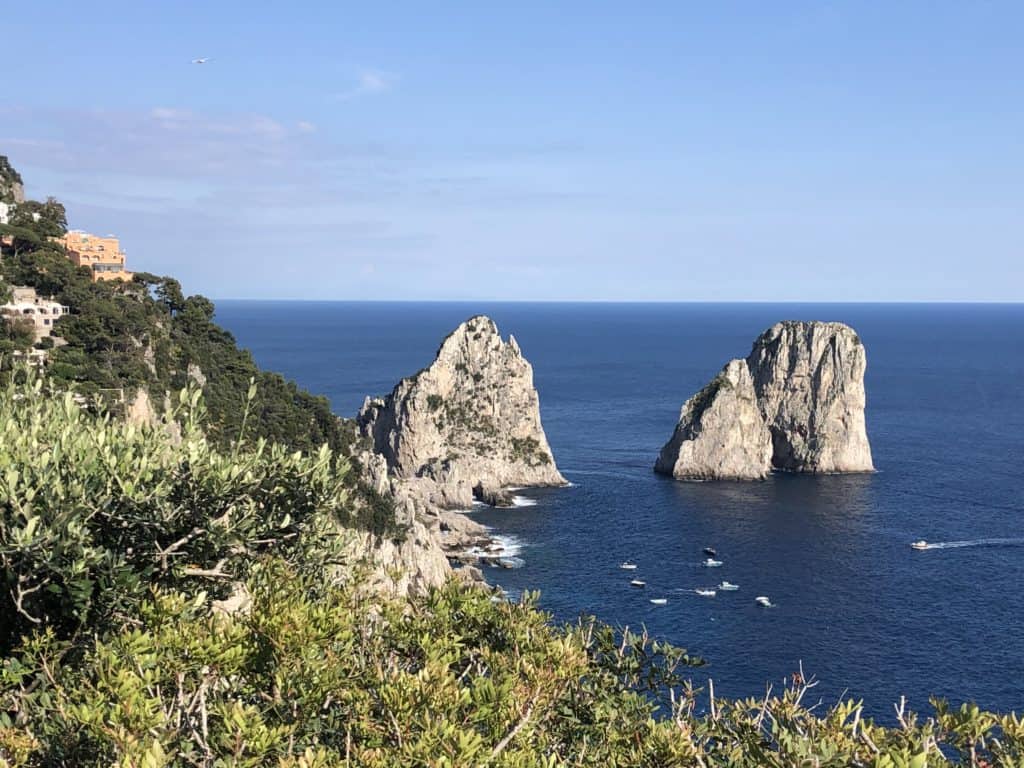 Villa Jovis – Walking Day Trip (3+ hours visit)
Stride out along paths lined with handsome white villas in flower-filled gardens to Villa Jovis from where Tiberius ruled the Roman Empire. There's enough stone left to impress and a fine view over the Sorrento peninsula. Open 10am-7pm, and it cost 6 Euro during my visit.
e prepared for a long walk uphill, but there are restaurants and bars on the way there. It's best to visit when the weather is pleasant out.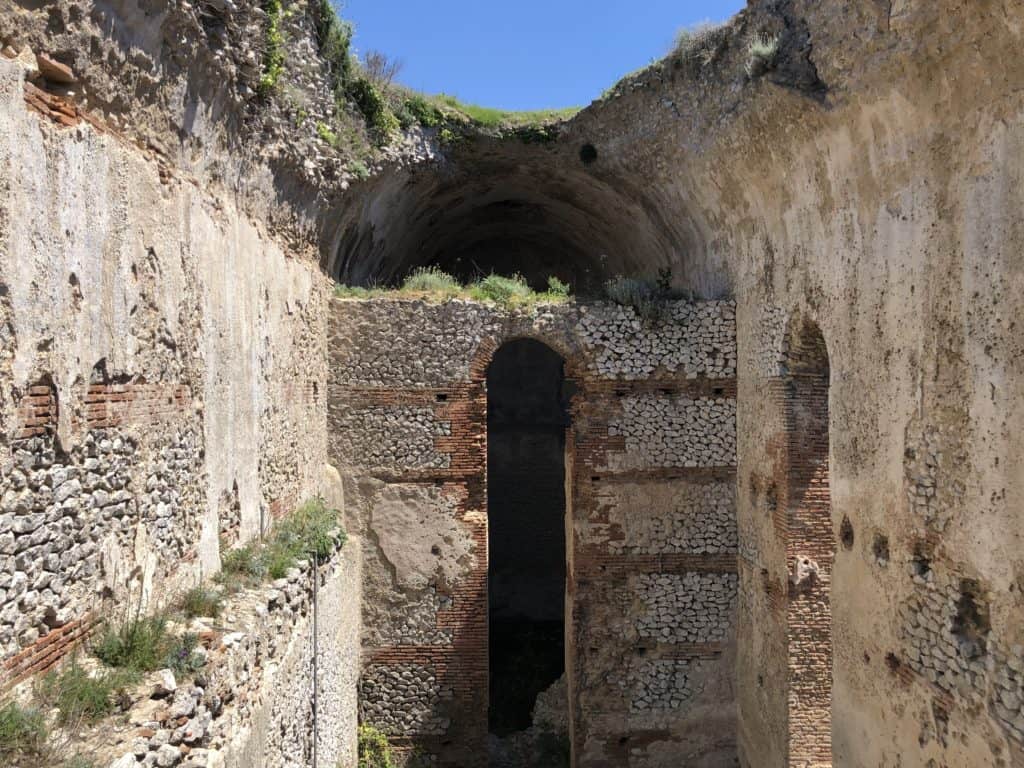 If your schedule permits, there is a narrow path to the right on exiting Villa Jovis which meanders around the cliffs to Villa Lysis. Built by the dissolute French aesthete. Please verify their hours at their website. When I visited they were open 10am-6pm, closed Wednesday with an entry fee.
Following both tours, the plan was to head back to our hotel to relax in the hot tub.  But on our way back we had a quick stop to watch the glitterati walking through the Piazza Umberto while enjoying a espresso. This is a fun place to see – especially as the day tourists depart towards late afternoon and evening.
Dinner at Da Paolino in Capri
Da Paolino Restaurant – Located at Via Palazzo a Mare, 11 80073 Capri (NA), Italy | P. IVA 06527251216.  I'm giving you the address since it's tucked away on a little side street. Dishes run on average 30 and up.  Eat literally in a grove under the lemon trees. They are known for excellent pasta, seafood, lemon flavored dishes, and a full dessert buffet.
Overall, a good meal. We most enjoyed the romantic scenery of the lemon trees surrounding our dining experience. You can make a reservation in advance on the link provided. In May, there was a lot of availability, but this is a place that would book up.
Travel Advice to See the Blue Grotto
The Blue Grotto (Grotta Azzurra) has been on my list for years to see! Ever since watching, "It Started in Naples" with Sophia Loren when I was a little girl, I wanted to visit this beautiful place. On our first trip to Capri, we did not get see the Blue Grotto due to the high tides. Since we were on the island a few days this trip, we made sure to go on a day with great weather!
Fun fact: The Blue Grotto is that it was used as a marine temple during the reign of Tiberius. Remains of the Roman statues found in the grotto are now on display in Casa Rosa Museum located in Anacapri.
The ticket price includes the entrance fee and the cost of the rowboat transport.  However, the rower expects a cash tip, as he or she often sings and assists you getting inside the grotto that can be challenging depending on the waves.
I recommend taking the hotel complimentary shuttle to avoid lines via water taxi and walk down to the Blue Grotto from the island. It's was about a 5-minute wait for us, while others on tour boats waited a while. The experience itself will take about 10-minutes inside the cave.
If you have the time and money, a private boat is an ideal way to see the amazing views of the island and see the several grotto locations. Please note swimming into the grotto is illegal and can be hazardous due to the waves that can slam into and fill the cave to capacity.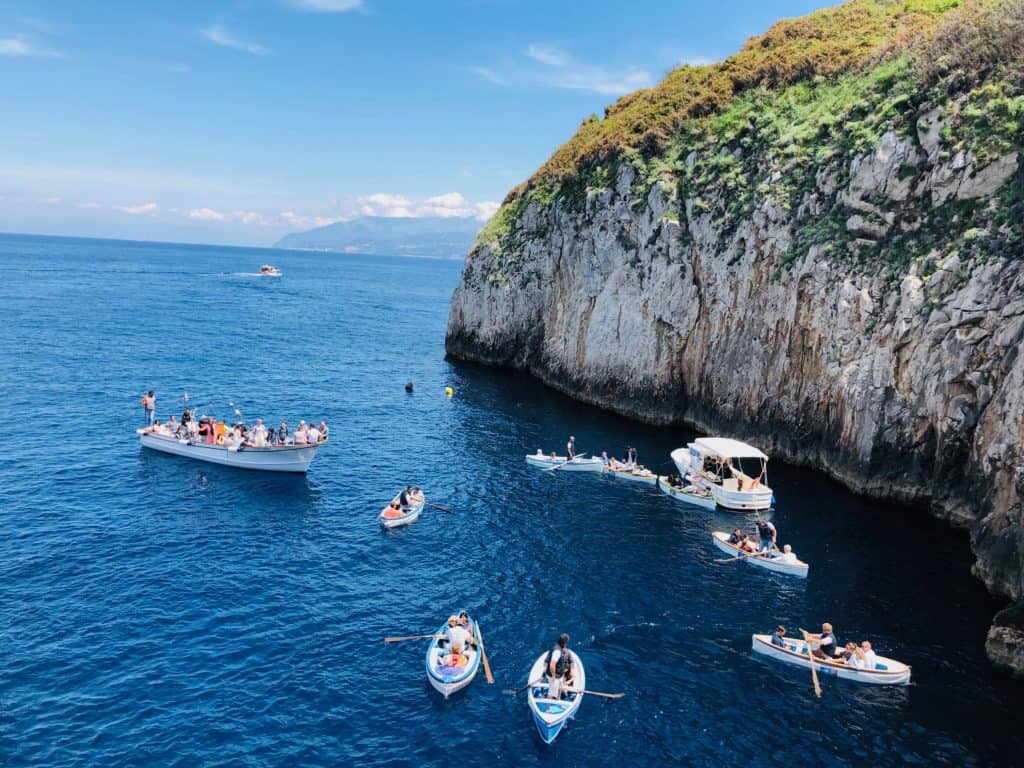 Following the Blue Grotto we explored Anacapri, seeing the shops and also stopping by magnificent, Hotel Caesar Augustus on the edge of town. It has some great views, and also known for its 5-star experience and remote location. I mention this hotel earlier as one of the best on the island to see or stay at.
Day 2 in Capri, Italy – Gardens of Augustus
Following breakfast we headed to see the Gardens of Augustus open from 9am-7:30pm, 1 Euro. It's a small garden that only takes a few minutes to see. However, it has some of the best views in the city. Gardens of Augustus is a great spot to just sit and take in the scenery.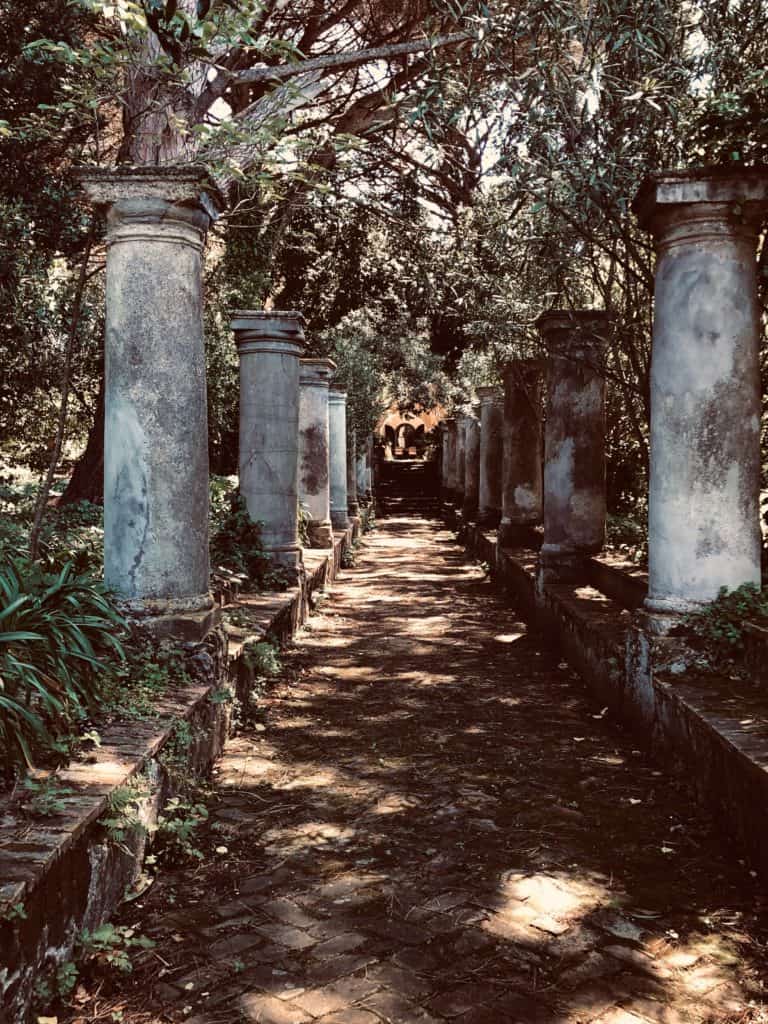 While near the garden, there are some great shops nearby. My personal favorite is a perfume store that makes their own products in Capri called Carthusia. Try on Mediterraneo, it has hints of lemon and green tea, and Capri of course, is known for its lemons. I had to buy a bottle, and still every time I smell its scent it brings me back to Capri.
Capri is also known for their handmade sandals. I was excited to shop at Amedeo Canfora it since it's was known for making sandals for Jackie O and other celebrities since 1946. But, I found the shoe store to be not as inspiring as some of the other shops in town. I purchased a pair of handmade sandals from Schettino di Capri because I most enjoyed their interaction and customer service. There are similar options at other stores.
I prefer to buy local, and to support local businesses whenever possible. The sandals and perfume are items I still use and appreciate. They make a lot of other great products on the island as well.
Lunch in Capri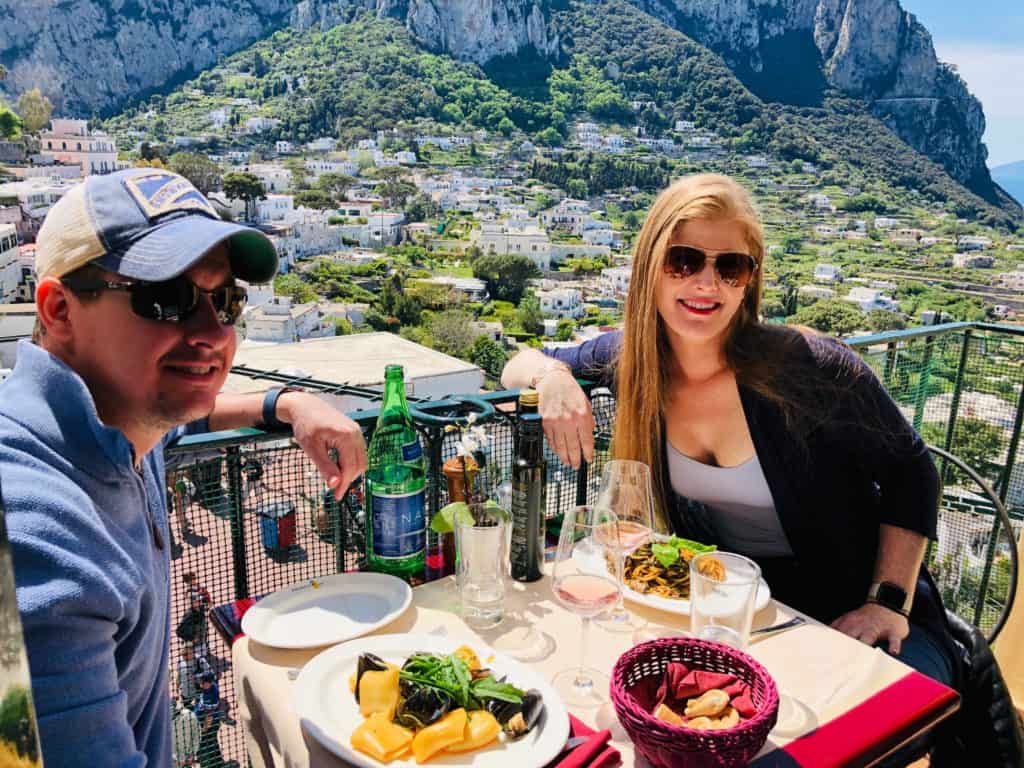 Pulalli Wine Bar – I absolutely LOVED our lunch on the private outdoor patio made for 2 people. Reserve this seat in advance if you want these views! The restaurant takes reservations by email. This was one of my favorite meals on our trip.
We have been to Capri before, and highly recommend taking the chair lift and seeing the sights in Anacapri. Click on this link to my previous article on the chair lifts and other things to do in Capri and Anacapri.
Day 3 in Capri – Leave for Amalfi Coast
According to Capri.net current ferry times start at 3:10pm and later for direct routes from Capri to Amalfi during my visit.  To get an earlier start, we had to go from Capri to Positano, and then Positano to Amalfi.  Tickets during my visit were easily purchased same day.
From Positano it will take approximately 45 minutes vs. ferry that takes 25 minutes to Amalfi, and then a 10-minute taxi ride to the hotel or complimentary shuttle.  We ended up missing our ferry ride due to weather issues, and had to take alternative transportation. To make it more enjoyable, we decided to splurge on a taxi from Positano, directly to our hotel.
On a side note, if you want to see another amazing city, spend some time in Positano. I have been to the Amalfi Coast several times over the years, and wanted to see Amalfi and Ravello this trip. However, I highly recommend seeing this enchantingly steep hillside town, even if it is just for a day trip.
Monastero Santa Rosa Hotel & Spa
Next, we checked into our hotel, Monastero Santa Rosa, an luxurious remote location on the Amalfi Coast with outstanding service! Built in the 17th century as a Dominican monastery, it has some of the most unique architecture with some of the best views. It sits at the edge of a cliff overlooking the Amalfi Coast.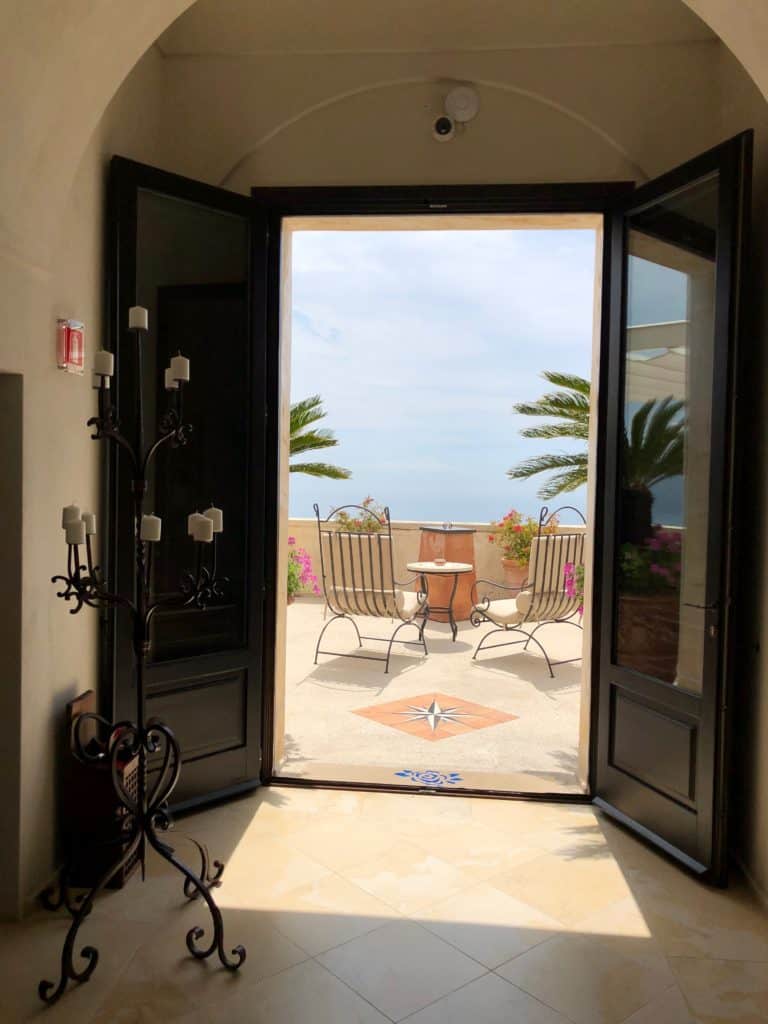 Monastero Santa Rosa is located on the edge of the fishing village of Conca dei Marini, conveniently located between Amalfi and Positano.  This hotel strikes the perfect balance of seclusion without solitude to de-stress and relax in 5-star Italian luxury accommodations.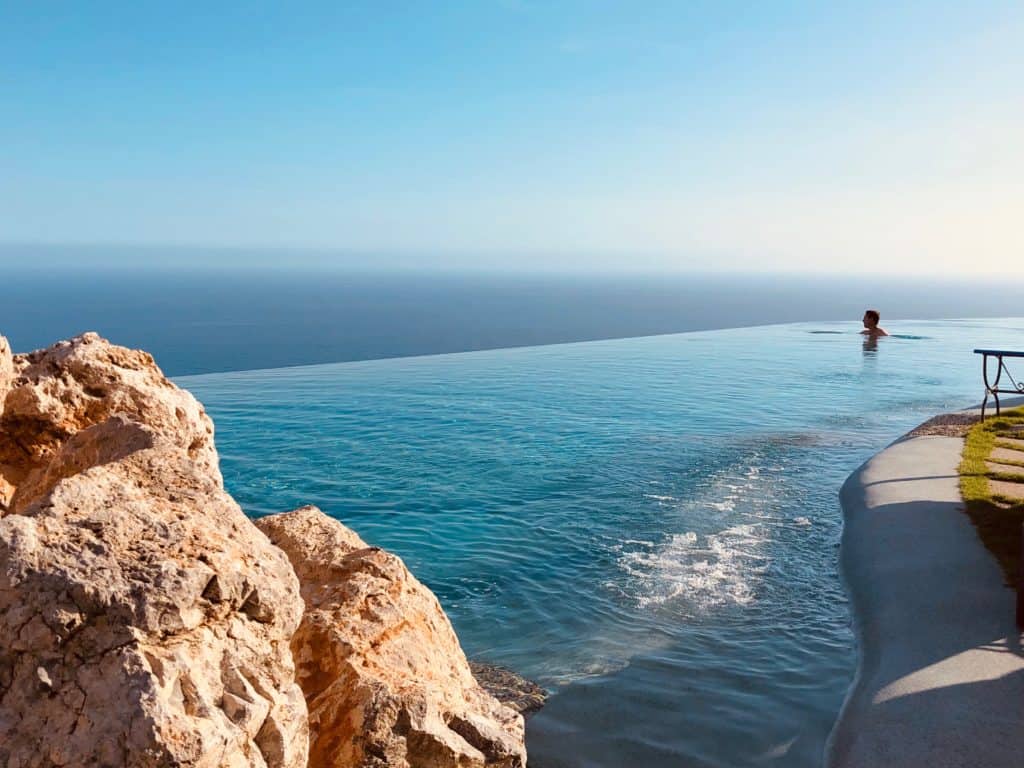 Free WiFi internet access
Full Monastery Breakfast complimentary per person
Daily shuttle service to/from Amalfi until midnight
Infinity heated pool, fitness facilities
Complimentary use of thermal spa and stone sauna and steam room
There is also a Michelin Star Restaurant on property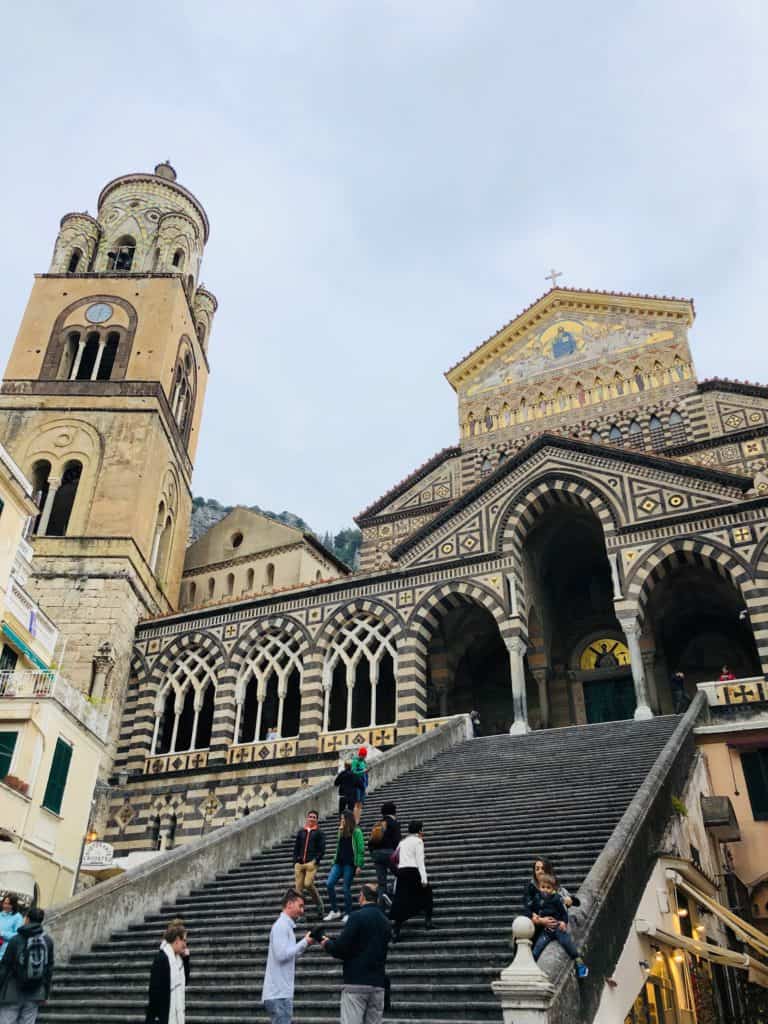 In the evening we then headed to Amalfi to see the city since it is a very short drive from the hotel. Amalfi sits below the steep cliffs from where the hotel is located. Amalfi is located in the province of Salerno. Between the 9th and 11th centuries, it was the capital of the maritime republic.
The Sant'Andrea Cathedral or Duomo di Sant Andrea is located in city center. It is spectacular to look at, with its striped Byzantine facade. The Duomo is FREE of charge, and my favorite part of my visit to the town.
There is a museum attached, which you can visit for a small fee. Another site you may want to check out is The Museo Arsenale Amalfi, a medieval shipyard.
There are multiple restaurants in the heart of the town, but where we ate was nothing unique or special to mention. Afterwards, we strolled and enjoyed the scenery.
Day Trip to the City of Ravello, Italy – Amalfi Coast
After a great breakfast off our room patio with coastal views at the Monastero Santa Rosa Hotel, we headed up to the city of Ravello. Hotel Monastero provided a complimentary ride to the city of Amalfi. From there, we took a taxi to the city of Ravello which is located approximately 3 miles up steep mountain roads.
This little village is one of the more picturesque hilltop locations that has attracted celebrities and dignitaries for centuries. Some of the more well-known visitors include Winston Churchill, Greta Garbo, and D.H. Lawrence (wrote Lady Chatterley's Lover in Ravello). No wonder why Greta Garbo said, "I just want to be alone." Who wouldn't want to be alone with these spectacular cliff views?
Places to See in Ravello
Villa Rufolo (Villa Ravello)
Villa Cimbrone Gardens
Ravello's Duomo (Cathedral)
Enchanting Villa Rufolo
Villa Rufolo is located in Ravello city centre. This former palazzo dates back to the 13th center and has views of the Duomo. It has beautiful gardens and majestic views of the Amalfi Coast. Take your time exploring the interior and exterior. There is a minimal entrance fee of around 6 Euros.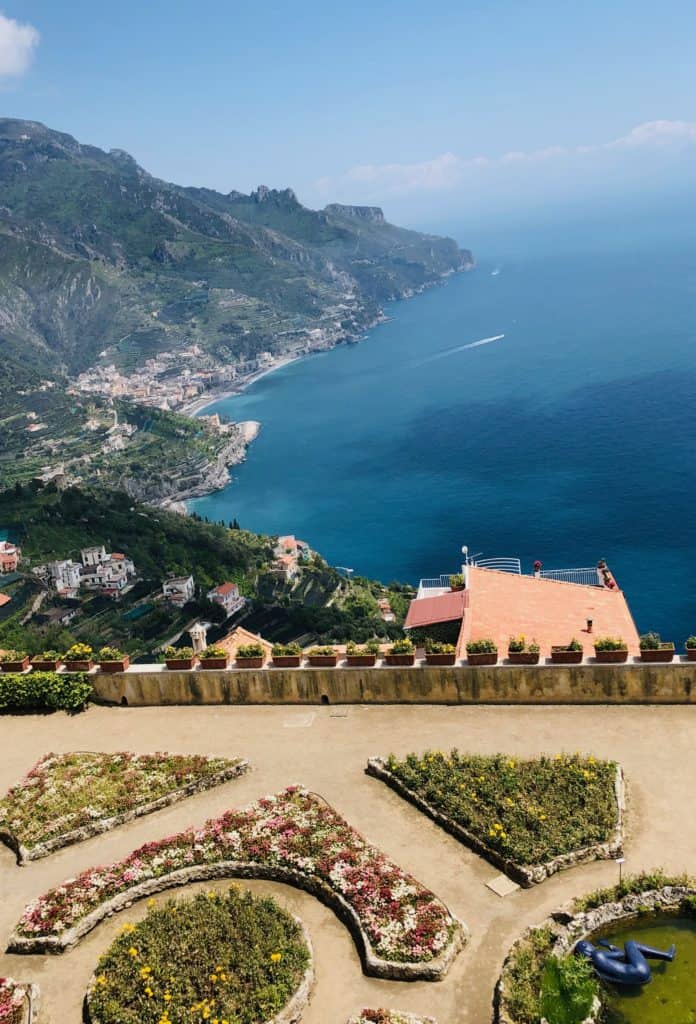 Villa Cimbrone Hotel & Gardens
Villa Cimbrone dates back to the 12th century being owned by wealthy and noble families, and centuries later it became part of Santa Chiara Monastery. The gardens are open to the public to tour from 9am-7pm, and tickets are 7 Euros. Villa Cimbrone is now a beautiful 5-star luxury resort that you can stay longer and enjoy these special surroundings longer.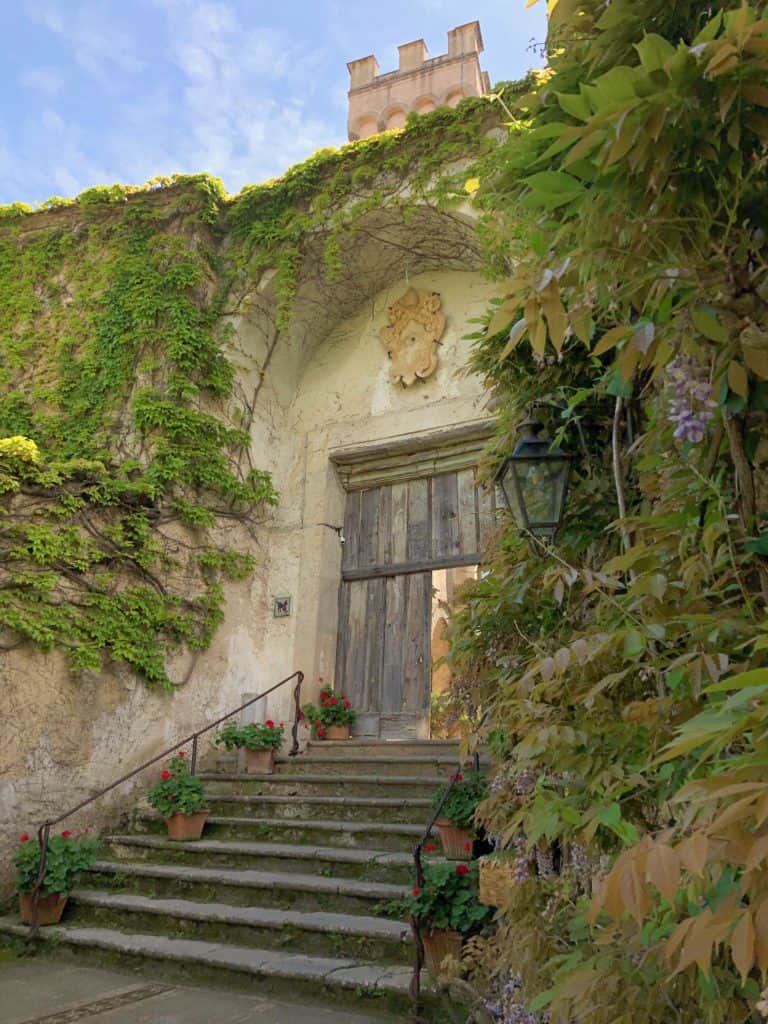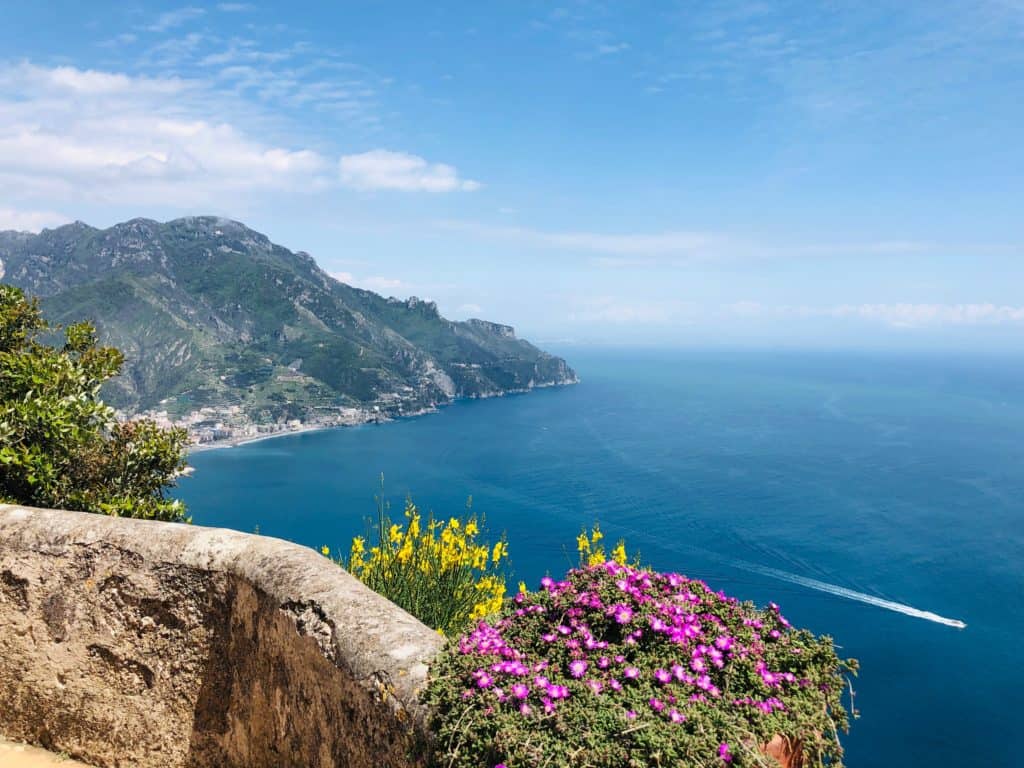 We decided to have drinks at Belvedere Restaurant at the Hotel Caruso in Ravello for outstanding views. Located at Del Piazza San Giovanni Toro 2, 84010, Ravello, Italy.  Hotel Caruso is 5-Star resort that also is pretty spectacular if you are looking to stay in Ravello.
Best Hotels in Ravello for a Romantic Setting
Ravello is known for being the best city on the Amalfi Coast for honeymoons. Here are 4 dreamy hotels that would make a lovely romantic getaway.
Interesting in a Hike in the Mountains?
Not much further from Ravello lies the oldest village of the Amalfi Coast called Scala. Please keep in mind these mountains are steep and more for the experienced hiker. It is approximately 4.6 miles and on average it takes 2.5 hours to complete.
Dinner in Conca dei Marini
Le Bontà del Capo is located in the fisherman village of Conca dei Marini near our hotel (Monastero Santa Rosa) just an easy walk down the hill. It is known to be one of the more appreciated restaurants in the area. We noticed lots of locals eating there during our visit.  The seafood was very fresh, and they also have great views. You can email in advance for reservations.
Leaving Amalfi Coast – Flying Out of Rome
Leave Monastero Santa Rosa and take ferry from Amalfi to Salerno.  Cost is much more reasonable than via taxi that runs around 100 Euros from Amalfi.  Ferry costs approximately 20 Euros, and we had more fun enjoying the scenery by water.  Costs are approximates to current pricing.
We decided to take the fast train from Salerno to Rome, which is approximately 2.5 hours.  Naples is the closer airport, but we wanted to see Rome before we left Italy and Salerno had direct high speed train. By taking a new route, we were able to see new beautiful scenery. This photo is of the fisherman boats in Salerno.
Things to Do Nearby the Rome Airport
I had hoped to see Parco Archeologico Di Ostia Antica (Viale Dei Romagnoli 717, 00119 Ostia Antica, Italy) but didn't allow enough time when we wanted to walk around Rome. For your reference, it is approximately 8 minutes from the airport, open from 8:30am-3:30pm. 
Similar to Pompeii, it is an old ruins of a port town.  This visit could be done easily from the airport if you are looking for one last exploration before heading home.
Have more time to see Rome? Here is my travel itinerary to a fantastic first trip to Rome.
Thank you for reading on my London to Amalfi Coast Trip! If you are looking for more suggestions on places to see in the Amalfi Coast, check out my other post on Capri to Positano.
Pin This Article for Later!
Disclaimer: The information in this article was accurate when published but may change without notice. All opinions are our own. Some of the links on this website are "affiliate links." This means that if you click on the link and do a purchase, I will receive an affiliate commission at no extra cost for you. This helps me keep my website running and to continue to share my traveling knowledge with you. I thank you for booking your flights or hotels using the links on my website. Regardless, I only recommend products or services I believe will add value to my readers. This article is the property of erinstraveltips.com and is protected by U.S. Copyright Law. Re-publication without written permission is against the law.
More Travel Destinations