Looking for a Chamonix skiing and snowboarding adventure? Thrill seekers, look no further!
From a local expert, here are some of the best destinations for skiing in Chamonix Valley, including insider tips for a truly memorable vacation.
Chamonix Valley: An Iconic Skiing & Snowboarding Destination
Chamonix Mont Blanc is one of Europe's iconic alpine destinations. Skiers, snowboarders, and alpinists have used the mountains surrounding Chamonix since the 19th century. It is the oldest ski area in the French Alps and hosted the Winter Olympic Games in 1924.
The impressive valley is famous for its views of stunning glaciers and imposing peaks, one of which is the highest mountain in Europe, Mont Blanc.
Chamonix is on the french side of the border that divides France, Switzerland, and Italy. This convenient location lets you quickly see three countries if you want to!
What is Chamonix Skiing And Snowboarding like?
Chamonix has extensive ski lifts giving you access to varied terrain. You can find slopes ranging from super easy to extreme backcountry where you need a guide.
Chamonix is not considered a great ski resort for beginners, as most of the terrain is pretty steep. However, there are a few beginner and nursery slopes where you can master your first turns.
Chamonix Ski Resort
Chamonix Valley comprises five ski resorts that offer different experiences:
Les Grands Montets
Brevent
La Flegere
Le Tour
Les Houches
Once you know what to expect, you can decide where to go to take advantage of the snow conditions and visibility.
Let's break down the ski resorts to give you some insider information.
Chamonix Ski Map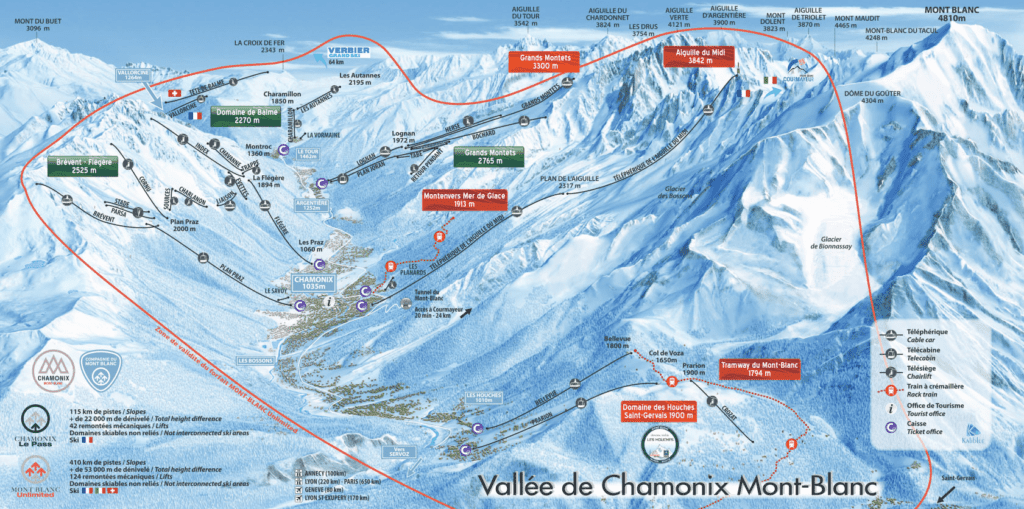 ---
Where Should You Ski In Chamonix?
There are so many options in Chamonix – let's break down the ski resorts to help you better decide which is best for you.
La Flegere & Brevant Ski Resorts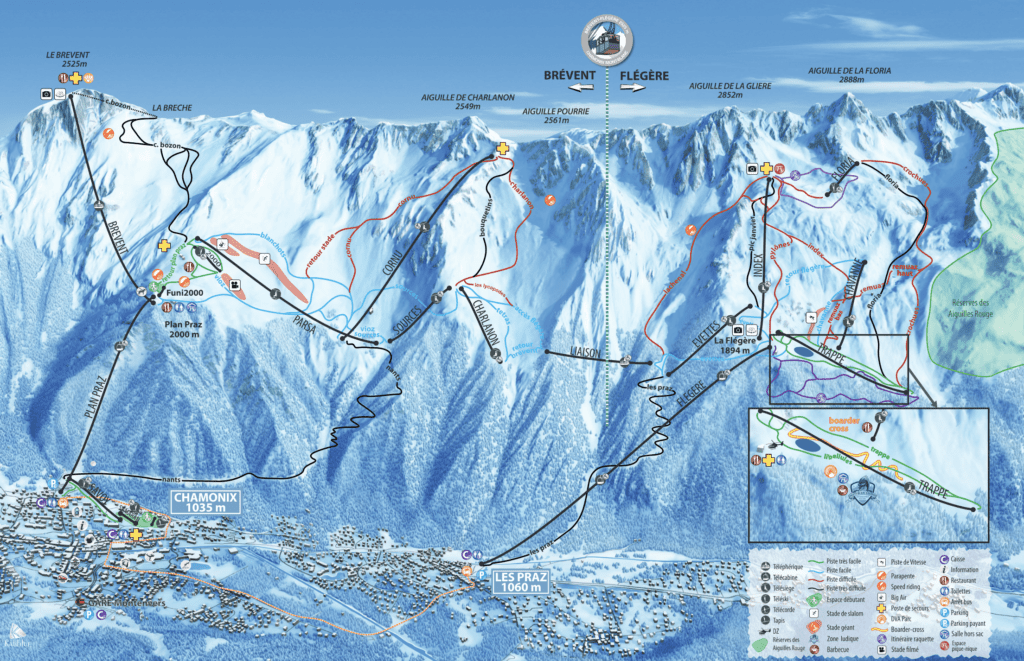 The sunniest resort in the Chamonix valley is La Flegere, as most of it faces south. Although the mountains are pretty high, making the valley is quite shady early in the season.
La Flegere connects to Brevant, so you can easily explore another area. However, you can get to Brevant by cable car just over a mile up the valley. A bus runs up and down the valley throughout the day to make it easy.
La Flegere and Brevant areas have a great variety of piste skiing with world-class views of Mont Blanc.
Les Grands Montets Ski Resort
If you like your slopes fast and steep with consistently good snow, you should visit Les Grands Montets.
Les Grands Montets sits just above Argentière. Here, you can experience the most challenging terrain in Chamonix, both on and off-piste.
Le Tour Ski Resort
If you carry on up the valley from Argentière, you get to Le Tour. This is an excellent spot if you like mellower slopes.
But there are some superb wide and fast red and blue runs. You can also practice your freestyle in the excellent snowpark.
Les Houches Ski Resort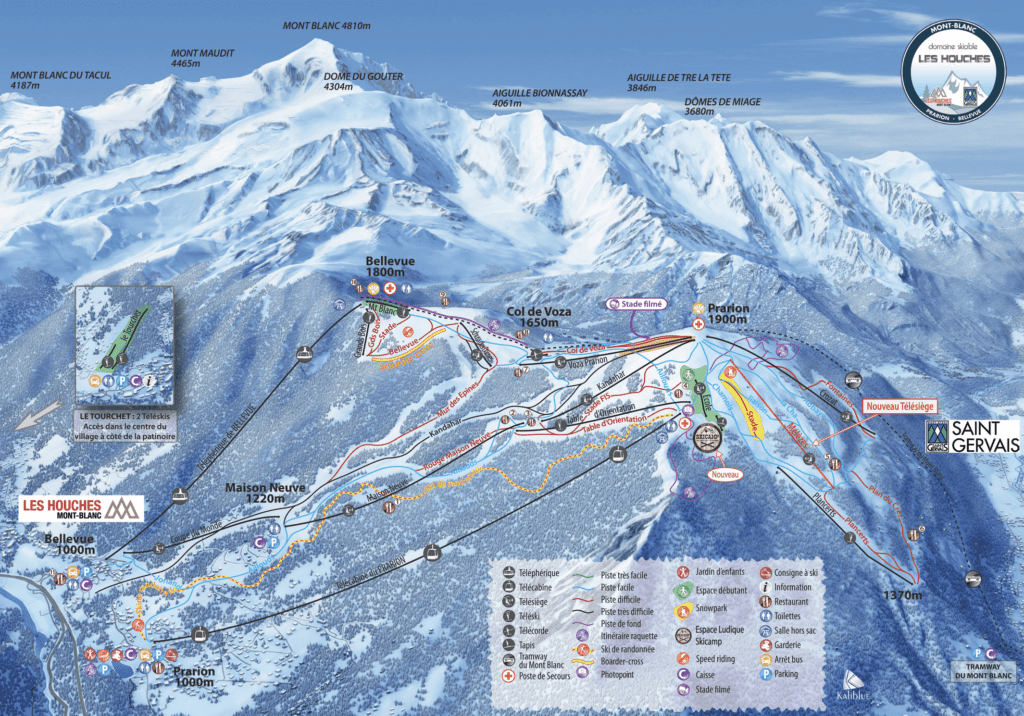 Les Houches is on the southwest side of the Chamonix valley. Les Houches is an ideal place to go if you're in a group with mixed abilities. You'll find the easier runs higher up the mountain, but the steeper and faster runs take you back to the village below.
Les Houches is also a great option on bad weather days. The tree-lined runs give you more contrast when you can't distinguish between the snow and the sky.
Chamonix Snowboarding and Skiing Off-Piste
Chamonix Skiing Conditions
Even with five ski resorts nestled in the Valley, most Chamonix skiing and snowboarding is off-piste. So if you've got the skills and experience to tackle this daunting landscape and visit when the conditions are reasonable, you have to head off-piste.
However, this terrain is deadly, so you must be fully prepared with a transceiver, probe, and shovel and know how to use them.
⛷ Expert Tip: If you're used to skiing and snowboarding in the United States, you need to know that the rules about going into the backcountry in Europe are more relaxed.
You can go anywhere, but the Chamonix off-piste terrain won't be patrolled, and it may not have been blasted for avalanche control. You literally take your life into your own hands.
Therefore it's best to hire a guide. The local guides are incredibly knowledgeable, take you to the best places, and keep you out of trouble.
Read Next: The 10 Best Things to Do in Loire Valley Trip From Paris
Chamonix Glacier Skiing: Vallée Blanche Route
If you've never been to Chamonix, your guide will probably take you on the classic Vallée Blanche route. This is an off-piste route with a few variations and is an incredible experience. On a good day, you can expect deep powder and some of the most spectacular views and terrain you'll ever encounter.
You take the Aguille du Midi cable car to Chamonix's highest point and then ski down to the Mer de Glace. This is the iconic glacier surrounded by imposing mountains and littered with crevasses. The descent takes you through stunning blue ice flows as you carve through the fresh powder.
When you reach the bottom of the glacier, you have two options, depending on the snow conditions. If you're lucky, you may be able to take the track back to the town, which is lots of fun and significantly extends your run home.
First, however, you need to hike up to the trail from the glacier, which is stunning but bitter-sweet. As you ascend the steps, you can see dated signs on the steps indicating the ice level in particular years; it's frightening.
If you can't take the track, you can take the iconic MontenversCog Railway. This attractive red train takes you down to Chamonix and gives you some of the best views of the French Alps.
Pro Tip: You must get up early to enjoy the powder if you're lucky enough to visit Chamonix when the snow is good. So get to the ski lifts no later than 8 am, especially if you are going from Les Grands Montets.
Chamonix Skiing & Snowboarding: When to Visit
As Chamonix is a high-altitude ski resort at 3300m (10826 feet), the snow condition is pretty good all winter. The winter season runs from November to May. However, you'll get the best snow conditions between the middle of January and the end of March. Then, you stand a better chance of getting Chamonix's deep snow!
But don't be put off visiting if you can't make it at this time. You can expect snowy landscapes throughout winter and experience a French Alpine Christmas and New Year.
Each resort has excellent snow-making facilities that take full advantage of the colder temperatures you get from being at such high altitudes. Therefore, spring skiing and snowboarding are fantastic, just in time for the end-of-season sales in the many shops throughout Chamonix.
Other Winter Activities In Chamonix
You don't have to ski or snowboard to have fun in Chamonix.
So if you have non-skiers in your group or fancy a change, you have a broad spectrum of activities to enjoy, from day trips to thrill-seeking paragliding adventures! You will get out of breathtaking views from literally above the alps!
Mer de Glace: The Ice Cave
Even if you're not planning on skiing the Mer de Glace, it's worth heading up to the Aiguille du Midi just for a look. The cable car takes you to 3800m (12467 feet), and you get incredible views of the snowy landscape and valley below.
You get up close and personal from the top with Mont Blanc, the highest mountain in the Alps.
Read Next: The 10 Best Things to Do in Loire Valley Trip From Paris
You may also want to ride the Montenvers Cog Railway to see the epic landscape and ice cave. For those here for Chamonix skiing and snowboarding fun, an ideal location to stay at is the Rufuge du Montenvers. Even if you visit for lunch, you will enjoy memorable views. Keep in mind it's best to book a table in advance. However, if you have more time, this is one of the best places to stay near Chamonix.
Read Next: ⛷ 11 Best Chamonix Hotels & Rentals ⛷
Chamonix skiing also has many nordic tracks too. These are a great way to explore the valley at a more sedate pace while getting your heart rate up. However, the best way to take in the views has to be during a tandem paragliding flight. Soaring above the valley gives you uninterrupted views of the landscape, including its forests and glaciers.
If you like to flex your credit card, Chamonix is a great place to do it. There are dozens of shops specializing in mountain sports and fashion; all the big brands are there.
Read Next: The Best 1 Day Trip Itinerary to Spectacular Chamonix France
How To Get To Chamonix
There are a few ways you can get to Chamonix; here's a rundown of each method, so you can decide which is best for you.
Flying from the Geneva Airport (GVA) to Chamonix
Most people find that flying to Geneva Airport in Switzerland is the best way to get to Chamonix. You can either hire a car or get an airport transfer from the airport to Chamonix.
Book Your Day Trip Tour from Geneva to Chamonix Here!
Flying is the fastest way to travel, and Geneva is a large international airport with regular flights. Booking a transfer from the airport is the easiest way to get to Chamonix, as you get taken directly to your accommodation in 1 hour and 30 minutes.
Hiring a car is helpful, as it gives you more versatility when you're in the resort. You may even want to drive through the Mont Blanc tunnel into Italy to ski in the Aosta Valley or the swanky resort of Courmayeur. First, however, you'll have to navigate through Switzerland and France, possibly on snowy roads.
Chamonix by Car
You may be incorporating Chamonix into a European trip. If you're already used to driving in Europe, driving on French roads shouldn't bother you too much. Parking in Chamonix can be tricky in peak season, especially at the foot of the slopes.
Pro tip: You're required by France law to have snow chains or winter tires fitted to the car between 1st November and 31st March.
Trains in Chamonix
Chamonix is unlike most French ski resorts, as it's more of a town that happens to be in the mountains. Therefore, you get the associated benefits, such as a train station.
You can get to Chamonix by train from Paris, Geneva, and London, among other European cities, with a couple of connections. This is an eco-friendly way of traveling, and you get to watch the European scenery scroll by while you sip a drink. Traveling by train may not be as fast as flying, but you don't have to wait at the airport.
Long Distance Bus to Chamonix
Long-distance buses are the cheapest options and can be sociable if you want to pass the time by chatting with strangers. However, these buses take many hours, depending on where you're traveling from. So you need to decide if a 20-hour journey on uncomfortable seats and arriving tired is worth the lower cost.
Final Thoughts: Chamonix Skiing and Snowboarding
Chamonix is an iconic winter sports destination steeped in history. If you're an intermediate or advanced skier or snowboarder, Chamonix is a great destination. This is especially true if you want to explore the backcountry with a guide.
Beginner skiers and snowboarders can enjoy Chamonix, but it may not be the best choice. There are more beginner-friendly ski resorts not too far away, such as the lower-altitude resort of Morzine.
You can easily visit Chamonix on a day trip if you want to check it out. The low altitude means the temperatures are milder, which may appeal to the novice skier or snowboarder more.
Read Next: Amazing 1 Day Trip to Annecy and Gruyères
Did You Find This Chamonix Skiing Guide Helpful? Please Share It!
I would love to hear about your Chamonix skiing adventures! You can follow me on Instagram, tag your images to @erinstraveltips and hashtag #erinstraveltips. I look forward to seeing you there!
Interesting France Travel Articles to Read Next