Unfortunately, you can't snowboard in Paris. However, there are some world-renowned snowboarding trips from Paris that most other countries only dream about!
Paris is one of the most popular places to visit in Europe. It has a rich history and spectacular monuments and is home to some of the world's finest art. But there's more to France than Paris, as it is larger and more diverse than you may think.
If you're visiting Paris, I recommend that you see the sights over a few days, buy an Eiffel Tower ornament, and then head for the mountains. Snowboarding trips from Paris are not uncommon, but you have to travel.
Luckily, France has an excellent rail network that uses the high-speed TGV train. Racing through the French countryside and into the French Alps by train is a great experience.
Since you can't snowboard in Paris, where can you go on snowboarding trips from Paris? Let's get started with the best ski resorts from Paris.
French Alps Train Stations
As you can probably guess, few ski resorts have major train stations. However, you can get close to many ski resorts by train and then get a transfer or hire a car to finish your journey. You must book your transfer or hire a car well in advance. There's no such thing as an Uber in the French Alps, and taxis are hard to come by.
Here are the main Alpine train stations for snowboarding trips from Paris.
Bourg Saint Maurice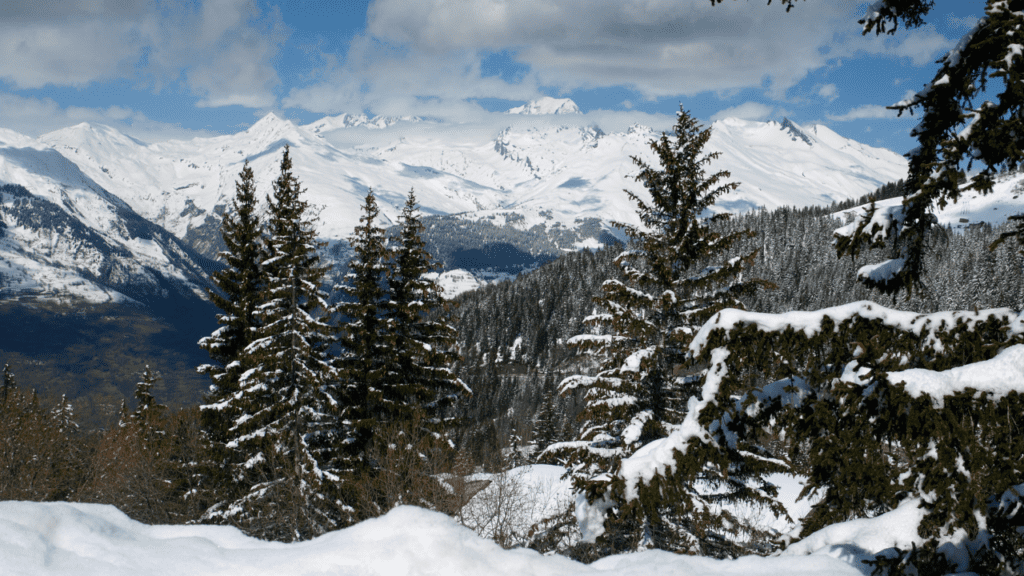 There is a train that runs directly to Bourg Saint Maurice from Paris. According to Rail Europe, it takes just under 5 hours on the TGV. This journey would take over 7 hours by car, and you wouldn't be able to sip wine while you travel.
Bourg Saint Maurice gives you access to several high-profile French ski resorts in the 3 Valleys and Tarentaise Valley. I'll go into these areas in more detail later, but heading to Bourg Saint Maurice from Paris is one of the best options.
St Gervais Les Bains Le Fayet
St Gervais Les Bains Le Fayet is the closest main train station to Chamonix. Therefore, you can experience two iconic French destinations in one trip.
The train journey takes just under 8 hours, but some services can get you from Paris to St Gervais Les Bains Le Fayet in 5 hours.
You do have to change trains once during this trip. But, the center of Chamonix is only about a 20-minute taxi ride from the station.
Geneva, Switzerland
You can catch the train from Paris to the Swiss city of Geneva. Geneva is a common hub for people visiting the French Alps, as it is just over the border.
The TGV Lyria high-speed train will get you from Paris to Geneva in only 3 hours and 5 minutes. There is a regional train that is cheaper, but it takes 8 hours and 35 minutes. If I were you, I'd pay the extra and get there quickly or see if you can get any deals on flights.
One of the most popular ski areas from Geneva is the Portes du Soleil. This is one of the world's largest ski resorts and is super easy to get to from Geneva, as it is only about 1 hour and 30 minutes by car or transfer shuttle.
You can also get a train from Geneva to Thonon-Les-Bains, which is less than an hour from the nearest French ski resort.
Tour Recommendations from Geneva
Popular Ski Areas: Snowboarding Trips From Paris
Here is a list of the most popular ski areas from Paris beginning with Bourg Saint Maurice.
Bourg Saint Maurice
Bourg Saint Maurice sits at the base of a number of mountains, giving you access to 6 major ski resorts. Some are stunning, and some are not exactly pretty, but they all offer opportunities for snowboarding trips from Paris.
You could use Bourg Saint Maurice as a base and visit several resorts in one trip. However, this would involve a lot of driving, so you'd be better off staying in one of the ski resorts that connect with others.
Here's an overview of where you can go from Bourg Saint Maurice:
Val D'Isere
Val D'Isere is an upmarket ski resort and is one of France's most famous winter sports destinations. The traditional style chalets and luxury hotels make Val D'Isere a seriously nice place to be (I used to live there). It is full of characters and has legendary après and nightlife, giving you a genuine European ski resort experience.
🏂 Recommended Hotel Nearby: L'Aigle des Neiges
---
Tignes
The ski area is large, and it connects Val D'Isere with the neighboring ski resort of Tignes.
Tignes is less aesthetically pleasing than Val D'Isere as it is packed with high-rise concrete buildings. But the landscape is stunning, and staying there is less expensive. You'll also notice a less pretentious vibe while being able to enjoy the same mountain experience.
Both resorts offer fantastic nightlife and other activities to do during your stay. For example, you can try your hand at ice driving, paragliding, or even ice diving.
🏂 Recommended Hotel Nearby: Hôtel Village Montana
---
Les Arcs
Les Arcs is accessible from Bourg Saint Maurice via a funicular, so it's very easy to get to. It is a purpose-built ski resort comprising several villages at different altitudes, each offering a slightly different experience.
All the resorts give you direct access to the slopes and are mostly pedestrianized.
🏂 Recommended Hotel Nearby: Hotel Base Camp Lodge
---
La Plagne
In 2003, Les Arcs was linked with another purpose-built ski resort, La Plagne, by the impressive double-decker Vanoise Express gondola. The result is a ski area with 425km (624 miles) of slopes.
🏂 Recommended Hotel Nearby: Hotel Vancouver
---
The 3 Valleys
At 600 km (373 miles), the 3 Valleys (Les Trois Vallées) is the world's largest connected ski area.
3 Valleys is made up of the ski resorts:
Val Thorens
Courchevel
Meribel
As you can imagine, this area is extremely popular with European skiers and snowboarders, as there's so much variety. For example, Val Thorens is Europe's highest ski resort. It is purpose-built, but what it lacks in charm, it makes up for in accessibility to fantastic snow.
Courchevel is a glitzy ski resort frequented by the rich and famous. You can expect lots of fur coats that match small yappy dogs, but it is a fantastic place to go.
Meribel offers a lot for families, but it has great nightlife too, and easy access to some of the best rideable terrain in the world.
🏂 Recommended Hotel Nearby: Altapura Resort
---
Ski Resorts From Bourg Saint Maurice
I could write a book about the ski resorts accessible from "Bourg" as there are so many to choose from, depending on the experience you want.
Val D'Isere gives you an authentic French experience, interspersed with drunk rich kids. But if you want something more traditional and low-key, you might like to visit La Rosier.
This is a family-friendly resort with gentle terrain and consistently good snow.
⛷ Expert Tip: It also links with La Thuile, Italy, so you can have pizza for lunch and fondue for dinner!
St Gervais Les Bains Le Fayet Station
There are a few places you can go from St Gervais Les Bains Le Fayet, but if you head there on a snowboarding trip from Paris, you'll want to go to Chamonix.
Chamonix, France
Check out this Ultimate Guide To Chamonix for all the details. Still, Chamonix is often described as one of the most iconic mountain destinations in the world.
Five separate areas make up the Chamonix ski area, all offering something different. However, off-piste in Chamonix is legendary, all overlooked by Mont Blanc. You can also cross the border into Italy from Chamonix, so you could use it as a stop-off or a base for exploring the Alps.
🏂 Recommended Hotel Nearby: Hôtel Mont Blanc Chamonix
---
Closest Ski Resort to Geneva
You can get to all of the ski areas I've talked about so far from Geneva. It's just that they take a while to get to compared to the Portes du Soleil.
Read Next: The Best 1 Day Trip Itinerary to Spectacular Chamonix France
Portes du Soleil, France
The Portes du Soleil is my local ski area, and it's made up of 12 ski resorts in France and Switzerland. The area measures an incredible 650km (404 miles) of slopes, trumping the 3 Valleys.
A couple of these resorts require a short walk or drive.
🏅The 3 Valleys gets the medal as everything is connected and the ideal place for your hotel stay. 🏅
⛷ Expert Tip: There is a rumor that my village, Saint Jean d'Aulps, may be connected to Les Gets with a lift in the future.
Recommended Hotel Nearby: Altapura Resort
---
Morzine, France
Les Gets is the closest Portes du Soleil resort to Geneva; a transfer takes just over an hour. This lovely resort is family-friendly and well-polished, but the nightlife could be better. The ski area is linked to Morzine, a couple of miles down the road.
Morzine is an excellent base for accessing the rest of the Portes du Soleil, with great nightlife and a mix of luxury and more affordable accommodation.
🏂 Recommended Hotel Nearby: Hôtel Loisirs Les Côtes, Résidence et Chalets Morzine
---
Avoriaz, France
An alternative to staying in Morzine is Avoriaz. Avoriaz is a purpose-built ski resort, but it's very different from other French resorts of this type.
Its architecture is unique and divides opinion. Some people love the quirkiness and the character enhanced by the car-free snowy streets. Everything is accessible on foot, by skis, or by horse-drawn sleigh.
Whatever you feel about the style of Avoriaz, there's no doubt that the ski-in-ski-out accommodation makes hitting the slopes effortless. There are lots of great bars and restaurants, too. So whether you're riding with friends or kids, Avoriaz can cater to everyone.
As the Portes du Soleil ski area straddles the French-Swiss border, you can experience two countries in one day. The Swiss side is arguably even more stunning than the French side, and the slopes are often much quieter; I've had slopes to myself even during school holidays.
🏂 Recommended Avoriaz Hotel: SOWELL COLLECTION Hôtel des Dromonts
---
Final Thoughts: Snowboard in Paris
Even though you cannot snowboard in Paris, there are plenty of great options at your disposal.
You can choose to visit small characterful ski resorts with a traditional feel or iconic status.
Alternatively, you can head to well-polished destinations dripping in glitz and glamour. You can also balance tradition and convenience in a high-altitude resort with excellent snow conditions.
Read Next: The Ultimate Guide to Chamonix Skiing & Snowboarding
Pin This Article for Later
Related France Travel Articles