After seeing the amazingly beautiful city of Annecy, France, and Gruyeres, Switzerland (details can be found here), I figured Chamonix would be just another ski town. Boy, was I wrong!
This little town has some of the most breathtakingly beautiful mountain scenery ever. It is truly a nature lovers' paradise.
Thrill Seeker? Chamonix France is a Must Visit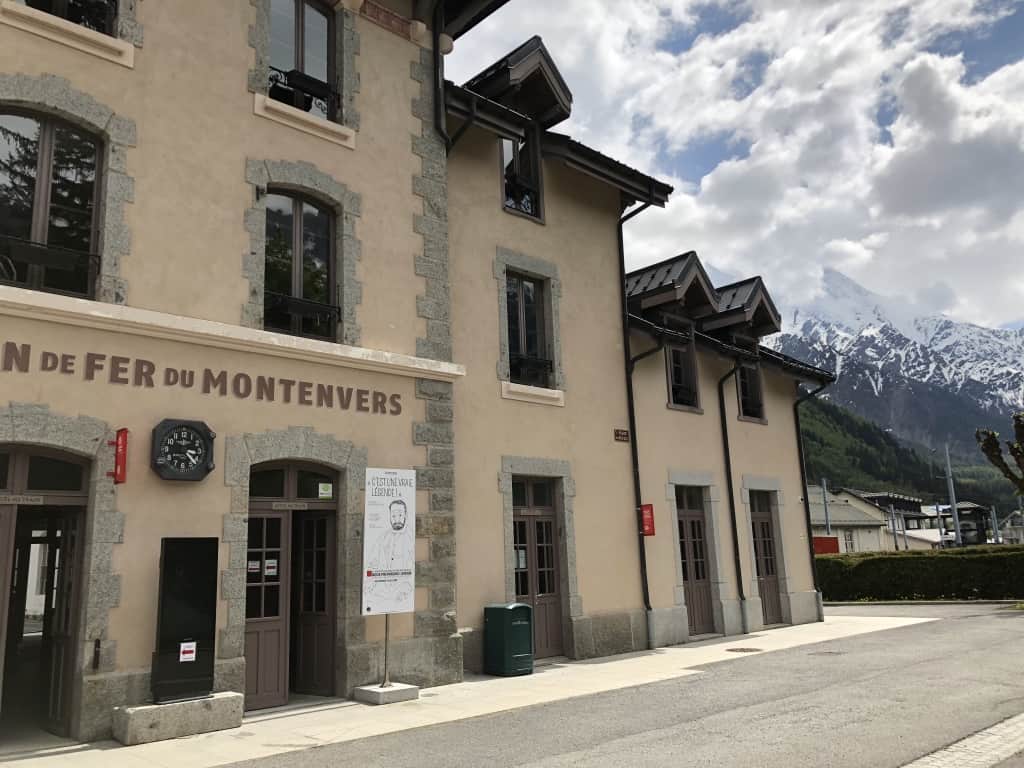 Chamonix Mont Blanc, often shortened to Chamonix France is a resort town near the corners of France, Switzerland, and Italy located in the French Alps. Cable cars (gondolas) are available to take visitors up to nearby mountains with panoramic views, including Aiguille du Midi above Chamonix.
The mountains can even be crossed by cable car to Pointe Helbronner, which is located on the Italian border.
Buckle up, there is a lot to see in the Chamonix Valley!
Read Next: Where to Stay in Chamonix: 11 Best Chamonix Hotels & Rentals ⛷
Fun Facts about Chamonix France
James Bond movie, The World Is Not Enough was filmed in the ski areas of Chamonix Valley
Davos in Switzerland and Aspen in Colorado are two of Chamonix's sister cities
Chamonix France hosted the first Winter Olympic Games in 1924
Mont Blanc is the highest peak in Western Europe
Traveling to Chamonix France
Annecy to Chamonix by Car
We headed out early to avoid delays at my much-anticipated visit to Aiguille du Midi. Chamonix Mont Blanc is approximately 1.15 minutes east of Annecy by car. The drive was easy and picturesque with mountains and waterfalls in the distance. If you are coming from Paris, it is approximately 6.5 hours heading southeast by car or tram.
Some people encouraged me to take a tour bus to see these sights since I didn't speak the language. I truly feel you get to know the area better when you interact with locals. I found that I had a greater appreciation for French culture.
A helpful tip, I did take a French Duolingo language course prior to, so I could communicate some essentials. However, most people spoke English or basic words, so we had no issues. Google Translate App was also my best friend!
Traveling to Chamonix by Bus
If you arrive here by tram, you will want to look into the Chamonix bus pass. The Chamonix Tourist Office will assist you with free public Chamonix Valley transportation. Buses run daily between ski resorts and also up and down the Chamonix Valley to other villages. This is a great way to get around town or between villages; on top of it, it's free.
Geneva to Chamonix by Plane
If you arriving from out of the area, flying into the Geneva airport is the quickest and most efficient way to get to Chamonix. Taking a guided day trip or hiring a driver is a popular way to see Chamonix from Geneva especially during the winter when roads can be icy.
Aiguille du Midi (Needle in the Sky) – 2+ hours
The Aiguille du Midi or in English translates to "Needle in the Skye." It is approximately 12,602 feet tall and looks intimidating from ground level. On overcast days you can't even see the top because it's surrounded by clouds.
Tickets
Tickets for the cable car can be purchased in advance through their website. To avoid a queue, it is best to purchase in advance.
This trip will take you at least two hours, but I recommend planning for longer, especially if you are traveling during peak times. Cable cars can be packed with long lines. We largely avoided this issue by arriving in the early morning hours. Please note that if traveling with children, it is not recommended for anyone under age 5.
Check the Weather Before You Go
If you have the option to time your visit, you will want to go on a clear weather day so can get a view from the top of the mountain.
You can see from some of my photos that it was a cloudy day when I visited Mont Blanc. The entire weekend unfortunately for us was cloudy, somewhat rainy, and overcast. However, this didn't deter us since there was so much to still see.
Here are a few other important tips to note:
Remember to bring warm clothes since it is considerably colder the higher you climb. I dressed in layers and could easily remove them when needed.
The frequency of cable car departures varies depending on the season. Refer to the link I provided with the exact times.
Carry a suitable bag for mountain travel. I recommend wearing a light backpack or something that you don't have to lug around. I also added a simple lock on my backpack since cable cars can be packed with people.
Sunglasses and sunscreen will be needed if you plan to be outside on the mountain. The sun's rays are super bright coming off the snow and can be potentially damaging to your eyes.
Heading to the Top of Aiguille du Midi
Keep in mind, that cable cars tend to move around a lot when climbing the mountain and can be scary for those fearful of heights. I fully admit to being one of those people. But, my love of adventure keeps me going despite it.
Below I shared a photo of me on the congested cable car and my expression is so funny! I'm trying to be unbothered by the turbulent cable car movement. The skiers nearby were totally unfazed by it.
There is a refreshment stop about halfway up the mountain. You will see a sign when you get off the cable car that reads "Service Au Bar." Follow the sign over to the little establishment and sit outside on the benches. We enjoyed a drink and watching the skiers come on and off the slopes here.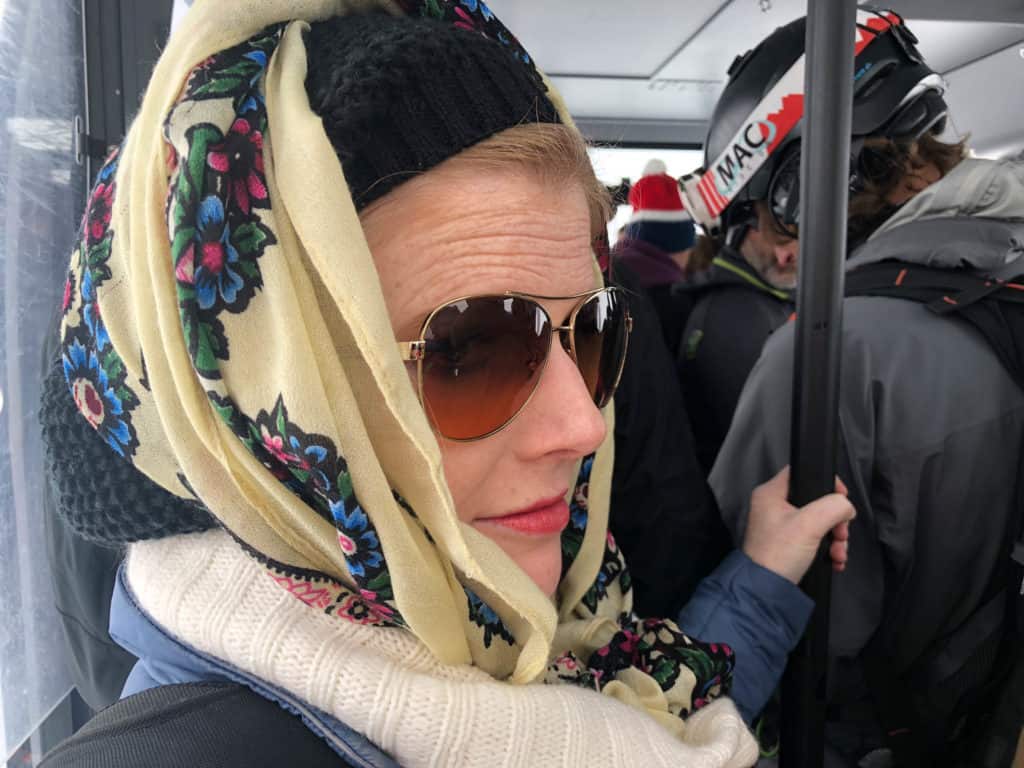 Once reaching the top, there is a glass box for photo shoots that looks down to the abyss below. You can also go outside on the deck for better views. I get chills every time I think about standing on the edge outside. So you won't see any Instagram pictures of me hanging off the side of the mountain, ha!
Aiguille du Midi also has a restaurant, restrooms, and a souvenir shop. There are also some interesting fun facts about the history of Mont Blanc posted on walls.
For an additional charge, you can continue your trip by taking the cable car ride over the Glacier du Géant to the Pointe Helbronner in Italy.
Chamonix Ski Resorts
Chamonix-Mont Blanc is known for some of the most iconic world-class winter sports on France's tallest mountain. The views are out of this world, even if you just ride the cable car up and down the mountain.
If you are coming to the area to ski, you will want to check out information on the best Chamonix ski areas.
Read Next: The Ultimate Guide to Chamonix Skiing & Snowboarding
Montenvers Station to Mer de Glace
Next, we headed from Chamonix to get on board the red train cable car to the Montenvers station. The Montenvers Railway was built in 1908 to attract tourists to the Chamonix Valley. It goes back and forth between Montenvers station and Chamonix.
It is approximately a twenty-minute ride through the beautiful mountain scenery. The Mer de Glace is a valley glacier located on the northern side of Mont Blanc, in the French Alps. Mer de Glace, which means "The Sea of Ice" is the largest glacier in France. It is a must-see while in Chamonix France. Here is the official website to purchase your tickets.
The history of climate change is shown in dramatic effect by taking the long walking path that used to be part of the glacier. On average, the glacier loses 30 cm each year, which is an equivalent loss of 700 million cubic meters of water.
The Mer de Glace was breathtakingly beautiful to see in person. Keep in mind, that there are approximately 430 or more steps on both the outward and return walk from the top of the glacier cable car lift. The walk down is relatively easy, but heading back up could be more of a challenge. Pace yourself, there is no rush, and enjoy the beauty of the scenery around you.
Walking into a tunnel of ice, the coloring was a beautiful bluish-green. See my photo with the ice wall detail — it is spectacular in person!
Although there was foot traffic, it was not overly populated with visitors and we could enjoy our time there. Here is a photo of my husband showing the size of the tunnel.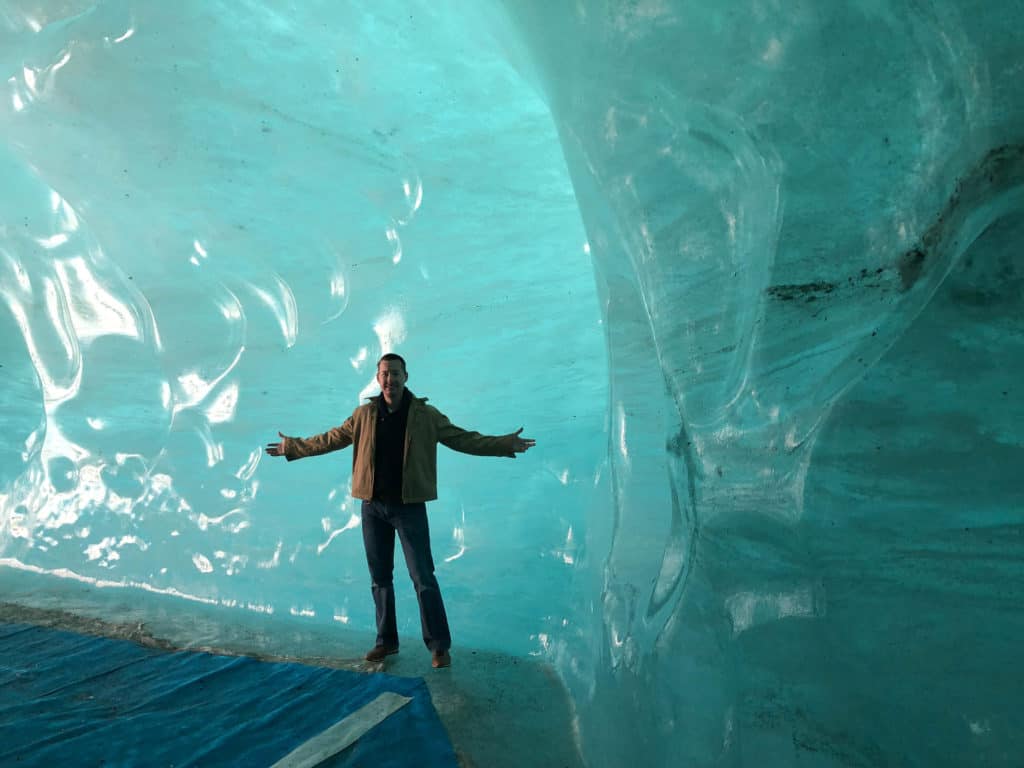 Before you leave, don't forget to check out the animal museum and the display of mountain crystals found in Chamonix Mont Blanc area.
If you're hungry, Montenvers Station has a basic cafe for a coffee or light snack. While on the topic of dining, I must not fail to mention that Montenvers has a gourmet restaurant and hotel there.
Refuge du Montenvers is a 5-star hotel mountain retreat with a very unique rustic and modern touches.
The hotel has a bistro and bar for day trippers and skiers to utilize, and a restaurant for dining.
There is also a museum in the hotel of old photographs and model railway items free to the public. This is truly the place to stay if you want to get away from it all!
Chamonix Hotels & Where to Stay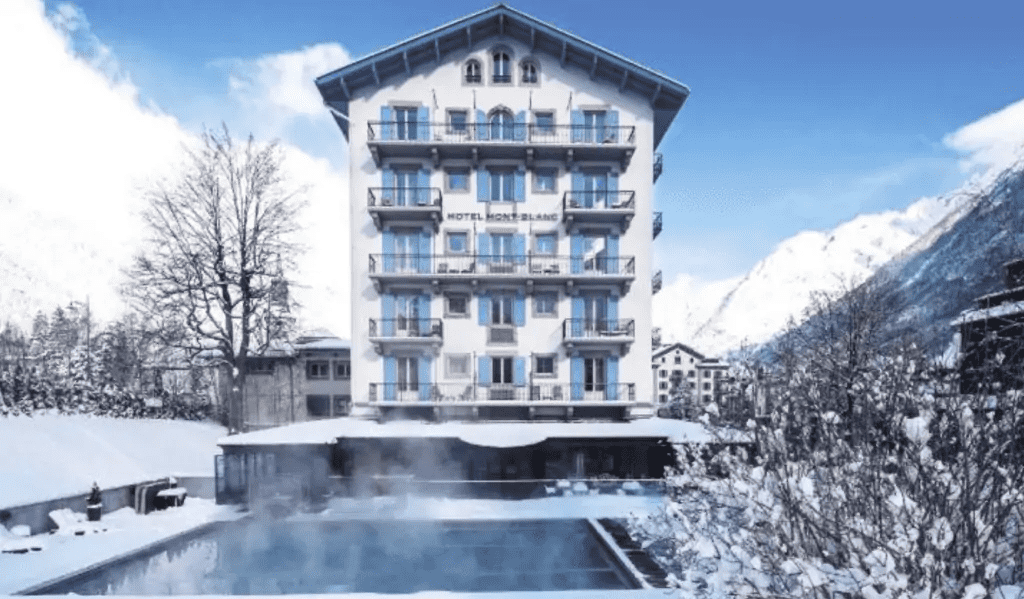 We stayed at Hôtel Le Whymper in downtown Chamonix. Our room was stylish and updated, and the service was superb. While the rooms are relatively small, the hotel suited our needs since we were outdoors all day.
Why choose this hotel? It has excellent walkability in the town center for a budget-friendly price. Most of the main attractions are a short 5-10 minute walk away.
Chamonix hotel pricing is definitely seasonal, and you will pay more during the winter months since the city attracts thousands of winter sports fanatics.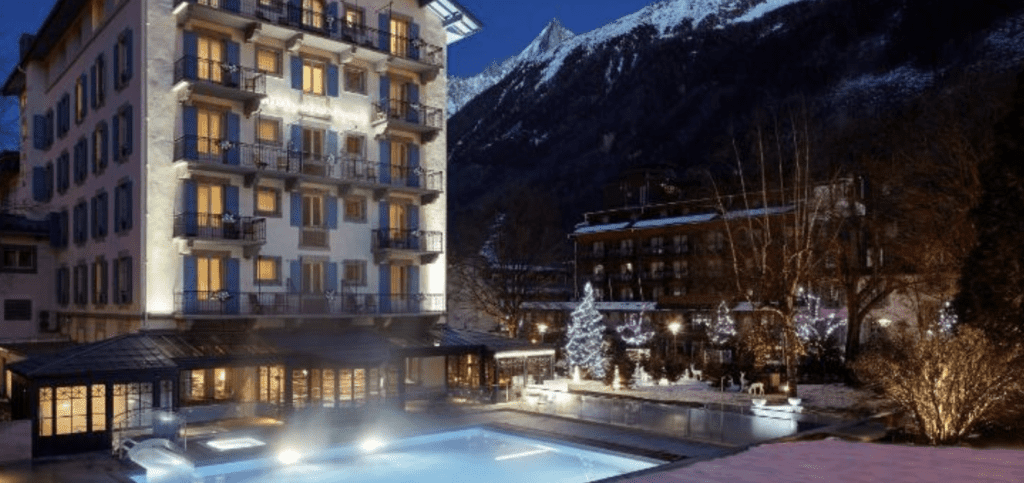 Since we were on a 1-day action-packed adventure, we were not looking for a resort. However, if you are looking to relax, this 5-star ski resort is my top choice for a luxury hotel in Chamonix France.
Hôtel Mont Blanc Chamonix is picture perfect with a year-round swimming pool, Clarins spa, fitness gym, dining, and sweeping views of Mont Blanc.
This is the ideal stay if you have longer than a day and can fully relax and unwind. Over 100 years old, it combines traditional Alpine style with 5-star luxury.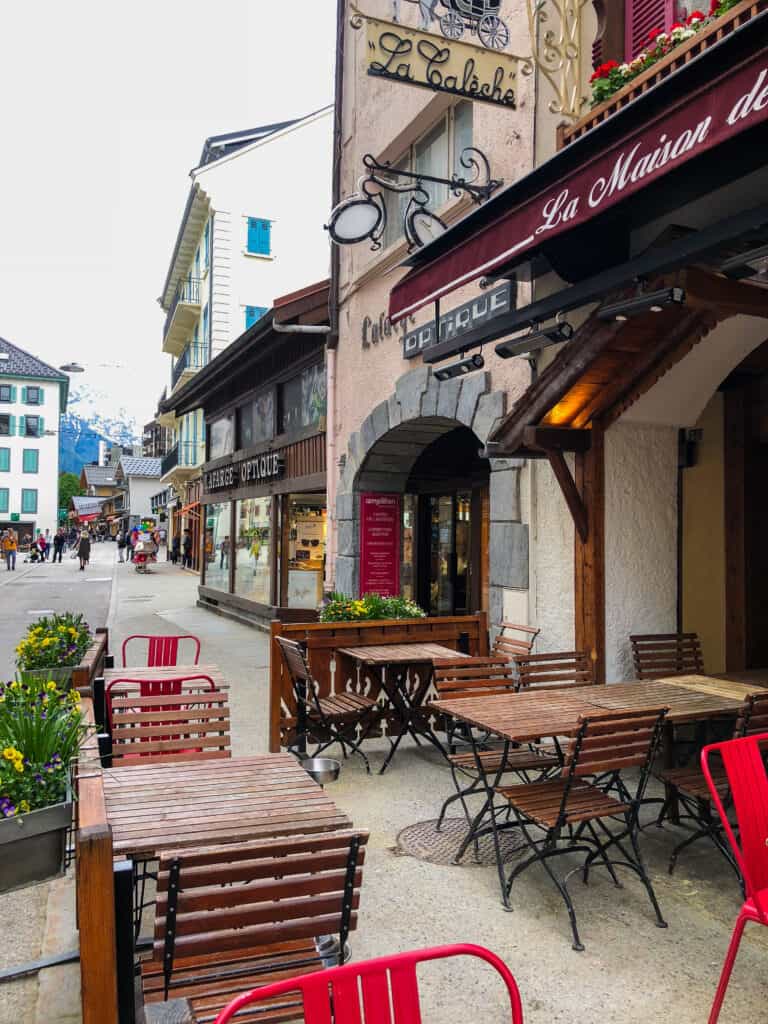 After a busy day in the mountains, we headed to a relaxing dinner at Le Fer a Cheval in the town of Chamonix Mont Blanc. They are currently back open after being closed for a period due to COVID. Both the tartiflette and the fondue were spot on, so it is understandable why they are known for these dishes. Fondue is one of those gourmet dishes I could eat almost every day, especially when it is made well. They definitely make it to my standard!
You may wonder why we didn't eat at the Montenvers Du Restaurant while we were nearby. Since it was we were on a short 1-day trip, we wanted to explore the city. This restaurant provided more of a launching point for the rest of the evening.
Following dinner, check out the sights in town. Chamonix Mont Blanc is a fun place to walk around and see the historic figure statues, charming boutiques, wine shops, and restaurants. The river that runs through it provides a tranquil feel and a nice end to the day.
French Alps Ski Resorts
Beyond Chamonix, there are so many ski resorts in the French Alps. You could spend an entire vacation or longer just seeing the amazing sights and they are all relatively easy to get to by train.
Read Next: Can You Snowboard in Paris? 5 Trips You Don't Want to Miss
Chamonix in the Summer
Although the snow can be beautiful, the summers here are pretty special as well. Instead of icy conditions, you've will see beautiful wildflowers, waterfalls, and wildlife to see on nature trails.
One of the trails you may want to check out is the Plan de l'Aiguille, if you don't mind walking in the mountains. The Plan de I'Aiguille trail is known to have breathtaking views.
Chamonix Tourist Office
One of the more popular things to do in the summertime is mountain biking. There are so many bike trails to check out. Here is a link to the bike trails page on Chamonix.com.
Since we visited during the spring, I can't personally recommend summer destinations to see. However, definitely check out the Chamonix Tourist Office in town which can provide lots of helpful tips on how to spend your day.
Final Thoughts on 1-Day in Chamonix
Overall, we had a memorable 1-day trip to this breathtakingly beautiful village town! The outdoor activities would make this a destination spot I could definitely stay longer on my next visit. And for the adventurer in me, I hope to one day be mountain biking or skiing on my next trip to Chamonix France.
Read Next: The 13 Best Boutique Hotels on the Amalfi Coast You Will Absolutely Love
Frequently Asked Questions: Chamonix France
Is Chamonix worth visiting?
Chamonix is a nature lovers' paradise with the most stunningly beautiful scenery in France. World-renown for skiing and winter sports, it also has an amazing list of summer activities with endless possibilities for outdoor adventures.
How many days should I stay in Chamonix?
If you traveling nearby to Chamonix, it must be added to your itinerary either as a day trip or for several days. Ideally, 3 days would give you enough time to fully enjoy the sights.
How do I spend my day in Chamonix?
Your day in Chamonix is best spent by seeing the Aiguille du Midi or "Needle in the Skye." It is approximately 12,602 feet tall and is reachable by cable cars and elevators. You will see the most amazing views from the top. Mer de Glace or "The Ice Cave" also tops the list of unique attractions and its easily accessible from the Montenvers Station. If time allows, explore the quaint town of Chamonix Mont Blanc which has delicious restaurants, unique shops, and historical statues.
Did You Find This Post Helpful? Share It!
If so, I would love to hear about your Chamonix travel adventures! You can follow me on Instagram, and tag your images to @erinstraveltips and hashtag #erinstraveltips. I look forward to seeing you there!
Other Amazing Travel Tips
I hope you enjoyed my 1-day trip to Chamonix France. Check out more travel articles including Chamonix Skiing listed below.