Deciding where to stay in Chamonix, France? Here are the 11 outstanding Chamonix hotels and rentals for any size group or budget.
Located in the French Alps, Chamonix is a charming alpine town famous for its unparalleled skiing experience.
Chamonix-Mont-Blanc Valley attracts over 2.5 million visitors each year for a reason. It's no wonder since it has the tallest peak in Western Europe. Chamonix is also famous for hosting the first Winter Olympic Games in 1924.
Being Europe's premier ski resort town, it can be expensive in peak season. However, there are plenty of fantastic Chamonix hotels and vacation rentals for every budget.
Although it's a French town, English is widely spoken and understood in Chamonix. This is because a large majority of its visitors are international. However, I recommend learning basic French phrases (such as Duolingo).
Don't have time to go through the entire article? Here are the Top Hotels in Chamonix France, separated by travel plans:
Where is the Best Area to Stay in Chamonix?
Where to stay in Chamonix truly depends on your reason for visiting the area. If you're looking to do various activities, staying in the town center is best.
If you are looking to stay at Chamonix ski-in ski-out hotel, Argentiere is ideal. While Argentiere has some of the best skiing, it can also be more difficult for beginners. From Argentiere, you can easily take the bus into town to visit shops and restaurants. The next best ski-in, ski-out location is Les Praz, and stay close to the Flegere lift.
The Aiguille du Midi for Vallée Blanche is spectacular but it is all off-piste and truly for advanced skiers. Therefore, if you really want to be near a ski lift in Chamonix, go for the Savoy area or something next to the Brevente lift.
⛷ Read Next: The Ultimate Guide to Chamonix Skiing & Snowboarding
There are convenient bus stops, so staying further out is also an easy solution if you like solitude. Remember, buses can be more crowded, especially during peak season. However, cars are pretty prominent and always an option too.
Overall Best Hotels in Chamonix, France
Whether you're in the mood for a luxurious Chamonix skiing escapade or a budget hotel, you'll find them all! This article will take you through the eleven best hotels in Chamonix so you can choose the best fit for you.
Read Next: The Best 1 Day Trip Itinerary to Spectacular Chamonix France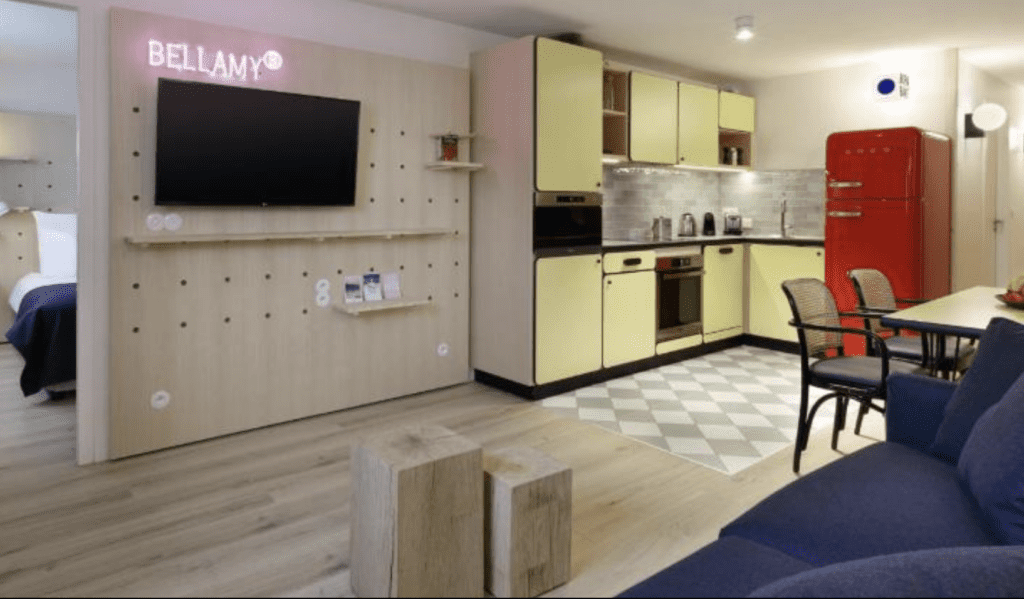 Appart'hotel Bellamy is arguably the best hotel in Chamonix for value. The hotel has single-room studios, 1-bedroom apartments ideal for couples, and even larger 3-room apartments, perfect for group travelers and families.
Alongside climate-controlled air conditioning, flat-screen TV, free wifi, and free parking, each apartment has a fully functioning kitchen and dining area. Restaurants such as Jekyll & Hyde are within easy walking distance, as well as more options in Chamonix town center.
Ski lifts and multiple attractions, such as Mer de Glace, are all within walking distance or by bus. Appart'hôtel Bellamy Chamonix
There's also a tennis court within a short drive so you can stay entertained during the summer in Chamonix.
| | |
| --- | --- |
| Pros | Cons |
| Budget-friendly with quality materials | Breakfast is not included |
| 2-min walk from the bus stop | |
| Multilingual staff | |
| 10-min walk into Chamonix town center | |

Best Luxury Hotels in Chamonix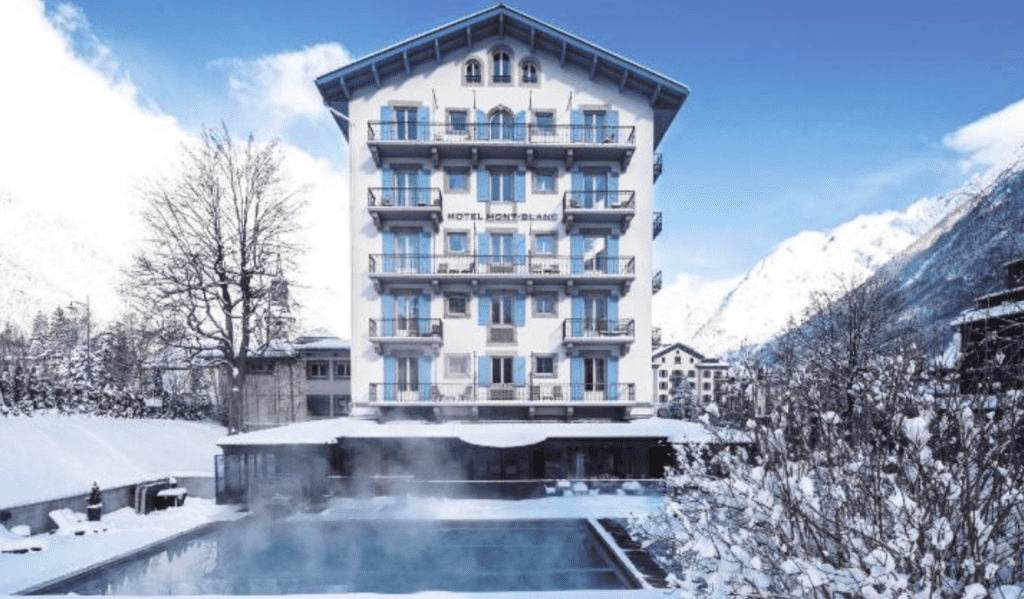 For all our luxury travelers, Hôtel Mont-Blanc Chamonix, is the spot to be. This 5-star hotel is situated in the heart of Chamonix and offers its guests an all-around luxurious experience. As soon as you enter, the main lobby is decorated with sophisticated furnishing that also feels cozy.
Apart from all basic hotel amenities, Hotel Mont-Blanc has a heated pool and a hot tub, perfect for relaxing in Chamonix's cold weather. It is one of the most unique indoor/outdoor pools!
Before heading out for other activities, you can start your day with a hot and fresh breakfast buffet.
This Chamonix spa and fitness center is also open year-round for you. After a long day skiing, you'll love ending your day with a relaxing massage from their highly trained masseuse.
⛷ Pro Tip: If you travel in the shoulder season or off-season, you can get steep discounts on luxury hotels in Chamonix.
Read what hotel guests are saying:
"The hotels staffs were super friendly and nice. And they also seem to speak fluent English…The room itself was well designed and the mont blanc view from the balcony was amazing!"

Hyunjeongcho, (Hôtel Mont-Blanc Chamonix reviews)
| | |
| --- | --- |
| Pros | Cons |
| Breakfast buffet included | Expensive |
| Charging stations available for electric cars | Additional parking charges |
| Luxurious with resort amenities | |
| Nearby golf course | |

Don't be fooled by the exterior of Le Hameau Albert; although it may look rustic from the outside, the inside simply screams grandeur.
This wooden hotel features a wide range of cozy rooms, attached washrooms, and all hotel amenities.
Le Hameau Albert also offers you heated indoor and outdoor pools, a fitness center, and a spa.
Three restaurants offer a wide range of cuisines, everything from traditional french cuisine to intercontinental. Maison Carrier restaurant is particularly popular amongst guests.
For all our wine enthusiasts, you'll be glad to know that the hotel also has a wine cellar and bar that offers a wide selection of wines. There's also a hotel shuttle to take you to and from the airport.
| | |
| --- | --- |
| Pros | Cons |
| 24-hour reception | Expensive |
| Multiple attractions close by | |
| Pet-friendly | |
| Breakfast included | |

Chamonix Ski Resort Hotels
When looking for where to stay in Chamonix for skiing, you ideally will like to stay near where you plan to go the most. Check out our article to ensure you get the best out of your Chamonix skiing trip.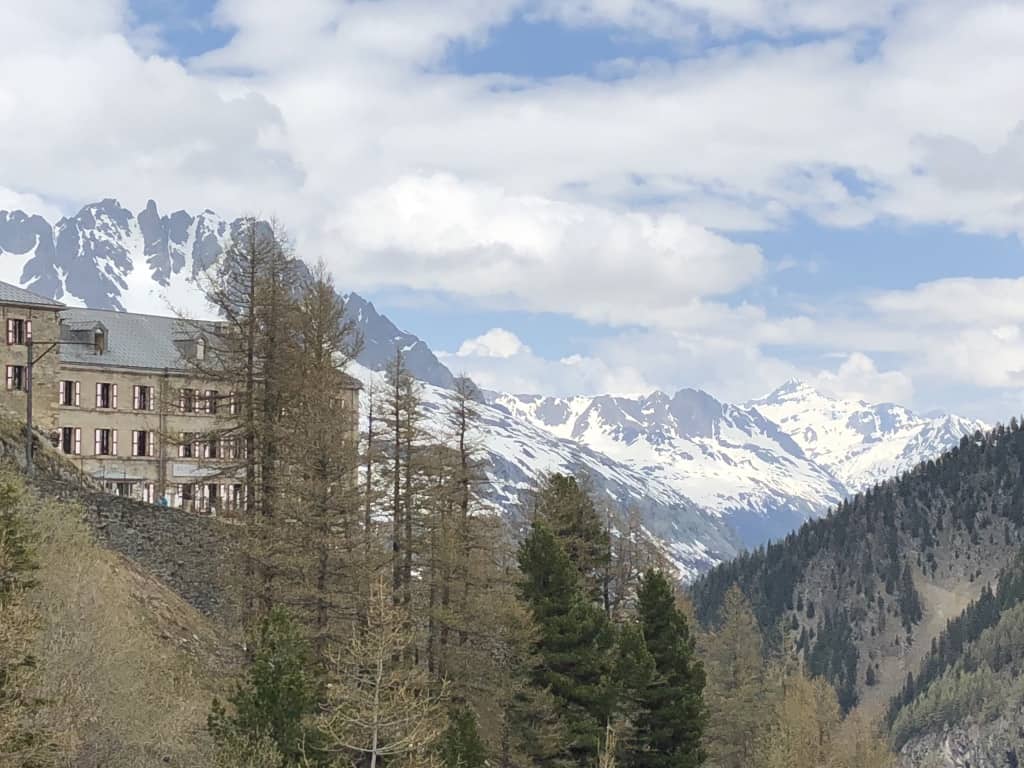 This 19th-century rustic-style hotel is only accessible by train. When deciding where to stay in Chamonix, this is by far the most unique hotel on the list situation in the mountains.
Although not too fancy, Refuge du Montenvers has a cozy and calming simplistic, upscale vibe. The hotel staff is amicable and accommodating. One of the perks is the delicious, free buffet breakfast is included in the cost. You can also enjoy excellent local french cuisine in their restaurant.
Read what recent hotel guests are saying:
"We stayed one night with our 4 year old son in a hiker's room. The decoration of the hotel immerses us in the time of the first adventurers of the Mer de Glace. The staff were lovely with always special attention for our son. This night will remain a memory engraved in our memories."

– Benoit, (Where to Stay in Chamonix, Refuge du Montenvers)
| | |
| --- | --- |
| Pros | Cons |
| Unique experience | Remote, only accessible via train |
| Pet friendly | |
| Breakfast is included | |
| Excellent restaurant on property | |

Located in Chamonix City center, Chalet Hotel Hermitage has welcomed guests for over 100 years. Some of the rooms are also soundproof for privacy and have all essential amenities.
What sets Hotel Hermitage a class apart from the rest is that each room has a personal balcony with breathtaking views of the mountains. It also has a terrace and garden for guests to enjoy.
Hermitage also has three outdoor saunas and a spa bath for you to unwind in your free time. The room price includes in-room breakfast, and the restaurant and bar offer various delicious cuisines and drinks.
Multiple ski lifts are within a 500-meter radius, and a bus serving the ski slopes stops only 100m from the hotel.
Read what recent hotel guests are saying:
"The hotel stay was incredible. The view of Mont Blanc was great. They have superb hospitality and go above and beyond to make sure that your stay is comfortable. The rooms have a nice cabin feel and the sauna was nice and quaint. It is also waking distance to the city center and ski lifts.

– Sevet, (Chamonix Hotel reviews)
Pro tip: Step out of the hotel and go for an evening walk in the nearby neighborhood.
| | |
| --- | --- |
| Pros | Cons |
| Free Parking | No breakfast included (surcharge) |
| Shuttle service provided | |
| Numerous nearby attractions | |

Auberge du Manoir provides you with a remarkably clean, budget-friendly residence during your trip to Chamonix. Auberge features downhill skiing, so you don't need to travel long distances.
The hotel breakfast is particularly liked by visitors and provides the perfect start to a busy skiing day. After your day of skiing, unwinding in the hot tub at the spa provides the perfect end to your hectic day.
Location: 8 Rte du Bouchet, 74400 Chamonix-Mont-Blanc, France
Rating: 9.4/10
Read what recent hotel guests are saying:
"The Auberge is in easy walking distance from the town centre. My room had a view towards Mont Blanc. The glacier was clearly visible. The staff were friendly and helpful. Breakfast was delicious…"

– Alexander, (Auberge du Manoir, Chamonix hotel reviews)
| | |
| --- | --- |
| Pros | Cons |
| Pet-friendly | Additional charges for most facilities |
| Budget-friendly | Closed in off-season months |

You're going to have a great time staying at Les Grands Montets. This 4-star Argentière hotel is one of the best hotels to relax and enjoy the views of Mont Blanc.
You've got free Wi-Fi, a swimming pool, and a spa in the hotel. Additionally, you can come out and sit outside in the garden and enjoy some exceptional French wine and cheese.
As one of the Argentière hotels, the ski lift is about a 2-minute walk as well.
"Comfortable rooms with amazing views of the mountains. The pool was fabulous and we all loved the breakfast. Great staff that provided good recommendations. Strong wifi for WFH."

– Lauren, (Argentière hotels reviews)
| | |
| --- | --- |
| Pros | Cons |
| Pets allowed | 10 minutes drive from Chamonix |
| Close to the ski lift | |
| Golf course nearby | |

Best Budget Friendly Chamonix Hotels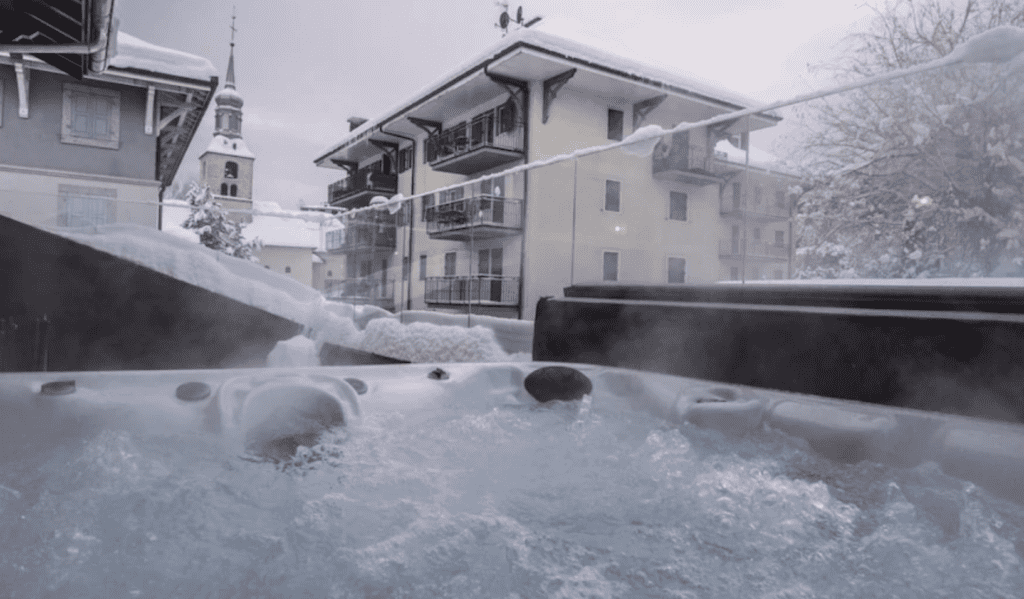 Located in Chamonix city center, Hotel Le Whymper offers its guests attractive rooms right in the heart of this ski town for an affordable price.
The hotel rooms are designed to give you the ideal homely experience. They're cute, comfortable, and incredibly cozy. Plus, the staff at Le Whymper from my experience is extremely accommodating.
Some of the rooms also have a balcony where you can sit and enjoy your morning coffee while marveling at the gorgeous mountain ranges.
The Planpraz Ski Lift and the Mer de Glace Train Station are within a one-kilometer radius of the hotel. There is also a golf course and skiing and hiking facilities, all within a short distance.
| | |
| --- | --- |
| Pros | Cons |
| Budget hotel in Chamonix | Rooms are on the smaller side |
| Ideal location | |
| Hot tub/spa | |

If you're looking for a great ski trip on a budget and are a history enthusiast, you'll want to choose Hotel Le Faucigny. Le Faucigny is located in Place de l'Eglise – the historical heart of Chamonix.
Although located in the historic part of town, Faucigny has a modern, contemporary vibe. Each room comes equipped with all basic hotel amenities, and the hotel is only 100m from the ski shuttle service. The shared lounge is open for guests to relax and enjoy a drink.
| | |
| --- | --- |
| Pros | Cons |
| Spa facilities available | Additional parking charges |
| Service animals are welcome | No pets allowed |
| Proximity to many attractions | Additional charges for breakfast buffet |

VRBO Chamonix Top Picks
When traveling in larger groups, VRBOs are indeed the ideal option when looking to stay near Chamonix France. They provide you with personal space and are much more budget-friendly. Here are some of our favorite VRBO rentals.
This wooden chalet, located in Chamonix town center, sets the perfect mountain vacation vibe. It has five bedrooms, enough to accommodate at least 10 people.
Additionally, the chalet also has a living area, kitchen, fireplace, and dining area, ideal for some late-night games with the entire group.
The central marketplace is a mere 5-minute walk away, where you can find some delicious restaurants and fun bars.
"Beautiful views of the mountains, a short easy 10 minute walk into town, lovely and clean, comfy beds, great facilities. Would definitely recommend a stay here."

– Ruth, (VRBO Chamonix Reviews)
Location: Chamonix-Mont-Blanc, Haute-Savoie, France
Rating: VRBO 5/5 (49 Reviews)
| | |
| --- | --- |
| Pros | Cons |
| Luxurious hot tub and jacuzzi | Must arrange for your food |
| 5 Bedrooms with 5 Ensuite Baths | No pets allowed |
| Free Parking for 3 cars | |

This cute and cozy 3-bedroom, 2 full baths Chamonix VRBO is located right at the foothill of Mont Blanc and gives that ideal "cottage in the woods" feel.
The cottage has breathtaking 360-degree views of the multiple Chamonix mountains. You may just forget all about skiing and spend your days marveling at the beauty.
It's also relatively close to the city center, so getting to markets, restaurants, and bars is convenient. The cottage can easily accommodate six people with its five beds.
You also get access to accessible private parking, and for an additional price, you can hire a ski instructor and trail runner to guide you through your adventures.
Location: Chamonix-Mont-Blanc, Haute-Savoie, France
Rating: 4.9/5 (79 Reviews)
"We couldn't have asked for a more perfect place! Looking up at Mont Blanc from the patio every day and watching climbers and paragliders was just amazing. The house was clean and well-appointed…The photos and items from his climbing adventures which decorated the walls made this a truly unique place to stay. We did not want to leave!"

– Theresa, (VRBO Chamonix Mont Blanc reviews)
| | |
| --- | --- |
| Pros | Cons |
| Budget-friendly | 7-minutes from the city center |
| Great for families | |
| Single pet allowed | |

Final Thoughts: Where to Stay in Chamonix
Whether you're looking for a romantic vacation or a short Chamonix trip with your friends, Chamonix is a great option. From breathtaking views to unparalleled skiing slopes, Chamonix is one of the world's best skiing resort towns.
Although there are numerous hotels in Chamonix, they are all quick to sell out, so I recommend you book yours well in advance to ensure you get the accommodation of your choice. If this is your first trip to Chamonix, make sure to read the best 1-day trip itinerary before you go!
Did You Find This Post Helpful? Please Share It!
If so, I would love to hear about your Chamonix Travel Plans! You can follow our latest travel tips on Instagram, and tag your images to @erinstraveltips and hashtag #erinstraveltips. I look forward to seeing you there!

Related France Travel Articles