Looking for the ultimate getaway from the Loire Valley trip from Paris? You have come to the right place to find fun, memorable, and amazing things to do!
The Loire Valley is one of the most beautiful areas in France. It is also a UNESCO World Heritage Site. With its gently rolling hills, cute little towns, vineyards, and magnificent castles, it's easy to see why.
Loire Valley day trips from Paris have become more popular in recent years. Located a couple of hundred kilometers southwest of Paris, it will take you less than two hours to get here and even less by train!
Can't Read Now? Pin the "The 10 Best Things to Do in Loire Valley Trip from Paris" for Later!
How to Get to Loire Valley from Paris – Loire Valley Map
The Loire Valley is fairly close to Paris so one can visit this beautiful place on a Loire Valley day trip from Paris.
The Paris Montparnasse TGV (high-speed train) from Paris to Tours takes approximately 1 hour and 15 minutes which can make this an easy day trip. TGV trains are some of the most comfortable options to travel while going at 320 kmh!
If you plan to stay more than a day trip, driving or getting a driver is a more ideal way to truly explore this beautiful region. You can explore multiple castles, towns, and see the French countryside on your schedule.
Use the interactive Loire Valley map below to get directions from your location. Set the map either to train, car, or bus to get an accurate assessment on the estimated time to travel.
Stay in One of the Picturesque Loire Valley Chateaux Hotels
Château de la Treyne
If you are looking for a beautiful castle hotel, you will want to check out Château de la Treyne, which is located in Lacave, France. This chateau has been turned into a luxury hotel with rooms that start at $330+ per night depending on the season. Sitting on the edge of a limestone cliff, is a sight to behold.
Chateau De Pray
If you are looking for something more affordable like us, stay at Château de Pray. This attractive chateau is conveniently located in Ambroise and has a swimming pool, gardens, and a Michelin-star restaurant.
When they heard we were celebrating a wedding anniversary, they surprised us with a delightful chocolate dessert. It was a delightful stay!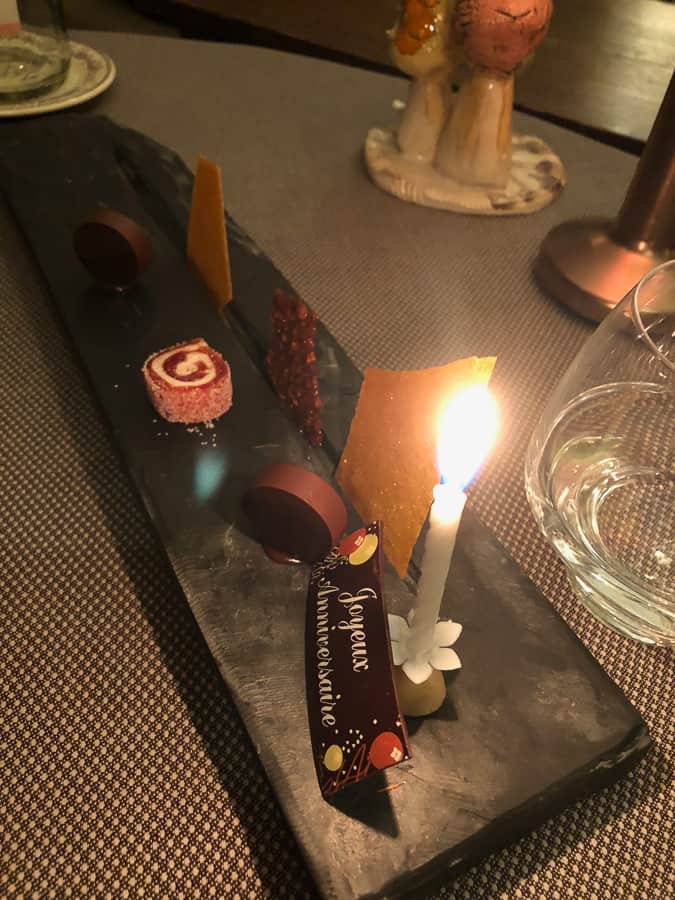 No matter where you stay, you are sure to enjoy your Loire Valley trip from Paris. We prefer to use Booking.com for our hotel stays because of their easy cancellation policy.
The 10 Best Things to Do on Your Day Trip to Loire Valley
Visit the Magnificent Loire Valley Castles
A must-do while in the Loire Valley is visiting one of the many beautiful and historic chateaus. You can explore the inside of these grand buildings, learn about their histories, and take in the stunning architecture.
Château de Chenonceau
The grand dame of beautiful Loire Valley castles is the spectacular Chateau de Chenonceau. This magnificent chateau truly looks like a fairy tale castle! For couples, this is a romantic place to take a day trip and enjoy a wine tasting!
Book Your Loire Valley Chenonceau Castles Day Trip & Wine Tasting from Paris Here
This chateau spans the Cher River and is known as the "ladies' castle" because it was built and owned by several powerful women throughout history. During WWI, it served as a military hospital for wounded soldiers.
Be sure to explore the beautiful gardens of Château de Chenonceau. If time allows, take a boat ride on the river or enjoy a meal at one of the restaurants on the property.
Pro Tip: If you visit towards the end of the day, you will find the grounds with fewer people. We accidentally planned it this way, and would highly recommend it!
Château de Chambord
The largest chateau in the Loire Valley is the Chateau de Chambord. This massive castle was built in the 1500s and has more than 400 rooms, 84 staircases, and beautiful staterooms.
The famous double helix staircase designed by Leonardo Da Vinci is truly a marvel to behold!
While you are here, be sure to explore the grounds, which include a large park and forest. You can also go on a horse-drawn carriage ride or take a boat ride on the lake.
Keep in mind, that the castle in current years has been under construction with considerable scaffolding that blocks your views. Construction is anticipated through 2023.
Pro Tip: Skip the line by purchasing your tickets online in advance. Day Trips with round-trip transportation are available from Paris to Chambord to make your travel simple and easy!
Château de Cheverny
Château de Cheverny is one of the best-preserved castles in the Loire Valley. Built in the 1300s, this castle has been lived in by the same family for over 700 years.
It is located 30 minutes southeast of Blois, so it makes a great day trip excursion, especially by guided tours with transportation.
Inside the castle, you will find beautiful tapestries, furniture, and art. It is known for its beautiful interiors and extensive art collection.
The castle also has one of the largest kennels in France, which houses more than 30 hunting dogs. Be sure to visit the kennels where you can see the Castle's pack of hounds being fed twice a day.
Château du Clos Lucé
Not everyone realizes that Leonardo da Vinci lived his last days on his property on Château du Clos Lucé. Some of his most famous works of art including the "Mona Lisa," "St. John the Baptist," and "The Virgin and Child with St. Anne" all were hung here in his private collection. They have since been moved to the Louvre Museum in Paris.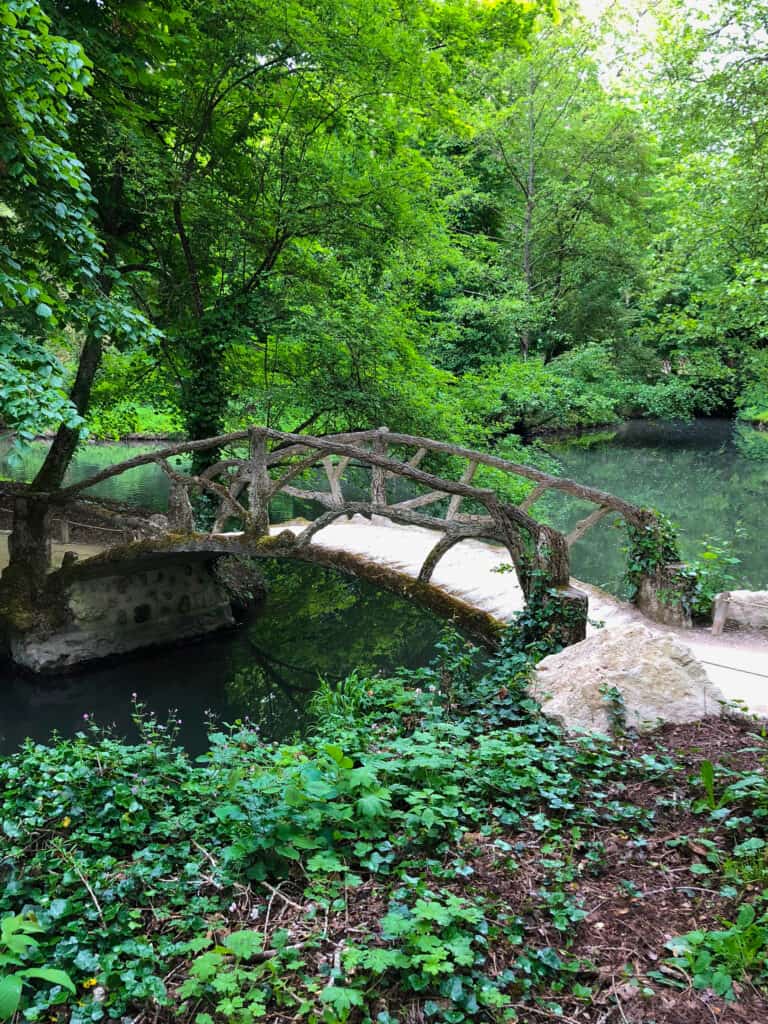 Today, the castle houses a museum dedicated to the life and work of this incredible artist. You can see models of his inventions, as well as some of his original sketches and paintings. There is also an intriguing underground tunnel he used to meet King Francis I. It connects Château d'Amboise which is just 1,600 feet away.
Make time to walk the grounds and see some of the inventions by Leonardo Da Vinci. They also have beautiful peacocks and other wildlife that greeted us. We could have spent more time just enjoying this serene setting and imagining what it was like during Leonardo's lifetime.
Read Next: The Ultimate Guide to Chamonix Skiing and Snowboarding Fun
The Royal Château de Blois
Located in downtown Blois, the gorgeous Chateau de Bloise has the location advantage of being within walking distance from the railway station. This charming Chateau was built throughout four different periods which adds to its character.
Here are a few details about Royal Château de Blois. In the 13th century, it was the home of Louis IX, otherwise known as Saint Louis. The castle then became a royal residence in the 16th century and remained so until 1792 when it was declared a historical monument.
This is one of the most visited castles in all of France with over 500,000 visitors yearly.
Take a Wine Tour at a Loire Valley Vineyard
The Loire Valley is one of France's most renowned wine regions. It is known for its Muscadet wine which tends to have fresh, crisp, fruity, and sometimes smoky-tasting flavors.
There are numerous vineyards and wineries where you can take a tour, learn about the wine-making process, and taste some of the local wines like at Château de la Ragotière.
Sample a couple of the best Loire Valley vineyards on a guided tour with a designated driver! Vouvray and Montlouis Wine Tour offers two wineries seeing a vineyard, tasting room, cellar, and production line. The tour lasts approximately 3.5 hours. This is truly the best way to do a wine tasting, and not have to worry about drinking and driving.
Take a Ride in the Sky on a Hot Air Balloon
The most memorable way to see the Loire Valley is in a hot air balloon! See Chenonceau and many other lovely attractions from the best views on a private tour in the sky.
After a 1-hour tour, you will return to delicacies including wine, cheese, and dessert. This all-inclusive hot air balloon tour will make you feel like you have escaped from it all.
See the Villages of the Loire Valley
There are many other charming villages worth exploring in the Loire Valley including Blois, Chinon, Orléans, and Saumur. Each village has its unique character and charm. Here are a few of the more well-known towns that are worthy of your time.
Tours, France
The city of Tours is located in the heart of the Loire Valley and is a great place to base yourself while exploring the region.
This historic city is home to beautiful cathedrals, medieval buildings, and quaint cobbled stone streets. Be sure to visit Place Plumereau, which is a lively picturesque square lined with cafes and restaurants. This lovely medieval square street was once dominated by 15th-century merchants.
Ambroise, France
Another village worth exploring is Amboise, which is located on the banks of the Loire River. This picturesque village is home to charming streets, cafes, and shops. It's also where you'll find the Château du Clos Lucé, which was once the home of Leonardo da Vinci.
Take a Segway or Bike Tour of the Loire Valley
One of the best ways to see the Loire Valley is by bike. There are numerous bike trails that wind through the vineyards, forests, and villages. You can stop along the way to explore the castles, take in the views, and taste some of the local wines.
While in Ambroise you should definitely look into the Segway tour! This is a super fun experience where you can learn about hidden secrets while zooming around town.
On a day trip, it's all about saving time so you can explore more! Segway tours tend to be very popular and tend to book up usually in advance during peak times.
Final Thoughts
So there you have it – a list of must-do activities while in the Loire Valley. The Loire Valley has something for everyone!
So pack your bags and head to France for an unforgettable vacation. And, if you have time to see more great locations you will want to read my articles on Chamonix, Annecy, and Gordes.
Did You Find This Post Helpful? Share It!
If so, I would love to hear about your France travel plans! You can follow me on Instagram, and tag your images to @erinstraveltips and hashtag #erinstraveltips. I look forward to seeing you there!
More European Travel Articles You'll Love