One of the best attractions in Italy is the beautiful Amalfi Coast. Many people travel here to enjoy its tranquility. A lazy day lounging on rocky beaches or spas, and then a night of drinking wine under the stars is most of your itinerary.
Whether you are here for a staycation or to explore the Amalfi Coast, there is something here for everyone. No matter the motive, Amalfi Coast has plenty of attractions, shopping, and great places to eat and drink.
Where to stay on the Amalfi Coast?
Amalfi Coast offers stunning boutique hotels surrounded by spectacular coastline views. When looking at 13 seaside towns, it can seem overwhelming to travelers. These cities are Positano, Maiori, Vietri sul Mare, Cetara, Tramonti, Minori, Ravello, Scala, Atrani, Amalfi, Conca dei Marini, Furore, and Praiano.
Where to stay on the Amalfi Coast depends upon the purpose of your vacation getaway.
Best Amalfi Coast Boutique Hotels Location by Experience
Honeymoon Location – Ravello
Family Friendly / Easier Walking – Maiori & Praiano
Lively Colorful Popular Village – Positano
Tranquil Getaway with nearby grotto – Conca Dei Marni
Closest City to Naples Airport (37 miles) – Positano
Why Stay at a Boutique Hotel?
Boutique hotels are small properties full of personal touches. Staying in a boutique hotel means you get a more authentic feel to your holiday while supporting the local economy.
I know some people prefer staying in big brand chain hotels for the security of knowing what they are getting each time. For this reason, I am only showing you highly-rated hotels with outstanding customer service and a fantastic overall product.
Staying in a boutique hotel on the Amalfi Coast will really make your experience something special. They offer a much more personalized customer service experience. They can also be more unique and quirky as they reflect personal touches by the owner.
There are more boutique hotel options than these, but this list encompasses my absolute favorite spots. To make it easier, I separated them by category so you can easily find a stay that meets your needs. From romance and relaxation to family fun, these are the best boutique hotels and places to stay in the Amalfi Coast.
Here are the best boutique hotels in the Amalfi Coast by category: Stylish Luxury Hotels, Cheap Hotels or Budget Friendly, Solo Traveler, Honeymoon Hotels or Romantic Hotels.
Stylish Luxury Boutique Hotels
II San Pietro Positano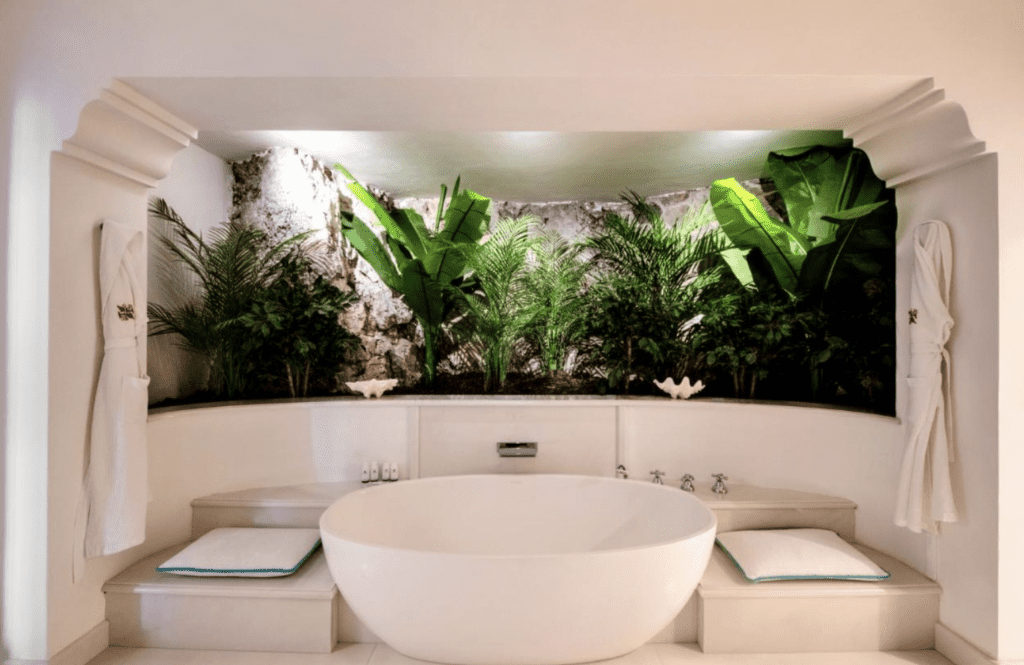 Il San Pietro di Positano is located just outside of Positano with its own private beach oasis and delicious Michelin-starred restaurant. This luxurious 5-star hotel getaway features elegantly furnished rooms with balconies and sea views. Don't be surprised if you run into a celebrity here, it is just that spectacular.
The beautiful large hotel rooms include comfortable bathrobes and slippers, and a flat-screen TV with satellite.
At hotel II San Pietro di Positano, you can enjoy drinks at two bars, one located right at the beach. A tennis court, fitness center, state-of-the-art spa, and an outdoor pool are also available to guests.
Savor your food here, everything is organic and homemade. You will love the complimentary breakfast buffet served daily.
This hotel includes complimentary parking. There is also a free shuttle bus into Positano.
Hotel Favorites: Exquisite luxury beachfront hotel outside of Positano.
---
Le Sirenuse (Adults Only Hotel)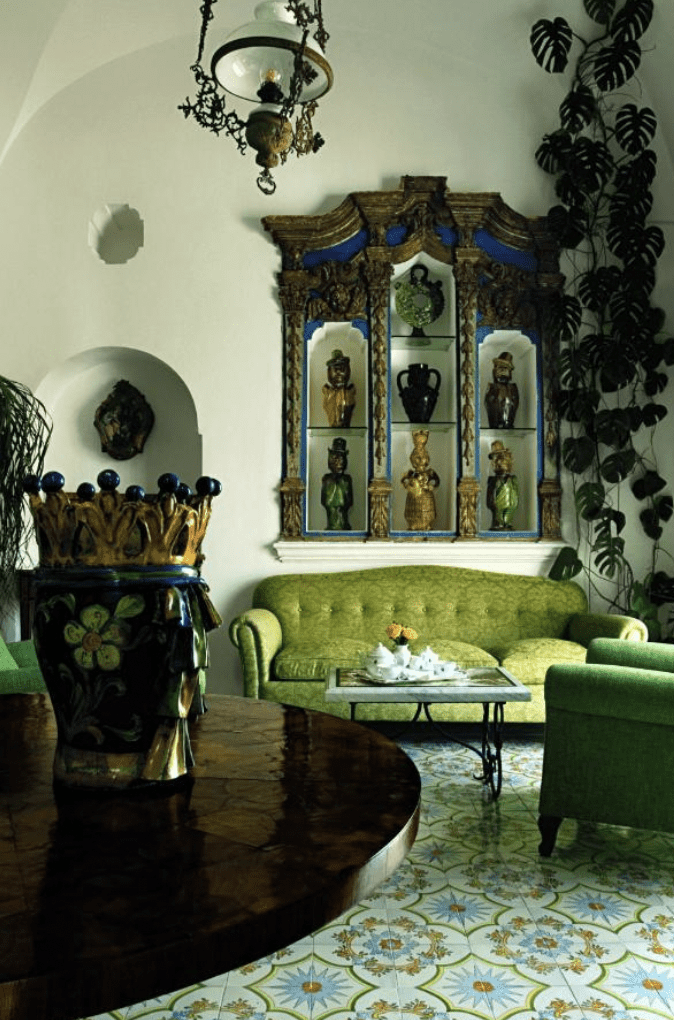 Don't be surprised to run into a celebrity, since it is one of the best boutique hotels on the Amalfi Coast. This adults-only property is just a short 5-minute walk from the beach in the heart of Positano. It is an ideal location for exploring all that the city has to offer.
Le Sirenuse offers a Michelin-starred restaurant, an oyster bar, and elegant rooms with a private balcony. There are also a wonderful spa including a swimming pool, hammam, and fitness center for guests to use.
The spacious 5-star accommodations have a white-themed decor and sprawling views of the Mediterranean Sea. Rooms each have flat-screen TVs with Blu-ray, an iPod docking station, and a spacious private bathroom with a spa bath.
Favorites Details: Best adults only hotel and spa in the heart of Positano.
---
Coolest Boutique Hotel
Hotel Caterina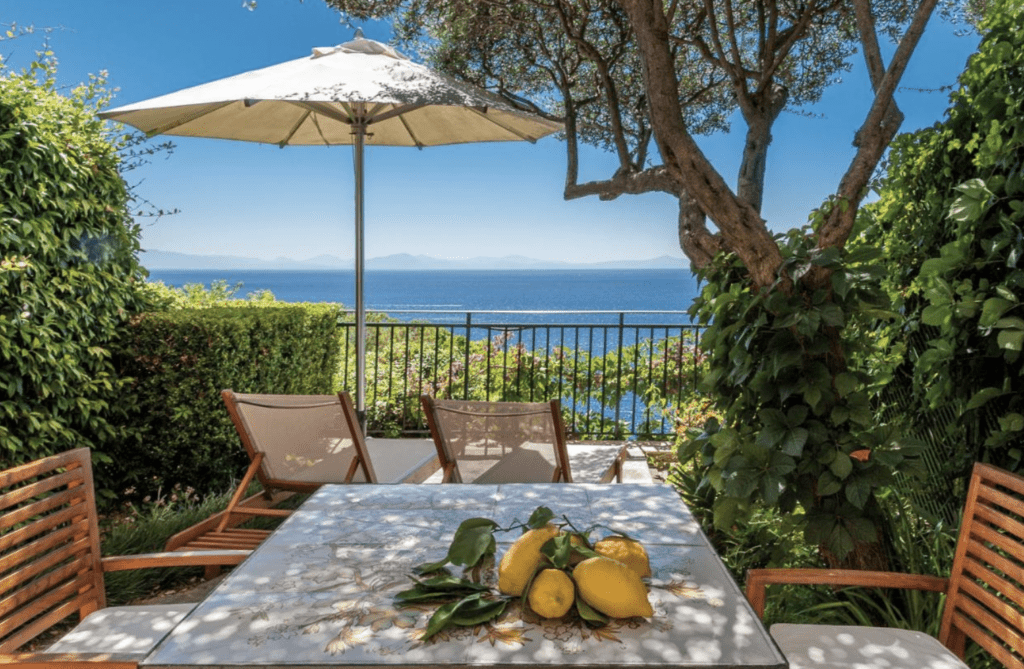 Hotel Santa Caterina is a gorgeous Art Nouveau boutique-style villa just outside the city of Amalfi. It offers breathtaking views of the Tyrrhenian Sea, beautiful terraces and a pool all with sea views.
Built into the rock and overhanging the sea, the swimming pool is surrounded by sun loungers and umbrellas. Guests can access the pool and the private beach below, using the property's private glass elevators.
Hotel Santa Caterina has a wellness center that includes a sauna, Turkish bath, and massage service, plus a well-equipped fitness center.
The hotel rooms have high-end furnishings and beautiful hand-painted floors. All rooms include a balcony with full or partial Amalfi Coast views with free WiFi.
On the property has a delicious restaurant (Michelin awarded) called Glicine. It specializes in a modern dining concept on a balanced diet with local Mediterranean flavors.
Another great option is the Restaurant Al Mare which serves local fresh seafood, and pizza cooked in their wood-burning oven. Meals here are served on the picturesque sea-view terrace.
Favorite Details: Ideal location right outside of the town of Amalfi with outstanding amenities + easy beach access.
---
NH Collection Grand Hotel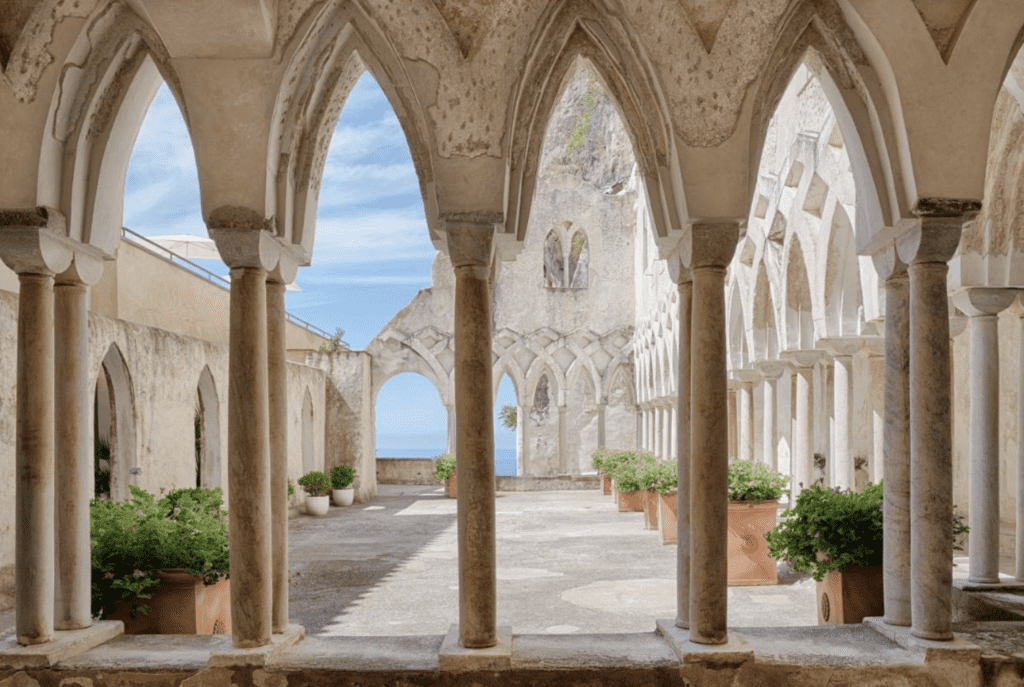 This property is a 7-minute walk from the beach. This cliff-top hotel in Amalfi is a converted 13th-century monastery. It offers free WiFi, ultra-modern rooms, and an infinity pool overlooking the Mediterranean Sea.
All rooms have sea views, terracotta floors, and marble bathrooms. A flat-screen TV, mini-bar, and pillow menu come as standard. Each private bathroom comes with a hairdryer and toiletries.
Breakfast is buffet style at NH Collection Grand Hotel Convento Di Amalfi. The property features 2 restaurants. The main one, La Locanda, offers a gourmet menu and Italian and Mediterranean cuisine. During summer guests can enjoy meals on the panoramic terrace.
An infinity pool, a gym, and a wellness center are available at the NH Convento di Amalfi. In winter, a heated swimming pool is available too.
Amalfi center is a 5-minute walk away downhill. The picturesque town of Positano is a 40-minute drive away.
---
Ca' P'a Casa Privata
Ca' P'a Casa Privata is a unique boutique villa located just under 1 mile outside of Praiano. It features an expansive garden with stunning sea views and an outdoor summer pool.
Guests love its privacy and home-grown fruit (you must try their figs).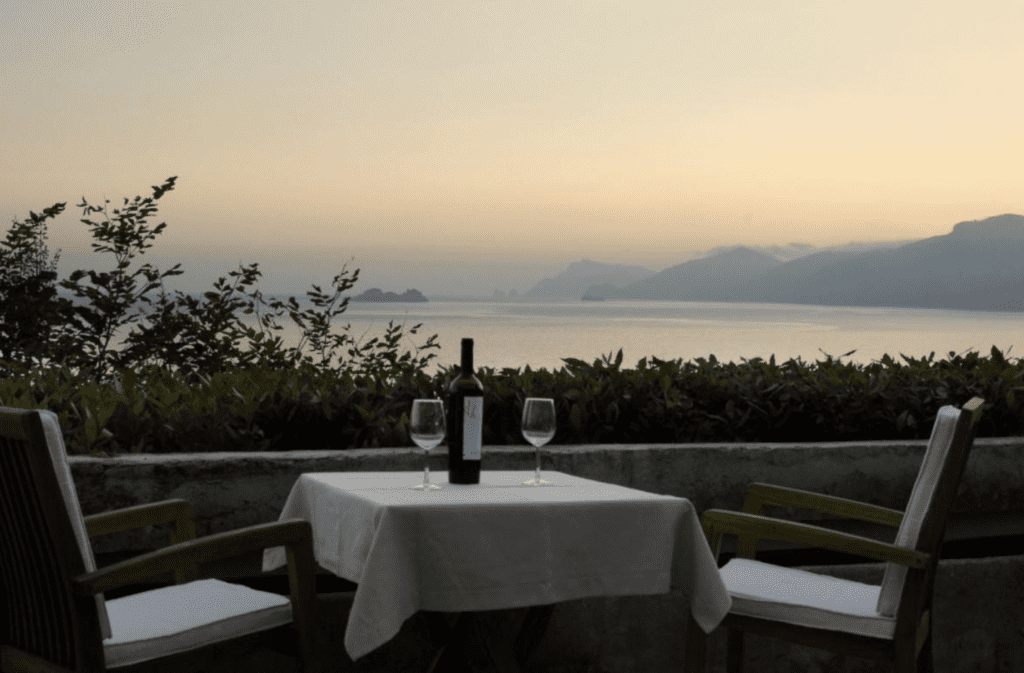 Rooms at the Ca' P'a are spacious and all come with beautiful tiled floors. Take the stairs to the beach and you will never want to leave this private paradise.
---
Romantic Hotels for Couples
For a romantic peaceful getaway, head to Ravello. Perched high onto a cliff, there are no beaches in easy walking distance. This quaint mountain village has awe-inspiring views, landscaped gardens, festivals, and so much more to offer away from the hustle and bustle.
For this reason, our two most romantic boutique hotels on the Amalfi Coast are in Ravello.
Hotel Villa Cimbrone
The Hotel Villa Cimbrone is a 12th-century villa nestled hillside just outside of the city of Ravello. It has beautiful spacious gardens and grounds with some of the best views on all of the Amalfi Coast.
Villa Cimbrone is just a 10-minute walk from downtown Ravello. Room accommodations have either sea or garden views. They all come with minibars, free WiFi, and flat-screen TVs. Some upgraded room offerings include fireplaces, private terraces, and whirlpool tubs.
The swimming pool overlooks the mountains and coast. Also on the property is a fitness center with high-tech cardiovascular trails. One of the unique features of this property is its private helipad used for private tours of the Amalfi Coast.
---
Caruso, A Belmond Hotel, Amalfi Coast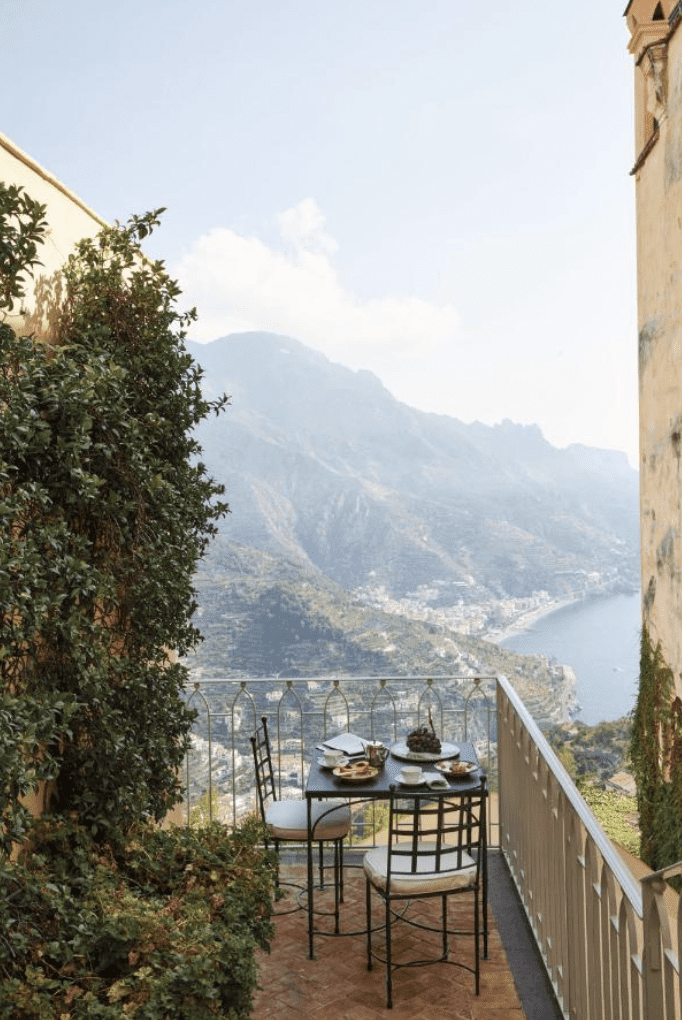 Hotel Caruso is a 5-Star luxury hotel that is pretty spectacular. This is the perfect romantic getaway or honeymoon hotel. It is one of our favorite places to visit on the Amalfi Coast for its stunning views and romantic scenery.
This previous 11th-century palace has all the finest luxuries sitting 1,000 feet above sea level off the edge of a cliff. You will love all the details – marbled hallways, oil paintings, and priceless antiques on display. Enjoy the amazing views from the infinity pool, along with the lemon and olive groves in the distance. Here you truly have found paradise!
All accommodations include an LCD TV with a DVD player, air conditioning, and free WiFi. Some rooms offer a private balcony, with either garden or sea views.
Make time for a meal at their beautiful Ristorante Belvedere. Sit outside on the exclusive outdoor terrace, perched on the tallest peak on the Amalfi Coast. Chef Cristoforo Trapani makes some of the best local cuisine using locally grown produce and food.
Ristorante Caruso is also another fine restaurant on the property offering breakfast and dinner. They also have Bar Caruso which has magnificent 18th-century frescoes, beautiful views, and you can't beat the live music.
Hotel Caruso offers a complimentary shuttle service to Amalfi and Positano. During the summer, the hotel offers complimentary boat excursions along the Amalfi coast.
---
Best Spa Boutique Hotels
Monastero Santa Rosa Hotel & Spa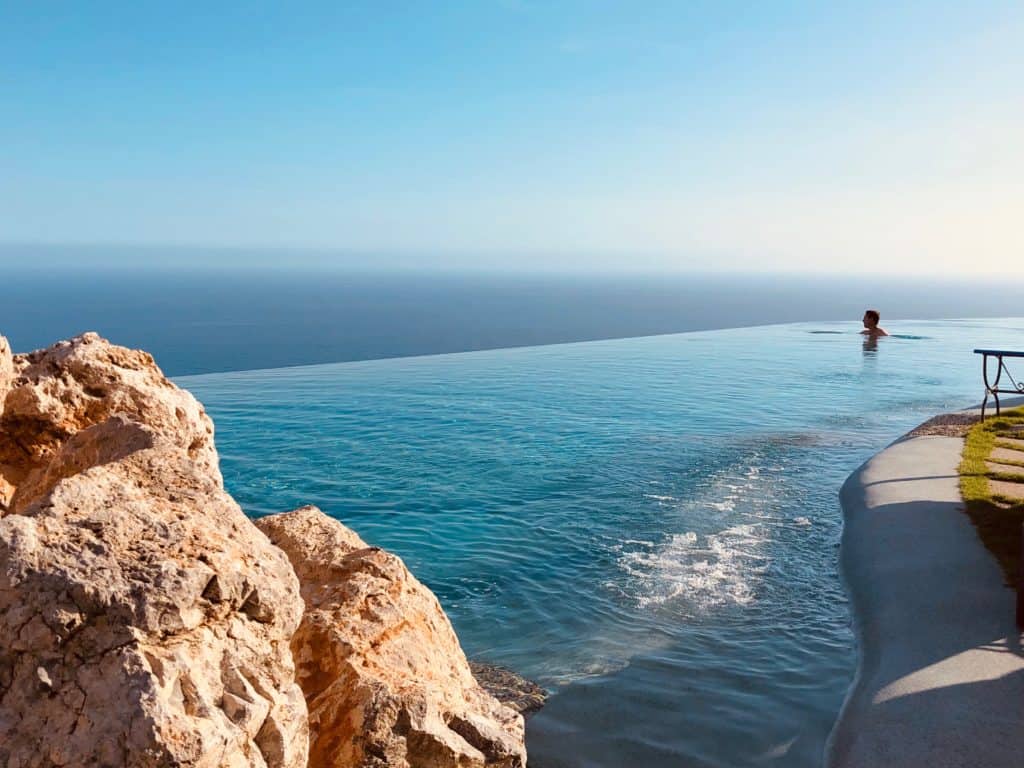 Monastero Santa Rosa is a luxurious remote boutique hotel in Conca dei Marni with outstanding service. Built-in the 17th century as a Dominican monastery, it has some of the most unique architecture with some of the best views. It sits at the edge of a cliff overlooking the Amalfi Coast. Stroll the expansive gardens and you will never want to leave this magical place.
The Monastero Santa Rosa hotel has the best spa experience on the Amalfi Coast. The spa with tepidarium uses Santa Maria Novella products. We love that most of it are complimentary for guests.
My husband and I have always loved this hotel and have enjoyed all its amenities. Here is a photo of my husband in the pool. The views are totally crazy as you can swim up to the cliff's edge.
Here are some of the fine amenities that are offered:
Infinity heated swimming pool and fitness center
Complimentary use of thermal spa and stone sauna and steam room
Ristorante il Refettorio, Michelin Star Restaurant + other restaurants and bar options
Massages + a variety of spa packages are available
Free WiFi internet access
Organic gardens on the property
Complimentary full breakfast served in the room or in the dining area
Daily shuttle service to/from Amalfi until midnight
Favorite details: Perfect getaway for singles or couples for an exclusive luxury spa experience.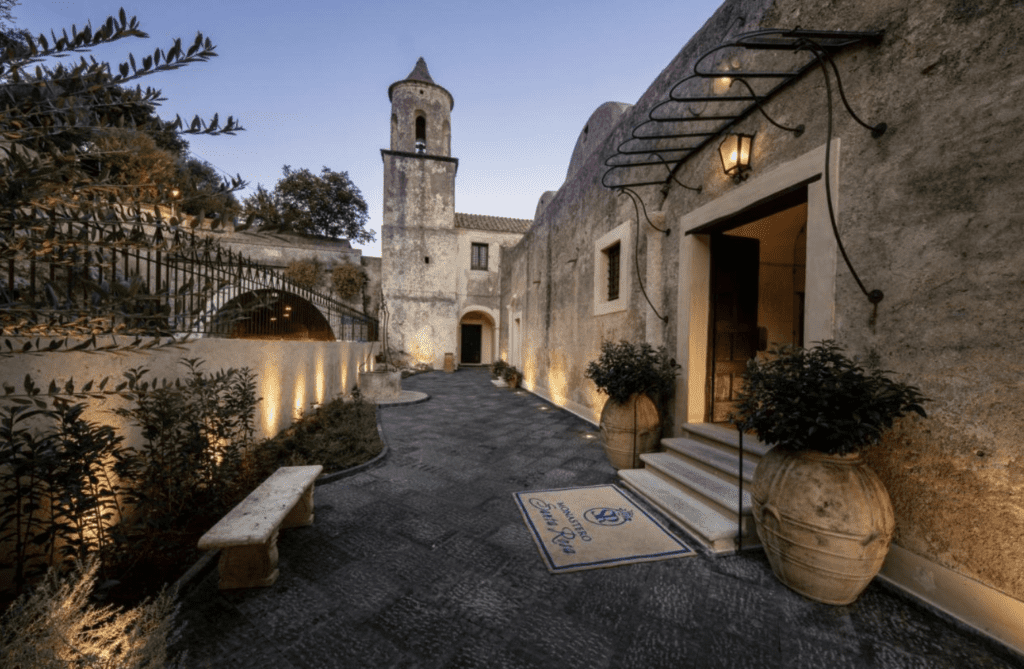 ---
Casa Angelina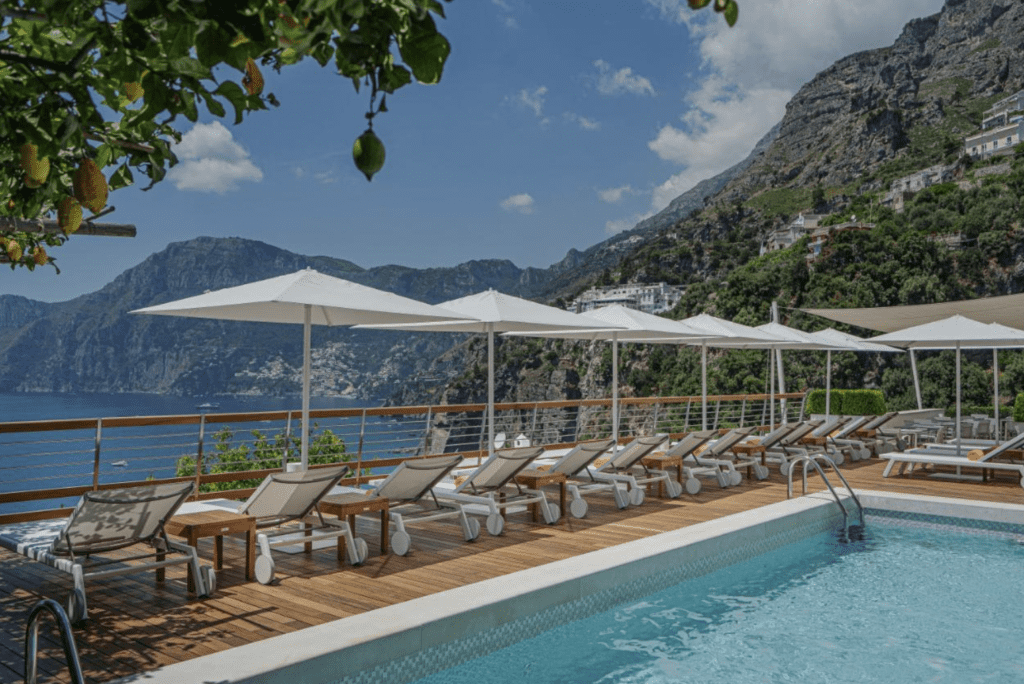 Casa Angelina is a modern boutique hotel located in Praiano and just a 1-minute walk from the beach. This gorgeous hotel is perched on a cliff with spectacular views and has excellent spa facilities.
Here at Hotel Angelina, you will receive top customer service and modern rooms with sea views. Enjoy the minimalist white-washed design with only 42-rooms on the property. You won't want to leave this private retreat!
Relax in the swimming pool with a panoramic view, or use the glass elevator to the well-equipped luxury beach. Here you can use the heated indoor pool, sauna, or get a massage.
Workout buffs will love the gym with the latest fitness equipment. They also offer Pilates classes.
Casa Angelina has two delicious restaurants on the property and a bar with music. Room service is available 24 hours a day.
Favorite details: Modern boutique hotel with a sleek design and a picture-perfect spa and beach.
---
Best Boutique Solo Travelers
Palazzo Murat Hotel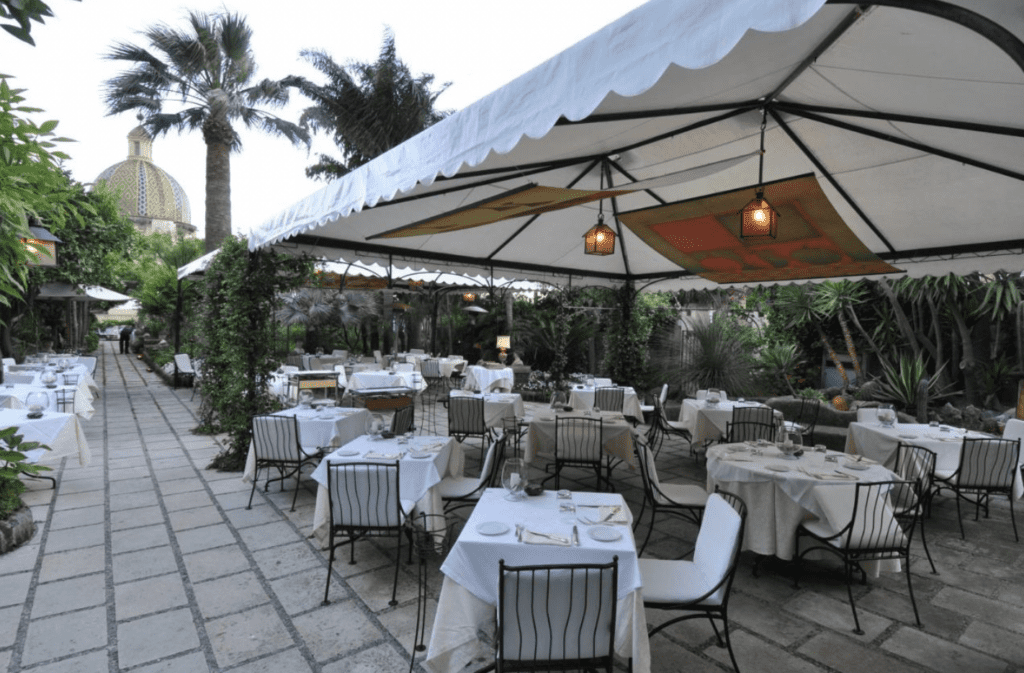 Palazzo Murat is located in the heart of Positano on one of its most beautiful streets. In a gorgeous 18th-century building, the hotel has manicured grounds with fruit trees.
We love this stunning hotel for solo travelers because it is in an ideal location in Positano with easy access to shopping, beaches, restaurants, and more. It is also popular with couples!
Most of the spacious rooms have sea views or city views of pastel-colored buildings. Hotel Palazzo Murat rooms have air conditioning, a flat-screen satellite TV, and a balcony. WiFi is free to use in public areas.
A homemade breakfast buffet is served every morning on the courtyard patio.
Al Palazzo restaurant serves local specialties on a porch surrounded by centuries-old citrus trees.
During the summer, Hotel Palazzo Murat provides boat tours along the Amalfi Coast. The 24-hour front concierge desk provides free beach towels since it is a short 2-minute walk away.
Favorite details: Perfect location in Positano with beach access, in the center of it all, and relatively affordable pricing.
---
Amalfi Coast Affordable Hotels
Hotel Margherita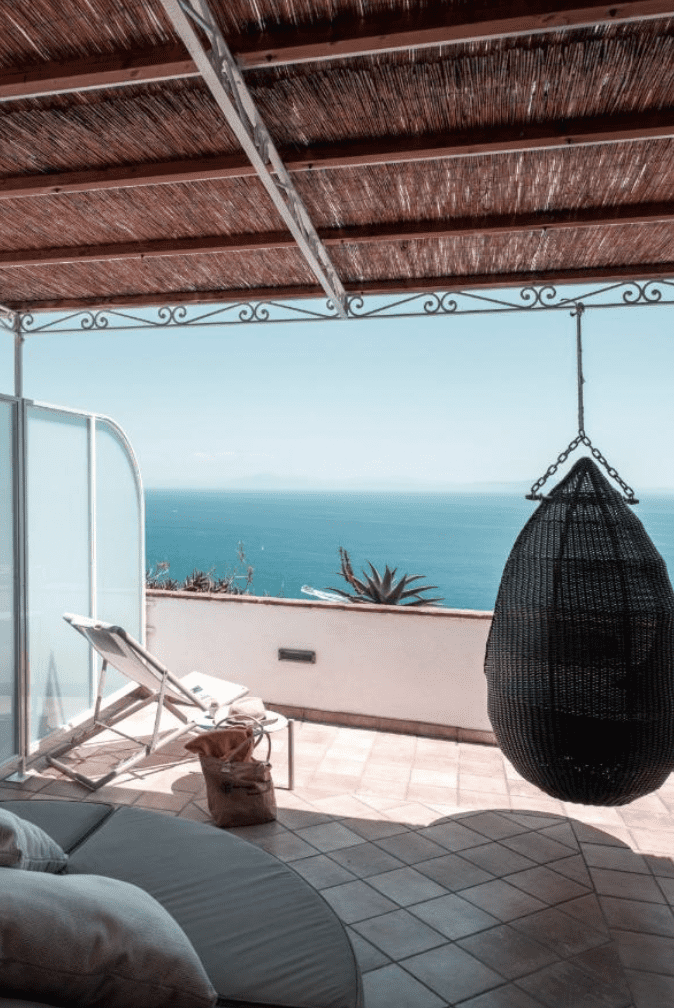 Hotel Margherita is family owned and operated in the city of Praiano. It offers views of the Amalfi Coast, and features a panoramic sun terrace with a hydro-massage pool.
All rooms have beautiful balconies with an option to overlook the sea or gardens with an attached private bathroom. Amenities include an LCD TV with over 200 channels, a mini-bar, and free WiFi for guests.
The complimentary buffet breakfast includes organic fresh fruit, Italian pastries, and made-to-order omelets. There is a restaurant on-site that serves local cuisine and offers a wide selection of wines.
The hotel has a free shuttle to Praiano Beach and the city center. A public bus to Positano departs hourly from a bus stop outside. Parking is complimentary.
Favorite details: Budget-friendly and easy bus access to the nearby key destinations.
---
Alcione Residence
The Alcione Residence is located in the city center of Positano. This residence features Mediterranean-style rooms, each with a private terrace with panoramic views of the Tyrrhenian Sea. Located in a pedestrian zone keeps traffic and additional noise to a minimum.
The boutique hotel rooms are spacious and bright with private bathrooms. All rooms include a flat-screen satellite TV and a tea/coffee station.
Guests receive a complimentary breakfast with homemade cakes and savory options. They are served on your own private balcony.
Favorite details: Ideal location in Positano (2 minutes from the beach) with budget-friendly hotel pricing.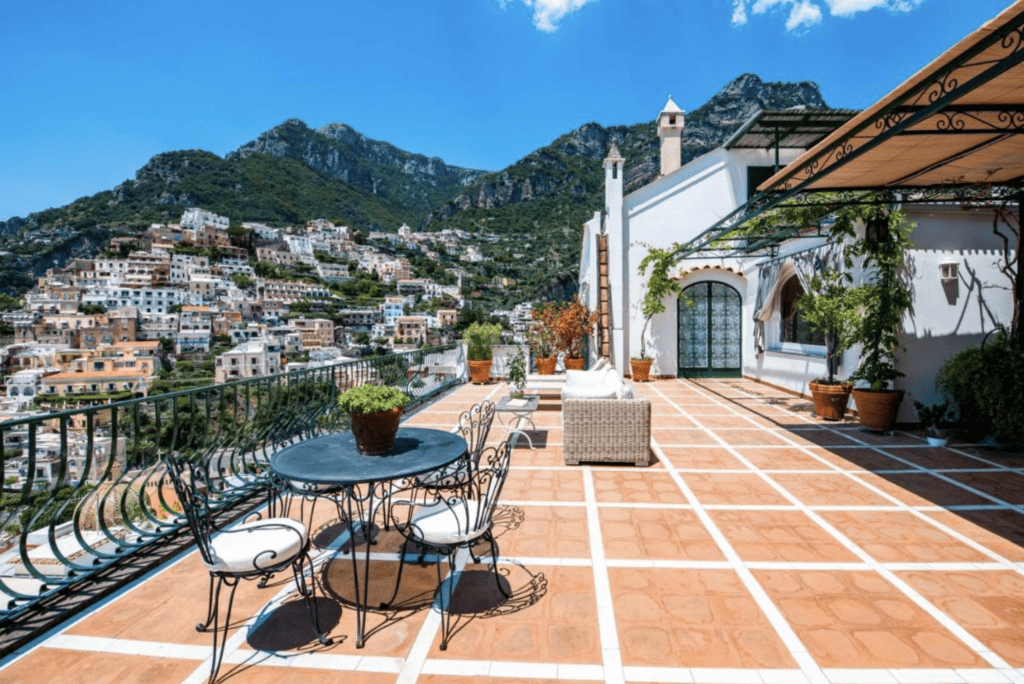 ---
Best Family Boutique Hotels / Kid-Friendly Hotels
Hotel Eden Roc Suites, Positano
Set in a panoramic location in the picturesque town of Positano, Hotel Eden Roc is perfect for families.
Guests will have access to the pool, spa, and gorgeous sun terraces. All rooms come equipped with air-conditioning, satellite flat-screen TV, sofa sitting area, mini-bar, and a private bathroom. A complimentary breakfast buffet is provided daily.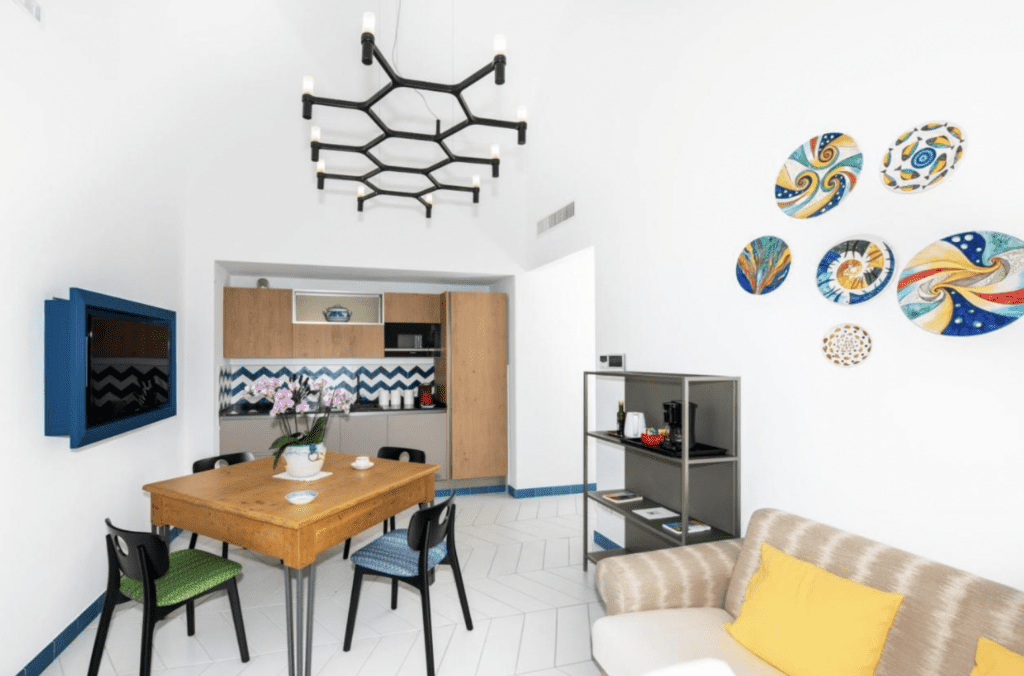 The restaurant, Adamo ed Eva serves local cuisine and homemade desserts. The American Bar & Wine Bar is an ideal setting for a drink before an evening out.
As a guest, you will love the steam bath, hot tub, sauna, fitness center, and tennis courts (surcharge may be applicable). The beach is under 10 minutes away in Positano.
Favorite details: Picture-book location in Positano, and relaxed family-friendly atmosphere.
---
Reserve Your Amalfi Coast Hotel with Booking.com
---
Did You Find This Post Helpful? Share It!
If so, I would love to hear about your Amalfi Coast travel adventures! You can follow me on Instagram, and tag your images to @erinstraveltips and hashtag #erinstraveltips. I look forward to seeing you there!