The spectacular World Equestrian Center Ocala (WEC) is the largest equestrian complex in the world.
Here you will find a wonderland for equestrians, horse lovers, and equine enthusiasts. This guide will help you navigate the 387+ acres of fun things to do, hotels, plus more!
The World Equestrian Center was established in 2021 just outside the charming city of Ocala.
Created by the Roberts Family who had the vision to bring the best equestrian complex to a city known for being the Horse Capital of the World.
After years of having to drive out-of-state for the best equestrian showgrounds, Ocala now lives up to its long-established nickname.
Ocala Florida History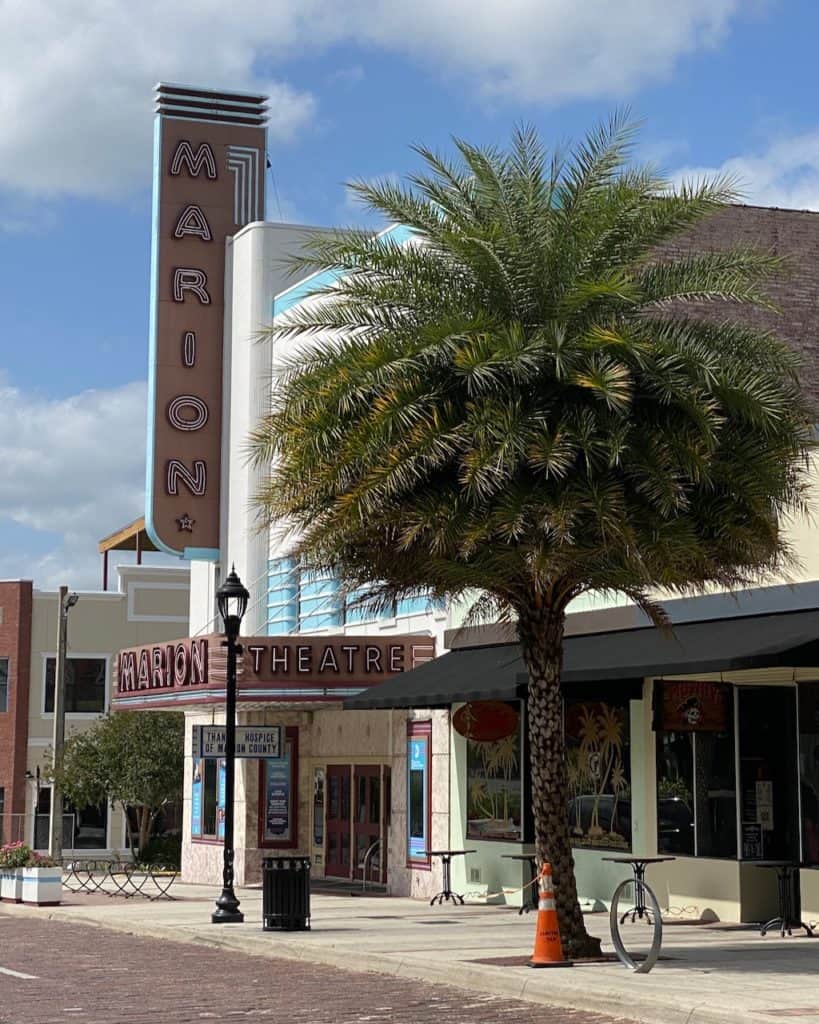 Ocala is largely known for its beautiful rolling green acres, large live oaks, and hundreds of horse farms. However, you would be missing something if didn't see the charming downtown area.
Here there are historic structures such as Marion Theatre supported over the years by local resident and celebrity, John Travolta. Several of the nearby attractions include Silver Springs State Park, Appleton Art Museum, Sholom Park, and Ocala National Forest which are just a few of my favorite things to do in Ocala.
World Equestrian Center Map from Downtown Ocala
The World Equestrian Center is located slightly Northwest of downtown Ocala, Florida. For the most direct route, take Highway 40 west to 80th Avenue. Driving from downtown Ocala will take you approximately 22 minutes.
The closest airports are the Ocala International Airport and Gainesville Regional Airport. For a larger-scale airport, the next closest is the Tampa International Airport (TPA) which is less than 2 hours away.
The World Equestrian Center is located on sprawling grounds. Here you could walk for hours and not run into the same person twice. These beautiful grounds have 5 indoor arenas, 15 outdoor arenas, and enough barns and stalls to hold more than one horse or dog show at the same time.
🐴 Tip for competitors: We highly recommend having some type of golf cart, bike, or moped for transportation. You will appreciate this after spending a day here!
Here are a few other key details about WEC:
140,000 square foot main arena
250,000 square feet of flexible indoor space
Over 400,000 square feet of indoor riding arenas
Tack rooms offer security features for riders/owners
Equestrians, you will not find a better place to show your horse. Here you will have meticulously maintained grounds, beautiful barns, rubber stall mats, hot/cold water wash racks, a veterinarian accessible on the property, plus so much more.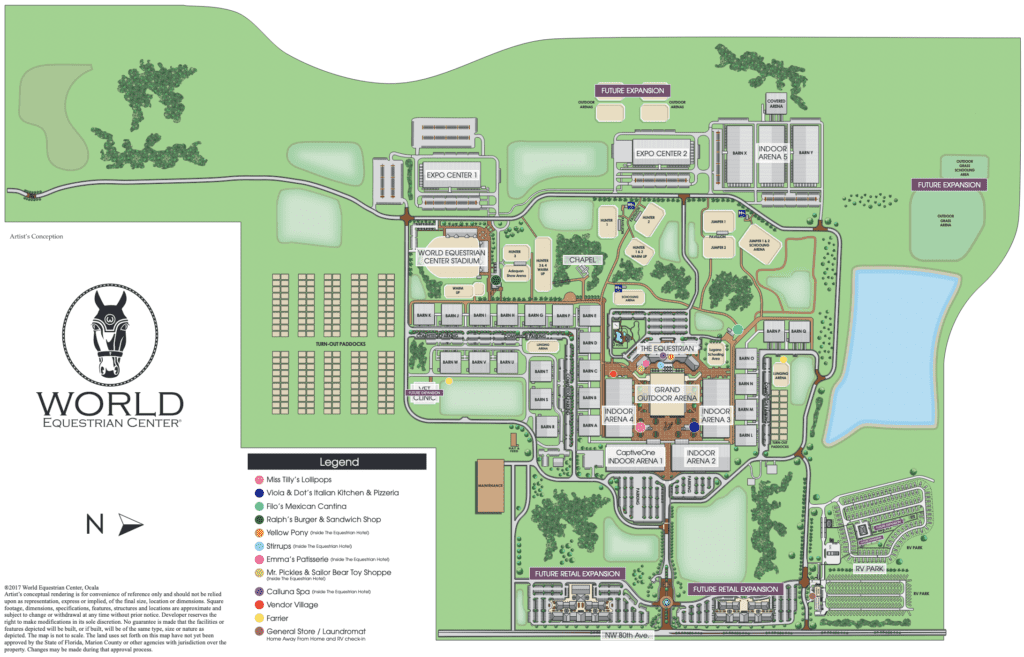 Spectators can relax in state-of-the-art covered stadium seating or comfortable Adirondack chairs with fans overhead to watch the competitions.
Here at WEC, you can take your whole family to a horse show, dog competition, or another fun event for FREE. With no cost to park or watch the shows, this is an affordable experience in a family-friendly atmosphere.
Read Next: The 15 Best Hotels in Ocala, FL + Pet Friendly Hotels
Where to Stay: Ocala Hotels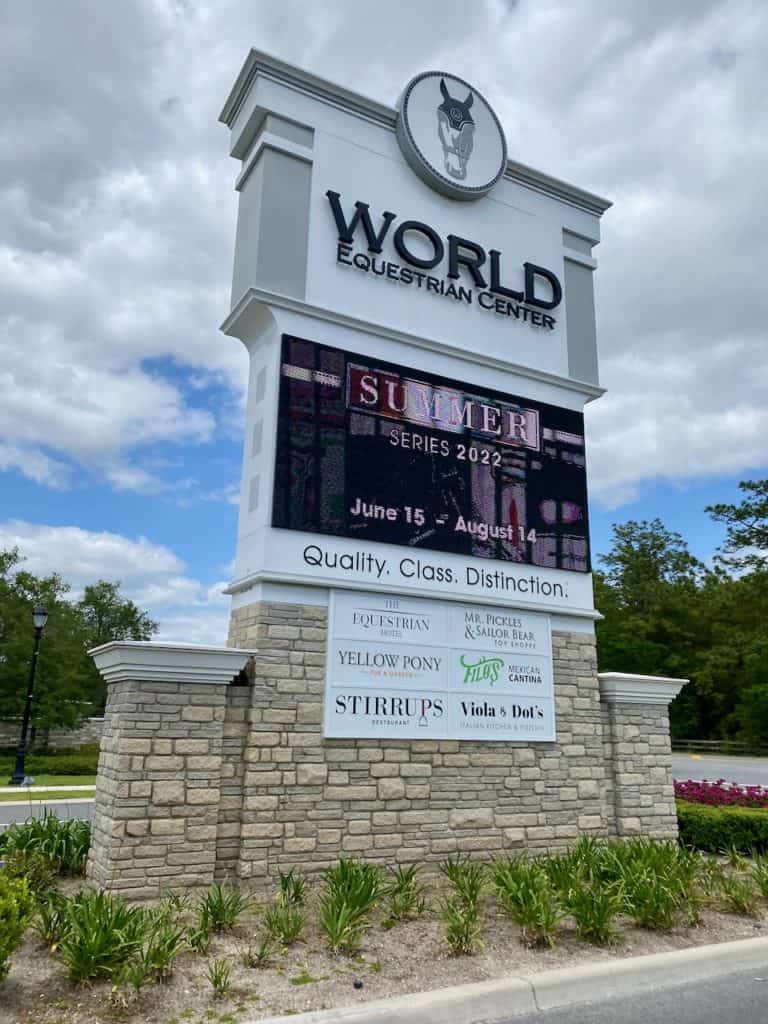 The World Equestrian Center has a gorgeous luxury hotel on the property called The Equestrian. It is convenient for spectators and exhibitors, and you won't find a better place to stay in the area. Hotel reservations can be booked through Booking.com.
Best Hotels Near the World Equestrian Center

🐴 Best Location & Luxury Hotel: The Equestrian
🏡 Best Hotel in Ocala City Center: Hilton Ocala
👨‍👩‍👧‍👦 Best Family Friendly Hotel: SpringHill Suites by Marriott
💲Best Cheap Hotel: Best Western Ocala Park Center


Tip🐕: These are all pet-friendly Ocala Hotels.

The 5 Best Things to Do at the World Equestrian Center
Without further delay, here are the five fun things to see and do at the World Equestrian Center.
Attend a Horse Show or other fun event
I highly recommend attending a horse show. On our most recent visit, there was a Miniature Horse Show, Shetland Pony Show, along with an NSBA Show & Futurity. There are so many things to see at this family-friendly equestrian complex.
Beyond horses, there are other great things to see including the Festivals of Speed. This event has over 200 luxury high-end classic cars that will compete for 70+ crystal trophies. The Festivals of Speed does have an admission fee of $20 per person, and kids under 12 are FREE.
Check out the WEC calendar of events page for all their upcoming amazing things to do.
---
Shop at some of the best shops and the coolest toy store around!
Mr. Pickles & Sailor Bear Toy Shoppe
One of the amazing things about WEC is the Mr. Pickles & Sailor Bear Toy Shoppe. Here you can find some of the largest stuffed animals, Breyer horses, and the cutest life sized lion that roars! This shop brings out your inner kid. The shop is located in the Equestrian Hotel shopping area.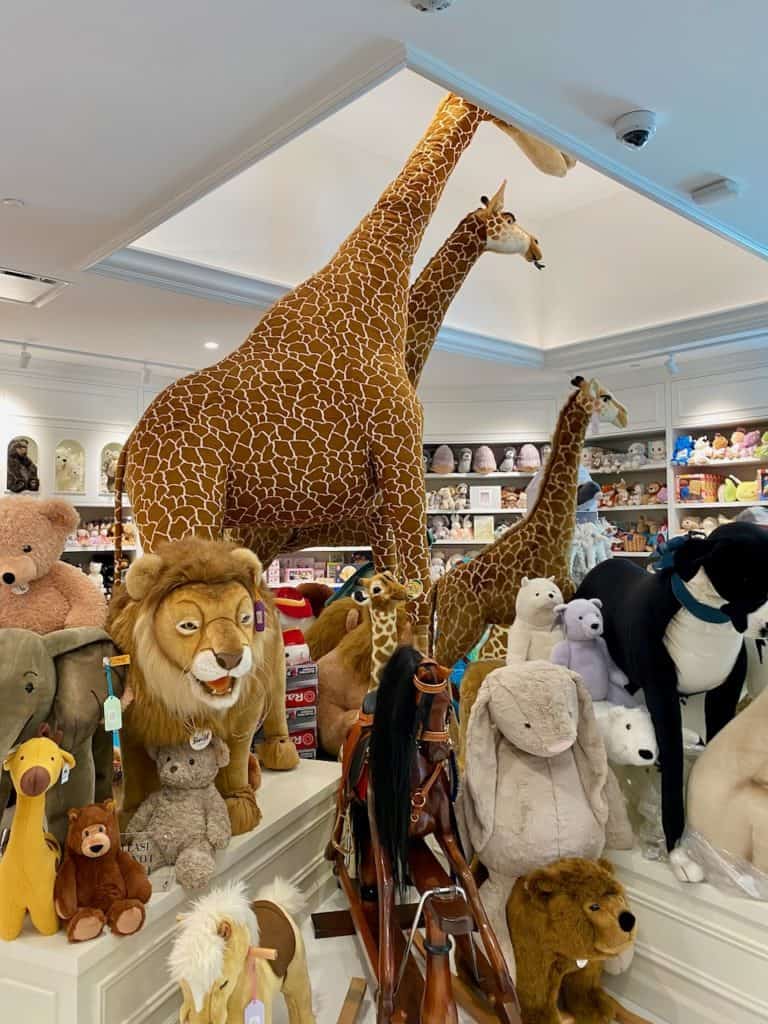 Other shopping you may want to check out: Grey Fox Designs, Lugano Diamonds, A Sudden Impulse Store, The Debonair Collection, Ariat International, I Love My Horse Equestrian Boutique, The Debonair Boutique, and more.
Read Next: The 27 Fun & Best Kids Things to Do in Tampa Bay
---
Enjoy the World Equestrian Center Ocala Restaurants
World Equestrian Center has multiple restaurants on the property. This list includes Filo's Mexican Cantina, Ralph's Burger & Sandwich Shop, Viola & Dot's, Italian Kitchen & Pizzeria, Yellow Pony Pub & Garden, & The Stirrups Restaurant.
Miss Tilly's Lollipops
Kids and those with a sweet tooth will want to check out Miss Tilly's Lollipops. Here you will find candies and lollipops galore! They also have a nice section of quality ice cream.
Ralph's Burger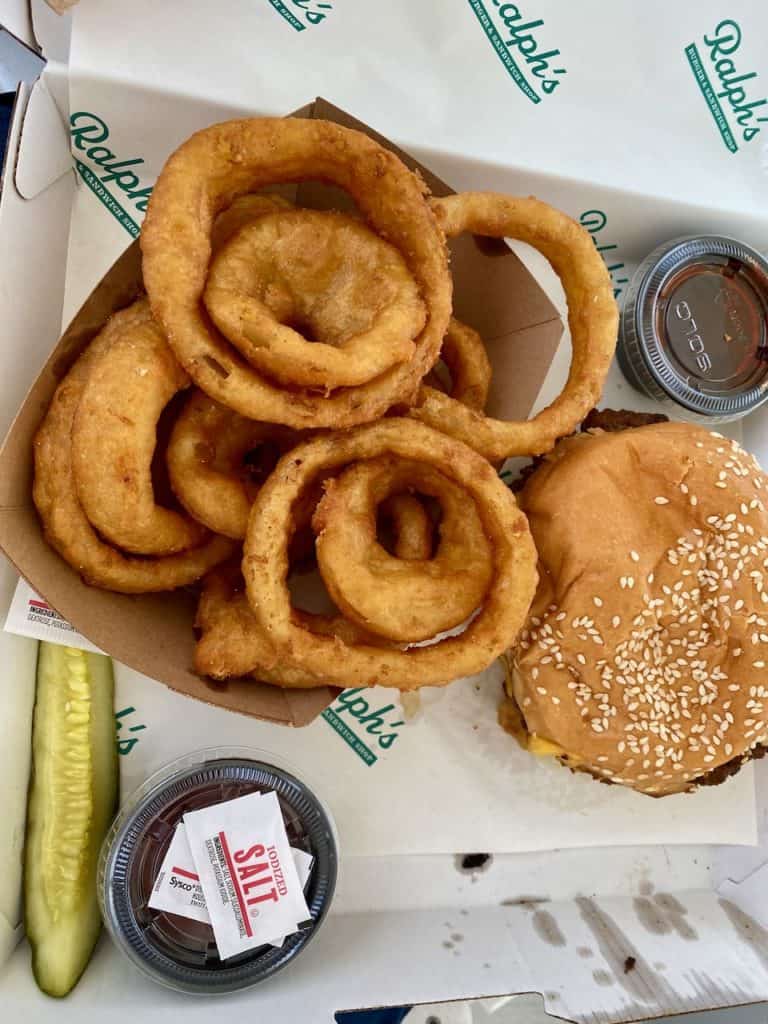 You will want to refer to the World Equestrian Center map for restaurant locations. Ralph's Burger & Sandwich Shop, for example, is not located near The Equestrian Hotel.
Some restaurants are a further walk and located closer to the arenas.
For a more casual lunch on the go, check out Ralph's Burger. They definitely didn't skimp on the portion sizes.
Stirrups Restaurant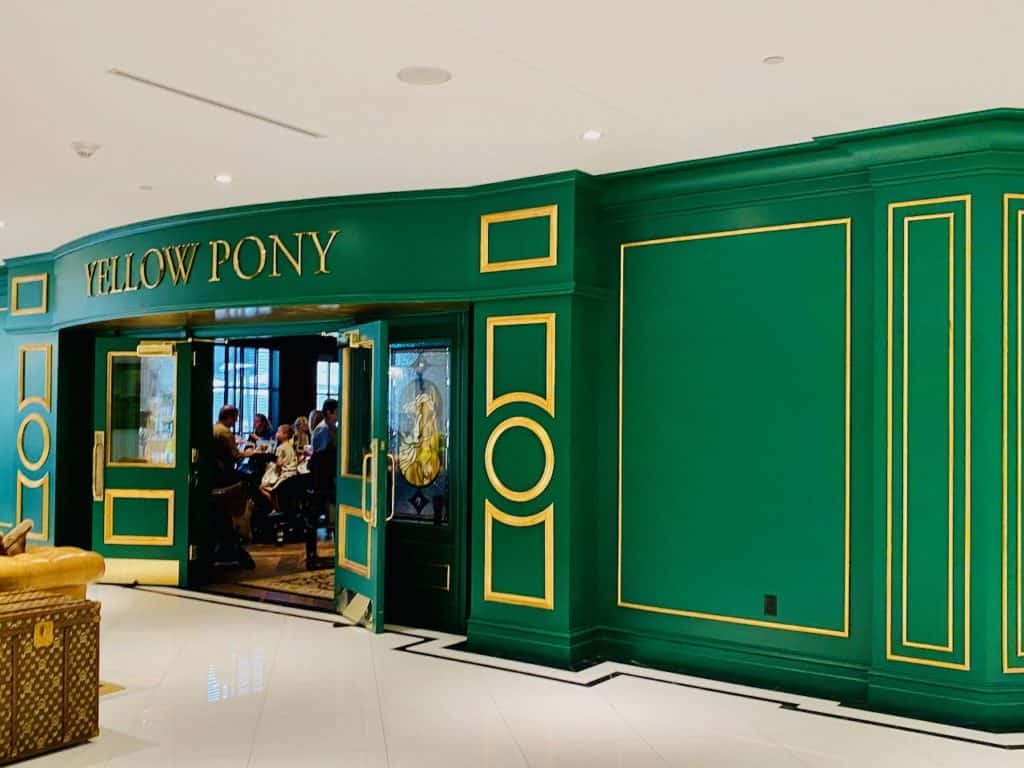 If you have time for a leisurely meal, the Stirrups Restaurant and Yellow Pony are located in the Equestrian Hotel. Stirrups Restaurant is exquisitely decorated with crystal chandlers and gold-framed paintings. Both welcome everyday diners.
Stirrups Restaurant is open for breakfast and dinner every day 6:30 am-11 am and 5 pm-9 pm. Weekends are open for all meals, 6:30-1 pm and 5 pm-10 pm. See the menu and further details on the Stirrups Restaurant website.
Yellow Pony
The Yellow Pony has a pub vibe often with live music and entertainment in the evenings. Some of the recent musicians have included Scott Davidson and Palomino Blonde. This is a good spot for a casual sit-down meal and has indoor and outdoor seating.
---
Explore the Beautiful World Equestrian Center (WEC) Grounds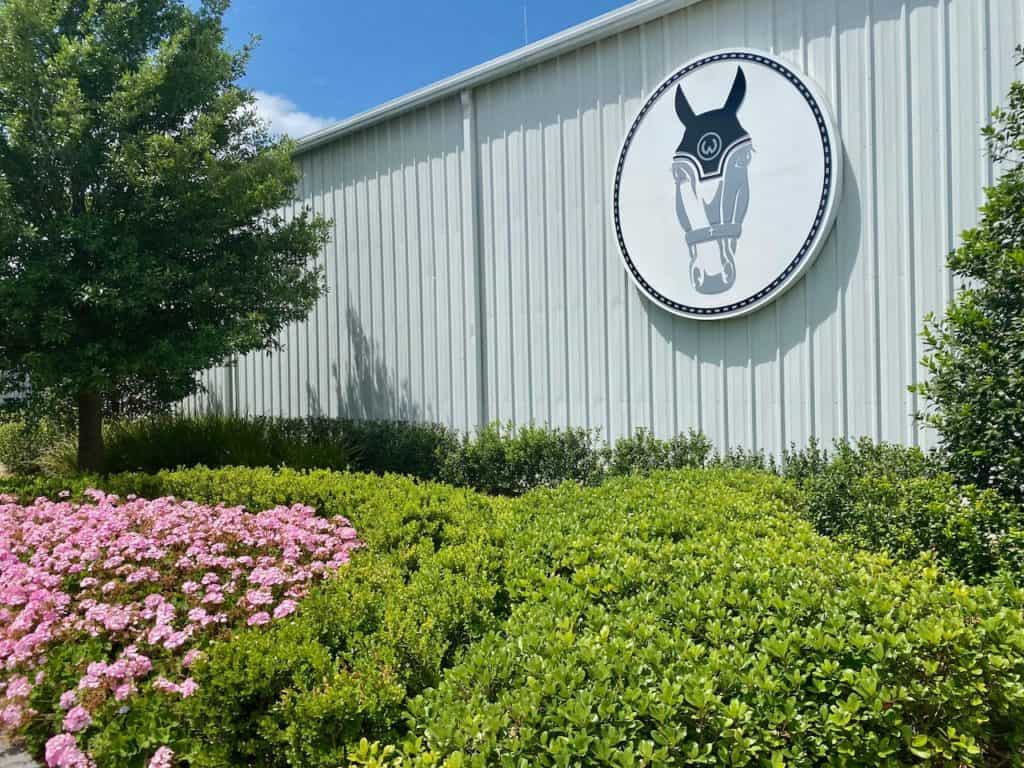 You could spend more than a day here just walking the grounds and seeing all that the World Equestrian Center has to offer. I love checking out the many shops and boutiques. You'll find many unique pieces that you won't find in standard shopping malls.
---
Take an Ocala Scenic Horse Farm Drive
Once you finish your day at WEC, take a scenic drive through Ocala's horse farms and see why Ocala is known as the Horse Capital of the World.
My favorite drive passes by some of the finest horse farms including Millionaire's Row which also includes Roberts Quarter Horses, owners of the World Equestrian Center.
---
Equine Estates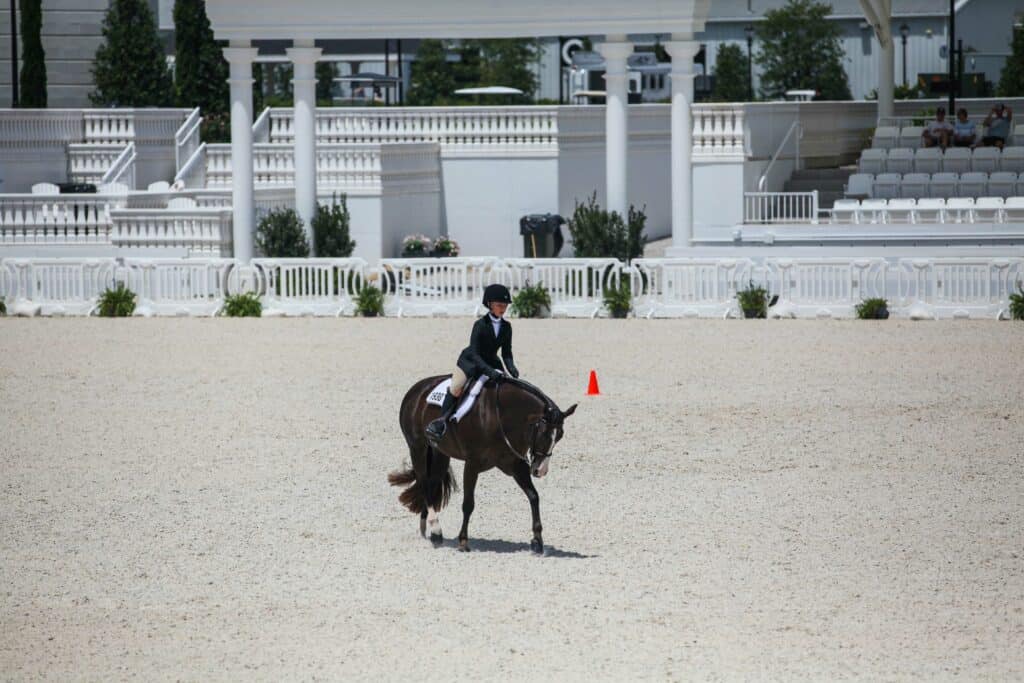 The World Equestrian Center Ocala has further expansion planned including a residential gated community called World Equestrian Estates. The homes are inspired by English or French country design.
World Equestrian Estate is a gated equine community adjacent to the Equestrian Center. The homes are built on 3+ acres of land and have access to world-class amenities as part of purchasing in this community.
Marjorie Harris Carr Cross Florida Greenway and the Florida Horse Park are within a short drive away. These trails have miles of hiking, biking, and horseback riding available.
Read Next: The 23 Fun Things to do in Ocala Florida + Top Must Know Picks

Frequently Asked Questions
Who owns the Equestrian Center in Ocala Florida?
The Roberts Family owns the World Equestrian Center. Mr. Ralph L. "Larry" Roberts is originally known for his work with R+L Carriers, a nationwide freight shipping company based out of Wilmington, Ohio.
The Roberts family is known for breeding some of the finest western pleasure horses in the American Quarter Horse Association (AQHA) industry with their stallion, A Sudden Impulse.
Is there more than one World Equestrian Center?
There is also a World Equestrian Center in Wilmington (Ohio). This property is also owned by the Roberts Family.
How do I get into WEC Ocala?
From I-75, take State Road 40 West to 80th Avenue. The address is 1750 NW 80th Ave, Ocala, FL 34482. Once at the WEC you will find that the property to easy to navigate with signage and maps. There is a separate RV parking area that is visible from the entrance.
What events take place at the World Equestrian Center?
World Equestrian Center Ocala has a wide variety of events from horse shows, to dog competitions, classic car festivals, and more!
Some of the more well-known shows include The American Ranch Horse Association World Championship Show, the $100,00 MARS Equestrian National Grand Prix, the $100,000 Stella Artois National Grand Prix, A Sudden Impulse Futurity & Championship Show, & Festivals of Speed.
How much does it cost to go to WEC Ocala?
There is no fee to go to the WEC Ocala for standard horse or dog shows. However, special events may require an admittance fee.
---
Did You Find This Post Helpful? Share It!
If so, I would love to hear about your visit to the World Equestrian Center Ocala! You can follow me on Instagram, and tag your images to @erinstraveltips and hashtag #erinstraveltips. I look forward to seeing you there!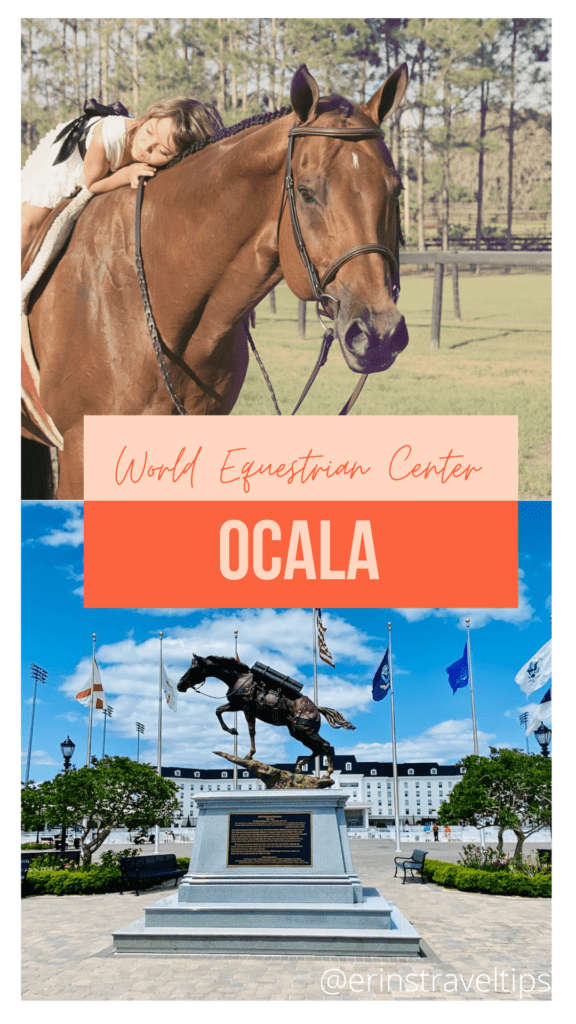 ---
Related Florida Travel Planning