An ultimate guide for what to see, location, parking, and when to visit the Met Cloisters Museum, a hidden gem in Upper Manhattan NYC.
Tucked away in the northernmost corner of Manhattan, the Met Cloisters Museum is often overlooked by visitors to New York City. Those who do make the trek to this branch of the Metropolitan Museum of Art are richly rewarded with a unique and unforgettable experience.
At the Cloisters, you'll find a beautiful collection of medieval art and architecture, set against the backdrop of stunning gardens and views of the Hudson River. Whether you're an art lover or looking for a peaceful place to escape the hustle and bustle of the city, the Met Cloisters is definitely worth a visit.
Getting to the Cloisters NYC
The Met Cloisters is located in Fort Tryon Park in upper Manhattan. If you're taking public transportation, the best way to get there is 190th Street Station aboard Train A. It is approximately a 10-minute stroll from the museum. Keep in mind that once you arrive at Fort Tyon Park it becomes more of a winding road with hills.
Met Cloisters Parking
If you're driving to the museum, the parking garage is located at 80th Street and Fifth Avenue. Parking garage fees are by the hour, but you will be eligible for a discount with museum ticket validation. If you walk, please note there is a rather difficult climb to the top.
There is also free public parking surrounding the Cloisters entrance. If you are lucky enough to snag one of these spots, grab it while you can. These parking spots tend to fill up fast.
The Met Cloisters Hours, Address, & Basic Information
Address: 99 Margaret Corbin Drive, Fort Tryon Park, New York, NY 10040
Phone: (212)923-3700
Website: The Met Cloisters
Hours: Thursday – Tuesday: 10 am to 5 pm; Closed on Wednesdays
The Best Time To Visit The Met Cloisters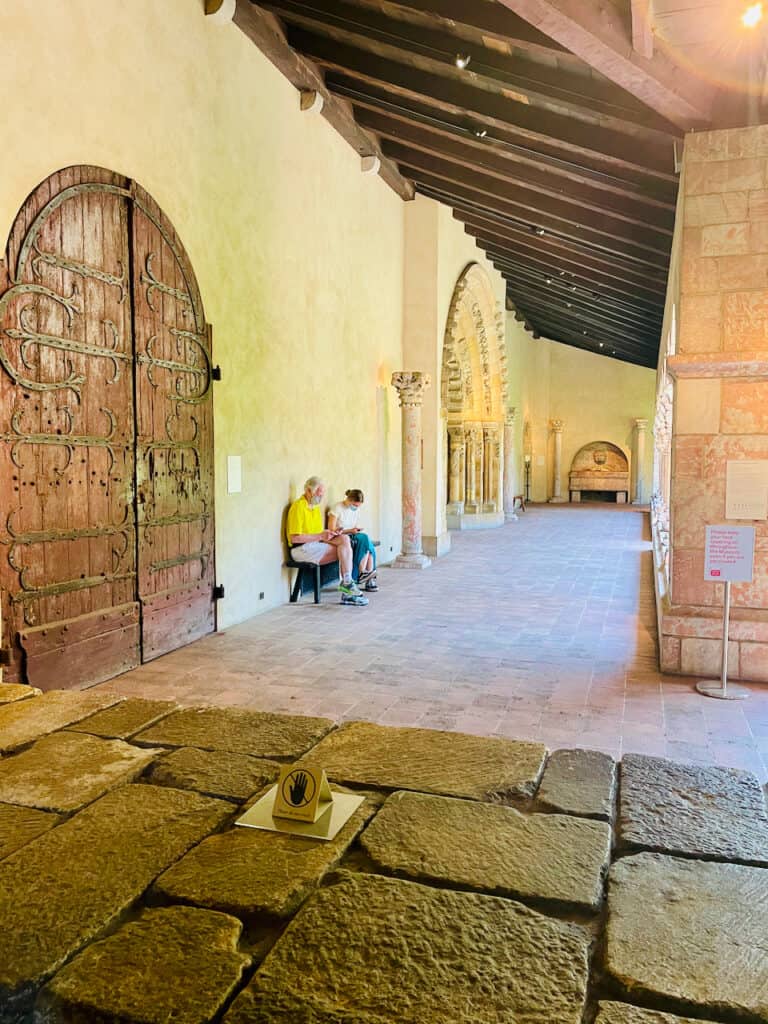 If you're looking to avoid crowds, we recommend visiting during weekday mornings or afternoons outside of peak tourist season (Memorial Day through Labor Day).
Keep in mind, that Friday evenings and weekends tend to be the busiest times at all of The Metropolitan Museum of Art's locations.
The Met Cloisters Tickets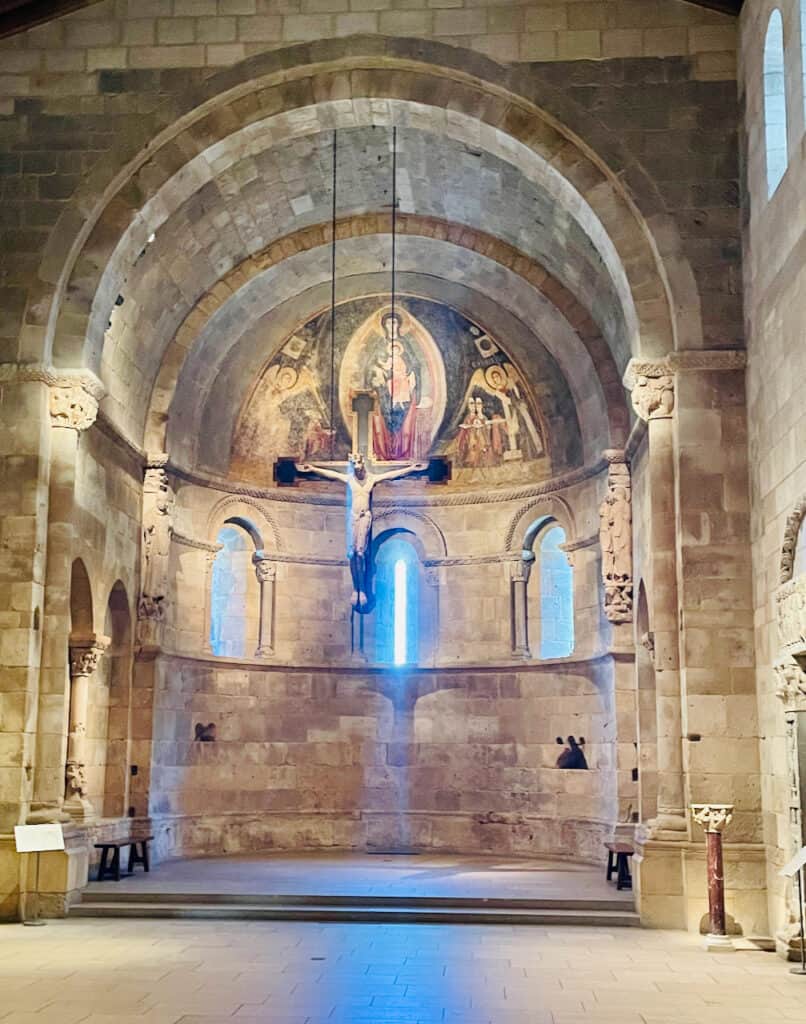 Cloister Tickets Pricing
Adults (19 and older): $30
Seniors (65 and older): $22
Students (with Valid ID): $17
Children 12 & younger / members: FREE
There are many ways to visit The Met Cloisters Museum. You can purchase your tickets online ahead of time or onsite at any ticketing desk or kiosk.
Become a member to enjoy free unlimited admission among other benefits such as members-only exhibitions and early access to exhibitions. New York State residents and NY, NJ, and CT students have the option to pay less than general admission.
Pro Tip: When you purchase a ticket for the MET, you can access the Cloisters on the same day for FREE. Verify your travel time (approximately an hour by subway, plus walking) to plan accordingly. Instant $30 dollars savings per person!
Plan Your Visit
To make the most out of your experience, we recommend spending at least 2 hours at The Cloisters. However, you can easily spend an entire day here exploring everything the museum has to offer.
Pro Tip: Be sure to download the Met Cloisters FREE app before your visit so you can keep track of all the works of art you'd like to see while you're here.
While most people think of museums as places indoors, don't forget that The Cloisters has lush gardens that are worth exploring as well.
The Cloisters Museum History
The Met Cloisters NYC was established in 1938 through the funding of John D. Rockefeller Jr. who originally purchased the property in 1930. It is overseen by the board of the Metropolitan Museum of Art with individual collections owned by private corporations and various benefactors.
Today it houses one of the most comprehensive collections of medieval art in the world. Here you'll see Romanesque and Gothic architecture as well as stunning views.
Read Next: The Best 1 Day Trip Itinerary to Spectacular Chamonix France
Medieval Art & Architecture on Display
The Met Cloisters houses an impressive collection of medieval art and artifacts, with a focus on Romanesque and Gothic art from the 12th to 15th centuries. The museum is home to over 5,000 works of art from Europe, dating from the 12th to 15th centuries. These include tapestries, sculptures, stained glass, enamels, manuscripts, Ivories, and metalwork.
The Met Cloisters New York City highlights include:
The Unicorn Tapestries – a series of seven tapestries depicting scenes from the hunt for a mythical unicorn. Created in 1495-1505, the "Unicorn in Captivity" is perhaps the most famous of the tapestries, along with "The Hunt of the Unicorn."
The Annunciation Triptych (Merode Altarpiece) – a painting by artist Robert Campin that was created in stages from 1427-1432.
The Cloister Gardens
Beyond the highlights are illuminated manuscripts, wood and stone sculptures, pottery, paintings, photography, and various other artwork. In addition to its permanent collection, The Met Cloisters also hosts temporary exhibitions throughout the year.
The Met Cloisters Gardens
In addition to all this incredible artwork, don't miss the chance to explore the beautiful gardens at the Met Cloisters. There are 4 cloister gardens: Saint-Guilhem Cloister, The Bonnefont Garden, The Trie Cloister Garden, and the Judy Black Cuxa Cloister Garden. Each has their own unique features growing wildly, and some are very similar to an English garden.
The Bonnefont Cloister Garden features herbs traditionally used in medieval cuisine, while the Trie Cloister Garden is planted with periwinkle flowers. If you're looking for something more tranquil, make sure to check out the Cuxa Cloister Garden with its waterfalls and peaceful pond.
These beautiful areas are modeled after medieval European cloister gardens and feature a variety of plantings that change with the seasons. It is truly an oasis in the heart of New York City!
Read Next: The 13 Best Boutique Hotels on the Amalfi Coast You Will Absolutely Love
Restaurants Near the Cloisters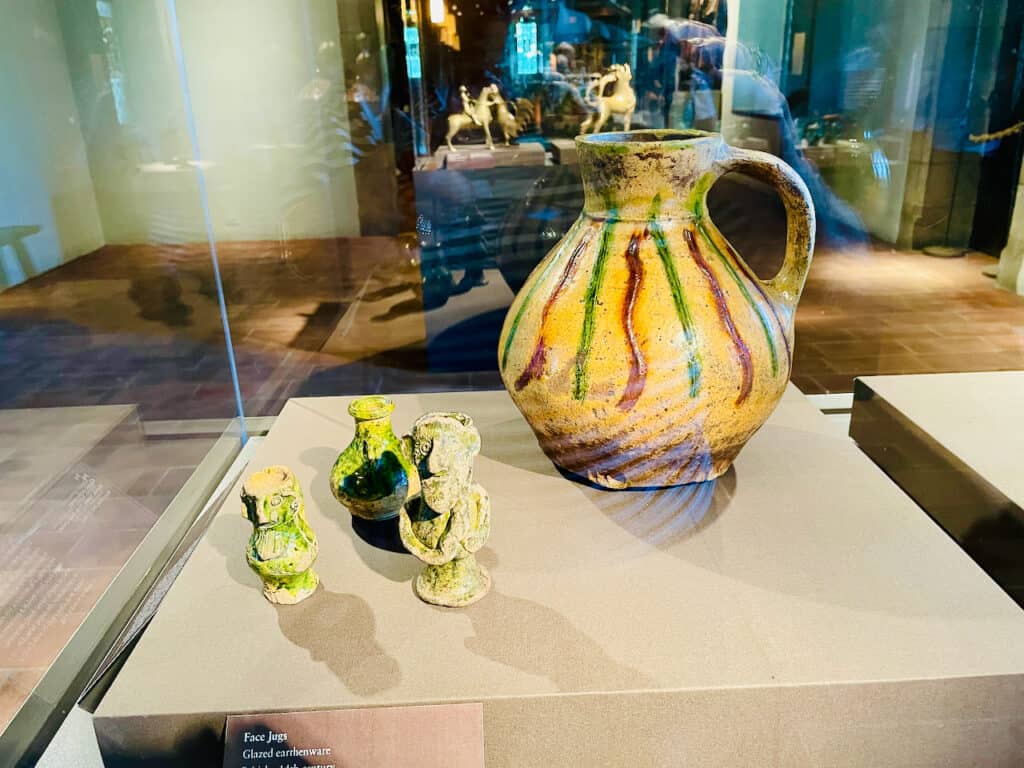 After spending some time exploring the Met Cloisters, you'll probably be ready for a bite to eat. Fortunately, there are plenty of great restaurants located nearby. There is also a cafe on the property but tends to have a limited as well as costly menu.
For dining options with gorgeous water views, stop by The Hudson restaurant for a tropical drink, fish sandwich, or sushi. Other restaurants near the Cloisters to try are Cañave, as well as Inwood Bar & Grill (slightly further but a favorite sports bar with excellent food).
If you are up for a drive, the Bronx Little Italy is approximately 6.5 miles away. This is another fun area to explore especially when vacationing in NYC!
ADA Accessibility
The Cloisters Manhattan is wheelchair accessible but has its limitations, especially in the gardens and acreage. There is an elevator available exclusively for those needing ADA services. There are large print brochures and listening devices available through the admissions desk.
Pro Tip: The parking lot is a distance from The Cloisters. If traveling with someone with disabilities, special arrangements can be made for oversized ADA vehicles by calling (212) 570-1437 for more information.
Final Thoughts on the Met Cloisters Museum
The Met Cloisters is a must-see destination for anyone interested in medieval art or history. With its beautiful gardens, an impressive collection of artifacts, and breathtaking views of the Hudson River, it's easy to while away an entire day exploring this unique museum.
So whether you're a New Yorker looking for a new place to explore or a visitor hoping to learn more about medieval Europe, add the Met Cloisters to your list—you won't be disappointed!
Did You Find This Post Helpful? Please Share It!
I would love to hear about your visit to the Met Cloisters in Manhattan! You can follow me on Instagram, and tag your images to @erinstraveltips and hashtag #erinstraveltips. I look forward to seeing you there!
More Travel Articles You'll Love