Looking for great ideas for the perfect St Louis weekend trip? Here is my top getaway suggestions for things to do, fun activities, and favorite hotels and restaurants.
I am one of those weirdos who loves to plan trips. So much so, that I almost love planning as much as the actual trip. I've been to St Louis a few times, and each time I find new areas I love to explore. For those of you who haven't been before or are looking for some unique travel tips, here is my favorite St Louis weekend itinerary.
The Best Hotels in St Louis MO
Four Seasons Hotel St Louis – 5 Star Luxury Resort (Downtown Near St. Louis Arch)
Westin St Louis – 4.5 Star Hotel (Downtown)
St Louis Union Station Collection by Hilton – 4 Star (Downtown West)*
St. Louis Union Station Collection by Hilton
This beautiful historic railway station from 1894 was converted into a hotel and convention style property. The massive lobby bar is a fun place to have a drink with their nightly light show. It is one of the most unique hotel bars I have ever seen, since it used to be the main railway terminal. Stay at one of the tower rooms that encompass more of the rich history of the property.
Overnight parking in downtown can be expensive in St Louis, usually 25 dollars or more depending on the property.
St. Louis Hotel Availability | Booking.com
Day 1 – St. Louis Weekend Getaway
Start the day with a great breakfast after an early flight! Half and Half Restaurant is located near the airport (about 8 minutes) in a quaint neighborhood called Clayton. There are cute shops and lots of other great restaurants in this prestigious area. After breakfast take a stroll and enjoy all this area has to offer. The Ritz Carlton Hotel is located in Clayton, which is just a short 20 minute walk from Washington University.
Next, we headed to the Missouri Botanical Garden – Hours are from 9 am-5 pm. This is worth visiting if you like parks or garden exhibitions. I have been to the gardens a few times, and prefer the spring when most of the garden is in bloom.
There is also the Saint Louis Science Center located about a mile and a half from Missouri Botanical Garden, and across from Forest Park. We found these activities convenient when traveling with a group, since there is multiple things to do in a short proximity.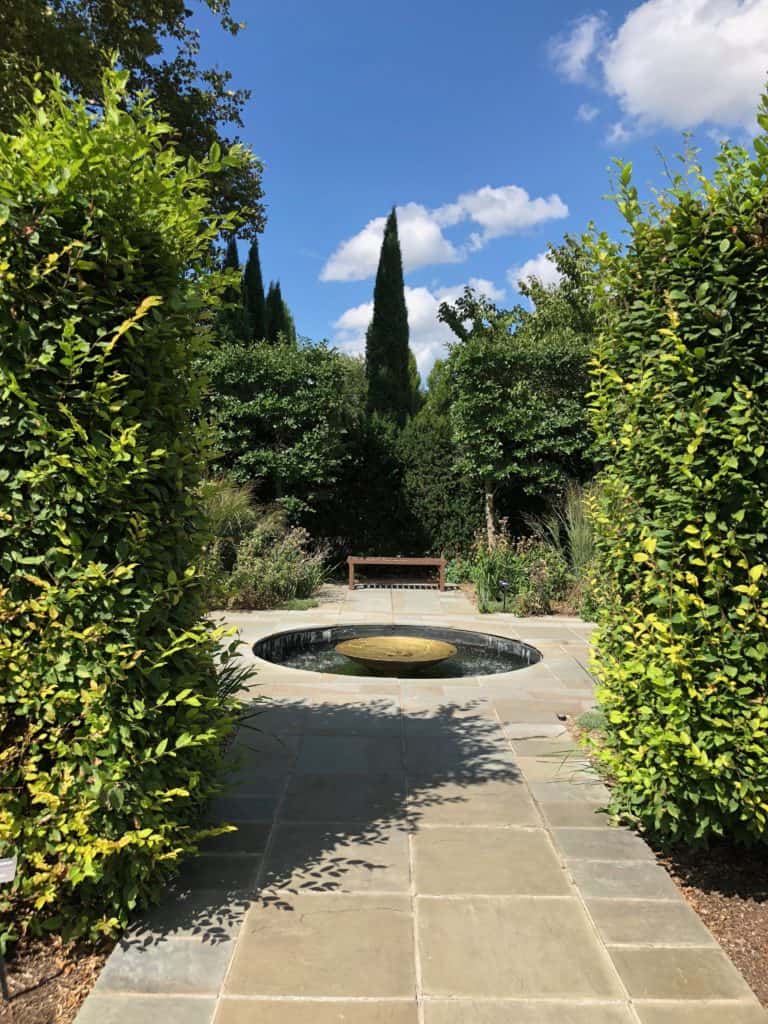 Lunch & Fun Things to Do for All Ages
My husband and I enjoyed a Late Lunch at Union Loafers (closes at 3 p.m.). This is a nearby drive from the park. Union Loafers is known for its fresh bread, sandwiches, and salads. The food was delicious, but plan to wait, especially on weekends.
After lunch, we headed to Forest Park. The city's glorious 1,300-acre green space is the historic site of the World's Fair. For those of you who are old movie buffs, it is the location they depict in Judy Garland's movie, Meet Me in St Louis. It was the location of the Louisiana Purchase Exposition and the 1904 Summer Olympics. I have enclosed the map of the many areas to see and do at this link.
This is an area that has so much to offer, and maybe worth extending depending on your interest level. Some of the activities include: the St Louis Zoo, Art Museum, Missouri History Museum, Science Center, Muny Opera, Boathouse, Steinberg Skating Rink, Dwight Davis Tennis Center, and the Highlands Golf Course.
The St Louis Zoo is FREE. Hours are 9-5pm daily, and extend to longer hours in the summertime.
Looking for other fun things to do with kids?
When it comes to fun things to do with kids in St. Louis, there are many fantastic ways to spend your time. Here are a couple of my personal favorites.
Check out the City Museum located in the heart of downtown. This has some of the coolest secret passageways, rides, slides, and four floors of art to explore and an additional rooftop view of the city. Ticket prices range from $18-$30, and you get a discount when you by online. They are open daily from 10am-6pm; bank holidays from 10am-5pm.
Magic House, the St Louis Children's Museum is another great place to take kids, especially younger children. If you plan ahead, they offer discounted tickets (after 3pm) for only $3 if you reserve in advance online. The Magic House is closed on Mondays. See their website for current hours and full details.
Budweiser Brewery Tour
After lunch we headed to the Budweiser Tour – there are multiple options to choose from and it's best to book in advance to get the tour you want. We LOVED this experience. It was worth a visit at least once even for non-beer drinkers. The history of the grounds and seeing the horse stables were just spectacular. The grounds are immaculately maintained. Since I don't know a lot about Budweiser as company, I had no idea how many brands they owned and operated until the tour.
There is some walking involved, going in and out of buildings and up and down floors. I recommend dressing comfortably and with a layer option since some tours will take you into freezing temperatures and some of the tour will be outside.
As you can see from our photo, they gave us free hats in addition to the tastings, which was another perk! Remember to book your Budweiser tour tickets in advance especially on weekends. There is also a nice Biergarten on property to enjoy.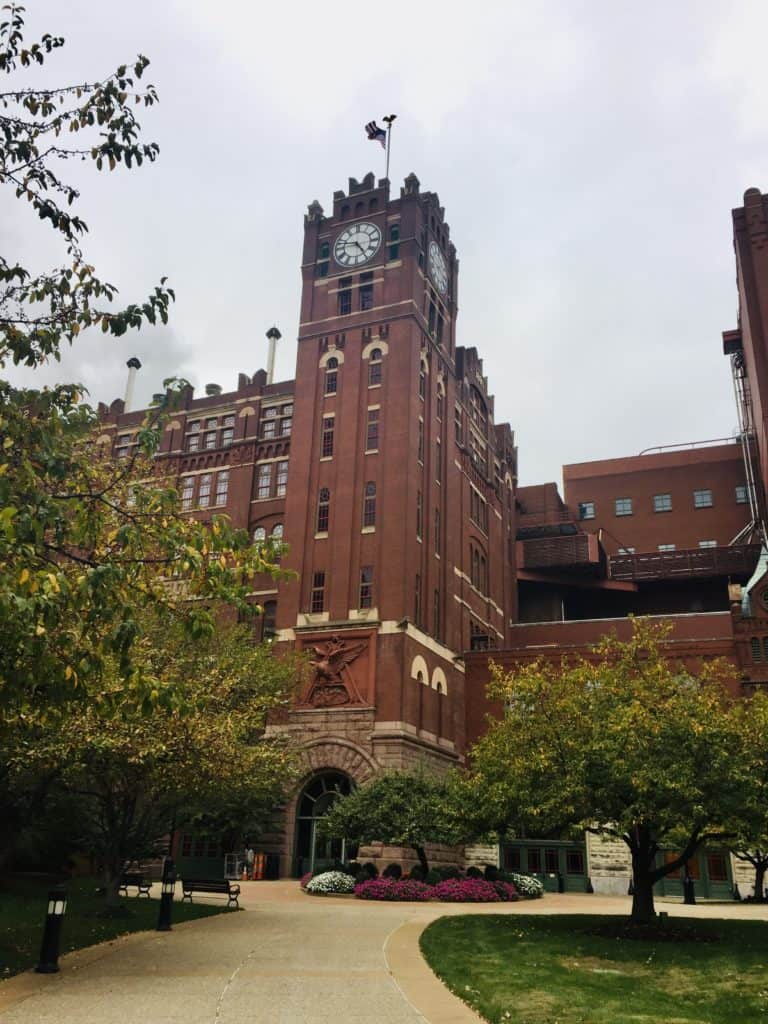 St Louis Weekend Nightlife
Tony's (near the Arch) – If you're up for a fine dining experience, I highly recommend Tony's. The outside sort of feels like an old bank building. While their chocolate cake dessert was my favorite part, everything I've eaten there has been stellar.
If you're looking for a cocktail after dinner, check out Three Sixty. It's a short walk from Tony's restaurant.  We had drinks there, although it does serve food. Great views of the arch, baseball field, and the city! You are so close to the stadium, that you can literally watch a Cardinals game from the Three Sixty Bar.
I recommend booking a hotel in the area you plan to spend the most time. We liked our evening walks by the Arch, and being able to not have to drive or get a Uber. After a very full day, we headed back to our hotel. Now, onto a busy day 2, starting with Arch Tour!

Day 2 – St Louis Weekend Trip to the Gateway Arch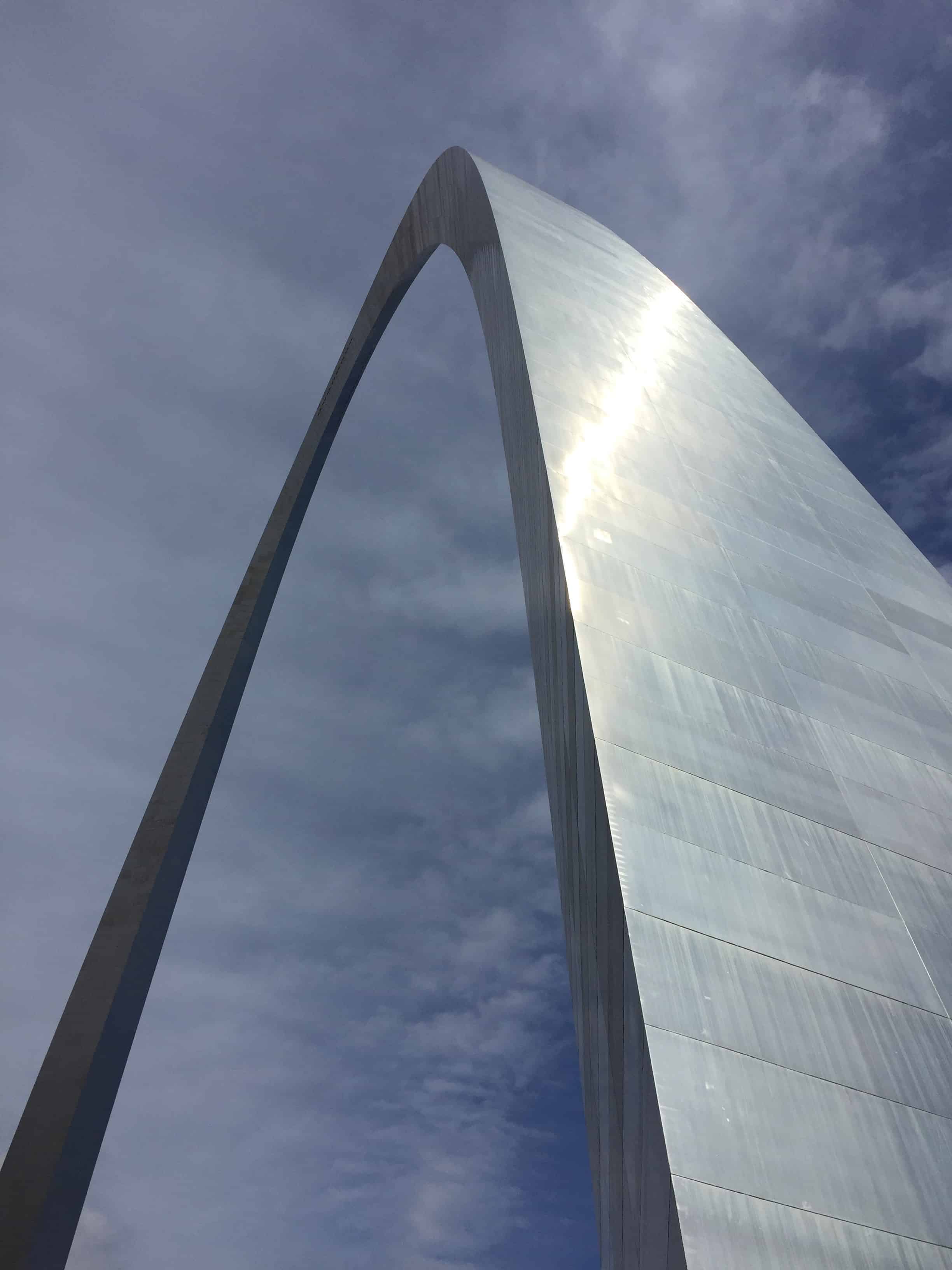 I recommend seeing the Gateway Arch at least once and walking the park. There was literally no wait the day I went. However, it may be worthwhile to purchase tickets in advance at the link provided.
The pods you sit in on the way up to the top of the arch can be tight, and some may feel claustrophobic. Once you get there, there are small horizontal shaped windows to look out. Check out the mighty Mississippi River and the 30 mile views. For Cardinals fans, you can get a good photo of Busch Stadium. My favorite part of the arch was walking across the arch hill; it is definitely a unique experience.
After the Gateway Arch, we headed back to Forest Park to finish seeing some of wonderful sights I mentioned earlier. Prior to entering the park we stopped nearby for coffee and croissant at Comet Coffee & Bakery.
On my agenda, to tour the Saint Louis Art Museum and explore the World's Fair Pavilion. I find that I most enjoy museums, when seen on separate days or with a break in between. There is so much to take in and appreciate at each exhibition.
Lunch at the Shaved Duck Restaurant
For lunch we ate at the Shaved Duck Restaurant. It's located in a neighborhood and out of the way of most areas. I happened to stumble across it, and have been back a couple times for quality barbecue. My favorite items are the pulled pork on cheesy fries. Yum!
Another perfect place for lunch is The Hill District, a historic neighborhood famous for Italian-American bakeries, grocery shops and old-school restaurants. I had a lot of locals mention it, but I didn't make it there.
Dinner & Evening in Grand Central Arts District
We grabbed a quick meal at Lomardos Trattoria located next to Union Station. I didn't feel this restaurant had a lot of ambiance. However, what they lacked in decor, they made up in food. I really enjoyed my dinner at this Italian restaurant.
After dinner we headed to the Grand Central Arts District. There is a wide variety of restaurants, bars, museums, and entertainment in this central hub of the city.
Check out the Fabulous Fox located here. On the first Friday of every month, museums and fine art galleries in Grand Center Arts District are free to the public and open until 9pm. Check out upcoming events on the district website.
The Fabulous Fox Theatre – See a St Louis Weekend Show
Fabulous is truly the word that best describes this theater. I saw Jerry Seinfeld here years prior, and ever since it is my favorite place to see a fine arts show in Saint Louis. Built in 1927 in a Siamese Byzantine design, it has a classy look and feel of Broadway. Visit the Fabulous Fox for a full list of upcoming events.
These are my top sites while on this St Louis weekend trip! However, I always seem to find new favorites each time I visit the area, since there is so much to see and do. Please know this isn't an all inclusive list, but what I enjoyed when I saw this amazing city.
Pin Article for Later!
I hope you enjoyed my St Louis Weekend Trip. If you have interest in reading any of my other travel articles, here is a quick sample below.