Tarrytown Austin is a neighborhood with hidden beauty. Where central Austin can be more gritty and fast-paced, Tarrytown is down-to-earth with genteel qualities with its luxury homes and Lake Austin views. Here are 10 interesting facts you probably didn't know about Tarrytown.
1. Celebrities Have Lived There
Tarrytown is home to many of the wealthiest Austinites and celebrities over the years from Mathew McConaughey to Dennis Quaid. Remember when Mathew McConaughey was arrested for playing bongos at his home? Fun fact, he was living at the time in Tarrytown Austin!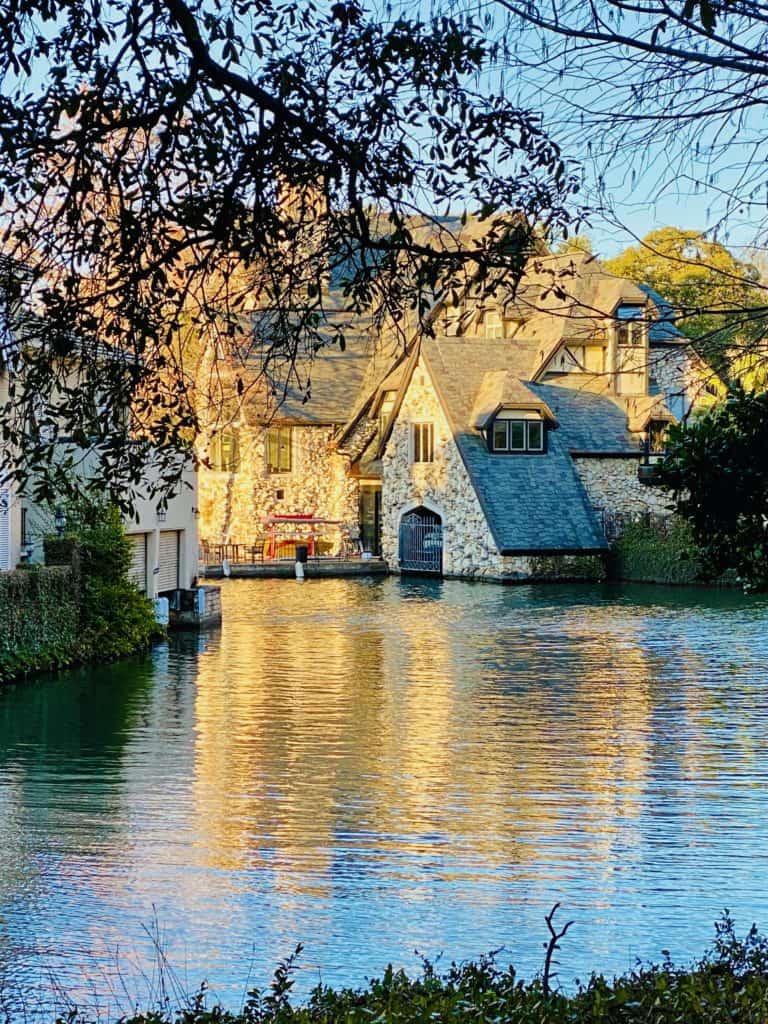 2. Housing Market – Top Places to Live in Austin
Did you know that Tarrytown Austin, zip code 78703 is one of the most sought after locations to live?
It is under ten minutes to downtown, but also far enough from University of Texas student life. Back in 1915, when in the early stages of neighborhood planning Tarrytown's marketing slogan was "where the oak trees charm the eye."
Over one hundred years later, the oak trees still charm the rolling hill streets and home prices have sky-rocketed. According to Realtor.com the median home listing is over 2 million dollars.
3. Best Waterfront Dining in Austin
Oyster Landing has a little bit of everything to check out for food and beverage choices: Mozart's Coffee Roasters, Abel's on the Lake, and Hula Hut in Tarrytown Austin. Mozart's frequently has live music and seating right on the water. There is also convenient boat or watercraft parking for those coming by water.
Want to feel like you're on vacation in Mexico? Hula Hut is a favorite Tex-Mex meets Polynesian twist restaurant. Sit outback with waterfront dining and enjoy views of Lake Austin and the Tom Miller Dam.
My personal favorite dish is the slow roasted pork tacos that literally melt in your mouth. You may notice some similarities to Chuy's since the original owner was affiliated with both establishments.
4. Reed Neighborhood Park
It may not look like much from the road, but this tucked away gem has a lot to offer in Tarrytown Austin. It is the perfect quiet playground for the kids and in the summer time the pool can't be beat.
There is a hiking trail along the creek that comes out on the prestigious Scenic Drive. Evenings and weekends kids and dogs are often seen playing in the the fields or near the creek. While there, stop and see the old historic Taylor Lime Kiln from 1871.
5. Scenic Drive
Scenic Drive isn't called "Scenic" for no reason. Whether you drive or go for a walk along this lookout of Lake Austin, the water-views and homes are a must see.
Scenic Drive and a little road called El Greco Cove (connects with Matthews Dr) are two fun places for a leisurely stroll. El Greco Cove is just a small little side street, and if you are walking, pedestrians can pass through onto Dali Lane. Keep in mind that the hills in Tarrytown Austin can be steep when on foot.
Mayfield Park is a historic cottage, gardens, and nature preserve once belonging to the Mayfield-Gutsch Estate. It is on 26 wooded acres with roaming peacocks (peafowels) and Koi fish ponds. The nature trails are an enjoyable way to spend the afternoon. Admission is free.
Laguna Gloria in Tarrytown Austin is situated on Lake Austin. It was originally built in 1916 to resemble the beautiful homes on Lake Como, Italy. These gorgeous grounds have a wide array of interesting and diverse modern sculptures, all while feeling like you are in Italy with its historic home and gardens.

Bring a picnic or buy food on-site at Spread & Co, or just stroll around taking in this breathtaking spot. Please note they are closed on Monday and Tuesday. Register online in advance for free admission on Thursdays. Free entry for children under 18 and military.
Located near Walsh Boat Landing, The James and Leana Walsh Residence at 3701 Bonnie Road is a occupied city landmark and has some beautiful Mission revival details. Other historical homes nearby in Tarrytown Austin are Sweetbrush and Donnan-Hill House. Another interesting house in the area is the University of Texas Chancellor's House known as the Bauer House.
9. Walsh Boat Landing
While this relaxing little park is known more for its boat launch, it is a fun spot to sit next to the water and enjoy the pristine view of Lake Austin. Make friends with the local ducks, as they tend to be frequent guests here. There is also public restrooms located here.
Furthest South in Tarrytown Austin is Deep Eddy Municipal Pool, a favorite place for kids and swimmers alike to have fun. It is the oldest swimming pool in the State of Texas. Fun fact, Texas musician Jimmie Dale Gilmore wrote the song "Deep Eddy Blues" about this pool.
Private Rentals in Tarrytown Austin
Looking for a place to stay? While there are no hotels in Tarrytown there is a variety of one bedroom to luxurious mansions available.
Opting to stay in of one the best and most convenient neighborhoods is a good way to see the city from a local perspective.
Here are some of my favorite VRBO rentals near Tarrytown Austin:
2-Bedroom Rustic Home Near Oyster Landing
3-Bedroom House Tarrytown Staycation
5-Bedroom Luxury Retreat in Tarrytown
6-Bedroom Claimed President LB Johnson Home Estate in Tarrytown
Hotels & Bed and Breakfast in Austin
The Driskill Hotel – The famous Driskill Hotel located on 604 Brazos Street is an Austin staple. Did you know that President and Lady Bird Johnson had their first date here? They stayed there numerous times over the years. Suite 434 was permanently reserved for the president. Whether you stay the night, or go for a meal, this is a must see in Austin.
Brava House Bed and Breakfast – Built in the 1880's this Victorian home is the only Bed and Breakfast in the heart of downtown Austin. Brava House is known for excellent customer service and hospitality.
Here is a full list of other great hotels in the Austin area from Expedia.
Additional Travel Plans
Looking for more travel inspiration? Here are a couple other guides and posts that you may like:
Pacific Coast Highway Road Trip – 3 Amazing Days