Looking for a St. Pete Spring Break hotel? From a local who has also taken vacations in St. Pete, here are the best of the best!
Spring Break in Florida can be a lot of fun, especially with beaches in close proximity to cities that have so much to offer.
Tampa Bay is one of the top destinations in the United States to be able to see some of the best sports teams, bars, beaches, and wildlife – and all while seeing some of the most beautiful cities in Florida.
🌴 Read Next: 25 Exciting Things to Do in St Pete Beach, FL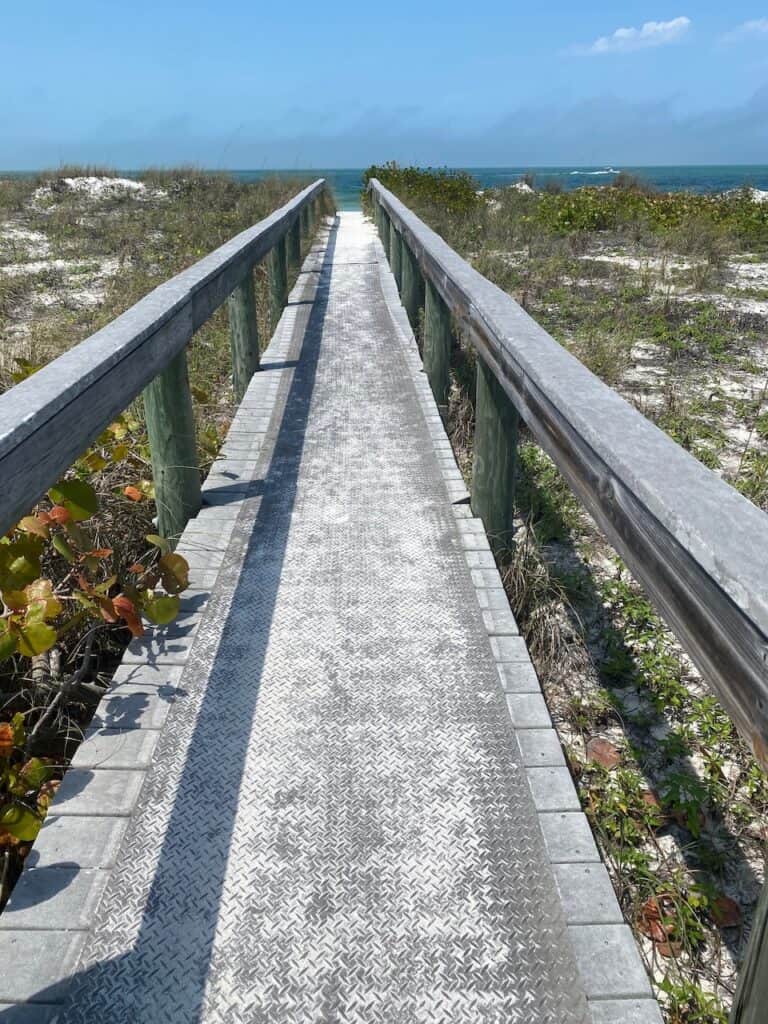 I mention spring break specifically because it tends to be a crowd that wants to be close to the action, but still have the relaxing beach experience.
These hotels listed have all that and more! I have also included some favorite bars and fun things to do.

Lively Atmosphere: St. Pete Spring Break Hotels
Post Card Inn On the Beach
Located in St. Pete Beach, the Post Card Inn is known for its party atmosphere and great vibes. It's close to everything, which makes it easy to get to downtown or other great destinations.
The Post Card Inn has super fun decor, a great pool, beaches, and nightlife all within just steps of its doors.
The charming town of Pass-a-Grille is a quick bike ride or a short walk as an area to explore. It is one of the perfect hotels for a St. Pete Spring Break.

Bellwether Beach Resort
The Bellwether Beach Resort, previously known as the Grand Plaza Hotel is located on the beach and has an impressive outdoor bar that wraps around the exterior of the high-rise hotel. It is a fun place to grab drinks and appetizers.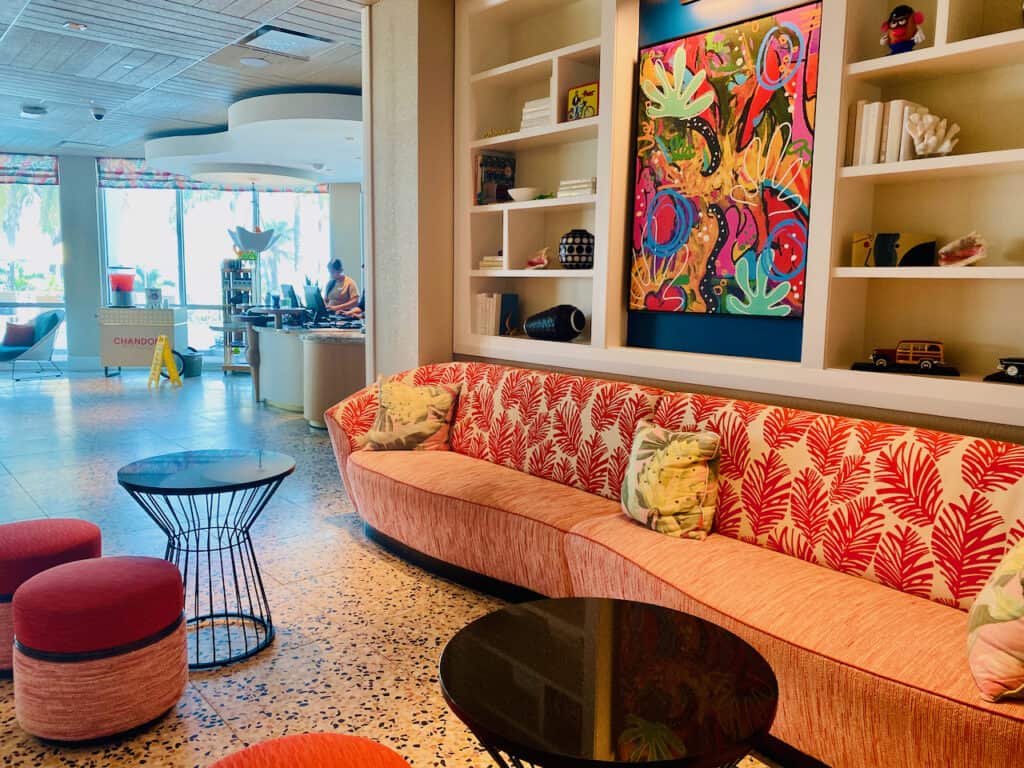 On the beach, the Bellwether Beach Resort has one of the most well-known beach experience restaurants for locals, Bongos Restaurant. It is open for all three meals and stays open late too.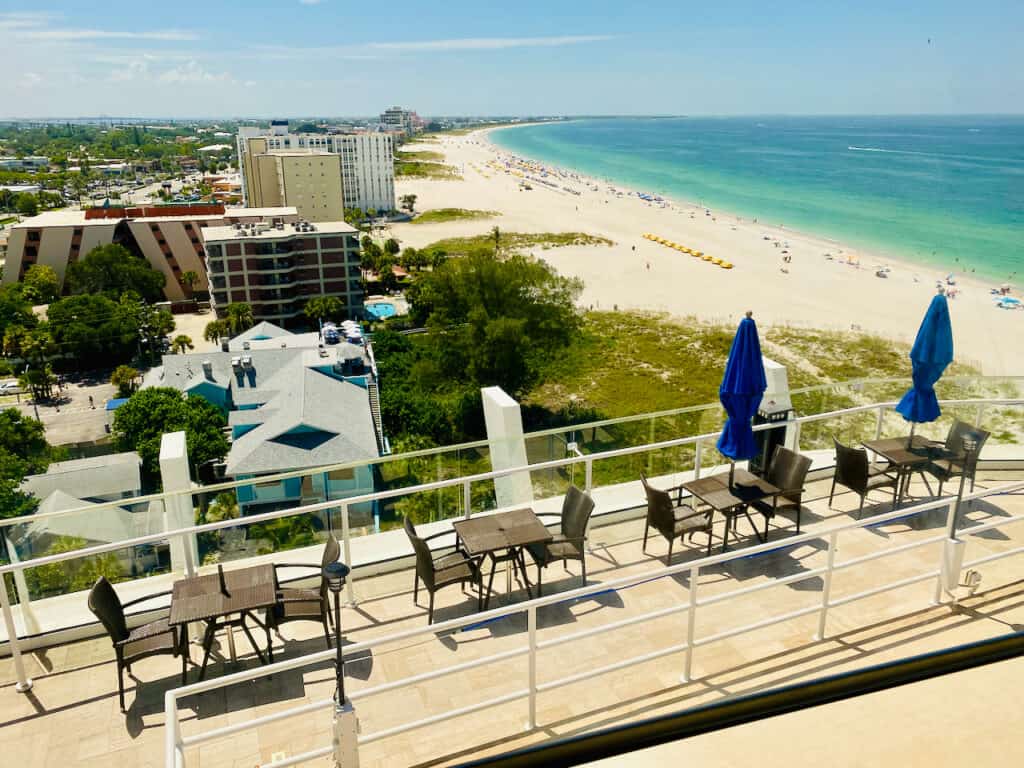 Most evenings you can enjoy live music while eating outside on the fine sand beach and catching a breathtaking sunset. The Bellwether Beach Resort was recently reopened after renovations. Click on the link provided for hotel information.

🍷 Read Next: A Local's Guide: The 16 Best St Pete Beach Bars & Nightlife!
Hotel Zamora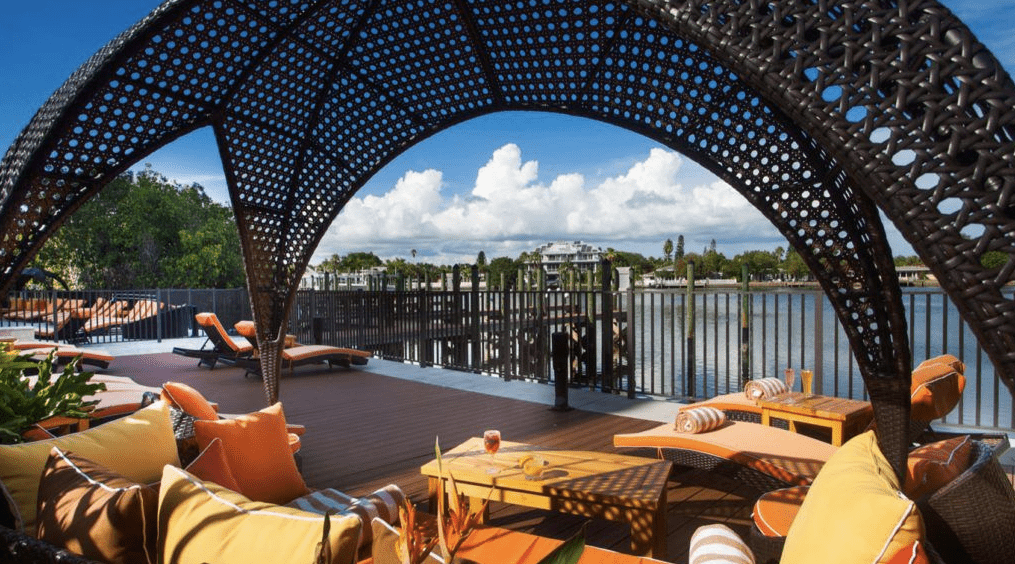 Another fun spring break hotel is The Hotel Zamora in St. Pete Beach. This Spanish boutique-style hotel is considerably newer than most options on St. Pete Beach.
It is located directly across from the beach, but still on the water but with bay access. One of the nice things about this hotel for boaters is that they have a dock they can pull up to, and grab a quick bite to eat.
The Hotel Zamora has spacious rooms and grand entry doors to each hotel room that assists with the feeling of privacy.
This hotel has one of my favorite bars called the 360 rooftop bar. We have enjoyed NYE and many other events here!
The entire top of the hotel has amazing views from each direction and is the perfect place to go for a sunset drink.

Luxury Resort Spa Hotels in St. Pete / Clearwater Beach
The Don CeSar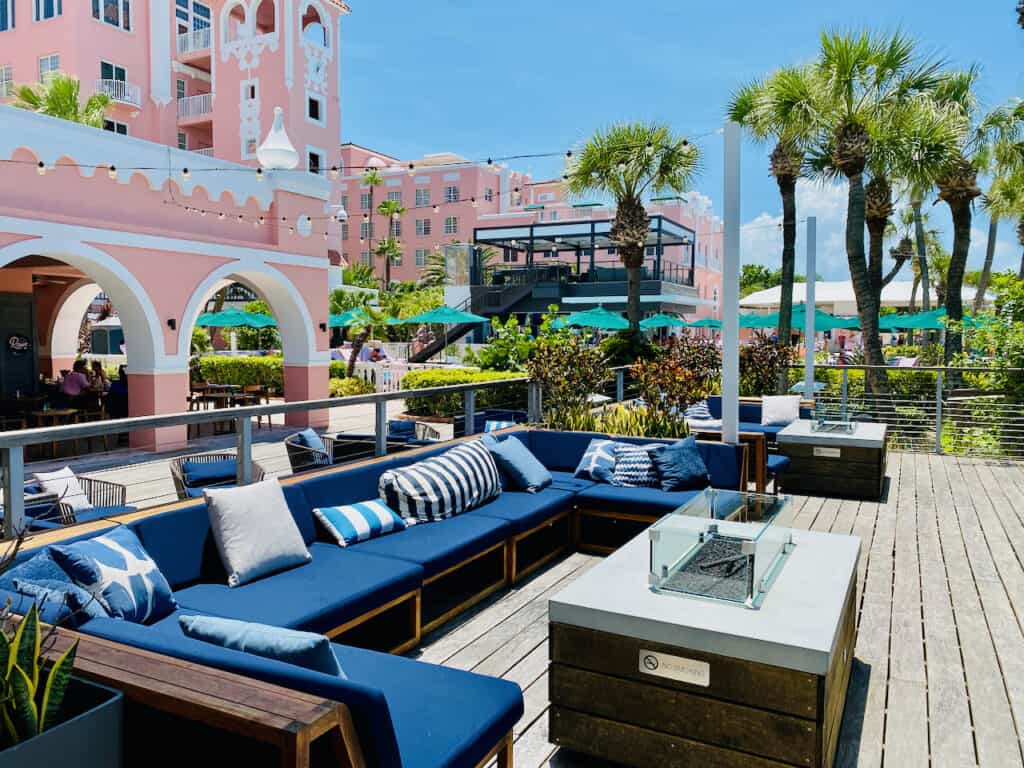 Looking for the most photographed Tampa Bay beach hotel?
Look no further than the beautiful pink historic landmark, The Don CeSar on St. Pete Beach. It has shops under the hotel, an ice cream shop, bars, and restaurants. It's perhaps more widely known for its spa experience.
The Don CeSar has been open since 1928 with well-known celebrities of different eras staying here that include F. Scott Fitzgerald. Discover its history of glitz and glamour, whether that's for a night stay or an evening cocktail at its outdoor restaurant/bar with fire pits.
One of the more interesting facts about The Don CeSar is that it was purchased during World War II by the US Army to function as a sub-base hospital, then a convalescent center for airmen returning from the war.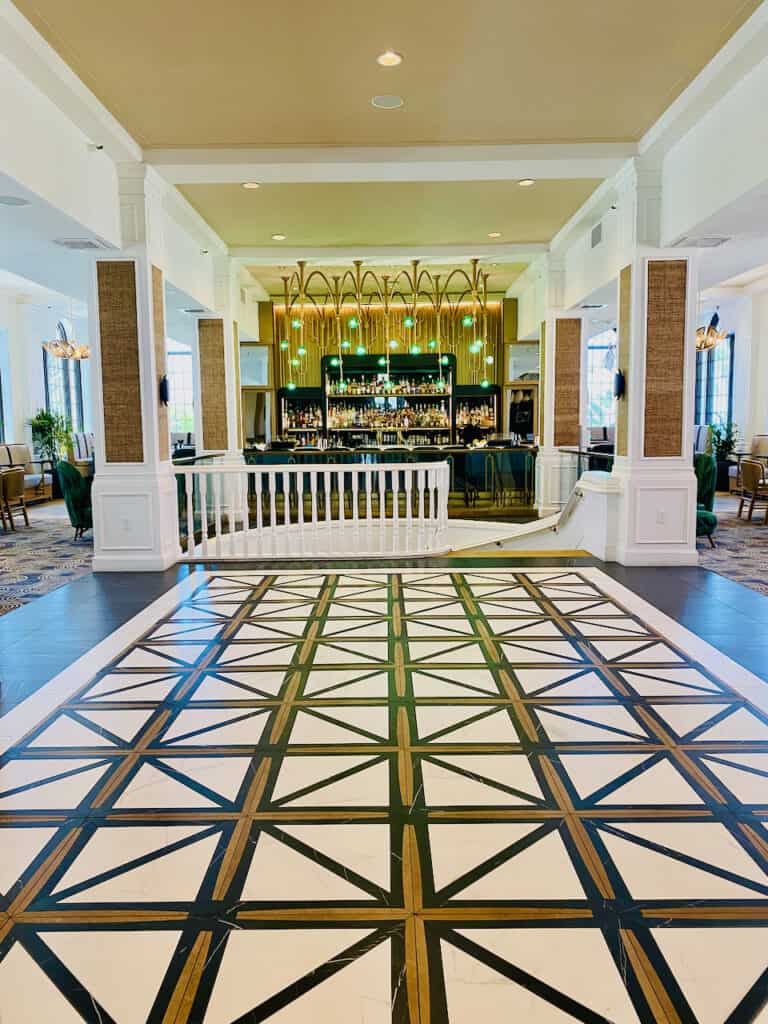 This beauty is truly one-of-a-kind and kid-friendly. While the rooms may be smaller than some of the newer luxury hotels in the area, the old-world charm of this hotel compels visitors over and over.

Sand Pearl Resort
Look no further than the Sand Pearl Resort in Clearwater Beach for a luxury spring break hotel. This beauty is the ultimate resort beach experience with some of the best outdoor retreat options that include: fire pits, lounge areas, pools and spa, and so much more.
They also have a killer Sunday Champagne Brunch that has bottomless drinks and delicious made-to-order food and buffet options.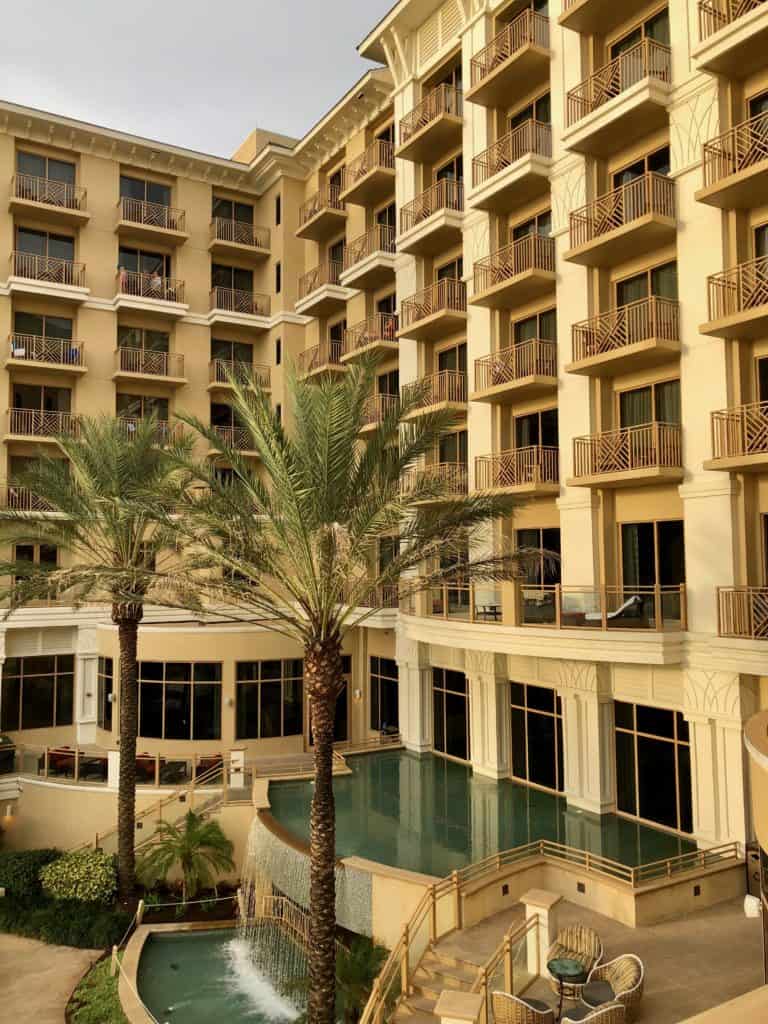 The spa is free to use, but booking a massage, facial, or another package was definitely one of my personal favorites.
The waterfall hot tub is super relaxing and they serve us iced cucumbers to place on your eyes, along with flavored fruit water. It's amazing how fast an hour flies while enjoying the spa experience!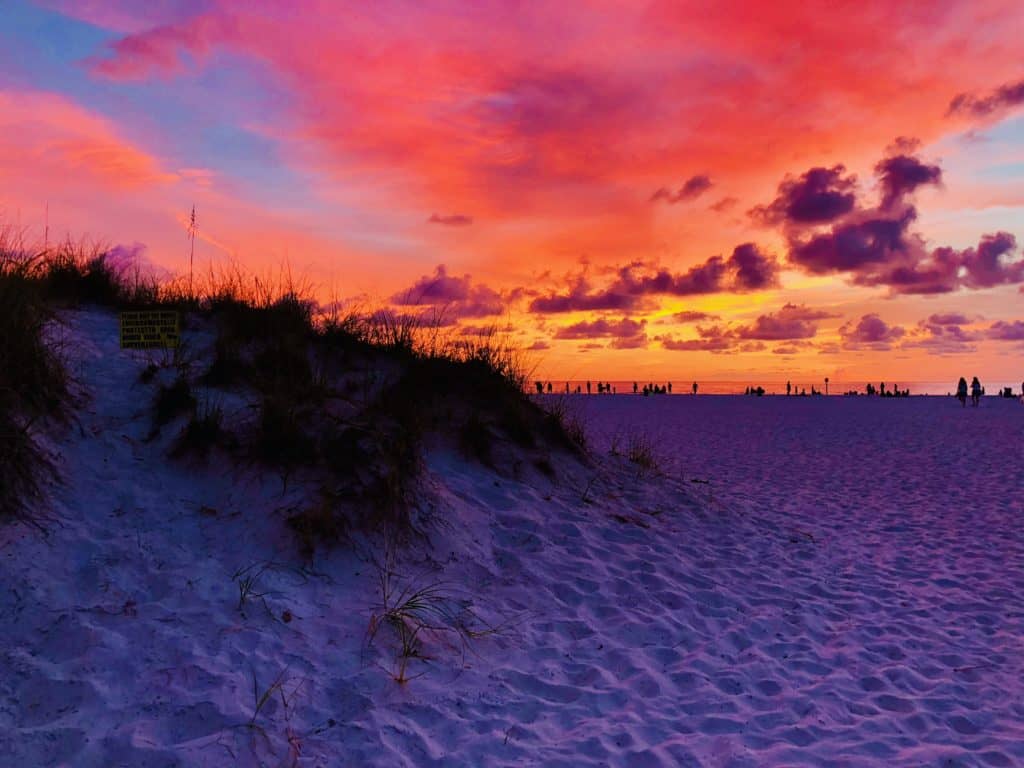 The Sand Pearl Resort is within walking distance of many local attractions such as the Clearwater Aquarium and great restaurants.
However, you won't want to leave this resort, especially near sunset. You will want to see these spectacular Clearwater Beach sunsets with the brilliant colors of red, orange, yellow, and blue skies.
It is also within easy walking distance of Pier 60. Every evening around sunset you'll find live entertainment, vendors, shopping, and more!
Choosing between Clearwater Beach vs St Pete Beach for a vacation can sometimes be a challenge. Both definitely have their benefits. It truly depends on what you are looking for.

Family Resorts: Spring Break St. Pete Hotels
TradeWinds Island Grand Resort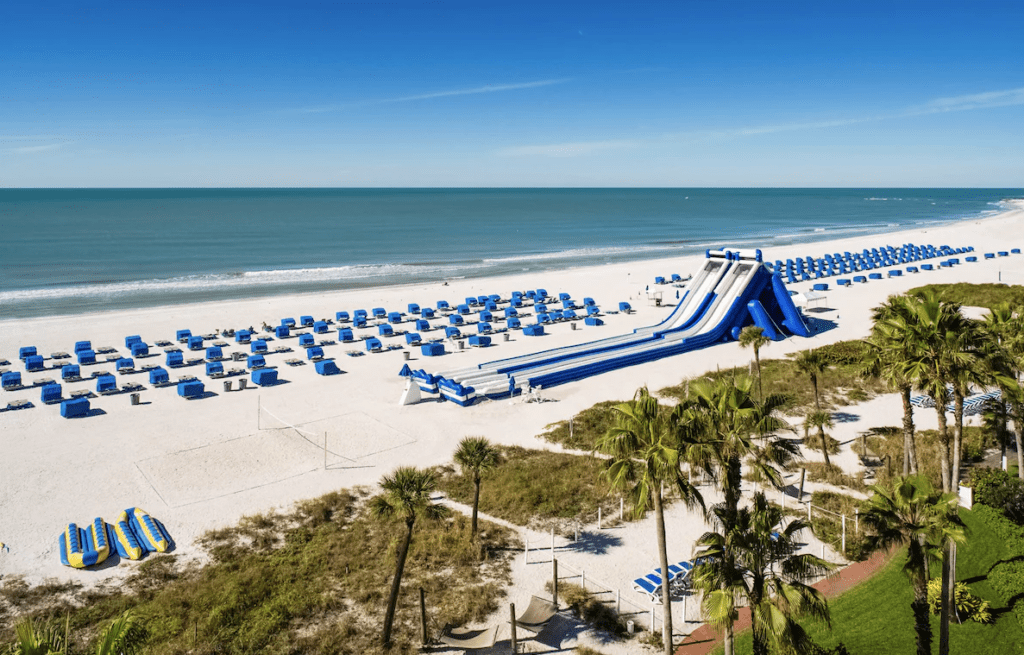 Looking for the Best Beach Hotel that is a causal and family-friendly resort?
The TradeWinds Island Grand Resort in St. Pete Beach caters to the family at a whole new level of entertainment for kids.
Check out the 3-story water slide on the beach, a total of 5 pools, pirate fun activities, hammocks, paddle boards, and more.
Trade Winds is also located in the heart of St. Pete Beach with numerous bars and restaurants within walking distance.
RumFish Grill is located at Trade Winds RumFish property. It's a favorite spot, especially with its large 33,500-gallon dining room aquarium.
If you're staying at the hotel you will also want to check out Salty's Tiki Bar & Beach Lounge. It has picture-perfect views of the Gulf of Mexico with comfy lounge seating.
You can take the trolley or rent bikes to explore the surrounding area of Treasure Island, Pass-a-Grille, and John's Pass in Madeira Beach.
There is a resort fee for this property, and it covers a daily newspaper, amenities, activities, and WiFi.

Looking for Things to Do in Tampa Bay on Spring Break?
St. Pete Beach and the surrounding cities have so much to offer as far as things to do besides the beach. If you are looking for ideas, check out my article on St. Petersburg vs Tampa for vacation.
If you are traveling with family, you may also want to read about the best kids' things to do in Tampa Bay.
🌴 Read Next: 38 Fun & Best Things to Do in St Petersburg FL + Local Tips
Did You Find This Post Helpful? Share It!
If so, I would love to hear about your Florida travel adventures! You can follow me on Instagram, and tag your images to @erinstraveltips and hashtag #erinstraveltips. I look forward to seeing you there!
Florida Related Travel Planning