Our guide to all the best Elk Rapids MI Things to Do…
Elk Rapids is a charming village located in Antrim County, Michigan. It is just a short drive from several of the well-known Northern Michigan cities that including Traverse City and Charlevoix.
Distance from Nearby Cities
Traverse City to Elk Rapids – 17 miles / 26-minute drive
Charlevoix to Elk Rapids – 33 miles / 41-minute drive
Why is it called Elk Rapids?
"Local legend claims that Elk Rapids, as well as the river and lake from which it flows, were so named by (Abram) Wadsworth for his discovery of a pair of elk horns in the rapids near the mouth of the river." Abram Wadsworth is considered one of the earliest settlers in Antrim County.

– According to the Elk Rapids Historical Society
What is Elk Rapids MI known for?
Elk Rapids is known for its beautiful sandy shores, quaint shops, and unique restaurants. The Elk River runs through the middle of town between Elk Lake and Grand Traverse Bay.
Elk Rapids MI has received state distinction as a Pure Michigan Trail Town, which means it has some of the best all-season trails for hiking, biking, and boating.
The Northern Michigan area is known for having some of the best festivals and events in the state. Some of these include:
Harbor Days – An Elk Rapids Annual Event! Check out the action-packed schedule this year.
Cherry Festival – Based in Traverse City, this nationally known festival has been an annual favorite in Northern Michigan.
Great Lakes Equestrian Festival – 12 weeks of outstanding international competition at Flintfields Equestrian Center in Traverse City.
Traverse City Film Festival – Founder Michael Moore has hosted this annual event since 2005 in Traverse City.
Elk Rapids has a brilliant selection of VRBO and short-term stay rentals, along with some charming inns or hotels nearby.
To make your choice easier, our favorite hotel stay is the Spring Lighthouse B & B. It is located in Elk Rapids, with easy walking to the restaurants and shops.
Spring Lighthouse B & B also has some of the best-unobstructed water views and has its own private beach and garden. An exceptional breakfast is included with your stay.
See more photos and hotel reviews here:
If you are staying with a large group for more than a couple of days, you definitely need to look at the wide offerings of a short-term rental. The added space, privacy, and ability to cook or do laundry after a day at the beach make these options very attractive.
When staying with family, we find this is the best option, so we have a shared space to hang out. Here is a list of the highest-rated stays for VRBO rentals in Elk Rapids.
My preferred places to find great hotel deals are Booking.com or Hotels.com, getting discounts of up to 60%.
Our Favorite Elk Rapids MI Things to Do
Hit the Beach at Veterans Memorial Park
Bring your family to an ideal spot for enjoying a Northern Michigan beach! Veterans Park tops our list of best things being fantastic for all ages.
It features basketball, tennis, and pickleball courts, an impressive kids playground (one is built to look like the Mackinac bridge), picnic tables, outdoor grills, and public restrooms. The southern tip has a small forest that is ideal for spotting birds and other wildlife. The opposite end (closest to downtown), connects to a picturesque walking path to the Elk Rapids Library.
Here you can sit in the sand, stroll along the walking paths, or on the beach. The park is also considered dog friendly. We ran into several people with their pets.
There are plenty of things to do in Veterans Memorial Park on Grand Traverse Bay. Located on the edge of downtown, you can eat at one of the Elk Rapids restaurants or grab a quick ice cream after a hot day at the beach. Spring Lighthouse B & B is just around the corner from this lovely park.
Looking for the perfect wedding venue or gathering space for a large company function? You definitely want to check out Jack Blesma Pavilion located on the water just a few steps from the park. It has spectacular views of the Edward C. Grace Memorial Harbor.
---
Stroll the Elk Rapids MI Stores & Galleries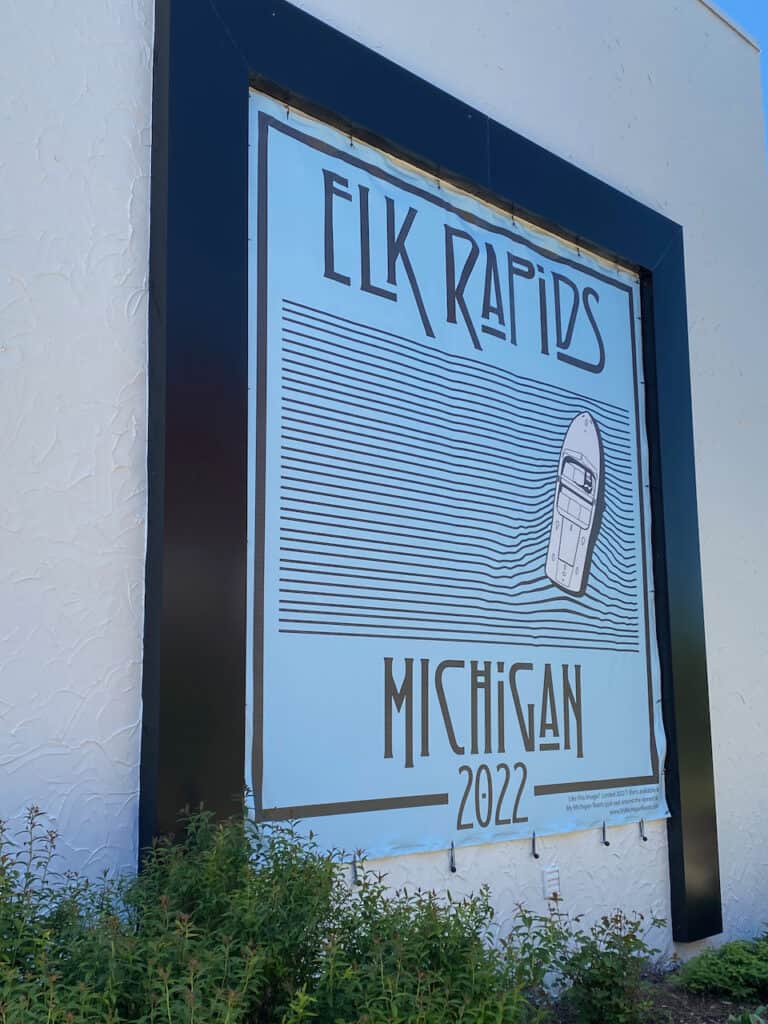 Depending upon your tastes, you may want to do a lot of shopping or perhaps just stop in to browse the local offerings.
For those who love antiques, there are a few shops to see like Blue Owl Antiques and Harbor Antique Mall.
I couldn't leave without buying some local merchandise at Elk Rapids Harbor Wear Inc. A few other best things to do in Elk Rapids for shopping include Tiny Traveling Boutique, Nature Connection, and Nifty Things.
---
Rent a Boat or Slip from Elk Rapids Marina
Enjoy a day on the water! Nothing better than the pristine water views in this lovely part of Northern Michigan. Rent a boat at the marina or bring yours for the perfect Northern Michigan weekend getaway. Elk Rapids Marina makes it easy and affordable for day-trippers to experience what the area does best!
General offerings at the marina include a boaters' lounge, bathrooms, showers, and a common outside area with gas grills, picnic tables, and additional seating. There is also a food truck with daily specials.
Elk Rapids Marina is an ideal location with easy walkability to the shops and boutiques on River Street.
Fun Fact: Elk Rapids Marina has partnered with Windemuller to be the first location in Northern Michigan to receive an all-electric boat and power charging station. With rising costs and fuel prices, this will be a game changer!
---
Eat at Some of the Best Elk Rapids Restaurants
Eat at Pearl's for some of the best Cajun or Creole food in Northern Michigan. It is located just outside downtown.
Pearls New Orleans Kitchen in Elk Rapids has a wide offering of excellent choices. Some of the favorites by locals include the Crawfish Chowder, Louisiana Jambalaya, Southern Fried Chicken, and Shrimp Po'Boy. We even loved their Cherry Pecan Salad (but you'll have to like cherries!). They also offer a frequent diner discount program.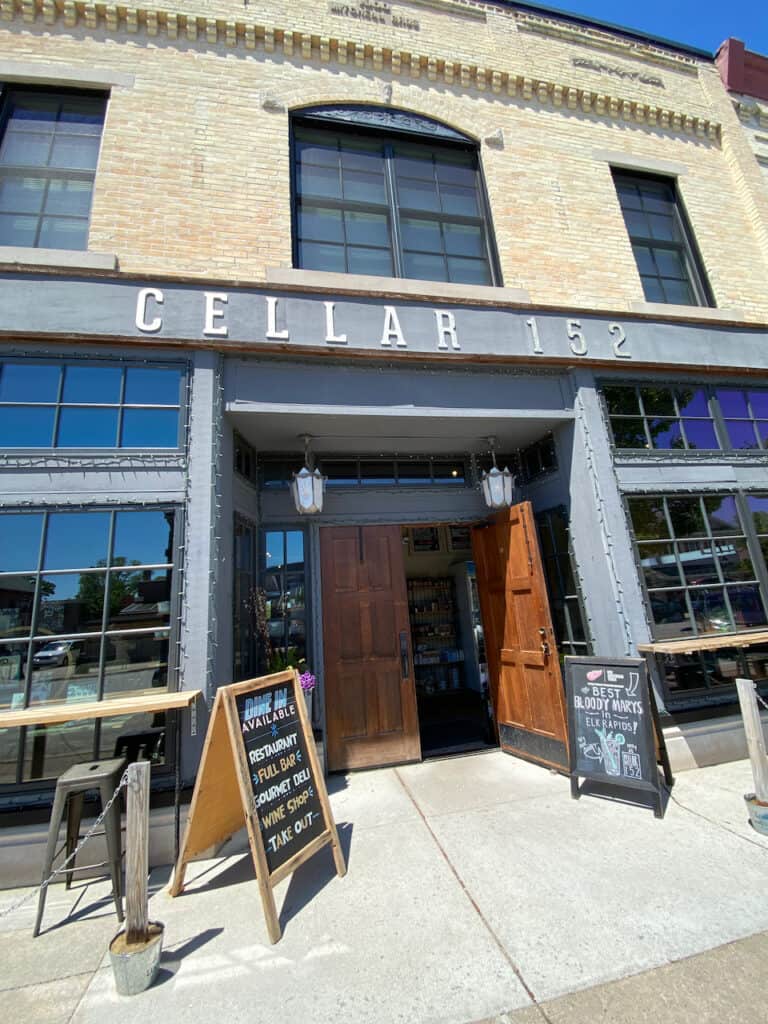 A few other Elk Rapids Restaurants we need to mention are Cellar 152 Gourmet Market & Wine, American House Woodfired Pizza, and Town Club Elk Rapids.
All are conveniently located off River Street in the heart of downtown. It truly depends on what cuisine you are in the mood for since they are all good choices!
---
Get a Beer at Short's Brewing Company
Short's Brewing Company is one of the most fun things to do in Elk Rapids! It began as a brewpub and microbrewery based in Bellaire, Michigan. In 2008, Short's Brewing Co. expanded to Elk Rapids with a large-scale production facility.
Short's has 20 or more drafts of locally made beer, cider, seltzer, or wine options. Their flagship brews are a variety of beers from India Pale Ale, Brown Ale, Fruit Rye Ale, and American Lager. One of their newest favorites is Lil' Huma which is only 95 calories, 4.5% ABV.
Get a seat indoors/outdoors, or bring your own chair if you prefer lawn seating. Check out their website, which provides a current list of what's on tap and daily food specials.
---
Stroll the Walk of Art Sculpture Park
The Elk Rapids Day Park is one of those unique hidden gems you sort of stumble upon unless you know much about the area. And I really do mean hidden, since the entrance needs more navigational signs.
Elk Rapids Day Park is located south of town on the water. It currently has 36 outdoor sculptures you can see on your art walk. The trail dead ends into a beautiful beach area.
Each year, Art Rapids hosts a free summer concert series. This is one of the more popular things to do in Elk Rapids. The park also offers workshops and classes, along with other events throughout the year.
Address: 920 S Bay Shore Dr, Elk Rapids, MI
Website: Art Rapids
---
Guntzviller's Spirit of the Woods Museum & Guntzviller's Berry & Vegetable Farm
Founded in 1928, the Guntzviller family museum is one of the more unique things to do in Northern Michigan. The Spirit of the Woods Museum is an educational family-friendly small museum experience showcasing taxidermy of some of Michigan's wildlife.
You will see displays that include Elk, Mountain Lion, Deer, Bear, and Fish. The Museum also has a collection of Indian artifacts, and antique fishing and hunting gear, and sells a variety of gifts including Minnetonka moccasins.
Depending on the season, you definitely should check out Guntzville's Berry & Vegetable Farm while you are nearby. They have u-pick available for strawberries and raspberries from mid-May to the beginning of September. This is another great place to bring the family!
Read Next: 29 Best Things to Do in Frankenmuth: Michigan Bavarian Town
---
Check out Twisted Fish Gallery
Bob and Charlotte Steit's Twisted Fish Gallery is an alluring indoor and outdoor gallery accessible to all visitors.
We considered it one of the fun things to do in Elk Rapids because of the many special handmade pieces you won't find elsewhere. This award-winning gallery has a wide spectrum of art from glass, jewelry, wood, and sculpture.
---
Elk Rapids Golf Club
Get back into the swing of things at the Elk Rapids Golf Club! While it is not a full 18-holes, this 9-hole historic course created by Donald Ross won't disappoint. It has beautiful scenic views of Elk Lake and is well-maintained.
The Elk Rapids Golf Club is open to the public except on Tuesdays and Wednesdays until 6 pm, and Thursdays until 1 pm. The course offers off-season discounts, as well as discounts for joining as a member.
---
See a Show at the Historic Theater
Head to the beautifully restored theater to take in a show at the Elk Rapids Cinema. This art deco-style building was built in 1940 and is located on the west end of downtown.
Fun fact: The Elk Rapids Cinema has the world's largest black ceiling mural.
It has updated reclining seats and a sound system while still maintaining the charm of old-school concessions. Tickets and food prices are reasonably priced, which adds to the fun experience.
Address: 205 River Street, Elk Rapids, Michigan
Phone: (231)264-8601
---
Walk along the Elk River | Zupin-Anderson Memorial Garden
It is a pleasant walk to town from the Elk Rapids Marina. We opted to check out the crystal clear waters of Elk River to Zupin-Anderson Memorial Garden on Dexter Street. This scenic walk provides plenty of photo opportunities of Elk River!
Read Next: 23 Best Baby Travel Essentials for a Relaxing Road Trip
---
Visit The Island House | Elk Rapids Library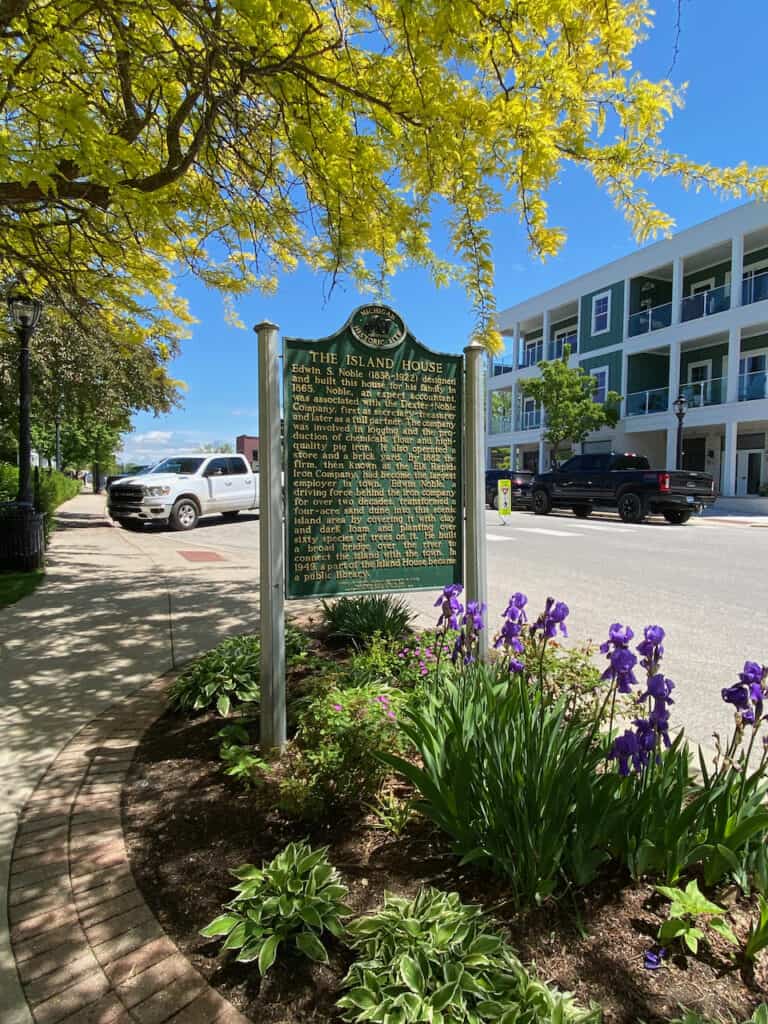 The Elk Rapids Library is located in The Island House, a historic structure and the prior residence of Edwin S. Noble. He designed and built this home for his family in 1865. It has been a public library since 1949.
This lovely structure sits on a 4-acre island at the mouth of the Elk River which flows into the Grand Traverse Bay. Whether you come here to visit the library or walk the beautiful grounds, there is something here for everyone to appreciate. This is also a great place to take photos from the pedestrian library bridge and you can walk down the hill to the Elk Rapids Marina.
---
Ethanology Distillation
This is one of the best places in town to get specialty drinks! Ethanology Distillation is deeply committed to creating spirits and cocktails with local quality ingredients.​ They offer a creative menu with a distinctive ambiance. Enjoy live music on Fridays and Saturdays from 8 pm to 11 pm.
---
Visit the Dam Beach
The Dam Beach is located off of the Elk Rapids Hydroelectric Power Plant. It's a lovely rustic beach park with tables and grills, plus views of the dam.
While it is worth visiting, our favorite park is Veterans Memorial Park since there are more things to do with kids.
---
Townline Ciderworks
Just south of the town of Elk Rapids is Torline Ciderworks. Since it is a short drive from town we added it to our list of favorite things to do in Elk Rapids.
This is a fun place to do a cider tasting and spend some time with family or friends since it has beautiful outdoor farm scenery and orchard views. They also have a selection of wines.
It is a kid-friendly atmosphere and dogs are welcome too! There is a food truck on-site Friday thru Monday, as well as music on Friday nights during the summer.
Address: 11595 US-31 S, Williamsburg, MI 49690
Phone: (231) 883-5330
Website: Townline Ciderworks
---
Get a Sweet Treat
Boating days are the best with a fresh scoop of ice cream or dessert! There are couple of delicious options for both in Elk Rapids.
The Flour Pot Bakery and Coffeeshop
The Flour Pot Bakery and Coffeeshop is located downtown across from the Post Office. You will want to come early not to miss some of their mouth-watering donuts while enjoying a cup of Joe in their coffee shop. They have a whole list of other great options, including cookies, apple fritters, pecan rolls, bear claws, or decadent cakes.
Ice Cream Peddlers
Ice Cream Peddlers is a small window serve ice cream shop also downtown. You definitely should try the strawberry shortcake when it's available. But we even liked their plain vanilla ice cream. Don't forget – this little shop only takes cash!
Address: 141 River St, Elk Rapids, MI 49629
Phone: (231)264-6866
---
Final Thoughts
Well, there you have it – my favorite Elk Rapids MI Things to Do! Michigan is such a beautiful state, and when given the opportunity to stop here for a day trip or longer it is a must-do! Check out my other Michigan adventures.
Did You Find This Post Helpful? Share It!
If so, I would love to hear about your Michigan travel adventures! You can follow me on Instagram, and tag your images to @erinstraveltips and hashtag #erinstraveltips. I look forward to seeing you there!