Due to severe devastation related to Hurricane Ian, Matlacha will be recovering for some time into the foreseeable future. I have family on Pine Island, and many people have lost their homes, businesses, or even loved ones. Please consider donating to the Go Fund Me for Matlacha Hookers.
Looking for the best things to do on Pine Island? You've come to the right place! Get away from the hustle and bustle on this Old Florida country island with locals you will soon want to call family.
Of course, we may be a little biased! With some of our family being from here, this laid-back sanctuary feels more like a second home to us!
Pine Island is a utopia for outdoor enthusiasts, especially fishermen. There are plenty of fun things to do on the water beyond fishing, including leisure boating trips, tiki rides, and jet ski rentals.
You can also go bird watching or take a nature walk, and still enjoy restaurants and live entertainment nearby! Whether you drive your car or go by boat, let's explore further some of the best things to do on Pine Island and nearby destinations.
Can't Read Now? Pin the "The 17 Best Things to Do on Pine Island Florida" for Later!
History of Pine Island Florida
Pine Island has a long history dating back thousands of years ago. The first people to live on the island were the Calusa Indians. The Calusa were a powerful and respected tribe that controlled much of southwest Florida until the 1700s. They built large shell mounds, which can still be seen on Pine Island today.
Pine Island Map & Location Info
Pine Island is located on the gulf coast in southwest Florida, just offshore from the city of Fort Myers. It is a large island approximately 18 miles long. When driving by car from Ft. Myers it is accessible by car via the Matanzas Pass Bridge.
Pine Island essentially comprises 4 distinct communities: Pine Island Center, Bokeelia, Pineland, and St. James City. Although Matlacha is considered part of Pine Island, it technically occupies the small island at Matlacha Pass.
Read Next: The 15 Best Matlacha Restaurants + Fun Things to Do
The Closest Beach to Pine Island, Florida
There are no beaches on Pine Island. However, that doesn't mean the island doesn't run on island time! One of my favorite quotes from our visits to Pine Island is, "What happens at the beach…stays at the beach." This easygoing atmosphere is one of the reasons we love this homey place.
Our preferred beach when on Pine Island is to go to Sanibel by boat. Here you can pull up near the lighthouse and enjoy the beautiful white sand beaches. Sanibel is also accessible by car, but you'll definitely find the ride more desirable by boat!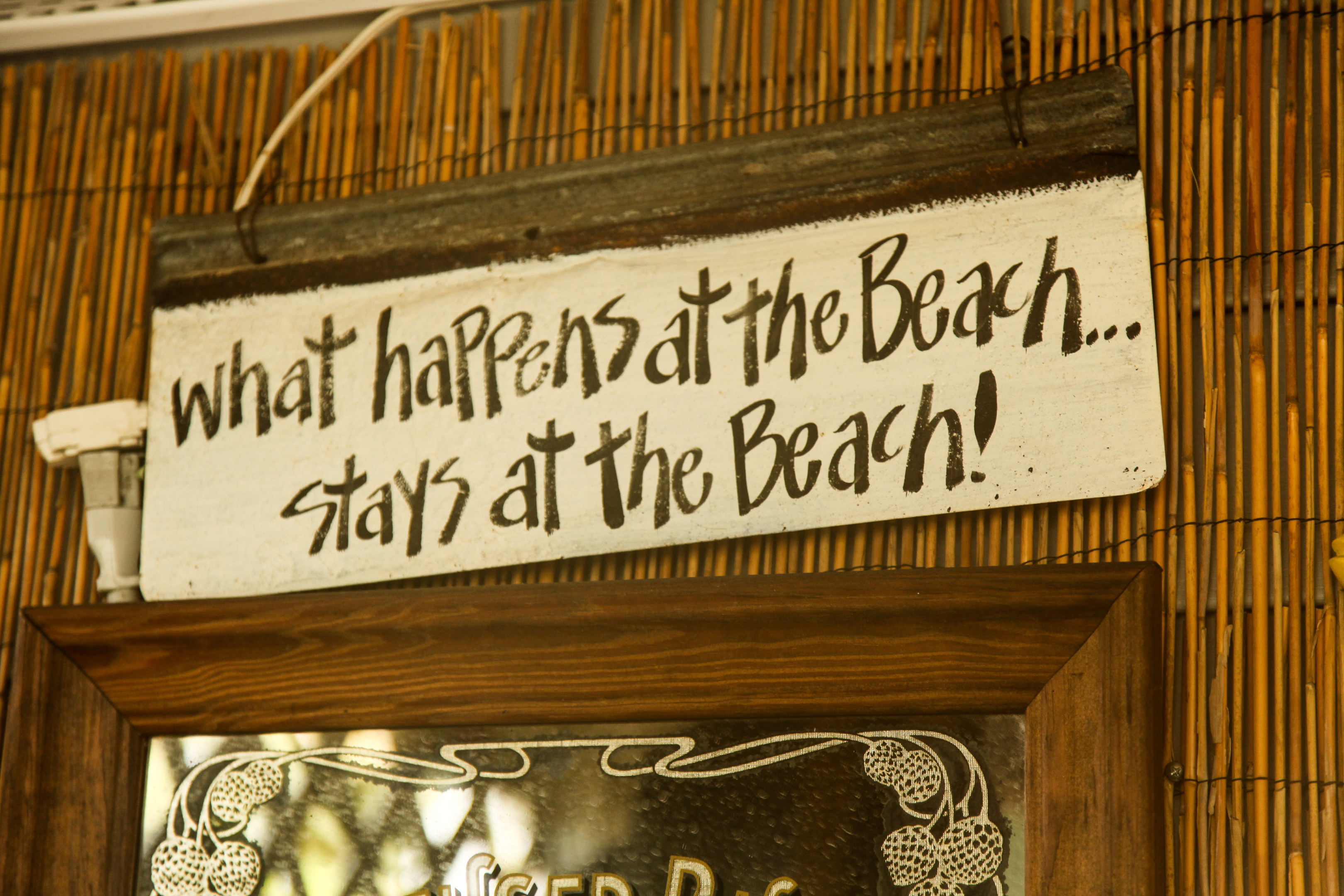 Hotels on Pine Island Florida
Pine Island accommodations vary widely between short-term rentals and small local motels. The premier lodging hotel on the island is Tarpon Lodge.
Since we have family on Pine Island, we haven't needed to stay at a hotel. Airbnb and VRBO tend to be popular options for longer stays or large groups.
If you're looking for the best things to do on Pine Island, here are some of the best options:
Experience Cruisin Tikis St James City
Looking for a fun way to see the beautiful gulf waters and wildlife? Hop aboard a floating tiki bar that seats 6 people plus a captain. Cruisin Tikis will provide a cooler and ice, and you bring your beverages!
Cruisin Tikis is located at Low Key Tiki Restaurant in St James City. Tours range from 90 minutes to 3 hours long with options that include sunset tours, sandbar/bar hopping tours, and more! They also offer fishing charters.
Address: 3135 Stringfellow Rd, St James City, FL 33956
Website: Cruisin Tikis
Visit the Randell Research Center
The Randell Research Center is an archaeology museum that tells the story of the Calusa Indians. This impressive massive shell archaeological site sits on 67 acres at the heart of the Pineland that extends to 100 acres into the coastline. Randell Research Center also has a number of artifacts on display and is a great place to take the family to learn about Florida's history.
Calusa Heritage Trail
Calusa Heritage Trail located at the Randell Research Center is an ideal place to connect with nature. The 1-mile trail goes through a variety of ecosystems, including mangroves and other tropical plants. There is excellent signage as you get to view the site's largest shell mound.
Address: 13810 Waterfront Drive, Pineland, Florida 33945
Hours: Monday – Saturday, 10 am – 4 pm, guided tours are available (January – April)
Website: Randell Research Center
Enjoy Delicious Restaurants on Pine Island
One of the best things to do on Pine Island is to enjoy some fresh seafood or pub grub while listening to live music with canal views. Check out our full list of the best Pine Island restaurants and favorite things to eat at each location!
Read Next: The 10 Best Pine Island Restaurants to Eat at Right Now
Explore Pine Island Parks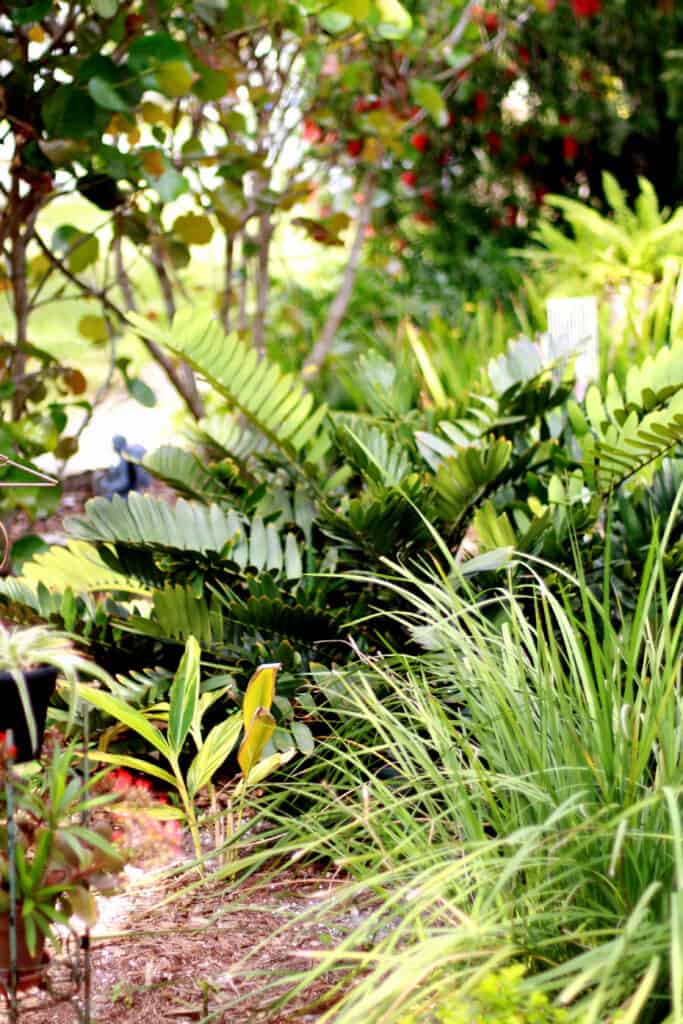 Pine Island Flatwoods Preserve
Pine Island Flatwoods Preserve is a place to explore the island's natural beauty. Take a hike on the walking trails to see some of the island's wildlife. The trails include a 1.5-mile marked trail, as well 6+ miles of unmarked fire lines that may be walked for the adventurous hiker.
The preserve is home to a variety of plants and animals, including turtles, wildflowers, and plenty of bald eagles!
Keep in mind that there are no public restrooms or drinking fountains. The park can get very hot, especially in the summertime. You will want to pack refreshments and sunscreen. Dogs are also not permitted.
Galt Preserve
Galt Preserve is another great place to take the family to enjoy the outdoors. It has a variety of plant communities, including mangroves and mesic flatwoods. The preserve is also home to a variety of birds and animals, as well as the bald eagle.
There are additional amenities at Galt Preserve that include public restrooms, pavilions, fishing docks, a boardwalk, and a kayak launch, plus more! Dogs are permitted at this park.
Address: 3661 Stringfellow Rd, St James City, FL 33956
Website: Galt Preserve
Hours: Dawn to Dusk
Read Next: Enjoy Island Life with the 6 Best VRBO Matlacha FL Rentals
Boat Rentals Pine Island
A trip to Pine Island would not be complete without exploring the nearby islands. There are several companies that offer boat tours of Pine Island Sound. Whether you rent or go by guided tour (recommended), you can't miss these breathtaking water views.
There are multiple rental options in the area, but over the years we have used Monroe Canal Marina and Boat Rentals. They have a variety of boats and fishing charters available and are just a short drive from Matlacha located in St James City.
Cayo Costa State Park
Cayo Costa State Park is a state park located on Cayo Costa Island on the gulf coast. The island is only accessible by boat or ferry since it sits 4 nautical miles west of Pine Island. Tropic Star of Pine Island provides ferry rides to the state park for a fee They also go to Cabbage Key and offer a variety of other cruises.
Cayo Costa State Park offers a variety of activities for visitors to enjoy. Nature lovers can explore the island's diverse ecosystem which includes mangroves, hardwood forests, and sandy beaches. The island is also home to a variety of wildlife including dolphins, manatees, bald eagles, and ospreys.
Visitors can enjoy fishing in the Gulf of Mexico or one of the many freshwater lakes on the island. Camping is also available for those who want to spend the night under the stars.
The Bubble Room Captiva Island
Captiva Island is one of those places that captures your heart! It is a sister island to Sanibel, but smaller with gorgeous 2.5 miles of beaches. It holds the unofficial title of the "shelling capital of the world" because of the gorgeous shells, sand dollars, and other treasures.
While on Captiva, make a stop at the unique and eccentric Bubble Room restaurant. Established in 1979, this lovely place has many blasts from the past! Whether or not you make it for a meal, definitely stop in for a bite of their delicious orange crush cake.
Take a Pine Island Fishing Charter or Go Kayaking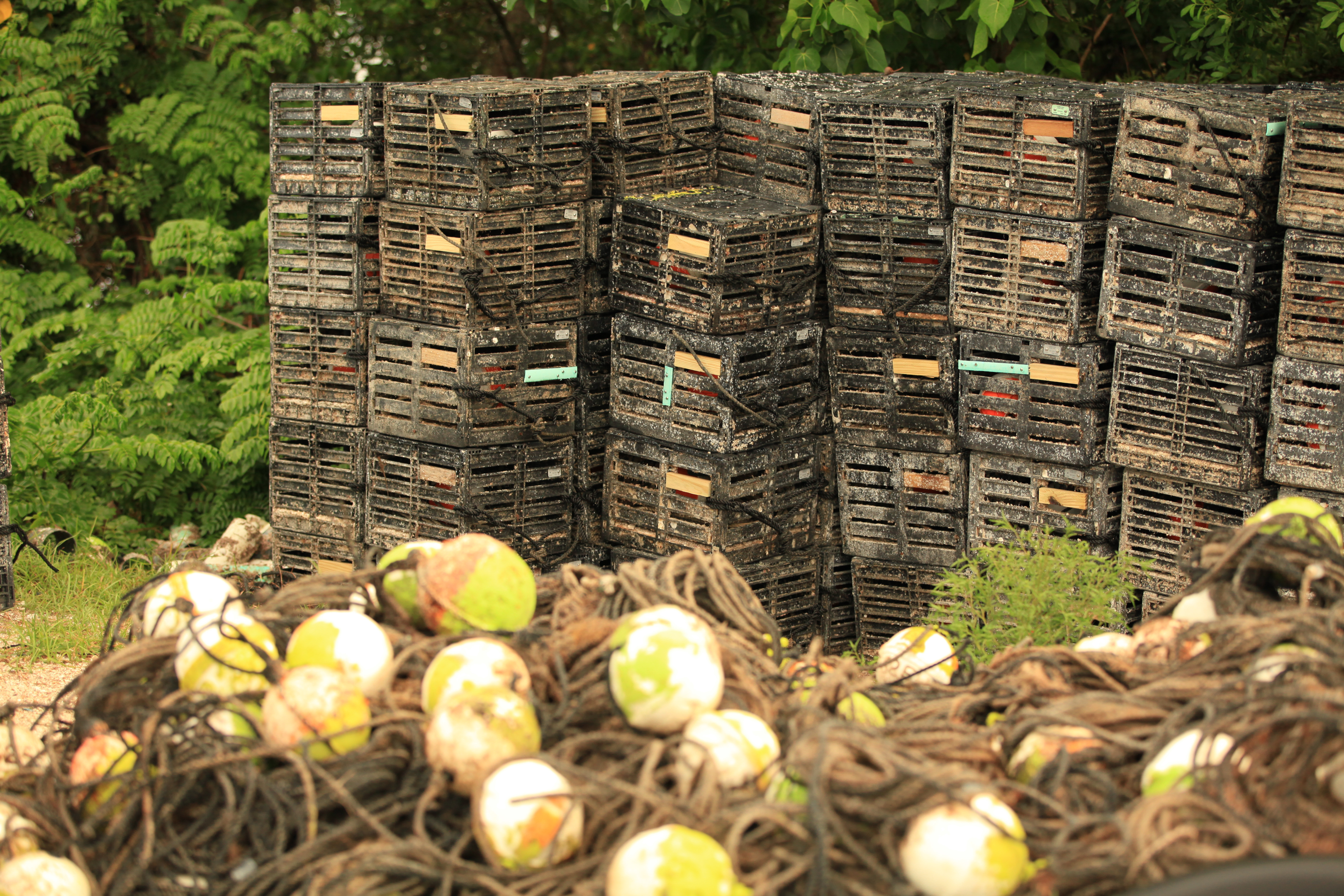 Pine Island is truly a fisherman's paradise! There are many different species of fish that can be caught in the waters around Pine Island Sound including snapper, grouper, and tarpon.
Whether you take a fishing charter or just go on a self-guided kayak expedition, you're sure to see lots of fish and wildlife.
Enjoy Live Music at Pine Island Bars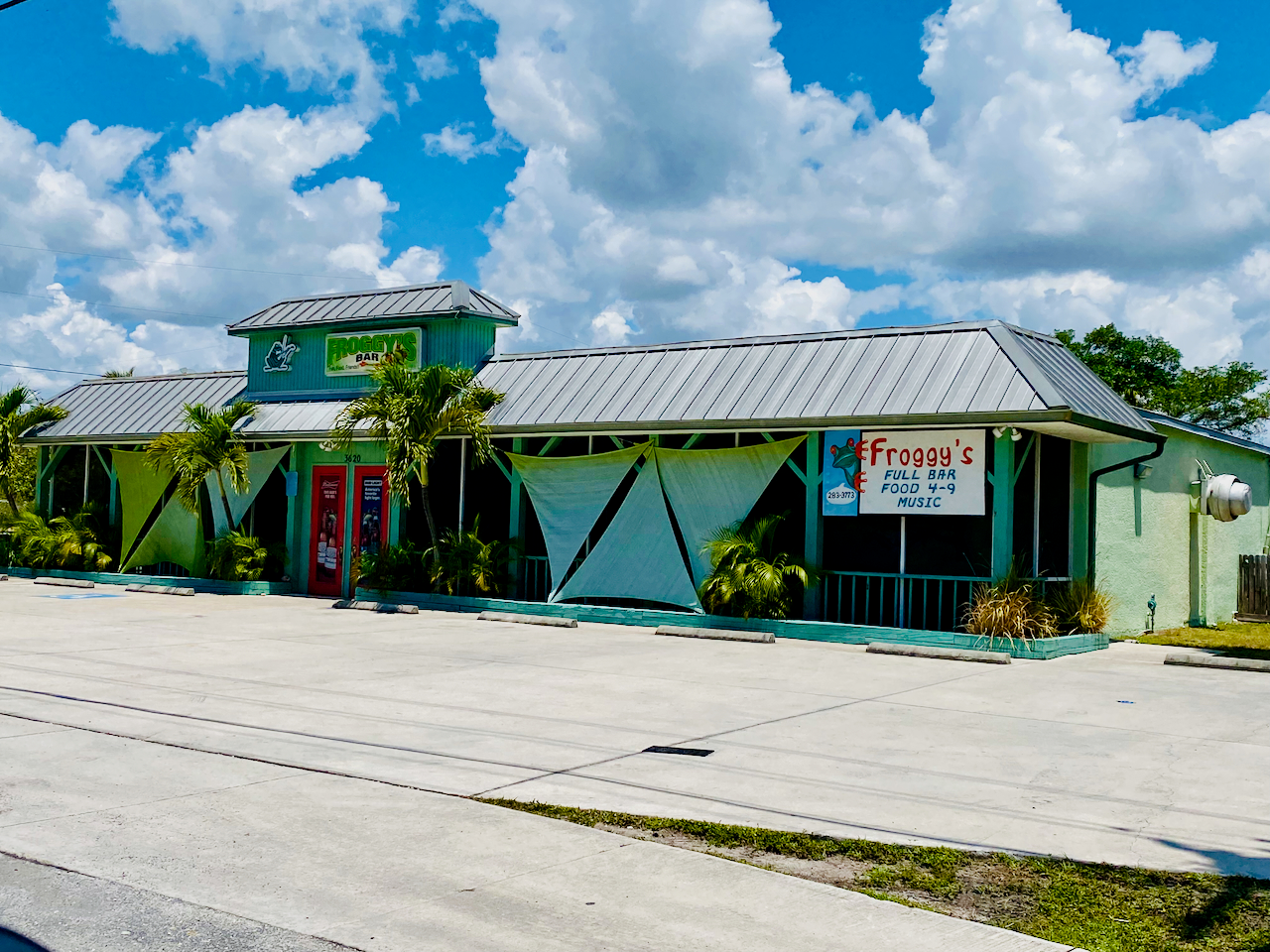 We have been enjoying live music at Pine Island bars for two decades. Whether you are a local or a visitor, there is a strong sense of community. You will quickly make friends that will be like family!
Froggy's in St James City
Froggy's is where we tend to go when we want live music on Pine Island. It offers drinks as well as food, and there are pool tables near the small stage. Froggy's is under new ownership and so far is receiving stellar reviews!
Make sure to check out their calendar of events to see who is playing during your visit.
Ragged Ass Saloon
The Ragged Ass Saloon is another great option for live music on Pine Island. This casual bar features a variety of local and regional bands and is the perfect place to relax and have a good time. Be sure to check their website to see who is playing during your stay.
Golf at Alden Pines Golf & Country Club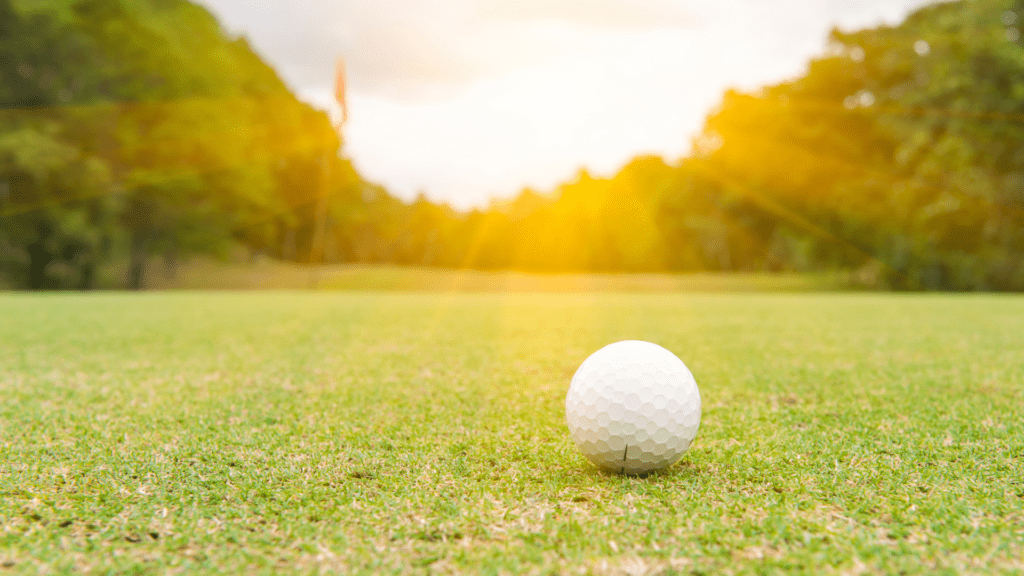 Alden Pines Golf & Country Club is located on Bokeelia and is the only course on the island. It's an 18-hole course at reasonable rates. Alden Pines offers discounts to their members and cheaper prices in the afternoon.
While it is not an advanced course, its convenient location makes it possible to fish and golf all on the same day!
Bokeelia Fishing Pier and Boat Ramp
The Bokeelia Fishing Pier is a popular spot with fishermen and one of the hidden gems on the island. The pier is located on the north end of the island and offers spectacular wide open water views. This is a beautiful place to visit at sunset or to watch the thunderstorms roll in. The cost is currently $15 to utilize the dock per person (beyond the gate).
If you have a boat, this is an ideal place to launch from to see Cayo Costa State Park. They also rent out the pier for individual special events at night.
Capt'n Con's Fish House
Capt'n Con's Fish House is located at the Bokeelia Fishing Pier. This old fish house shack dates back to the 1920s. Grab a cold brew and sit outside to catch more of those amazing views! If you have room for some dessert, they make a killer peanut butter pie.
Explore Pine Island by Bike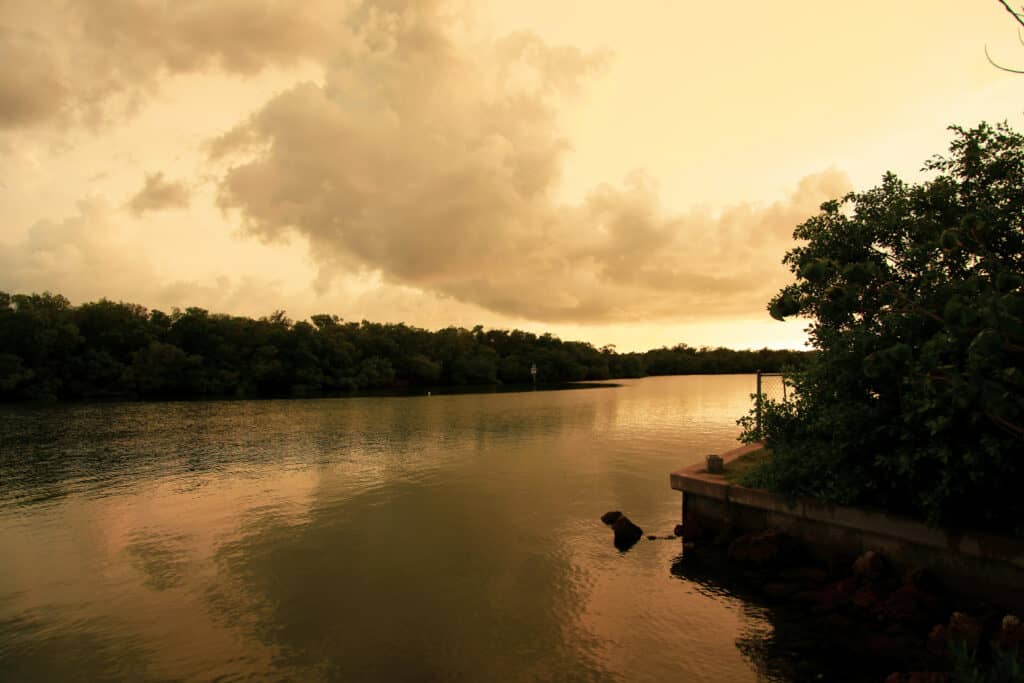 Pine Island is a great place to explore by bike. There are several miles of trails that wind through the island's forests and wetlands.
Islands Bicycleworks
If you like exploring the countryside you can easily rent one from Islands Bicycleworks. It's owned locally and has all the bike gear you would need. Rates are reasonable and it includes a lock, helmet, and a variety of bikes to choose from such as cruisers, single or multi-speed, and electric bikes. The delivery and pickup service is an added bonus, and much simpler than transporting your own bike on vacation.
Address: 10731 Stringfellow Rd, Bokeelia, FL 33922
Phone: (239) 560-0320
Other info: Pricing varies from daily to monthly rental prices, or you can purchase.
Eat Fresh Produce at Hot Tropic Fruit Farm
Hot Tropic Fruit Farm could give you a little more nutrition for your trip to the island. This mom-and-pop farm provides seasonal fresh produce all year round. Some favorite fruits include a wide selection of mangoes, coconuts, and sugarcane juice. Beyond fruit, they also have jams, meat turnovers, and other items available for purchase.
Explore Matlacha Shops & Restaurants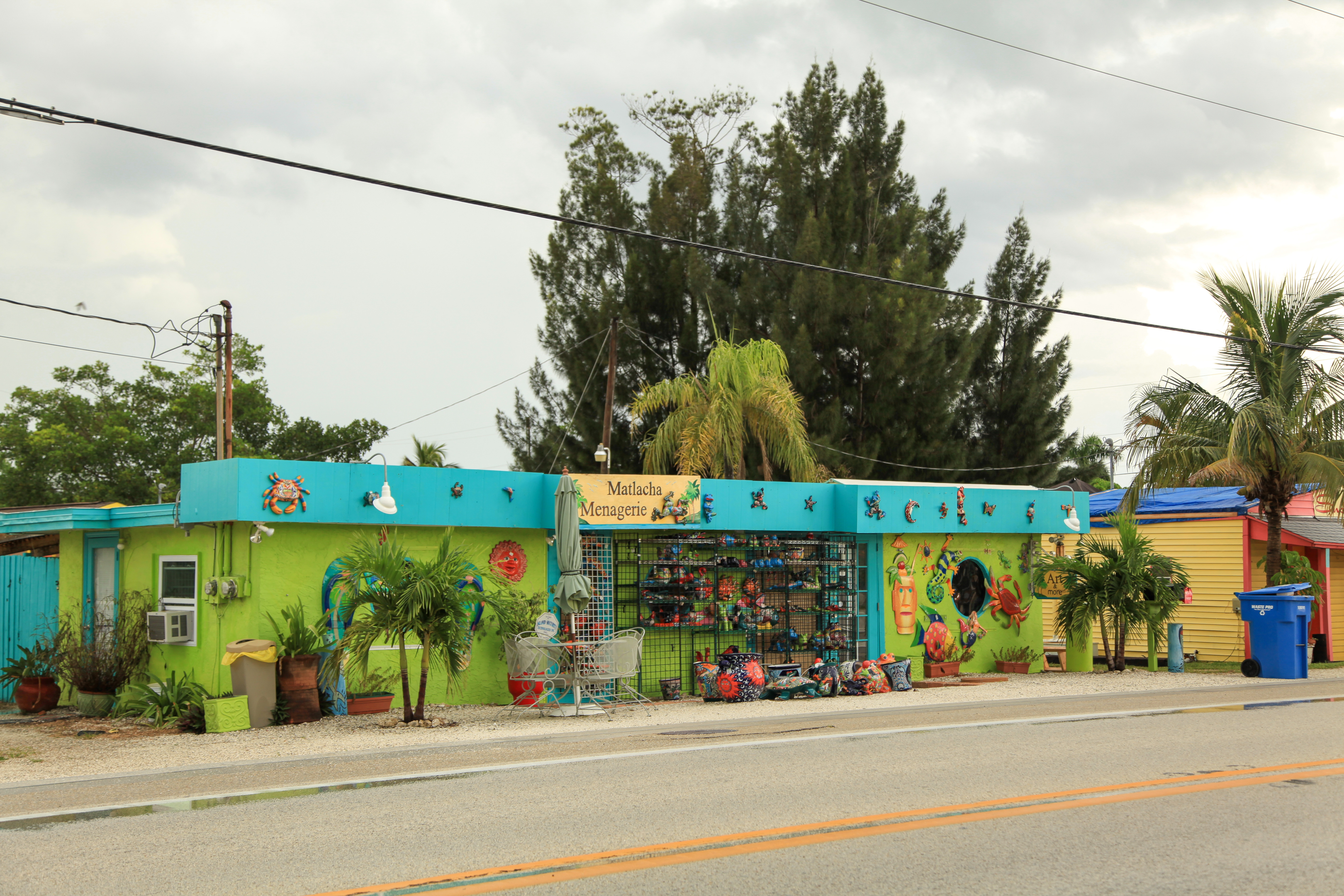 Matlacha shops are fun to visit especially with friendly shop owners and colorfully decorated buildings. I could have spent all day just photographing the outside of the shops! However, if you are looking for some local treasures, you will definitely want to check out some of these stores.
Read Next: The 15 Best Matlacha Restaurants + Fun Things to Do in 2022
Visit the Edison and Ford Winter Estates in Ft Myers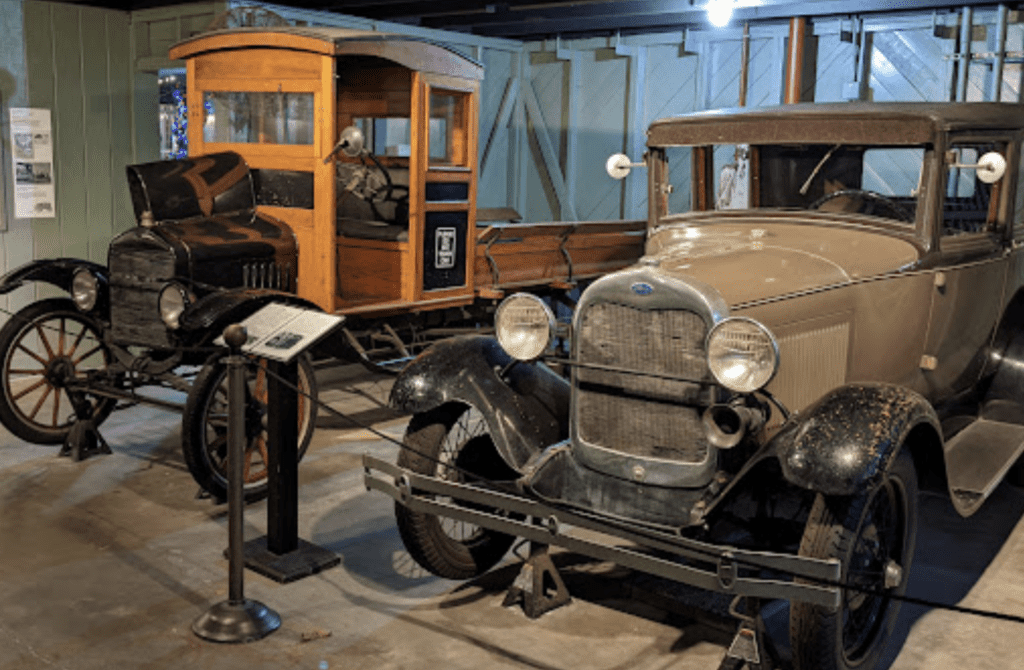 The Edison and Ford Winter Estates are located in Fort Myers, just a short drive from Pine Island. These estates were once the winter homes of Thomas Edison and Henry Ford. The estates are open to the public and feature a museum, gardens, and a laboratory. We really enjoyed walking the 21 acres of waterfront property which is like stepping back into time.
Address: 2350 McGregor Blvd, Fort Myers, FL 33901
Website: Edison and Ford Winter Estates
Other Info: Pricing begins at $25 for adults and kids under 5 are FREE
Learn Local History at the Museum of the Islands
The Museum of the Islands is an interesting little museum run by a dedicated group of volunteers. Rich in history it covers centuries of island information in today's world. The native islander artifacts and shell collection are exhibition favorites. While there is no restaurant, there is a reasonably priced gift shop on the property.

Final Thoughts
Whether you're looking for things to do on Pine Island FL for a day or a week, you'll find plenty of options to keep you busy. This Florida island has something for everyone!
Pine Island is a beautiful place to enjoy the outdoors and experience all that Florida has to offer.
Did You Find This Post Helpful? Share It!
If so, I would love to hear about your Florida travel adventures! You can follow me on Instagram, and tag your images to @erinstraveltips and hashtag #erinstraveltips. I look forward to seeing you there!
Related Interesting Travel Articles