When my husband and I had our first child, we knew we wanted to continue our nomadic lifestyle and travel with our baby. In 2021, we went on a 6+ month journey by car which gave us lots of exposure to the "true" baby travel essentials.
We spent weeks reading articles and watching YouTube videos on what other families packed when traveling with an infant. In the end, we came up with our own packing list of baby travel essentials based on our needs as a family.
If you or your partner are also working remotely while traveling, you'll also want to read our road trip essentials when working article.
Top 23 Baby Travel Essentials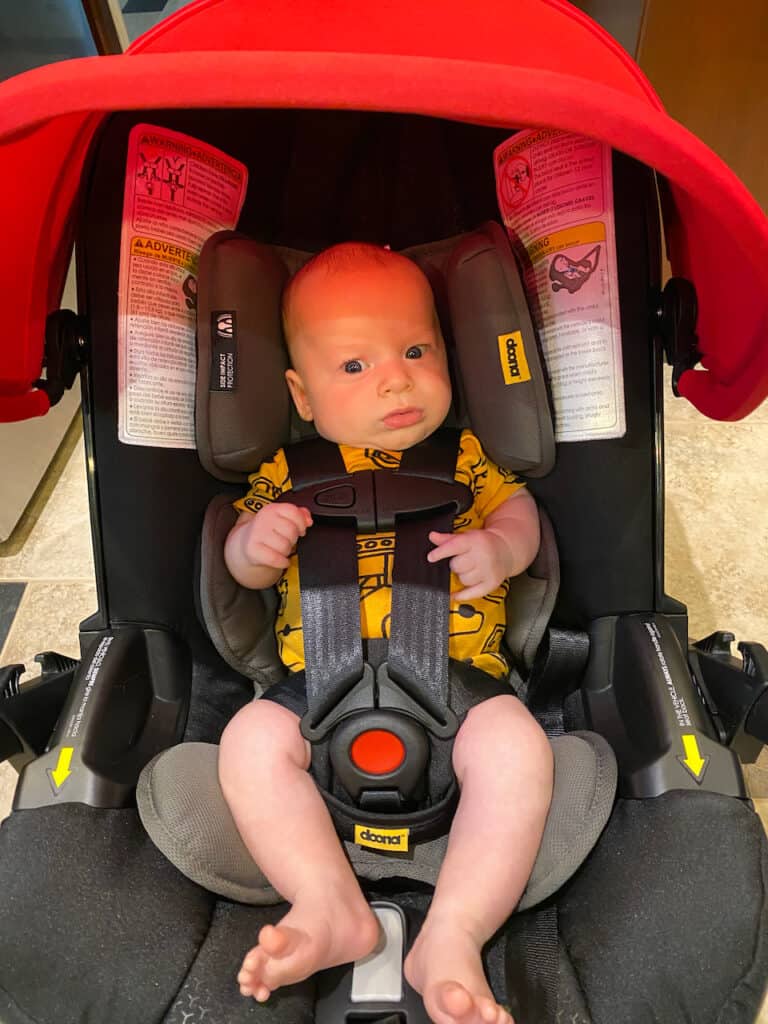 Traveling with a baby can be a daunting task, but it doesn't have to be! With a little bit of preparation, you can make sure that you have everything you need to make your trip go smoothly. Here are 23 must-have baby travel essentials for families.
Best Travel Baby Monitor
We used this monitor specifically for travel but continued to use it daily at home. It is great for travel because it is small and compact, and doesn't require a WiFi signal.
This monitor was essential for check-ins. Having a self-contained system in the DXR-8 is absolutely the simplest and best option for a number of reasons. Also, you don't need to have an app on your phone, because you can have the monitor and you can use your phone for other purposes.
Best Baby Feeding Essentials
Here are my favorites after trialing several different brands when traveling. I did purchase a travel baby bottle warmer. While some people love them, I barely used the warmer and don't consider it essential.
I went through a few different types of baby plates and these were my favorite. The Hippypotamus Baby Plates are dishwasher friendly and have excellent suction.
Munchkin Miracle 360 is our go-to cup for travel and everyday use. It can be turned upside down and is leak resistant. The cups are dishwasher safe too.
Best Portable High Chair
When you're shopping for a portable high chair, there are a few things you'll want to keep in mind. First, consider how easy it is to set up and take down. You don't want something that's going to take a long time to put together every time you use it.
Second, think about how comfortable it is for your child. You want something that's padded and has a harness to keep your little one safe and sound.
Third, make sure it's easy to clean! Spills are inevitable with kids, so you'll want a portable high chair that's simple to wipe down.
Lastly, consider how compact it is when folded up. You'll be carrying it around a lot, so you don't want something that's too bulky or heavy.
Our favorite is the Fisher Price Portable High Chair and it is budget-friendly.
"I am a new Nana, my first grandbaby was born in May. I purchased this for my kitchen and it has been so handy. Easy to attach to chair or remove when not needed, easy to clean, and even has a reclining feature for young babies."

– Allison, Fisher Price Portable High Chair Amazon Reviews
Amazon Subscribe and Save for diapers and wipes is the way to go. I would just update my shipping location, and not have to lug a bunch of stuff with me between locations.
And, you can beat saving 20%! I prefer to use Pamper Swaddlers and WaterWipes. Sam's Club also sells its own brand called Member's Mark Baby Wipes which is a more budget-friendly alternative.
Best Diaper Changing Station Portable
No one ever said that parenting would be easy. In fact, it can be downright messy at times – especially when it comes to changing diapers!
This one is easy to carry and collapses when needed for easy transport. It is sturdy and well-made, and it holds more than most.
"Perfect size for back of my car. Love it's collapsible and the pockets for wipes and baggies. Changing pad is a plus also."

– Ellen, Munchkin Brica Out-N-About Amazon Reviews
Best Travel Crib for Baby
The Pack N Play is surely amazing! They are the perfect travel crib for a baby for safety and it's reasonably priced. It is one of our top baby travel essentials.
The Pack N' Play was always the first thing I opened up, and let my child sit in until I determined the area was safe. It also was my go-to for a travel crib, especially on road trips when I had a bit more room to pack his folding mattress.
For us, only about 50% of the short-term rentals carried one so I purchased my own.
Best Travel Mattress for Crib
I love this Pack N Play foldable mattress so much, I bought two of them! Sounds crazy? Well, if you have family or loved ones that watch your baby on a routine basis, this was a super cheap investment. We would have a comfy bed for traveling that was always the same and didn't have to depend on whatever the hotel or family could provide.
I also had a bad experience with one particular hotel that gave me a crib with dried vomit on it. I couldn't do it – especially with how much we were traveling with our baby.
We were so glad when we found this mattress that fit our pack-n-play and that comes with a travel case. It's easy to carry and super fast to install. Make sure you follow the directions provided on the product.
It MUST fit snug, with no gaps to avoid any risk of SIDS. If you decide to purchase, you will definitely want to look at these fitted sheets that are the perfect size for the pack-n-play (travel crib for baby).
Best Baby Travel Stroller
Hands down, my absolute favorite baby travel item! Current pricing is about $550 on Amazon, which I realize sounds like a lot of money.
But keep in mind, the Doona Stroller Car Seat functions very well as a 3-1 multi-device meaning you won't have to buy a separate stroller and car seat.
It seems pricey at first but compared to 3-1 strollers it is about the same and the convenience is worth it. From car seat to stroller within seconds – 5-point harness, adjustable handlebar – also acts as an anti-rebound bar inside the car, 3 layer side impact protection, highest safety & quality standards, TUV and FAA aircraft approved for travel, 2 years manufacturer's warranty.
Suitable for babies between 4 lbs. to 35 lbs. and max. 32 inches in height.
See this demo video for more details on how the Doona works:
The canopy doesn't fully extend to cover the legs. However, they do make a cover for sun protection.
This is another great accessory from Doona that makes up for the lack of a basket below the stroller. When I first got it I thought, it looks small and I probably won't use it. But once I got it onto the stroller it holds a lot! I have carried lotions, diapers, and other accessories, and there is room for more! I like how you barely notice it.
It easily detaches so you can quickly remove it to convert it into a car seat at a moment's notice. Keep in mind, you must detach when utilizing the stroller as a car seat.
Top Baby Sound Machines
I have two different versions of the Hatch and believe that it is key to consistent sleep for a baby or toddler. I keep the settings exactly the same at home and when traveling on the road. Consistency always provided a sense of normalcy and comfort to my baby.
Hatch Rest (Large)
I prefer to use the standard Hatch with the light. My settings are orange, dryer sound, with minimal light and consistent sound starting at the same time every night. I love that you can program the device and save your favorite settings.
I also own a Hatch Mini, which is more convenient for travel. The Hatch noise sound was essential when traveling in noisy locations or with other people.
Hatch Rest Mini
This is another key item and you want it to adjust easily no matter what size doorway you have at each rental. This is essential for keeping your baby safe from stairways or other hazards.
This Electric Baby Nail Trimmer was a lifesaver, especially for newborns to 2 years old. It avoids the error of accidentally clipping delicate skin, and it has pads that can be swapped out as they get older.
I tried several standard clippers, and I had no success with them. This one was so helpful when their nails are long and they are flailing around.
Best Cheap Stroller for Travel
Looking for a traditional lightweight travel stroller? This one has some very nice details as a less expensive option.
The sun canopy is amazing, one of the biggest ones I've seen, it goes even further out providing full coverage to avoid sunburns.
The storage is great. The cup holder and cell phone holder basket are all very useful and are removable. Even the zipper in the back can hold my wallet. The recliner is solid and goes back further than most strollers.
Overall, it's very easy to open and close, and lightweight for travel. It is the best cheap stroller for travel I have found on the market.
"This was a lifesaver! We traveled all of Portugal. We walked our whole vacation every we went with roads and side walks filled cobble stones of all sizes. Amazing stroll, we where so happy we purchased this stroller."

– Eric, Summer 3Dlite+ Convenience Stroller Amazon Reviews
Best Portable Baby Jumper
The baby jumper is specific to your baby's age (recommended to be used at 6 months and older). When we were traveling I was so glad I had this with us, even though it does take up considerable space. However, we kept the original box and was pretty simple to take apart and set up again.
It kept our baby busy, happy, and entertained wherever we traveled for 6-months. The Baby Einstein Jumper was always one of the first things to unpack!
Pro Tip: We also purchased a baby door jumper. We found that most of our rentals did not have door frames that would hold a baby jumper. It ended up not being ideal, and not one of our baby travel essentials.
Best Car Headrest Tablet Holder
Let's face it, long road trips need entertainment. This is extremely easy to mount and attaches to the car headrest for either back or forward-facing seats.
Whether you like to play music, films, or TV shows, this was absolutely AMAZING, especially at certain ages.
I have used it now for a couple of years and can say that it has been hugely beneficial for easy car trips and is versatile to use with your phone or tablet devices. Make sure to download your TV shows in advance.
"This product has transformed our road trips in a major way. Making it so much more pleasant for the baby and in turn the rest of the passengers and driver. Great product , very sturdy and lots of different set up options."

– Jmanuel321, Car Headrest Tablet Holder Amazon Reviews
Best Diaper Bag for Travel
There are multiple options when it comes to diaper bags. I wanted one that could be a good carry-on, and also be versatile in that it could be used for years after diapers and bottles are over.
My husband loves Eddie Bauer diaper backpack and doesn't mind carrying it (because it doesn't look like a diaper bag).
I like it so much, I often use it as a purse as well as a diaper bag. There are not too many pockets, just enough for the main baby travel essentials. It also comes with a changing pad and an insulated pocket for cooler items.
Pro Tip: Keep several plastic shopping bags for diaper emergencies in your diaper bag. You can quickly throw away your diaper and it saves on extra mess.
When you are traveling, I highly recommend always being prepared for baby emergencies. This Safety 1st Baby Safety Kit is helpful for emergencies, and also useful for some general grooming.
The Baby Safety Kit is small and compact, but I usually only bring the absolute essentials which depend on your baby or child's age. It includes 25 items including a nasal aspirator, a medicine dispenser alcohol wipes, a gentle care brush, a comb, a toddler toothbrush, etc. Plus, it has a deluxe zippered adjustable case perfect for carrying these baby travel essentials.
I also travel with Children's Tylenol as well to avoid having to find a store in a new area or after hours.
Baby Travel Essentials (Everyday Items)
Finally, don't forget to pack your baby's clothing, shoes, and related accessories. Make sure to pack with appropriate sizing in mind for six months as you travel.
General baby travel essentials for everyday use include products such as soap, toothbrushes, toothpaste, etc.
Pro Tip: What to Expect Forum is a great place to connect with other parents. I have shared baby travel advice as well as gained feedback.
Final Thoughts on Baby Travel Essentials
With these 23 must-have baby travel essentials, you'll be well on your way to having a smooth and stress-free trip with your little one! Just remember to pack everything ahead of time and leave room in your diaper bag for snacks and drinks. And most importantly, don't forget to bring an open mind! Things will happen, but as long as everyone has a good time, that's all that really matters.
For more information on traveling with a baby, check out our blog post on working while traveling with a baby.
Did You Find This Post Helpful? Share It!
If so, I would love to hear about your Florida travel planning! You can follow me on Instagram, and tag your images to @erinstraveltips and hashtag #erinstraveltips. I look forward to seeing you there!