Quaint 12 South Nashville, TN is one of the city's smallest neighborhoods but also one of the busiest. It's chock full of eclectic eateries, bars, and boutiques, all bursting at the seams with creative spirit.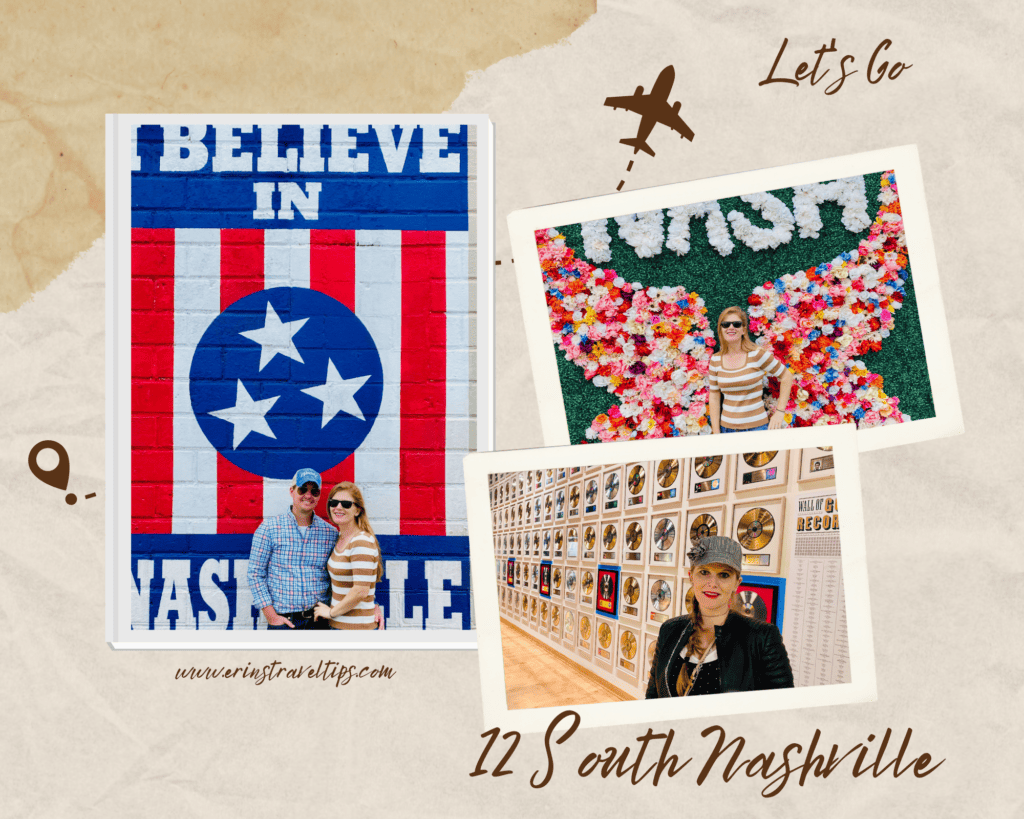 The neighborhood of 12 South Nashville, or simply 12 South, stretches for a half-mile along 12th Avenue South in East Nashville. Bordered by single family homes, this small area is one of the most walkable neighborhoods in Music City! As recently as 2023, the district added bike lanes and additional pedestrian crossings ideal for visitors and young families.
12 South Nashville Map
The 12 South District in recent years has become a popular spot for foodies, fashionistas, and adventurers of all kinds. I stumbled across it back in 2019, and it quickly became one of my favorite places to visit in Nashville. Apparently, many people agree, since it has had tremendous growth in a few years. So, here are my top things to do in 12 South!

🏆 Best 12 South Nashville Restaurants & Coffee Shops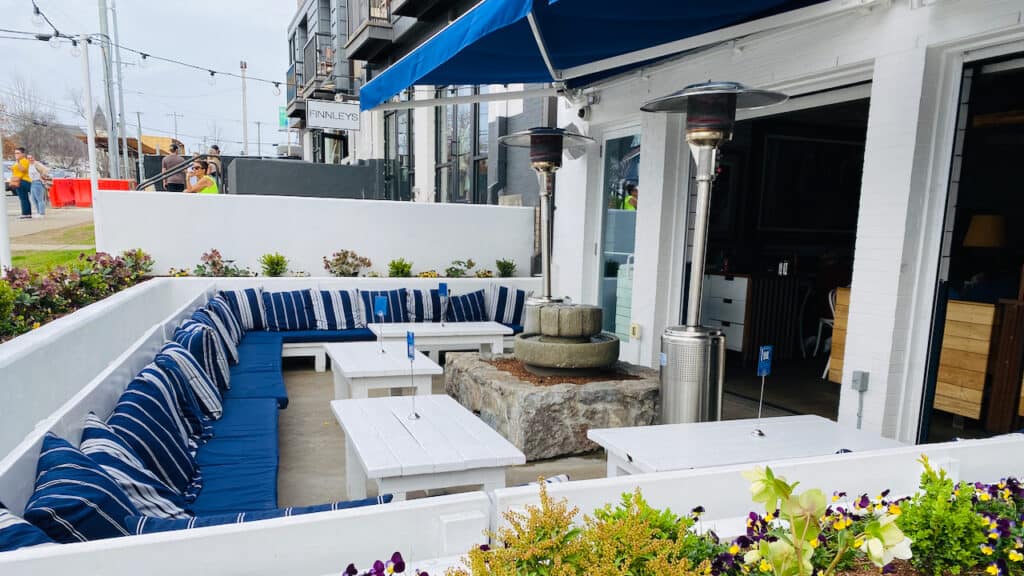 Bartaco
Bartaco is a casual Mexican eatery with a lively atmosphere and creative tacos, in addition to more classic ones.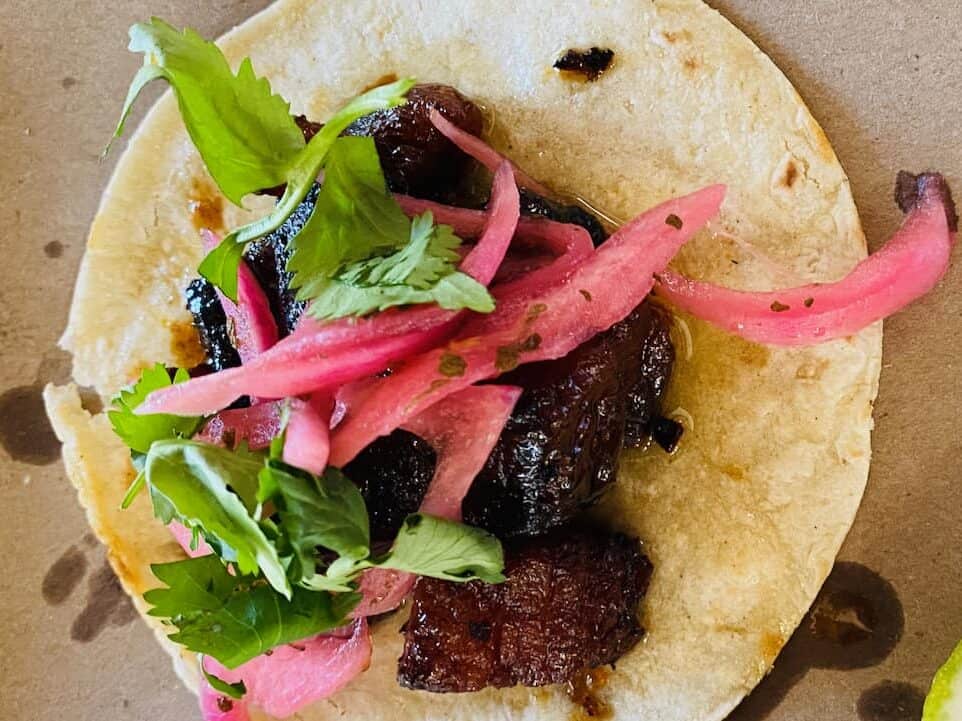 This is one of the best restaurants in 12 South Nashville, and it has other locations such as Tampa. My go-to favorites are the duck tacos, but I also highly recommend the pork belly tacos depending on what mood you're in! Don't skip the guacamole and chips with your tacos.
Though tacos are their specialty, there is plenty of non-taco Mexican fare. Regardless of what you get, have your meal with a Bartaco margarita, then end with their classic churros.
Frothy Monkey 12 South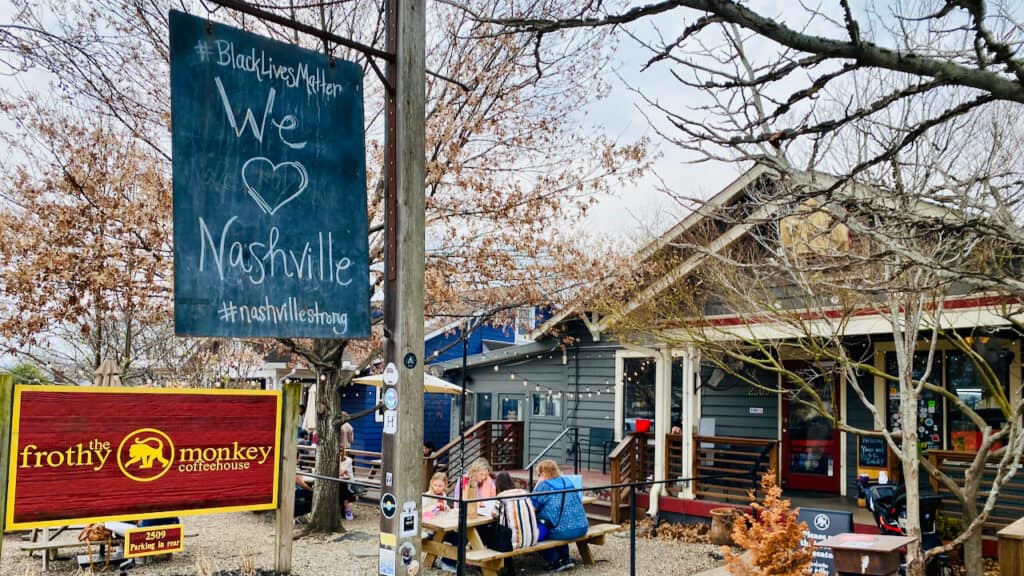 Ditch Starbucks and Dunkin' while you're in town — head to the best coffee shop in 12 South Nashville!
Frothy Monkey is a Tennessee coffeehouse chain that started with its original location in 12 South. This branch is hip and modern, with plenty of indoor and outdoor seating (including a beer garden!).
Stop by anytime from breakfast to dinner and try one of their signature lattes, such as the Havana Latte or Turtle Latte. They also have rotating seasonal specials. In addition to coffee and other hot drinks, they serve wine, craft beer, and cocktails.
Butter Milk Ranch
Another excellent place for breakfast or brunch in 12 South Nashville is Butter Milk Ranch. It's run by the same people who run the popular local restaurant Urban Grub, though I'm more of a fan of Butter Milk Ranch.
You can stop by for a quick coffee and handheld at the counter or sit in their dining room and savor a leisurely brunch. I recommend their 12th Brown Butter Beignets with a cup of their Sky Bear Cold Brew.
As the name implies, Butter Milk Ranch has a ranch-style, farmhouse interior but with a modern, upscale twist and an open-kitchen concept.
🥐 Pro Tip: If you're interested in picking up baked goods, get there early, because everything's baked fresh and can sell out fast.
Edley's Bar-B-Que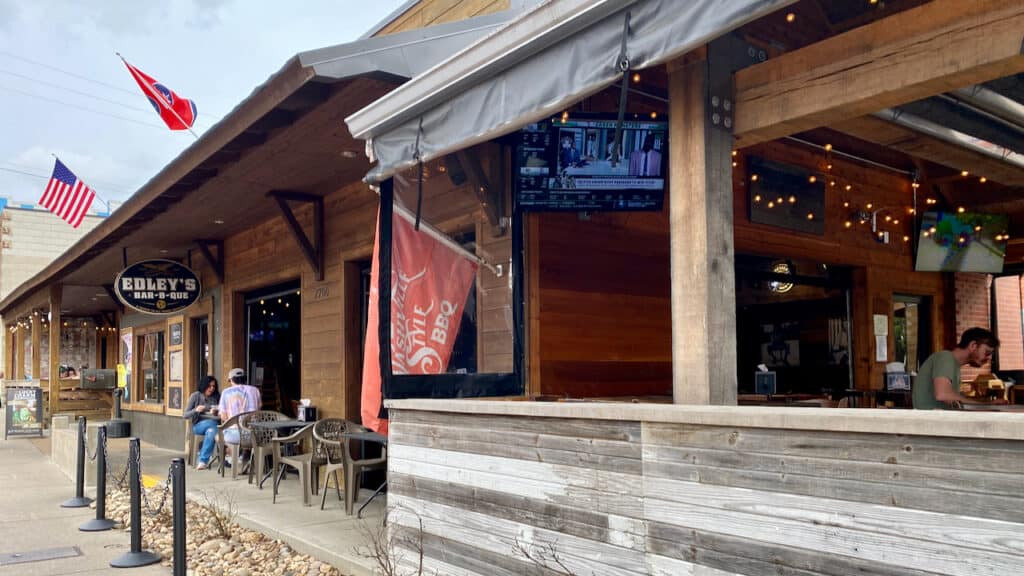 In the heart of 12 South, you'll find Edley's Bar-B-Que. They are known for their slow-smoked dishes like brisket and pork tacos, wings, and fried pickles. Make sure to save room for their killer banana pudding!
Martin's Bar-B-Que Joint
Though it's now expanded to several Southern states, Martin's Bar-B-Que Joint was established in Nashville, TN. This roadhouse-style restaurant is known for its whole-hog BBQ, pit-fired fresh each day.
I highly recommend their Memphis Dry Rub Spareribs. I also like their Redneck Taco. Made with a cornbread hoecake instead of a tortilla, it sounds like just a novelty but it's actually really good! Try it with a side of its matching signature item: BBQ Nachos.
It's always lively at Martin's, especially at night. There's lots of seating both indoors and outdoors, including a beer garden, as well as private dining rooms.
Five Daughters Bakery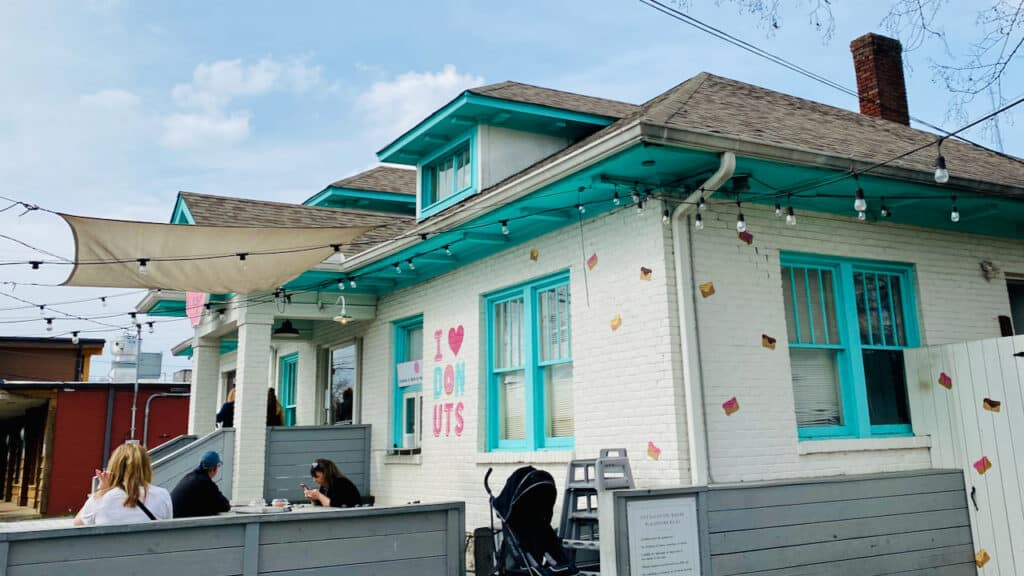 Back to bakeries, Five Daughters Bakery goes all-in on sweet treats. The signature items here are the 100-layer donuts, of which there are many to choose from. The main attractions are typically in their ever-changing menu of monthly flavors.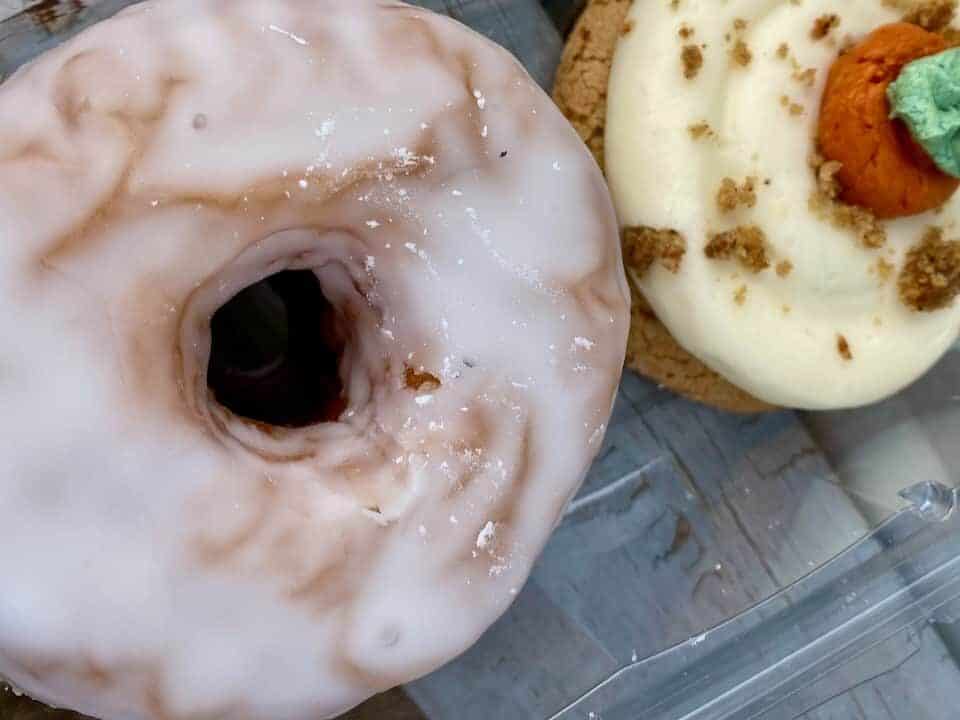 Year round, they serve staples like chocolate and maple glaze donuts, as well as more unique options like the signature King Kong donut (which has candied bacon on it). In addition to their classic recipe, Five Daughters Bakery also offers paleo-friendly donuts. My personal favorite is the mini donuts. We were able to sample a few flavors and the tiny box was the perfect size. While Five Daughers Bakery is on the pricier side, you're supporting a local business that serves higher quality donuts.
🍩 Pro Tip: If you have kids, Five Daughters Bakery has a cute play area for the little ones to jump, climb, and stick their heads in a donut hole!
Ladybird Taco
Tacos are a quintessential lunch food, but what about breakfast tacos? Ladybird Taco, a Tex-Mex eatery in Nashville, is doing its part, and I'll do mine by recommending their signature breakfast taco called Migas. It is stuffed full of eggs, cheese, avocado, green onion, and housemade chips.
That's not to say they don't also serve lunch tacos. Try their salsa verde braised chicken taco. Ladybird Taco also serves great specialty lattes, including the signature Carmadillo, a salted caramel latte made with house-made caramel.
Locust
Locust is an enigmatic, reservation-only restaurant that is only open on Friday, Saturday, and Sunday. This eatery has a frequently-rotating menu that isn't public; you can't look it up online. You find out when you're actually there, about to be served.
Though Locust is hard to pin down, the restaurant primarily serves Japanese cuisine with an international twist. When The New York Times visited, one of the things they were served was deconstructed sushi with steak. Two fixtures on the menu, however, are dumplings and kakigori (Japanese-style shaved ice).
Locust is an intimate eatery, with just eight tables and a maximum of four people per party. The staff is similarly small — the chefs reportedly are also the servers.
Wanna Spoon Cereal Bar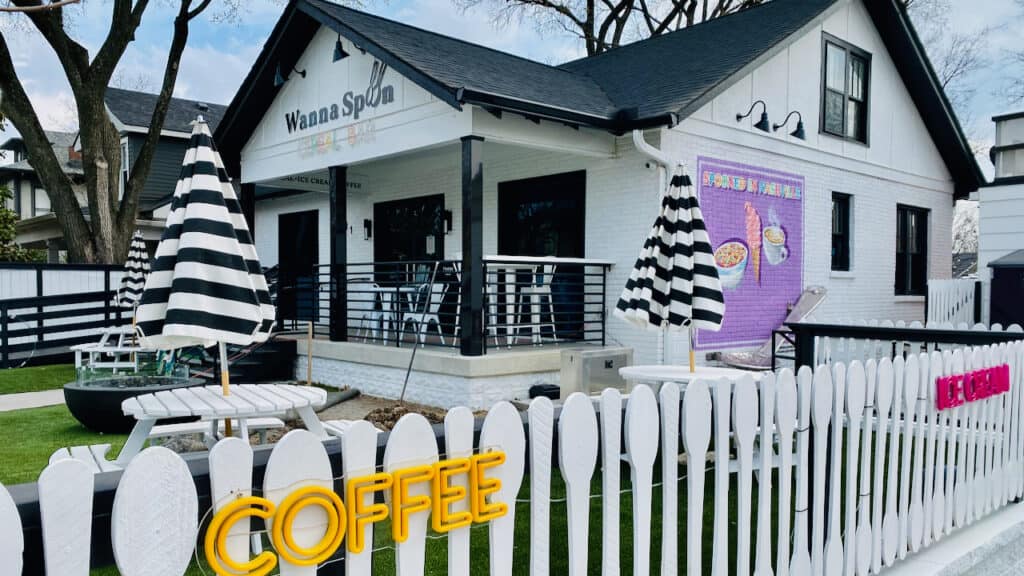 For a somewhat healthy dose of nostalgia, visit Wanna Spoon Cereal Bar. It's just as the name suggests, a cereal-focused eatery. They've got all the big names, which you can mix and match with toppings from fresh fruit to cookie dough bites to M&Ms.
There's more than just plain cereal, though. Mix your cereal into ice cream or a milkshake, have oatmeal or granola bowls, or head over to their full coffee bar to complete the breakfast experience.
This is a great spot for kids and adults alike. It's a vibrant, bright restaurant with a backyard dining area, picnic-style tables, firepits for s'mores, and yard games to entertain the kids. Plus, it's right across the street from Five Daughters Bakery, so you can have your pick of sweet treats!
Emery Wood Fired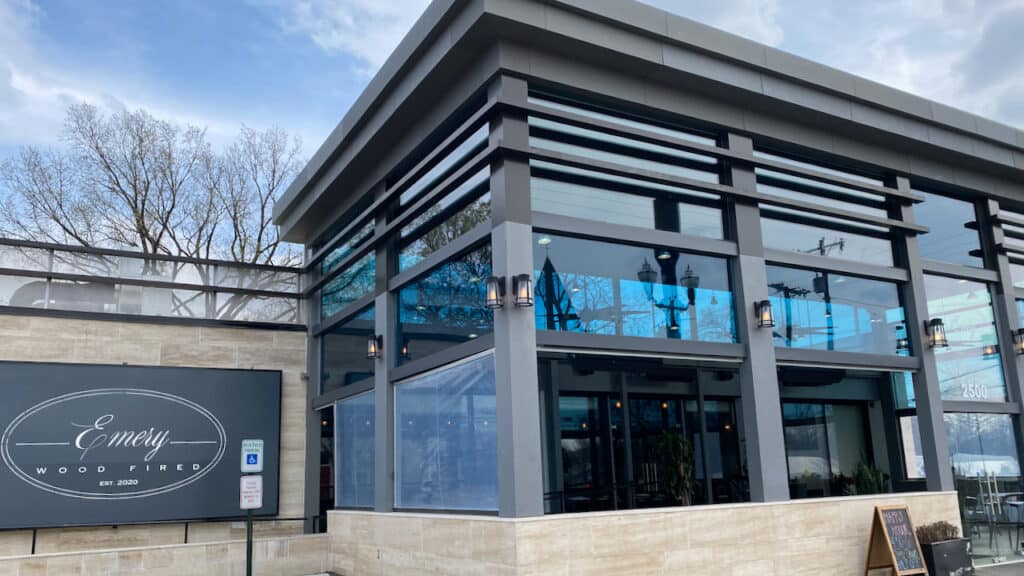 Emery Wood Fired is a slightly more upscale culinary gem, offering a classic American dishes, complimented by inventive craft cocktails. The ambiance strikes a balance between chic and cozy, making it an ideal spot for both intimate dinners and lively girls' nights out. On my visit, the server's cocktail recommendation was spot-on. As for the food, it's a must to try the brussels sprouts and their delectable pizzas!
MAFIAoZA's
If you want pizza, beer, or both, MAFIAoZA's is the place to be. This easygoing pizzeria also has a busy bar that offers an extensive list of wine and beer.
MAFIAoZA's is a great place to go for dinner and drinks with a big group. Order some beers and split a few pies, including their signature Godfather pizza made with pepperoni and pecorino.
More Restaurants in 12 South Nashville
If you have time for more restaurants in 12 South Nashville, here are some other options you may also want to explore.
The Tennessee Cobbler Company: With a hefty-sized portion of peach cobbler, you can't go wrong with this quaint food truck and outdoor seating area!
Urban Grub: As I mentioned earlier, it's kin to Buttermilk Ranch. It has fresh seafood and a raw bar. Some of the favorites include shrimp and grits and pork chops.
Christie Cookie Company: This great little bakery will literally drag you in because it smells that good. When you're in the mood for cookies you will try their brownies or chocolate chip cookies.
Burger Up: Makes their own ketchup, honey mustard, and their own sauces to make a great burger and delicious sweet potato fries.
Josephine: This stylish diner-style restaurant in 12 South Nashville is known for its hand-crafted cocktails, hanger steak, duck fat hashbrowns, and brussel sprouts.
Jeni's Splendid Ice Creams While it is a well-known chain, it's also one of the best spots for ice cream.

Best 12 South Nashville Shopping & Boutiques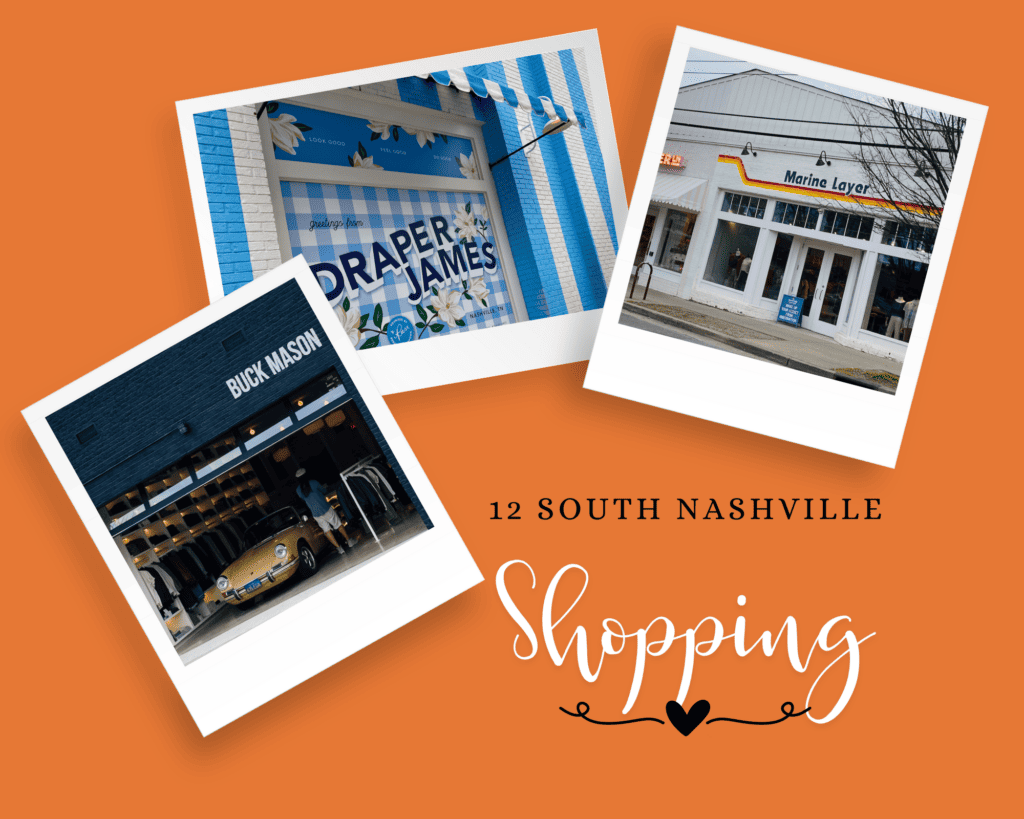 One of the main reasons to visit 12 South Nashville is to browse its local boutiques and designer clothing shops. Here are some of my favorite shops listed in no particular order.
White's Mercantile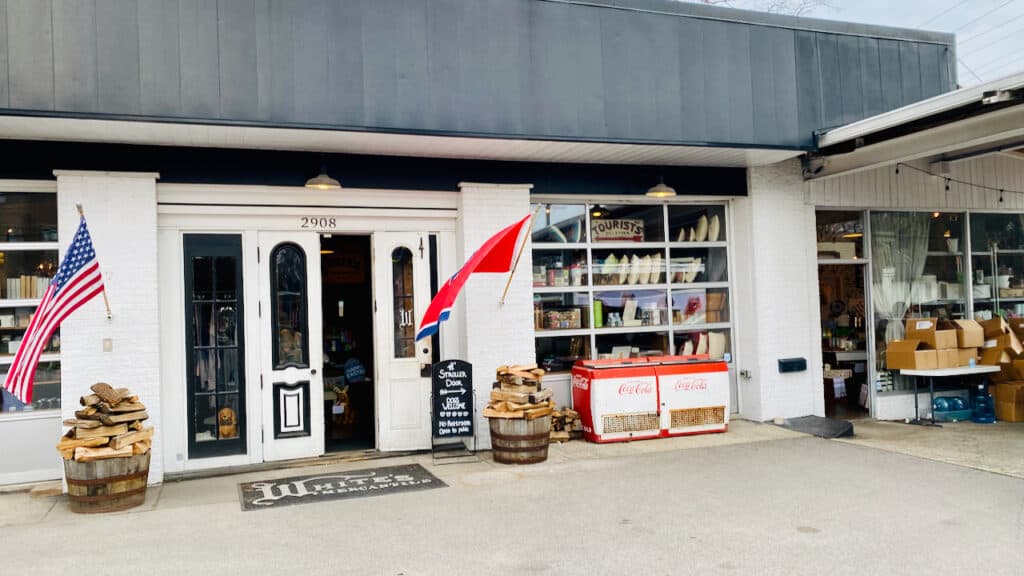 Another celebrity-owned store that calls Nashville home is White's Mercantile. It's the creation of country singer-songwriter Holly Williams.
"Mercantile" refers to an old-time general store, which was exactly Holly Williams' vision when she conceptualized the store. It's a one-stop shop for clothing, household items, books, and much more.
This definitely isn't like a Walmart, where you'll find everything you want. Instead, it's a curated selection of items across various categories. It's also on the pricier side, but some unique pieces make it ideal for small gifts to take home.
One item I purchased was the original Goo Goo Clusters. While I usually buy them from their own shop in downtown Nashville, I conveniently found them here too! Besides, I can't seem to get enough of these yummy treats especially the peanut butter flavor.
MODA Boutique Nashville
If the only one-stop shop you need is one for high-end clothing, then head to MODA Boutique Nashville. This store features contemporary, on-trend women's fashion, from feminine to edgy. Many pieces are from local designers.
The MODA experience goes deeper than just buying clothes. The staff members are super attentive and helpful in finding the right items for you.
Judith Bright
Judith Bright is another store where you can upgrade your wardrobe while supporting locals. The pieces from this designer jewelry store are all 100% handmade by Nashville artisan women. The jewelry still, however, leans affordable, so don't hesitate to visit the store, especially if a beachy yet delicate vibe is your style.
Imogene + Willie
Imogene + Willie is a brand that's youthful, understated, comfortable, and just a little bit edgy. They have a growing catalog of items, from tees to jeans to jumpsuits, all made in the USA. Their jeans are their mainstays, and you can actually bring your own jeans to the in-house tailor shop to be altered or repaired.
Draper James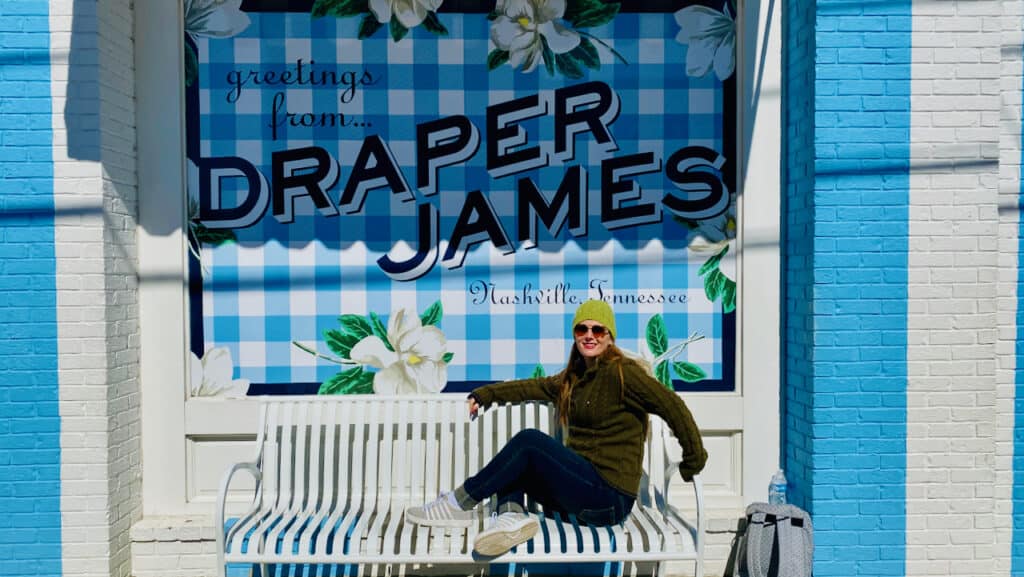 Draper James, Reese Witherspoon's clothing line, has a flagship store of the same name right in 12 South Nashville.
Both the clothes and the store itself embody warm and welcoming Southern hospitality. There's a coastal flair to it, too. As a Florida local, it's no surprise that this was one of my favorite 12 South Nashville shops!
Every time I visit Nashville, I like to look around at this cute boutique. I've found some bargains in the sale area, too! In the photo above, I'm 7 months pregnant but decided to shop for clothes anyway. I still remember how friendly the sales clerk was in helping me find clothes that fit.
Vinnie Louise
When it comes to fun, fresh, designer clothing, Vinnie Louise has it all. In their catalog, you'll notice lots of light, flowy fabrics and colors in pastel and neutral tones. They've got clothes for a wide age range — both youthful and mature with affordable price tags.
Additional 12 South Nashville Shops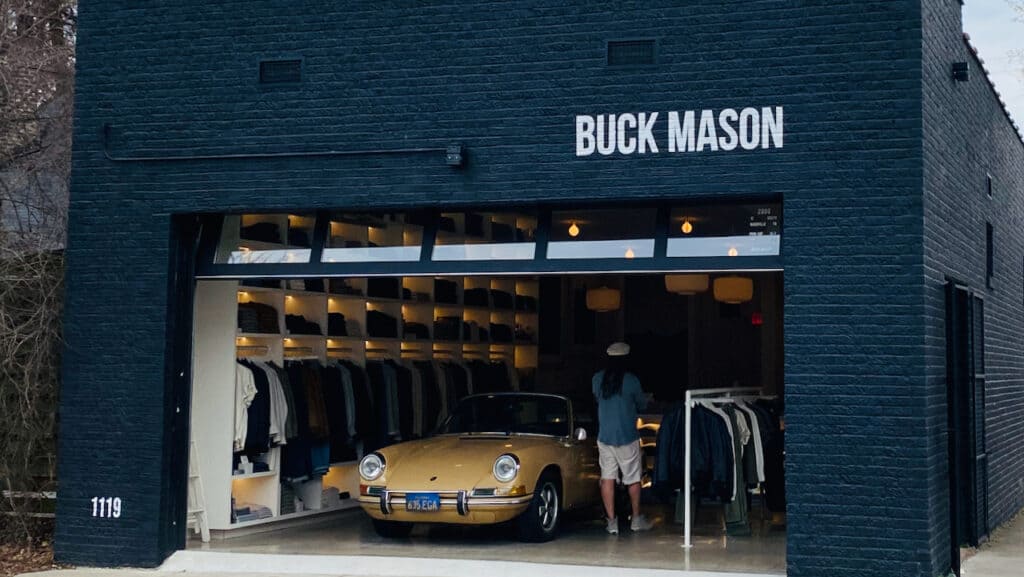 While there are many unique shops in 12 South Nashville, you'll also find a list of well-known brands there too. Here are several other stores you may want to check out.
Serendipity
Finnleys
Buck Mason
Halcyon Bike Shop
KREWE
Emerson Grace
Madewell

Best Things to Do in 12 South Nashville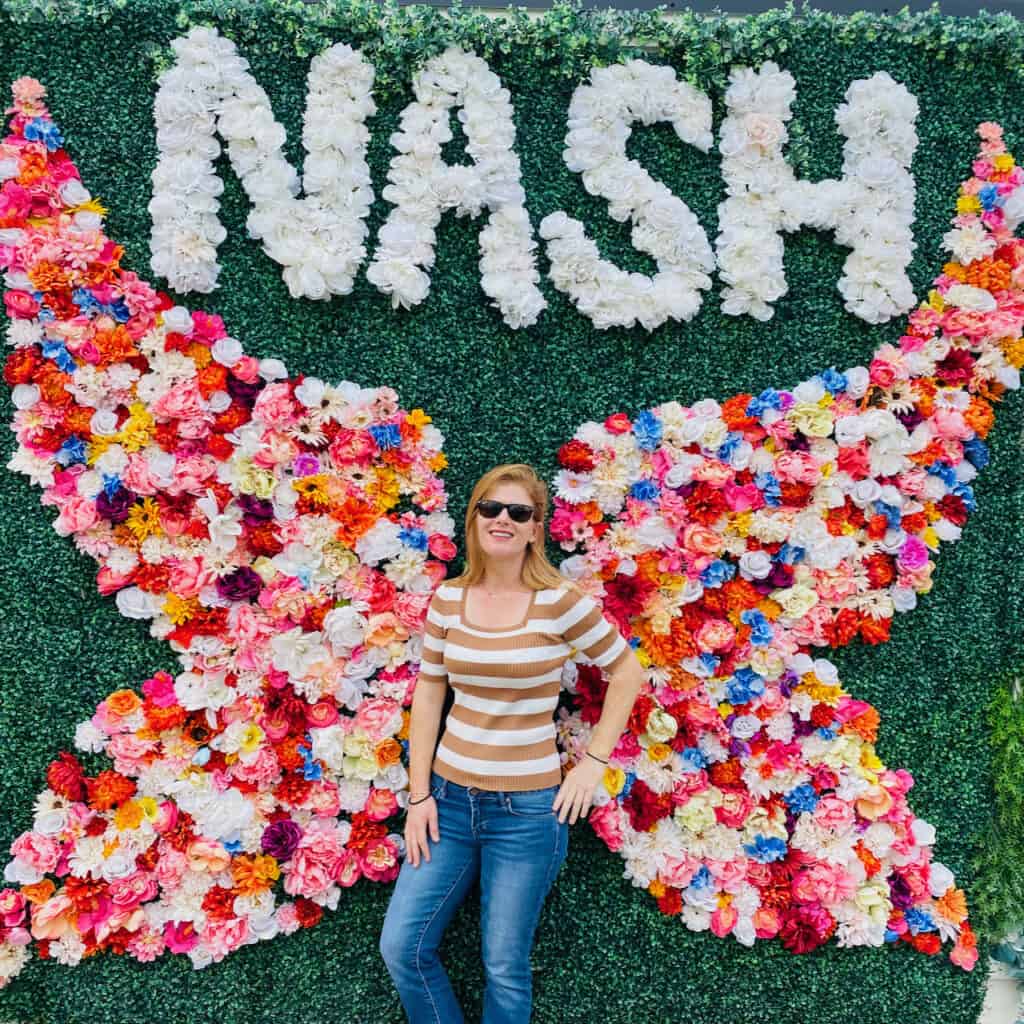 12 South Farmers Market
If you're visiting 12 South Nashville between May and October, you're in luck. Every Tuesday afternoon during this period, the 12 South Farmers Market is open! Whether you want locally-grown produce, fresh baked goods, or local food truck favorites, you're bound to enjoy your visit. The farmers market also hosts monthly kids' classes related to food and cooking!
12 South Murals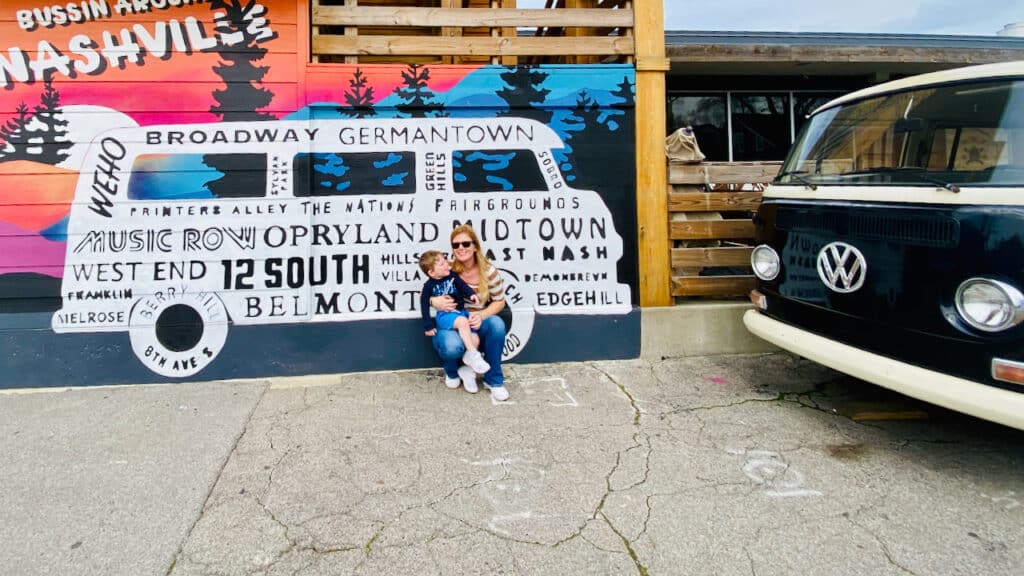 The free-spiritedness of Nashville is easy to see thanks to all the murals around the city, many of which are in 12 South. Popular ones include the 12 South Flowers, Make Music Not War, I Believe in Nashville, and Nashville Looks Good on You murals Take a walk from 12 South Flats to Sevier Park to see many of the best murals in the neighborhood!
Sevier Park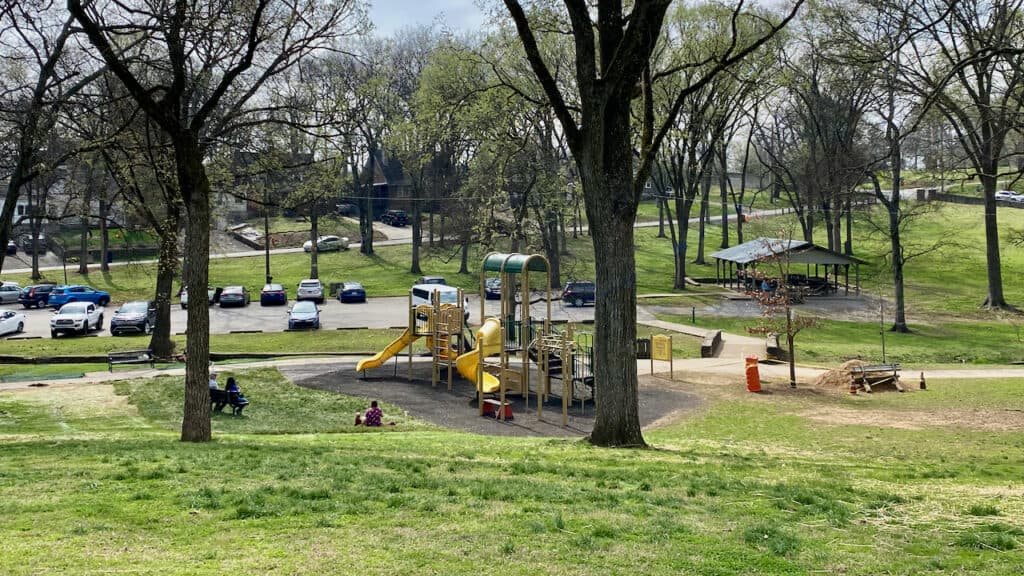 Take a break from the busy streets of 12 South with a visit to Sevier Park. This beautiful park has picnic tables, tennis courts, and a playground. There is also a community center at the heart of the park with more play areas for kids, as well as a fitness center and fitness classes. There is a historic mansion, Sunnyside Mansion, onsite, too.
Amelia's Flower Trucks
Amelia's Flowers is a beloved florist business in Nashville. There are several fixed locations, but the stars of the show are the business' three flower trucks. They park all around Nashville, often including a spot at Imogene + Willie. Pick up some flowers for a loved one or join a flower arrangement workshop to learn some of the magic for yourself.

The Best 12 South Bars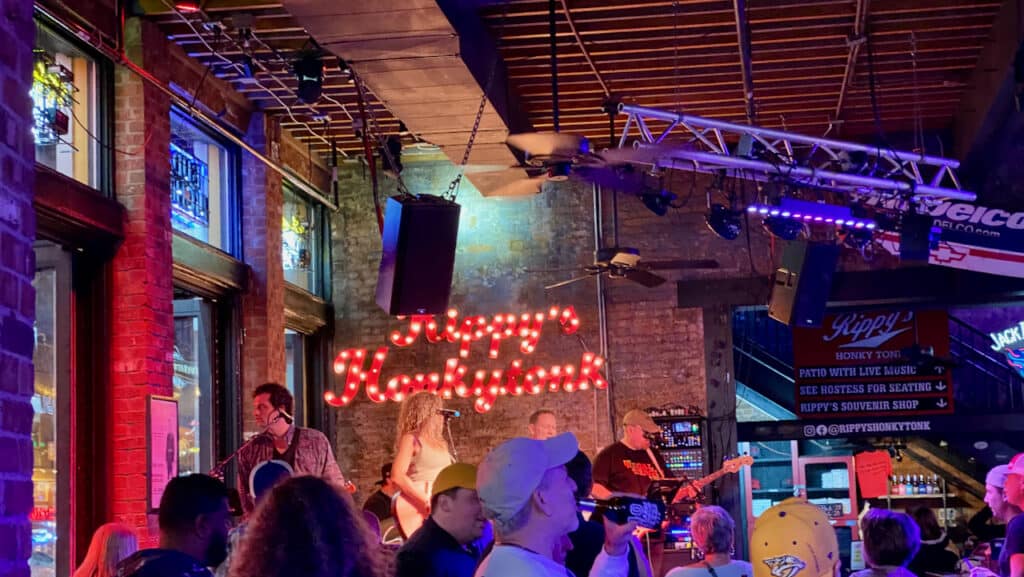 When it comes to live music, nothing beats Nashville! While downtown has a lot going on, here are some of the best bars in 12 South Nashville.
12 South Taproom and Grill
12 South Taproom and Grill is a rustic local watering hole serving craft beer and pub grub to the backdrop of retro posters and nightly live music. Have a hearty serving of their gouda mac and cheese with a craft beer or one of their signature cocktails, such as the Tom & Geri.
Happy hour is from 2 to 6 p.m. every day except Tuesday and Saturday. Each happy hour special is different daily, such as $4 beermosas on Sundays!
The Filling Station
The Filling Station is another beloved craft beer spot in 12 South. They have 24 rotating taps with a list of current beers that is kept regularly updated. The beers on tap range from local Nashville gems to regional and national favorites.
There's limited seating on location but you can get your beer to go, too. That's one of their selling points! This is a great pit stop on a day of window shopping around the neighborhood.
🍺 Pro Tip: Happy hour prices on all Tennessee brews every Wednesday for half off!
Bottle Cap
Bottle Cap is technically one of the 12 South Nashville restaurants. It's like a bright and airy retro diner and sports bar. Stop by with a date or friends for pub food, draft beer, and craft cocktails.
I'm a fan of their signature BC Burger, as well as their house shots. Try the White Walker, made with Deep Eddy Lemon Vodka and Coconut Red Bull. Visit on Tuesday nights for Nerdy Talk Trivia and Saturday mornings for a live music brunch!
Embers Ski Lodge
Bringing a bit of Aspen Mountain ski culture to the east, Embers Ski Lodge has all the comfort of a winter getaway, regardless of the season. This rustic spot has a small but eclectic menu of American gastropub fare. Try one of their gourmet burgers, like the Mt. Everest Cheeseburger.
What would a ski lodge be without whiskey? Embers has the self-proclaimed largest selection of whiskey in Nashville! Choose one from their long list of alcohol, which also includes beer, wine, and cocktails. They also have some of the best happy hour specials on Sundays.

12 South Nashville Hotels
Below are some of my favorite hotels near 12 South Nashville.
Homewood Suites Downtown Nashville
When I'm traveling these days as a family, I value spacious rooms and proximity to sights more than anything. Homewood Suites has two great locations in Vanderbilt and downtown Nashville. On my last trip, I stayed at the downtown location so I could walk to most of the sights without a car and breakfast is included.
If you're looking for more downtown party vibes, I would also recommend Margaritaville. I had a great stay there, too, and the rooms are new and spacious.
Moxy Nashville Vanderbilt
Moxy Nashville Vanderbilt is within walking distance of Belmont University. It's also more affordable, but there isn't a pool. There is, however, a bar and fitness center, and there are plenty of dining options on the same street or right around the corner.
Kimpton Aerston Hotel
Kimpton Aerston Hotel offers a significant intersection of comfort and proximity. This upscale boutique hotel is about 2 miles from 12 South in the Music Row district. There's an onsite restaurant and bar, as well as a rooftop pool. You'll feel extra special with the complimentary evening wine reception, too.
Final Thoughts on 12 South Nashville
For such a small area, 12 South is full of so many awesome things to do, places to shop, and food to eat. Pretty much everything is local, too!
I highly recommend spending at least a day in this neighborhood. If you can plan for a specific day, make it a Tuesday. That's when the local 12 South Farmers Market is on.
You can even center your trip to Nashville primarily around the 12 South area, by staying at a nearby hotel like Kimpston Aerston or Graduate Nashville. 12 South has a bit of something for everyone, but I think it's perhaps best suited to small groups of adults or families with older kids.
Breakfast, lunch, dinner, and drinks throughout the day are all covered within this small neighborhood. You'll have ample choices for places to recharge throughout a day of shopping 'til you drop! Don't forget to take in some of the arts and culture at the murals, too.
Frequently Asked Questions
How far is 12 South from downtown Nashville?
12 South in Nashville is approximately 2 to 3 miles from downtown. Just northeast is Belmont University, celebrated for its music-focused programs. Nearby Hillsboro Village is a trendy hub, bustling with unique shops and eateries and frequented by students from both Belmont and Vanderbilt Universities.
How many days in Nashville is enough?
While I have done a 3-day weekend in Nashville, I recommend staying at least 4 days. With the numerous museums, and sites like Music Row, The Hermitage, Grand Old Opry, and quaint districts like 12 South, there's a lot of popular spots you'll miss if you shorten your trip.
Pin for Later
Interesting Travel Articles to Read Next