Looking for a Nashville getaway? Check out this travel itinerary full of unique tips for a Nashville long weekend.
Day 1 – Nashville Long Weekend
Nashville had been on my list for years to see because of my love for music and the arts. After a quick flight, the Nashville Airport is approximately 8 miles from downtown Nashville. Since it was early afternoon, we decided to drop our items at the hotel.
Margaritaville Hotel Nashville – We chose this hotel because its located in the vibrant downtown neighborhood of SoBro, near main attractions, trendy restaurants and bars. Also, it is just a short walk from the Music City Convention Center and Bridgestone Arena. Our room was large, spacious, and felt brand new with a beach theme. The whole hotel has a playful feel, as you would expect for Margaritaville experience. Here is the link to Hotels.com if you want to check it out.
Johnny Cash and Patsy Cline Museums
After checking in, we decided to head over to Broadway to see the Johnny Cash Museum and Patsy Cline Museum. It took us approximately 2-3 hours to see both museums. Patsy Cline Museum was a shorter visit for us since it doesn't have as much to see. If I had time for only one of them, I would choose the Johnny Cash Museum. But since I love Patsy Cline's music, I definitely thought it was worthwhile seeing both.
When planning your trip, keep in mind breaking up some of the museum visits with something in between, even if if it's a meal. We found that two in a row could be too much, kind of similar to information overload for us. Since most of the Nashville museums you're paying around $20 or more to enter, you want to appreciate the sights. We were hurrying through a couple areas just to get to our next destination. Plan to have plenty of time to just enjoy and take in all that they have to offer.
After our museum visits, we had tickets a concert at the Bridgestone Arena. When in Nashville, definitely plan to take in at least one show. I would have liked to have also gone to the Ryman Auditorium for a concert…but there's always next time!
Day 2 – Nashville Weekend Trip
We headed out from our hotel via Uber to breakfast at Biscuit Love. The line was long, but I had heard it was the place to try for biscuits and gravy and such. It was packed, and after going once I wouldn't go out of my way again.
RCA Studio and Country Music Hall of Fame
I made the mistake to start at RCA Studio B. I was thinking it the furthest away, and I could work my way back to downtown. Studio B has no ticket sales at the actual location. So, after being dropped at RCA Studio B, we had to head to the Country Music Hall of Fame to purchase tickets. This worked out because the ticket for Studio B, includes admission into the Country Music Hall of Fame. There is a shuttle that carries you between the locations. If you're planning a tour, booking advance tickets online is highly recommended especially during weekends.
Historic RCA Studio B — once home to musical giants such as Elvis Presley, Dolly Parton, and the Everly Brothers — is one of the world's most famous recording facilities. Go to their website, provided here for more information.
After touring RCA Studio B, we headed back to the Country Music Hall of Fame Museum and enjoyed a few hours walking around. I was surprised that certain artists had very few displays, while others had huge sections. It was a worthwhile visit, and you could spend all day just there.
Evening we ate downtown and enjoyed the music scene. It's a great town just to stroll and go where the music takes you. I didn't mention it earlier, but I recommend staying in a hotel near Broadway. We stayed at Margaritaville, which was clean and suited the purpose of being close enough to walk for us. There are a lot of hotels in the area that also meet this criteria.
Day 3 – Final Day in Nashville, TN – Nashville Long Weekend
After a late night, we appreciated a slow start in the morning and opted for a early lunch in 12 South and walked around to see the various shops. One of my favorite restaurants, Bartaco is located there. It's a must try if you love tacos! Their duck and oyster tacos are among my favorites, along with their fresh juice margaritas. Reese Witherspoon's store, Draper James is located in 12 South, and it has a cute exterior to check out. It's a fun area of cool shops, and things to see.
The Hermitage
Next on my list, The Hermitage, which is about 20 minutes from downtown (and located 5 miles away from Grand Ole Opry). The Hermitage is beautifully built plantation, and home to President Andrew Jackson. Chosen as a house site by his wife, Rachael Jackson, it's located outside of Nashville. From 1804 to 1821, Jackson and his wife lived in a log cabin. Together, the complex formed the First Hermitage, with the structures known as the West, East, and Southeast cabins. Here is a link to The Hermitage's official website.
It is just a short drive from Opryland, and if you are going outside of town, I really recommend seeing it if you like historical sites. There is a substantial museum on property, as well as a theater. Uber driver easily picked us up and dropped us there. Property closes at 5pm, and we needed 2-3 hours to see it.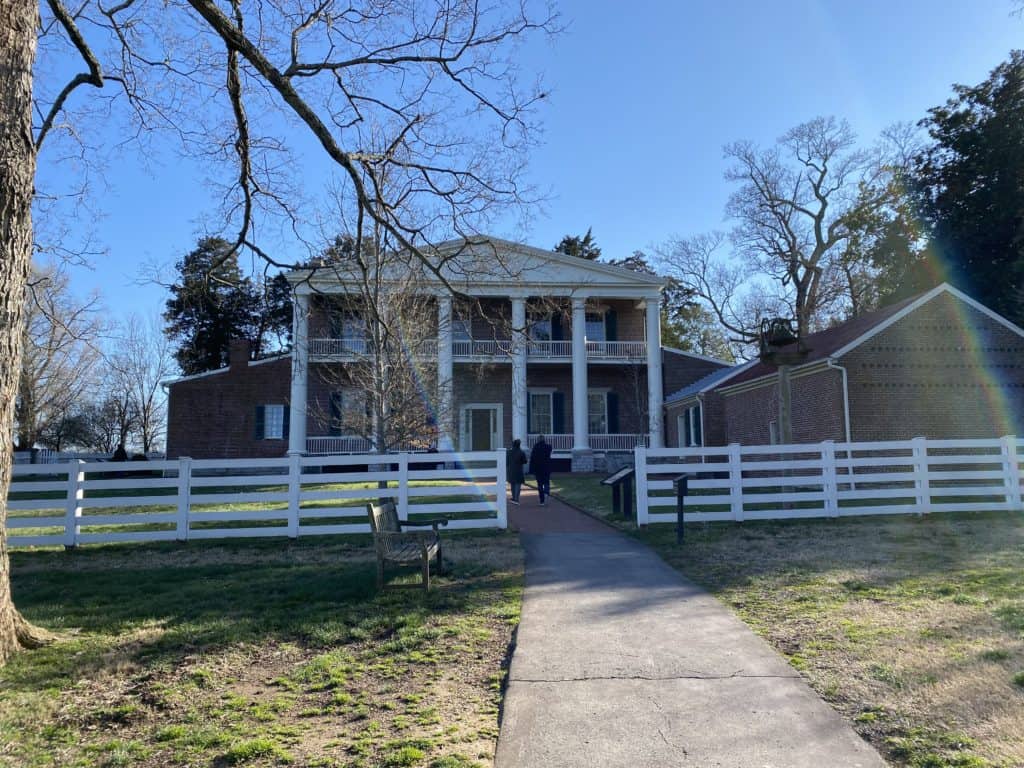 Grand Old Opry & Opryland Resort
After our nice afternoon at The Hermitage, we headed to eat dinner at Opryland. We booked a table on OpenTable at Old Hickory Steakhouse prior to the concert. My steak was cooked perfect, and we had nice view overlooking the waterfall off the courtyard. There is long walk between the Old Hickory Steakhouse (Opryland) and the Grand Ole Opry, located in different buildings.
I was glad we booked a 5pm table, so we didn't have to rush to be on time for a 7pm concert. Our backstage tour followed the concert at 9:30pm. This was my favorite tour in Nashville, and glad I booked in advance. We also went on an evening that the entertainment was outstanding. Overall, it really made the experience magical!
I hope you enjoyed my Nashville Long Weekend! I certainly did, and look forward to returning soon!