Due to severe devastation related to Hurricane Ian, Matlacha will be recovering for some time into the foreseeable future. I have family on Pine Island, and many people have lost their homes, businesses, or even loved ones. Please consider donating to the Go Fund Me for Matlacha Hookers.
Are you looking for the best Pine Island restaurants? Look no further because you are in the right place!
Whether you're a seasoned Pine Island visitor or making your way there for the first time, finding the best restaurants in the area is essential for a great trip. This rural gulf community has everything from elegant fine dining to tiki bar cuisine.
Location of Pine Island, Florida
Pine Island is the largest island off of Florida's Gulf Coast in Lee County. This beautiful island is peaceful and secluded, with a small-town atmosphere and plenty to do. Nature lovers, in particular, will adore it, with the island's tropical plants, mangroves, and three aquatic preserves.
Pine Island has four distinct communities: Pine Island Center, Pineland, Bokeelia, and St. James City, and each has its unique charms and distinctions – even with food! Matlacha is also considered to be part of Pine Island but is on its own separate island. More details can be found by reading about my favorite Matlacha restaurants and the best things to do!
Whether you're looking for seafood, Caribbean-inspired fare, or good old-fashioned American grub, this list has it all. Read on to get to know this scenic locale and visit the best restaurants on Pine Island!
The Best Pine Island Florida Restaurants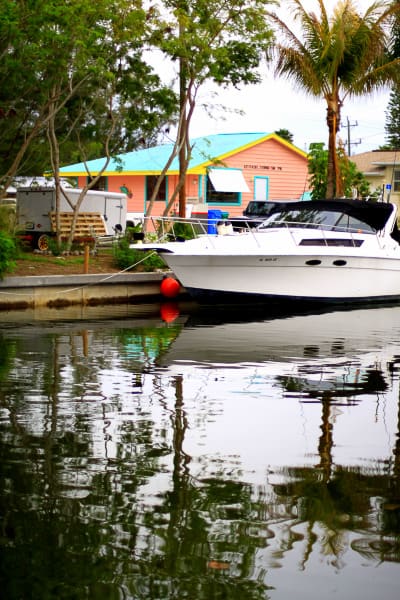 Here are some of the best Pine Island restaurants that offer delicious food with tranquil water views and memories that last a lifetime.
1. Tarpon Lodge Restaurant
The Tarpon Lodge Restaurant is in the Bokeelia area with all the old Florida charm you might be looking for. You can have lunch or dinner at the restaurant or enjoy an overnight stay with waterfront views at its 1926 Lodge.
This four-star restaurant offers separate menus for lunch, dinner, kids, wine, bar, and special occasions. If you want to try a Floridian staple, check out the Smoked Fish Dip.
Lunch options include blackened fish tacos and Gulf Pink Shrimp, while dinner choices range from the Southern classic shrimp & grits to top-notch catch of the day seafood fare. Tarpon Lodge also serves vegan dishes!
Guests can also enjoy a wine-tasting event at the Tarpon Lodge Restaurant. Their series of global wine dinners brings vintners from around the world to share expertise and delicious samples from their vines.
Ideal for couples looking for a romantic ambiance by the sea or families wanting to enjoy a meal together, Tarpon Lodge suits every palate.
Website: Tarpon Lodge Restaurant
Address: 13771 Waterfront Dr, Building 1, Ground Floor, Bokeelia, FL 33922
Phone: (239) 283-3999
2. Low Key Tiki
The Low Key Tiki is a popular locally-loved spot in St. James City, Florida.
The bar is beloved by locals and tourists for its friendly atmosphere, beer and wine, and waterfront views. The Low Key Tiki serves unique offerings like pickle fries, applewood smoked pulled pork four ways, plus buffalo chicken egg rolls. One of our favorites is the Ahi Tuna! The Low Key Tiki makes for tasty casual grub in a party-like atmosphere (at least when the sun goes down).
The Low Key Tiki in Pine Island also has live music. They have plenty of outdoor seating right by the docks for a perfect tropical experience.
If you want to explore the island while sipping your cocktail, Low Key Tiki offers two floating bars called Crusin Tikis.
Address: 3135 Stringfellow Rd, Mile Marker One, St. James City, FL 33956
Phone: (239)282-8454
Read Next: The 17 Best Things to Do on Pine Island Florida
3. Phuzzy's Boat Shack
Over the years, this beachy waterfront restaurant has changed names a few times. I remember the days when it was called Double Nickel and had nickels laminated into the countertops. Later, it became Woody's and in recent times it is called Phuzzy's Boat Shack. We still consider it to be one of the best Pine Island restaurants!
Phuzzy's so far is getting solid reviews for having great food in the same friendly environment. Favorite items include the Crab Rangoon, Mahi Mahi sandwich, and Boom Boom Shrimp. While the prices are higher than Woody's, they offer some new delicious options that are worthy of a splurge.
Website: Phuzzy's Boat Shack
Address: 3051 Stringfellow Rd, St James City, FL 33956
Phone: (239)-283-5555
4. Ragged Ass Saloon
The Ragged Ass Saloon is a tiki-style bar and restaurant in St. James City, Florida, that opened its doors in 1954. The saloon promises good food, ice-cold drinks, and friendly staff. Visitors can hang out beneath their tiki hut while listening to live music on the outdoor stage.
Despite its small size, the Ragged Ass has an abundant menu. Guests can enjoy a customized pizza and delicious Florida classics like conch fritters and fish tacos. Patrons looking for bar food will love their one-pound wings and burgers paired with a local craft brew.
Live music lovers enjoy the Ragged Ass for its concerts every Friday, Saturday, and Sunday.
Website: Ragged Ass Saloon
Address: 3421 Stringfellow Rd, St. James City, FL 33596
Phone: (239) 282-1131
5. The Waterfront Restaurant & Marina
The Waterfront Restaurant & Marina offers classic seafood dishes. Eat in their casual dining room or the outdoor dockside seating.
If you're feeling adventurous, try their Gator Bites or Coconut Fried Cheesecake. For less daring eaters, check out their fresh grouper, juicy Gulf shrimp, or a traditional Shrimp Po'boy.
The Waterfront Restaurant is ideal for a quick bite after fishing or a pitstop in the middle of your excursion. Southern staples blended with tropical flavors make for the perfect Pine Island meal and one of our best Pine Island restaurants.
6. Lazy Flamingo 3
The Lazy Flamingo 3 is a staple Southwest Florida restaurant for locals and tourists, with four total locations. The laid-back family haunt serves distinctive waterfront cuisine, cold craft beers on tap, and an expansive menu with plenty of options.
This Bokeelia cafe offers dishes like fresh oysters on the half-shell, clams, and peel & eat shrimp for freshly-caught seafood lovers. But, they also have options like shrimp scampi and mussels marinara.
For non-seafood eaters, burgers, wings, and salads abound. They have Impossible burgers for plant-based diets.
Customers can come to the Lazy Flamingo 3 in Bokeelia by car or boat. They even have an option of bringing in your catch (cleaned, gutted, and ready to cook) that they toss on the grill!
You can't get much more classic Florida than the Lazy Flamingo 3, especially if you're looking for your fresh seafood fix.
Website: Lazy Flamingo 3
Address: 16501-B Stringfellow Rd, Bokeelia, FL 33922
Phone: (239) 283-5959
7. Fine Swine
Fine Swine is one of our newer favorites in the best Pine Island restaurants. It boasts an impressive menu with authentic Southern BBQ, hand-cut Angus steaks, and many seafood dishes. The restaurant's head chef Jesse McHenry brings a Caribbean flair to his menu at this Southwest Florida restaurant.
This St. James City location has a variety of cuisines blended with Southern flavors for a one-of-a-kind experience. For lighter fare, Fine Swine offers seafood gumbo, crunchy tuna rolls, and brisket-deviled eggs. Those with bigger appetites will enjoy their Pitmaster's Platter and sea scallops.
While this restaurant works well for meat-eaters and pescatarians, there aren't many vegetarian or vegan options. One choice is the portabella burger (made vegan if you remove the cheese).
Website: Fine Swine
Address: 10251 Stringfellow Rd, St. James City, FL 33596
Phone: (239) 282-8811
8. Little Lilly's Island Deli
Little Lilly's Island Deli is a prevalent local delicatessen in Bokeelia. Go there for the best classic deli food, including sandwiches, subs, wraps, crab cakes, and breakfast all day, to name just a few options.
They serve several vegan-friendly and vegetarian choices. Try a veggie wrap, black bean burger, or Impossible plant-based meats. Little Lilly's is beloved for its crab cakes, which you can take home or enjoy on a sandwich (or on their own).
Little Lilly's has a build-your-own sandwich option, which is excellent for picky eaters or families. You can choose your bread, meat, cheese, and fix-ins for a delicious meal.
9. Pine Island Getaway Cafe LLC
Pine Island Getaway Cafe is a small unassuming building at first glance, but don't judge a book by its cover. Soon after you arrive, you will want to savor all the freshly made delicacies on display.
Open for breakfast and lunch, they serve excellent sandwiches, pastries, and a variety of desserts. Seating is available inside or outside the bistro with views of the lake.
10. Island Grill
Pine Island's Island Grill is a family-owned restaurant in St. James City, Florida. This restaurant serves breakfast and lunch, with the option of breakfast food all day. Their casual, comfortable setting is family-friendly and a perfect atmosphere to enjoy their comfort foods.
For breakfast visitors, the Island Grill serves homemade corned beef hash and grits, classic eggs benedict, and multiple items from the griddle like chocolate chip pancakes and succulent french toast.
Lunch choices include cold and hot sandwiches, like grilled cheese or BLT, and indulgent loaded fries or light-as-air salads. Quesadillas and hot off-the-grill burgers are also an option, along with beer and wine.
Island Grill suits those looking for a hearty lunch or breakfast without breaking the bank. It is located in the Winn-Dixie shopping plaza.
Website: Island Grill
Address: 9856 Stringfellow Rd, St. James City, FL 33956
Phone: (239) 282-5502
Read Next: Enjoy Island Life with the 6 Best VRBO Matlacha FL Rentals
Final Thoughts on the Best Pine Island Restaurants
Pine Island has many choices for an unforgettable Florida meal. Even if you're not a massive fan of seafood, you can still find tasty Florida grub to enjoy dockside, seaside, or on your boat.
That said, Pine Island is a seafood lovers' paradise, with countless raw bar choices and unique Caribbean-style flavors.
Read Next: The 15 Best Matlacha Restaurants & Fun Things to Do
Did You Find This Post Helpful? Please Share It!
Did I leave out your favorite Pine Island restaurant or help you discover a new favorite? Let me know in the comments! Follow me on Instagram, tag your images to @erinstraveltips or #erinstraveltips, and tell me your favorite Florida foodie staples.