If you're looking for a place to stay near SeaWorld, the Hilton Grand Vacations at SeaWorld is a great option.
You've come to the right place for info — because I stayed here!
In a serendipitous turn of events, I ended up extending my stay due to a hurricane in Florida.
In fact, by just reading this article, you're going to be much more knowledgeable than I was for this stay in Orlando, Florida.
Deciding to Book
If you are looking for a fun family Florida vacation that won't break the bank, then you should consider Hilton Grand Vacations at SeaWorld.
My husband and I have stayed at many higher-end properties in Orlando. We both appreciated the spacious club room suites, plus having kid-friendly amenities.
Hilton Grand Vacations Club offers studios with kitchenettes and 1, 2, and 3-bedroom suites. This is a vacation club location, so they also have more long-term Florida vacation planning if you decide to become a frequent flyer.
I paid around $150 per night for the larger 1-bedroom suite with a private balcony. I would definitely book it again since I could cook when I wanted to and had room for up to 4 people.
Pricing fluctuates depending on the season, we also extended and stayed through a hurricane.
On a side note, while the property does not have a generator, we did not have any damage to our car, and the rooms tolerated hurricane winds without issue. We didn't even lose power!
Other nearby SeaWorld hotels that are worthy of consideration depending on pricing and availability are Marriott's Cypress Harbour Villas and the Renaissance Orlando at SeaWorld. See more property details and photos by using the links provided.
---

Hilton Grand Vacations Orlando Location
The Hilton Grand Vacations Club at SeaWorld is located within walking distance of SeaWorld, making it a great option if you're planning on spending most of your time at the park.

As soon as you arrive, you'll be blown away by the grandeur of the property. There is a guard gate that provides security and prestige. The property has mature trees and is heavily wooded for individual privacy between buildings.
There are also plenty of dining and shopping options in the area, so you won't have to go far to find something to eat or drink.
If you're a golfer, there are 100+ Orlando and Disney golf courses nearby. While most people think of Orlando for its theme parks, it is truly a golf mecca!
Across the street, you can walk to Bonefish Grill. There is also a Cheesecake Factory just over 2-miles away (which happens to be one of my favorites). Plus, there is plenty of shopping within a short drive.
The lobby is decorated with beautiful chandeliers and plush furniture, and the staff is always on hand to help with whatever you need. You can text them throughout your stay to quickly communicate your needs.
And if you're looking to explore more of Orlando, the hotel is just a short drive from all of the major attractions. Beyond theme parks, I love going to the Orlando Premium Outlets.
Read Next: Tampa vs Orlando: Which is Best For You?
---
Club Rooms

The rooms at the Hilton Grand Vacations Club at SeaWorld are spacious and modern, with plenty of amenities to make your stay more comfortable. Each room comes equipped with either a full kitchen or kitchenette, TVs with DVD players, and free Wi-Fi.
As you can see from my photos, our room had a massive sectional in the living room, a dining room, a full kitchen, a washer and dryer, and a separate bedroom and bathroom. The couch is a queen-size sleeper that easily makes the condo fit up to 4 adults.
I was impressed that it is a fully stocked kitchen with pots, pans, a dishwasher, a coffee maker, an oven, and a full-size refrigerator.
You won't have to bring coffee from home or any cleaning products. The housekeepers provide extra trash bags, dish detergent, dish soap, and laundry soap.
Plus, they provide the usual bath products: soaps, shampoo, conditioner, and lotion.
Read Next: 23 Best Baby Travel Essentials for a Relaxing Road Trip
Something to keep in mind is that housekeeping functions on a vacation club schedule. This means you won't get daily housekeeping service.
If you stay multiple days, there is a housekeeping schedule for when they will come to change the linen. However, they were awesome about bringing more linens or products whenever we needed them. Since we travel with a toddler, there's always bound to be a mess!
And since the property is located right next to SeaWorld, you can easily walk over to the park and enjoy all of the rides and shows!
Key Tip #1: At check-in, ask for a room near the front of the complex if you plan to enjoy the amenities. This complex is massive! While there is a shuttle – it's much more convenient to be able to walk out your door to everything.
Pool & Spa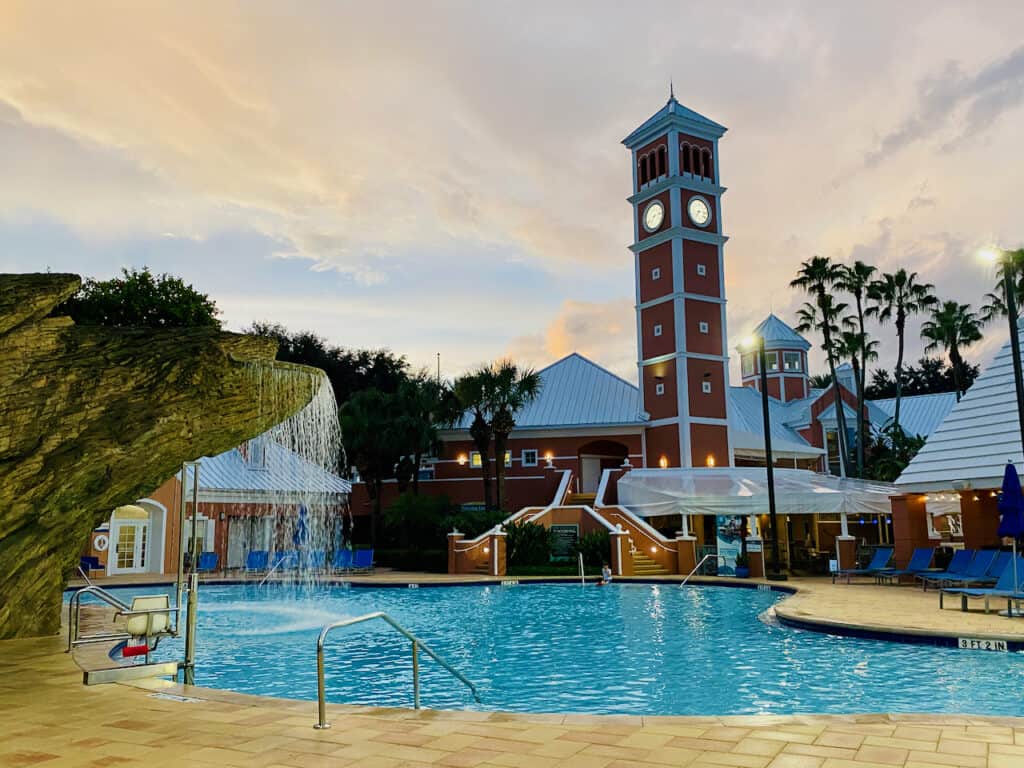 Hilton Grand Vacations at SeaWorld has 3 pools and 6 hot tubs for guests to enjoy. It has two beautiful waterfalls in the pool area that make you feel like you're in Hawaii or a similar tropical paradise.
There is a kid's pool for toddlers and small children to play in.
Plus, there is a fenced splash pad that is ideal for kids. They even included a seating area inside for the family to sit and relax, while the kids run around.
Most evenings while we were at the hotel, there was live music or a DJ at the pool area. This was a nice added bonus!
There is dining available at the pool bar, so you won't have to go far to find something to eat. This casual restaurant is a good option if you don't want to go anywhere. But, prices are higher with average-tasting food and drinks.
Since we stayed multiple nights, we ate out, cooked, and also ordered Uber Eats to the room.
We enjoyed Uber Eats since Orlando has so many great restaurants to choose from (and we could eat at the pool without leaving the property).
Key Tip #2: Bring your own food or drinks to save on higher-cost resort prices.
Playground & Amenities
Hilton Grand Vacations at SeaWorld is ideal for families or large groups just looking to spend time on the property.
Some of our favorite things to do include:
Outdoor grill stations
Spacious playground area
Pool table (Billiards)
Ping pong table
Movie Theater
Walking trail
FREE DVD rentals
Daily calendar of activities sent by text
While you are here, make time to stroll the property. There is a little pond with an overlook, cabanas, and other things to see.
Walk to SeaWorld
Our main reason for selecting this hotel was its close proximity to SeaWorld while having more things to do for kids.
The Renaissance at SeaWorld is truly the closest hotel (located right across the street) and also a nice property. The Hilton Grand Vacations at SeaWorld is just on the far end of the parking lot.
Upon leaving the hotel, turn right out of the hotel entrance and walk through the traffic light. Just past the bus stop, you will see the parking entrance for SeaWorld on the right. Walk through the parking lot for easy access to the main entrance.
Key Tip #3: Keep in mind, the shuttle to attractions only goes at specific times with very limited time slots. You also have to book it in advance through the concierge.
Hilton Resort Fee
Make sure you read the fine print before booking your hotel stay in Orlando. One of the reasons we also booked this property was the resort fee was more reasonable than some similar properties.
While we did pay the required $25 resort fee per day (even during the hurricane when areas were closed) it covers the following:
Free Parking
Free Shuttle Service to SeaWorld + Other Locations
Complimentary (2) Starbucks coffee or bottled water per day from the on-property cafe
Free WiFi
DVD rentals (works similar to a Red Box rental)
Access to the multi pools and hot tubs on the property
Use of billiard tables and ping pong tables
Read Next: The 100+ Best Florida Quotes of All Time
Final Thoughts

If you're looking for a place to stay near SeaWorld, the Hilton Grand Vacations at SeaWorld is a fantastic option. The rooms are spacious and modern, and there are plenty of dining and shopping options nearby.
Plus, the staff is friendly and helpful. Whether you're visiting Orlando for business or pleasure, this hotel is sure to make your trip more enjoyable.
Frequently Asked Questions
How far is the Hilton Grand Vacations at SeaWorld from SeaWorld?
By foot, Hilton Grand Vacations at SeaWorld is only .60 miles or a 13-minute walk away. By car, it is slightly further at .09 miles. The hotel provides a shuttle if you prefer not to walk. Make sure to book your shuttle departure time in advance.
Can you walk from Hilton Grand Vacations at SeaWorld to SeaWorld?
Yes, this is an easy walk on sidewalks if you are ok with walking slightly over a half mile.
How far is Hilton Grand Vacations at SeaWorld Orlando from Epcot Center?
Hilton Grand Vacations at SeaWorld Orlando is approximately 8.7 miles from Epcot Center. The fastest route is by taking I-4 which will take you just over 10 minutes depending on traffic.
What types of rooms and suites are available at Hilton Grand Vacations Club at SeaWorld?
They offer a wide variety of from a studio with a kitchenette, 1 bedroom suites, 2 bedroom suites, and 3 bedroom suites. All rooms are ADA accessible via elevator. They also have specific rooms for ADA mobility and hearing needs.
Did You Find This Post Helpful? Share It!
If so, I would love to hear about your Florida travel planning! You can follow me on Instagram, and tag your images to @erinstraveltips and hashtag #erinstraveltips. I look forward to seeing you there!
Florida Travel Articles