Disney Beach Club Resort & Villas and Disney Yacht Club Resort are the ideal locations for your EPCOT Vacation. Discover the comfortable sophistication of these two charming waterfront hotels that share the best pool experience in all of Disney World.
Why book Disney Beach Club or Yacht Club? These resorts are the closest hotels to EPCOT (Beach Club & Villas being the closest). You can literally be in EPCOT after just a short 5-minute walk. There is also water transportation to both EPCOT and Hollywood Studios.
As I already mentioned, it has the best pool in all of Walt Disney World Resorts called Stormalong Bay. I am not kidding, this pool is ridiculously like its own water park!
Just a short stroll or boat ride is the Disney BoardWalk. This is added bonus of fun activities, restaurants, and nightlife.
Pro Tip: Staying at a Disney resort property allows you early access to the theme parks. Beat the crowds and get at least a 30-minute jump start on the most popular rides at Disney.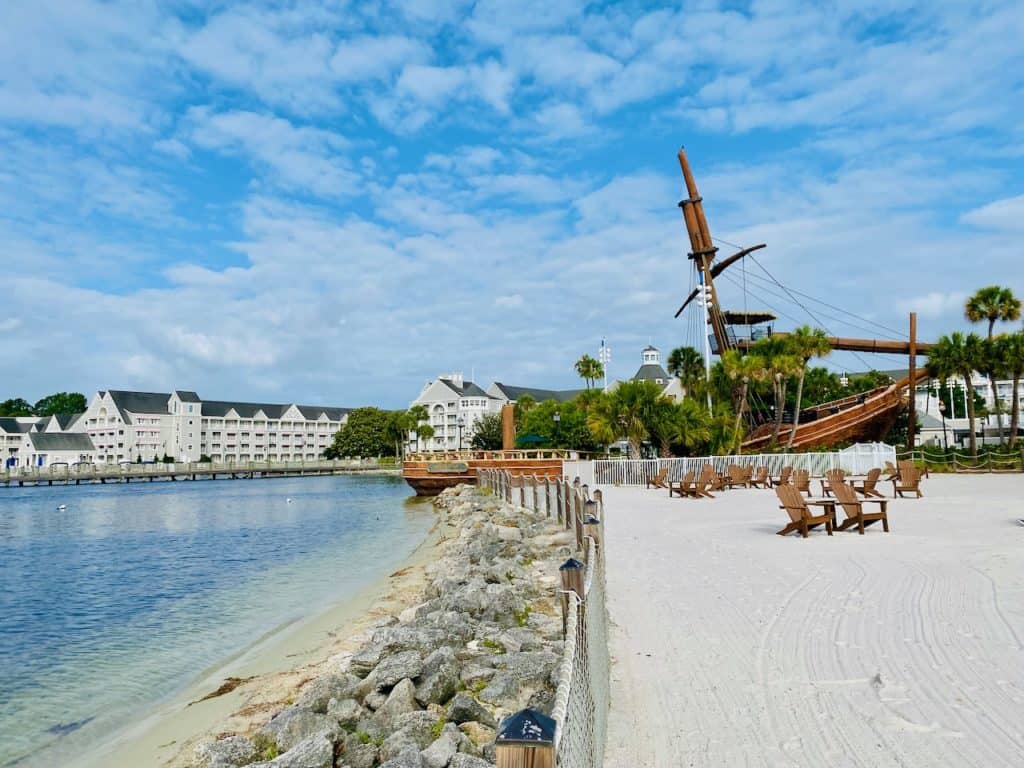 Where to Stay Near EPCOT & Hollywood Studios
Check out these beautiful Disney World EPCOT hotels on Priceline & Hotels.com!
Disney Beach Club Resort
Disney's Beach Club Villas
Disney Yacht Club Resort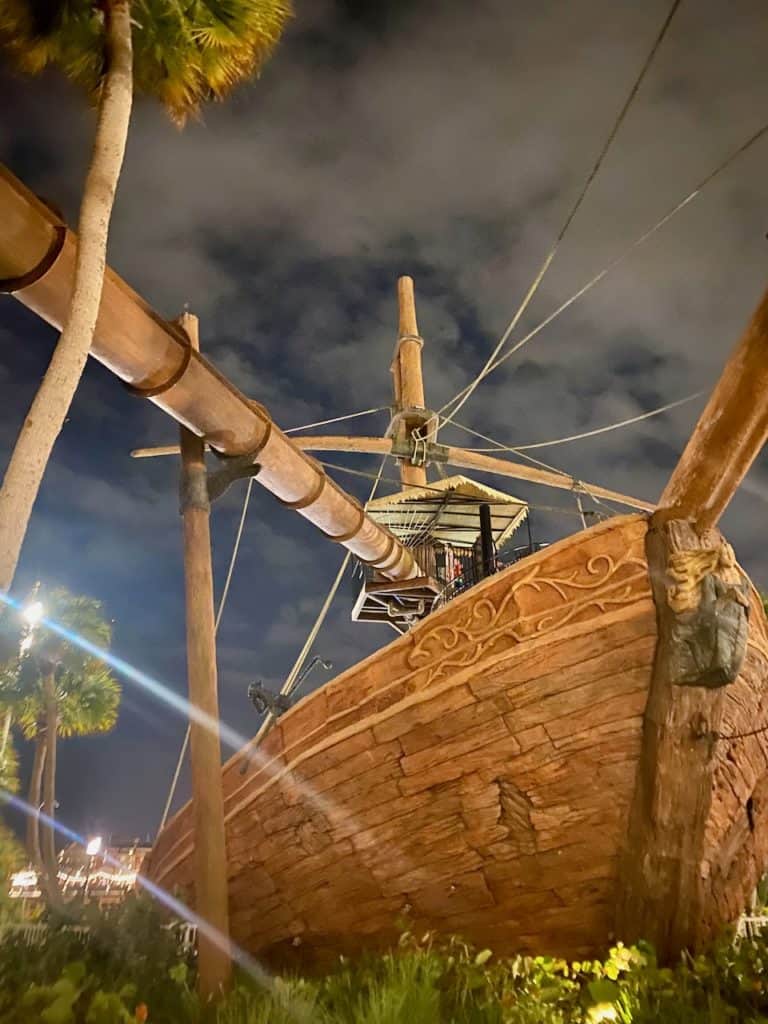 Check EPCOT Hotel Availability on Booking.com
🌴 Pro Tip: Disney Beach Club, Villas, & Disney Yacht Club are all one connected property. They share amenities like restaurants, pools, and bars as part of the Walt Disney Company.
Map Locations – EPCOT, Hotels, BoardWalk + More
Staying at Epcot Area Resorts is the ideal location to base your vacation. The International Gateway and easy access to the Skyliner station is a short 5-minute walk away.
You are also next to Friendship Launch which takes guests by boat to EPCOT, EPCOT Hotels (Disney Beach Club Resort, Yacht Club, Swan & Dolphin Resorts), the Boardwalk, and Hollywood Studios.
Another added perk, you can actually walk to two theme parks. Check out the walking path that connects you to Hollywood Studios or board the Disney Skyliner.
The Yacht Club Resort is only a few steps further than a walk to EPCOT. The Friendship Boat Launch shortens this walk and makes them comparable in distance. Both locations are truly perfect for a launching point to all the parks and provide the best walkability.
Disney Skyliner
The Disney Skyliner are gondolas that take you quickly around Walt Disney World Resort. It currently connects with Disney's Hollywood Studios and EPCOT.
Disney Beach Club Resort
Relax and unwind at the casual but elegant, Disney Beach Club Resort. Styled in a beautiful New-England motif, you will get swept away with this magical hotel. It is a perfect family-friendly hotel with so much to do, you don't even have to leave the resort to have fun.
We chose to stay at the Disney Beach Club Resort because it is the closest hotel to EPCOT with quick access to the other parks. This is especially helpful when traveling with small children that need to nap or take a break mid-day.
🍼 Read Next: The 23 Best Baby Travel Essentials for a Road Trip
Since it's only a short five-minute walk to the International Gateway Entrance you won't lose precious time commuting on shuttles or buses. It also has the best amenities with the pool, beaches, boating, and more.
General Hotel Information:
1800 Epcot Resorts Blvd, Lake Buena Vista, FL 32830
(407) 939-5277
Disney's Beach Club Villas
Hotel General Information
(same location as Disney Beach Club Resort)
1800 Epcot Resorts Blvd, Lake Buena Vista, FL 32830
(407) 939-5277
Disney Beach Club vs Disney's Beach Club Villas vs Yacht Club Rooms
Staying at the Disney Beach Club Villas is like your home away from home. These villas are a part of the Disney Beach Club Resort community but even better. These 1 or 2-bedroom units come fully equipped with the following amenities:
A complete kitchen where you can cook meals or a light snack.
King beds or Queen Beds
Separate living and dining areas where larger groups or families can have enough space to spread out and relax with one another.
Separate bedrooms that have enough space from the common areas to relax and unwind.
The washer and dryer come in each unit for convenient personal use.
The biggest difference between the Beach Club Villas and Disney Beach Club Resort is one offers a lot more space as a condo feel.
The Villas are also currently harder to book and have less availability. Disney Beach Club deluxe room is another option to consider especially since the location is the same! While they are a 2-bedroom units, they are more spacious for families.
Disney Yacht Club
General Information
1700 Epcot Resorts Blvd, Lake Buena Vista, FL 32830
(407) 939-5277
Disney Yacht Club has a more formal elegance than its sister resort property. Offering the same New-England style but is finished with additional sophistication and grandeur you would expect from a yacht club. We chose to stay at the Disney Beach Club, but either property is truly a great choice.
Another difference to keep in mind is that each Yacht Club Resort room has a full-size balcony with ample room for tables and chairs. While the Disney Beach Club Resort has some full-size balconies, most of the rooms have partial balconies with tighter outdoor space.
Both properties share the fabulous Stormalong Bay pool lagoon and spa. The boat to Hollywood Studios and EPCOT sits directly outback of this resort. Also, daily fishing boat rentals are available here too.
Read Next: Hilton Grand Vacations at SeaWorld: Read Before You Go
Stormalong Bay
While staying at these properties enjoy the best Disney pool lagoons and spas of Stormalong Bay. Here you can experience a water park at your hotel.
Check out this SUPER impressive pirate ship that drops you from across the road into the lagoon.
Like the beach? You don't have to go far, Stormalong Bay has sandy beaches, rock formations, and even a lazy river. One of the most unique features of Stormalong Bay is the sandy bottom of the pool. You feel like you're at a real Florida beach.
You could have an entire day of leisure at Stormalong Bay. This 3-acre, 750,000 gallons of water pool lagoon is truly one of a kind. It has a massive shipwreck pirate ship water slide, a lazy circular river, three whirlpool spas, and sandy beaches to enjoy.
There is a perfect wading pool for kids they can build sand castles in the middle of it. You couldn't have a better family-friendly pool.
Stormalong Bay is for Disney Beach Club & Disney Yacht Club guests only. Someone in your party will need to have a room key or MagicBand to gain entry. They will provide a pool wristband to wear that gives you access to come and go throughout the day.
Pool hours are from 10 am to 10 pm with lifeguards on duty.
Want a traditional pool experience? They have that too! There are three other secluded pools for the Beach Club, Villas, and Yacht Club.
Disney's Yacht and Beach Club Resort Restaurants, Dining & Bars
For more details on these locations, here is the Disney Beach Club & Yacht Club dining website.
Cape May Cafe
Beaches & Cream Soda Shop
Beach Club Marketplace
Martha's Vineyard Hurricane
Hanna's Waterside Bar & Grille
Ale & Compass Restaurant & Lounge
The Market at Ale & Compass
Yachtsman Steakhouse
I have eaten most of these restaurants at Disney's Beach Club & Yacht Club. If you're open to a splurge, the Yachtmans Steakhouse is an ideal place for delicious food and excellent service. My husband and I both got steaks, both we liked my filet mignon more than his ribeye.
Bayside Marina
The Bayside Marina is located behind the Disney Yacht Club. Here you can rent pontoon boats, take guided bass fishing excursions, or enjoy a fireworks cruise. Call (407)WDW-PLAY for fireworks cruise reservations or (407)WDW-FISH for fishing trips. The marina is open daily from 11 am to 5 pm.
Other Hotel Amenities
While staying at the Walt Disney World Beach Club & Villas or Yacht Club, you have 24-hour access to the Ship Shape Health Club by using your room key or MagicBand.
Ship Shape Health Club Key Features:
24-hour Fitness Center
Spa Services – Massages & Facials
Ship Shape Salon – Hair & Nail Services
Read Next: Hilton Grand Vacations at SeaWorld: Read Before You Go
Disney's Boardwalk
Another one of the perks of staying at the Disney Beach Club Resort or Disney Yacht Club is the walkability to the Boardwalk.
Disney's BoardWalk looks as if it's straight out of a movie set. It's the perfect theme park version of Coney Island or Atlantic City.
Stroll down the boardwalk and enjoy the shops and restaurants, nightlife, and a variety of midway games. You can easily walk here from either one of these EPCOT hotels or you can take the boat. This is a fun area to kill a few hours or have entertainment after the theme parks close for the night.
Frequently Asked Questions
Here are some of the questions I wanted to know when booking my room at the Disney Beach Club Resort.
Is Disney Beach Club Resort worth the money?
For me, yes it's worth the money! If you want a true vacation, you will love the early access to the parks, and being able to return to your hotel when you like, and come back.
Next trip I plan to stay an extra day and just do a day at the resort enjoying Stormalong Bay, volleyball courts, and the many amenities I didn't get to enjoy after a full day at the theme parks.
Is the Beach Club a deluxe resort?
Yes, the Disney Beach Club is considered one of the deluxe resorts at Walt Disney World properties.
What is the club level at Disney Beach Club?
The club level provides access to concierge lounges, concierge Resort Cast Members as well as a variety of perks. There is an added fee for the club level.
How much is Disney hotel parking?
Standard self-parking costs are $25 dollars per night for the Beach Club Resort & Yacht Club. Valet parking is $33 per night.
Can you see fireworks from Disney Beach Club?
Yes, you can see partial views of the Harmonious 50th Anniversary show. To really enjoy the fireworks celebration head into EPCOT. You will see people starting to surround the World Showcase Lagoon as early as 8:15 pm for the 9 pm show.
Does Disney Beach Club have a lazy river?
Yes, the lazy river is part of Stormalong Bay. You must make time for this spectacular pool experience when staying at these EPCOT hotels.
Can you enter EPCOT through the International Gateway?
Hotel guests can enter and leave through the International Gateway entrance located next to the United Kingdom. This luxury allows you to easily access your hotel with minimal walking. The Friendship launch cuts walking down even further for those staying at the Disney Yacht Club Resort and other resorts further away.
Did You Find This Post Helpful? Share It!
If so, I would love to hear about your Florida travel planning! You can follow me on Instagram, and tag your images to @erinstraveltips and hashtag #erinstraveltips. I look forward to seeing you there!
Related Florida Family Travel Articles